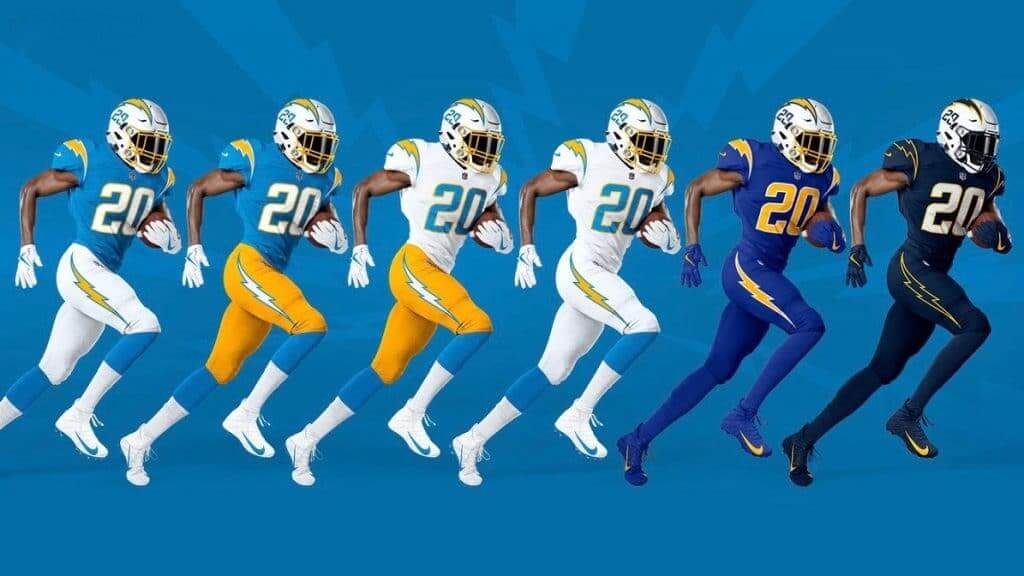 For all photos, click to enlarge
The sixth of this spring's seven NFL uniform unveilings arrived yesterday, as the Chargers revealed their new uni set. As you can see above, they're projecting six possible combinations.
Here's another shot, which provides a more frontal view and also provides a better sense of the new number font:
Speaking of that number font, I saw a few people yesterday saying that it's an italic version of the Browns' new font. But that's not quite right — it's similar, for sure, but not the same. Here are some comparisons, with the Browns on the left, Chargers on the right: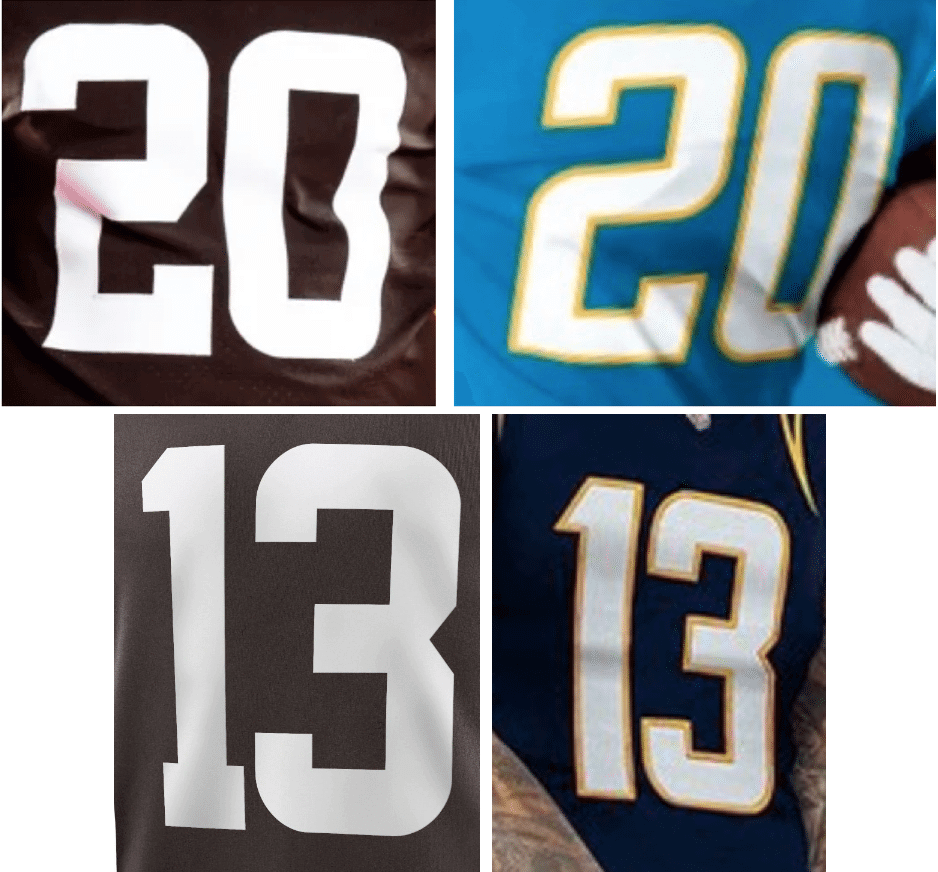 Personally, I like both of them. They both present as block, or at least block-esque, but with some modern sleekness.
Another thing you've no doubt noticed by now is that these jerseys don't have TV numbers. Since the Pats have also eschewed TV numbers on their new jerseys, that has led some people to say that this is clearly a new trend, or that we're seeing the beginning of the end of TV numbers.
I think that's an overreaction. Consider: There have been six new uni sets unveiled so far this spring, and four of them (Bucs, Browns, Falcons, Colts) included TV numbers. Of the two that didn't, the Chargers have numbers on the helmet, which achieves the same side-view functionality as TV numbers on the jersey (the Crimson Tide do the same thing), and the Pats are basically using a carryover design from a Color Rash uni that didn't have TV numbers to begin with.
In short: While this could be the start of a trend, I'm not ready to declare that yet. Let's see what the Rams do, especially since scotching the TV numbers would presumably give them more space to restore the ram horns to their shoulder/sleeve region.
But wait — doesn't the NFL have a rule requiring TV numbers? I've always thought so. The pertinent language can be found in Rule 5, Section 4, Article 3, Item 3 of the NFL rulebook (yes, that's a lot of rules, sections, articles, and items), which states (emphasis mine):
Numerals [must be] on the back and front of jerseys as specified under NFL rules for the player's specific position. Such numerals must be a minimum of 8 inches high and 4 inches wide, and their color must be in sharp contrast with the color of the jersey. Smaller numerals should be worn on the tops of the shoulders or upper arms of the jersey. Small numerals on the back of the helmet or on the uniform pants are optional.
In an attempt to help clarify the situation, I contacted NFL spokesman Brian McCarthy yesterday and asked about the Pats, the Chargers, the rule, and so on. He responded:
The relevant language [in the rule] is that there "should" be numbers on the shoulders or upper arms. No special waiver or rule change was necessary for the Pats or Chargers.

[…]

Lions [throwback] and Packers [throwback] also fall into this category with no such numbers. There's been no negative feedback from our network partners.
Interesting! So McCarthy is essentially saying that TV numbers are, and have always been, optional. But that doesn't quite wash, because the rule actually uses the word "optional" when referring to rear-helmet and pant numbers, while TV numbers are treated as a near-imperative — "should." Hmmmmm.
In any case, with at least 29 of the NFL's 32 teams still wearing TV numbers (plus the Chargers having them on their helmets), I'm not ready to classify them as an endangered species just yet, but it's definitely something to keep an eye on.
Okay, enough preliminaries — what do I think of this new set? Here we go:
The New Home Uniforms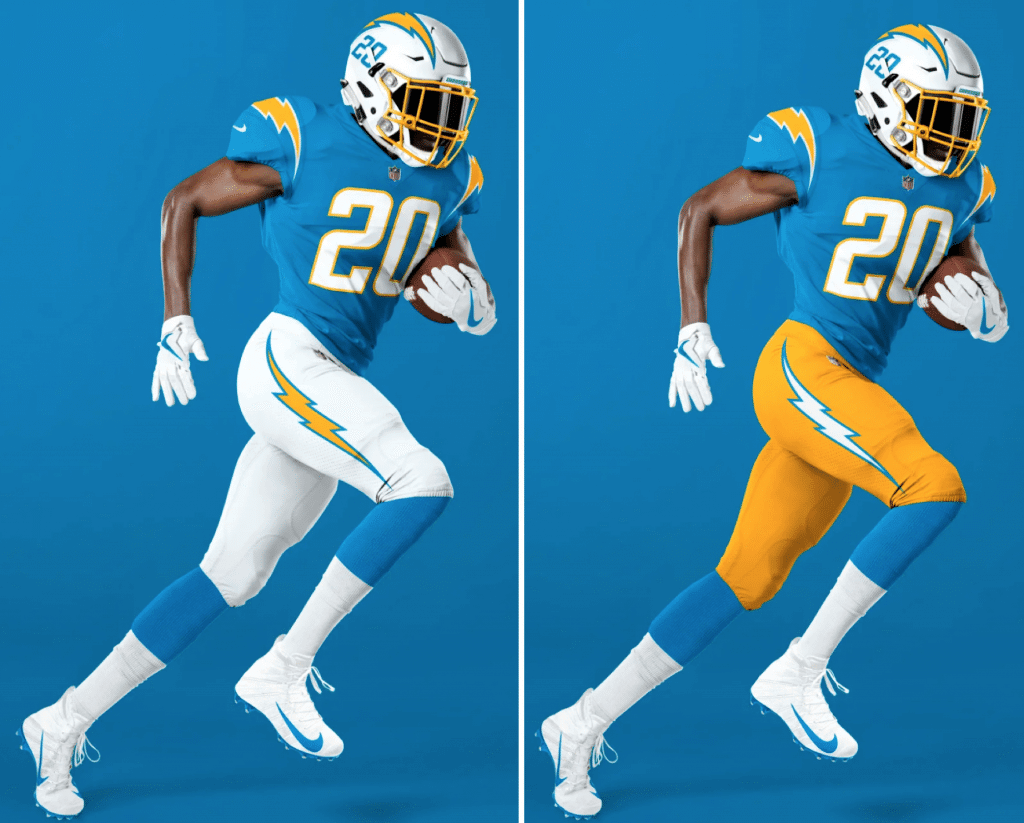 So much to like here! I've been wanting them to bring back the yellow pants for decades and had basically given up on that ever happening. Here's hoping they wear those more than the white. And hey, no more chest logo — addition by subtraction!
So what don't I like? These are all minor quibbles, not dealbreakers:
• While the positioning of the lightning bolts on the shoulders is clearly better than the sideways orientation they've been using in recent years, it kinda looks like maybe the bolts are a little too far to the outside edges of the shoulders, which makes it feel like they might slide right off the jersey. Maybe it's because they've enlarged the bolts, and/or because the bolts are no longer anchored in a UCLA-style white panel and are instead applied directly to the primary color fabric. Not sure yet if I think that's a plus or a minus — I'll need to see it on the field.
• I wish the bolt on the pants had one or two more barbs, or points, or whatever you'd like to call them.
• I'm tickled to see the numbers restored to the helmet, but I'm not sure how I feel about them being in powder blue. Back in the day, of course, the numbers were black (and in a completely anomalous font, but that's another matter). I realize it would make no sense to use black numbers now (or even navy, since they've eliminated navy accents from the rest of the uniform), but something about the powder blue numbers seems a little lightweight. Maybe add yellow outlining..?
• As you've probably noticed by now, the Chargers didn't provide any rear-view images. But you can see the back of the jersey here:
joey approved 👍@jbbigbear | @gmfb pic.twitter.com/ELnpozMRp6

— Los Angeles Chargers (@Chargers) April 21, 2020
Oh man — I do not like that italic NOB lettering.
Those quibbles are real but they're also just quibbles. Everything else looks great. Which leads us to…
The New Road Uniforms
Very, very nice. The jersey is basically a color-swapped duplicate of the home design. Again, I love the yellow pants and hope they get the lion's share of the on-field action. My same small quibbles from the home set apply here, but overall this is a big win.
One thing about these home and road designations: In recent years the Chargers have made a point of going mono-white for their home opener and, like many warm-weather teams, they've also worn white jerseys for other early-season home games. (In 2019, for example, they wore white at home in Weeks 1 and 3.) So yesterday I asked a team official if the new home/road uni designations were set in stone, or if they might still wear white at home from time to time. He said the designations are "flexible."
Moving on:
The New Rashes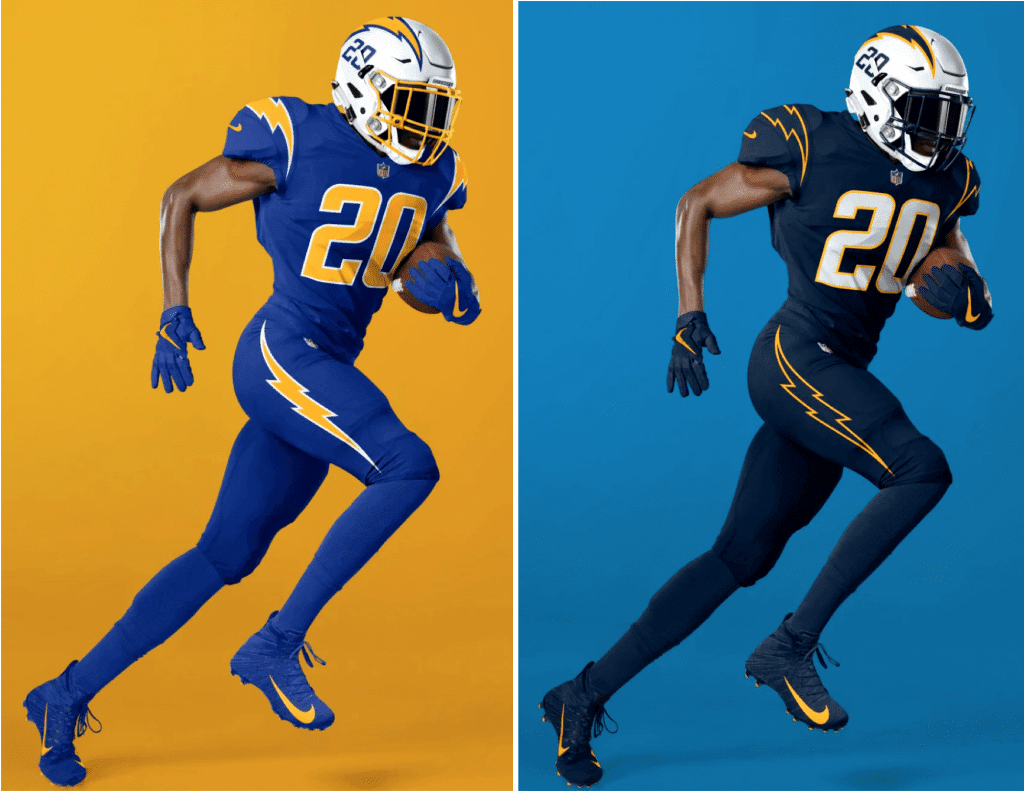 Look, I accept the sad reality that every team has to have a mono-colored bodysuit costume these days — but nobody should have two of them. And frankly, I'm surprised they didn't go mono-powder, which would've been really interesting!
Anyway: The mono-royal design is essentially an updated version of the Rash uni they've already been wearing for the past few seasons. It's a very nice shade of royal blue, but it makes no sense because they don't use that shade anywhere else in their visual program. (I do like the royal helmet numbers, though — better than powder!)
The mono-navy makes even less sense, because they just made a big point of eliminating navy from their identity, but someone probably got the bright idea of doing this uniform just so they can call it "midnight lightning" or something similarly cringeworthy. The outlined bolts would actually look pretty cool on a superhero costume but don't belong on an NFL field — pfeh. At least these won't be worn very often.
———
Two final thoughts:
1. It's unusual for a team to unveil with nothing but Photoshopped images instead of real photography. I don't mean that as a criticism (we all know the world is complicated right now), but I do mean that there could be certain aspects to these designs, and to how they function in real life, that aren't yet apparent to us. I always say, "Let's see how it looks on the field," but that goes double for this set. I'm sure it'll still look good, but let's keep in mind that what we've seen so far is a simulation, not the real thing.
2. The Chargers are using the phrase "The Best Just Got Better" in their marketing of the new designs — an explicit boast about their perceived (or at least self-perceived) status atop the NFL's uniform mountain. Lots of teams say self-congratulatory things about their uniforms, of course, but I'm not sure I've ever seen a team just come out and say, "We're the best."
I don't know that I'd necessarily agree with that (or that the Packers, Raiders, or Steelers would agree either), but the Chargers are certainly in the conversation. Not only that, but this new set continues a remarkable streak: For their six decades of existence, the Chargers have been through several different uniform eras but have never had a bad uniform set. Not many teams in any sport can say that — well done.
• • • • •
• • • • •
Meanwhile, in Korea: South Korea is far enough down the road to pandemic recovery that the Korean Baseball Organization began preseason games yesterday, although fans were not allowed to attend. The photo above shows the LG Twins playing the Doosan Bears, with second base umpire Park Gi-tack wearing a white mask and white gloves.
First base ump Lee Ge-sung also wore a white mask and gloves, but plate umpire Oh Hoon-gyu had a black mask (I couldn't find a photo of the third base ump):
It's a little hard to see, but this next shot shows Oh wearing his mask under his mask:
According to this story, some players had "Corona 19 Out" written on their caps, but I couldn't find a photo of that.
The KBO's regular season, which was originally scheduled to begin on March 28, is now slated to start on May 5.
• • • • •
• • • • •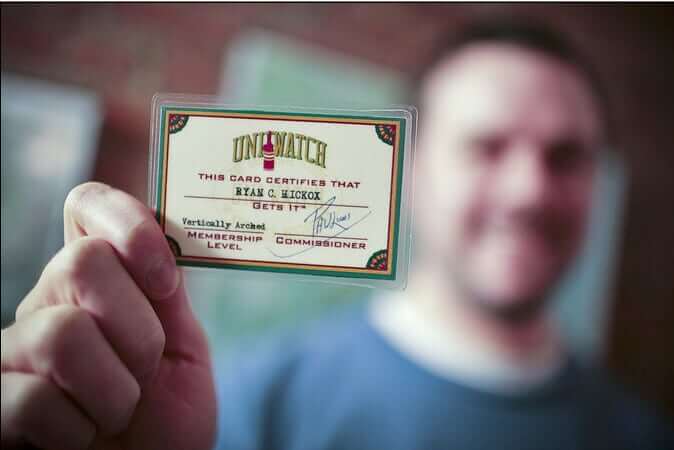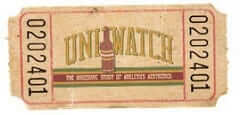 LAST CALL for this week's raffle: In case you missed it on Monday, an anonymous reader has purchased 10 memberships for me to raffle off, with the proviso that this raffle is only open to people are currently working outside of their homes — health care workers, truck drivers, first responders, grocery clerks, pharmacists, food deliverers, postal workers, sanitation workers, transit workers, kitchen workers, and so on.
Obviously, there's no way for me to enforce that restriction, but I have enough faith in the Uni Watch comm-uni-ty to believe that we can do this on the honor system. I mean, really, who would cheat on something like this, especially when we have so many other membership raffles that are open to everyone?
To enter, send an email to the raffle address by 8pm Eastern tonight. One entry per person. I'll announce the 10 winners on Thursday. Big thanks to the anonymous reader who sponsored this raffle.
• • • • •
• • • • •
The Ticker
By Lloyd Alaban

Baseball News: Reader Jon Vieira has a baseball from the canceled 1994 World Series. "My brother acquired it while working at a sports memorabilia place,probably four years ago. We used it to play catch so it wore out quite a bit," Jon said. … From Kary Klismet: Fascinating story about how Thetford Mines, a small town in Quebec, converted three modular seating sections from Montreal's dismantled Autostade into a municipal baseball and softball stadium. Lots more photos here. … Bidding groups from as many as three different baseball leagues are vying to become the primary tenant of Loeb Stadium in Lafayette, Ind. … MLB has updated its proposal for its 2020 season. The latest plan would have teams play in Arizona, Florida, and Texas inside domed and retractable-roofed stadiums. … Look closely in the lead photo of this Bloomberg article about grounded planes and you'll find the plane Delta dedicated to now-retired Yankees P Mariano Rivera. It's the second plane among the left column of planes, noted by Rivera's No. 42 (from Chris Flinn). … Check out this shot of future Hall of Famers Gary Carter and George Brett at the 1983 MLB All-Star Game. Brett is wearing a Nike shoe on one foot and Spot-Bilt on the other! (From Mark Galus.) … Topps has a new program that allows artists to put their own visual spin on classic baseball cards (from Jason Hillyer).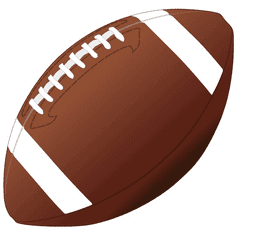 Football News: New advertised name for the Independence Bowl. … The NCAA Playing Rules Oversight Panel recently approved a bunch of new rules, including the introduction of No. 0 as a legal jersey number (from multiple readers). … WisePreps Wisconsin launched a contest for the best high school helmet in the state (from Don Schauf). … Alan Martinez has performed what is likely the first logo-ectomy on a cap with the Rams' new logo. Insert "He removed the wrong logo" jokes here.

Hockey News: Back in the 1980s, the Red Wings briefly had a costumed bird mascot called Red Winger (from Ron Wade). … Bing uses the old Hartford Whalers logo as an icon when searching for Connecticut (from Alex Tidd). … Avangard Omsk of the KHL has released images of its proposed new arena, scheduled to open in 2022 (from Kary Klismet). … The Regina Pats of the WHL have signed 14-year-old Conor Bedard. Bedard announced he'll be wearing No. 98 for his entire career (from Dan Ukrainetz).

Basketball News: In this photo of newly-hired coach Billy Gillispie, he is seen at a preseason activity at Kentucky while still wearing a Texas A&M belt, where he previously worked (from Daniel Barrera).

Soccer News: From Josh Hinton: FC Barcelona will sell the naming rights to Camp Nou, their stadium, to help raise funds for coronavirus relief. The change will only last one season. … All four of Paris Saint-Germain's upcoming shirts have leaked. … Inter's pre-match shirt has leaked. … For the latest on kit-related news from around the world, check out Josh's Twitter feed. … Pescara has adopted an Italian boy's shirt design. … New Amsterdam FC, of the third-tier National Independent Soccer Association, has unveiled its inaugural logos (from Kary Klismet). … Cleveland SC of the NPSL released a teaser for their new uniforms (from Ed Zelaski). … Crystal Palace has presented evidence to support their claim that they're the world's oldest professional club: Here's their first kit from 1861, based on the exterior of the actual Crystal Palace building (from Brad P).

Grab Bag: Ross Bendik's Twitter account is a must-follow for college and freestyle wrestling fans who Get It™. Among the topics Ross (whose Lego artwork has previously been featured on Uni Watch) has covered recently are the top 25 wrestling warmups of all time and a comparison of Olympic wrestling referee uniforms (from Kary Klismet). … Here's the shirt evolution of UYBA Volley, an Italian women's volleyball team (from Jeremy Brahm). … UNC wrestling is letting fans submit singlet designs to be featured next season (from James Gilbert). … From reader Timmy Donahue: The 25th Infantry Division of the U.S. Army has put together a March Madness-style bracket tournament for unit patches. The finals pit the 101st Airborne (Air Assault) vs. the 82nd Airborne. "Can't say I agree with how the matches in this bracket came out," says Timmy (who, as you may recall, has a lot to say about military uniforms).
• • • • •
[adrotate group="2″]
• • • • •
Click to enlarge
What Paul did last night: I laid down for a little nap yesterday at 4:30pm. Uni Watch girl mascot President Caitlin came up and snuggled next to me, and then the Tugboat Captain joined us to make it a full-on group snuggle. And then next thing I knew it was 6:15pm and we were like, "We gotta go hit the porch or else we won't be done when the Racket starts!"
So we were still logy and sluggish as we cocktailed yesterday, which was a little odd. We did meet two new excellent dogs — a huge bruiser named Prince and a wiener dog named Judy (Prince and Judy, ha!) — but our conversation was a bit more muted than usual. (As always, you can see all the Pandemic Porch Cocktails photos here.)
Afterward, we had excellent chicken tacos that the Captain made for us — including homemade tortillas! I'm so lucky to live with such an awesome cook:
• • • • •
Yesterday brought an end to one of the busiest, craziest periods in Uni Watch history. The Rams still have their unveiling coming up in May, but the rapid-fire barrage of NFL unveilings is now over. It's been an exciting sequence to cover, and it's given me plenty to write about despite the sports world's shutdown. I assure you, though, that I have lots of other great content in the pipeline — Uni Watch will still be here for you, come hell or high drama. Stay safe, and I'll see you back here tomorrow. — Paul