[Editor's Note: Today we have a guest entry from Ross Bendik, who's going to enlighten us about his very unusual uni-centric hobby. Enjoy. — PL]
By Ross Bendik
My father is a big fan of the aesthetics of sports uniforms. In the Uni Watch vernacular, he definitely Gets It™. From a very early age, I was always taught at least as much about uniform style as I was about game strategy. One of the core truths my father imparted to me is that Penn State has the best uniforms in college football.  Since then, I have been all-in on traditional and minimalist uniforms, so much so that the football uniforms may have been a factor in my decision to attend Penn State.
 
About a year ago I decided to introduce my young twin sons to my favorite sport — wrestling. They didn't seem to be interested when I showed them live matches, so I tried a different tactic: I painted a few of their Lego minifigures like Penn State wrestlers. I am not a trained painter, so I was glad Penn State's traditional and minimalist approach also applies to their wrestling singlets. Their uniform is one of the most iconic in NCAA wrestling: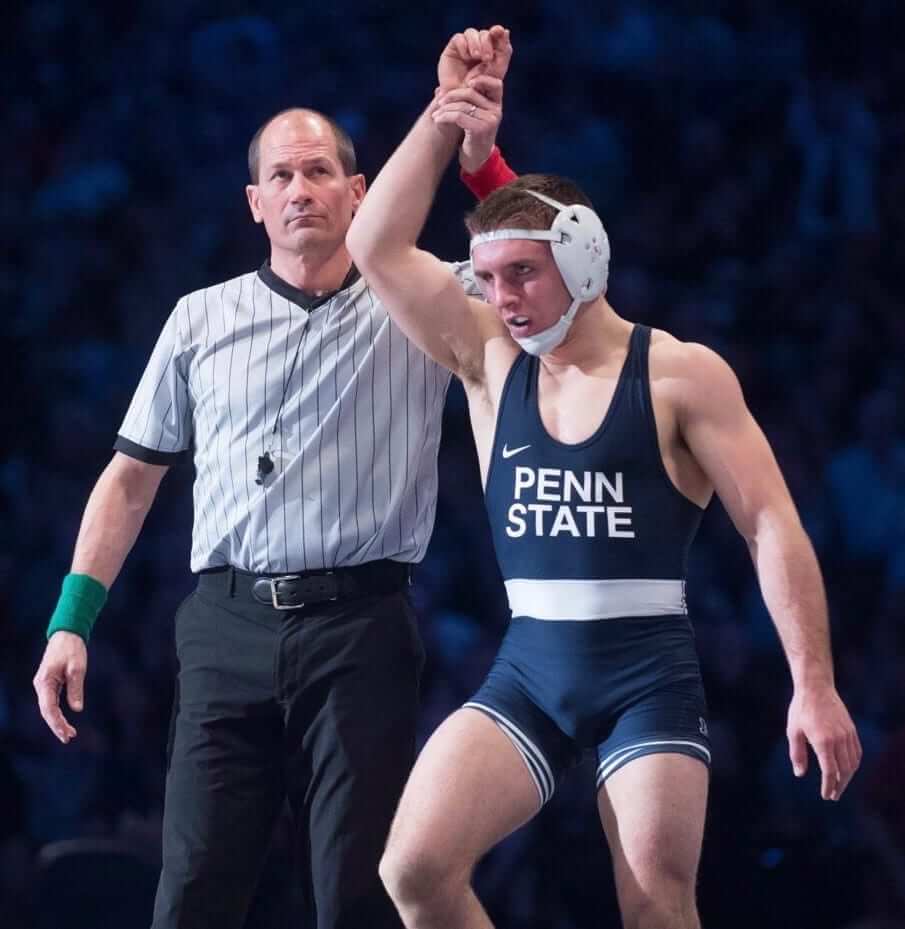 I couldn't do the lettering at such a small size, but it was easy enough to represent the rest of the design on a Lego minifig. Here's one of the first ones I did (click to enlarge):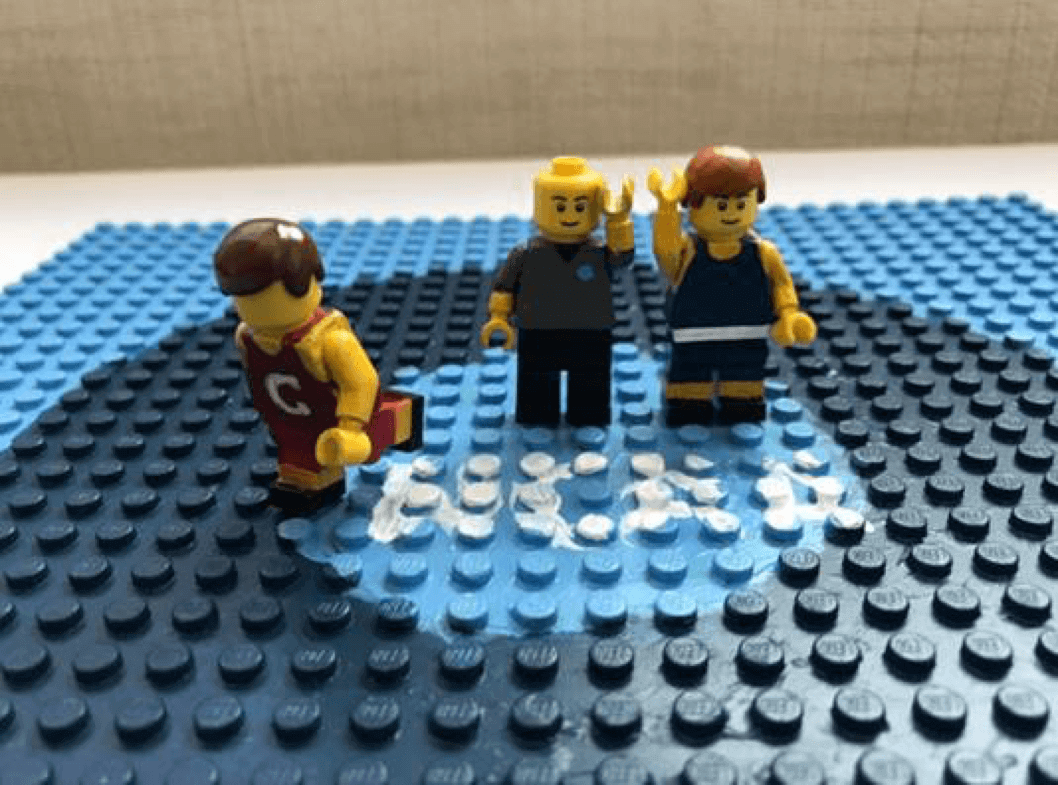 I posted a few photos of the custom wrestler Lego on Twitter. A handful of wrestling fans liked them, so I painted a few more. As I started to capture more and more wrestling dignitaries and legends, I became absorbed with the evolution of wrestling singlets and warm-ups — from the era of tights and robes to today's event-specific singlets and custom shoes. I am still not necessarily a fan of the singlet as a uniform, nor can I imagine a scenario in which I would buy and wear socially an authentic throwback John Smith 1988 Olympic singlet (assuming singlets ever became readily available in the vintage sports apparel industry). Still, the visual history of the sport is pretty amazing.  My current fascination is the warm-ups USA wrestlers wore on the podium for the 1988 Olympics (click to enlarge):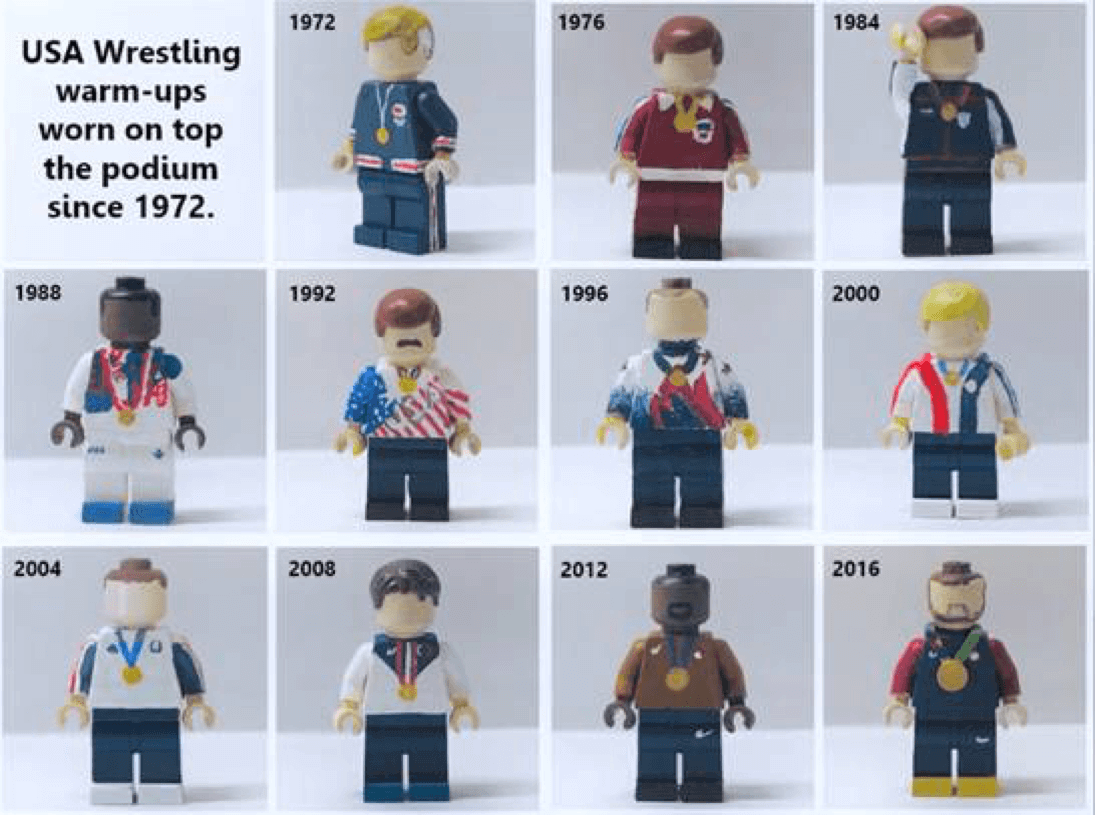 However, even as my painting skills improved (and I invested in better brushes), I was still challenged by the task of truly rendering a specific athlete at Lego minifig scale. I didn't want to paint just "a wrestler" from a school; I wanted to capture a specific wrestler who'd be clearly recognizable by the wrestling community.  That's not so easy for my medium and subject matter because (a) I am not yet skilled enough to paint faces, (b) singlets don't have numbers, and (c) I can't use size to differentiate a lightweight from a heavyweight because all minifigs are the same size.
So I had to get to a Uni Watch-level analysis of details to find a way to capture a specific wrestler.  While my traditional/minimalist preference typically frowns upon flashy personalization, my Lego art has become somewhat dependent upon it.  I zero in on headgear tape patterns, knee pads, and shoes.  I tracked the emergence of shooter sleeves.  I watch for consistent sock choices, even though I typically can't capture sock styles at minifig scale.  I have even studied Rule 1, Sections 5 to 8 of the NCAA Wrestling Rules and Interpretations book to better understand personalization possibilities.  Fortunately for my art, the rules allow for a lot of possibilities.    
 
More than year in to this Lego painting journey, I've now begun to better appreciate the ways in which wrestlers have personalized their look.  As I think about what I will teach my sons about sports styles as they grow older, I am still definitely going to pass down my preference for traditional and minimalist uniforms.   However, I will encourage them to always have an understated way to personalize their look because someday, somewhere, someone may try to capture them in a work of art.  Without personalization, they may just be cited as "Athlete on Field":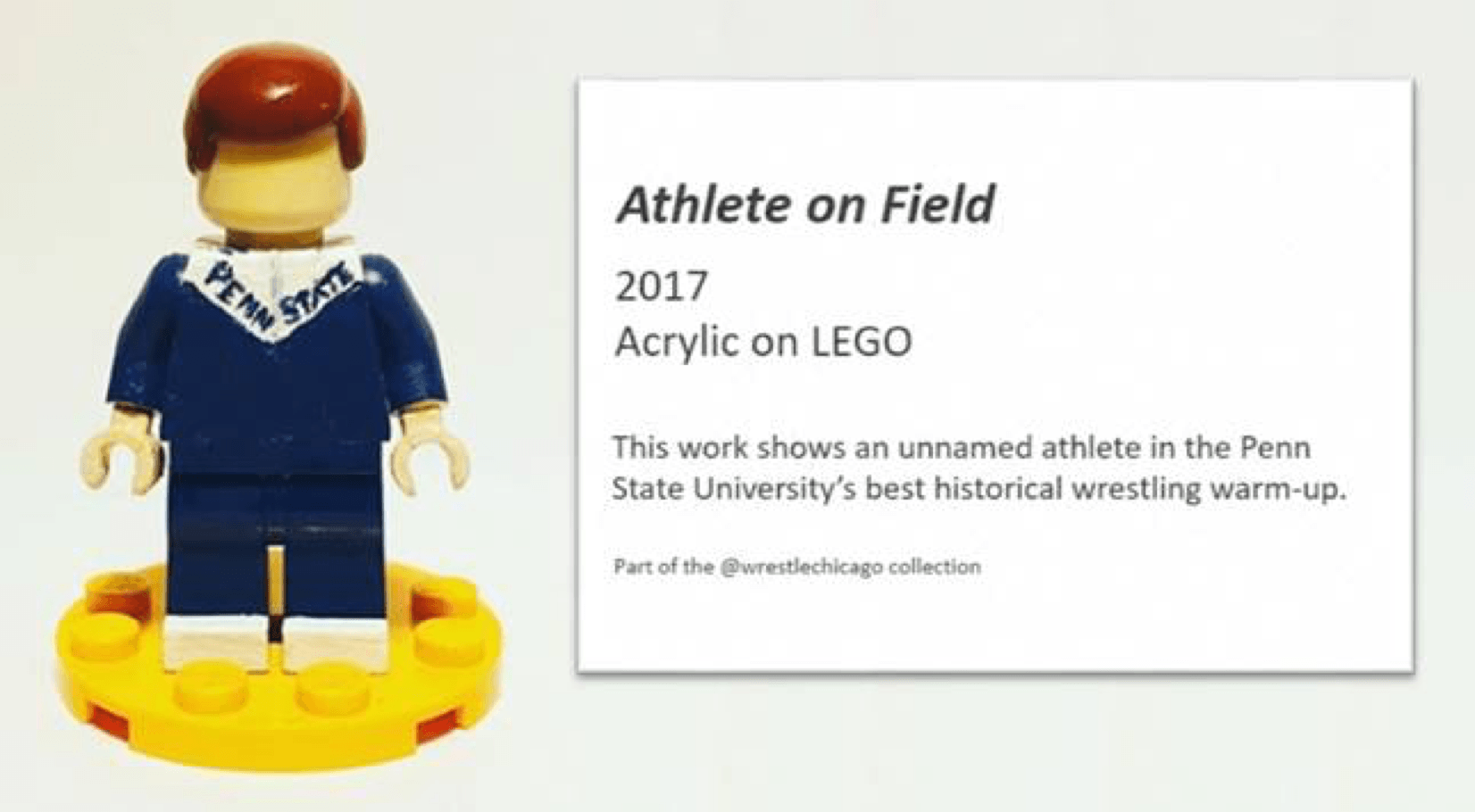 • • • • •
[adrotate group="2″]
• • • • •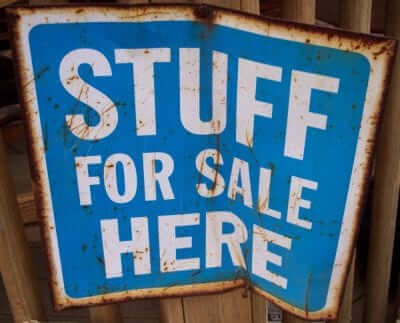 Cool stuff for sale: I've continued to add more photos of stuff that didn't sell during last Saturday's moving sale. You can see everything that's currently available here.
Please click on the thumbnails to see larger versions and, more importantly, to read the descriptions of the items, which among other things indicate whether the item is something I'm willing to ship or if I'm only offering in-person pickup. (You can see even larger versions of each photo by clicking the download icon and choosing "View all sizes" from the resulting popup menu.)
If you're interested in any of this stuff, please get in touch and make me an offer. I'll continue to add more items to this photo set each day, so stay tuned. Thanks for listening.
• • • • •
[adrotate group="2″]
• • • • •
The Ticker
By Paul

'Skins Watch: Did the Indians really trade Wahoo for the 2019 MLB All-Star Game? Maybe or maybe not, but this writer argues that everyone is better off either way (thanks, Phil). … Capitals RW T.J. Oshie took the Stanley Cup to his high school, Warroad High in Minnesota. "Their teams are called the Warriors and use a Native American for their logo, but there's actually a reservation nearby and the wall behind everyone in the photo appears to have the team name — or something — translated into what may be Ojibwe/Chippewa," says our own Jamie Rathjen. Anyone know more about that? … Ugh: The Boy Scouts apparently once had a patch based on the original version of Wahoo.

Baseball News: Good spot by Phil, who noticed that this 1939 photo of Senators pitcher Álex Carrasquel shows him wearing a jersey with a half-zipper, sort of like the zippered version of a henley pullover. Dressed to the Nines shows the '39 Sens with full zippers, which appears to be what other players wore (last photo from BSmile). … The Lansing Lugnuts will play as the Lansing Mighty Wombats on Aug. 18 (from Ryan LeFevre). … Here's a rare sight: Ty Cobb, third from right in the front row, in a Cleveland uniform. That's from a charity all-star exhibition in 1911. Cobb forgot to bring his Tigers uni (from Mike Knapp). … The Harrisburg Senators will become the Harrisburg Hope tomorrow, to benefit a local Alzheimer's charity (from Bryan Harper and Gary Bender). … "Year of the Dog"-themed jerseys upcoming for the El Paso Chihuahuas. … "Grease 40th-Anniversary Night" upcoming for the Potomac Nationals. … Pretty good piece on the evolution of celebrations after walk-off hits, which now tend to involve beating up the guy who got the game-winning hit. … Here's an article about how Topps has balanced tradition and innovation in the evolving trading card industry. … A DC-area teen has a huge collection of Nats memorabilia. … The New Yorker's weekly cartoon caption contest is baseball-themed this week. I've already submitted an entry. You should, too! … Here's a 1939 newspaper article about the Pirates getting new uniforms for 1940 (great find by Jerry Wolper). … The Lakewood BlueClaws will become the Lakewood Bruce Claws for Bruce Springsteen Night this Saturday (from John McMunn). … Looks like new Mets call-up Jeff McNeil, who joined the big league club yesterday, doesn't have the orange outlining on the lettering of his locker nameplate (good spot by Jim Brunetti). … Check out Reds speedster Billy Hamilton's custom anti-drug-style wristbands (from our own Alex Hider).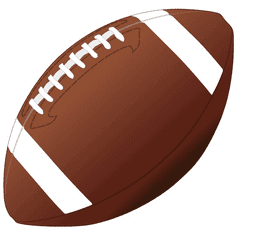 Pro Football News: Former Bills QB Jim Kelly has donated a ton of personal memorabilia to the Pro Football Hall of Fame. … The Alliance of American Football — that's one of the new pro leagues, set to debut in 2019 — will be outfitted by Starter (from Thomas Miller). … The NFL won't let the Raiders sell Vegas apparel until they leave Oakland (thanks, Brinke). … Did you know Eagles QB Randall Cunningham had his own candy bar? I didn't (but now I do, thanks to Michael MPH). … Titans players fanned out across Nashville the other day and surprised some fans by giving them season tickets and jerseys.

College Football News: Indiana is adding a memorial decal for former coach Bill Mallory (from Griffin Smith). … New uniforms for Hawaii (from Dork Nowitzki). … Brothers Andrew, David, and Michael Dowell will be wearing Nos. 5, 6, and 7 for Michigan State (from Mark Gaertner). … Looks like Iowa is going with the custom number font this season (from Dusty Kain and Bryan Stanford). … Looks like Arizona State is going with a more stripped-down look this season (from Broc Barwick). … Hmmm, is that a new matte helmet for Purdue, or is it just the lighting? (From Beutler.) … Marietta College has a grey field with navy end zones (from Clay Wynn). … This podcast discusses Ole Miss's new all-white alternates.

Hockey News: Pretty cool video on the making of signs at the Maple Leafs' arena (from @ImAnimated). … Here's a fun piece on the 40th anniversary of the Canucks' old flying-V uni design (from Wafflebored).

NBA/WNBA News: Further evidence that the Lakers may be bringing back the block-shadowed numbers when they unveil new uniforms next week (from @massaband). … New, less revealing outifts for the Bucks' dancers (from @nemmrack). … Here's a piece on how the WNBA has led the way when it comes to jersey sponsorships advertisements.

College Hoops News: Looks like Abilene Christian might be wearing throwbacks when they play Texas Tech on Dec. 15 (from Chris Mycoskie).

Soccer News: There's a Twitter feed devoted to soccer teams as bands and vice-versa (from Rex Henry). … Swansea City is charging fans extra if they want the team's kit ad to appear on their retail jerseys (from Josh Hinton). … Also from Josh: New third kit for AFC Bournemouth. … Leeds United legend Paul Madeley died on Monday. Over a career that lasted from 1964-81, he wore every starting outfield number — 2-11 (from Denis Hurley). … Juventus is selling a basketball jersey (from @tonyjuve10). … Pussy Riot members have been fined for illegally wearing police uniforms during the World Cup Finals.

Grab Bag: Dublin GAA — that's a Gaelic football team — will add a children's cancer charity's logo to their jerseys for an upcoming game. … Lancashire cricketer Liam Livingstone batted while wearing a leg pad over his broken thumb the other day (from Jim Vilk). … New paint scheme for NASCAR driver Timmy Hill (from Mike Chamernik). … Speaking of auto racing, Don Schumacher Racing is making a major commitment to concussion research (from David Firestone). … The new season of Star Trek: Discovery will include a new uniform design. … Mysterious posters featuring three Adidas logos have been appearing throughout London. … Oooh, gotta love these old Aussie football team logos (from Jeremy Brahm). … The city of Cold Spring, Minn., is picking a new logo. … More and more women are working as umps and refs, but they're having a hard time finding women's officiating uniforms.