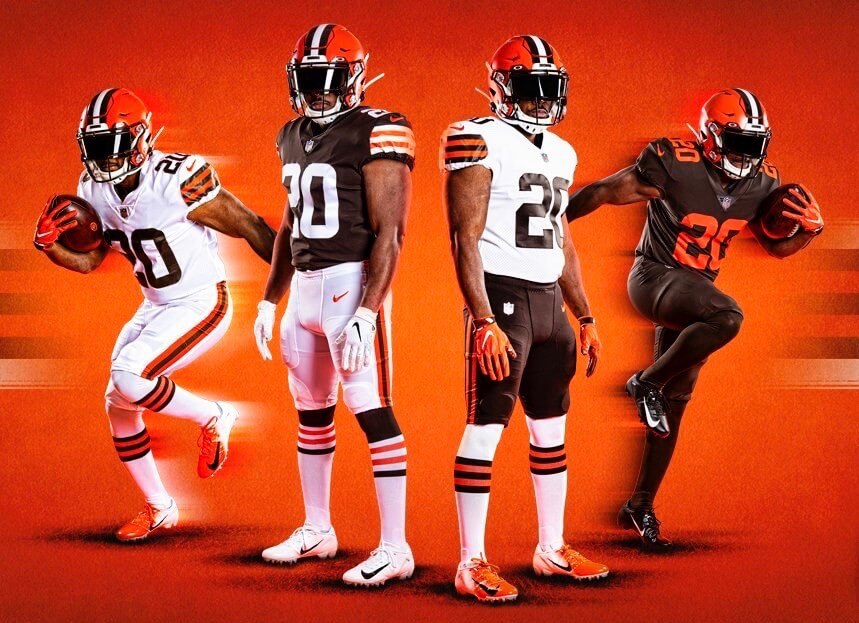 Click to enlarge
There you go — see how easy it is when you stick to the basics?
The Browns finally unveiled their new uniform set yesterday. Much like the Bucs' new set that was unveiled a week prior, Cleveland's new look is a strong rejection of the Nike aesthetic.
The designs are almost an exact match for the ones I reported on earlier this week. Those designs showed what the Browns were planning as of October of 2018. As I mentioned on Monday, they could have made a few tweaks since then, and they did:
1. They had originally shown brown-topped socks with the brown pants and white socks with the white pants, but now it's the other way around — they've swapped the socks, so now there's no dreaded leotard effect. Also, the brown-topped socks now have white/orange striping, instead of just orange, so both sets of sock stripes now match the sleeve striping on the jerseys they'll be paired with — or at least that's the idea. The reality, as we all know by now, is that many if not most players won't wear the standard-issue socks. Still, it's a noble attempt, and an improvement over the 18-months-ago designs.
2. The Color Rash jersey, which was apparently slated at one point to have "Cleveland" chest lettering and no TV numbers, ended up having no chest mark and standard TV numbers after all. Those are both positives, I guess, but it's still polishing a (mono-)turd.
3. They're showing white over white as a potential uni combo. That wasn't depicted in the earlier images.
Everything else — the home jersey, road jersey, pants striping, number font, lack of chest mark, etc. — is exactly as we showed it on our mock-ups earlier this week. You can see lots of photos here.
One other detail that isn't readily apparent from the pics: The sublimated pattern in the helmet striping has been eliminated. It was rarely visible on-field anyway and was always just a bogus gee-whiz gimmick, so it doesn't really matter either way.
Another small helmet-related detail: The back bumper, which had been blank, now says, "Cleveland." No change for the front bumper, which still has "Browns," same as before. (This move leaves the Steelers as the only remaining NFL club to wear the team name on the front while leaving the back blank. For more info on NFL helmet bumpers, look here.)
As for me, here are my thoughts:
• Still don't like the brown facemask. Would have preferred white or grey.
• Would have preferred orange pants instead of brown, but the brown ones aren't bad. (For what it's worth, there's a lot of chatter about orange pants supposedly being added at some point down the road.)
• I really like the number font. As I mentioned on Monday, it presents visually as block, but with some rounded corners. So many things are described as a "marriage of old and new," or words to that effect, but this really seems to embody it — and successfully!
• I'm almost giddy about an NFL team bringing back striped socks. Two different sets of them, even! Never thought we'd see that particular ratchet turn the other way. As noted above, getting the players to wear them properly may be a lost cause, but I'll be happy even if the kicker and punter are the only guys who suit up properly.
• I don't like the Rash uni, but I don't like almost any of the Rash unis, so whatever.
• Overall, it's a huge upgrade, and my few quibbles are just that — quibbles. Generally speaking, this is how the Browns are supposed to look.
All of which makes you wonder how they got it so disastrously wrong five years ago. Was Nike whispering such seductive sweet nothings in their ear that they just couldn't resist? Did they honestly believe they could be a Pepsi team instead of a Coke team? Or were they just desperate to distract people from how bad the team was?
Either way, good for the Browns for acknowledging their mistake and correcting it in the shortest allowable timespan. Here's hoping they stick with this set for a long, long time.
I saw certain reactions to this set being repeated by a lot of people yesterday, so let's shift into FAQ mode:
Isn't this basically the same thing they wore in 2014?
Not 100% the same, but yes, it's very close.
Going back to an old design is lame. They should move forward, not backward!
The 2015 redesign was a forward move, and it sucked. Personally, I don't care if a uniform redesign is forward or backward (or big vs. small, or modern vs. retro, etc.) — I only care whether it's good. And this move is clearly a good one.
Seems like a lot of hype and buildup for something we've pretty much already seen before.
I agree that all teams tend to overhype their upcoming uni unveilings. But so what? Hype is just that — hype. Ignore it and just concentrate on the new design. Is it good? Is it bad? Why or why not? That's all that matters.
Okay, moving on: There are now three remaining NFL teams slated to unveil new uniforms in the coming weeks: the Chargers (next Tuesday), the Patriots (sometime prior to the draft), and the Rams (sometime in May). As always, if anyone has solid info on any of those, I'm all ears. I'll protect your anonymity, of course.
Finally, there's this: The Browns posted a video interview with their equipment director, Brad Melland, on their website yesterday. It's not particularly informative regarding the new uniforms, but Melland did drop one bit of news about an upcoming Nike template:
Nike's going into a new system next year — actually, it'll be two years down the road, because they just cancelled, with everything that's going on — called the Fuse, which is recyclable fabric. We'll make a decision down the road whether we're going to get into that or not. And if it's definitely a performance advantage, you'll see us switching into that system.

A uniform change won't happen — the design and everything will stay the same. It'll just transfer over to the new uniform system.
So that's something to keep in mind.
• • • • •
• • • • •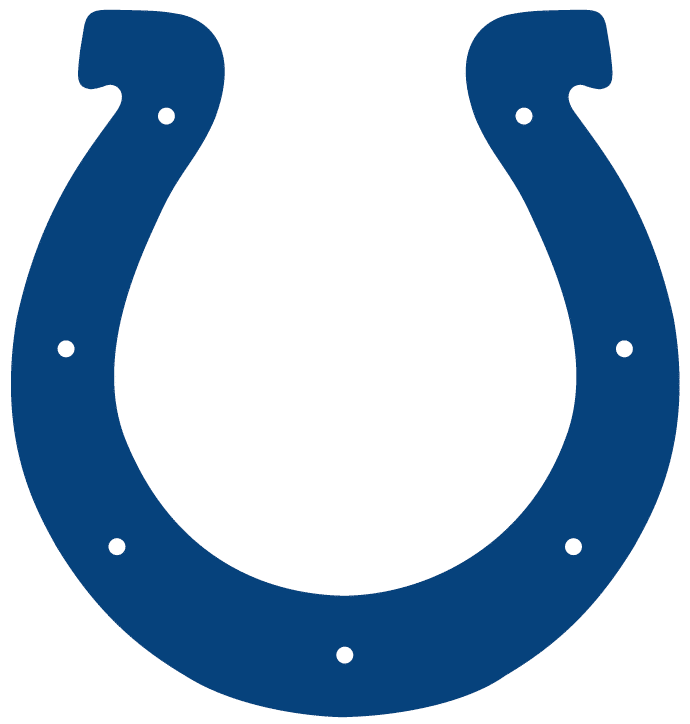 Meanwhile, over in Indy…: Lots of Colts-related developments yesterday. One at a time:
1. A team spokesman confirmed to me that the horseshoe logo on the team's helmet has indeed been tweaked. As I wrote on Tuesday, that change was visually apparent but they hadn't officially acknowledged it. Now they have.
2. I mentioned in yesterday's lede that the Colts hadn't responded to my request for comment about the similarities between their new secondary logo and the logo that Jere Kubuske designed a few years ago for Cathedral High School in Indianapolis. Colts communications VP Steve Campbell got back to me yesterday afternoon, so I added his statement to yesterday's post. But in case you missed that because you had already read the blog and moved on for the day, here it is again:
We have great respect for our friends at Cathedral, and we would never purposefully take an idea from them to use as our own. That's just not how the Colts do business. The new Colts Indiana logo was an independent creation that was designed by the NFL, as are most team marks and logos, and was not designed locally. The Colts and the league were unaware of the other logo, and we wouldn't have moved forward otherwise. But we will look into the matter. Nonetheless, both the Colts and Coach Kubuske had the same goals at heart — promoting athletics and paying tribute to our home state.
3. In Tuesday's review of the Colts' uni and logo changes, I said that the team's new number font is the same as what they had already been wearing on their Color Rash jersey. But reader Quinn Siebers, who's a bit of an NFL font savant, says it's not quite that simple. He provided this comparison graphic (click to enlarge):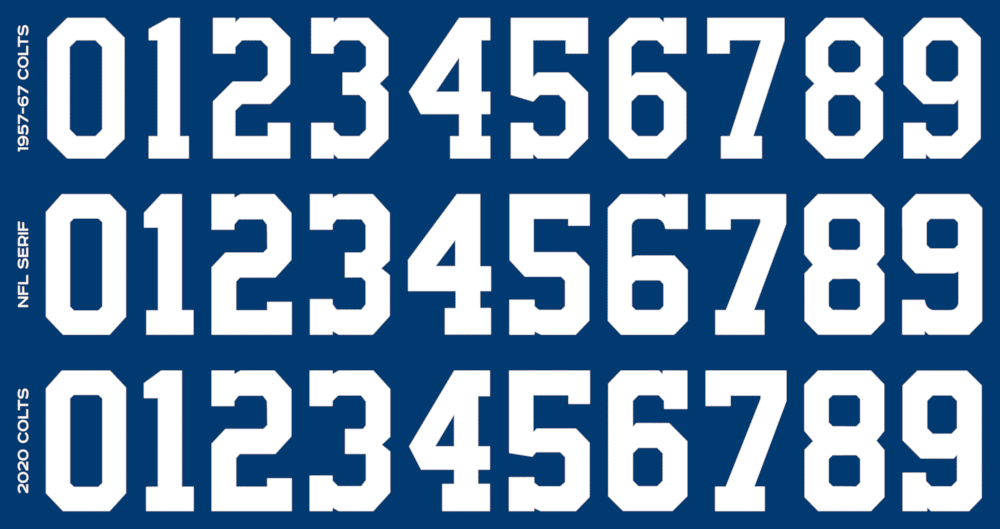 He then added this explainer:
There are some key differences to the Colts' new [primary] font. The 2019 Color Rush font is the standard NFL serif block used for any serif block throwbacks (Cowboys Color Rush, 2007-11 Jets, 2010 Eagles, etc.). The new Colts block uses the existing serif block for Nos. 0, 2, 3, 7, and 8, but has a new 1, 4, 5, and 6/9. The 1 has a squatter top, to mimic the Unitas font; the 4 adds an extra serif on the top (like Michigan football) and an angle on the sharp angle (like the NFL block), rather than having it square; the 5 adds a Packers notch to it; and the 6/9 has a bigger counter. All these changes are excellent edits to the NFL serif block and make it much more accurate to the Unitas-era serif block.

Also, an important caveat: I have yet to find a promotional or merchandise photo showing a 0 or 8 on a jersey, so what I have is speculation and comes from the NFL serif font.
4. I also mentioned on Tuesday that I found it odd for the Colts to be referring to their horseshoe logo's nail holes as "grommets." Several horse-knowledgeable people confirmed to me that they're never called that. But reader Marcus Myers, who worked as an assistant to a farrier for over a decade, went further:
When looking at the Colts' logo, I see the nail holes all in the wrong spots that would be normal for a horseshoe. You can see from a normal shoe where nails would be placed — you would never place a nail in the toe or the heel. I know the Colts' shoe is a logo, but I would not want to be the horse who got a nail in their heel.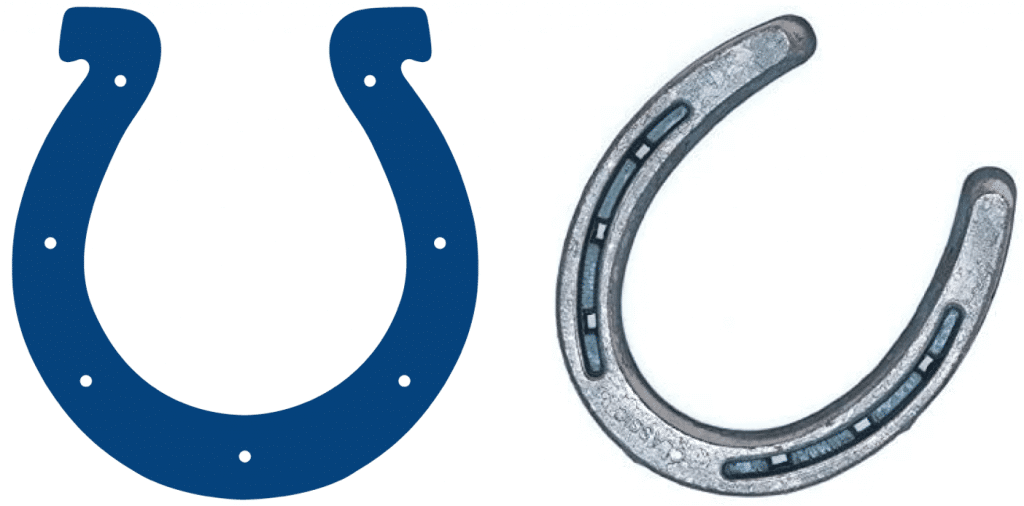 Interesting! I've been writing about uniforms for more than two decades now and have never heard that critique of the Colts' logo.
Man, for a team that just made a bunch of really subtle changes that most fans won't even notice, the Colts have eaten up a lot of space on my blog and in my brain this week!
• • • • •
• • • • •
Click to enlarge
Sock it to me: There are lots of great DIY uni-related masks floating around these days. But Kevin Kurz gets my vote for the best one yet, because his mask is made from — get this — a sock from his beer league hockey team, the Narwhals, and is tied with skate laces! Check this out:
How great is that? So great that I don't even mind the purple/teal thing. Nicely done, Kevin!
• • • • •
• • • • •
Uni Watch Haiku: I didn't publish a haiku yesterday, and I thought lots of people — okay, a few people — would say, "Hey, where's the haiku?" But exactly nobody said that.
But if you were thinking that would dissuade me from haiku-ing, think again! Here's the latest:
What I wouldn't give
For just one NFL game
With real jersey sleeves
And there's more where that came from.
• • • • •
• • • • •
Click to enlarge
Membership update: We recently made a membership card for reader Chris Spisak, based on an old Cleveland Force soccer jersey. As you can see above, he's very pleased with the results. Glad you like, Chris — thanks for the photo!
• • • • •
• • • • •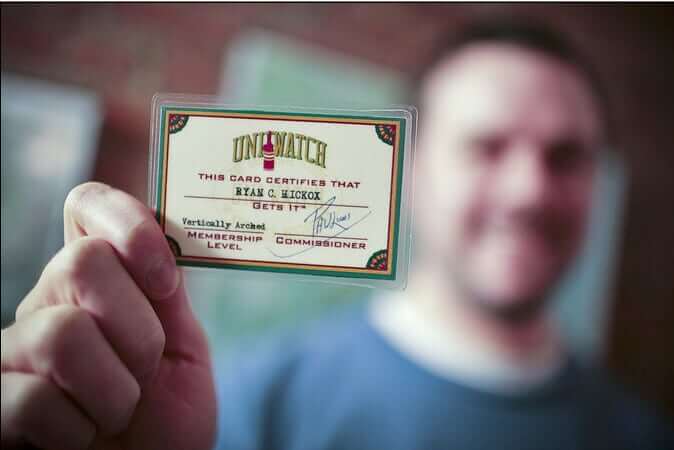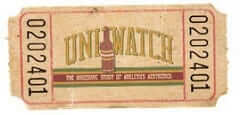 ITEM! Yet another membership raffle: Reader Jay Palmer recently purchased a Uni Watch membership for me to raffle off, so that's what we're going to do today.
To enter, send an email to the raffle address by 8pm Eastern tonight. One entry per person. I'll announce the winner tomorrow. Thanks to Jay for sponsoring this one!
• • • • •
• • • • •
The Ticker
By Paul

'Skins Watch: Land O Lakes butter has quietly removed the Native American woman from its package design. A good move, although it means future generations will grow up without learning how to do the knees/boobs trick (from Patrick Baldwin).

Baseball News: It's a little hard to see, but the Orioles' production crew once had its own logo, featuring the team's cartoon bird mascot hoisting a TV camera. … If you were looking for a ranking of great defunct MLB ballparks, today's your lucky day (from Kary Klismet). … Since yesterday was Jackie Day, all MLB websites showed all players as No. 42 (from @bosproshops). … Meanwhile, Pirates P Chris Archer hopes that MLB will reschedule Jackie Day if the season ever gets underway (thanks, Phil). … Amazing story from @DisMagicBands: "My Dad has a book coming out in June about the Seattle Pilots. He spoke with the son of the seamstress who removed all the Seattle pilots patches and sewed all the Milwaukee patches onto the Pilots' old uniforms right before Milwaukee's opening day in 1970. She gave him [the son] all the Pilots patches for his sandlot team and the team moms sewed the patches onto their T-shirts to wear in games that summer."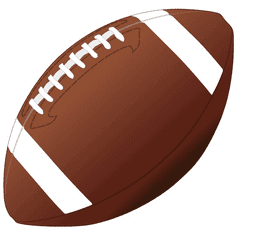 NFL News: Although the format of the upcoming NFL draft will be seriously curtailed due to the pandemic, it will still feature an absurd amount of corporate douchebaggery. Gross (thanks, Brinke). … Newly signed Steelers FB Derek Watt, who wore No. 34 with the Chargers, will wear No. 44 in Pittsburgh (from Dan Starceski). … Ole Miss is the latest school to implement digital-only ticketing (from Griffin Smith).

Hockey News: At the 33:48 mark of this podcast, former NHLer Brooks Laich says his grandfather had a handkerchief pocket sewn into his hockey pants (from @MRWCannon). … Check out this shot from the 1991 Rangers/Kings outdoor preseason game in Las Vegas. Rangers RW Jody Hull's number doesn't have the Rangers' standard block-shadowing, although his NOB lettering does have it. "Looking at video of the game, all the other Rangers seemed to have the same issue," says @KingsUniHistory. "A preseason quirk?"

Soccer News: Here's a BBC poll where you can vote for your favorite soccer shirt (from Ted Arnold). … Reprinted from yesterday's comments: Liverpool's home kit has leaked. … Marseille's away and third shirts have leaked. … AS Roma's new home shirt is rather tequila sunrise-esque. … The Australian women's national team is encouraging fans to try redesigning the team's kit (from EP Conrad).

Grab Bag: Pro golfer Doug Sanders, known as the "Peacock of the Fairways" because of his stylish attire, has died (NYT link) (from Tom Turner). … The time management podcast Before Breakfast has an interesting suggestion for keeping spirits high during the coronavirus lock-down: create "team uniforms" for your family (from Kary Klismet). … A Maryland police officer is under investigation for allegedly engaging in religious ministering while in uniform, which would seem to run afoul of First Amendment's establishment clause. … The city of Sioux Falls, S.D., and several area civic organizations have released a series of closely-related logos as part of a coordinated local branding effort (from Kary Klismet). … A Minnesota newspaper hosted a live virtual happy hour about the ugliest uniforms in sports history (from Nate Wohl).
• • • • •
[adrotate group="2″]
• • • • •
Click to enlarge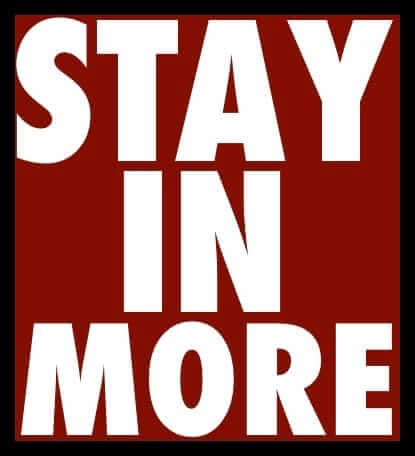 What Paul did last night: So we're out on the stoop yesterday — Bud for me, just seltzer for the Tugboat Captain, because she had a class at 6:30pm — and we see this guy, maybe 20 years old, coming down the sidewalk, loaded down with grocery bags. We know him from the neighborhood but don't know his name. And when he's about one house away from us, we hear the sound of breaking glass, and he stops and wails, "Oh, not again! Why? Why?!"
One of his bags had torn and a jar of tomato sauce had cracked open on the sidewalk. There was something about it — the sad, unmistakable sound of breaking glass, the way he kept saying, "Why?!", the fact that we couldn't go over to help him because of social distancing — that was sort of heartbreaking. For a second or two, I wanted to cry. We don't currently have any tomato sauce in the house, or else we absolutely would have given him some.
Instead, we asked if there was anything we could do to help. He asked for a trash bag, so he could clean up the breakage. I ran inside and got him a bag, along with some paper towels for his hands, and then left them on the sidewalk maybe eight feet in front of him (which felt so weird, but that's the world we live in now).
He was super-appreciative and gracious, and on some level the whole thing felt intimate. I'm sorry his sauce jar broke, but it provided a very human encounter — I didn't realize how starved I was for that.
• • • • •
I'll be talking NFL uniforms on The Dan Patrick Show at 9:45am Eastern. Should be fun! — Paul