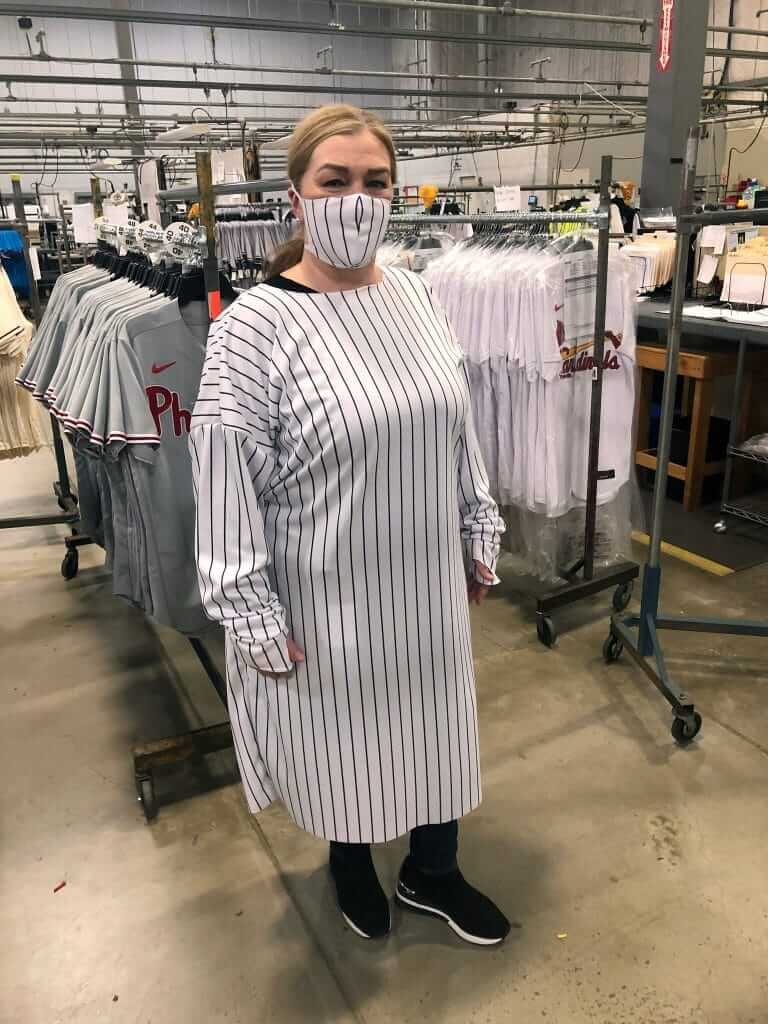 Click to enlarge
Nice story yesterday out of Pennsylvania, where Fanatics announced that they've stopped manufacturing MLB jerseys and are instead converting their operations to make hospital masks and gowns out of MLB uniform fabric. The resulting gear is being donated to hospitals in Pennsylvania, with a goal of expanding the distribution to New Jersey and New York, where hospitals have been slammed with Covid-19 victims and are in desperate need of supplies.
Fanatics chairman Michael Rubin — who's also a co-owner of the 76ers and Devils — had this to say about the project in a Twitter thread yesterday:
Woke up in the middle of the night last week with idea of converting our Fanatics factory in Pennsylvania that makes official MLB jerseys into a facility that makes much-needed masks and gowns and then donating them to help fight this horrendous virus.

This past weekend, Pennsylvania Gov. Tom Wolf and Attorney General Josh Shapiro each called me, saying they desperately needed help getting masks and gowns to the frontline workers across [the state].

Fast forward to today — Fanatics and MLB have halted production of all MLB jerseys and [are] instead using that same fabric we make the jerseys with to make masks and gowns!! We have approximately 100 associates working (extra-distanced and in a very clean and safe environment, of course).

[We] plan to make one million masks and gowns then immediately donate and distribute them to hospitals and emergency management personnel across Pennsylviania, with the goal of extending this to New Jersey and New York — the epicenter of the Covid-19 outbreak in the U.S.!

Thanks to MLB Commissioner Rob Manfred for not only agreeing to halting production of MLB jerseys but also doing everything possible to make this happen as quickly as possible!!

And thanks to our incredible associates who raised their hands and wanted to be part of the effort to help the frontline heroes in this war [to] stem the spread of the virus!
Interesting! There's lots of additional info here, here, and here.
A few notes: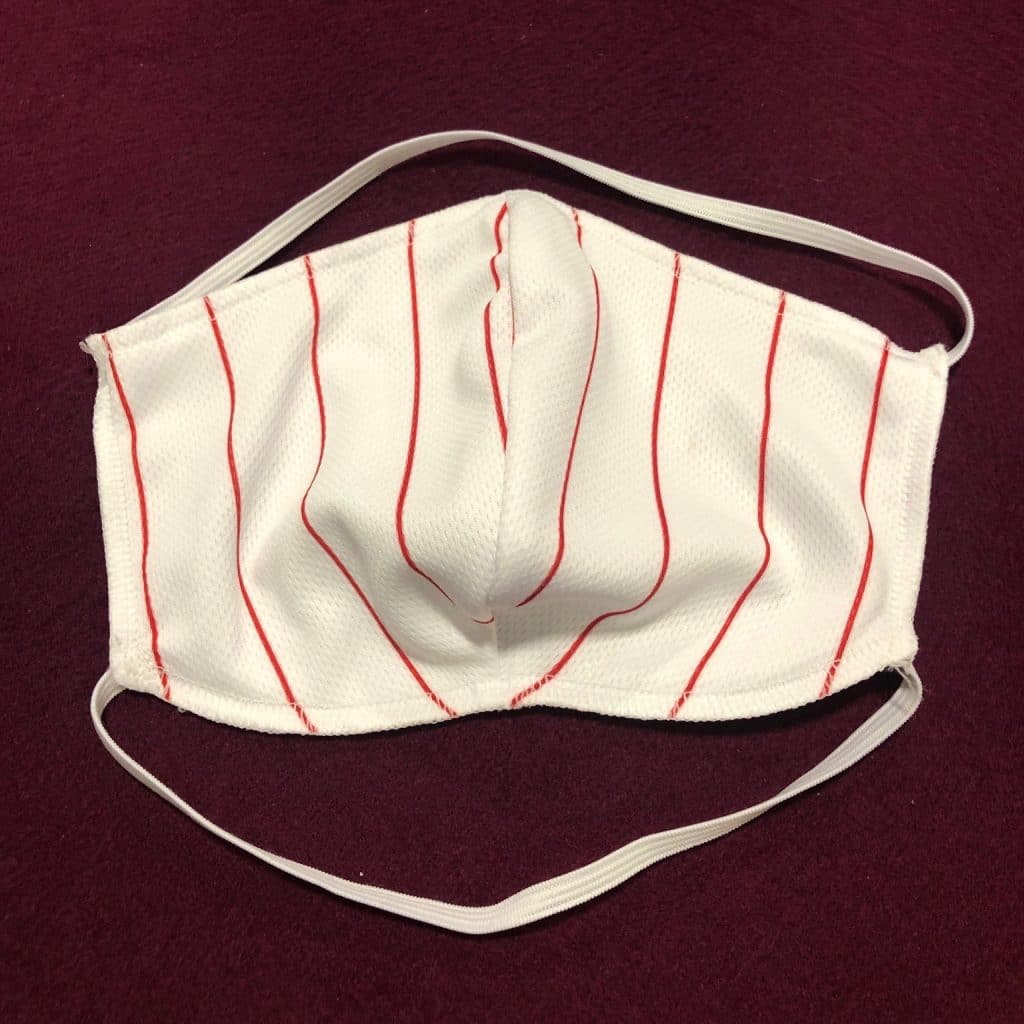 • These masks and gowns are not surgical-grade. They're what's known as "Level 1" masks, used for low-risk, nonsurgical procedures that are for single-use only.
• Fanatics aims to produce one million masks and gowns at a unit cost of about $3 apiece, so their net donation here is about $3 million (plus the opportunity costs of shutting down MLB jersey production).
• The five photos that Fanatics released to the media in connection with this story (the same pics appear again and again in the assorted articles) all show either Phillies pinstriped fabric or Yankees pinstriped fabric. Obviously, nothing says baseball like pinstripes, plus this gear is being earmarked for hospitals in Pennsylvania, New Jersey, and New York, so using those teams makes sense. According to this article, "As production and distribution expands, other team jersey materials will be utilized," so we could see masks and gowns in plain white, road grey, A's green, Rockies purple (shudder), and so on.
• No maker's mark!
• I was on a radio show yesterday afternoon, and the hosts brought up the masks and gowns and said something like, "These are absolutely going to be collector's items, don't think?" Yeah, I guess. But let's hope we don't see any "game-used" masks up for auction — ewww.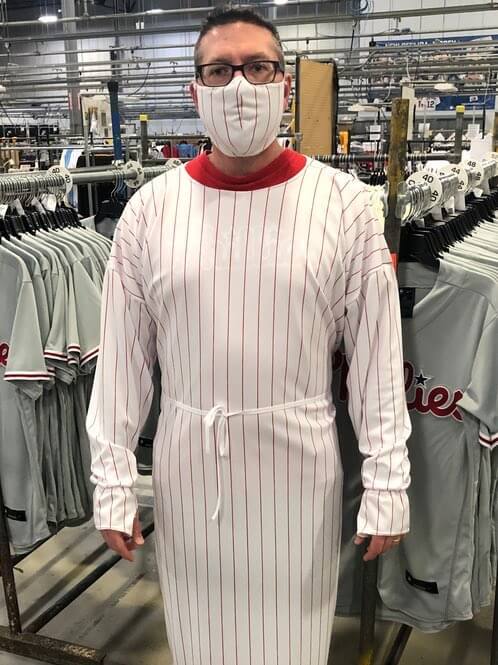 Fanatics isn't the only uni-related company that has shifted its production to combat the pandemic. Earlier this week we had a Ticker item about how the hockey brand Bauer is making medical shields, and now the lacrosse helmet maker Cascade is doing the same. In addition, the Irish company O'Neills, which outfits Gaelic games teams, is now making scrubs, and the cycling brand Santini is making masks.
(Thanks to Brendon Kelly and our own Jamie Rathjen for their contributions to this section.)
• • • • •
• • • • •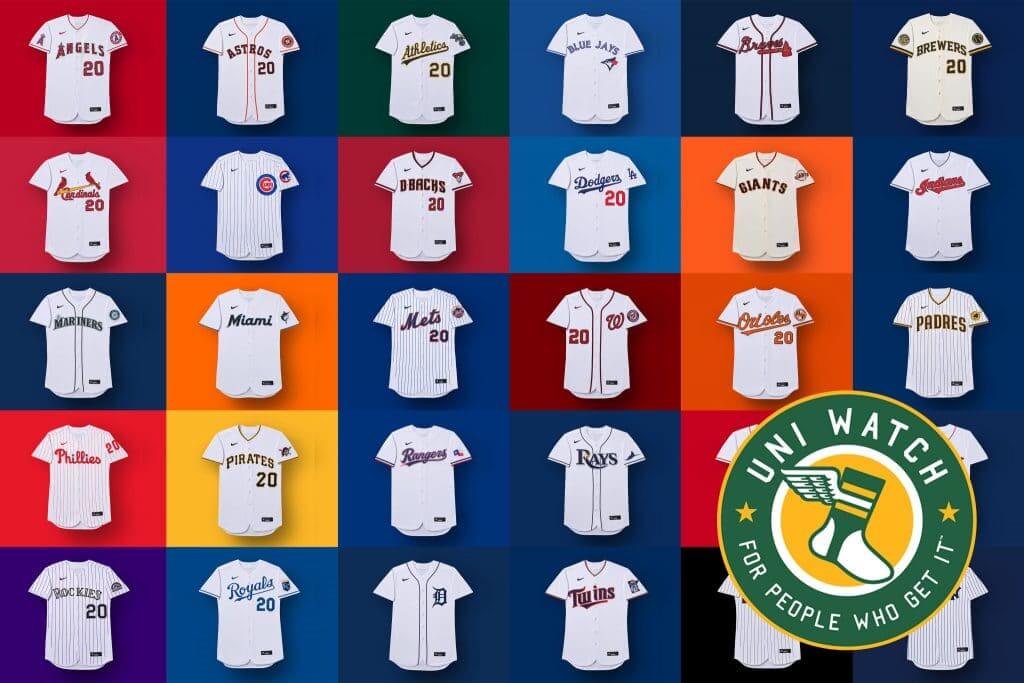 MLB Season Preview reminder: In case you missed it on Thursday, the 22nd annual Uni Watch MLB Season Preview is now available for your enjoyment. Think of it as a nice distraction, and a promise of better days ahead.
• • • • •
• • • • •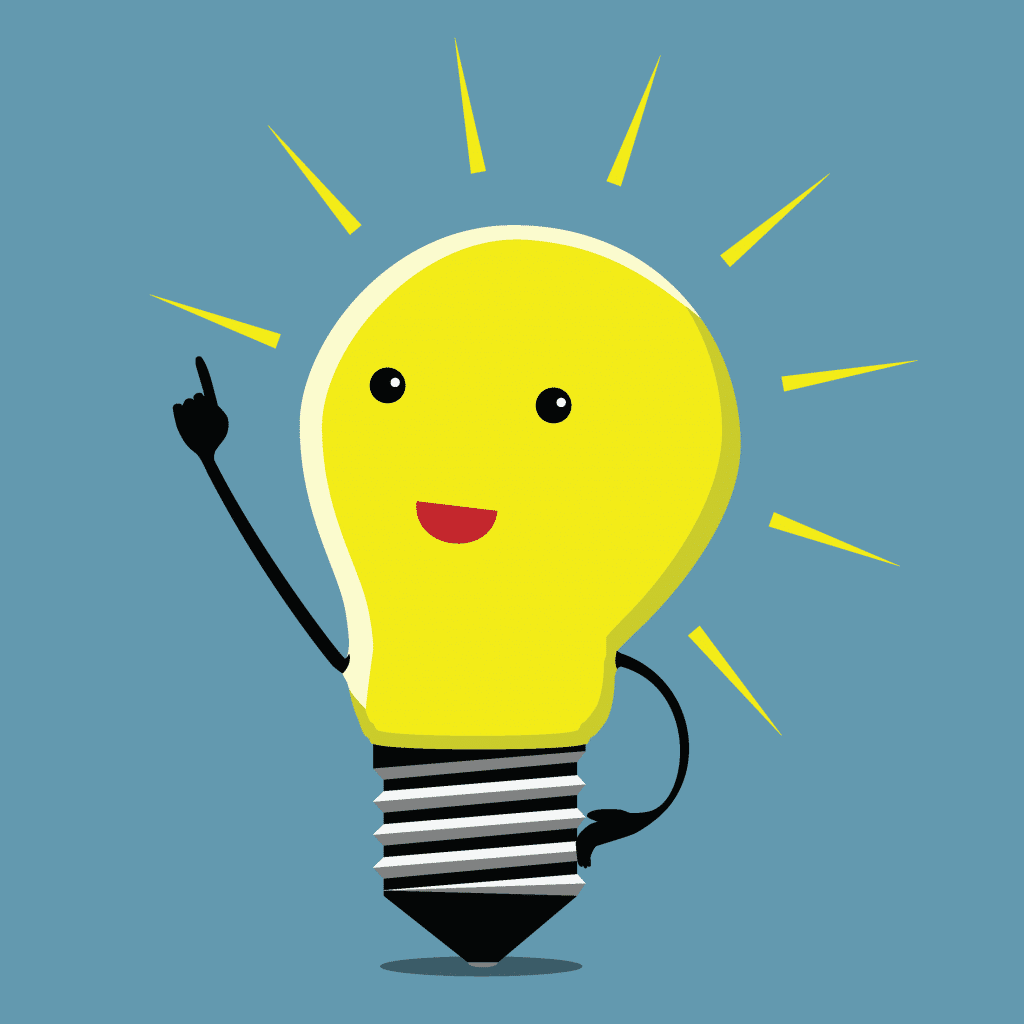 When did you first Get It™? I was recently emailing with "Collector's Corner" columnist Brinke Guthrie, who mentioned that his first memory of Getting It™ regarding uniforms — his "a-ha moemnt," so to speak — was when he was watching Super Bowl IV (Vikings/Chiefs) as a five-year-old. "I was intrigued by the horn on the side of the VIkes' helmet," he said. "I didn't even know it was a horn until years later. I just liked the flow of it, and the little yellow at the base of the horn, and also the colors of purple (sorry) and yellow."
I had a similar experience maybe a year after Brinke did. I was seven years old, and my brother gave me a hockey magazine with Canadiens goalie Ken Dryden on the cover. This was when Dryden was wearing his original skeletal mask (nothing else like it, before or since), which I couldn't stop staring at, trying to study all its intricacies. I was also fascinated by the Canadiens' logo. I didn't understand what the interior "H" was for, but something about the logo looked so perfectly … official. Nearly half a century later, the Canadiens are still my favorite NHL team.
What about you? When did you first Get It™? If you'd like to share that story, write it up (try to keep it to one paragraph, if possible) and send it to this mailbox (note that this is not the usual Uni Watch email address). No stories in the comments, please. I'll post the stories here on the site in an upcoming post. I'm looking forward to reading your uni-watching origin stories!
• • • • •
• • • • •
Click to enlarge
Family affair: Who's that handsome-looking goalie? None other than Uni Watch membership card printer Bob Sullivan. When my longtime Brooklyn print shop closed last autumn, Bob (who runs his own press) helpfully stepped into the breach. If you've ordered a membership card in the past five months or so, Bob's the one who printed it.
I was talking to Bob yesterday and he mentioned that he missed playing hockey. I didn't realize he played, so I asked for a photo. He sent the one shown above, along with the following note:
That's my daughter Emily on the right. She makes me look short in the picture, but we're actually about the same height — 5'9″. Player skates are taller than goalie skates. Every Thanksgiving, the guys I play with at 6am hold a benefit skate for the local food bank. So for the last five years, Emily has gotten up at 4:30am with me so that we can be on the rink by 6am. We play for 90 minutes, socialize a bit, and then go home for the holiday. Last year we just about filled a tractor trailer with non-perishable items, and raised about $10,000 cash in donations.

I began playing 12 years ago, at age 53. Emily talked me into it. When I first started, my wife Janet said, "I don't see how playing goal is going to help you get into shape. You don't move like the players do." After coming to a game, she said, "Never mind." I explain the goalie workout this way: Put 30 pounds on your back. Drop down on your knees. Get up. Do that about 60 times in 45 minutes, and mix in some other gyrations and stretches.
Good stuff. I'm grateful to Bob for his assistance with the membership program and proud to be partnering with such a great guy. Thanks, buddy!
• • • • •
• • • • •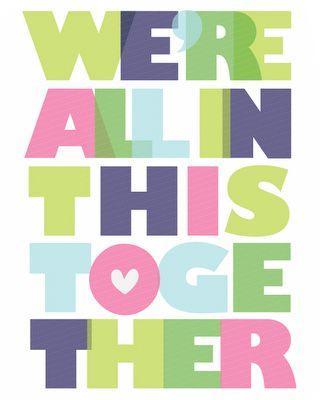 On a serious note: Many of you have told me over the past two weeks how much you're appreciating Uni Watch during this difficult time in our lives. Just yesterday I received a membership order from a reader who said, "I've been meaning to get a membership for a while. All it took was a pandemic to free up my schedule and make me focus on the important things in life — and that includes the Uni Watch community."
Those words, and many similar notes I've received, mean a lot to me. Frankly, hearing how much the site matters to you folks has given me a sense of purpose and responsibility that feels almost like a luxury during the pandemic. At a time when so many people feel powerless or at a loss, I've felt very directed and purposeful. I hope it shows in the quality and length of the entries I've been publishing, and also in the ways I've been trying more to engage the comm-uni-ty (like with today's "When did you first Get It™?" section), so we can all feel a bit more connected.
But I have to tell you: Uni Watch could really use your support these days. Although our traffic is up (which increases our web-hosting expenses), our ad revenue is down (part of an internet-wide trend, because advertisers are submitting lower bids during the economic downturn), and most of my outside freelance work has dried up.
I realize, of course, that some of you are facing financial challenges of your own. But for those of you who have the means: If you value Uni Watch's presence, please consider making a donation or purchasing a product, especially if you haven't done so before. (I've tried to show solidarity by lowering the prices on membership cards, caps, and seam rippers, and by offering a 15% discount on everything in the Uni Watch Shop and the Naming Wrongs Shop with the checkout code COMMUNITY.)
My thanks, as always, for your consideration. We're all in this together, and we'll get through it together too. Stay well!
• • • • •
• • • • •
The Ticker
By Anthony Emerson

Baseball News: In 1982, umpire Joe West's gear was lost in transit to Houston and he was forced to call the game in an Astros jacket (from multiple readers). … The Rangers had brief write-ups on their then-new unis in a game program from 1986. The text notes that Rawlings made the home unis and Wilson made the road unis, an arrangement that seems bizarre today but wasn't unusual at the time. … Former MLB pitcher Dan Haren is holding a bobblehead auction (paywalled) to "help people who really need it" (from Michael Ortman). … The Chinese Professional Baseball League has redesigned its logo to promote hand-washing and mask-wearing (from Jeremy Brahm). … Pro golfer David Duval wore a Red Sox cap on the links in 1996 (from Andy Garms). … American Eagle is selling a shirt that celebrates the Brewers' 1982 American League pennant — with the National League's logo (from @GoForDaGusto). … Ohio Gov. Mike DeWine wore a Reds tie during a press conference (from Jason Lowe). … The NHL's Arizona Coyotes are auctioning off Diamondbacks-inspired warm-up sweaters that they would have worn last night for Opening Day (from Josh Pearlman). … Some spectacular early-1970s Astros photo, including a great shot of Uni Watch pal Jerry Reuss wearing star-clad stirrups, here (from Dwayne White).

NFL News: Ravens QB Lamar Jackson has filed a lawsuit against Amazon over unlicensed, counterfeit apparel sold by third parties (thanks, Brinke). … We've finally seen an official Tom Brady Tampa Bay jersey. The only catch is that it's a Tampa Bay Vipers jersey (from Moe Khan). … Speaking of Brady, his agents have applied for a trademark on the term "TB x TB."

Hockey News: Reader Wade Heidt writes in: "Here in Vancouver, at 7pm everybody opens their windows, cheers, makes noise, bangs pots and pans, all in support of healthcare and frontline workers during the pandemic. Rogers Arena elected to participate by turning on the goal horn usually used for Canucks goals." … Cross-listed from the baseball section: The Coyotes are auctioning off Arizona Diamondbacks-inspired warm-up sweaters, which they would have worn last night in honor of MLB's Opening Day (from Josh Pearlman).

Soccer News: First name on front? The New York Arrows of the now-defunct Major Indoor Soccer League seemed to adopt that style for their keepers in the early 1980s. Here's a better look at Shep Messing's FiNOF (from Gabriel Luis Manga). … Tottenham Hotspur Stadium, Wembley, and other famous sites around London have been lit up in blue in a show of support for the workers of the National Health Service, many of whose employees wear blue scrubs or uniforms (thanks, Jamie). … Also from Jamie: Nicaragua's Liga Primera is one of the few professional sports leagues still playing at the moment. Players on Diriangén posed for their pre-match photo standing apart, wearing masks and, in some cases, gloves. … Arsenal's third kit has leaked, as has Manchester United's.

Grab Bag: At the 22:22 mark of this video, you can see a NASCAR official in full referee zebra stripes (from Christopher J. Falvey). … IKEA and Pizza Hut have combined to make a table inspired by those little stands that come in the middle of pizzas (from Pete Woychik). … CNN is highlighting some of the major corporations and brands that have redesigned their logos to promote social distancing (from Jason Hilyer). … The Illinois State Police has stopped wearing hats and ties because they cannot be easily washed or disinfected and could transmit the coronavirus (from Jamie Uthe). … Yesterday was the 49th anniversary of the debut of the Rolling Stones' lips/tongue logo (thanks, Brinke). … If your ears have been irritated by the elastic on surgical masks, here's a good DIY fix (from Rob Altman). … Japanese women's volleyball team Kashiwa Angel Cross is changing its name to Chiba Angel Cross and has an updated logo (from Jeremy Brahm).
• • • • •
• • • • •
Click to enlarge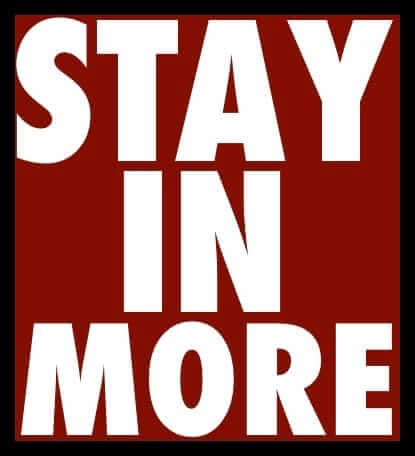 What Paul did last night : Very nice pandemic porch cocktails yesterday, as our friend Alyssa, who lives a few neighborhoods over from us, happened to be walking by and stopped to chat for a bit (from a safe distance, of course). She's an editor at a local news website, so she's juggling the demands of covering the pandemic and managing a bunch of reporters while working from home and dealing with her adolescent kid. She's holding up, but it's still stressful. Talking with her made our lives seem blissfully simple by comparison.
After cocktails, it was time for dinner. I always have a hot dog on Opening Day and I decided to maintain that ritual yesterday, even though it was Nopening Day. With no live baseball to watch, I cued up a game from last season:
As you can see there, I was drinking Budweiser Copper Lager (which I believe was launched in 2018, although I first encountered it this past December), which according to the brewery is "aged on Jim Beam bourbon barrel staves." Note that they don't say it's aged in the barrels, but rather on the barrel staves — what the hell does that even mean?
Whatever it means, I really like the result. It's warmer and more malty than regular Bud (which I also like). Higher alcohol content, too. I even like the bottle and the label design (yes, even though it's BFBS). Recommended!
• • • • •
Our latest raffle winners are Shea McMahon and Ryan Townsend, who've each won a Uni Watch membership card. Big congrats to them!
Everyone stay safe this weekend. I'll see you back here on Monday. Peace. — Paul