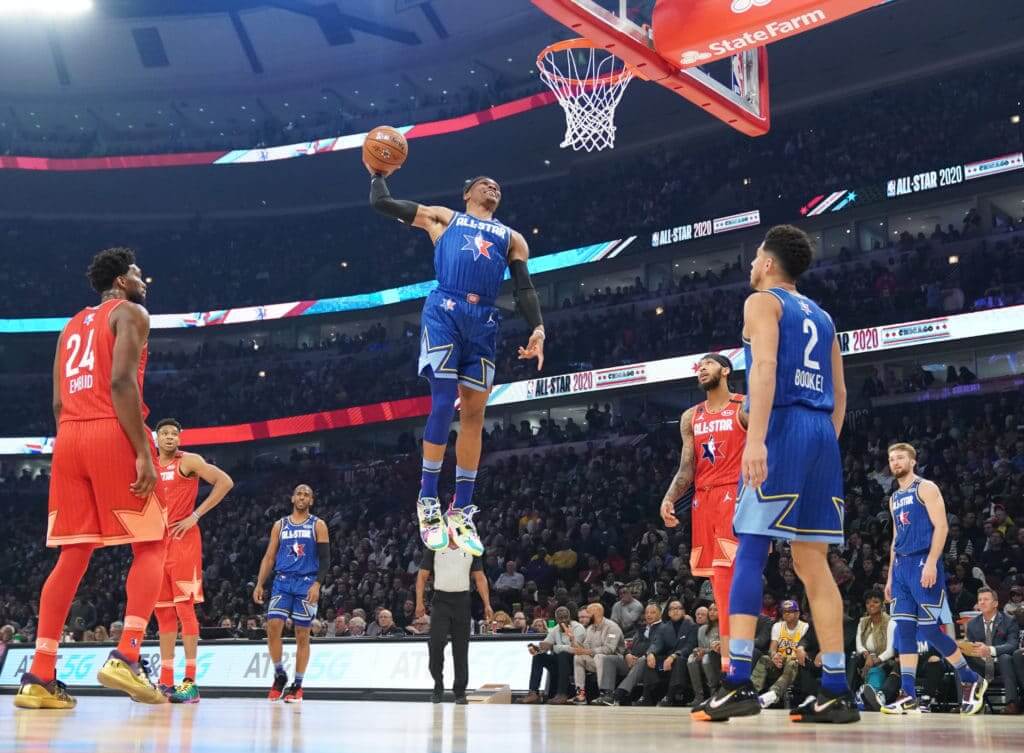 Click to enlarge
Happy Presidents Day! I was looking through NBA All-Star Game photos last night and cracked up when I came across this shot. An uncontested dunk with everyone basically standing around looking bored — that pretty well captures the All-Star spirit!
Anyway, by now you know the drill regarding these uniforms: Everyone on Team Giannis wore No. 24 for Kobe Bryant, while Team LeBron wore No. 2 for Bryant's daughter, Gianna. Both teams wore memorial patches with nine stars — one for each victim of the Bryant helicopter crash. (The black memorial band on the other shoulder was for David Stern and has been included on all NBA uniforms since Stern's death back on New Year's Day.)
One thing that I don't think we had seen until last night (or at least I hadn't seen it): the sock designs. Much like the jerseys, they featured stripes representing Chicago's eight transit lines (click to enlarge):
A few other notes from the game:
• Former NBA star Allen Iverson showed up wearing a Bryant jersey (that's Dr. J in the suit):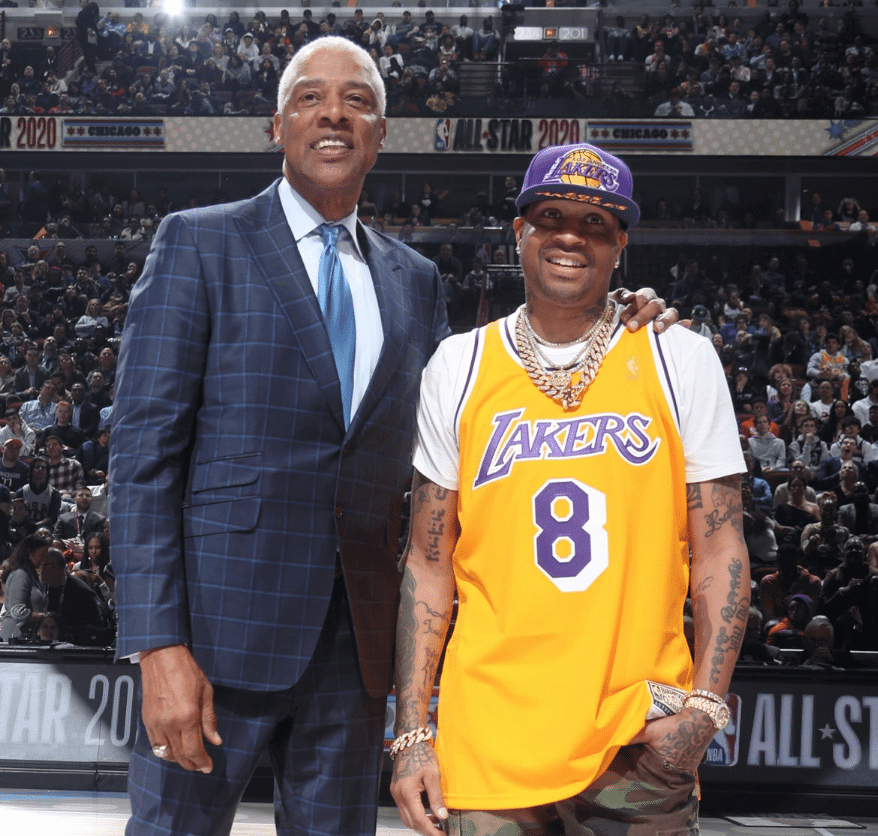 • Chaka Khan wore an interesting jersey-based outfit while singing the national anthem: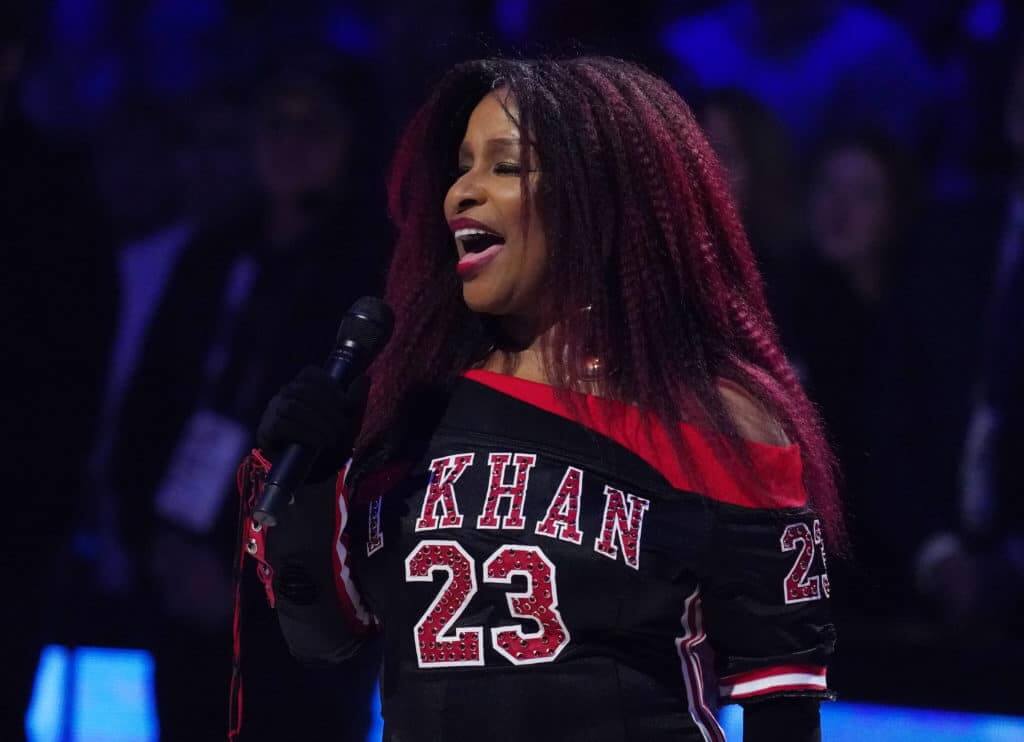 • As you may have heard on Saturday, they renamed the game's MVP award after Bryant. And boy, you can really tell what a huge honor that was by the size of Bryant's name on the trophy compared to the size of the Kia advertisement: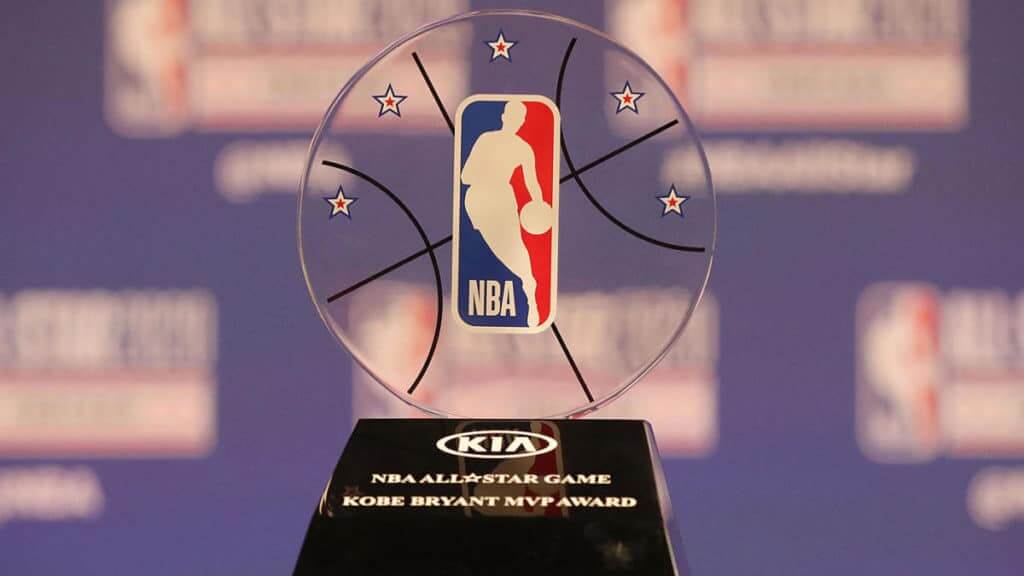 A stirring tribute, to be sure!
• • • • •
• • • • •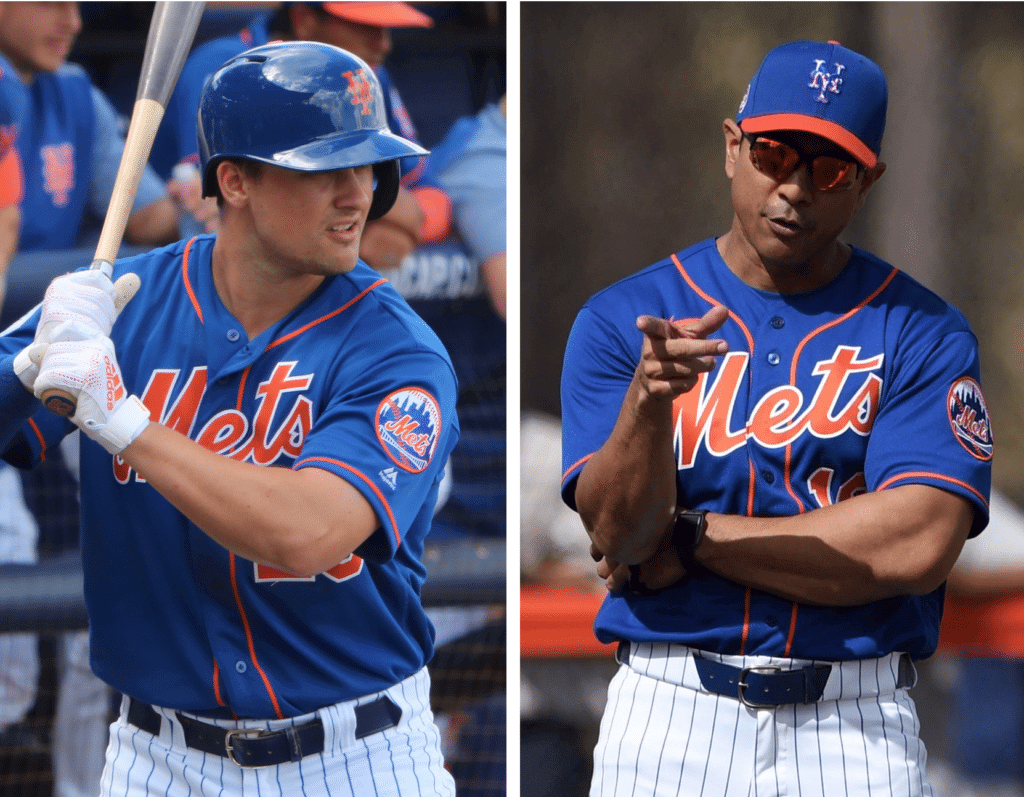 Click to enlarge
MLB pants update: I spent a fair amount of time last Thursday discussing the back of MLB pants, but it turns out that the real action is on the front, where eagle-eyed reader Alex Burbidge has spotted something new. It appears that some teams, including the Mets, have new belt tunnels!
In the past, the Mets had two loops on each side of the front buckle area (top left), but now those loops have been replaced by tunnels with diagonally slanted edges (top right).
At least one other team is also wearing this new belt tunnel format: the Royals. This slo-mo video provides a really good look at the tunnel design
Singer finding his key. pic.twitter.com/quTUrszkdI

— Kansas City Royals (@Royals) February 15, 2020
But several other teams still appear to be using the old format, at least for now. Something to keep an eye on as the season progresses.
(Major thanks to Alex Burbidge for this excellent spot.)
• • • • •
• • • • •
No relation: As I've occasionally mentioned here on the site, Lukas is not my original family name. My parents changed it from Lewkowitz shortly after they married (and more than a decade before I was born). So I don't share my surname with any ancestors or extended family, and it's relatively uncommon to see Lukas spelled with a "k," so it's rare that I encounter other people named Paul Lukas. (One exception, as I wrote about in a 2011 blog entry, is an old Hollywood actor.)
So it was very weird when Phil notified me on Friday that he'd come across a few news stories about the death of a Kenyan man named Paul Lukas, who died in Seattle last week under mysterious circumstances. (He worked for Alaska Airlines, which explains the photo above.)
Obviously, I have zero connection to this Paul Lukas. Still, I find it very weird to see the words "Paul Lukas dies" in a headline. I guess if your name is something fairly common — like, say Alex Jones — you get used to seeing it in contexts that have nothing to do with you. But I'm not used to that myself. It's interesting how a simple sequence of letters can pack such an emotional wallop.
Anyway: Sorry to hear about my namesake's demise. R.I.P.
• • • • •
• • • • •
Click to enlarge
New décor at Uni Watch HQ: Isn't this nice? Scored it on eBay last week. I love the colors, love the sock designs (look at the chickens and cactus on the one at top-right!), love the die-cut shape, love the name "Sunbeam Sox" — the whole bit.
I thought it would look good on my bedroom dresser — and it does! Dig (click to enlarge):
I know some of you will want to know what those other things are on my dresser, so okay — from left to right:
• The black-and-white photo is a self-portrait that my father took of himself when he was 15 or 16.
• Behind the photo is a porcelain forearm/hand that was originally used as a mold to make rubber gloves. It is "wearing" three promotional wristwatches (top to bottom: Rice Krispies cereal, Moxie soda, and Quisp cereal) and three rings from important people who are no longer in my life (my father's college ring, my brother Henry's high school ring, and my sister-in-law Mimi's wedding ring).
• To the right of the porcelain hand is a carved wooden dog that's one of my favorite possessions. It has all sorts of wonderful details that aren't apparent in the photo, and there's a very, very special story behind it that I won't get into here.
• To the right of the wooden dog is a vintage Old Hickory Shoe Laces display case that I found at a junk shop about 20 years ago. I keep various things in the drawers: cufflinks, knickknacks, duplicate keys, batteries, a little sewing kit, etc.
• On top of the shoelace case are five clay discs, each of which contains a memorial paw print from a cat I once owned (including former Uni Watch boy mascot Tucker). Let the record show that the Tugboat Captain is skeeved out by these, but I insist on displaying them.
• To the right of the shoelace case is a piggy bank that my sister-in-law Mimi gave me shortly before her sudden death in 1993. I remember we joked that it was unusually lean and thin, and therefore probably wouldn't be very tasty. Whenever I get any pennies in my pocket change, they go into this bank, and then I cash them in ever four or five years when the bank fills up.
• And to the right of the piggy bank is the new sock sales display thingie. Fits right in, don't you think?
• • • • •
• • • • •
ITEM! Prexy Day sale: In honor of Presidents Day (or, as some states prefer to call it, Presidents' Day), I'm offering a 15% discount on our Uni Watch Pin Club design featuring Abe and George (and on all the rest of the merchandise in the Uni Watch Shop and the Naming Wrongs Shop. To claim it, use the code PREXY15 at checkout.
This discount will only be available for today. Enjoy!
• • • • •
• • • • •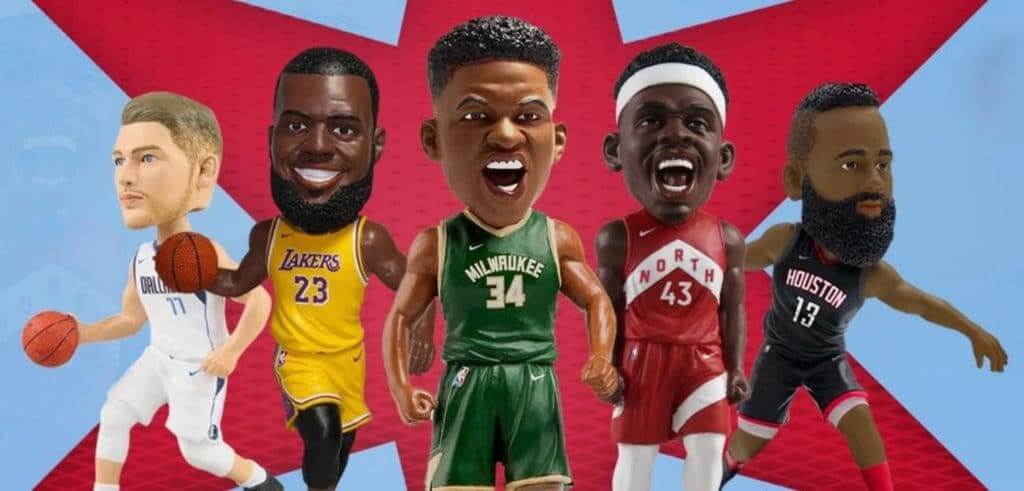 ITEM! FOCO discount: Remember those oversized NHL hoodies that I recently raffled off? The company behind them, FOCO (short for "Forever Collectibles"), is now offering Uni Watch readers a 10% discount for anything on their site (including NBA bobbleheads like the ones shown above).
To claim this discount, go to FOCO's site and use the checkout code UNIWATCH10. One use per customer, limited-time offer. My thanks to FOCO for doing this!
• • • • •
• • • • •
The Ticker
By Jamie Rathjen

Baseball News: Louisiana Tech wore throwbacks yesterday (from Austin Perry). … Baylor has new yellow sleeveless jerseys (from @squatcheeontop). … Northwestern State's softball team got a new uniform.

Hockey News: The Canucks wore white at home yesterday because the Ducks only brought their orange alternates for their current two-game road trip (from Patrick Johnston and Josh Kolba). … The Canucks also wore the Sedin brothers' numbers/NOBs in warmups. They had retired the brothers' numbers a few days earlier (from Wade Heidt). … Some Penguins players were asked who in the NHL does the "weirdest" job taping their stick (from Jerry Wolper). … The ECHL's Jacksonville Icemen took uniform advertising to a new level yesterday by turning their entire jersey into an ad for supermarket sandwiches (from multiple readers). … Two junior hockey items from Wade Heidt: the OHL's Flint Firebirds continued their annual tradition of dressing up as the Flint Tropics from the movie Semi-Pro. … The OHL's Owen Sound Attack wore tie-dye jerseys in support of a local summer camp. … Down a level in junior hockey, a new team in the Junior A Superior International Junior Hockey League, the Kam River Fighting Walleye, apparently poaches the logo of the ECHL's Toledo Walleye (from Will Scheibler).

Basketball News: Villanova and Temple both wore throwbacks yesterday (from @UntillTheNight). … Elon's women's team retired No. 55 for their all-time leading scorer, Venessa Corbett (from Timmy Donahue). … Women's college teams that wore pink or pink accents included Clemson, Pitt (from Jakob Fox), both Louisville, who wore black and pink at home, and Notre Dame (from Josh Claywell), and Oklahoma (from Sam McKinley). … Wichita State and Tulane's men's and women's teams both played each other in color-vs.-color games yesterday: WSU in yellow and Tulane in black for the men (from Josh Hinton) and WSU in black and Tulane in pink for the women (from @Corneal_Univ). … Two more from Timmy Donahue: Division II Texas A&M-Kingsville wore throwbacks this weekend. … The Greenville (S.C.) News recently republished an article on the equipment used by the county's high schools before integration.

Soccer News: German teams 1. FC Köln and Mainz 05 wore Karneval kits yesterday, and Köln's shirts appear to feature a labeled map of the city's districts (the latter from Scott Moomaw). … Starting next season, Italy's Serie A is to have a standard number/NOB font and ads won't be allowed to have colored backgrounds (from Josh Hinton). … The numbers on Brazilian team Flamengo's new shirt display "manto sagrado" — "sacred shirt," perhaps — when viewed from the right angle, which is surely only to impress the people buying it (from Germán Cabrejo). … Last week, we had an item on Irish team Bohemians' new second shirt, which has a "Refugees Welcome" message instead of an ad in partnership with Amnesty International. This column argues that if Bohs decided to forgo an ad, Premier League teams of vastly greater revenues have no excuse not to, and suggests they use their shirts to promote charities, which they already can do once per season. The only other top-tier team in the UK and Ireland that currently wears a charity logo instead of an ad is Scottish team Heart of Midlothian, since 2015. … With that, another from Germán and Josh: Everton's dumping their shirt advertiser next season, and somehow I don't think they're replacing it with Everton in the Community's logo. … Speaking of charities on shirts, Heart of Midlothian's women's team just added their own, separate from the men's team. … Josh also sent us a Reddit user's mockup of MLS Western Conference teams without ads. … Bartlesville (Okla.) HS sent us their new shirt. … Here's our first look at Inter Miami's shirt ad.

Grab Bag: Purdue now uses its sports logo as its non-sports logo (from Kurt Esposito). … The NLL's Halifax Thunderbirds and Saskatchewan Rush both wore Canadian military-themed uniforms (from Wade Heidt). … Major League Rugby officials have worn mono-pink on multiple occasions this season, but it's unclear if that's permanent — pink shirts are seen on officials elsewhere in the sport — or some kind of promotion (from @bryanwdc). … Middle Tennessee State's women's tennis team wore green shoelaces for mental health awareness (from @wilds_lee). … Here are the guernseys for next week's Australian Football League bushfire-relief game between a Victoria representative team and an all-star team. … Adam Herbst went to a cricket-themed Indian restaurant in Cliffside Hills, N.J., which included this homage to Sachin Tendulkar with "God" as his NOB — the No. 200 is a reference to his becoming the first male player to score 200 runs in a One Day International in 2010. … This is apparently one of the Olympic jerseys for the U.S. women's volleyball team (from Jeremy Brahm). … The next two items are from yesterday's/today's Daytona 500: Bubba Wallace's No. 43 featured tribute decals for both Kobe Bryant and John Andretti, the latter a former driver of the No. 43 who passed away recently (from James Gilbert). … Alex Bowman has a pants pocket for his phone (from Adam Hitt). … This is pretty amazing: a series of seven bike racks that, when viewed in a row, form the Wichita city flag design (from @PhillyPartTwo). … Siena College in Loudonville, N.Y., recently announced former Congressman and Siena alum Chris Gibson as its new president. "At the presser announcing his appointment, he wore a tie in team colors," notes Joe Makowiec.