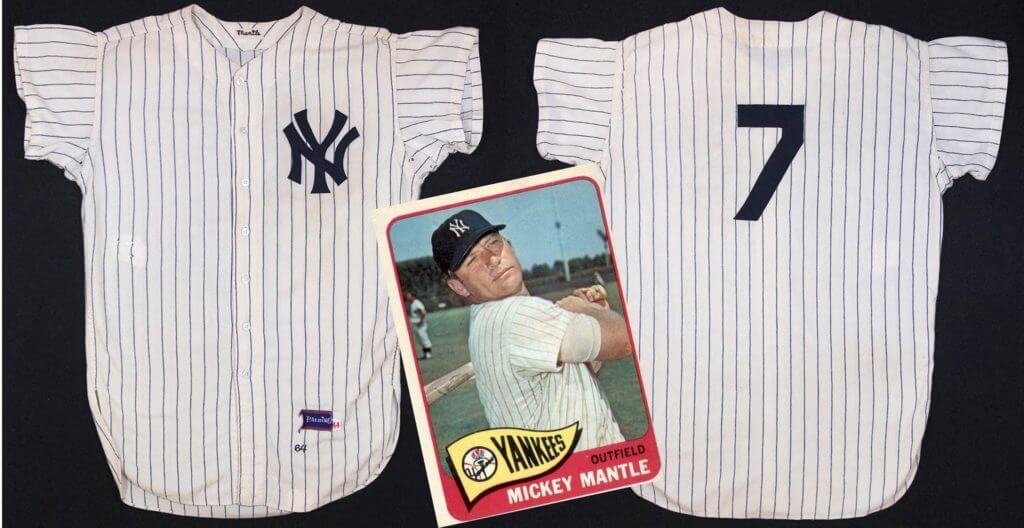 For all photos, click to enlarge
Many of you know longtime Uni Watch pal Bill Henderson as the guy behind the definitive guide to post-flannel MLB jerseys. Lately he's been putting his encyclopedic uniform knowledge to good use by running a jersey-restoration business called the Dream Shop.
Bill will sometimes show his step-by-step restoration process for a given jersey on Facebook, and he recently invited me to share that content on Uni Watch. Today is the first of what I hope will be a series of step-by-step projects from Bill, and I think you'll really enjoy it. I'll now hand the baton over to him.
Restoring a 1964 Mickey Mantle Jersey
By Bill Henderson
I'll be candid: When someone writes and tells me that he has an original Mickey Mantle Yankees flannel jersey he wants me to look at, I mentally prepare myself for the disappointment I will need to share with him. There are very few actual Mantle jerseys and lots of questionable re-creations, so encountering a real one is unlikely at best.
Here's how the jersey looked when I received it: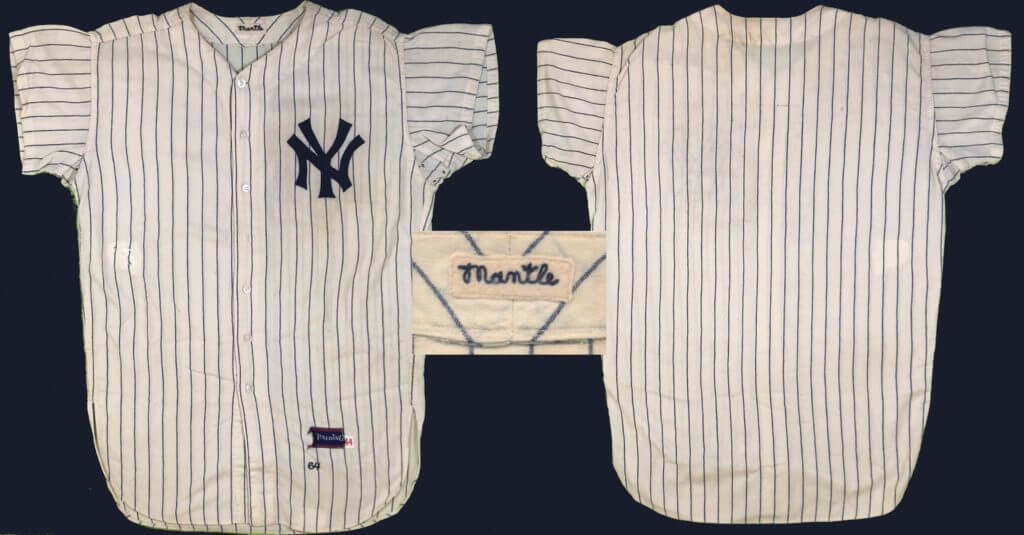 The "NY" on the front looked a bit off — probably not original — and there were no numbers on the back, but Mantle's name was embroidered in the collar. The jersey was a Spalding, year-tagged as 1964.
An examination on a light table showed that there had once been a "7" on the back, and also a "57":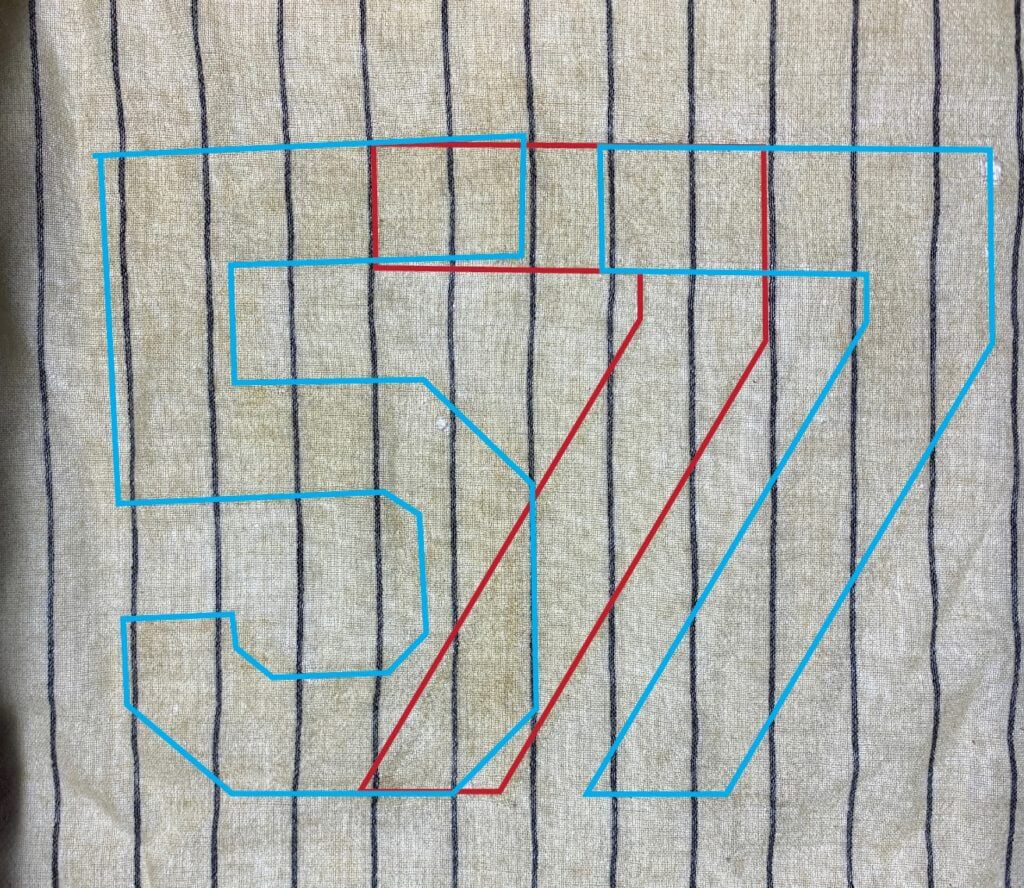 Old jerseys often have multiple numbers if they've been reissued in the big league team's minor league system. But would the Yankees really do that to a jersey from one of their most famous players? Yes, actually, they would — I have seen many Yankees "star player" jerseys that were sent to the minors and used to death. To the Yankees, these were not priceless collectables; they were simply team-owned gear, and reusing them in the minors saved the club money. The Yankees were very protective — almost hostile — about sharing any of these with collectors. Players were generally issued two sets of home and road jerseys for the year, and a backup or two from the prior year were often kept around as spares for emergency use. It was nothing like today, where a player might wear a different jersey every few games to help feed the collector market.
Having the front of the jersey bare would be important for further light table investigation of the garment's history. So I used a seam ripper [clearly not a Uni Watch model! — PL] to carefully remove the stitching holding the "NY" logo on the front, one scant stitch at a time: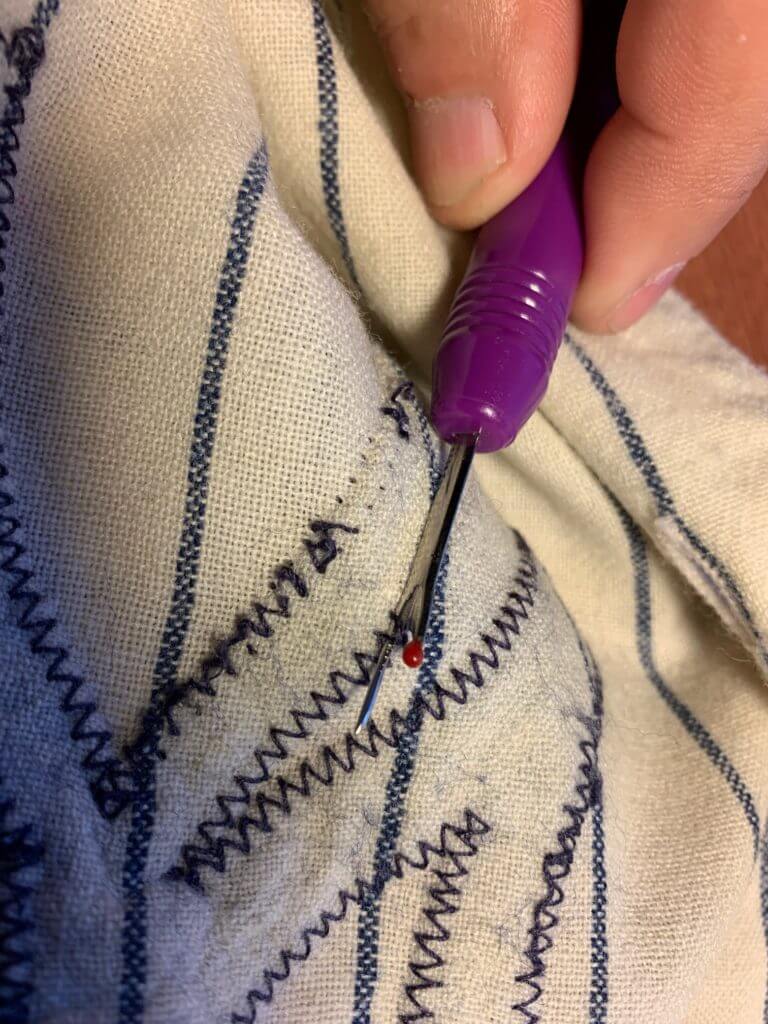 Luckily, it was not glued on and came off without a fight. Unfortunately, though, its presence over time had stained the underlying flannel fabric.
As I suspected, a light table examination of the front confirmed that the "NY" logo was not the original one. Slight shadows of the original logo were evident. On this photo, the red lines are the residual ghosts I can see, and the blue outline is the Yankees' standard template for a 1964 front crest: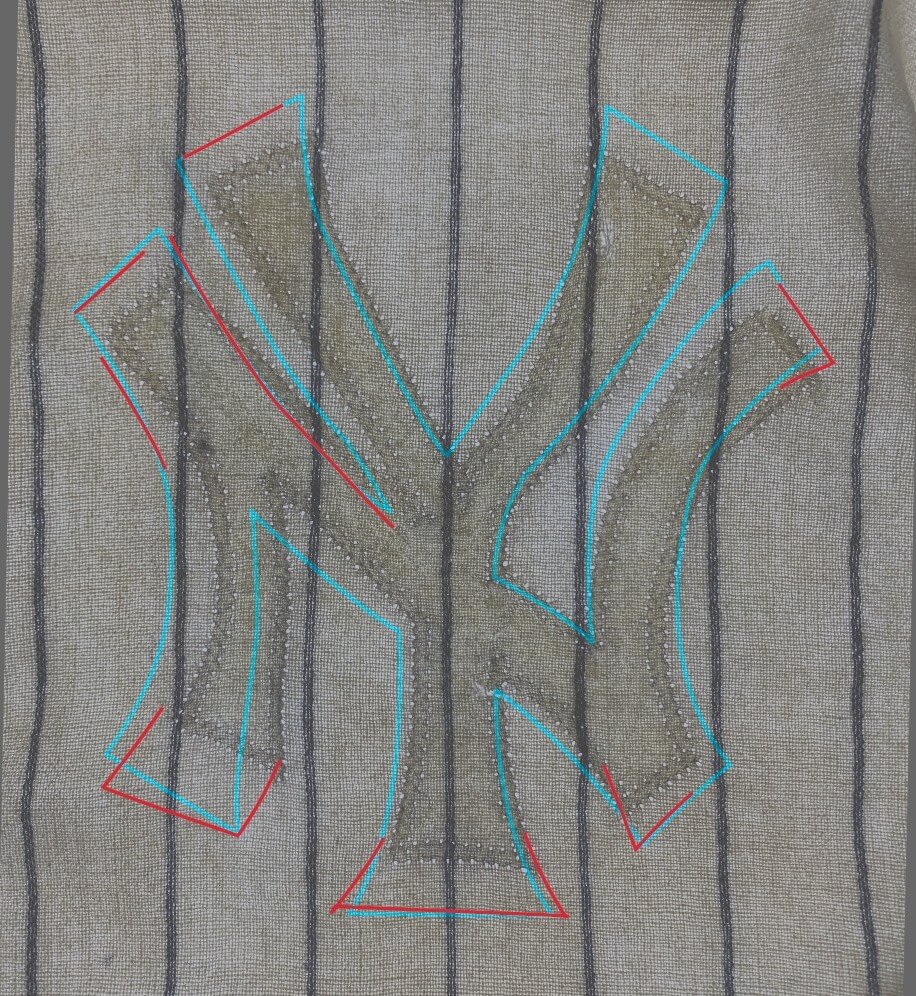 Notably, the entire left side of the chest was darker, as if something else might have been glued there — but what? There were no stitching marks elsewhere on the chest, so a full-chest wordmark from the minors had clearly never been applied. I wondered, which team might have used this jersey, causing the "NY" to have been stripped and then reused?
Internet research turned up a possible answer: In the mid-1960s, the Yankees had a short-lived minor league team improbably named the Columbus (Georgia) Confederate Yankees, whose uniforms featured a Confederate flag sleeve patch. [I wrote about this for ESPN back in 2011. — PL] I wondered: Had this jersey been repurposed to the Confederate Yankees? The light table provided the answer. While it's hard to see in this photo, there it was — faint signs of the Confederate flag patch having been sewn onto the sleeve, perfectly sized and positioned: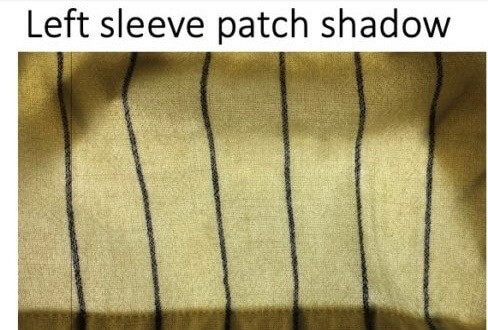 Back to the light table! Now that I knew what I was looking for, spotting the edges of the discoloration on the left chest allowed me to pick out the points of intersection between the "NY" logo and the Columbus Confederate Yankees crest that had also been sewn there. There were also a few small holes exactly in the places where the stitching would have intersected between the old logo and the new: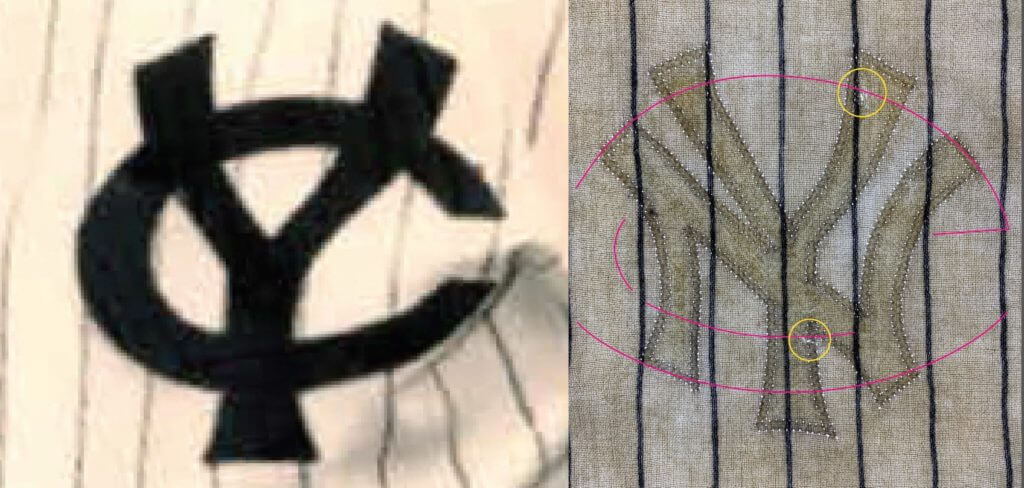 This was getting exciting! My next task was to run a search of Mantle jerseys that had been authenticated and sold at auction. My search of auction catalogs showed that this one hadn't made the public auction scene before, or at least not in the past 20 years. This seemed to be the baseball equivalent of an automotive "barn find," like discovering a Corvette or a Duesenberg covered with a tarp and pushed to the back of a storage shed. I also noted, with a gulp, that a 1964 Mantle road jersey had sold at auction in August 2018 for $1.32 million!
The darkened glue marks mostly came out of the fabric with a careful application of dry cleaning chemicals. I worked gently to try to remove the blue staining, but succeeded only in lightening it slightly: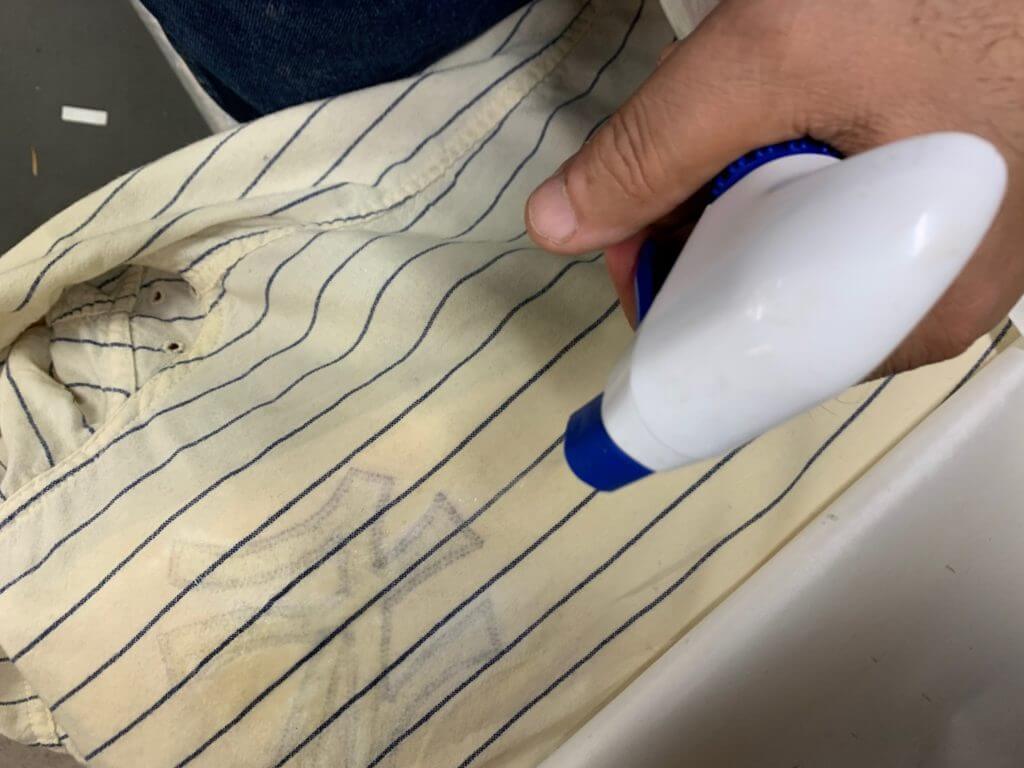 That's not the end of the world — I believe every mark left behind tells a story, and sometimes relics can be spoiled by trying too hard to make them perfect.
I used heirloom Merino wool felt to create a 1964-correct "NY" for the front and a "7" for the back. The front logo, based on the team's original pattern, matched the telltale ghosts perfectly! I positioned the felt to ensure that the new lettering covered the ghosts exactly before I stitched them on.
As a restorer and authenticator, I always recommend creating a separate Document of Restoration to chronicle the restoration process. Why? Once exactly restored, the new lettering will perfectly cover the old, original ghosts, leaving behind only the shadows of what was once altered there. A future authenticator looking at this jersey on his light table might reasonably conclude that this jersey was originally numbered as No. 57 and confidently declare it to be a Mickey Mantle counterfeit! Our work-in-progress documentation is designed to prevent that from happening.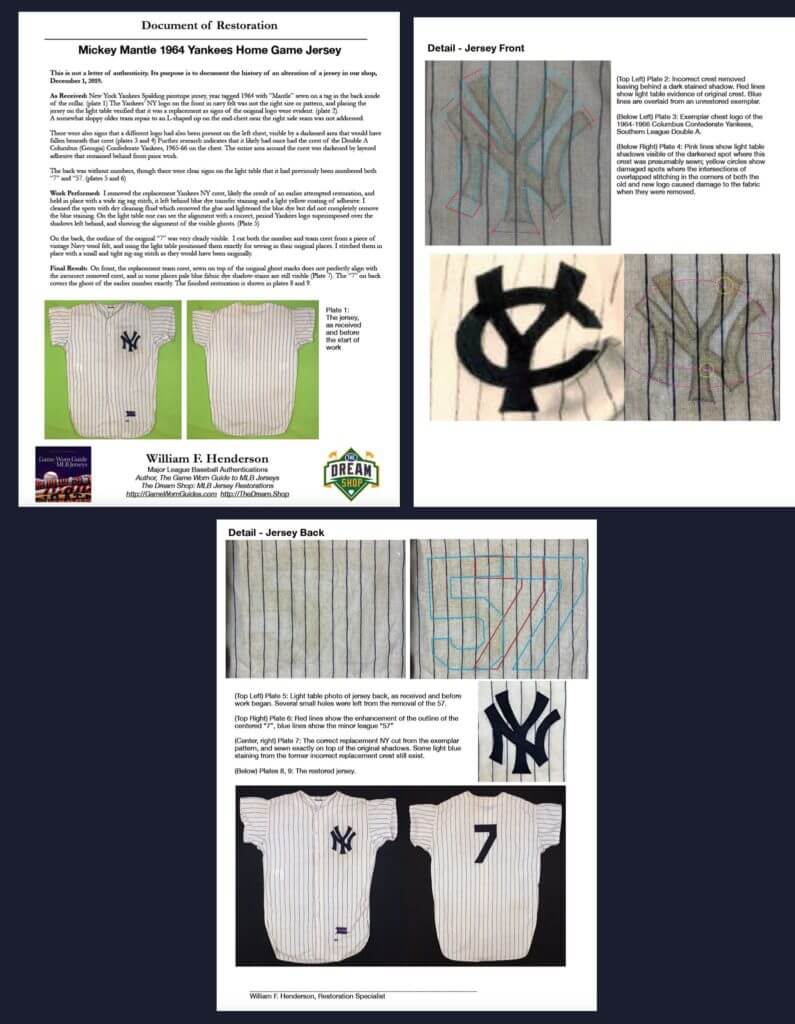 Exact restoration of the original elements was critical, because the next step was to try to photo-match this jersey to Mantle. My sponsor in this discipline is Sports Investors Authentications. They are properly licensed to use the photographs from which they photo-match, are insured, and have an impeccable reputation for quality and honesty. I am proud to authenticate for them.
We examined dozens of photos of Mantle from the 1964 through 1966 seasons, trying to find at least one shot that would provide a 100% positive match. Even though this jersey was tagged 1964, we knew to check photos from 1965 and even 1966, as this jersey may have served as a backup for Mantle. I won't go into all the details of photo matching technique, but no detail is too small to ignore. Everything must match: pinstripes, logo placement, seam alignment, even stitching. After several days of work, we were able to positively match the jersey to game photos from both 1964 and 1965! We can surmise that it went to the Columbus Confederate Yankees in 1966.
Mantle is also wearing the jersey in the photo used for this 1965 baseball card, which was taken during 1965 spring training. There is a positive match to the way the stripes align in the underarm gusset and the exact location of the vent holes.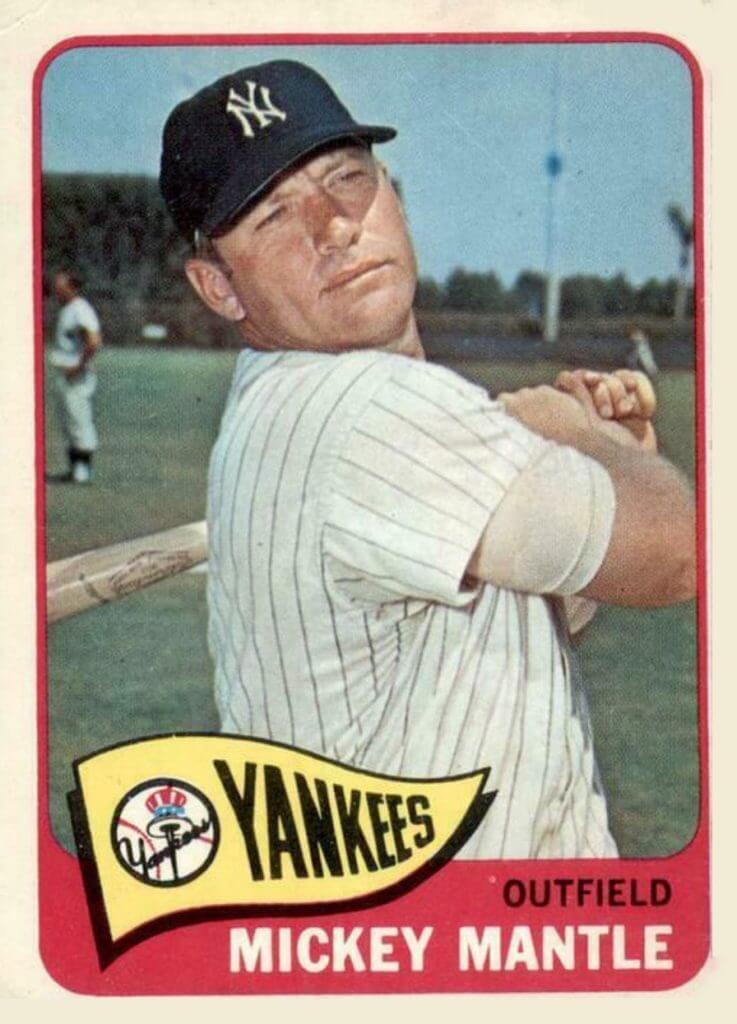 It is also possible, but not conclusively confirmed, that this jersey is the same one that Mantle is wearing on this book cover: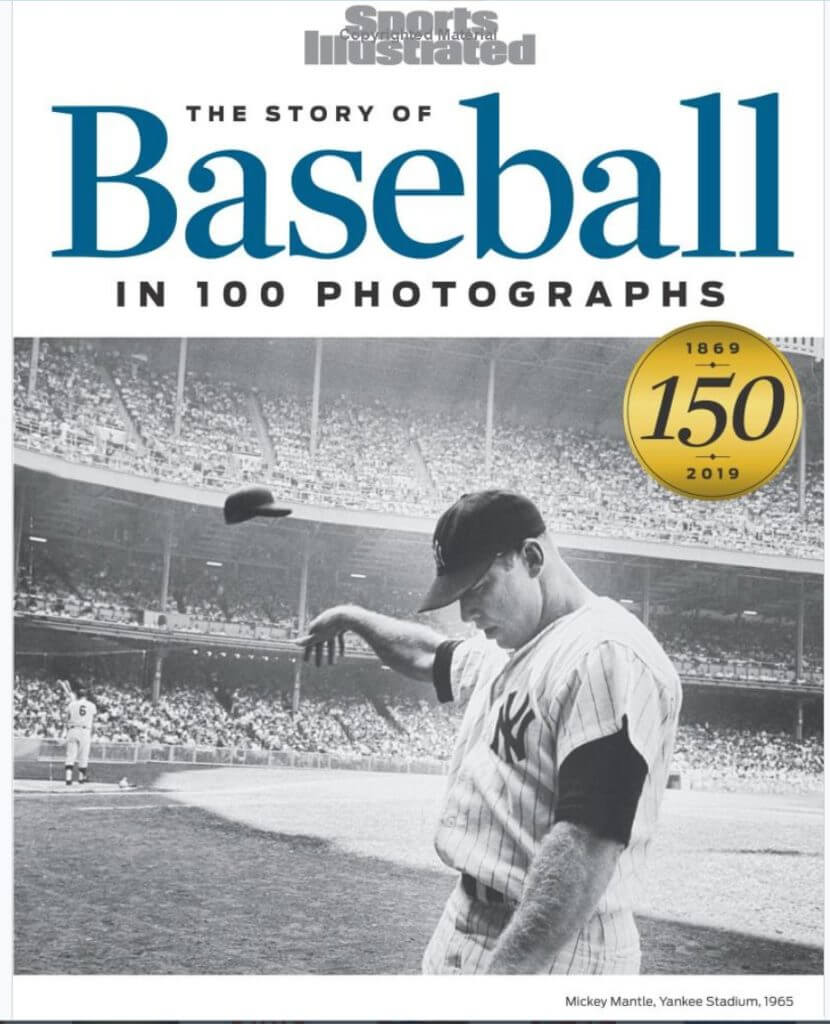 Unfortunately, some of the detail I would like to be able to see in the photo has been obscured by its lack of definition and overexposure. Since we already have two positive matches, we don't absolutely need a third one.
When photo-matching, it's relatively easy to rule out images that don't match, but confirming every tiny detail to ensure the match is 100% positive is much more difficult. On an item of this significance, being positive is critical. While I was 95% sure this is the same jersey shown on the book cover, that's not good enough.
Here is my finished restoration:
The jersey's owner, who wishes to remain anonymous, was very pleased with my restoration. He tells me that this jersey will be auctioned with Goldin Auctions in the near future. I am proud to have been a part of discovering its history and returning it to look like it did when Mickey Mantle wore it in the 1964 and '65 seasons.
———
Paul here. Man, is that sensational or what? I want to thank Bill for sharing his expertise with us. I plan to share more of his step-by-step restoration projects in the weeks and months to come. Meanwhile, if you're interested in engaging Bill's services, further info is available on the Dream Shop's website.
• • • • •
• • • • •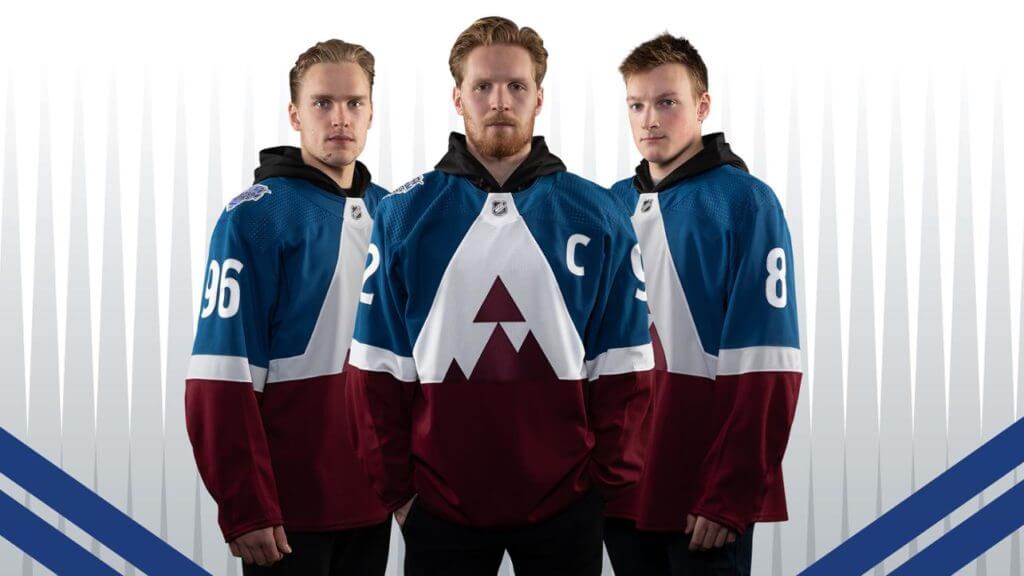 Click to enlarge
Rocky Mountain low: The Avalanche yesterday unveiled their brutal Stadium Series jersey (but not the full uniform, grrrr), confirming earlier leaks.
Here's the rear view: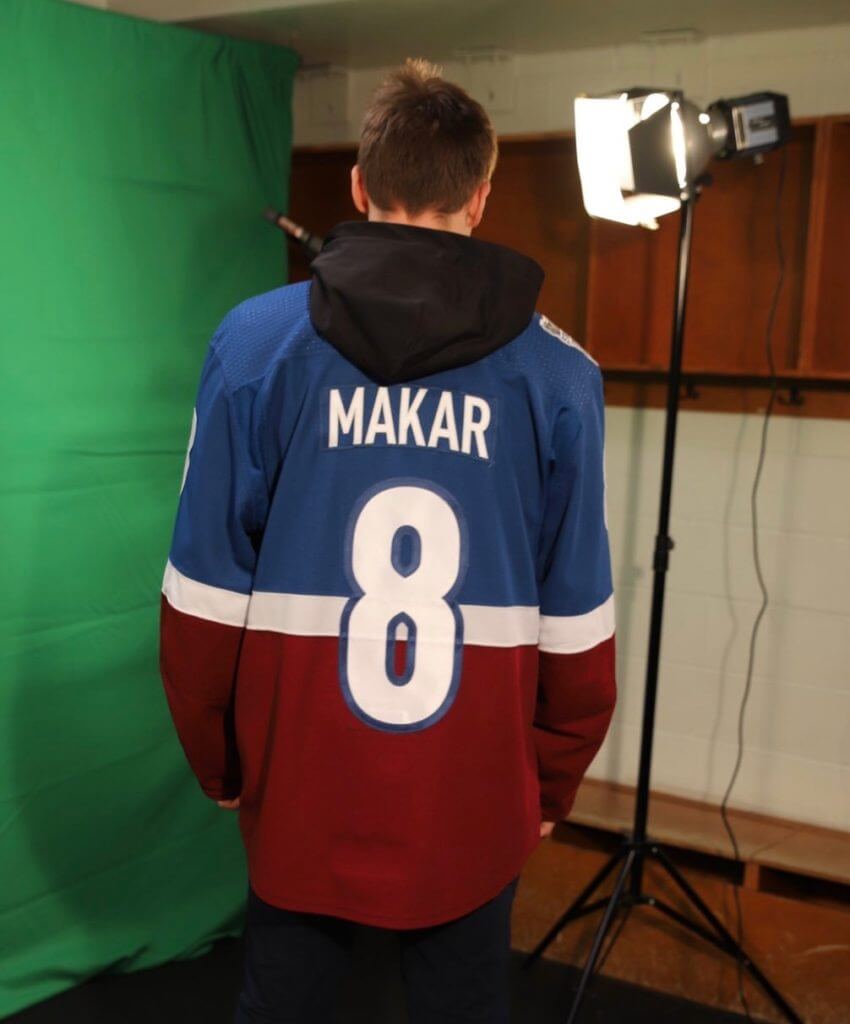 You can see additional photos here. The Stadium Series game will take place on Feb. 15 at the U.S. Air Force Academy's Falcon Stadium. The Avs will be playing the Kings, whose purported design has also leaked. We'll find out soon if that leak was accurate.
• • • • •
• • • • •
Click to enlarge
Spot the error: On the left is the seal of the U.S. House of Representatives. On the right is that seal appearing on a lectern earlier this week. Can you spot the key difference between the two seals?
Look closely at the letter "U," which appears twice in the upper arc of lettering. In both instances, the letters on the lectern are reversed. The thicker vertical stroke should be on the left, but instead it's on the right. Someone applied the three-dimensional letters backwards!
This error was first spotted by Twitter-er @vogon and has since been sent to me by several people. Great catch!
Update: Reader/commenter Pete notes that the "V" in "Representatives" is also reversed!
• • • • •
• • • • •
Click to enlarge
Pin Club update: Nice move by reader Jim Howicz, who put his Uni Watch Pin Club pin, which depicts a pennant, on his Uni Watch pennant — very meta!
Reader Wes Muniz is taking a more traditional approach, wearing his January pin on his jacket lapel:
@UniWatch I Get It™

No. 320/350 pic.twitter.com/N0JzOEJzXw

— Wes Muniz (@Wes_Muniz) January 16, 2020
How are you displaying or wearing your Pin Club pin? Feel free to send photos my way.
Meanwhile, if you want to order the January pin, you can order it here. If you missed the story of this project, additional info on the Pin Club is available here. And if you want a Uni Watch pennant to put your pennant pin onto, those are available here.
• • • • •
• • • • •
Naming Wrongs update: Rupp Arena, home of the University of Kentucky's basketball team, had some ugly corporate nonsense appended to its name yesterday, so we have some new shirts for Wildcats fans. They're available in white, blue, and grey: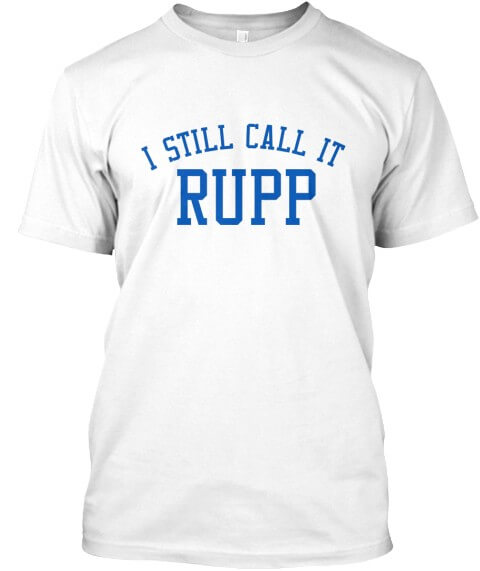 These shirts are now available in the Naming Wrongs shop. My thanks, as always, for your consideration.
• • • • •
• • • • •
Click to enlarge
Childhood DIY project: Got a note last night from reader Joe Werner, as follows:
I keep meaning to share this with you, and with the Niners in the NFC Championship Game this Sunday, this is probably as good a time as any.

Way back in 1989, when I was in seventh grade, I got to take woodshop for the first time. Our project was to draw something on a piece of wood, cut it out on a jigsaw, decorate it, and add some hooks to make it a key holder. So of course, I did a football helmet!

The block of wood we were given didn't really have enough room for a properly proportioned facemask, so I made it a super-old-school helmet. And even though I grew up in Pittsburgh and have always been a Steelers fan, the 49ers' logo was easier to draw. They were also a more fashionable team at the time. (I was quite the frontrunner at 13 years old. I also had an Oakland A's hat!)

Please don't be too judgmental of my work, as I was 13 and using power tools for the first time. It's debatable whether my skills have improved much in the subsequent 30 years.

Good luck on Sunday!
Isn't that nice? The only thing better than this junior high project is the fact that Joe has saved it for all these years. Thanks for sharing, Joe. Give that helmet a little rub for good luck this Sunday — go Niners!!
• • • • •
• • • • •
The Ticker
By Anthony Emerson

Baseball News: Following up on yesterday's lede, Billy Ballas points out that the 2014 Dodgers had a No. 00 (Brian Wilson) and a No. 99 (Hyun-jin Ryu) on their pitching staff. … Speaking of uni numbers, MLB.com has a cool article about legendary players wearing numbers other than the ones for which they're best known, like Hank Aaron in No. 5, Stan Musial in No. 19, and Don Mattingly in No. 46 (thanks, Brinke). … If this photo is any indication, it appears that Spring Training caps will have Spring Training patches over the MLB logo on the back (from Taylor Ness). … Also posted in the NBA section: Phillies OF Bryce Harper worked out while wearing Philadelphia 76ers throwback shorts (from Jack Connell). … In this photo of the Cubs' Tyson Miller and Brad Wieck, Miller is in a Nike jersey and Wieck a Majestic (from Bryan Redemske). … The Salisbury Post out of North Carolina ran an editorial decrying the Kannapolis Cannon Ballers' new mascot's name, Boomer. The editorial alleges that the name is derogatory to baby boomers. OK (from Kary Klismet). … Hiram College has new unis (from Jim Vilk).

NFL News: Retail outlets are showing this year's Pro Bowl jerseys. The design is similar to the one used back in 2016. … Steve Hoyle notes that "all four teams playing this weekend have their location initial on their helmet. SF for San Francisco, G for Green Bay, KC for Kansas City and T for Tennessee (but it might be for Titans)." Only three other teams — the Ravens, Giants, and Bears — do that. … A Reddit user posted this image of NFL team pencils, circa 1980. So cool (from Brendan Armstrong).

Hockey News: The Maple Leafs and Capitals wore Hockey Talks helmet decals last night to promote awareness and empathy around mental health (from Moe Khan and our own Jamie Rathjen). … Pens G Tristan Jarry's gobbler — that's the plastic throat protector that hangs down from a goalie's mask — was broken in two by a shot in the second period last night, so he removed it and played the rest of the period without one. … The NHL All-Star Game ice has been installed in St. Louis. Look at that blue line design! (From @2xAught7.) … The Canucks have released renderings of their recently approved new practice facility in downtown Vancouver (from Wade Heidt). … The NHL is once again hosting its All-Star Weekend Mascot Showdown (thanks, Paul). … Speaking of mascots, here's something I've never seen before: an anniversary logo for a mascot — in this case for the Caps' Slapshot (from David Raglin). … A company called Foco has a pretty cool new line of NHL jersey-style hoodies. … The ECHL's South Carolina Stingrays are going G.I. Joke and flag-desecration tomorrow night (from @the_casserole). … Also tomorrow night, the Jacksonville Icemen will wear this flag-desecration costume (from @904craftbeerdad). … As part of the fallout over Don Cherry's xenophobic remarks on Hockey Night in Canada late last year, the WHL is distancing itself from Cherry by scrapping previously planned uniforms designed to look like his trademark suits as part of the WHL Suits Up program, which promotes organ donation. "Instead, the uniforms will now for the most part resemble the vintage powder blue Hockey Night in Canada blazer," says Wade Heidt. … USA Hockey's U-18 team will wear these Spongebob sweaters for Nickelodeon Night (from Jakob Fox). … Georgia Tech's club team has some pretty gorgeous sweaters for the upcoming season (from Michael Zoid). … Waseca (Minn.) High honored fallen police officer Arik Matson with jerseys featuring "Matson" as the NOB, "Waseca Police" as the crest, Matson's badge number as a jersey patch, and a picture of Matson and his daughters on the inner neck (from Trey Volk).

NBA News: Oregon Public Broadcasting has a great article on how the Blazers' pinwheel logo has remained iconic even 50 years after its introduction (from Kary Klismet). … Bucks PG Eric Bledsoe showed up to yesterday's game against the Celtics wearing a knockoff Vin Baker jersey. It's not even a good knockoff, either! (From Ryan Franke and Alex Laedtke.) … Fun while it lasted: The Mavs, who've been the NBA's only ad-free team this season, are poised to announce their new jersey advertisement this evening (from Matthew Spencer). … Cross-posted from the baseball section: Philadelphia Phillies star Bryce Harper worked out while wearing Sixers throwback shorts (from Jack Connell).

College Hoops News: Arkansas men will have new unis for tomorrow night's matchup against Kentucky. … UT Martin revealed their new alternate logo before last night's game (from @the_ralphinator).

Soccer News: Orlando City, FC Cincinnati, and Minnesota United posted very similar teaser images of their new kits yesterday. DC United also posted a teaser image (from @labflyer and Josh Hinton). … You can catch all of Josh's other submissions on his Twitter account. …  New home keeper kit for Minneapolis City (from Ed Żelaski).

Grab Bag: The US Navy has authorized a new black leather jacket for surface warfare officers (from Kary Klismet). … Unlike former Chief Justice William Rehnquist, Chief Justice John Roberts will not wear a striped robe while presiding over President Trump's impeachment trial. … And speaking of the impeachment-related aesthetic details, it turns out that the Capitol Police have special uniforms for things like trials. … RoushFenway Racing is having fans vote on one of three remaining designs for Ryan Newman's No. 6 car for this weekend's race (from James Gilbert). … Washington High in Cherokee, Iowa., is soliciting donations to replace their 30-year-old marching band uniforms, which do just scream 1990 (from Timmy Donahue). … Alabama gymnastics has taken to posting which leotard they'll wear on social media prior to their meets (from Griffin T. Smith). … Fascinating article about boys in cold-weather regions who insist on wearing shorts all year long. … Gross: Advertising creep has hit a new low, as passenger announcements on a NYC subway line are being turned into a promotion for a new TV show (from @FreyDaddy4).