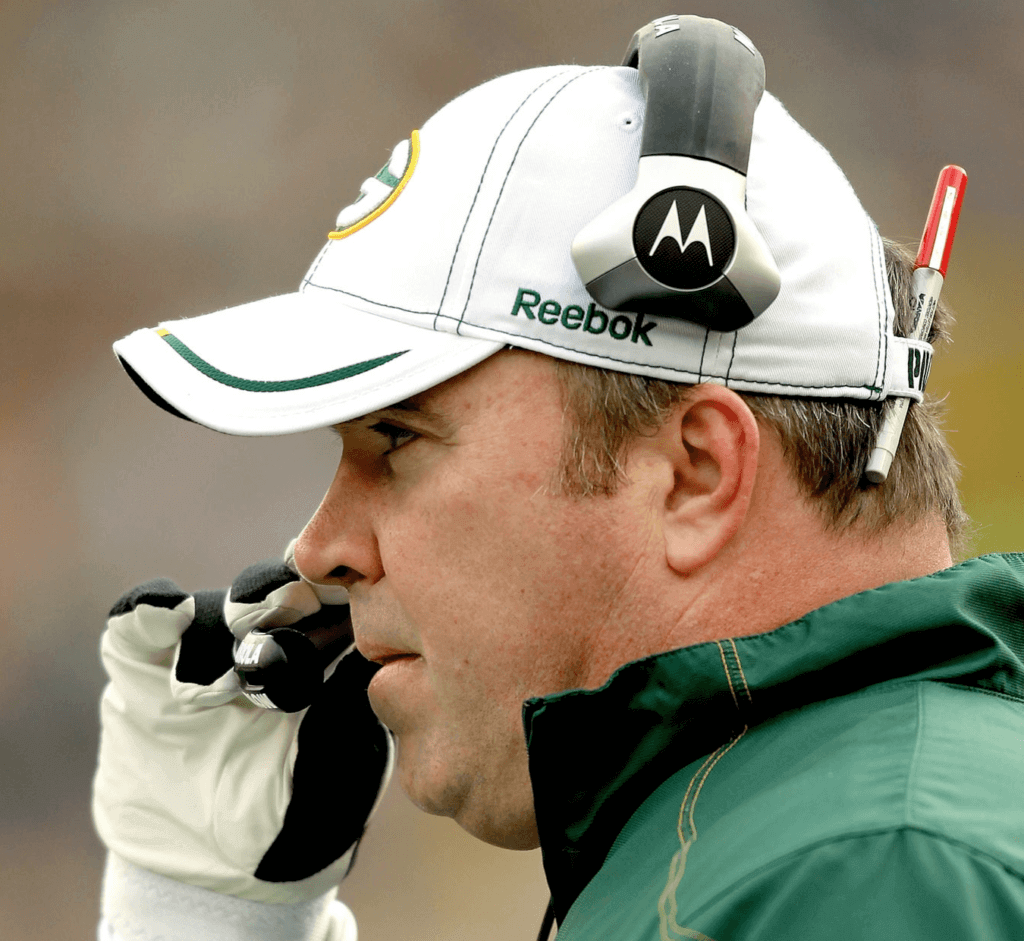 For all photos, click to enlarge
With former Packers head coach Mike McCarthy heading back to the NFL coaching sidelines after a one-season absence, it's worth remembering the he had a very odd uni-related quirk: For at least a decade, he was in the habit of wearing a Sharpie tucked into his cap. (You can see lots of additional examples here.)
As you can see, it was easy enough for McCarthy to stick the pen in his headwear when he was wearing a strapback or snapback. But what if he was wearing a fitted or flex-fit cap? No problemo — he had a little pen-holder loop of fabric added to his caps:
There are also photos showing what appears to be a little pocket added to his cap, although I've never seen him actually wearing the pen in that slot: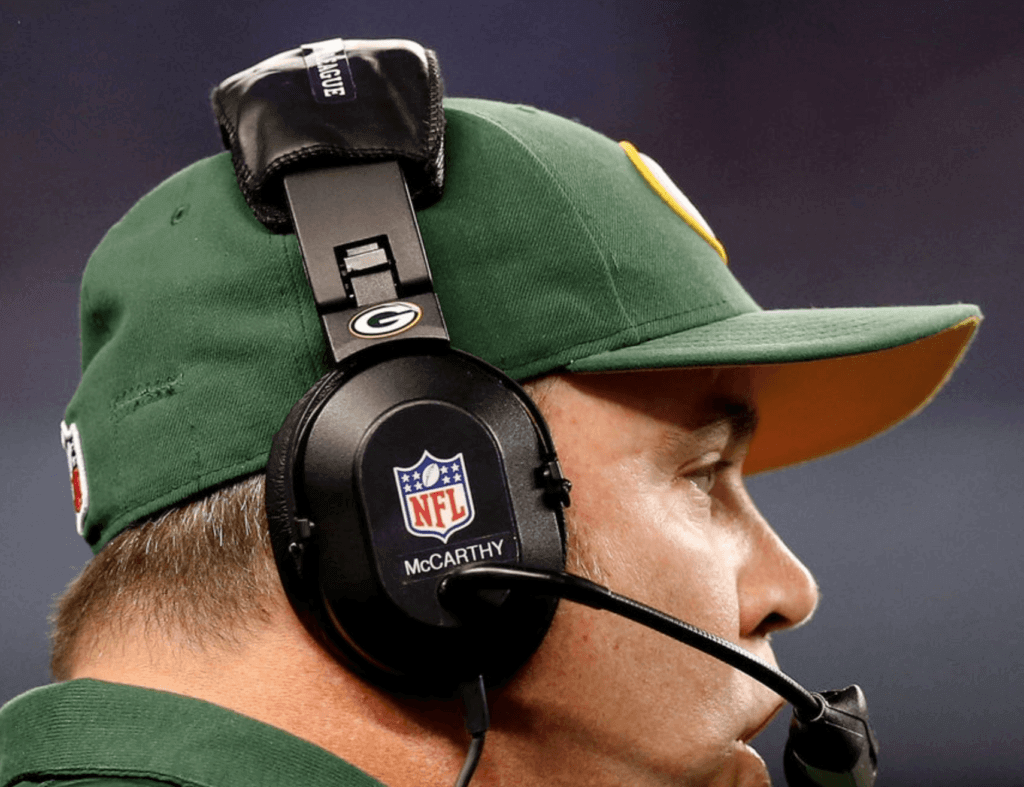 Now that's some serious cap customization right there. (And to think that people give me shit just for encouraging folks to remove the New Era logo!)
McCarthy used at least three different Sharpie colors — blue, red, and green. I never did crack the code regarding which color got used in which situation.
Whatever the color, reaching to the back of your cap seems like an awkward way to access a writing implement, but McCarthy made it seem natural. Well, mostly natural: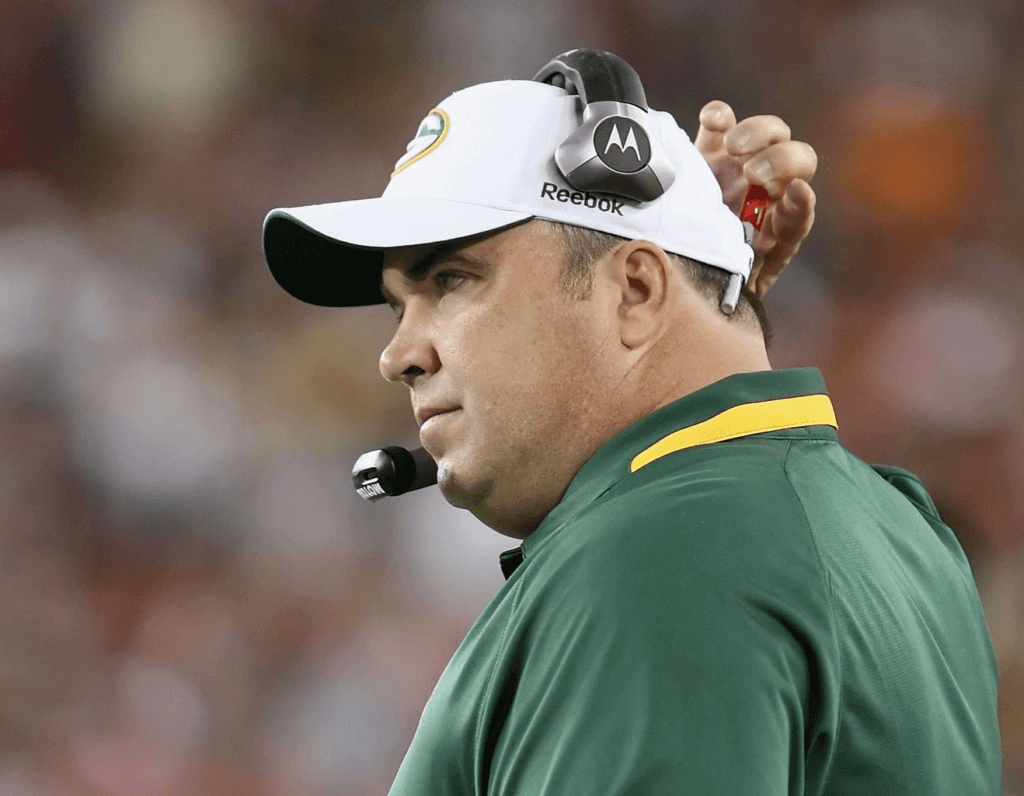 Still, there were occasional problems. In Super Bowl XLV, for example, McCarthy forgot to put the cap back on his red Sharpie, which resulted him getting red ink on the back of his neck: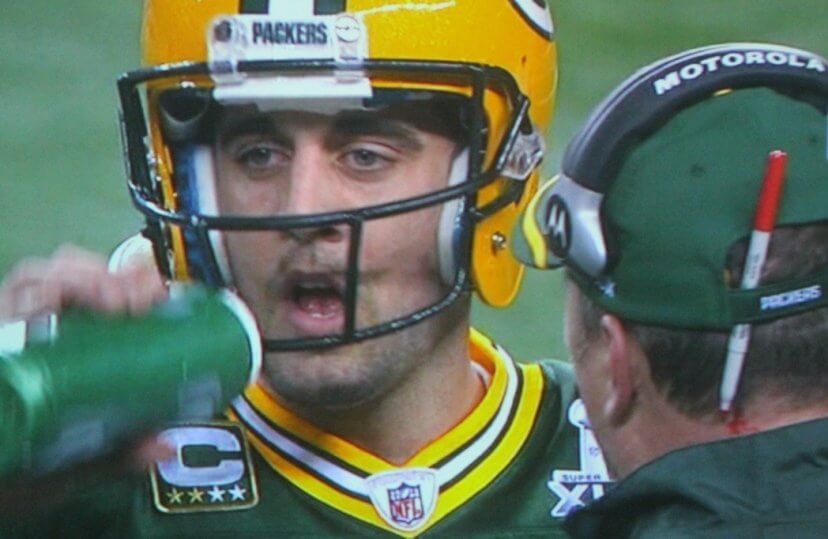 It's not clear exactly when McCarthy started doing this, but it definitely predates his time with the Packers. Here he is during his 2005 stint as offensive coordinator of the 49ers: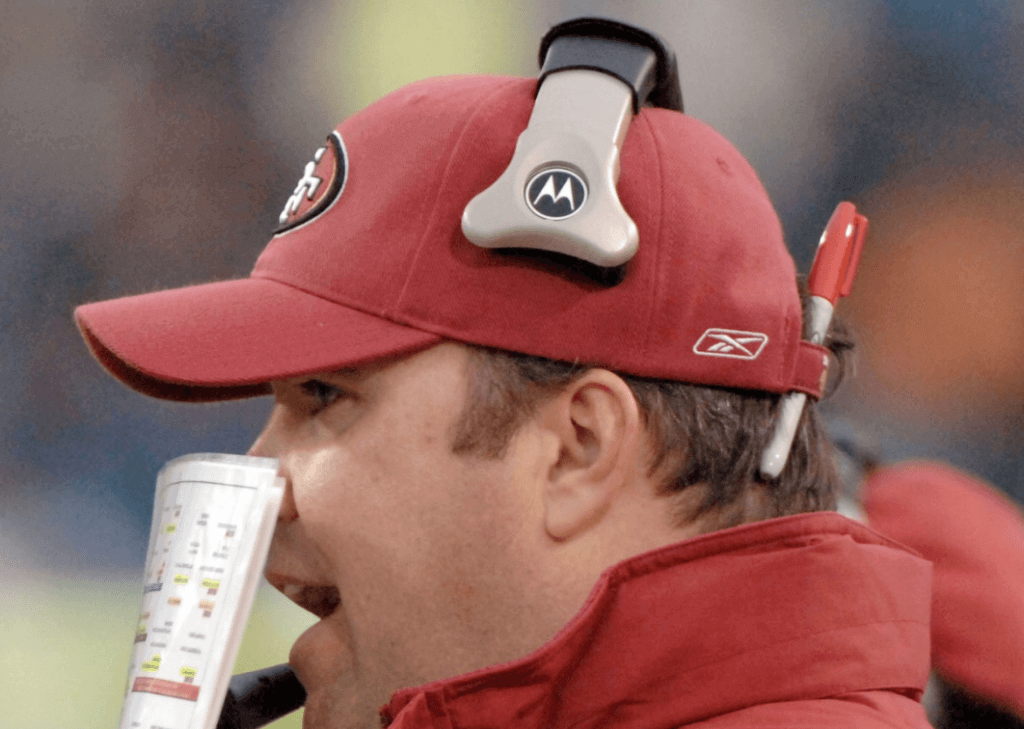 And here he is with the Saints, also as offensive coordinator, in 2001: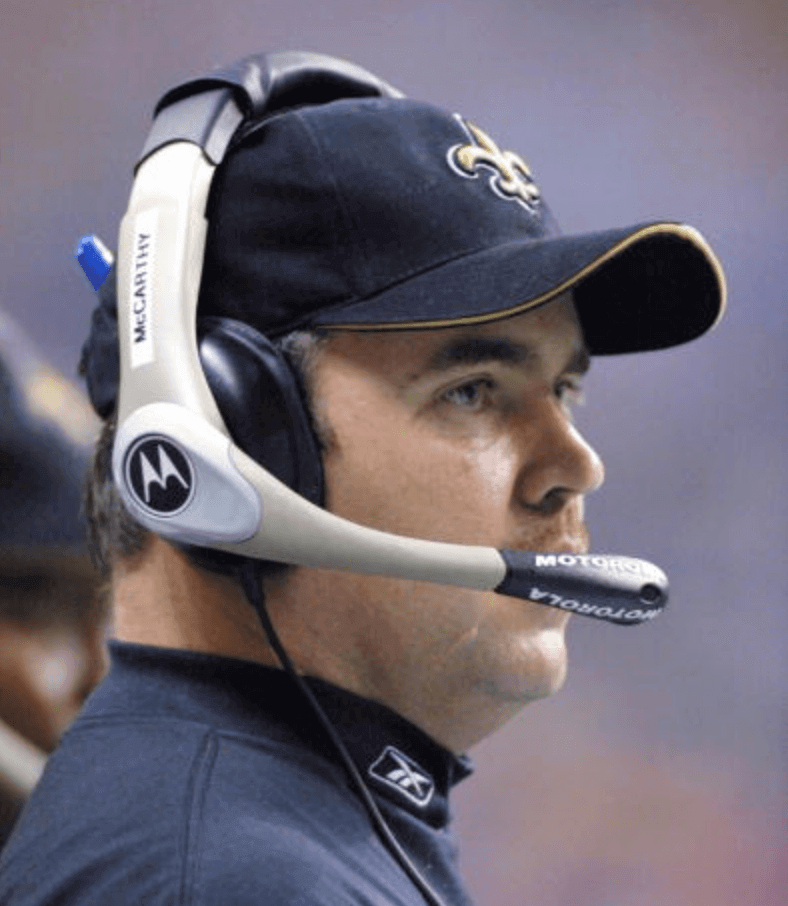 That's the earliest photo of a cap-clad McCarthy I could find. So he was wearing the pen in his cap at least as far back as 2001. He continued doing it up through 2011 and then appears to have stopped in 2012. (Maybe someone told him about this exciting new innovation called pockets.) I guess it's unlikely that he'd suddenly revive the practice in Dallas, but I'm hoping he does, if only because it's such a fun eccentricity.
In any case, welcome back, Mike — may your Sharpie never run dry.
(Big thanks to Wes Muniz for the Super Bowl XLV image.)
• • • • •
• • • • •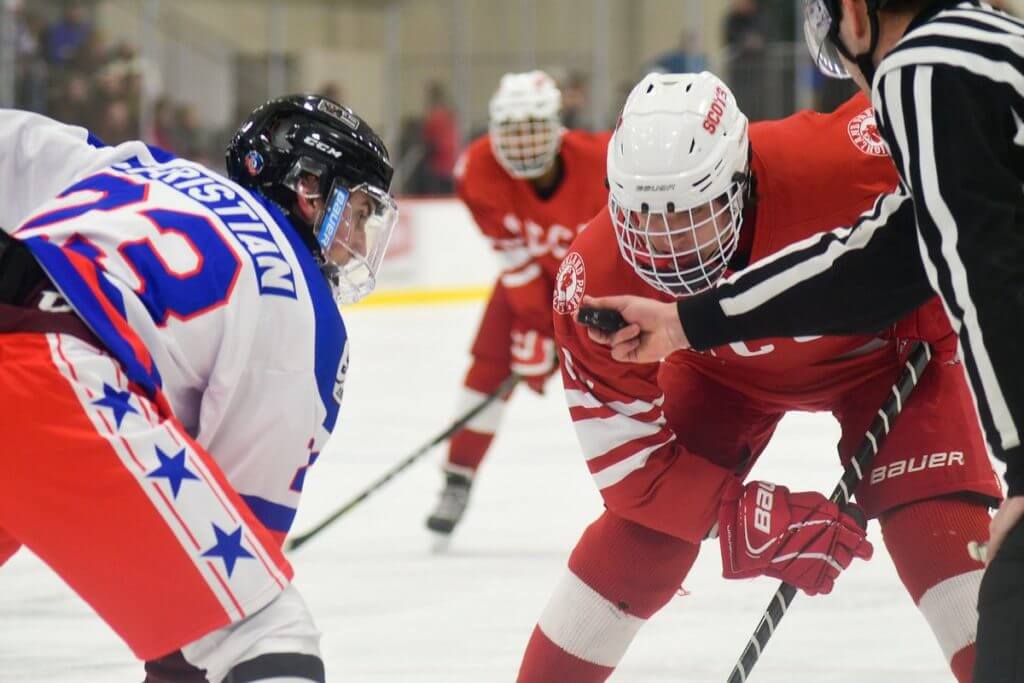 Click to enlarge
Miracle redux: With the 40th anniversary of Team USA's "Miracle on Ice" at the 1980 Winter Olympics coming next month, two Minnesota high schools — St. Paul Johnson (where 1980 Team USA coach Herb Brooks went to high school and won a state championship in 1955) and Highland Park — commemorated the anniversary last night by wearing USA and USSR throwbacks. The helmet colors weren't accurate, but that seems forgivable for a high school game. Here's another look: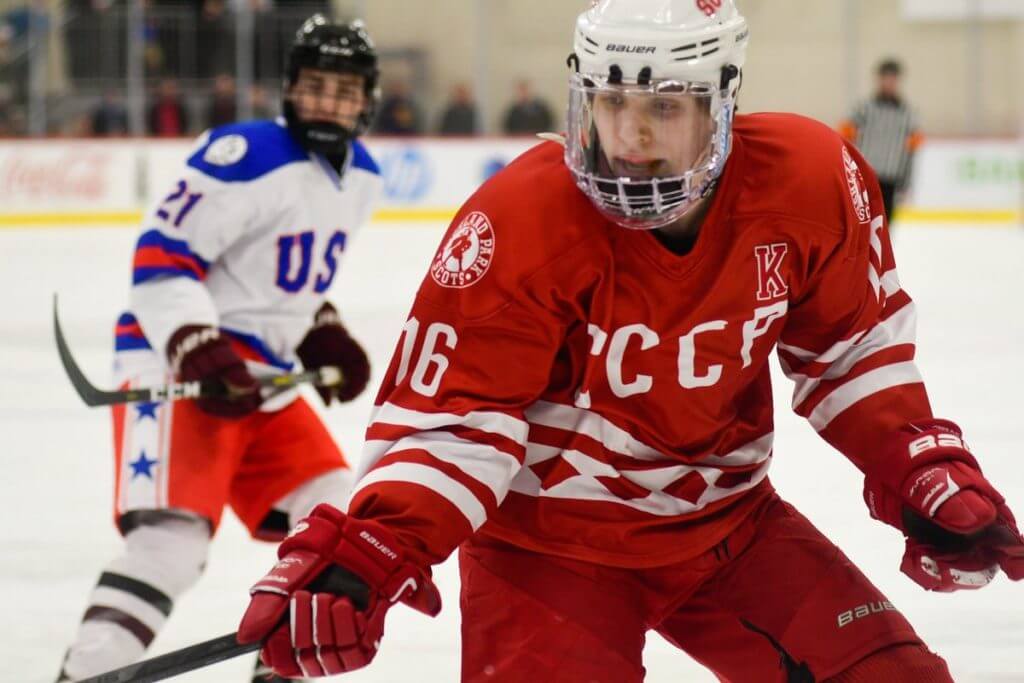 As you can see in the first photo, the kid in the Team USA jersey had a "Christian" NOB. Did he just happen to have the same name and number as 1980 Team USA defenseman Dave Christian, or were the high schools putting the 1980 players' names on the throwback jerseys? The latter, as it turns out: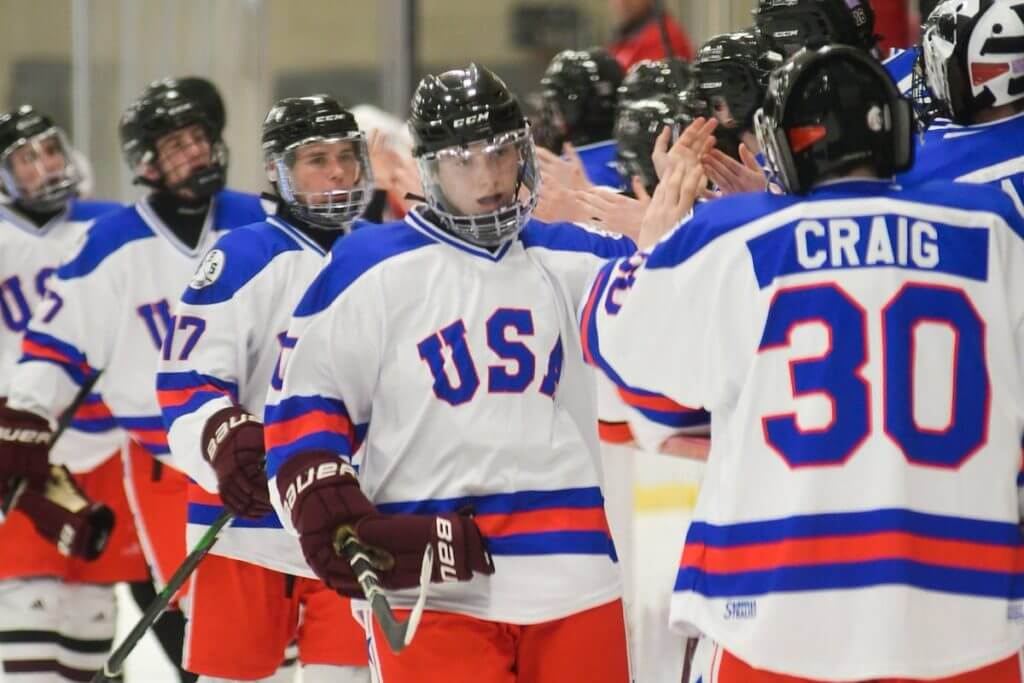 I couldn't find a good rear-view photo of the Soviet NOBs, but here's a shot that shows a Highland Park player wearing what appears to be the NOB of Soviet right wing Boris Mikhailov:
Update: Reader/commenter Natron attended this game and provided this photo of the Highland Park player with the "Mikhailov" NOB, plus an additional player wearing the NOB of Soviet center Viktor Zhluktov: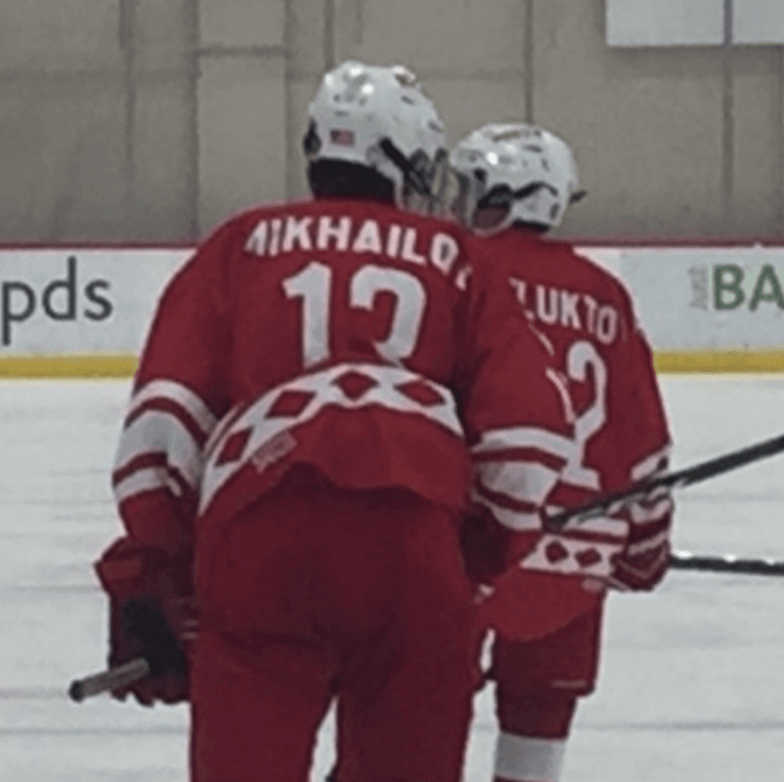 Further update: Here's an even better shot of the Soviet NOBs: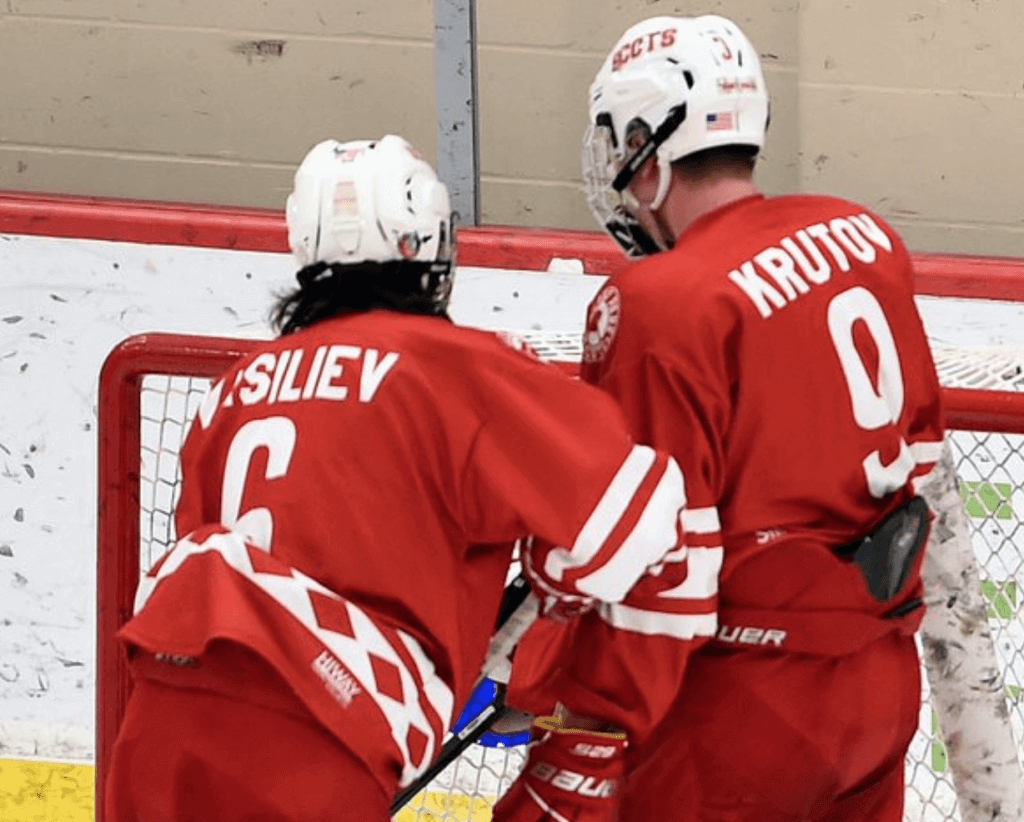 History repeated itself, as St. Paul Johnson — the school dressed as Team USA — won the game.
(Big thanks to Will Marshall for this one.)
• • • • •
• • • • •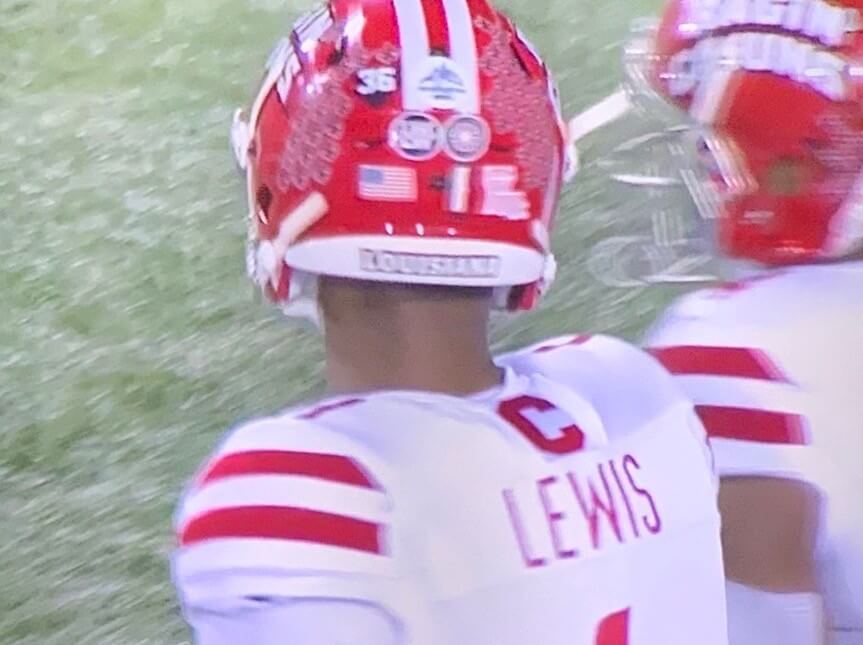 Now you "C" me: Louisiana-Lafayette jerseys normally have a fleur de lis above the nameplate, but quarterback Levi Lewis (and maybe other captains..?) wore a rather huge captaincy designation in that spot during last night's Yet Another Unnecessary Bowl. I don't think I've ever seen a football player wear the "C" in that spot.
Some quick photo/video research indicates that Lewis didn't wear the "C" above his nameplate (or anywhere else) during the regular season, so this is apparently something that was added just for last night.
(My thanks to Joe Blevins for this one.)
• • • • •
• • • • •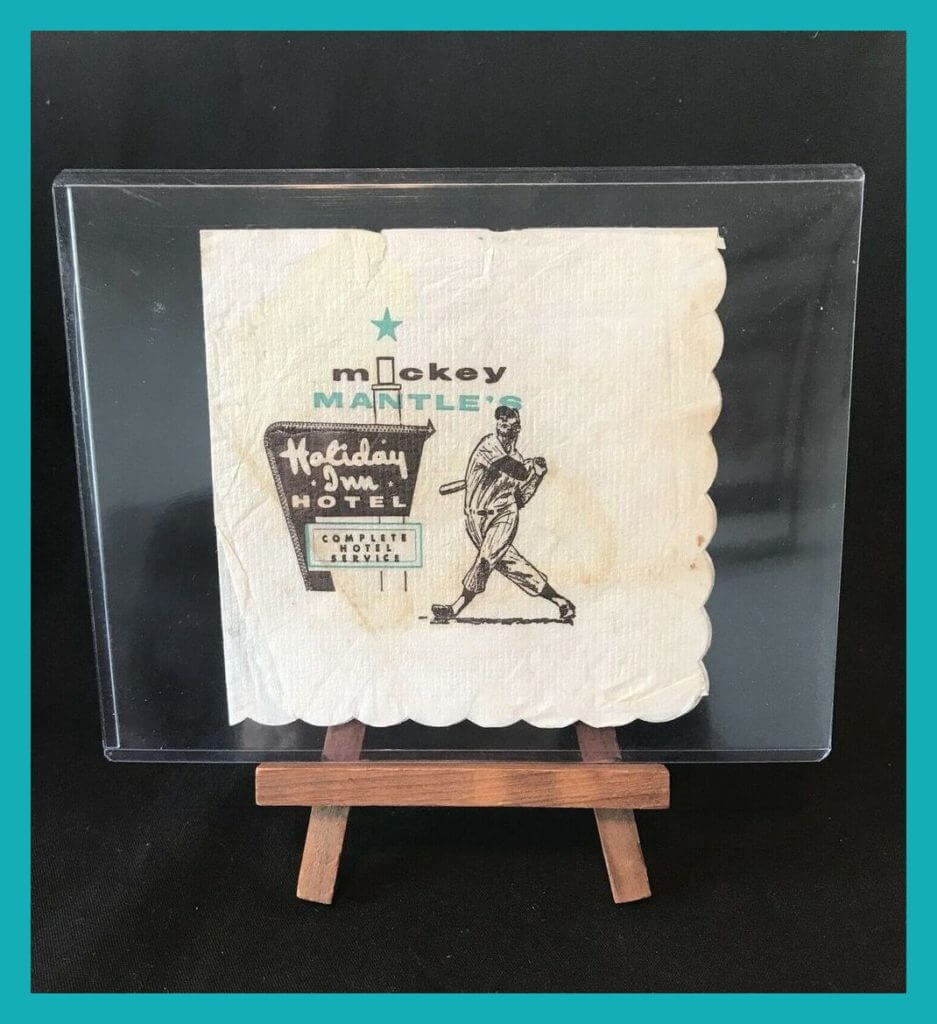 Click to enlarge
Collector's Corner
By Brinke Guthrie
And here we are, back with the first Collector's Corner of the new decade. Starting off with this Mickey Mantle Holiday Inn cocktail napkin. The Mick's Holiday Inn was located in Joplin, Mo. Don't know if you get that neat little stand to go with it, though!
Now for the rest of this week's picks:
• In the 1940s, Atlantic gas stations gave away this tin Philadelphia A's baseball bank as a promo item. It says "Compliments of your Atlantic Dealer" and "Connie Mack" on it.
• In 1970 I played sixth grade football in Louisville for the local YMCA (that's me in the front row, third from the left). We were known as the Oilers, and we all had this sticker on our helmets.
• More stickers: I have always loved this old 1960s Buffalo Bills sticker design. Do we know why they chose No. 31?
• Check out this vintage Wheaties "Breakfast of Champions" cereal bowl. The seller says the silhouetted figures include Joe DiMaggio, Bob Feller, Lawson Little, Ellsworth Vines Jr,, Kit Klein, Jack Armstrong, Babe Didrikson, Jane Fauntz, and Red Grange. Gotta be 1930s-1940s here?
• As a Niners fan, (PL will take note of this one as well), I must say this next item is way cool: a seat back from Candlestick Park with a diagram of "The Catch," signed by Joe Cool Montana and the late Dwight Clark (R.I.P., 87).
• Take a look at this signed glossy photo of the late Rayduh Ben Davidson. Now is that a facemask or what! And the mustache! Cue John Facenda, please. (As someone on YouTube commented: "John Facenda could narrate Frosted Flakes getting soggy and it would be amazing.")
• Take a guess as to which players are shown on the box for this Sears Super Video Arcade game from the 1970s. (For Color TV Viewing Only! Yes, kids — this is how computer games started.) I'm gonna say Len Dawson on the left and .. Walter Payton on the right?
• How about this 1970s New Orleans Saints sideline jacket? Sir Saint is embroidered right on the front, and the seller indicates this came from a team employee in the "Archie Manning era."
• Here's a nice collection of 1950s and '60s Chicago White Sox logo items: a pennant, patches, and a bumper sticker. I like that vertically stacked SOX design.
• This Minnesota Vikings youth jacket from Stahl-Urban has sleeve striping on just one sleeve. Why would they do that? Love that old time font on the patch, though.
• • • • •
• • • • •
Membership update: A new batch of designs has been added to the membership card gallery (including Dillon Shain's Miami Vice-themed Heat card, shown at right). I hope to have the printed/laminated versions of these new cards shipped out by the end of this week.
Ordering a membership card is a good way to support Uni Watch (which, frankly, could use your support these days). And remember, a Uni Watch membership card entitles you to a 15% discount on any of the merchandise in our Teespring shop and our Naming Wrongs shop. (If you're an existing member and would like to have the discount code, email me and I'll hook you up.) As always, you can sign up for your own custom-designed card here, you can see all the cards we've designed so far here (now more than 2,400 of them!), and you can see how we produce the cards here.
• • • • •
• • • • •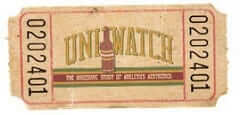 Raffle reminder: In case you missed it on Monday, we're running another raffle from our longtime advertiser Vintage Brand. The winner will be able to choose anything from their website (including the 49ers cutting board shown above).
To enter, send an email to the raffle address by 8pm Eastern tomorrow, Jan. 8. One email per person. I'll announce the winner on Thursday.
• • • • •
• • • • •
The Ticker
By Alex Hider

Baseball News: The Professional Bull Riders tour is using a Royals-inspired logo for an upcoming event in Kansas City (from Ryan Atkinson). … New all-black uniforms — including pullover jerseys — for Laney College in California (from Donovan Frazer).

NFL News: "Big Truss," a term coined by RB Mark Ingram, has become an unofficial team motto for the Ravens this season. A Ravens fan from Las Vegas has filed a trademark for the phrase and is selling merch including the phrase (from Andrew Cosentino). … Someone spotted a Detroit Red Wings fan in Chicago Sunday wearing a Packers jersey with Wings Hall of Famer Steve Yzerman's NOB and number (from Jerry Nitzh). … Here's a good review of all the retro-styled program covers the Bears produced this season (from Ryan Andrew).

College Football News: During last night's Lending Tree Bowl, Miami (OH) QB Brett Gabbert lost the silver outline on his sleeve logo — something that's happened multiple times this season (from Timmy Donahue). … Timmy also notes that Miami WR James Maye would have scored a touchdown if not for his long, stretchy undershirt. … LSU has confirmed it will wear white at home in the National Championship, meaning Clemson will pair its "championship" orange pants with an orange jersey (thanks to all who shared). … Spotted in Nebraska: a Huskers logo made out of bowling pins and tongue-in-cheek airport artwork explaining how the city of Lincoln got its name (from Kary Klismet). … Woman's Hospital in Baton Rogue, La., is dressing newborns in LSU onesies this week (from Chris Mycoskie). … These are the uniforms that will be worn in the Tropical Bowl, a college football all-star game, on Jan. 12 (from Josh Hinton). … Tennessee was Blaise D'Sylva's mini-helmet team of the day yesterday.

Hockey News: New Canadiens LW Ilya Kovalchuk got his new teammate D Brett Kulak, a Rolex so he could wear No. 17 (from Mike Chamernik). … A kid in Canada wanted a Maple Leafs birthday cake. Instead, he got a cake with the Maple Leaf Foods logo — that's a packaged meats company in Canada (thanks to all who shared). … Cross-listed from the NFL section: Someone spotted an NFL fan wearing a Green Bay Packers jersey with Red Wings Hall of Famer Steve Yzerman's NOB and number (from Jerry Nitzh). … The Ottawa 67s of the OHL wore jerseys commemorating their teddy bear toss game on Sunday (from Wade Heidt). … More from Wade: QMJHL G Francesco Lapenna was traded from the Val-d'Or Foreurs to the Drummondville Voltigeurs back on Dec. 14 but was still wearing his Foreurs mask as of a few days ago. … Trevor Williams changes the pennants in his third-grade classroom throughout the year. Now that it's winter, he's put up hockey pennants from the cities where he's lived. … Check out the mask worn by Pete Backor of the Pittsburgh Hornets after breaking his cheekbone in an AHL game in 1950 (from Jerry Wolper). … The Wild are giving out Mike Modano North Stars T-shirts on Sunday. … Pretty cool new jerseys for the U. of Texas club team (from Sean Arnold).

Basketball News: The ad patch on Hornets G Terry Rozier's teal jersey reappeared last night. As you may recall, it was missing for Charlotte's previous two games wearing that uniform (from @Ace_Fuller). … New numbers for Hawks F Paul Watson (No. 2), Rockets SF William Howard (No. 52), and Nets SG/SF Justin Anderson (No. 10) (all from Etienne Catalan). … Unusual warmup tops — and a poached UConn logo — for North Marion High School in West Virginia (from Chris Grosse).

Soccer News: MLS has published a piece on its website about the 11 best kits of the decade (from John Flory). … New jersey for V-Varen Nagasaki, a club in J2, a second-division league in Japan. In the same league, JEF United also unveiled new uniforms (from Ed Żelaski). … This Twitter thread explores bizarre uniform numbers throughout soccer history (from @LKM_juve). … Liverpool confirmed their rumored kit deal with Nike. "Remember, Liverpool and Nike were sued by New Balance, who were desperate to remain Liverpool's suppliers," says Josh Hinton.

Grab Bag: Sports Illustrated's remaining staff is looking to form a union. … Eastern Airlines is making a comeback, and it's unveiled its plane liveries and employee uniforms (from @PhillyPartTwo). … Up for auction on eBay: A pair of antique 1950s leather kicker cleats (from Michael Princip).