Good morning! Today is Friday the 13th, but it may nonetheless be a lucky day for several dozen of you, because it's that time of year again — the time when I give something back, literally, to the comm-uni-ty. Or, if you prefer to be more cynical about it, the time when I clear out all the freebies that have accumulated in my apartment over the past year (along with some things that readers and advertisers have generously donated). Either way, for the 11th consecutive year, it's the day I run a big raffle that all of you can enter.
As in past years, some of you may recognize a few of these items as gifts that you thoughtfully sent my way over the past 12 months. I realize regifting may seem distasteful, but sometimes I have duplicates on certain things, or I don't have room for everything, or something is too big or too small for me to wear, or I've gotten some enjoyment out of an item and am now ready to let someone else enjoy it. No offense intended, and I hope none taken. Thanks for understanding.
For shirts and jerseys, you'll see a size followed by a measurement (L, 21″, for example). In each case, that's the tagged size, assuming there is one, followed by the pit-to-pit measurement across the chest. If the back side of an item isn't mentioned or shown in the photos, you can assume it's blank. A few items may have a bit of cat hair on them.
This year, in an effort to make the raffle less click-y, I'm showing photos for most of the items here on the blog, instead of just linking to them (although you can still click on the photos to see larger versions). Ready? Here we go:
1. A complimentary Uni Watch membership card.
2, 3, and 4. A 2020 college football calendar of your choice from Asgard Press. They're giving away three of these calendars, and each one is a separate prize.
5, 6, and 7. A 2020 vintage baseball card calendar of your choice, again from Asgard Press. They're giving away three of these, and each one is a separate prize.
8. An amazing Uni Watch hockey jersey made by DIY genius Wafflebored specifically for this raffle (26″):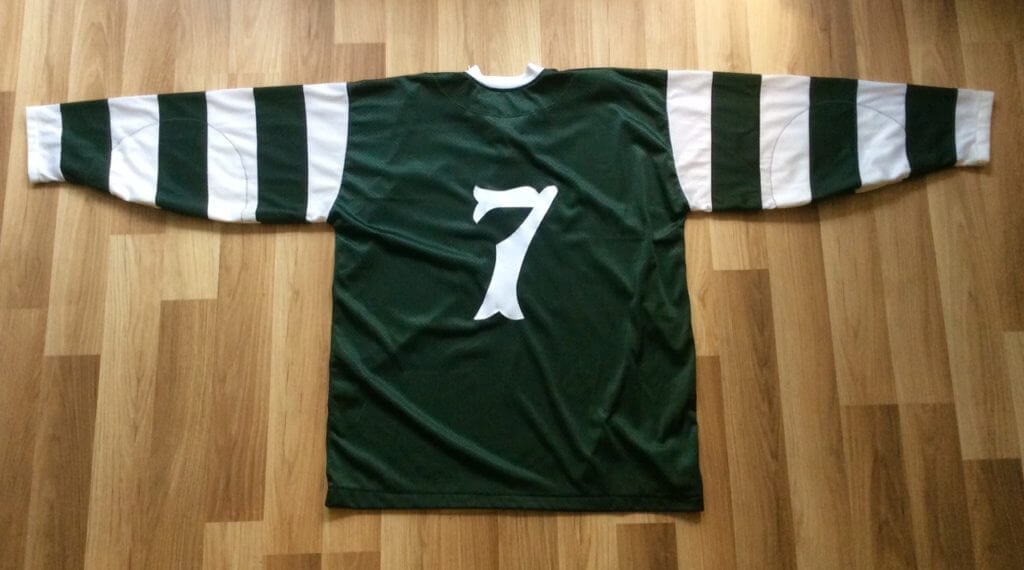 9. An "I Like the High Ones" T-shirt by Homage (M, 19″):
10. A series of five patches with chain-stitched numerals (3.5″ across):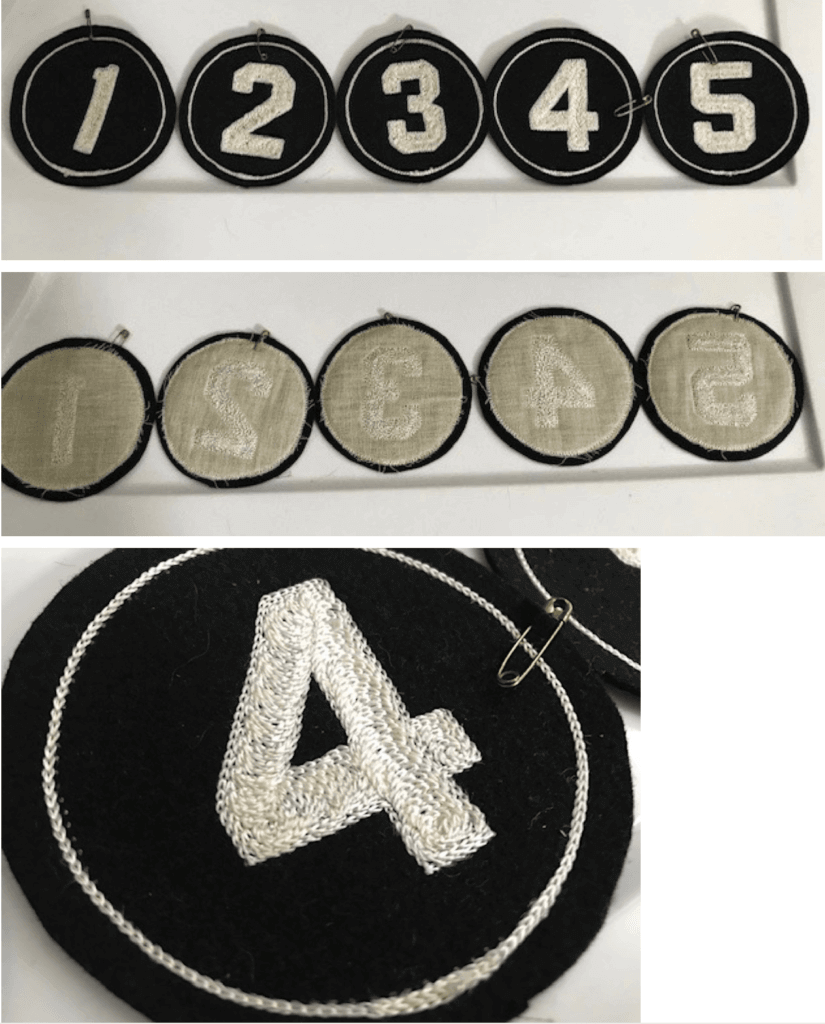 11. A Uni Watch cycling jersey with "Cycling Jersey" and No. 31 on the back (XL, 21.65″):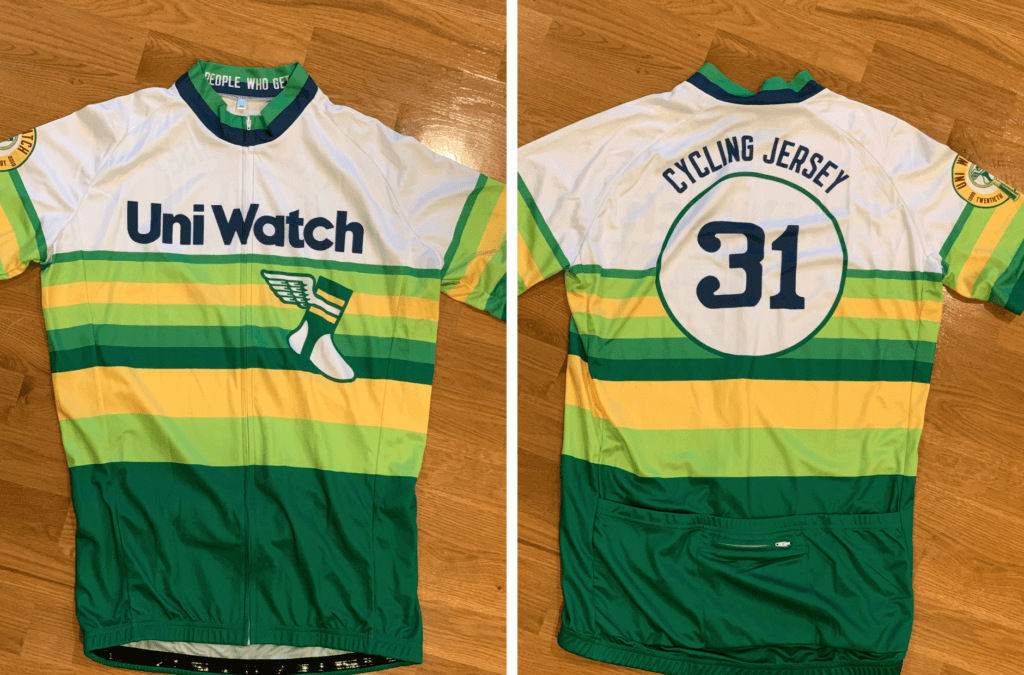 12. An amazing poster by reader John Williams, showing almost every helmet design for all 32 NFL teams, in the order of their founding. Some of you recently saw this in the Ticker and/or on Twitter and asked if it's available for sale — nope, not a licensed product. But John is making one available for this raffle (7.25″ x 30″):
13. A New York Jets tote bag (18″ x 18″, not including the handles):
14. A Reds Alert Podcast T-shirt (M, 19.5″):
15 and 16. Two 2019 Uni Watch Purple Amnesty Day shirts. Each one is a separate prize (both S, 19″):
17. A Padres "Brown Is Back" cap from their recent unveiling (strap-back, cotton twill):
18. A Jets "Take Flight" cap (flex-fit M/L):
19. A Brandiose cap (flex-fit M/L):
20. A Purdue mechanical engineering cap (strap-back, soft brushed cotton, sandwich brim):
21. A Uni Watch script logo cap. This is a prototype for a product I decided not to go ahead with. One of a kind (strap-back, cotton twill):
22. A Uni Watch script logo pom hat. Another prototype I opted not to put into production. One of a kind:
23. Same as above, but with the winged stirrup instead of the script:
24. An authentic New York Rangers 2019 NHL All-Star Game jersey. Still has tags (50, 22″):
25. A Jeff "Squirrel" McNeil Mets T-shirt. This was a giveaway at a game I attended earlier this year (L, 22″):
26. A Jets mini-helmet, still in its original packaging:
27. A Jets T-shirt (XL, 23″):
28. A Portland Timbers jersey (M, 19″):
29. A different Portland Timbers jersey, from this year's Earth Day promotion (M, 19″):
30. A Vancouver Warriors (NLL) jersey (L, 24″):
31. An eMLS Cup jersey (M, 19″):
32. An Oxford Pennant T-shirt (M, 19.5″):
33. A different Oxford Pennant T-shirt. Although you can't tell from the photo, it's a pocket tee, and the logo on the front is on the pocket (M, 19″):
34. A Gridiron Icon T-shirt (M, 19″):
35. An official Hal the Hot Dog Guy baseball card:
36. My press pass from the Jets' unveiling back in April:
37. My press pass from the Padres' recent unveiling:
38. My press pass for the taping of Puppy Bowl XVI, which will air on Super Bowl Sunday early next year:
39. A copy of the book Baseball Card Vandals (more info here):
40. A copy of the book The History of the Sens Jersey, 1992–2018:
41. A book about Japanese baseball uniforms. I'm told that the uniforms are from high school and college teams:
42. A Minnesota Golden Gophers thermal mug:
———
And there we are. Here's how to enter the raffle:
1) Send an email to the raffle address. If you're having any trouble with that link, it's uniwatchraffle at gmail dot com.
2) In the body of the email, please indicate (a) your name and shipping address and (b) your top 10 prize choices, in order of preference, by number. If you're only interested in, say, seven items, then just list your top seven choices; if you want to list more than 10, you can do that too (hell, include all 42 items if you want!), but I don't expect anyone to go that far. I'll do my best to accommodate the winners' choices.
3) One email per person. Non-USA readers are welcome to enter, although I may ask you to chip in on the shipping charges if you win something heavy. Entry deadline is next Friday, Dec. 20. As per our longstanding annual tradition, the winners will be announced on Christmas Day, and I'll try to get everything mailed out by New Year's.
Please join me in thanking the people who generously contributed items for this raffle: Howard Bosworth, Josh Claywell, Andy Hyman, Charles Neiswender, Wafflebored, Matthew Weidner, Andrew Welch, and John Williams. You guys are all aces!
I'd also like to thank all the rest of you who contribute in various ways to Uni Watch. I wish I could provide gifts for all of you — honest.
• • • • •
• • • • •
Click to enlarge
And a Cardinal in a pear tree: One of the best holiday traditions here at Uni Watch HQ is the annual arrival of a package from longtime reader Elena Elms, who always sends a batch of baseball uni-themed cookies.
Elena describes this year's batch like so:
My cookie theme this year is the 12 Days of Jerseys. I chose members of the National Baseball Hall of Fame who wore Nos. 1 through 12. I didn't want to have more than two from any one team, and also wanted some color added, so some numbers weren't the most famous or "best" to wear that number. The Brooks Robinson jersey is the one one I show from the front because, according to my research, none of the other had a number on the front of the jersey.
Can you identify each player? Here they are, in order:
1: Ozzie Smith
2: Charlie Gehringer
3: Babe Ruth
4: Lou Gehrig
5: Brooks Robinson
6: Stan Musial
7: Iván Rodríguez
8: Willie Stargell
9: Ted Williams
10: Chipper Jones
11: Barry Larkin
12: Roberto Alomar
So cool! I can't even begin to express how special it is that Elena sends these to me each year. Thanks so much, Elena — you're the best!!
• • • • •
• • • • •
Click to enlarge — it's worth it!
Too good for the Ticker: Oh, baby! Those stripes, those belt loops, that chinstrap, those tackle twill numerals on the Durene jersey — pure eye candy.
That's high schooler Glenn Allen of the Weymouth (Mass.) Maroons in 1952. If Glenn is still alive, he's probably about 84 years old now. Glenn, if you're a Uni Watch reader, get in touch!
(Big thanks to our own Brinke Guthrie for sending this one my way.)
• • • • •
• • • • •
IMPORTANT membership update: If you want to order a new membership card (like Alex Poterack's, which is based on the Brewers' new home creams) and have it arrive in time for Christmas, you must order it today. Full ordering details here.
You can also order a membership gift voucher. There's no holiday deadline for those — you can order as late as Dec. 24 and I'll email the vouchers to you as soon as I receive your payment.
Ordering a membership card is a good way to support Uni Watch (which, frankly, could use your support these days). And remember, a Uni Watch membership card entitles you to a 15% discount on any of the merchandise in our Teespring shop and our Naming Wrongs shop. (If you're an existing member and would like to have the discount code, email me and I'll hook you up.) As always, you can sign up for your own custom-designed card here, you can see all the cards we've designed so far here (now more than 2,400 of them!), and you can see how we produce the cards here.
• • • • •
• • • • •
The Ticker
By Anthony Matthew Emerson

Baseball News: One of the rock band 38 Special's drummers wore a No. 38 Braves jersey in the video for "Caught Up in You." No. 38 belonged to P Joe Cowley at the time (from Ian Irwin). … Bill Henderson has provided a very detailed breakdown of one of the new Nike/MLB jerseys. Start here and then click through the photos to see his commentary. … New free agent signing Anthony Rendon will wear No. 6 for the Angels. That's the same number he wore for the Nats (from p@SDubs35).

NFL/CFL News: The Athletic has a good retrospective (paywalled) on the life of Vikings logo designer Karl Hubenthal. You may recall that Paul had his own article about Hubenthal and the Vikings in 2017 (from Gary Miller). … Baltimore-area brewery Hysteria Brewing received a cease and desist letter from the NFL for using Ravens logos on the can for its "MVP IPA," which featured an image of QB Lamar Jackson (from Jerry Wolper).

College Football News: Penn State's Collegian newspaper has published an article about the Nittany Lions' grounds crew (from William F. Yurasko). … The patch for the First Responder Bowl is enormous (from Josh Claywell). … Speaking of bowl patches, here are the ones for the New Mexico Bowl and Orange Bowl. … FAU yesterday introduced newly hired coach Willie Taggart, who appeared at a podium with a very unfortunately positioned FAU logo. … In the Army/Navy game, every uniform patch tells a story (WaPo link). … Speaking of Army/Navy, Phil will have his annual deep dive into the uniforms for that game tomorrow. Don't miss!

Hockey News: So many great photos and ads in this 1971-72 Rangers program. Definitely worth clicking through the entire thing (from Jerry Wolper).
.

Hoops News: Lakers C/PF Devontae Cacok will wear No. 12 (from Etienne Catalan). … This is so cool: this 1949 basketball team numbered their players with only doubles — 00 through 99 (from Tim Purdon). … Iowa revealed some new alternate unis that aren't very good (thanks, Jamie and Matt Brown).

Soccer News: In British elections, opposing candidates stand together on a stage as a neutral bureaucrat reads the results from that district. In yesterday's general election, a candidate wore a Sunderland soccer jersey onstage during the formal reading of the results. … Bethlehem Steel, Philadelphia Union's USL club, will be rebranded as Philadelphia Union II. A shame (thanks, Jamie). … Josh Hinton's daily download is as follows: Napoli's new fourth kit has been leaked by a retailer. … Spanish side Valencia didn't wear a shirt advertiser during their Champions League trip to Amsterdam against Ajax, as the Dutch have restrictions on gambling advertisements and Valencia's shirt ad is a betting company. … On a similar note, Celtic once again wore their charity's logo on their shirts during a trip to Romania in the Europa League (from Ed Żelaski). … Atlas Obscura has a good piece on the abandoned Edmund Szyc Stadium in Poznań, Poland. During the Nazi occupation of Poland, the stadium served as a labor camp for the area's Jews. It was rebuilt following the war and was home to a record crowd in 1972 before falling into disrepair and eventual abandonment in the 1980s (from @walbergLines).

Grab Bag: We don't often feature handball uniforms, but German club St. Pauli is launching a new rainbow design. St. Pauli is a multisport club based in Hamburg's red light district, whose members are known for their outspoken feminist, socialist, and pro-LGBTQ views (from Ed Żelaski). … Microsoft has revealed the new logo for Windows and new icons for Office applications (thanks, Brinke). … Christopher Hickey writes in: "Dale Earnhardt Jr. led a cleanup effort at the abandoned North Wilkesboro Speedway in order for the track to be digitally preserved and recreated for [the video game] iRacing." … SuperRugby side Jaguares have some pretty nice new kits (from Germán Cabrejo). … New research indicates that Nike's Zoom Vaporfly running shoes may provide even more of a competitive advantage (NYT link) than previously thought.
• • • • •
Raffle results: The winner of our latest membership raffle is Steven Lobejko. Congrats to him, and thanks to reader Louis Griffel for sponsoring this one. — Paul