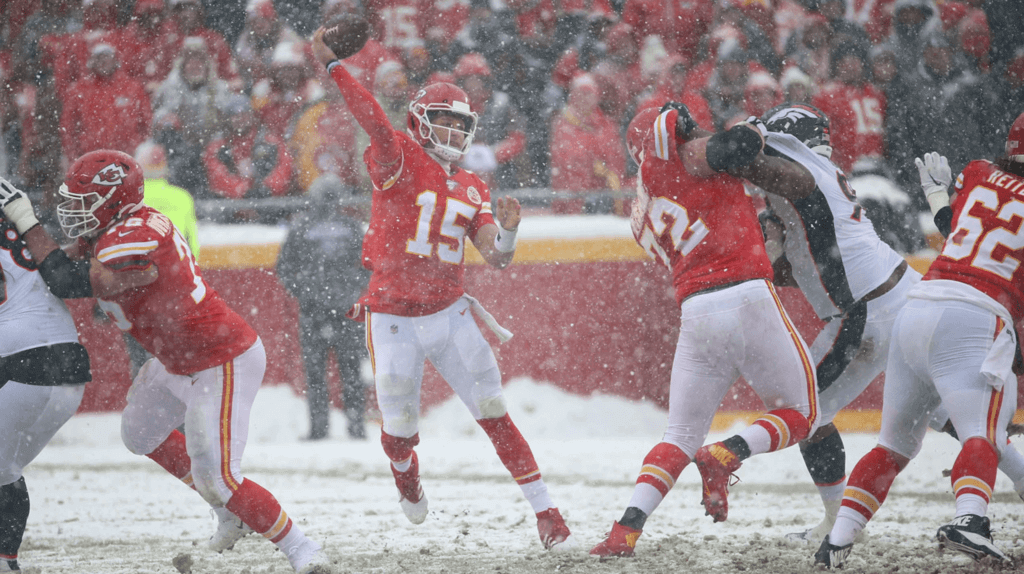 Click to enlarge
Good morning! Quite the winter wonderland yesterday in KC, as the Chiefs and Broncos played in the snow (lots of additional photos here, here, and here). There was even a snowball fight on the field prior to the game:
Pregame snowball fight at Arrowhead 😂❄️

(via @Chiefs) pic.twitter.com/5ycmtoiBTH

— ESPN (@espn) December 15, 2019
In other news from around the league yesterday:
• Very welcome sight in DC, as the Eagles wore their long-lost green pants for the first time since 2017 (!):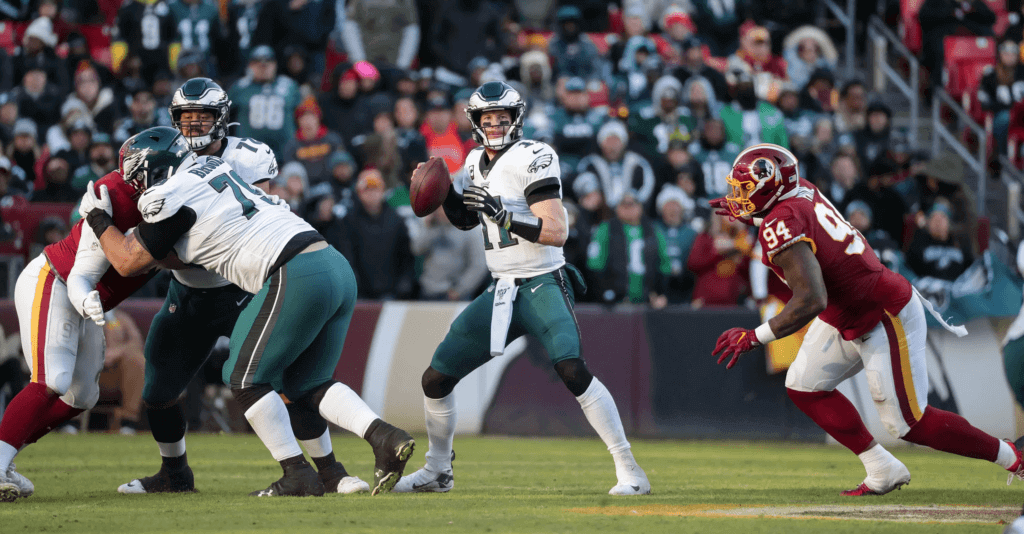 • The Chargers wore their mono-royal alternates: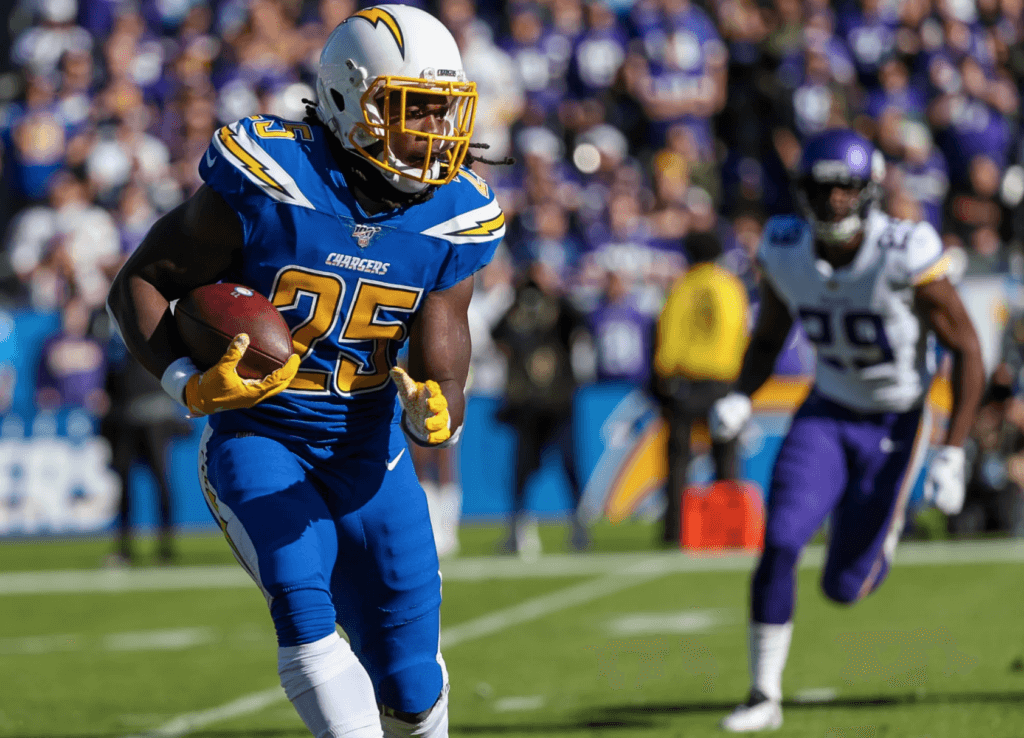 • Rare sight in Dallas, as the Cowboys wore navy over white — at home: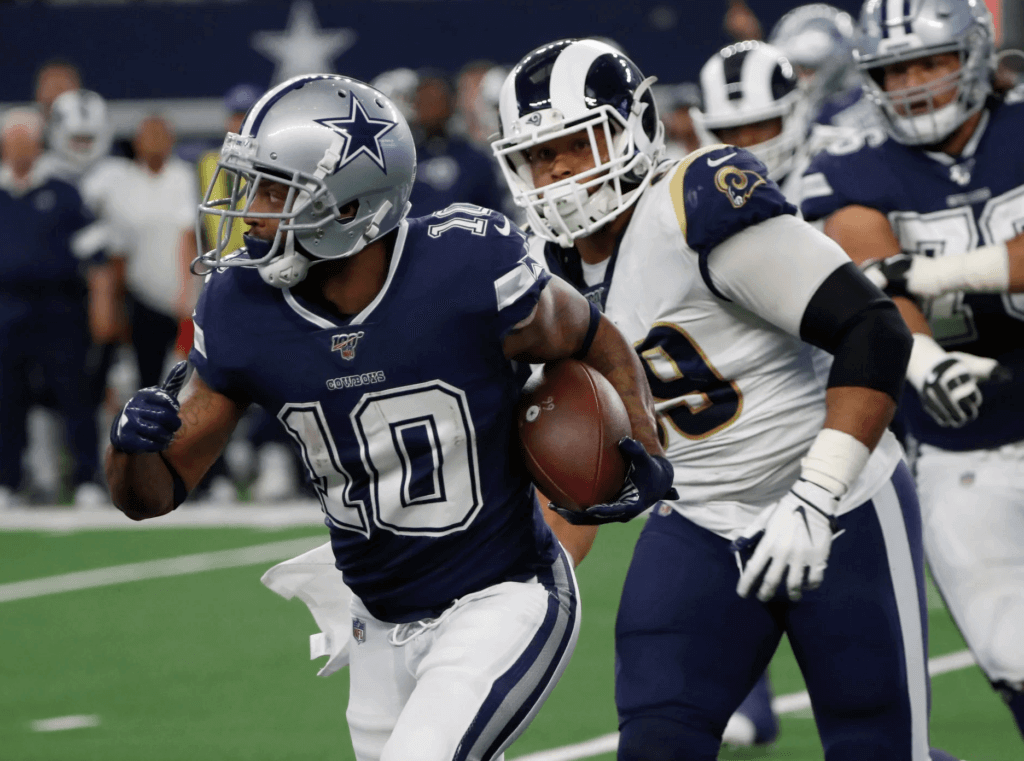 • The Bengals went mono-black: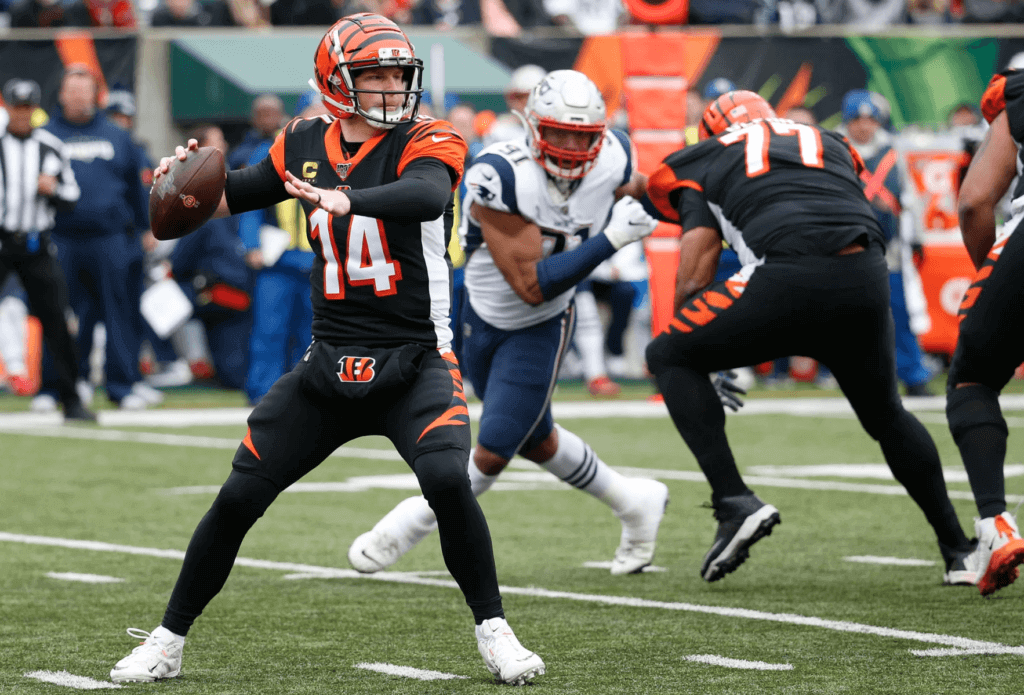 • The Titans went mono-light-blue: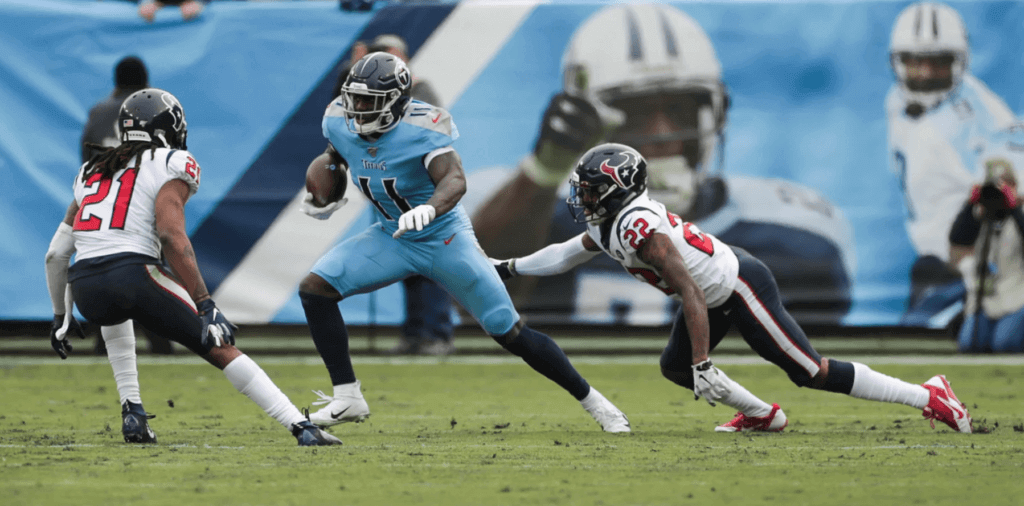 In that same game, Gridiron Uniform Database co-honcho Bill Schaefer said he thought the Titans' jerseys and pants didn't match. "The jerseys are a bit more vibrant, almost like the pants are one year old and have faded," he wrote to me. Did it look that way to anyone else? I don't really see it. Here's a video clip:
GROWN MAN TOUCHDOWN! @Brown1arthur | #HOUvsTEN pic.twitter.com/vjyTNmTqEC

— Tennessee Titans (@Titans) December 15, 2019
• The Steelers wore their mono-black alternates: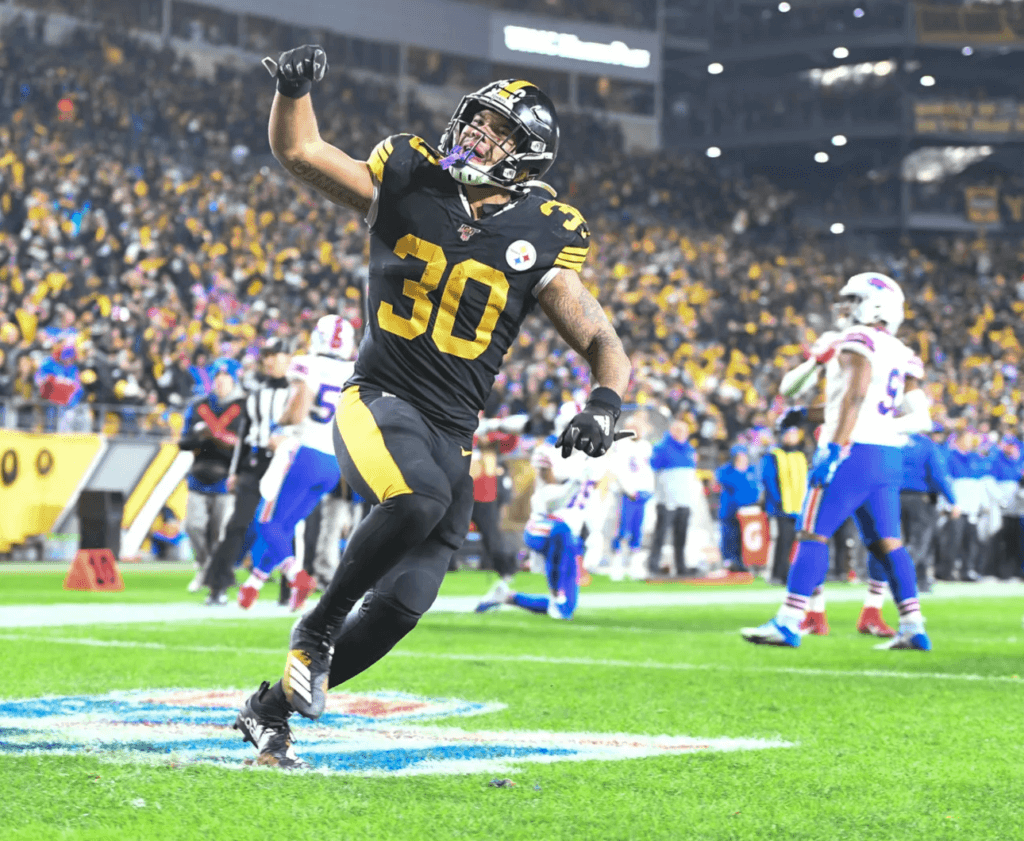 • With that Pittsburgh/Buffalo game featuring all three of the Edmunds brothers — Steelers defensive back Terrell Edmunds, Steelers running back Trey Edmunds, and Bills linebacker Tremaine Edmunds — their father, former NFL tight end Ferrell Edmunds, wore a frankenhat:
Ran into Ferrell Edmunds — here's the hat he's wearing for the game featuring his three sons, Tremaine, Terrell & Trey @WKBW #Bills #Steelers pic.twitter.com/4AuQCXpjmm

— Matthew Bové (@Matt_Bove) December 15, 2019
• No home teams wore white.
• Looking ahead, tonight's Saints/Colts game is a rematch of Super Bowl XLIV, and it appears that the Saints are adding a 10th-anniversary patch for the occasion:
These next 3 days should be good.#XLIV#WHODAT#SAINTS#WorldChamps pic.twitter.com/02rzQJ3nIw

— Thomas Morstead (@thomasmorstead) December 14, 2019
• • • • •
• • • • •
Membership update: I don't think we'd ever gotten a request to make a supercross-based membership card until a few weeks ago, when reader John Flory asked for his card to be patterned after Jeremy McGrath's 1996 jersey. Let's have a standing O for card designer Scott M.X. Turner for doing such a great job with this complicated design.
John's card is one of a bunch that have been added to the membership card gallery. I expect the printed/laminated versions of all cards currently in the gallery to ship out in time for Christmas delivery. (If you want to get someone a membership card as a gift but didn't order it yet, you can still order a gift membership voucher right up through Dec. 24.)
Ordering a membership card is a good way to support Uni Watch (which, frankly, could use your support these days). And remember, a Uni Watch membership card entitles you to a 15% discount on any of the merchandise in our Teespring shop and our Naming Wrongs shop. (If you're an existing member and would like to have the discount code, email me and I'll hook you up.) As always, you can sign up for your own custom-designed card here, you can see all the cards we've designed so far here (now more than 2,400 of them!), and you can see how we produce the cards here.
• • • • •
• • • • •
Click to enlarge
A different kind of uniform: The Tugboat Captain and I were invited a very fancy holiday party at a very swanky Upper East Side museum on Saturday night, so I had a rare chance to dress up. And although you can't see it in the photo shown above, I was wearing Uni Watch cufflinks!
It was quite the scene. As you can see, there was a big fountain (which included two spitting frogs that for some reason I found endlessly amusing), along with a live band, an open bar, and a huge spread of food (including lots of roast pork served on a platter with the pig's head), yowza!
I don't get to attend shindigs like this very often. A fun change of pace!
On our way back to the subway, we passed something I'd never seen before: blue traffic cones! Man, these Upper East Siders take the whole "blueblood" thing more seriously than I realized:
• • • • •
• • • • •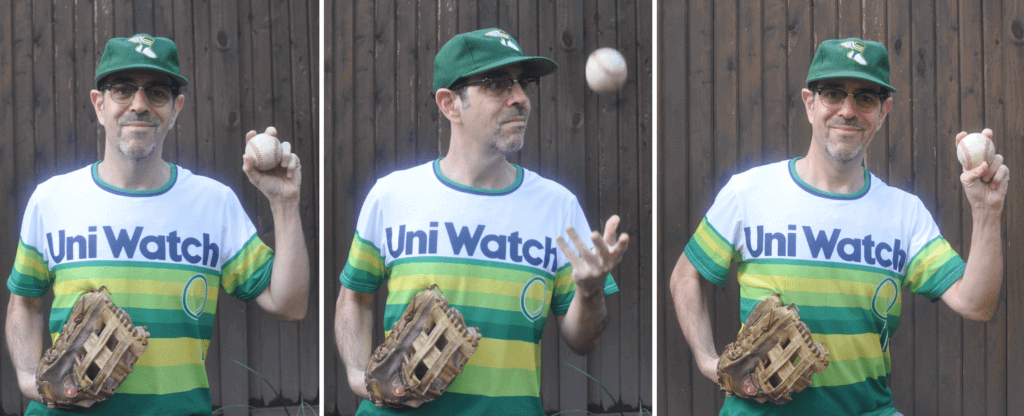 Hmmmm: Why was I wearing a Uni Watch attire for a photo shoot in the December cold yesterday? It's a fun story — more details soon.
• • • • •
• • • • •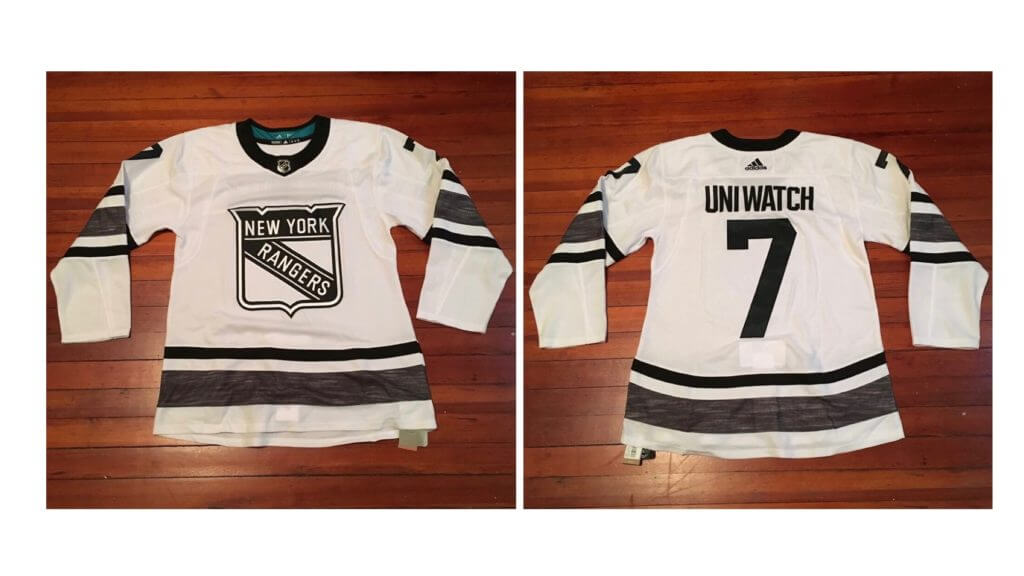 Click to enlarge
Year-end raffle reminder: In case you missed it on Friday, our annual year-end raffle is now underway, with dozens of cool items available for you to win (including the Rangers 2019 NHL All-Star Game jersey shown above). Full details here.
• • • • •
• • • • •
The Ticker
By Jamie Rathjen

Baseball News: From the realm of weird mascots, we present the Japanese Pacific League's Chiba Lotte Marines' fish, the premise of which is that it has "eaten" the person wearing the suit and "spits" them out (from Jesse Tenorio). … Twitter-er @WarJack82 points out that because the Rangers traded CF Delino DeShields, he's the second player this offseason to participate in a uniform reveal and then be traded. … Continuing with the Rangers, this is how their old stadium will be set up to host USL League One's North Texas SC (from Josh Hinton). … Christmas stocking uniforms for the Australian Baseball League's Perth Heat (from Samuel Williams).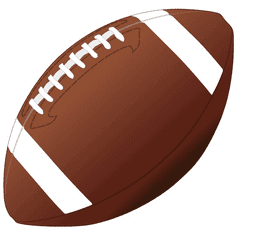 Football News: The school of the day from Blaise D'Sylva's helmet collections was his alma mater, Washington State.
.
.

Hockey News: Junior teams that wore Christmas-themed uniforms included the OHL's Sarnia Sting, with coaches also wearing Christmas sweaters, the WHL's Prince George Cougars, and the British Columbia Hockey League's Prince George Spruce Kings. The BCHL's Victoria Grizzlies wore teddy bear toss-themed uniforms (all from Wade Heidt). … Also from Wade: the OHL's Oshawa Generals marked their equipment manager's 2500th game with a commemorative jersey. … A Kings blog mentioned that the team added purple to their black-and-white color scheme in 1998 right after their merch was banned by many schools' dress codes (from Jack Wade).

Basketball News: Kentucky's women's team wore black alternates at home against Louisville. I don't get why a team would wear BFBS when their rival has black as a color — something Iowa State has also done (from Josh Hinton and Jennifer O'Hagan). … Clemson wore '90s throwbacks against South Carolina yesterday (from the Clemson Uniform Tracker). … Minnesota wore gold at home against Ohio State (from @BrickShirtHouse). … The D-League Canton Charge wore Cavaliers-style fauxbacks for the parent team's 50th anniversary (from Tom Pachuta).

Soccer News: In the Premier League, Arsenal wore the team charity's logo as a patch. It's fair to say their defense felt charitable, too (from Josh Hinton). … Odd coincidence, perhaps: Tottenham Hotspur's men's and women's teams both happened to wear a relatively uncommon blue-blue-white combo when playing at the exact same time. … Italian team AC Milan wore a 120th-anniversary shirt which was essentially the same as their normal first shirt for this season except with gold accents. … Also in Italy, Napoli are one of a small handful of soccer teams in the world that fall for some of the uni-based fads well known to us, and they outdid themselves with a black, camouflage fourth kit worn at home with a cringe-inducing name (from Ed Żelaski). … The next three are also Josh: new second kit for Mexico. … These are apparently Liverpool's would-be shirts for next season, if they hadn't switched to Nike from New Balance. … This is how the Texas Rangers' old stadium will be set up to host USL League One's North Texas SC. … New shirts also for Irish teams Bray Wanderers and Waterford.

Grab Bag: English rugby union team Bath wore a creative substitute for one of their ads for a European Rugby Champions Cup game in France, because the country bans alcohol ads (from Josh Gardner and Ben O'Connell). … The NLL's Saskatchewan Rush wore fifth-anniversary jerseys (from Wade Heidt). … I'm sure you've seen the $120,000 banana taped to a wall by now. Boston College's field hockey team recreated it with a stick from that sport. … Some Gaelic Athletic Association county boards in Ireland have started releasing new shirts for their Gaelic games teams, including Wexford and Waterford. … Sen. Joni Ernst is leading a push for better-fitting body armor for female members of the military (from Timmy Donahue).