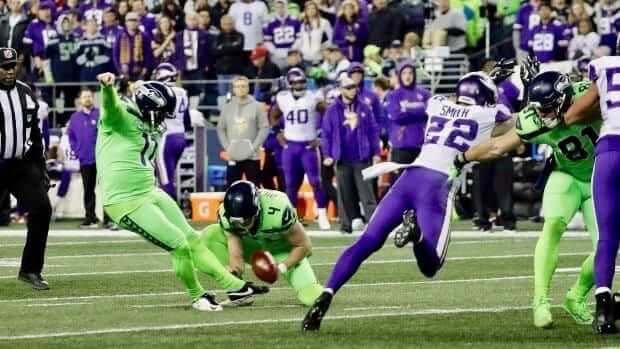 We've known for a while now that the Seahawks were planning to wear their mono-neon uniforms last night — the first and I believe only time they'll be wearing them this season. This marks the third straight year they've trotted out this design, and a bit of the retina-searing novelty has now worn off.
But there was an important new element added to the mix for 2018: Sebastian Janikowski is on the team this year. And there's something inherently funny about the sight of Sebastian Janikowski in mono-neon.
To be fair, nobody looks particularly good in Seattle's neon uniform, especially men of a certain size and girth. And Janikowski, who's now 40 years old and spent his previous 17 seasons with the Raiders, is certainly not the biggest player on the Seahawks. He's listed at 6'1″, 260 pounds, which means he's dwarfed by many of the team's offensive and defensive linemen. Those guys look pretty funny in neon, too.
But not the same way Janikowski does. Part of it, I'm pretty sure, is that he's just atypically large for a placekicker, which has always made him appear incongruous and sort of clunky. Another part is that he doesn't wear thigh or knee pads, which reinforces his Everyman physique — the pad-less pants make him look less like a football player and more like some guy who was watching the game on his sofa and somehow got drafted onto the field. And part of it is that he's never fully shed his image as the hard-partying guy from Poland who got into lots of bar fights during his time at Florida State.
Shoehorning a 40-year-old guy like that into the Seahawks' sleek superhero costume is just too good (especially when he goes the extra mile by wearing a neon long-sleeved base-layer shirt, as Janikowski did last night). Much like Boog Powell in the blood-clot uniform, it's such a massive mismatch of player and uni that it achieves its own kind of perfection. I'd say it might even justify the neon uniform's existence.
Another atypical thing about Janikowski: He kicks with his left foot. That led Twitter-er @RF_1071 to compare him last night to another famously hefty neon-clad lefty — Jared Lorenzen:
None of this is meant to diminish Janikowski's considerable skills as a kicker. He's 10th on the NFL's all-time points list (if he plays another season, he'll likely jump to sixth), he has a whopping 105 career field goals of 50 yards or more, and he's likely headed to the Hall of Fame (that should be a good induction speech). I hope for his sake he never has to wear the neon uniform again. But I'm glad I got to see him wear it last night.
• • • • •
• • • • •
An excellent DIY project: Reader Scott Steffes's office had an ugly sweater contest yesterday, so he and his family decided to make a different play on the word "sweater" by customizing his Wisconsin hockey jersey for the occasion. "The colors are perfect," he says, "and it's a great base jersey that allows for unique modification."
Here's the jersey he started with (for all of these, you can click to enlarge):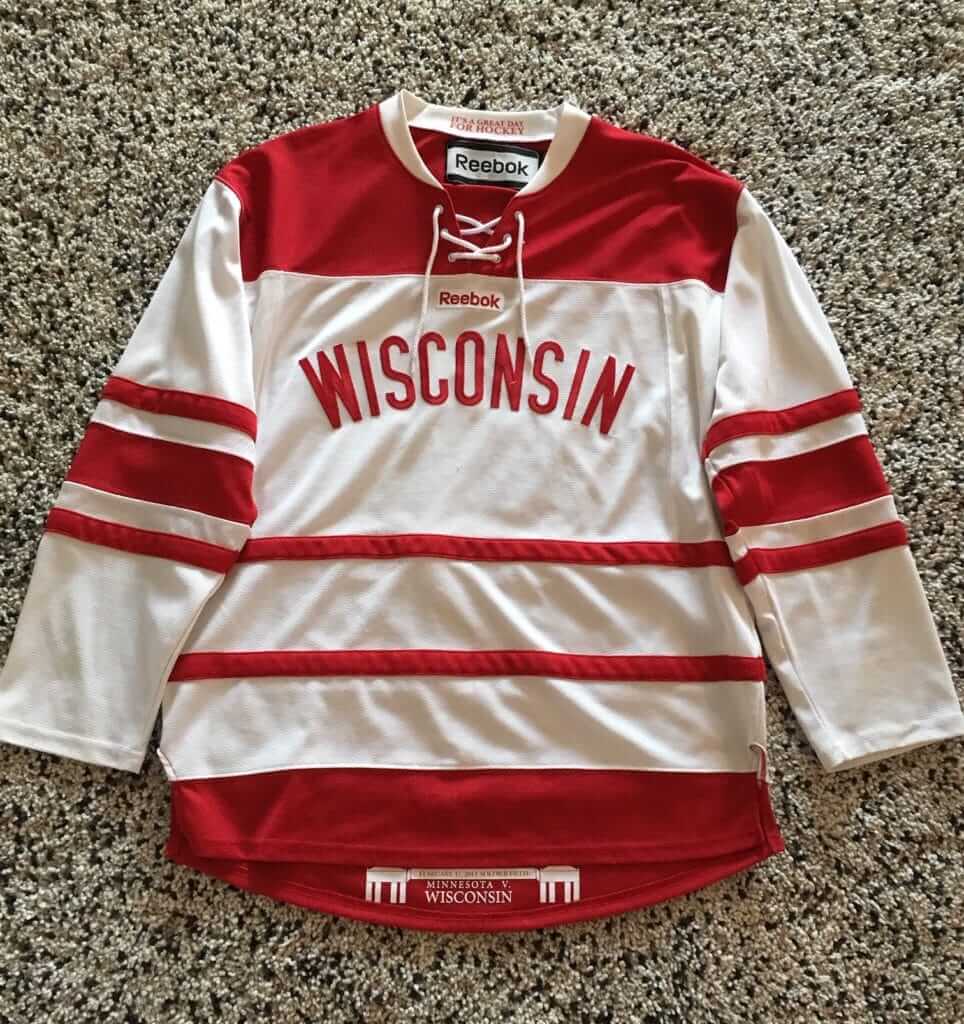 And here's how Scott modified it for a fictitious team called the Wisconsin Reindeer: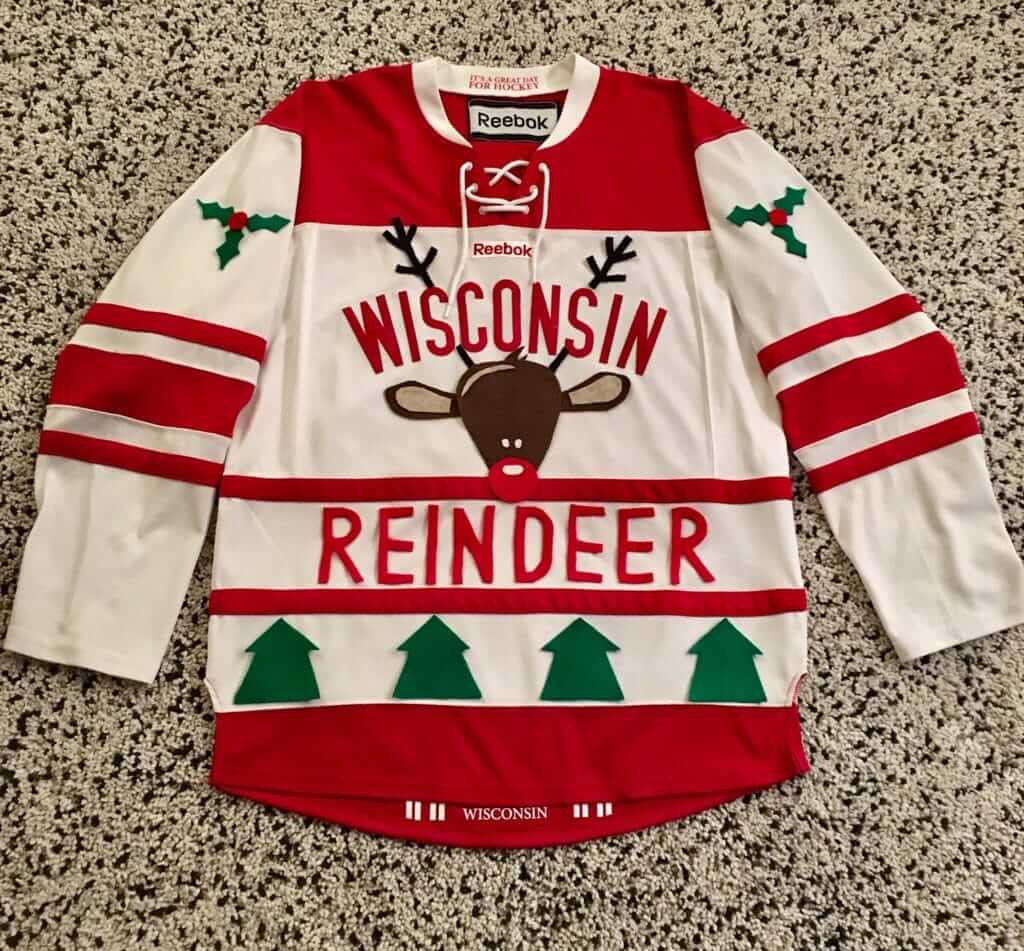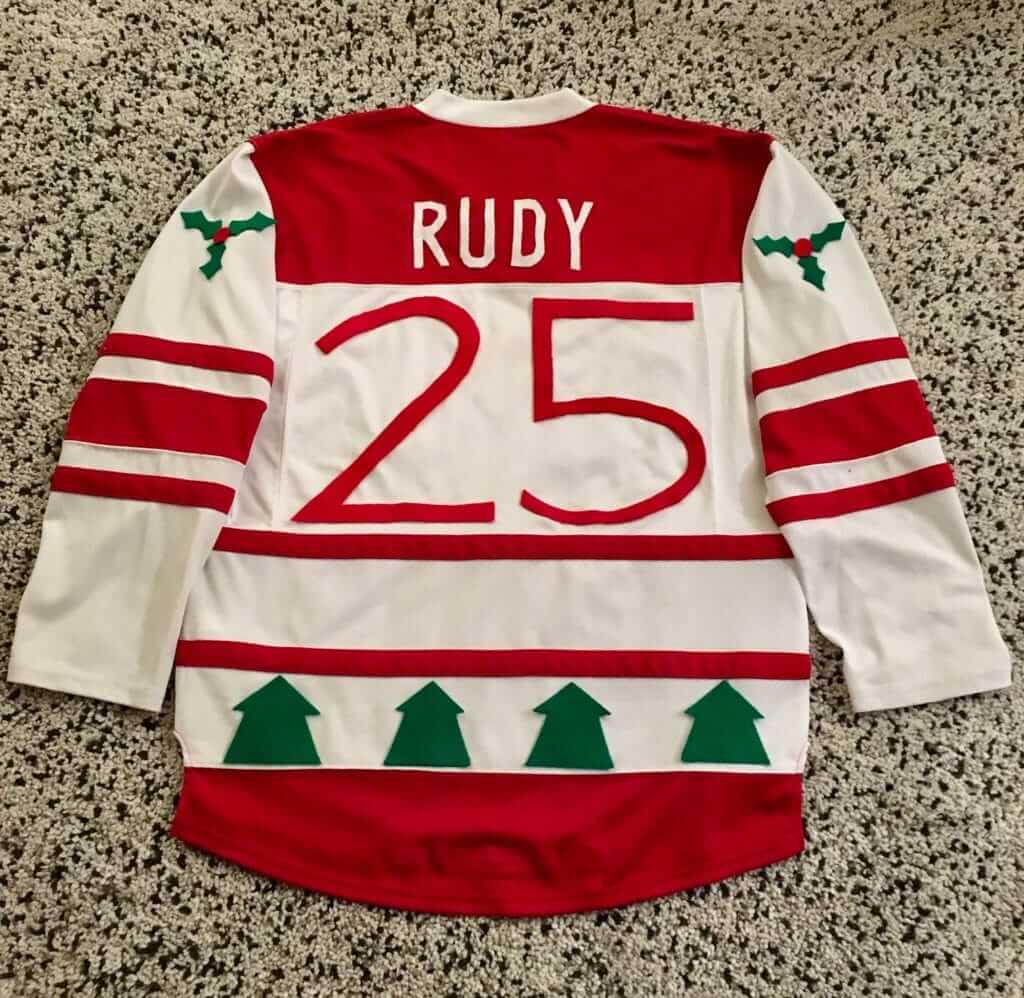 As you can tell from the photos, Scott didn't sew the graphics onto the jersey. "I was thinking about sewing it, he says, "but I wanted the changes to be temporary, as this is my favorite jersey. Found a roll of double-stick fabric tape that worked great. Everything is holding up pretty well so far."
Nicely done. Here's Scott wearing his finished design, followed by a shot of him and the other contestants at the small architecture firm where he works: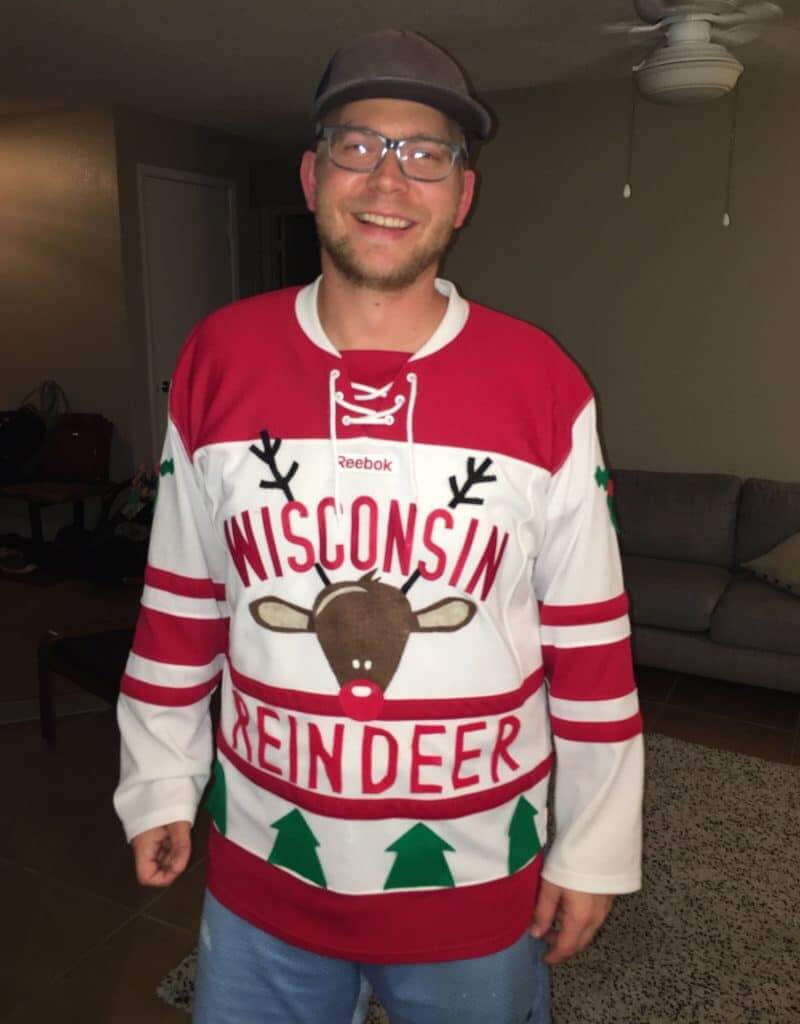 The two women in the one sweater were named the People's Choice, the one at far left with the penguin on the front won for Cutest Sweater (Scott says he was in the running for that one), and the one at far right with the battery-powered mini-fireplace won for Most Innovative.
Despite not winning, Scott enjoyed making his sweater."We really had some great fun coming up with it," he says. "Makes me think of WaffleBored — though my skills are nowhere near his, I can certainly see the intrigue in making a custom design. Kinda makes we want to make a permanent custom jersey — either Wisconsin hockey or Milwaukee Brewers." We all look forward to seeing how that turns out, Scott.
• • • • •
• • • • •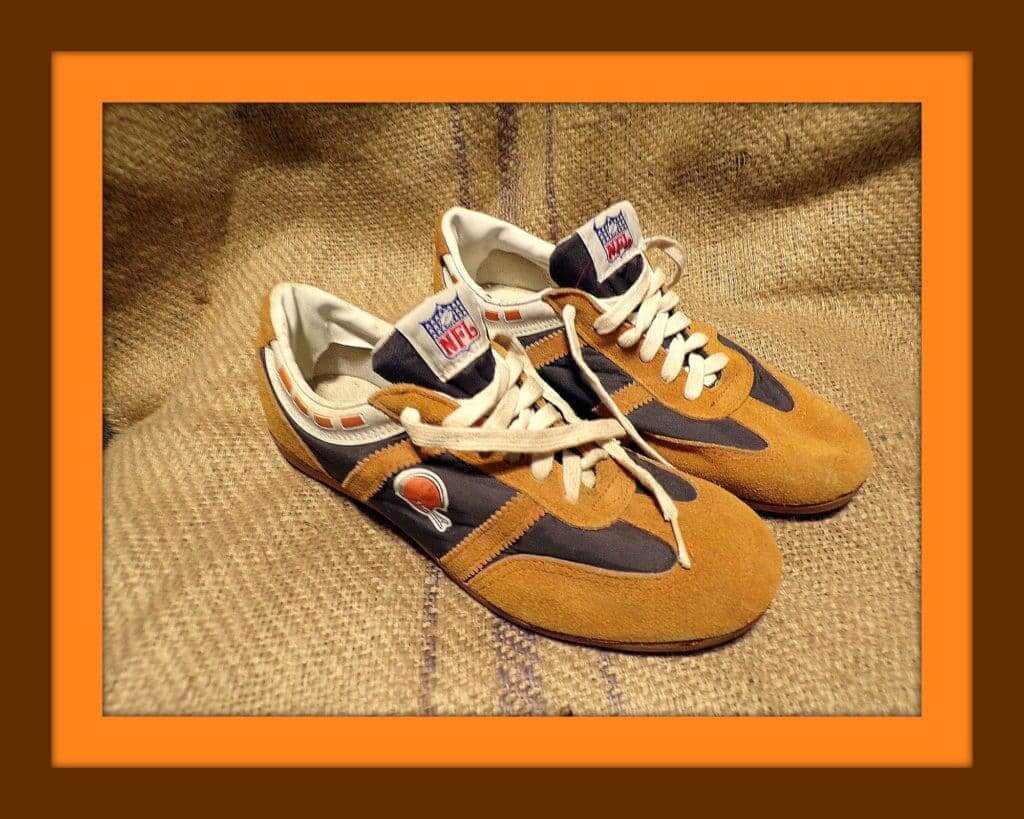 Click to enlarge
Collector's Corner
Brinke Guthrie
Gaaaaa, take a look at these! A pair of 1976 Cleveland Browns suede leather "cleated sport tennis shoes.". Ponder why you need "cleats" on tennis shoes for a moment. Now, the tongue says, "NFL Action Footwear," and these were from Sears and NFL Properties. You can see a similar style of these right here. If you wanna go full-tilt gonzo on retro Sears NFL stuff, I recommend this MeTV article. And for the ultimate in 1970s NFL insanity, WishbookWeb has it all. Be forewarned — you will kill an entire day looking through that site.
Now for the rest of this week's picks:
• Here's a misspelled 1972 pennant for the Minnesota Nort Stars. One more for 'em — this 1970s hockey skate/puck/stick radio!
• Here's a 1970s 7-Up store display with Hollywood Henderson of the Cowboys and Pat Haden of the Rams. The Henderson helmet and jersey are way off, while the Rams treatment looks accurate.
• Square Pan Pizza was your sponsor for this 1979 Padres thermal cup, featuring the Swinging Friar!
• This 1970s Pittsburgh Pirates buccaneer logo mug looks to be in perfect shape.
• Never seen these before: a collection of 1970s NHL logo trays. Rangers, Caps, Blackhawks, and North Stars here. Each measures 10-3/4″ in diameter. Points taken off on the seller for having the North Stars' logo upside-down in the photo!
• This 1970s watch by Jubilee features a red helmet with the NFL shield.
• Speaking of timepieces, here's a pricey stocking stuffer: This "Back to Back" Super Bowl Champs watch was given to 49ers personnel in the late 1980s.
• Another one for the Niners: This retro ski cap is from the Sears NFL Shop.
• Check out this Buffalo Bills draft day helmet phone! The seller notes the facemask is "very coveted," although maybe you have to be a serious helmet or facemask aficonado to appreciate that. (Thanks to @HelmetAddict for the tip.)
• Way back when, this Magnetic NFL Standings Board was a great way to keep track of the the standings. You could move the helmets around from week to week. (Note that the Seahawks are included in the photo and the Bucs aren't — Seattle was an AFC team at that time.)
• Want some outstanding early-1970s NFL poster art? Doesn't get any better than this one for the Kansas City Chiefs.
• Check out the cover of this 1976-77 Knicks game program. Yes, kids, players really did wear their shorts like that back then. Side note: Clyde sinking the jumper wearing his signature Pumas.
• From reader Will Scheibler: We often feature NFL bedsheets here on CC, but how about a set of CFL sheets!
Seen an item on eBay that would be good for Collector's Corner? Send any submissions here.
• • • • •
• • • • •
Naming Wrongs update: Someone on Twitter asked me why we didn't have any shirts for the Palace of Auburn Hills? Good question! Not sure why hadn't done that one before, but we've now rectified that oversight. It's available in blue and grey: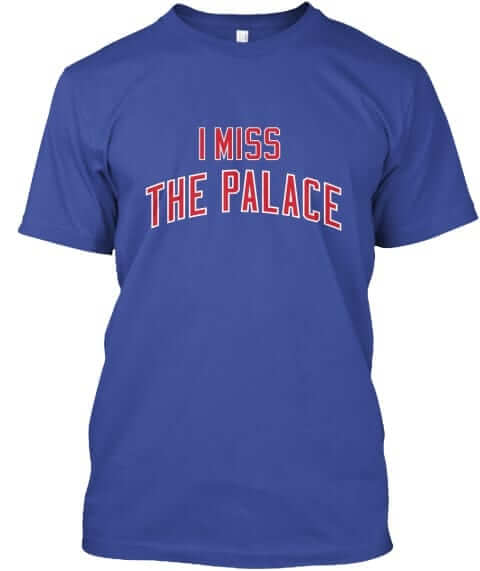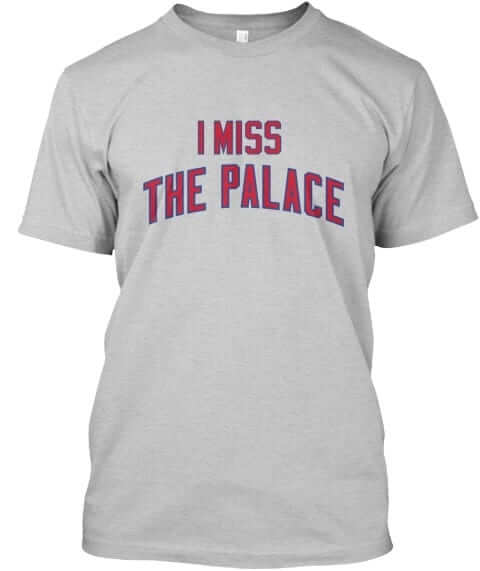 These shirts are now available in the Naming Wrongs shop (where card-carrying Uni Watch members get 15% off). My thanks, as always, for considering our products.
• • • • •
• • • • •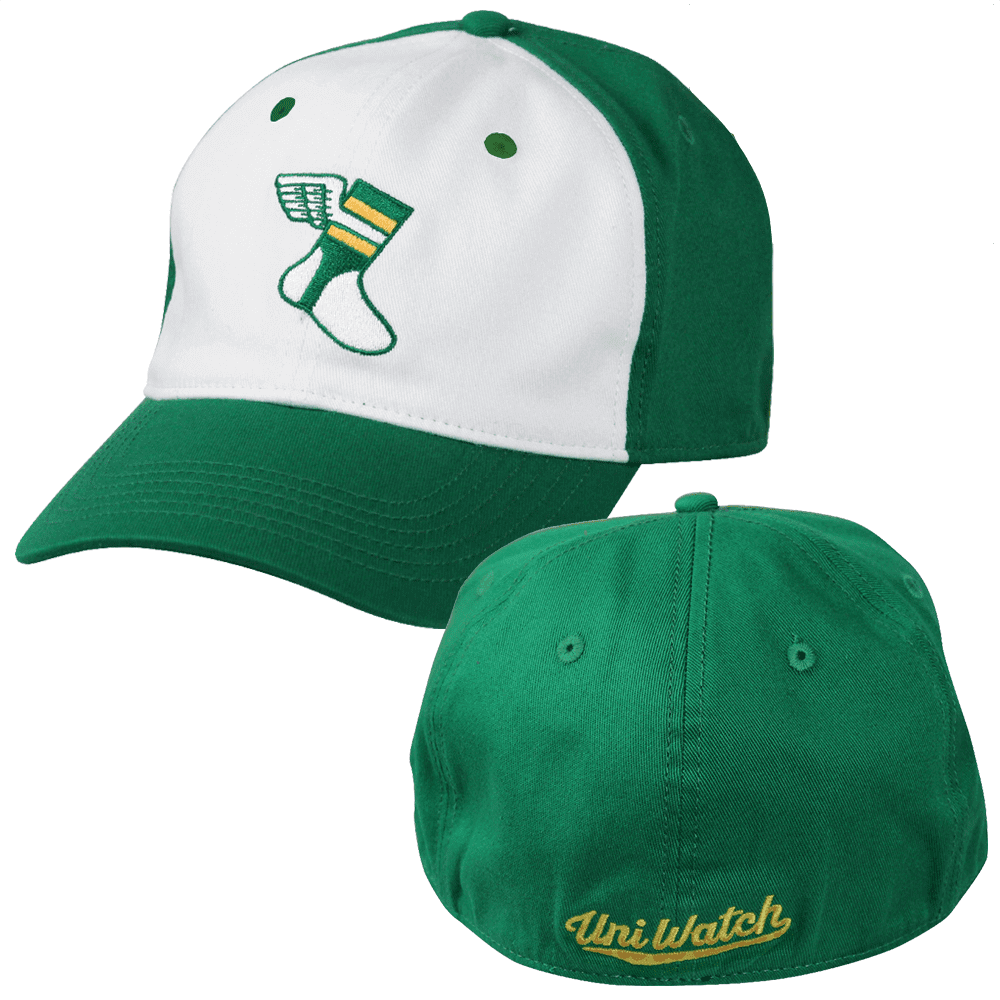 ITEM! Hats almost sold out: The good news is that our efforts to generate some sales momentum on our flex-fit Uni Watch Alternate Caps have been successful! We now have fewer than 10 L/XL caps left. So if you want one, I strongly suggest ordering one now. The price is only $19.99. Update: L/XLs are now sold out!
The bad news is that we badly miscalculated how many of the S/M caps to make. We still have about 90 of those. Please feel free to order one! Thanks.
While we're at it: All of our fine Uni Watch products, including a few that you may have forgotten about, are listed on this one handy page.
• • • • •
• • • • •
The Ticker
By Alex Hider

Baseball News: Reader Jake Jahimiak contacted the Rays and asked if they'll be reviving their fauxbacks for 2019. The response: "At this time we do not plan on wearing on the fauxbacks again and will be wearing the same Devil Ray [throwback] uniforms as this season." … Baseball card heads might know this, but for the uninitiated: Topps airbrushed the Angels' lowercase "a" logo on Nolan Ryan's baseball card after his trade from the Mets prior to the '72 season (while leaving his blue Mets pinstripes intact), but the team actually switched to a capital "A" logo cap starting that year (from BSmile). … New logos for the Dupage County (Illinois) Pistol Shrimp of the Prospect League, a wood bat college league. … Here's a great old shot of Orioles 1B Boog Powell with an orange Dymo Tape name tag on his sunglasses. … Always interesting to see the Reds' odd-looking radially arched drop-down NOBs. William Luck got those screen shots from a video of Jim Maloney's 10-inning no-hitter from 1965. … New Hall of Fame inductees Harold Baines and Lee Smith have now dutifully gone through the ritual of wearing those miserable Hall of Fame jerseys. As you may recall, Uni Watch readers came up with some much better designs early last year.

NFL/CFL News: Former Seahawks QB Matt Hasselbeck raised the "12" flag before last night's game and wore an era-appropriate jersey for the occasion (from Mark Simoncelli Jr.). … Vikings WR Adam Thielen had cleats made featuring a coffee ad for last night's game. Now, Caribou Coffee does donate 10 percent of proceeds for every sale of the coffee pictured there to the University of Minnesota Masonic Children's Hospital, but you'd think his cleats would just mention the hospital and not a coffee company. In any case, it turns out that he didn't wear them in the game. Maybe just for pregame..? … Packers CB Bashaud Breeland had something wedged in between his facemask and visor, near his ear hole, on Sunday. Was that a mouthpiece? An extra chinstrap cup? A piece of plastic to prevent his eye from being poked? He also had it for Green Bay's previous game, which appears to have been the first time he wore it. (from Taylor Warntjes). … Ayden Mahar noticed that ESPN's playoff machine has some bugs that cause old logos to appear for some teams. … The CFL's Winnipeg Blue Bombers are letting season ticket holders try to win a chance for their last name to be on a player's jersey during pregame warmups for a preseason game (from Moe Khan). … Bears coach Matt Nagy was asked about wearing a visor while being bald (from Mike Chamernik). … Judging by this 1973 screen shot, it looks like the Oilers' nameplates were made from a different kind of fabric than the rest of the jerseys (from Mike Selock).

College Football News: Ohio State will wear its traditional home scarlet jerseys in the Rose Bowl (from Phil). … North Carolina A&T will wear all white in the Celebration Bowl this weekend.

Hockey News: The NHL Winter Classic will feature color-changing pucks that will indicate when the pucks get too warm and need to be replaced to reduce bouncing (from Jack Wade). … The Oilers and Flames have played each other twice so far this season — on Nov. 17 in Calgary and on Sunday in Edmonton. Both times, the home team wore vintage sweaters/colors (from Wade Heidt). … The upcoming U18 Women's World Championships in Japan have a super-cool manga-style logo (from Stan from Manhattan).

NBA News:  Does this cap indicate what the Raptors' "earned" uniform will look like? … New Nuggets guard Nick Young will wear No. 34, and new Suns F/C Eric Moreland will wear No. 23 (from Etienne Catalan).

Soccer News: Reader Bryant Ramirez noticed that Atlanta United had some patch placement inconsistencies during the MLS Cup Sunday. … The U.S. Soccer Federation Foundation and the U.S. Soccer Federation may sound like the same entity, but they're different groups — and the USSF Foundation (a group advocating for the growth of the sport) is suing the USSF (the governing body of soccer in the US) seeking a declaration that its name and logo do not violate copyright law (from Ignacio Salazar). … Liverpool is selling a new line of "retro" shirts with no makers' marks (from Gabriel Hurl and Alex). … Doncaster Rovers of England's League One have a new third kit that includes a charitable ad for mental health awareness (from Jamie Rathjen). … These are all the uniforms that will be worn during the 2018 FIFA Club World Cup (from Josh Hinton). … New shirt sponsor advertiser for the Chattanooga Red Wolves (from Ed Zelaski).

Grab Bag: These are the bibs the US ski jumping team will wear at the upcoming Continental Cup (from Jim Vilk).