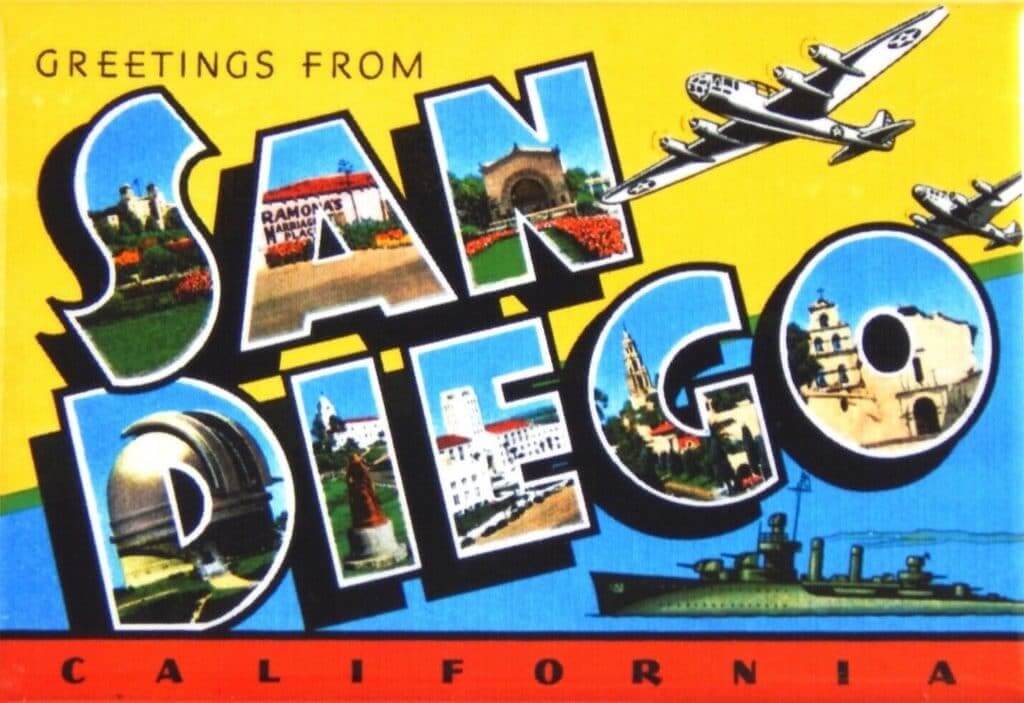 Yesterday was my last day in San Diego before flying home (I took a red-eye and should be getting back to Uni Watch HQ just about the time this post goes live). I've already told you about the Padres' unveiling and the Uni Watch party, so today I'm going to tell you about a few other places I visited while I was in town.
Turf Supper Club
Lots of people told me I needed to check out the Turf Supper Club, so I met up there on Saturday with Uni Watch reader Tim Nash before heading to the Padres' unveiling event.
Why did so many people recommend this place to me? For starters, it has the kind of look I really dig:
The interior has a similar 1950s vibe. Even better, if you order a steak, you get to cook it yourself! Sure, there's a certain Tom Sawyer aspect to that, and I realize it might not appeal to everyone ("If I wanted to cook for myself, I could stay home!"), but I get a kick out of it. So when you order a steak, they bring it to you raw, along with a hunk of garlic bread:
Then you bring the meat and bread over to this little grill island in the center of the dining room, where you can cook it just the way you like it:
Good meat, too! A great place, and I really enjoyed hanging out with Tim, who's a local attorney (and who also insisted on treating me — thanks, buddy!):
Seaside Seafood
Several people also recommended that I eat at Mitch's Seafood, a dockside joint with super-fresh seafaring fare. I had lunch there on Sunday with longtime reader/pal Richard Craig, who's a journalism professor at San José State but is originally from San Diego and came down for our Sunday party.
The food was mostly excellent. I say "mostly" only because I insisted on trying the crabmeat poutine — an intriguing idea that didn't really work for me. But everything else was superb, and you can't beat the view. From left: crab cakes, the poutine, and two tacos — one octopus and one shrimp:
That was already way too much food, but I insisted on getting grilled oysters as well:
Afterward, Richard took me on a quick tour of Point Loma, where I was wowed (as I always am) by the linear gravestone patterns at a military cemetery:
After that, we went over to the Brandiose studios. I'll have more to say about that visit in a separate entry.
The Zoo

I spent most of yesterday with SportsLogos.net's Chris Creamer and his excellent family (that's them above), as we all paid a visit to the San Diego Zoo. Since the Creamers are Canadian, they wear poppies on Nov. 11 for Remembrance Day. They were nice enough to bring an extra one for me, so I wore one as well.
I've become a bit more conflicted about zoos as I've gotten older. While I love seeing animals, it often pains me to see them cooped up. But the San Diego Zoo has an excellent reputation, and all the animals we saw looked healthy and happy. A really nice day.
I took hundreds of photos (including a ridiculous number of shots of a particular golden bird in the aviary, which was my favorite spot in the zoo) but managed to pare them down to a few dozen while waiting at the gate for my flight home. You can see them here.
(Big ups to reader and all-around swell guy Mike Ortman for arranging a complimentary zoo pass for me. Thank you!)
In-N-Out Burger
While this was my first visit to San Diego, I've been to southern California plenty of times before. But somehow I had never been to an In-N-Out Burger — an oversight I rectified yesterday.
It's a perfectly fine fast food burger, and the toasted bun is excellent. Overall, though, I don't understand the fuss. I think the exact thing about the Shake Shack back in NYC — their much-lauded Shackburger is fine for what it is, but what it is is a fast food burger with a flat, two-dimensional patty (as opposed to a real burger that you'd get at a diner, pub, or coffee shop). Also: In-N-Out's fries were so-so and cold. Maybe they were just having an off day, but I remain unconverted.
The Aero Club
Reader Graham Block suggested that I check out this bar, which was my final stop yesterday before heading the airport, and hot damn did it deliver. Dig this:
Inside, there's an insane amount of whiskey available. I'm not really a whiskey guy myself, but it still makes for a very pleasing backdrop:
Uni Watch on the Air
Aside from being out and about in San Diego, I also appeared yesterday morning on a local sports radio show. We discussed the Padres, stirrups, and a bunch of other stuff. You can hear the segment starting at the 23:00 mark of this link.
———
And that's a wrap. To all you San Diego folks: I know I just scratched the surface of your city and that there's a lot more to see and do. But I really enjoyed my visit, and I especially enjoyed all the people I met — fine folks, one and all. Thanks for your hospitality. I'll definitely be back!
And to everyone who contributed to my travel fund and made this excursion possible: Thanks so much! It was a very productive trip — not just for the Padres unveiling, but also for laying the groundwork for some future stories. Thanks again.
• • • • •
• • • • •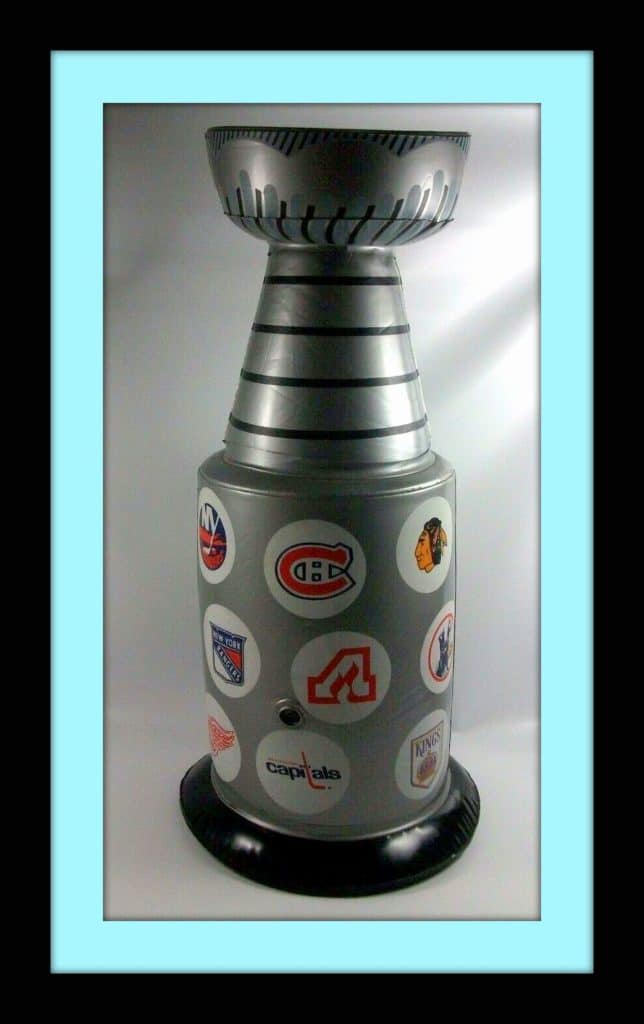 Collector's Corner
By Brinke Guthrie
Follow @brinkeguthrie
File this under "First time ever on Collector's Corner"; a 1970s 23″ inflatable Stanley Cup. Or "Replique Gonflable," if you prefer. This one is from 1975 by NHL Creative Services, and made by Trans Converters Ltd. of Montreal. So while the players on the Cup-winning team got the real thing, hockey fans could display this La Coupe Stanley proudly. (Reminder: Not to Be Used as a Life Saver!)
Now for the rest of this week's picks:
• On the heels of the big San Diego Padres uni reveal this past Saturday, Collector's Corner is happy to offer this 1970s Padres satin jacket made by Wilson. The size 44 jacket has player #52 written on the collar. Looks just like the one Randy Jones was wearing when he met Paul on Saurday night!
• Coors was the sponsor for this 1970s NHL Colorado Rockies ski cap. What a great logo they had.
• You would have needed this 1970s San Francisco Giants megaphone in the foggy, drafty, and cavernous Candlestick Park.
• An encore Giants item here: Were they knocking off the Godfather of Soul with this 1970s "I Feel Good" button?
• This 1970s Philadelphia 76ers button proclaims "We've Got This Place Jumpin' Again!" The price tag on the back said $3.00 back then; the seller wants 10 times that amount now!
• Straight from the NFL Sears Shop, this 1970s L.A. Rams jacket.
• This Green Bay Packers mug of undetermined vintage is a rare instance of NFL merch depicting a helmet facing to the left.
• Another one for the Pack: This 1970s sweatshirt was most certainly a Sears item.
• Get a complete set of 1970s NFL Dairy Queen helmets right here.
• This 1969 Campbell Kids Baseball Premium Catalog has "Uni Watch Feature Story" written all over it!
Got an item to include on Collector's Corner? DM your submissions to us on the Uni Watch Facebook page.
• • • • •
• • • • •
Membership update: Like I always say, the worst uniforms often make the best membership cards, and that definitely applies to Joshua Levy's new Cavs-themed card, shown at right.
Joshua's card is one of seven new designs that have been added to the membership card gallery. I should the printed/laminated versions of these cards in the mail by this time next week.
Speaking of which: We have a new printer! Reader Bob Sullivan, who runs a small press devoted to reproductions of old books, documents, and stationery, has stepped up to become our new membership card print shop. (As you may recall, our old one recently went out of business.) I'm excited to be working with him — another great example of our wonderful comm-uni-ty.
Ordering a membership card is a good way to support Uni Watch (which, frankly, could use your support these days). And remember, a Uni Watch membership card entitles you to a 15% discount on any of the merchandise in our Teespring shop and our Naming Wrongs shop. (If you're an existing member and would like to have the discount code, email me and I'll hook you up.) As always, you can sign up for your own custom-designed card here, you can see all the cards we've designed so far here (more than 2,300 of them!), and you can see how we produce the cards here.
• • • • •
• • • • •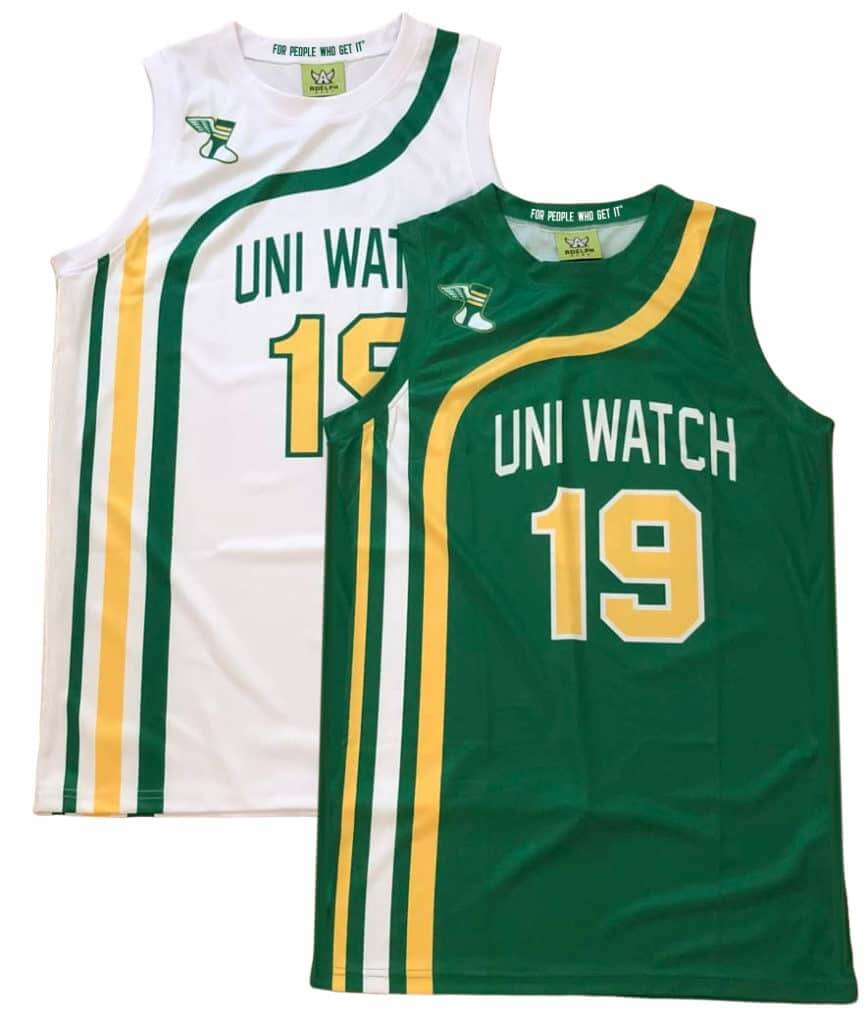 Click to enlarge
Uni Watch hoops gear reminder: In case you missed it on Sunday, we're now taking pre-orders on Uni Watch basketball jerseys. You can choose your own number and NOB, and you don't have to have the winged stirrup on the shoulder if you don't want it there.
We also have matching shorts: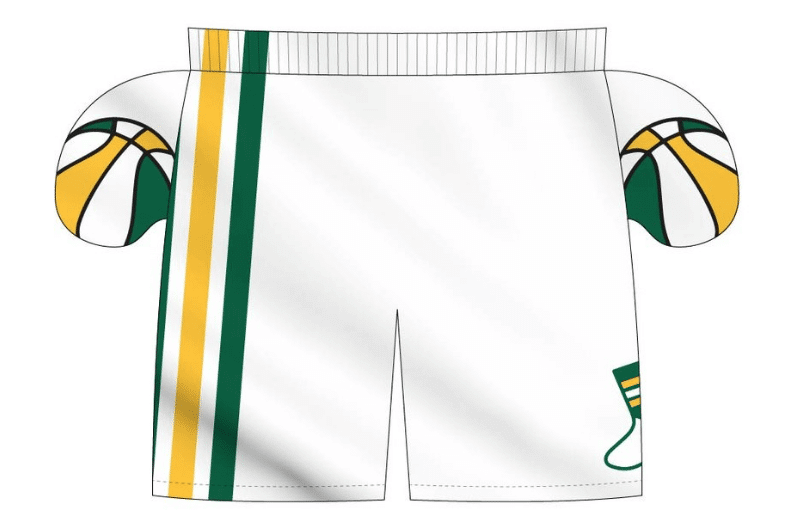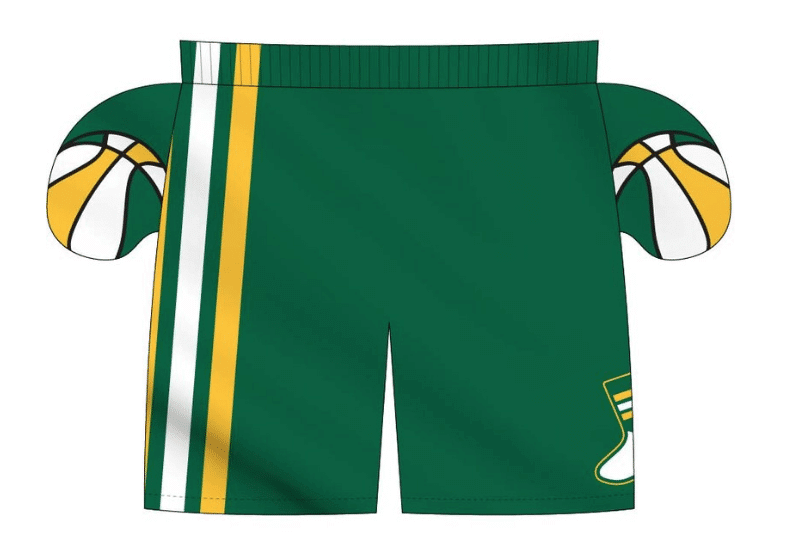 The ABA-style basketball-themed inner pockets are a nice touch, right? I can't take credit for that detail, though — that was Adelph Wear honcho Nathan Haas's idea. He's my partner/collaborator on this project, just as he was with our recent cycling jerseys.
We're taking pre-orders on these through next Wednesday, Nov. 20, for Christmas delivery. It's possible that we'll offer these again in 2020, but for now it's a holiday offering, so move fast if you want to get in on it! Full details here.
• • • • •
• • • • •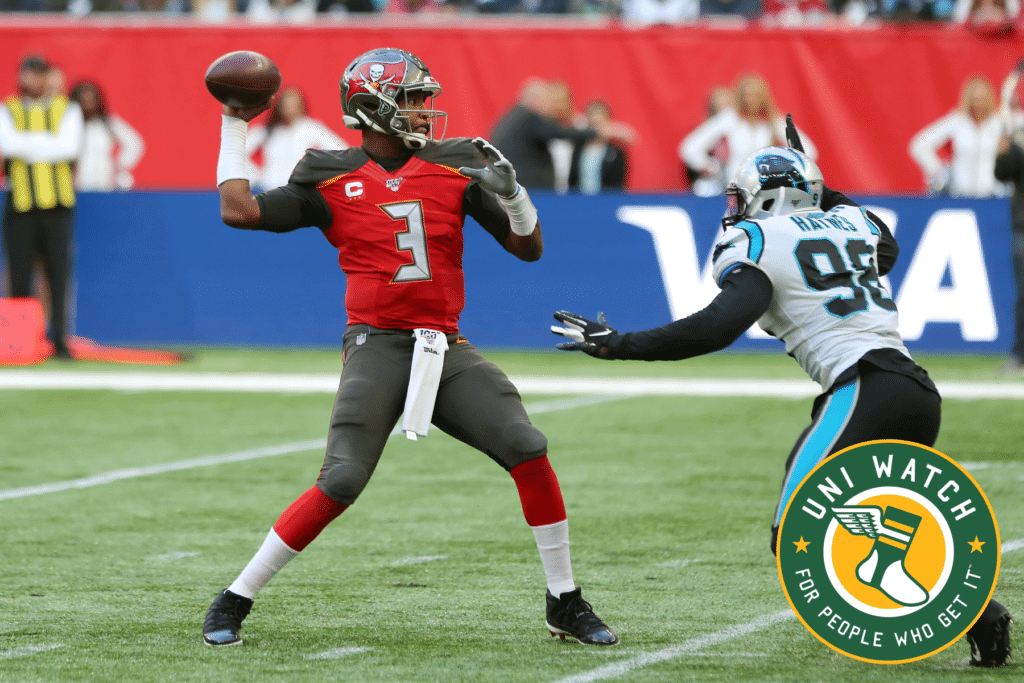 Bucs-redesign contest reminder: My latest Uni Watch design contest, conducted in conjunction with InsideHook, is to redesign the Tampa Bay Bucs. The deadline is this Friday. Full details here.
• • • • •
• • • • •
Gift Guide reminder: I'm currently working on my annual Uni Watch Holiday Gift Guide, which will be running on InsideHook. If you know of any interesting or unusual uni/logo-related items — or if you produce such an item yourself — please get in touch.
As usual, no need to tell me about the standard caps and jerseys that everyone already knows about. I'm looking for things a bit more unique. Can do? Thanks!
• • • • •
• • • • •
The Ticker
By Alex Hider

Baseball News: The only Padres jerseys Paul didn't get to see at Saturday night's unveiling were the team's new camouflage alternates, which have now been revealed (thanks to all who shared). … The Cardinals are using their subtly redesigned cap logo on the banner of their team website, but the old logo is still showing up in some site ads (from Josh Huffines). … Here's a set of new jersey concepts for the White Sox (from Dylan Bercu). … Nice move yesterday by BaseballReference.com, which added poppy icons to the pages of players who served in the military (from Kary Klismet).

NFL News: We've noted this before, but in case you didn't see: One of the 49ers' sideline officials has been wearing a Super Bowl 50 patch on his vest. Of course, Super Bowl 50 was played at the Niners' stadium (from @teamhungy).

College Football News: Check out this early facemask worn by Nile Kinnick in 1937 (from @HawksChronicles). …Staying in Iowa: This is a few weeks old at this point, but ESPN ran a piece during College Gameday about the history of the Cy-Hawk Trophy, the trophy awarded to the winner of the annual Iowa State/Iowa football game (from Kary Klismet). … Speaking of trophies, here's an interesting breakdown of the more than 200 traveling rivalry trophies in college football (from James Gilbert). … Virginia Tech has hung a "Lunch Pail" banner in honor of longtime defensive coordinator Bud Foster following the Hokies game on Saturday (from Andrew Cosentino). … Just about every school that uses "Tigers" for a nickname has at one point used a Tiger in sailor's hat as a logo. It turns out, all these logos may derive from a cartoonist who was commissioned to create a logo for Occidental College in California (from Jay Blake). … Here's a behind-the-scenes look at Air Force's football facilities (from Griffin T. Smith).  … Utah will wear their throwbacks this Saturday (from Tyler Riggins). … Kansas State will wear white helmets with retro script on Saturday. They wore this script for one year on purple helmets in 1988 (from Mike Stanley). … Ohio has new BFBS uniforms and helmet decals, which they'll debut tonight (from Noah Wolf).

Hockey News: According to this video, Stars G Anton Khudobin wears a golf glove under his goalie mitt (from Ewan Williams). … Staying in Dallas, the Stars will retire No. 56 for former D Sergei Zubov (from Mike Chamernik). … Resident Canadian and major junior hockey fan Wade Heidt provided a list of some of the top clubs' military tributes on Veterans/Remembrance Day. Among them are the Kamloops Blazers, the Portland Winterhawks, the Seattle Thunderbirds and the Kitchener Rangers. … Man, check out this Led Zeppelin hockey jersey worn by the band and crew during an American tour in 1975 (from David Firestone).

NBA News: Fascinating comments from Bucks superstar Giannis Antetokounmpo, who says he changes into a new jersey at halftime every game. I'd love to know more! Does he have just two sets of each jersey, or does he throw each jersey out  after wearing them for a half? Does he just prefer a clean jersey, or is it superstition — or something else? And, as Jason Collins asks, how many more players do this?

College Hoops News: Towson wore light blue uniforms for Autism Awareness last night (from Thomas Stavely). … North Alabama was clearly inspired by the Golden State Warriors with these jerseys (from Nathaniel Rea). … The Pac-12 Network was using an outdated Illinois logo on its scorebug last Sunday night (from Jason Cunningham).

Soccer News: A bunch of teams released their jerseys ahead of Euro 2020, including Germany, Italy and Spain. To see more of the Euro 2020 jerseys, head to Josh Hinton's Football Kit Watch Twitter account (thanks to everyone else who shared). … Also from Josh: Argentina has released their jerseys for the 2020 Copa America and 2022 World Cup qualifying. … One more from Josh: Forward Madison FC of USL League One announced a player signing by shoveling his name in the snow on its field.

Grab Bag: New logo for the Register's Annual Great Bike Ride Across Iowa, or RAGBRAI, a bike race across Iowa sponsored by The Des Moines Register (from R. Scott Rogers). … This piece takes a look at the evolution of the flight attendant uniform through the years (from Patrick O'Neill). … Under Armour has filed a lawsuit against apparel company Hotsuit, claiming Hotsuit's logo is violating its trademark (from James Gilbert). … English rugby club London Irish is holding a design-a-jersey contest for the team's 2020 St. Patrick's Day shirt (from @Stumpy7780). … Police officers in Fairfield, N.J., wore Army-style green uniforms for Veterans Day (from Kary Klismet).