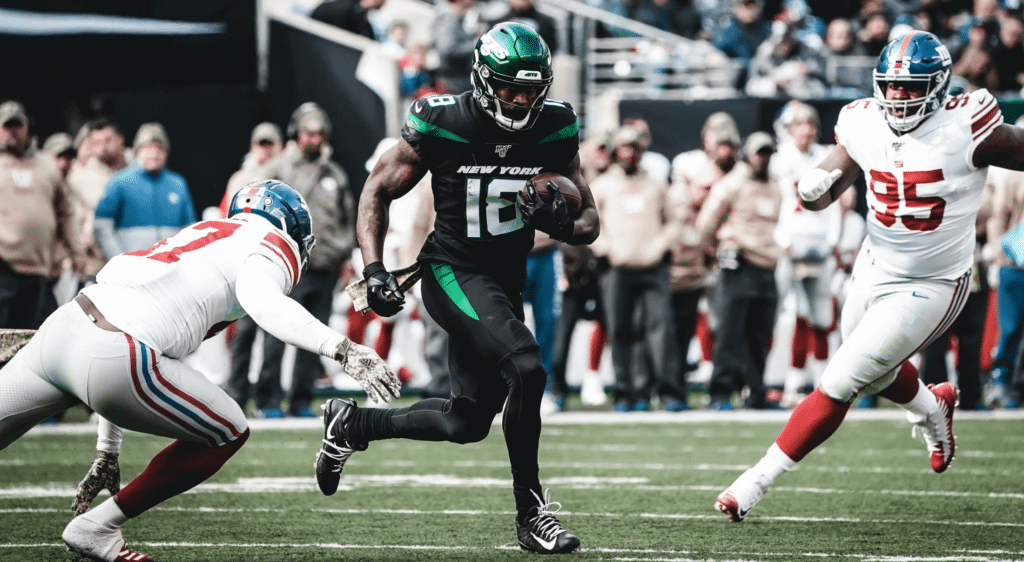 For all photos in this section, click to enlarge
It was a tale of two cities yesterday — or maybe two teams from one city that both play in a different city that's in a different state — as the Jets and Giants couldn't have looked more different in their Futility Bowl matchup. The Giants looked ultra-traditional, wearing essentially the same road design they had 60 years ago, while the Jets wore their mono-black alternate superhero costumes. Quite a study in contrasts.
Also from that game: The Jets' chain crew apparently has FiNOB on their pinnies: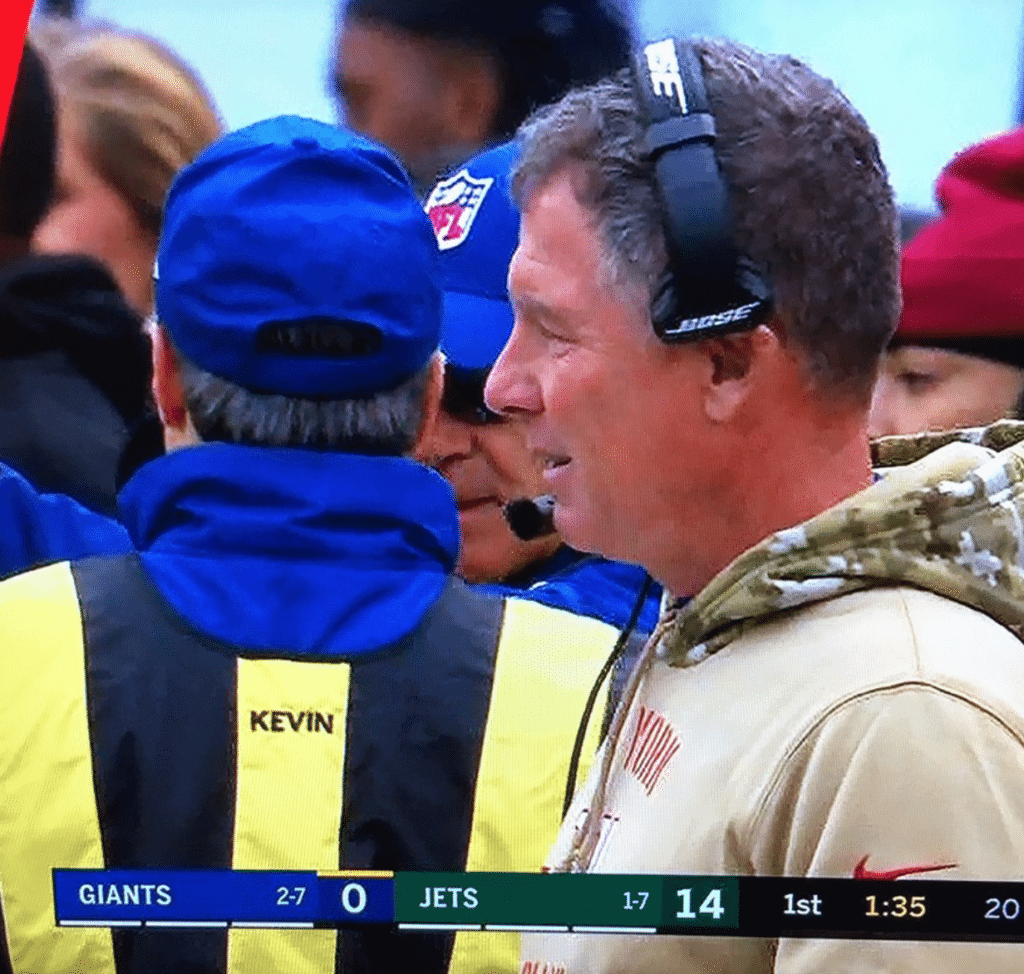 And in yet another item from that game, a Fox tech glitch led to the minimalist experience of a televised game broadcast without a score bug or a first down stripe:
Technical difficulties on FOX make for an old school viewing experience for the Giants/Jets game, except for the black jerseys of course. #GiantsPride #Jets @UniWatch @PhilHecken pic.twitter.com/nyf3qeLKKq

— James Beattie (@JamesGBeattie) November 10, 2019
In other news from a relatively uni-uneventful NFL week:
• The Steelers wore their block-numeral throwbacks: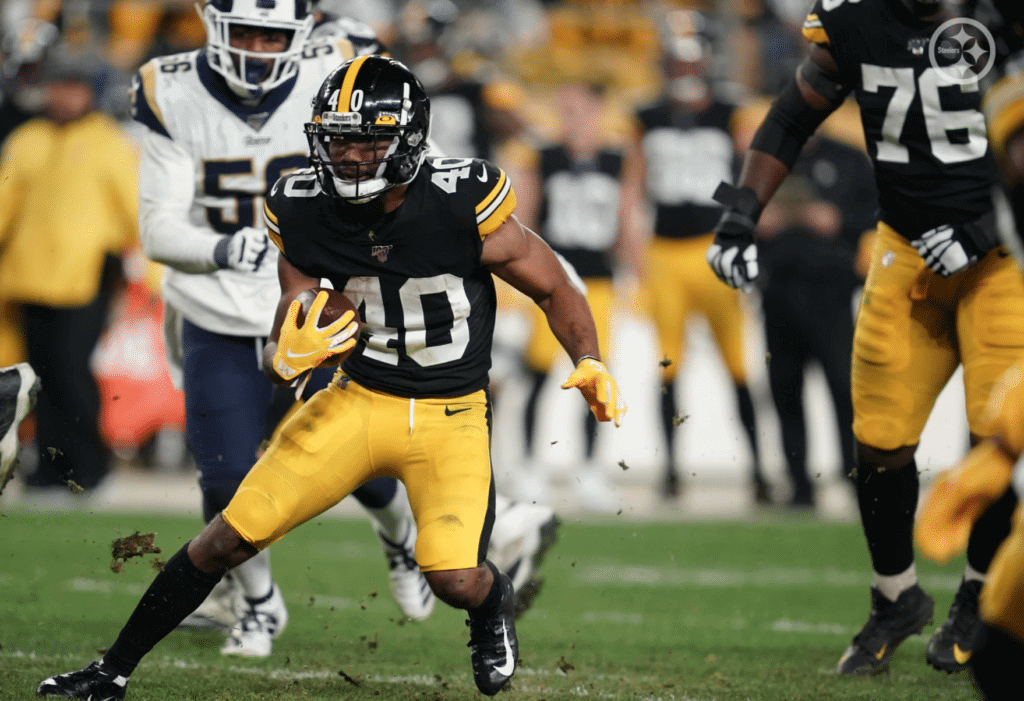 This marked the third different black jersey that the Steelers have worn in as many weeks (alternate, primary, and throwback).
• The Cardinals went mono-red on the road in Tampa: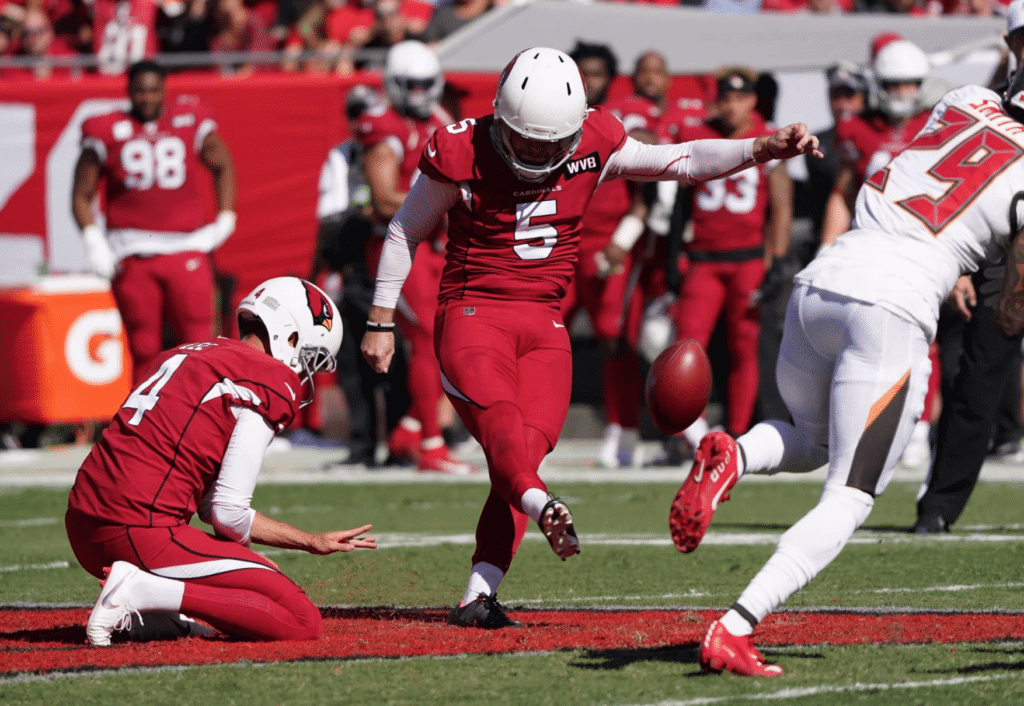 • The Bengals went mono-black: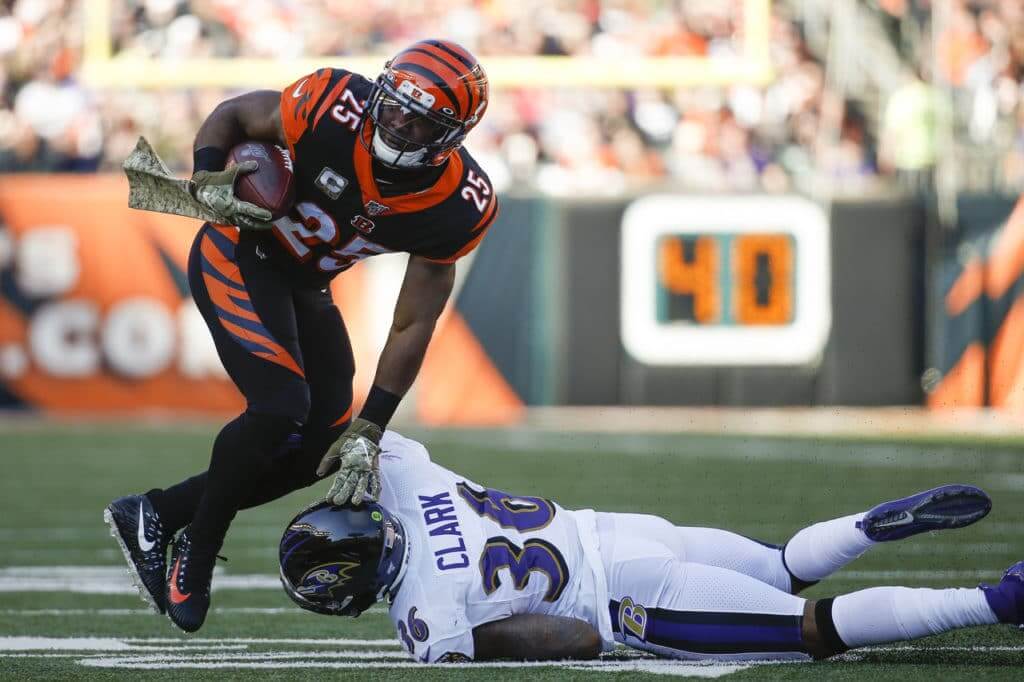 • The Colts inducted Dwight Feeney into their Ring of Honor during halftime of their game against the Dolphins. He wore a Colts-branded blazer, as did past inductees: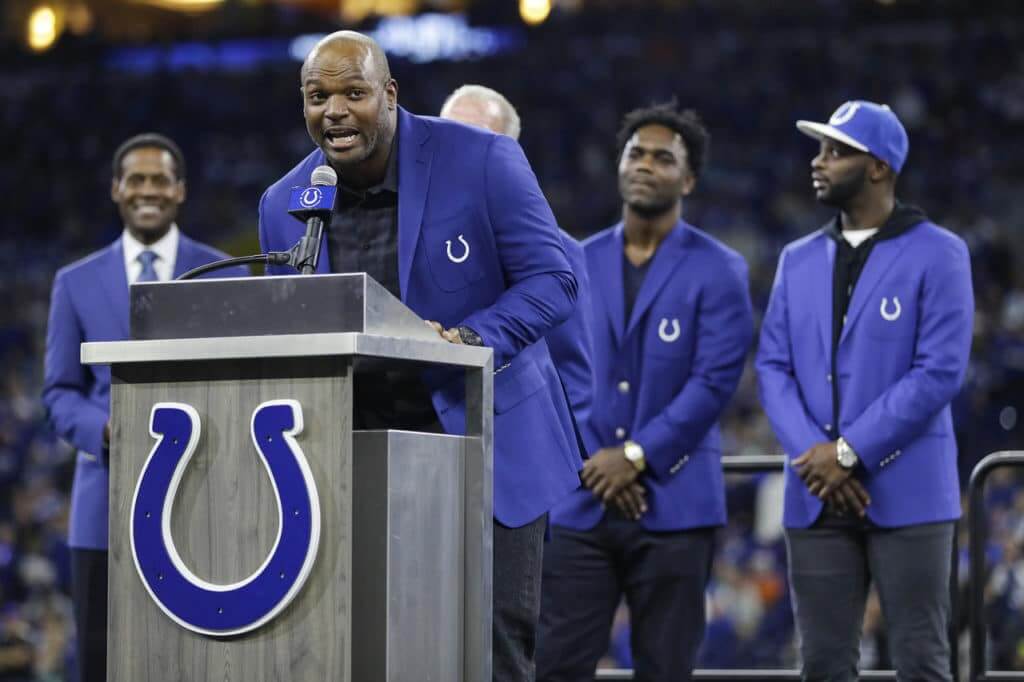 • The Browns had a helmet-themed sideline hand warmer, and also brought back the striped end zones:
.@MarcSessler you have been heard! #Browns pic.twitter.com/GXNUE1kK8j

— Daryl Ruiter (@RuiterWrongFAN) November 10, 2019
• Rare sight in Dallas, as the Cowboys wore blue (with white pants) at home: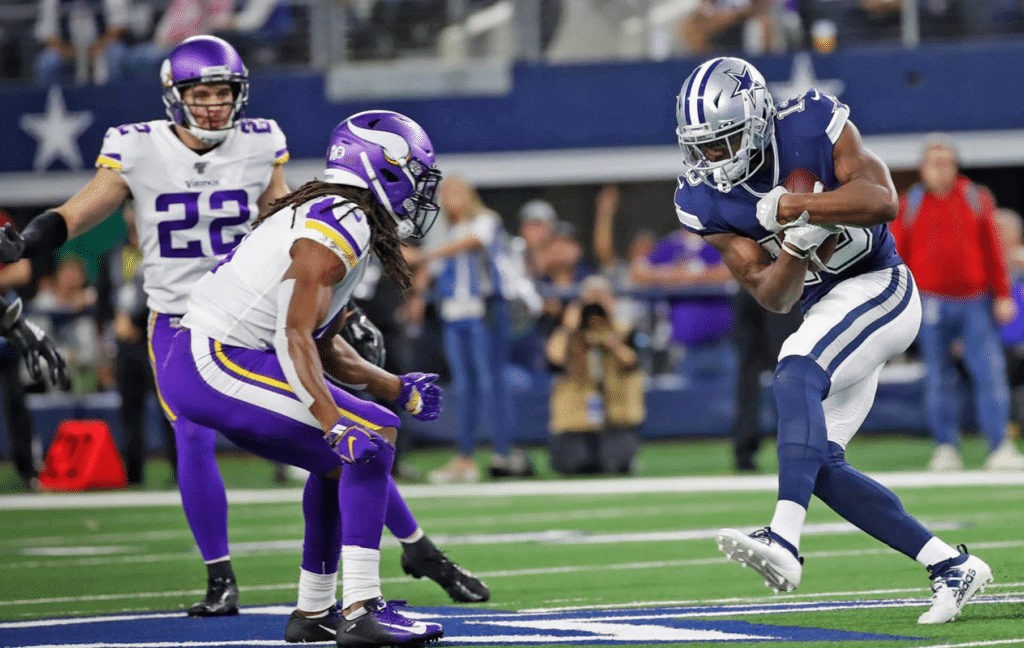 • I realize NFL socks are a fairly freestyle affair these days, but Vikings kicker Dan Bailey seems to be taking things a bit too far: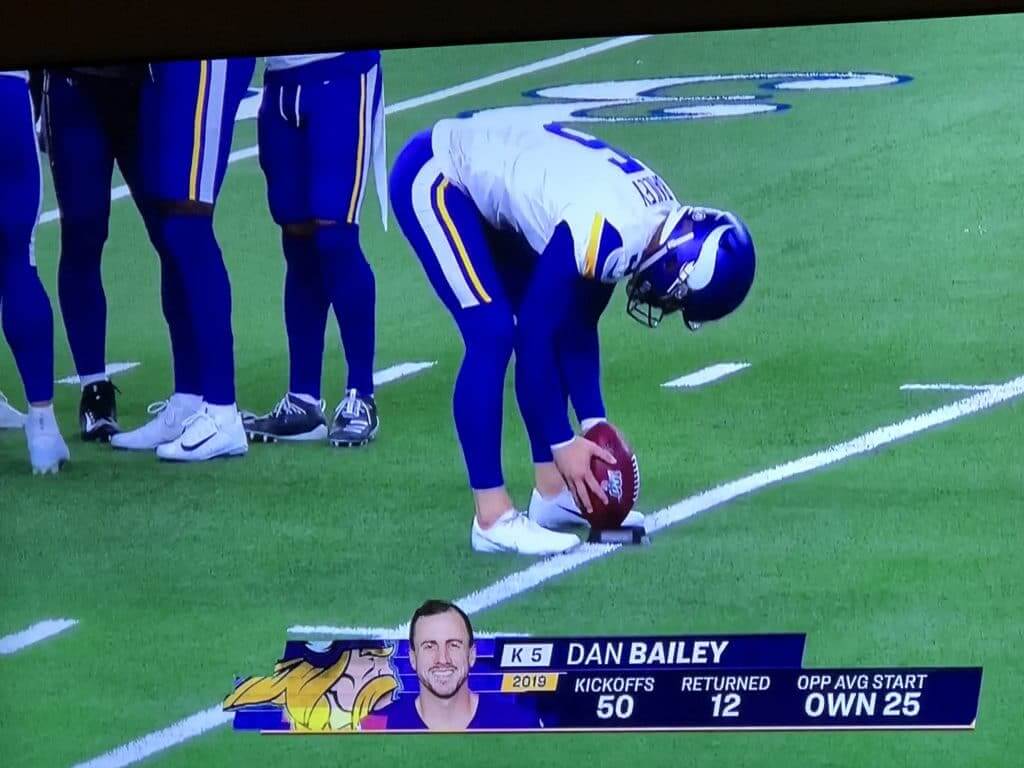 • The Packers and Panthers played in the snow at Lambeau. I have to say, it was very odd seeing this game on TV while I was the Uni Watch party at a beachside bar in San Diego:
Football. pic.twitter.com/79tkPKICp1

— Ƒunhouse (@BackAftaThis) November 11, 2019
• Only one team wore white at home: the Bucs.
(My thanks to Jesse Agler, Charlie Eldred, Alan Kreit, Jerry Wolper, and our own Alex Hider for their contributions to this section.)
• • • • •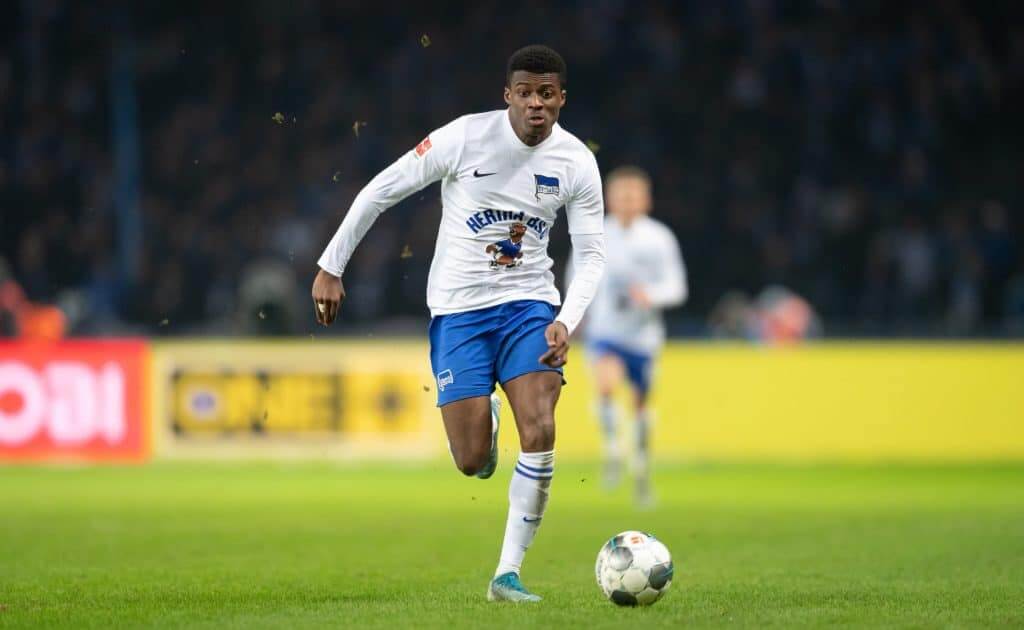 • • • • •
Three Uni-Notable Commemorations in One Weekend
By Jamie Rathjen
This weekend saw two siginificant milestone anniversaries in Germany as well as Remembrance Sunday in Commonwealth countries, meaning teams in soccer and beyond in Germany, England, Scotland, Australia, New Zealand, and Canada combined for a variety of uni-related tributes.
The 30th anniversary of the fall of the Berlin Wall was on Saturday. One of the city's teams, Hertha BSC, built a replica of the wall in the middle of the pitch before their game before ceremonially taking it down. "Together against walls, together for Berlin" was written on the wall. Hertha also wore throwbacks (also pictured above) based on what they wore in the first game after the wall fell, a West German 2. Bundesliga game attended by fans from both east and west.
Also in Germany, 2. Bundesliga team Hannover 96 commemorated goalie Robert Enke, who committed suicide while with Hannover on Nov. 10, 2009, with warm-up shirts. "Robert Enke, not forgotten. Treat depression openly [or candidly]," the shirts say. Hannover also wore all-black, but whether that was related or just because of a color clash was unclear. All teams in the country also held moments of silence, displaying a graphic that incorporates a convenient play on "Gedenkminute," the word for a moment of silence.
Almost all high-level soccer teams in England and Scotland wore Remembrance Sunday poppies. As usual, the promotion was much more visually interesting in Scotland, so the following three items start there:
• Ross County and Greenock Morton wore armbands instead of patches.
• Celtic is the only high-level team that doesn't wear poppies, and they once again did not do so. The smaller semi-professional teams in the Scottish Championship, Alloa Athletic and Arbroath, also didn't wear poppies. All three teams did participate in the requisite ceremonies, however.
• For reasons that are unclear, Livingston routinely wears the two-petaled English poppy instead of the four-petaled Scottish poppy, and did so again this year.
• English League One team Tranmere Rovers bizarrely had someone dress up as a poppy.
• England's women's soccer team wore armbands, which the British national teams are required to do if they want to wear poppies as a sanctioned way around FIFA's ban on national teams wearing political statements. Scotland's women's team also did so last week.
• Teams in Australia's A-League wore yet another poppy patch. The patch for the league's one New Zealand team, Wellington Phoenix, was a little different.
• Teams in rugby union's English Premiership also wore armbands. Two of the Welsh teams in the multiple-country Pro14, Cardiff Blues and Ospreys, wore patches.
• At least one top-tier English field hockey club, East Grinstead, also joined in.
• Australia's men's Twenty20 cricket team wore sleeve poppies.
• All Canadian NHL teams wore poppy helmet decals, all in the same spot.
• Major junior teams wore similar decals to the NHL teams'. The WHL's Edmonton Oil Kings wore an odd mix of poppies together with Star Wars Night alternates.
• There is also a purple version of the poppy recognizing animals.
(Thanks to Mark Coale and James Gilbert for their contributions to this section.)
• • • • •
• • • • •
For all photos in this section, click to enlarge
San Diego party report: Great time at last night's Uni Watch gathering here in San Diego. Reader Drew McClintock took the logo we'd been using to promote the gathering and ordered some stickers, one of which looked pretty excellent on a bottle of Sriracha.
The lighting was terrible and I don't remember everyone's name, but here are pics of some of the folks who were in attendance:
• Nearly two years ago, DIY genius Wafflebored described how he made a spectacular jersey for reader Chuck Eldridge to wear in his hockey league. Chuck, who drove down from Orange County for the party, wore that jersey — along with two other Wafflebored jerseys. Unfortunately, I only photographed two of them:
• I often hear from people who say they've turned their kids on to Uni Watch. But for Martha Cary and her dad, Chris, it was the other way around — she discovered Uni Watch first, and then she got him into it. I really enjoyed meeting both of them:
(As an aside, Martha and Chris also slapped one of the party stickers
on the outside of a nearby Hodad's
.)
• Here we have the great Russ Havens, who runs the excellent TicketStubCollection.com site. It was great to finally meet him after many years of admiring his work:
• Mike Ortman, who joined me as my plus-one for the Padres' uni unveiling on Saturday night, came back for another dose of Uni Watch by attending the party:
• Here's SportsLogos.net honcho Chris Creamer and Brandiose co-founder Jason Klein:
Chris and I visited Jason and his fellow Brandiose co-founder, Casey White, at their studio shortly before the party. I'll have more to say about that in the near future.
• This is longtime reader and Ticker contributor Matt Shevin. He's a Maryland alum — hence the Terps jersey:
• It's rare that someone wears NASCAR gear to a Uni Watch gathering, but that was the case for Keiran (whose last name might be Kelly, but I'm not sure):
• Roy and Angela were among the most passionate Padres fans in attendance (Angela told me that they even considered having a brown/gold-themed wedding but ultimately decided against it):
Bonus note: They have season tickets near the bullpen and tell all the pitchers within earshot that they should go high-cuffed with stirrups like Chris Paddack.
• My favorite apparel item at the party was this great brown/yellow plaid shirt worn by a really nice guy whose name I kept forgetting. Bruce, I think..? In any case, the shirt is perfect for the Padres' brown revival:
• Here I am with Matt Blumenthal:
• And here I am again, this time with Chris C. and both of the Brandiose guys:
• Here's a group shot with (from left) longtime reader/pal Richard Craig, who joined me for lunch and showed me a few sights earlier in the day; Chris Schoenthal; someone whose name I've forgotten; Mario Sorci; and a guy whose mustache was so spectacular that I couldn't remember his name.
• Another group shot, this time with (from left) the aforementioned Martha and Chris; another guy whose name I can't recall; Matt Shevin; Drew McClintock; and Chris Ramirez:
My apologies to attendees who I didn't photograph. If you're one of the people in the photos whose names I couldn't recall, feel free to
jog my memory
(although I won't be near a computer for most of today, so it may take a while before I update the text).
Thanks to everyone who came, and for all the incredibly nice things that so many of you said about Uni Watch. It means a lot, really.
• • • • •
• • • • •
Click to enlarge
Of course he sat in my row: On the plane ride to San Diego on Saturday, the guy sitting next to me was wearing a maroon cap with a Phillies-esque logo. I asked him about it and he said the "RF" stands for "Righteous Felon," which is a Philly-area beef jerky company.
Mmmmm, beef jerky and uniforms — two great tastes that taste great together.
• • • • •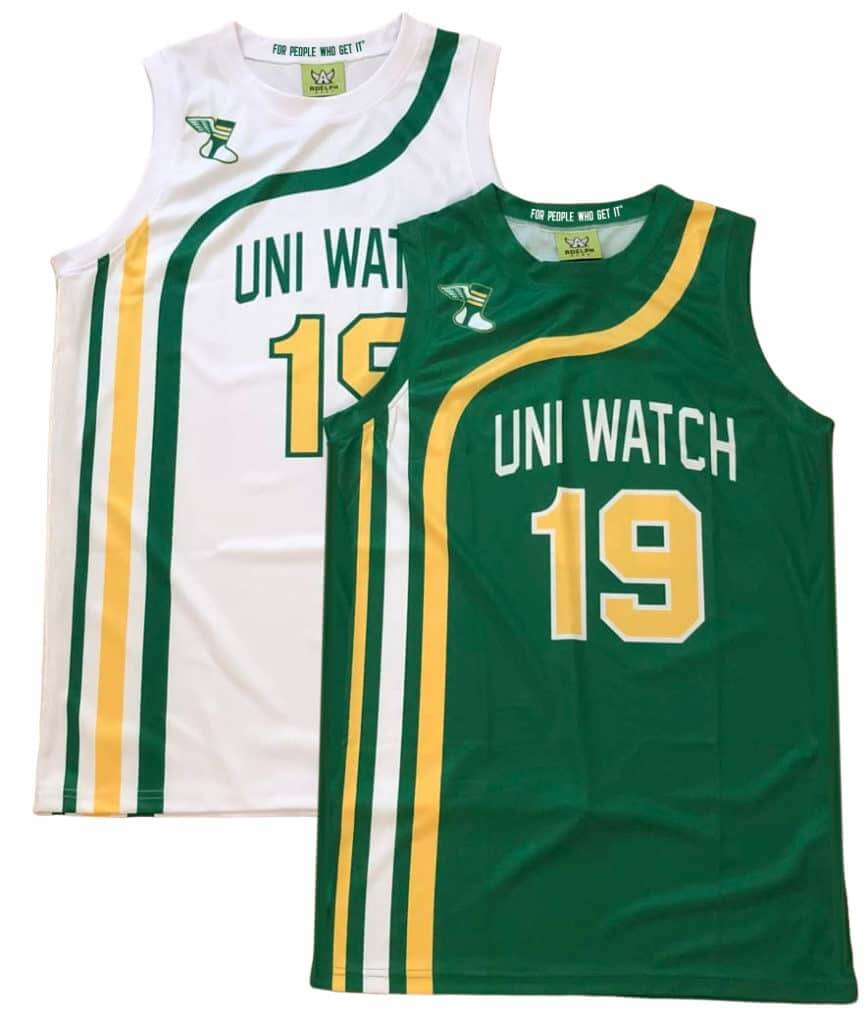 • • • • •
Click to enlarge
Uni Watch hoops gear reminder: In case you missed it on Sunday, we're now taking pre-orders on Uni Watch basketball jerseys. You can choose your own number and NOB, and you don't have to have the winged stirrup on the shoulder if you don't want it there.
We also have matching shorts: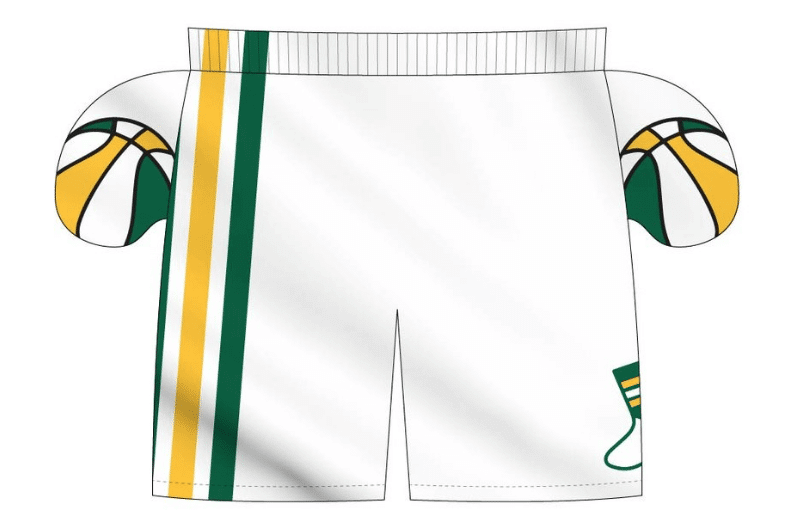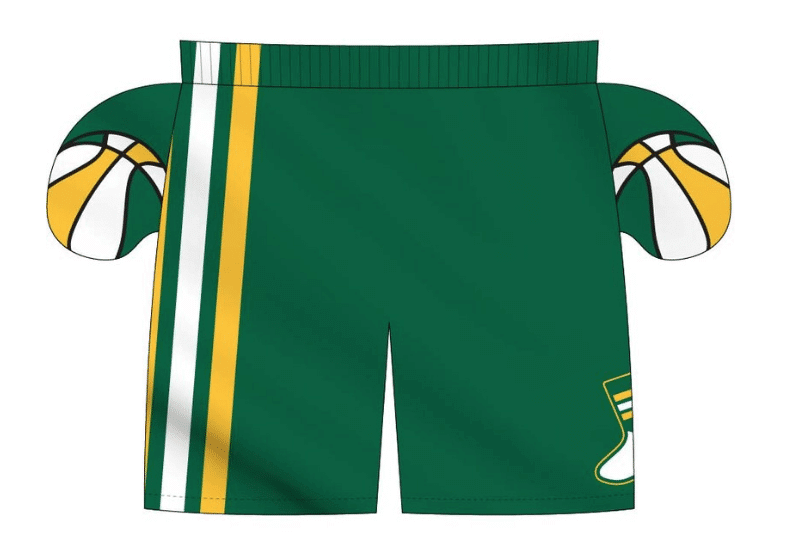 The ABA-style basketball-themed inner pockets are a nice touch, right? I can't take credit for that detail, though — that was Adelph Wear honcho Nathan Haas's idea. He's my partner/collaborator on this project, just as he was with our recent cycling jerseys.
We're taking pre-orders on these through next Wednesday, Nov. 20, for Christmas delivery. It's possible that we'll offer these again in 2020, but for now it's a holiday offering, so move fast if you want to get in on it! Full details here.
• • • • •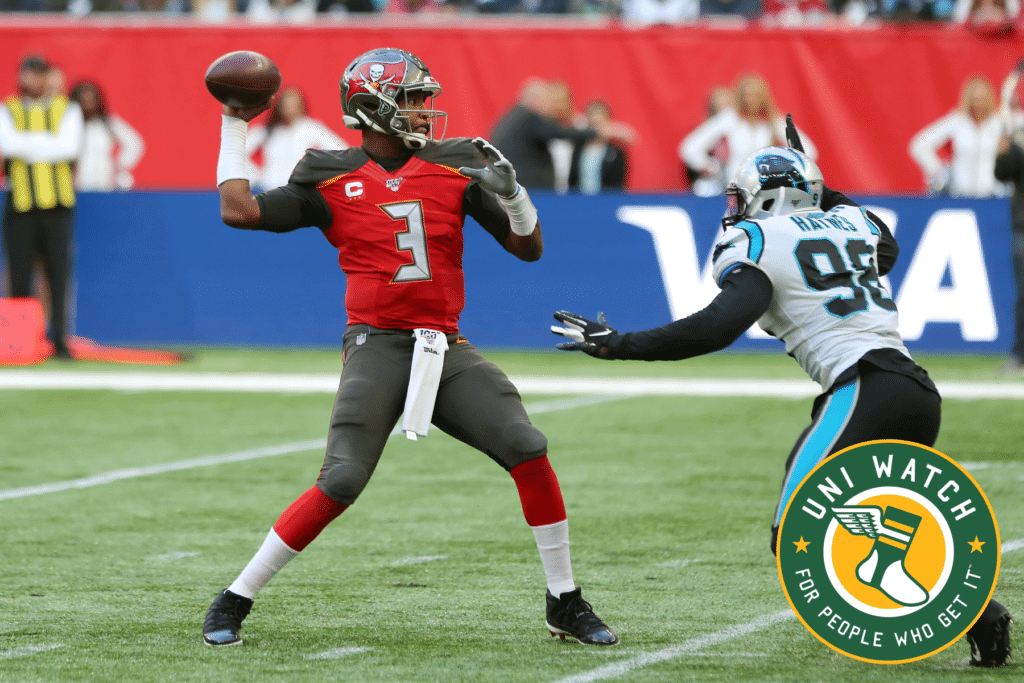 • • • • •
Bucs-redesign contest reminder: My latest Uni Watch design contest, conducted in conjunction with InsideHook, is to redesign the Tampa Bay Bucs. Full details here.
• • • • •
• • • • •
Gift Guide reminder: I'm currently working on my annual Uni Watch Holiday Gift Guide, which will be running on InsideHook. If you know of any interesting or unusual uni/logo-related items — or if you produce such an item yourself — please get in touch.
As usual, no need to tell me about the standard caps and jerseys that everyone already knows about. I'm looking for things a bit more unique. Can do? Thanks!
• • • • •
• • • • •
The Ticker
By Jamie Rathjen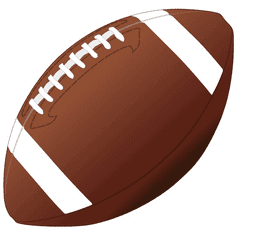 Football News: Reader K.C. Kless noticed that Raiders captains were wearing two different captaincy patch designs on Thursday night. It looks like they mixed the ones from the team's two white jerseys. … Timmy Donahue noticed several oddities with NBC's graphics last night. … Multiple readers told us that the CFL's Calgary Stampeders wore mono-red at home for the Western semifinal, which Wade Heidt says is "really something unexpected," because the Stamps wear red pants on the road. … You can see uni tracking of the Canadian college conference finals from Wade in yesterday's comments. … Military-themed alternates next week for Oklahoma State (from multiple readers). … Blaise D'Sylva's daily college helmet histories have switched over to the MAC, starting with Akron.

Hockey News: Every NHL team will wear, or has worn, Hockey Fights Cancer warm-up jerseys at some point this month. Here's the Canucks' version, for a better look than we've had before. The NHL also has a calendar so you can see when your team is wearing theirs (from Wade Heidt).

Basketball News: Bucks F Giannis Antetokounmpo airballed a free throw and proceeded to tear apart part of the front of his jersey (from @Zanerzas). … New uniforms for Illinois (from @tjg312), Wright State (from Negan Gains), and Lexington Catholic (Ky.) HS (from Josh Claywell). … At one point last night, the five Lakers on the court wore Nos. 0, 1, 2, 3, and 4 (from many readers).

Soccer News: Scotland revealed their new first kit yesterday. … Josh Hinton tells us that Manchester City and Liverpool avoided a socks clash by both wearing alternate socks, when only one team really needed to. … Josh also tells us that Spanish teams Alaves and Real Valladolid both wore blue and white stripes against one another. However, Valladolid wore white shorts and socks and Alaves blue, and both were solid-colored from the back, so it worked out. … You can see more on Josh's Twitter feed. … Costa Rica played the USWNT last night, and their number font features seven with bar, which is much more common in people's handwriting than typefaces (from Jakob Fox).

Grab Bag: The women's team of Australian Football League club Gold Coast revealed a clash guernsey.
.
.
• • • • •
Today is Veterans Day
in America and Remembrance Day or Armistice Day in many other countries. My thanks those of you who have served in the military and my condolences to those who are mourning fallen soldiers. —
Paul