For all photos in this section, click to enlarge
As I think most of you know by now, I love vintage salesman sample catalogs. Soon after I scored the gig at Sports Illustrated, I treated myself (oops) to a new one — a 1939 beauty from the Hardwood Products Co., which was jointly headquartered in Mayville, Mich., and Guilford, Maine. (I'm pretty sure the moose on the cover is meant to evoke the latter locale.) It's pretty great, and I'm going to go off-uni today to share it with you.
What sort of hardwood products did the Hardwood Products Co. make? The catalog's table of contents gives us some clues:
As you can see, they made wooden utensils and cutlery. That might not sound very exciting, but wait until you see the rest of the catalog!
The first page, admittedly, doesn't have any samples — just illustrations. But the illos are gorgeous, especially to someone who loves the green/orange color combo as much as I do:
Things start getting more interesting on the next page, which features samples of "Round Candy Sticks," presumably for making lollipops or other candy-on-a-stick treats. Nowadays, of course, the sticks are paperboard. It never even occurred to me that they might once have been made of wood:
Next up is a page of sticks for "flat candy" and ice cream pops:
Next is my favorite page of the catalog. It features a bunch of flat and "real-shape" spoons. "Real-shape," it turns out, means curved, and the curved samples are v-e-r-y satisfying:
Of course, you can't have real-shape spoons without some matching real-shape forks to go with them:
Check out those little notches in the handles of the spoons — such a nice little detail!
Next is a page of packaged ice cream spoons. Man, when I look at this, I can almost taste the mediocre Dixie cup ice cream and feel the wooden spoon against my tongue. It's the taste of summer camp.
The good news about the next page is that it features mustard paddles. Mustard paddles! Do those two words go great together or what? The bad news is that several of the samples are missing, making this a much less satisfying page than it would otherwise have been:
Fortunately, the catalog makes up for that shortcoming with the next page, which is — well, see for yourself:
Oh man, that is the bomb. Look how the two utensils in the middle are spearing the cherry and stirring the ice cube and lemon slice — sensational!
Up next we have something near and dear to my heart — steak doneness markers:
I particularly love the sales copy:
A customer has just entered a restaurant and placed an order for a thick, juicy steak "cooked RARE." The restaurant is crowded and after a long wait, the steak is finally served. But after the first cut, the customer is annoyed to find his steak well done. Mistakes like this happen every day, and may result in loss of business.

Correctly styled, clean White Birch STEAK MARKERS eliminate embarrassment to the management of a restaurant and annoyance to the customer. … The value in service is high, but the cost is only a fractional part of one cent per customer.
And then we wrap up with another sample-less page, this one promoting something called a "Picnic Pakade":
And that's it. Eighty years old and still very informative and entertaining! Alas, the company appears to be out of business. And the company is still in business!
Thanks for listening. We'll get back to more conventional uni-related content next time around.
• • • • •
• • • • •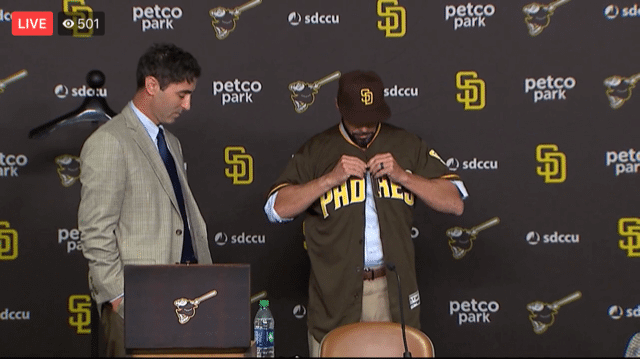 Padres manager/brown update: Following up a topic from a week ago, the Padres introduced new manager Jayce Tingler to the media yesterday — and sure enough, they gave him one of their current/outgoing brown jerseys, which he'll never wear on the field.
The twist is that they gave him one of their new brown caps — sort of a soft launch of the new uni set. Here's a closer look (click to enlarge):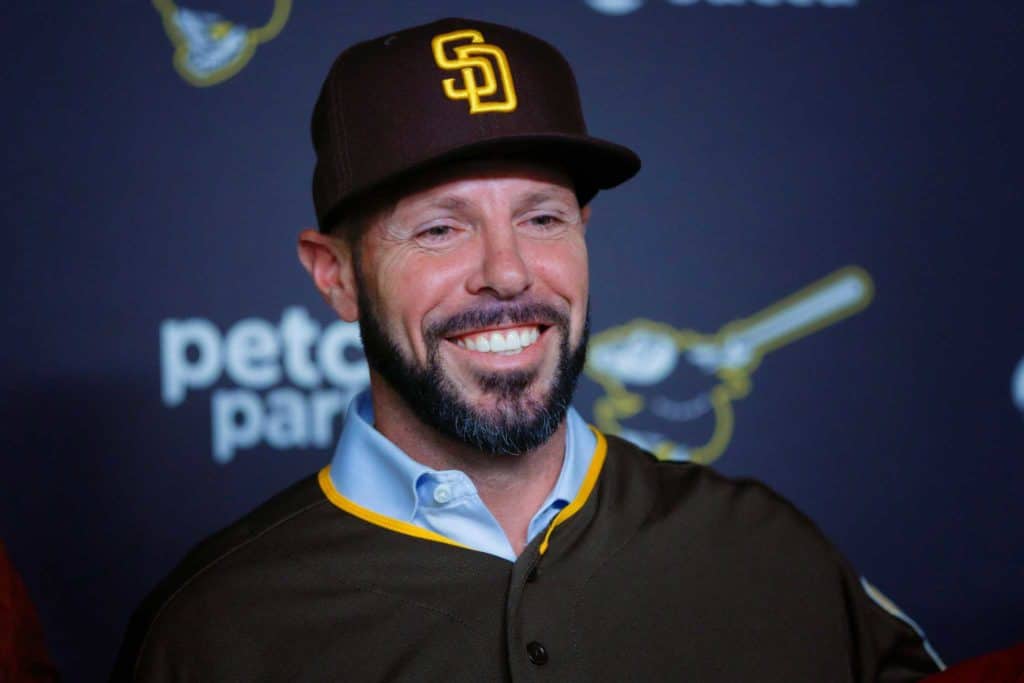 In a related item, the Royals introduced new skipper Mike Matheny yesterday. They presented him with a jersey that included the MLB 150 sleeve patch – -which he'll never wear on the field:
The new manager pic.twitter.com/sQstr9Zji3

— Joel Goldberg (@goldbergkc) October 31, 2019
(My thanks to Jared Buccola and Brendan Mongey for their contributions to this section.)
• • • • •
• • • • •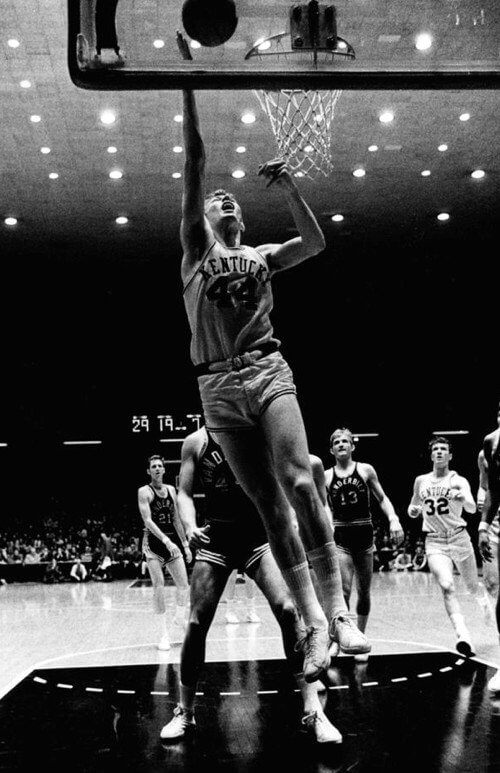 Free throw circle update: Yesterday's post about the number of dashes in NBA free throw circles — sometimes six dashes, sometimes 10 — prompted a few people to come up additional configurations. The photo above, for example, shows the University of Kentucky's Memorial Coliseum in the late 1960s (college courts apparently included free throw circles back then, unlike today) with a 15-dash circle!
Fifteen dashes can also be seen in this early-1970s Milwaukee Bucks shot (click to enlarge):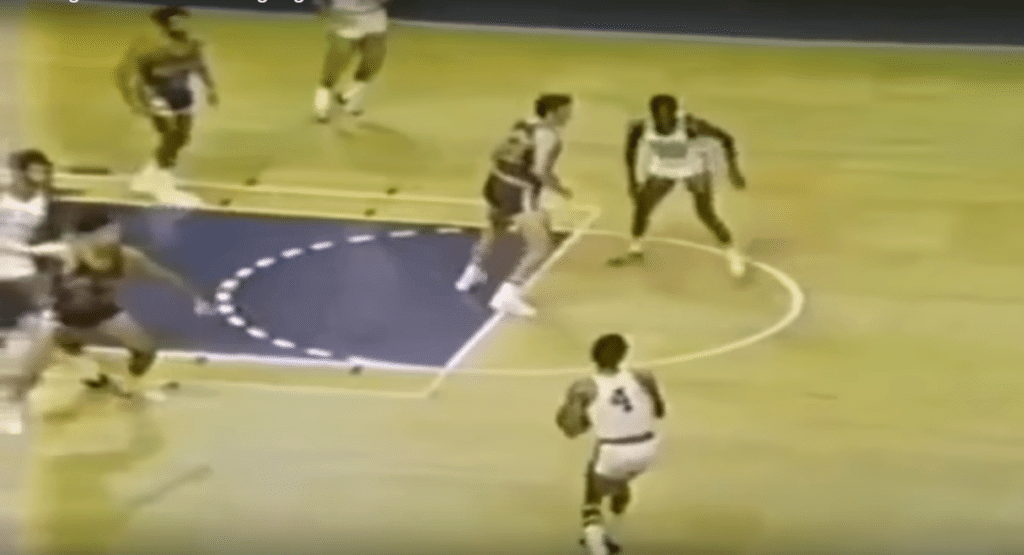 I'm now officially obsessed. I can't even look at a basketball court anymore without fixating on this detail. If anyone knows more about the history and protocols of this court design element, please speak up!
(My thanks to Andy Dandytale and Tim Shriver for their contributions to this section.)
• • • • •
• • • • •
Click to enlarge
EXTENDED: One more day fo cycling jersey orders: If you want a Uni Watch Cycling Jersey, you can still order one today, and then that's it. As always, you can customize the back of the jersey with your choice of number and NOB.
• • • • •
• • • • •
The Ticker
By Anthony Emerson

Baseball News: Immediately after the Astros' Game 7 loss, P Gerrit Cole donned a Boras Corp cap during post-game interviews, with his impending departure in free agency already a foregone conclusion (from many readers). … Paul writes: "I noted in my World Series Preview that the umps were adding an 'EC' memorial patch for ump Eric Cooper, who died just before the start of the Series. But I didn't notice until now that they also added a 'CM' patch for the final two Series games. That's for former ump Chuck Meriweather, who died last weekend. (The 'JM' patch, for Jim McKean, was worn all season long, not just for the Series.)" … Welcome to the MLB's Nikefied hell: Nike has demanded exclusive rights to sell official MLB merchandise near Yankee Stadium, which may put several Bronx shops out of business (from multiple readers). … Missouri State baseball has custom Rawlings gloves (from @stlcards109901). … Jorge Cruz tweets: "Interesting from a uni perspective. Las águilas Del Cibao (Dominican Pro League) honor its legends with statues in traditional all yellow uniforms & MLB Alumni are showcased wearing rarely used orange alternate. Teams colors [are] Yellow [and] Black."

NFL/CFL News: The Cardinals wore their black monstrosities on Thursday Night Football last night. … Not uni-related, but Daniel Gipson found the Super Bowl LIV program cover, and it's utterly gorgeous. … A 1974 news feature goes into detail about the symbolism behind the then-new Montreal Alouettes logo (from Marc Vizquez).

College Football News: Pitt posted a pretty fun Twitter video of assistant director of player personnel Karlo Zovko dressing in a Pitt uniform and posing as a mannequin to frighten passing players (from James Gilbert). … For Virginia Tech, Frank Beamer's No. 25 jersey will be given to CB Armani Chatman for Saturday's game against Notre Dame (from Andrew Cosentino). … The Coloradoan has ranked the best and worst Colorado State unis (from Faraz Naqvi). … Youngstown State is debuting new alternate helmets this weekend (from Joshua Medore). … Georgia Southern went with new mono-white unis for their Halloween Game. More looks here (from Preston Feiler). … NC State is going mono-white (from @ACC_Tracker). … New Mexico is going grey-white-white against Nevada this weekend. … Colorado State has a pretty good video about their State Pride unis (from Benjamin Brune). … Also posted in grab bag: Aussie F1 driver Daniel Ricciardo is a huge Texas fan, and he'll be wearing a Longhorns-inspired helmet during this weekend's US Grand Prix in Austin (from Rob Altman). … The following are all from Phil: Kansas is going blue-grey-blue. … South Carolina is going white-red-white if you can make it out from this slick but ultimately difficult-to-discern Twitter video. … Syracuse is going mono-orange against BC. … Northwestern is going white-white-black against Indiana. … Purple-purple-white for ECU.

Hockey News: Every Flyers goalie should be required by league rules to wear these Gritty-themed pads from now until forever (from Bill Fenbers).
.

Hoops News: Here's an old article about the ABA wanting to have ref uniforms that "popped" in color (from Marc Viquez). … New unis for Missouri Baptist women (thanks, Phil).

Soccer News: The Sporting KC fan podcast "No Other Pod" has a great interview with Sporting KC's creative director Chad Reynolds (from Darin Doughtry). … The England national team is adding legacy numbers to their jerseys. They'll appear under the crest for England's match against Montenegro in November, and be moved to inside the collar for subsequent matches. The Welsh national rugby union team and Bradford City both do this already (from Thomas Courtman). … This Atlanta United fan had a pretty unique and awesome take on Leandro González Pirez's jersey. Leandro González Pirez is also known as "LGP" (from Michael Rich). … Manchester United has a horrendous Chinese New Year kit in the works, but fortunately it won't be worn in an actual match (from Josh Hinton).

Grab Bag: Virginia's field hockey team annually does a practice in Halloween costumes, which included some of the second- and third-year players wearing the uniforms of the graduating fourth years (thanks, Jamie). … Cross-posted from the college football section: Aussie F1 driver Daniel Ricciardo is a huge Texas fan, and he'll be wearing a Longhorns-inspired helmet during this weekend's US Grand Prix in Austin (from Rob Altman).
• • • • •
I know I said I'd have more to say today about the Deadspin situation (which actually got worse yesterday, as even more staff members resigned), but I didn't have time to write that. Next week, promise. — Paul