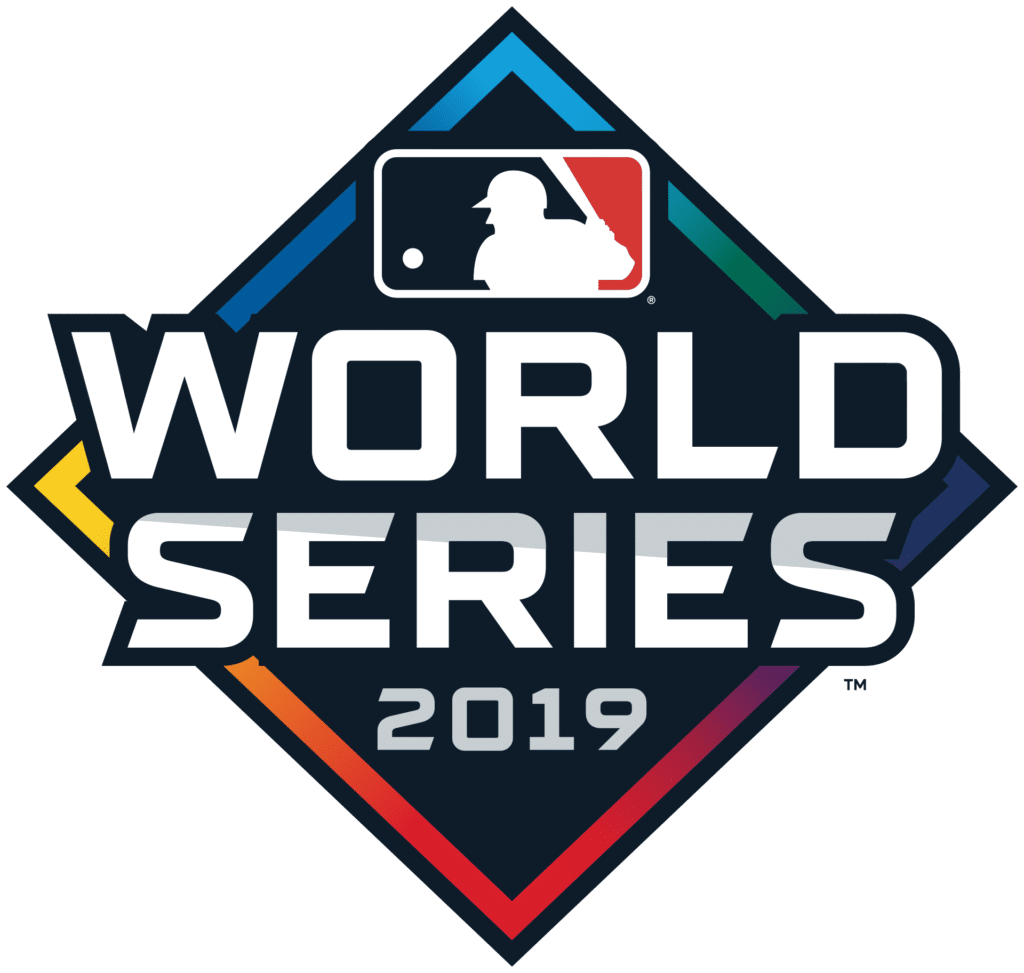 The World Series begins tonight in Houston, with the Astros hosting the Nationals. That means it's time for my annual Uni Watch World Series Preview, with fun facts and observations about the two teams' uniforms. Ready? Here we go:
1. A very uniform look. The Nationals wore their navy alternate jersey for their three victories over the Dodgers in the NLDS (they wore grey and white for their two losses in that series) and for all four games while sweeping the Cardinals in the NLCS, so that jersey is on a seven-game postseason winning streak. Since that jersey can be worn both at home and on the road, it's widely assumed that the Nats will wear it throughout every game of the World Series. If so, that would be unusual but not unprecedented — the last time it happened was in 2016, when Cleveland wore their navy alternates for all seven games of their Fall Classic series against the Cubs.
(There's also been some chatter that the Astros could conceivably block the Nats from wearing navy for the games in Houston by wearing their own navy jerseys [WaPo link], which would supposedly force the Nats to wear something other than navy because MLB rules supposedly prohibit same-colored jersey matchups, even though such matchups happen here and there during the regular season, so who knows. We'll all find out by tonight.)
2. Uphill climb. Speaking of the Nats' navy alternate: From the moment it was unveiled nearly two years ago, I've always felt that the script runs far too severely uphill. If we compare it to other MLB jerseys that include a script insignia and a front number — including the Nats' own road jersey — it becomes apparent that there's nothing else like it, and I don't mean that as a compliment (I left out alternates that essentially duplicate script/number designs already shown here; click to enlarge):
3. Leaning tower of Houston. The Nats aren't the only team in this Series with a jersey insignia issue. The Astros' white and orange uniforms have badly off-center chest lettering, with the "R" in the center, three letters to one side of it, and only two letters to other side of it (click to enlarge):
They're not the only team with this issue, but they're definitely a prime exemplar. Once you see it, you can't unsee it!
4. NOB job. One thing I've always hated about the Astros' current set is that the NOB lettering on the back of the jersey is almost the same size as the chest lettering on the front of the jersey (click to enlarge):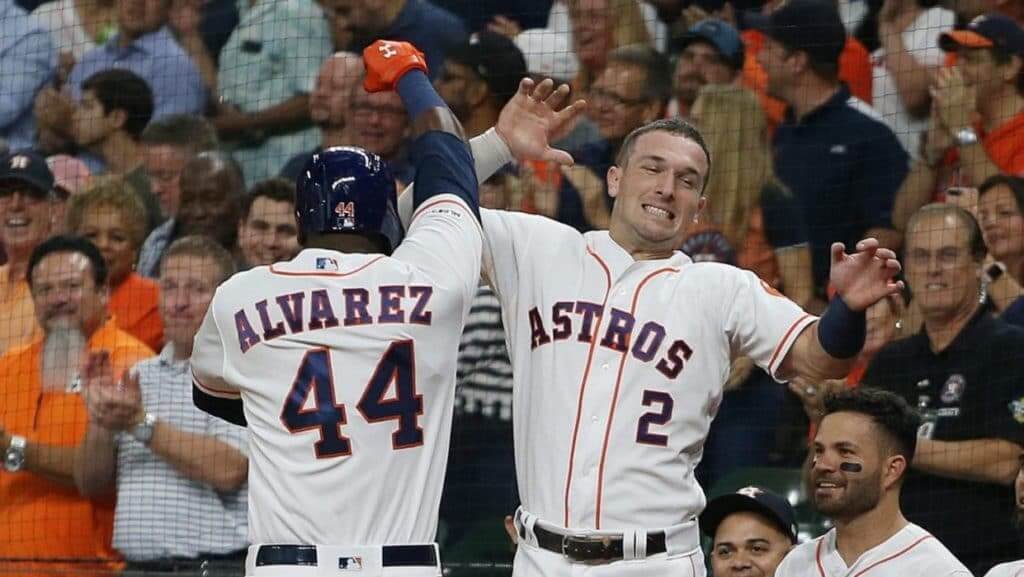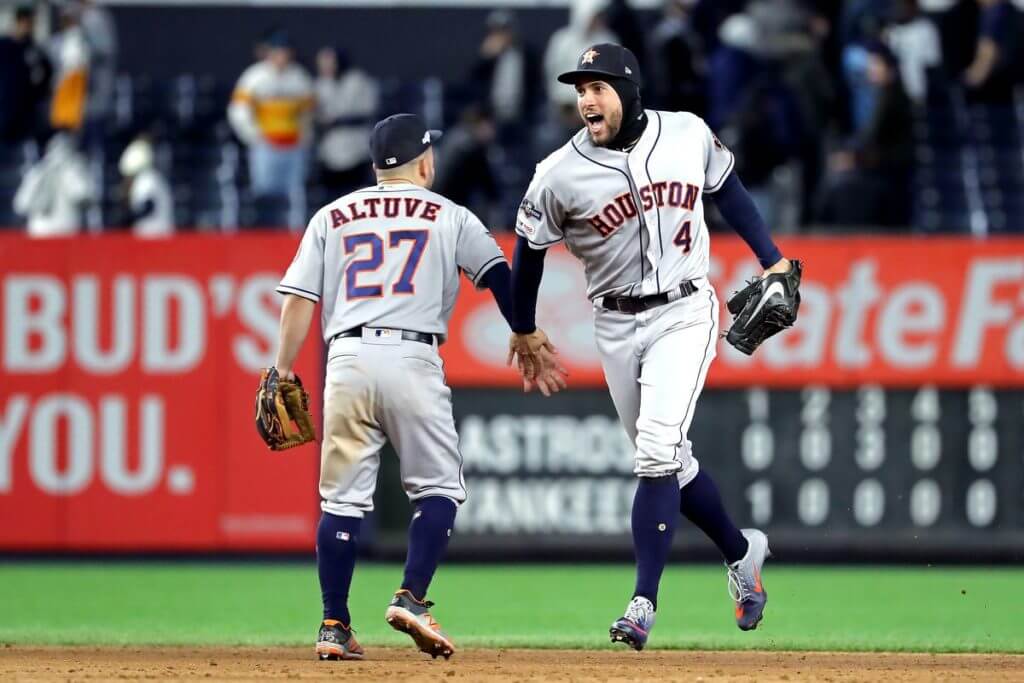 5. Your prescription is ready. Lots of people have noted the similarities between the Nationals' logo and the logo of the pharmacy chain Walgreens. How similar are they really? Let's take a look: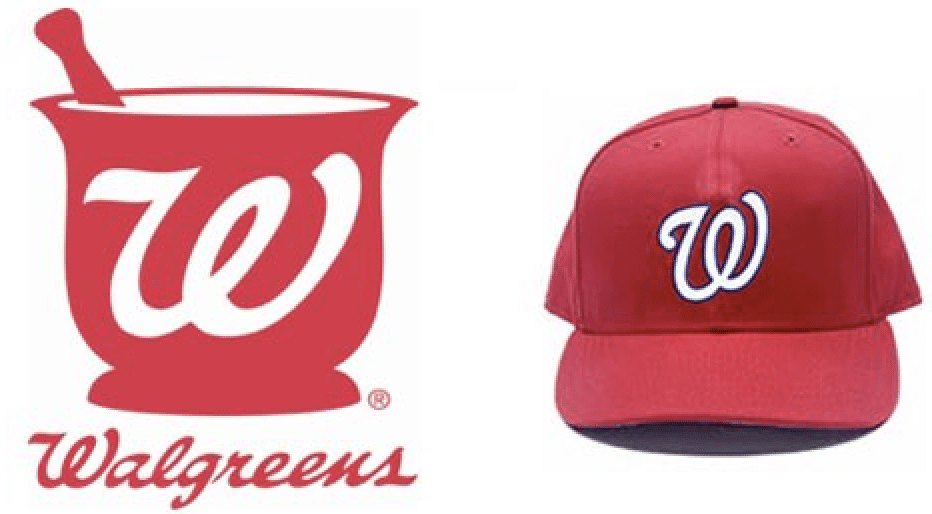 A DC radio station had some fun with this a few months ago, asking fans if they could tell the difference:
6. Turn back that clock! As many fans have noted, this could be a truly epic World Series, at least for a uniform perspective, if the teams broke out some 1980s throwbacks:
Here's a vote for @MLB to have the @astros & @Nationals #Expos wear their #throwbackuniforms in the #WorldSeries @UniWatch #AZFamily pic.twitter.com/OLTooMkhbw

— Mark McClune (@MarkMcClune) October 20, 2019
7. How it's properly done. Lots of MLB players go high-cuffed, but most of them don't do it quite right. They'll either have their pants bunched at the knee and/or with the elastic showing (and then there's Hunter Pence). These players could all learn a thing or two from Nationals pitcher Stephen Strasburg. Right from his very first game, he has been a one-man master class in the proper way to cuff and blouse a pair of baseball pants. His pant legs are always smooth from top to bottom, the cuffs always gorgeously bloused. It would be even better if he wore stirrups, but I guess we can't have everything. I mean, look at this magnificence (click to enlarge):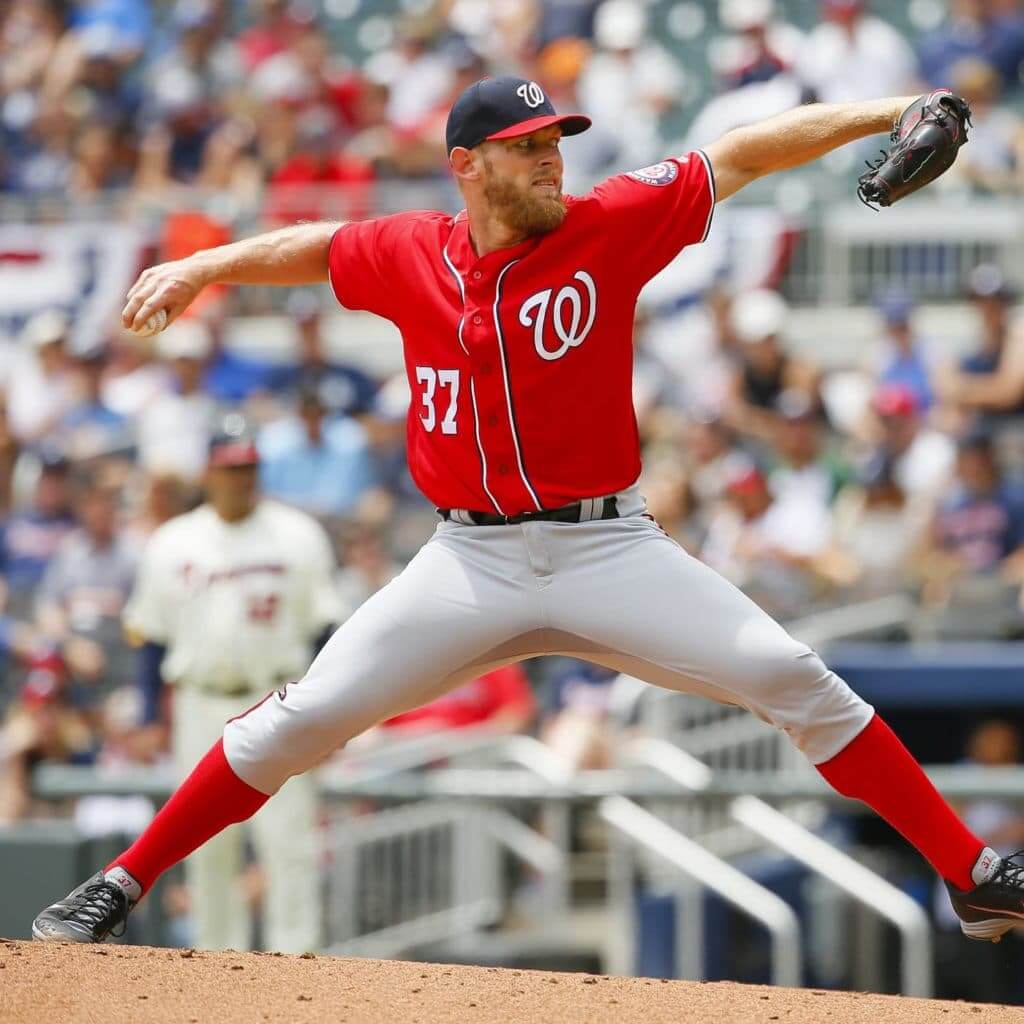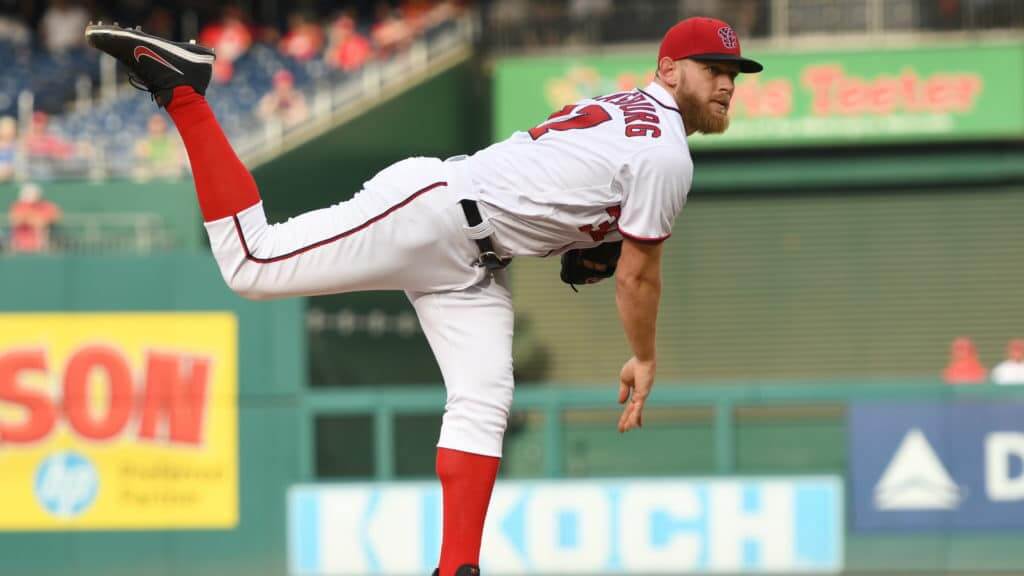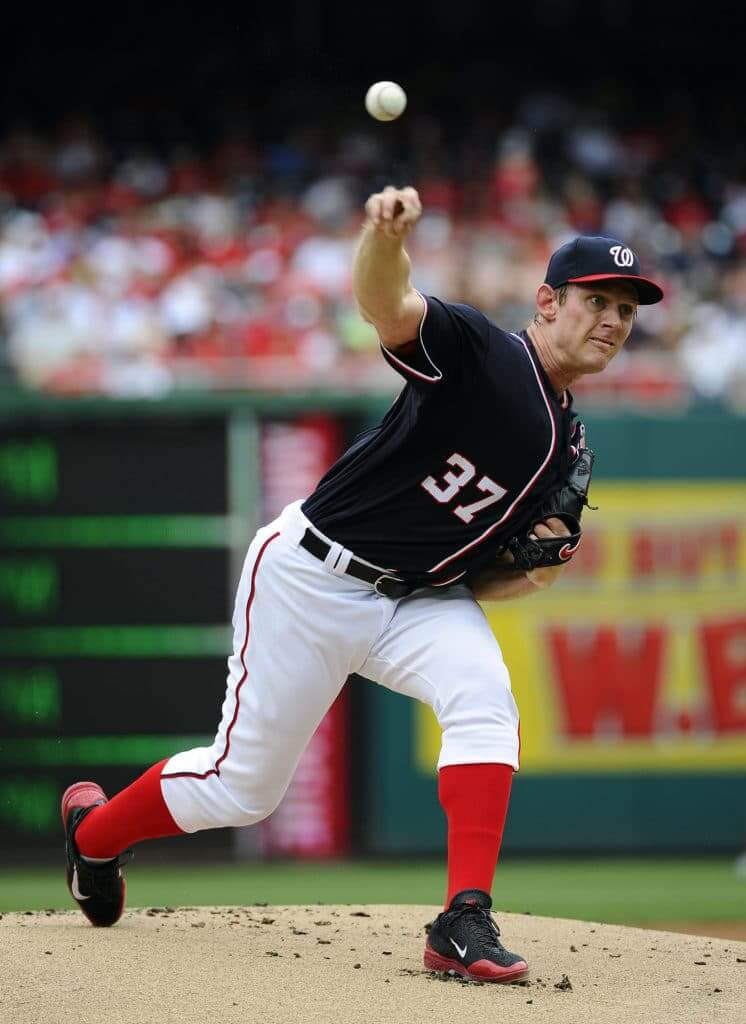 8. Color correction. Look again at that last photo of Strasburg. Does anyone else think the Nats would be better off wearing navy socks, instead of red, with their navy jerseys? I for one find the red hose with the navy tops to be jarring. The thought of having to look at it through every game of the Series makes my head hurt.
9. Ad-free zone. In a heartening development, this will be the seventh consecutive World Series in which at least one of the stadiums — Nationals Park, in this case — does not have a corporate-advertised name. The last time both ballparks' identities had been turned into billboards was 2012, when the Giants faced the Tigers.
10. Nice while it lasted. In a less auspicious turn of events, this will be the last World Series — and the last MLB games, period — without a maker's mark on the front of the jerseys. Sigh. Enjoy it while you still can.
Honorable Mentions: Longtime MLB ump Eric Cooper died over the weekend, so the umps in the World Series will wear a memorial patch for him. … You probably know this already, but just in case: Nationals pitcher Max Scherzer has one blue eye and one brown eye. … Speaking of Scherzer, I love the way he puts his hands over his head and then looks in for the sign when pitching out of the windup. Can't quite explain why I love it, but for some reason I find it very satisfying.
• • • • •
• • • • •

NBA Season Preview reminder: In case you missed it on Monday, the annual Uni Watch NBA Season Preview, with all of the new uniforms, logos, and court designs for the upcoming season, is now available on InsideHook (my first piece for them, but hopefully not the last). Enjoy!
While we're at it, here are a few more reminders:
• We're taking orders for another round of Uni Watch cycling jerseys. Just like before, you can customize these with your choice of number and NOB. The ordering window for this batch will run through the end of next week, so move fast.
• The good folks at Art of Words are letting me raffle off one of their amazing lettering-based illustrations. The winner will get to choose any print from the Art of Words website. To enter, send an email to the raffle address by 8pm Eastern tomorrow, Oct. 23. One entry per person. I'll announce the winner on Thursday (and we'll have another raffle that day).
• If you've received your 2019 Uni Watch Press Pin, please feel free to enter it on our pin registry.
• In case you've somehow forgotten, we have all sorts of cool merchandise available here.
• • • • •
• • • • •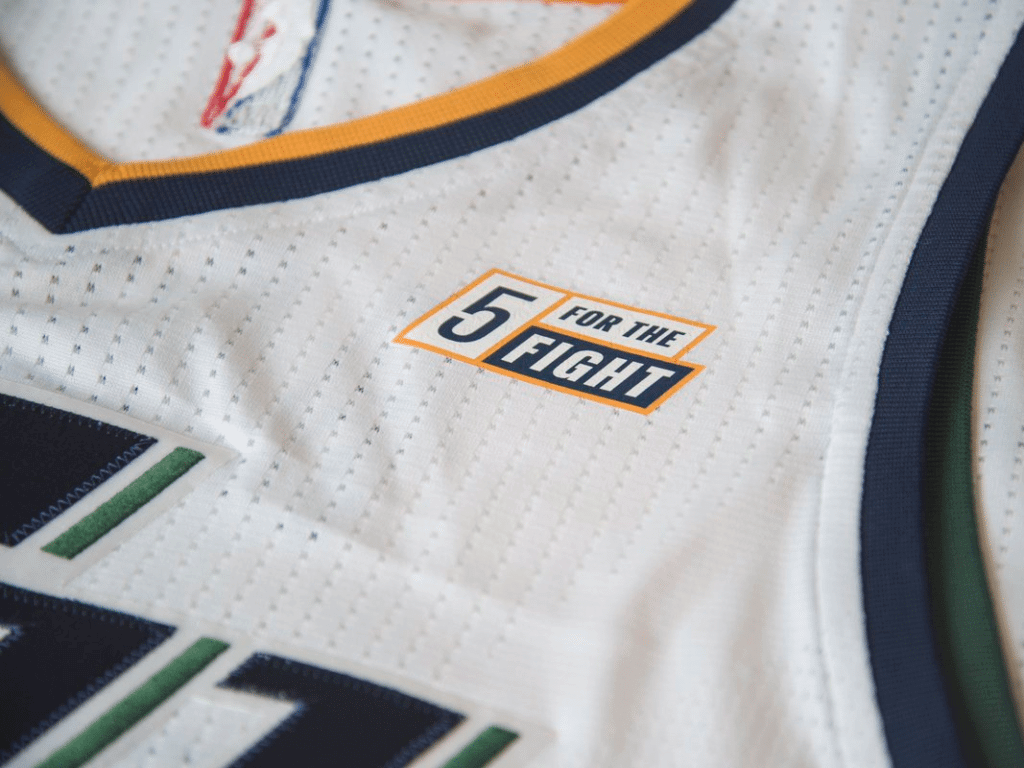 Best uni set in the league: When the Jazz announced two years ago that their jersey ad patch would be a "5 for the Fight" logo — an anti-cancer charity initiative from the software company Qualtrics — most observers, myself included, figured it would be a one-season thing and that the Qualtrics logo would replace the charity logo for the second and third years of the ad patch deal.
But that's not what happened. "5 for the Fight" remained on the Jazz's jerseys last season and is still there this season. Yesterday the team announced that Qualtrics has renewed its uniform patch deal for three additional seasons, and will keep "5 for the Fight" on the jersey for the duration of the deal.
Kudos to all involved, both at the Jazz and at Qualtrics — good for them. And shame on all the other NBA teams and uni advertisers, not a single one of which has used the NBA ad patch program for the benefit of anything but self-enrichment, self-aggrandizement, and commerce.
• • • • •
• • • • •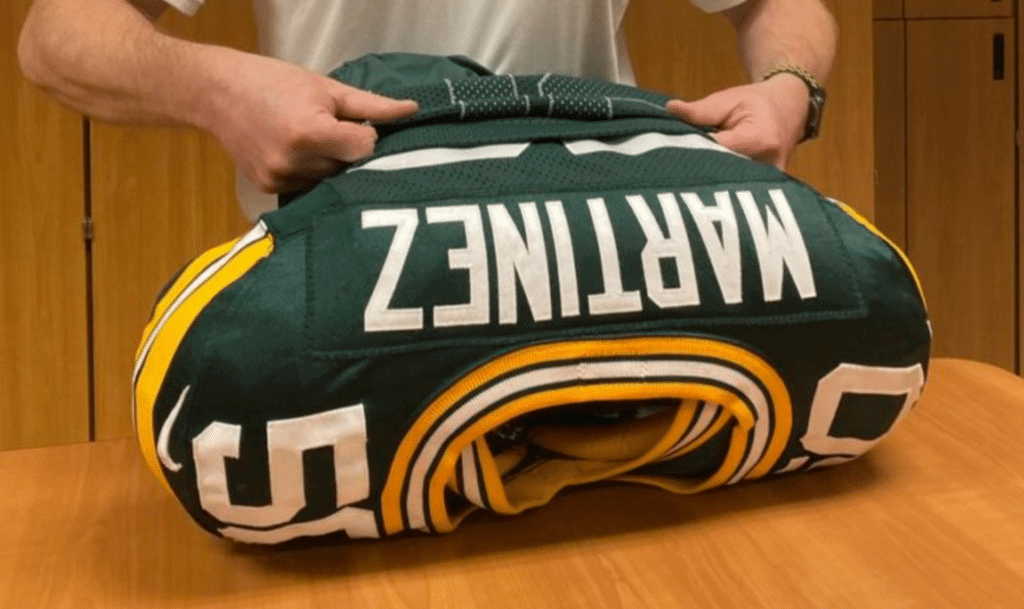 Click to enlarge
Packers double-jersey update: Yesterday I mentioned that when the Packers' equipment staff put a jersey over a player's pads, there seemed to be a second jersey underneath the game jersey. I'd never seen this before and didn't know the story behind it.
The answer comes from former NFL equipment manager Scott Rotier, who emailed me yesterday with this explanation:
Most defensive and offensive lineman, linebackers, tight ends, and running backs use some sort of material — usually either double-sided tape or Velcro — to hold the jersey tight to the shoulder pads. It gives the defender less material to grab onto.

The Packers use a "sleeve" of sorts, which goes over the tape or Velcro that goes on the shoulder pads. This sleeve allows an equipment manager to put the jersey on over the pads more easily and then they can pull the sleeve out, leaving the jersey stuck to the tape/Velcro. The sleeve is made of a material that slides off the tape/Velcro easier, allowing the jersey to stick to the tape/Velcro when the sleeve is removed.

You'll see teams that use Velcro (instead of double-sided tape) using a similar material to cover the Velcro during practices, so the practice jersey doesn't stick to the Velcro.

As for why the sleeve has a collar, I'm not entirely sure, but my guess is that they put the collar on there so they can use it as a template when applying the actual jersey.
Faaaascinating. Thanks, Scott!
• • • • •
• • • • •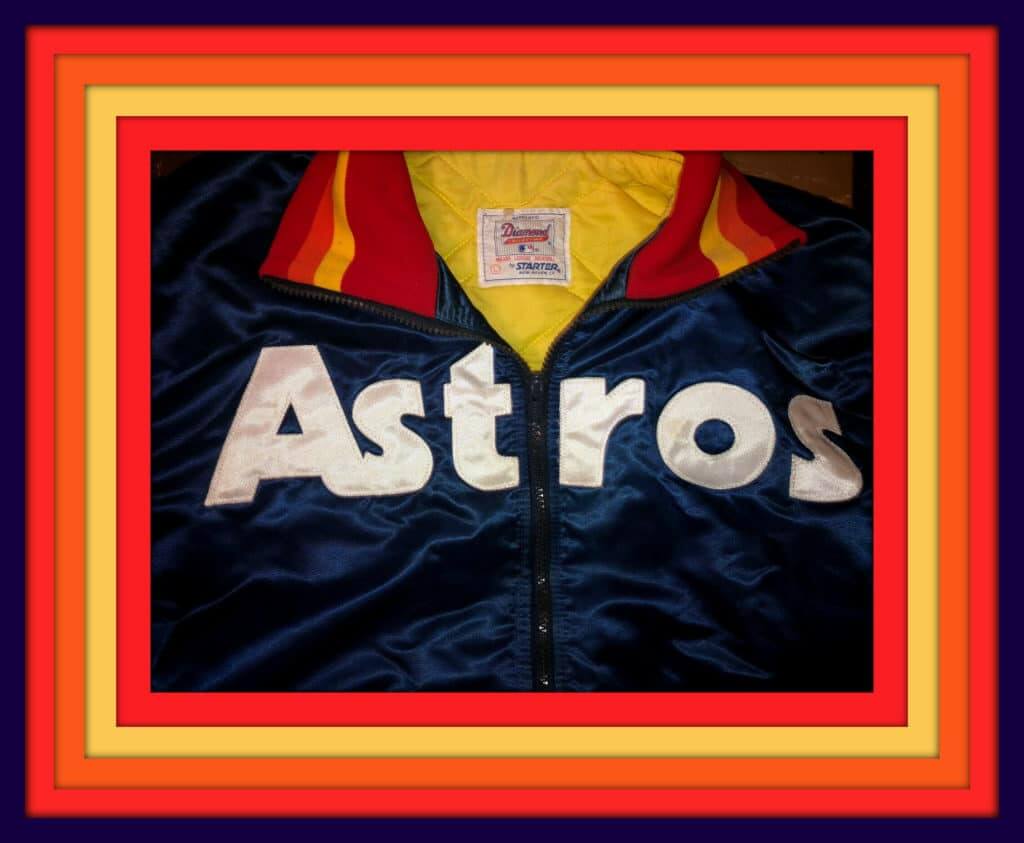 Click to enlarge
Collector's Corner
By Brinke Guthrie
Follow @brinkeguthrie
With the World Series starting tonight, here we go with this nice-looking Astros Tequila Sunrise Starter jacket. This is an original version from back in the day, not a reissue. It would be terrific to see those rainbow-striped unis in the Series, right?
As for the other team in the series, the Nationals haven't been around long enough to have any "classic vintage" Nationals stuff, so we'll honor their franchise history by going with this 1960s Expos bobblehead in pristine condition! We'll give that a showcase spot too: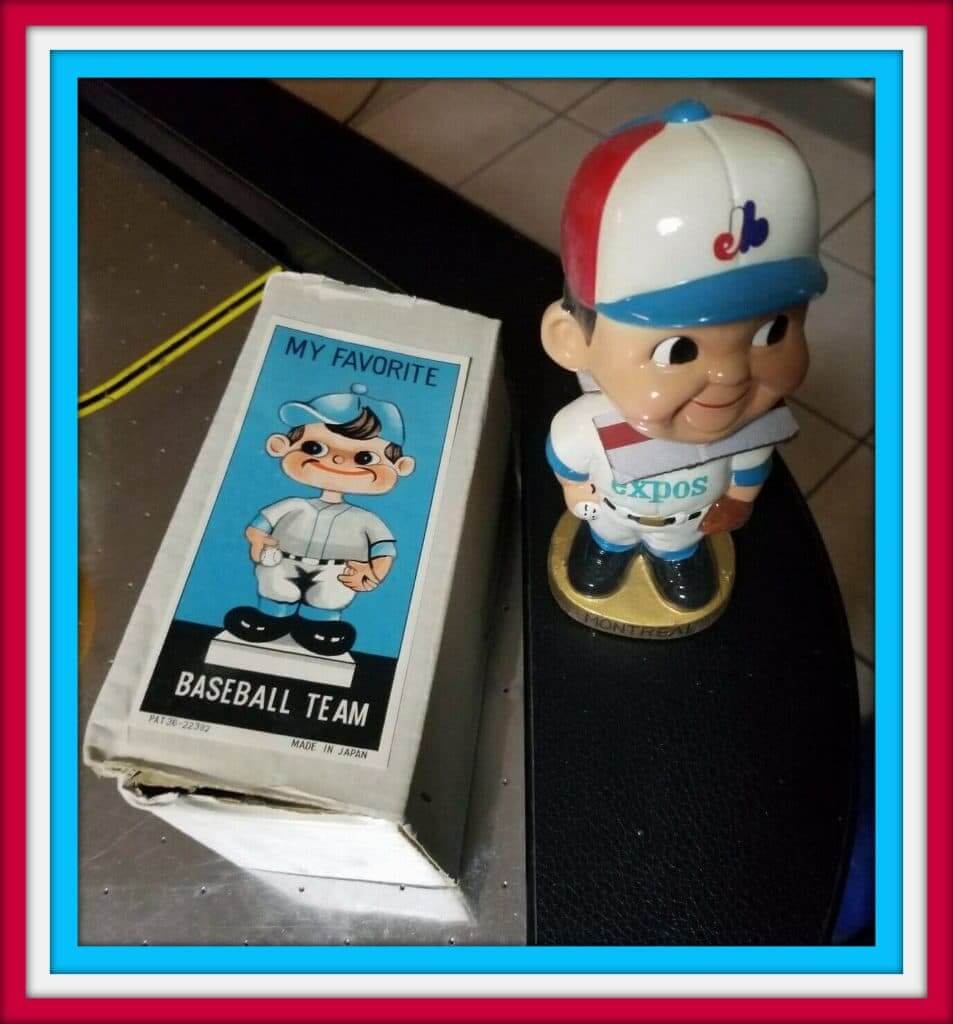 Okay, now it's "Batter up!" for the rest of this week's picks:
• Here's more for the Astros: There used to be a restaurant in the Astrodome called the Domeskeller (a take-off on the Rathskeller). It seems the waitresses there didn't go with the standard baseball-themed attire.
• Reader David Shank says, "Here's a rare 'Turn Ahead the Clock' Pittsburgh Pirates jersey from 1999. I'll see throwback jerseys regularly available, but I hardly ever see these."
• This 1970s Vikings "knit stocking cap" is just a little — oh, what's the right word? — creepy. Maybe it's just the
face they put it over.
• This 1970s Fisher Nuts Steelers glass shows the helmet logo on the wrong side.
• You have to wonder if Steelers linebacker Jack Lambert ever saw a nickel from this 1970s "Super Steelers T-shirt."
• This 1970s Toronto Blue Jays dugout jacket was made by a Los Angeles manufacturer called Goodman & Sons, which I'm not familar with.
• "Two Great Names: Pittsburgh Penguins & Iron City Beer" is the slogan on this 1970s (empty!) beer can.
• This is an "Alex the Dog" glass (he was the the Baltimore Bullets' mascot, kids; they're now your Washington Wizards) from the 1960s, with the slogan "The Bullets Are Tall in Baltimore."
• Been searching for a half-dozen 1970s Philadelphia Flyers hockey pucks? If so, today is your lucky day.
• Nice artwork on this collection of 1970s-1980s Boston Red Sox game programs.
• Take a break from your usual T-shirt: Your baseball clothing wardrobe will get a nice upgrade with this clean and classy Cooperstown V-neck sweater.
Got an item to include on Collector's Corner? Send any submissions to uniwatchcollectorscorner@gmail.com.
• • • • •
• • • • •
Brown T-shirt update: Yesterday I asked you folks to vote for one of three different logo designs to appear on a new Uni Watch Padres-style brown T-shirt. The vote turned out to be very close: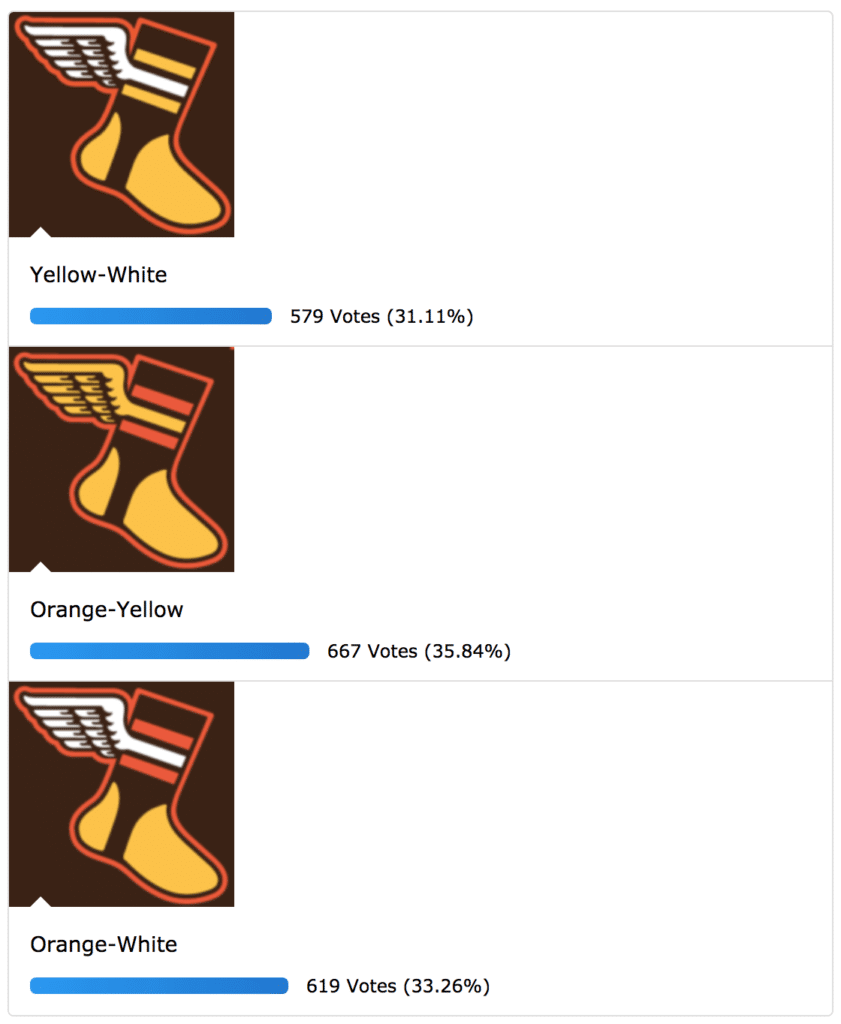 Those were the vote totals as of this morning. As you can see, the yellow-winged design won, but the two white-winged designs were close behind. Several people suggested to me that two white-winged designs may have split the white-wing vote, allowing the yellowed-winged design to win. Hmmmm. With that in mind, I've decided to toss out one of the white-winged designs (I decided to keep the one that I prefer), and we're now going to have a runoff vote between these two designs (click to enlarge):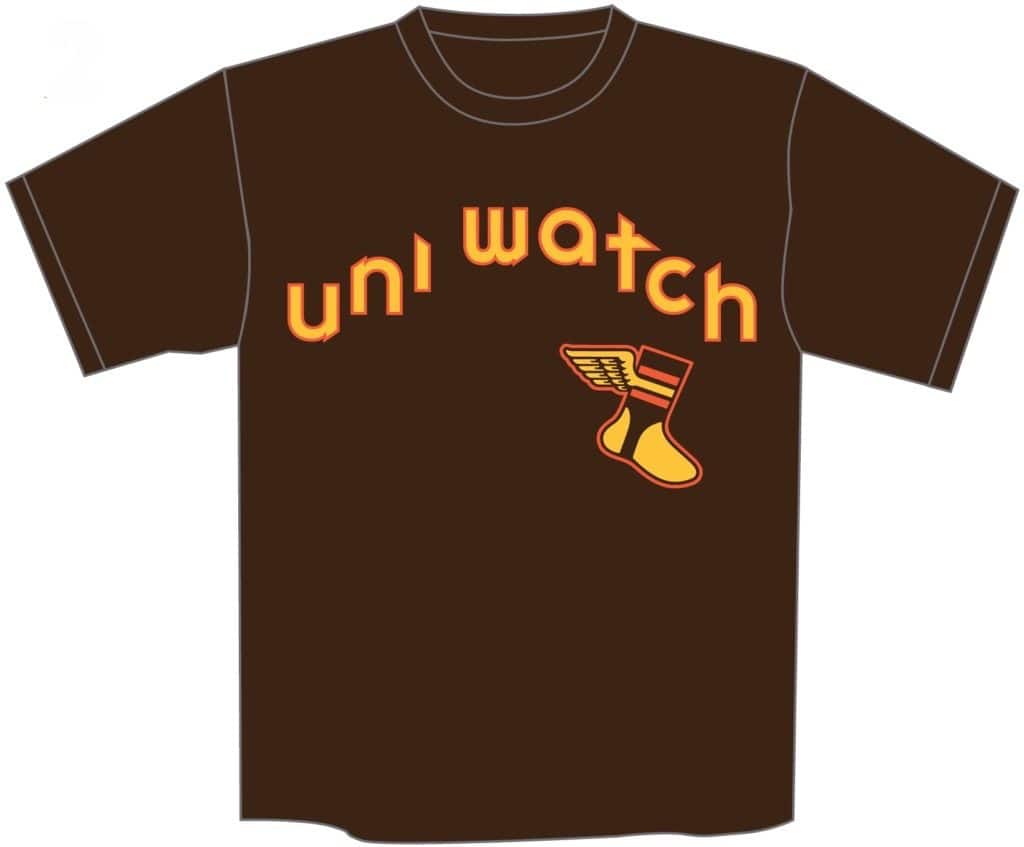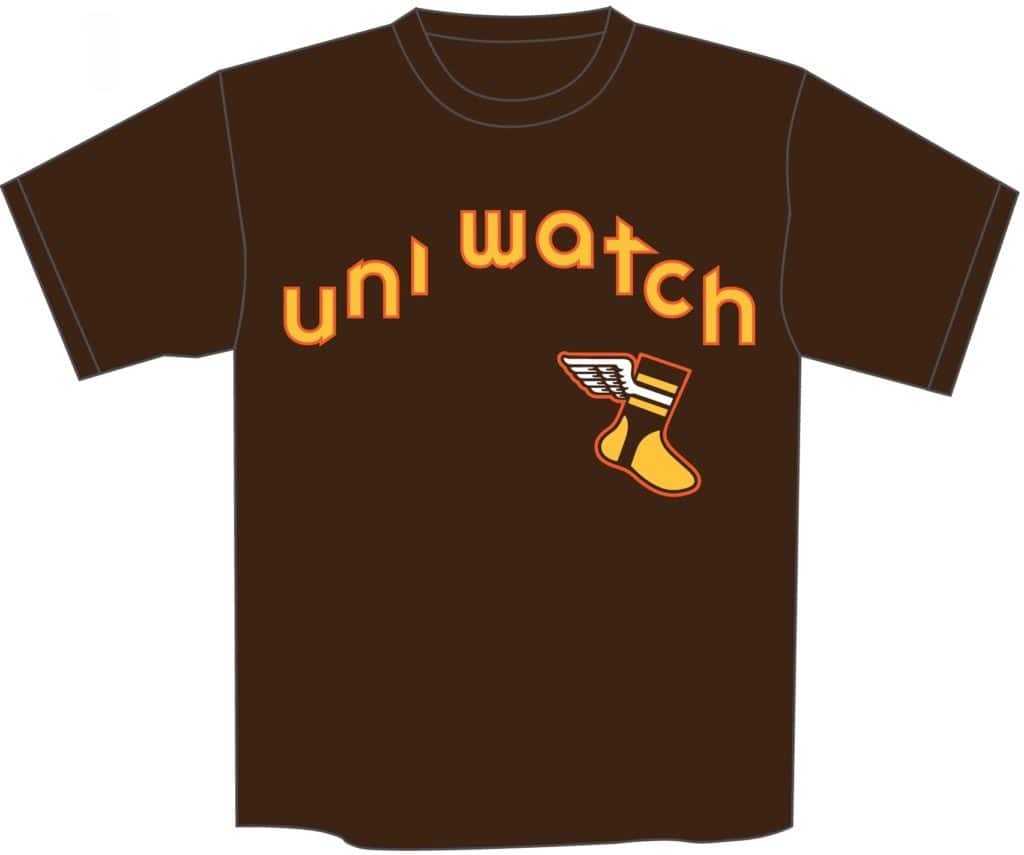 Vote here:
[totalpoll id="117457″]
The winning shirt will be available for ordering tomorrow (or, if a clear winner emerges in the voting, later today).
• • • • •
• • • • •

Click to enlarge
Candy-coated Uni Watch: I was playing around the other day on the "Design your own M&M's site and created the mock-up you see above. I was thinking it might be fun to create a bunch of Uni Watch M&M's in brown and yellow for my upcoming trip to San Diego (I figured we could have a big bowl of them at the Uni Watch party or something like that), but for some reason they won't let you personalize/customize the brown ones. Dang.
That got me thinking it it would be fun to have winged stirrup-shaped chocolates. Or gummies! Hmmmm. If anyone out there works in the candy biz and could possibly make this a reality, feel free to be in touch.
• • • • •
• • • • •
The Ticker
By Paul

'Skins Watch: Collège Ahuntsic in Montreal will no longer call its teams the Indiens. They're scrapping their logo mascot of a headdress-clad native, too (from Sara Klein).
.

Baseball News: In an odd move, SportsCenter chose to honor CC Sabathia's retirement with a photo of him holding a batting helmet (from @wBlinty).
.

NFL News: The Jets went mono-green for last night's game against the Pats — the first time they've worn that combo with their new uni set. … Meanwhile, Pats QB Tom Brady once again didn't have the NFL 100 logo on his jersey collar, as has been the case all season long with his white jersey. A new wrinkle this time, though: His jersey sleeves were sliced open, similar to what another Boston icon, Pedro Martinez, used to do. … Browns WR Odell Beckham Jr. is not happy about being fined for wearing his pants too short.

College Football News: Here's a graphic showing every Iowa State uni combo over the past 10 seasons (from Chad Lehman). … Blaise D'Sylva's latest helmet collection is for Old Dominion. … Nebraska will be wearing black alternates this Saturday.

Hockey News: Hmmm, could the Devils have a new logo in the works? (From Moe Khan.) … Here's a time-lapse video of Mosaic Stadium in Regina getting prepared for the 2019 NHL Heritage Classic (from Wade Heidt). … Whoa, check out the world's largest collection of Penguins program covers.

NBA News: Here's the schedule of when the Kings will be wearing their throwbacks this season (from @SacKings_Unis). … The Lakers have a new 60th-season-in-L.A. logo and are apparently planning some sort of announcement today (from Adam Stoneman).

College Hoops News: New uniforms for Auburn. … Syracuse will retire John Wallace's No. 44 jersey on Feb. 29. "It's their 15th retired number and the second No. 44 (Derrick Coleman's 44 already hangs in the rafters)," says @PhillyPartTwo. "44 is already retired for Syracuse football for running backs Jim Brown, Ernie Davis, and Floyd Little." … New throwbacks for Northern Iowa — the school whose abbreviation (although not on these throwbacks) is UNI! … New home whites for LIU (from @CaliGlowin).

Soccer News: NPSL club Napa Valley FC has a new shirt calling for an end to gun violence. "All proceeds from shirt sales will go to charity," says Ed Zelaski. … Lazio striker Ciro Immobile got stuck while trying to celebratorily remove his jersey and fell down in the process (from Mark Coale). … From our own Jamie Rathjen: "Scottish Premiership teams Hamilton Academical (white/red, but solid white on the back) and Hibernian (very light grey) looked very similar from the back on Saturday." … The Premier League's anti-racism message is now printed on the league ball (from Josh Hinton). … New third kit for Leeds United (from Ed Zelaski). … Also from Ed: New away kit for Bolton Wanderers.

Grab Bag: New volleyball design for the CEV Champions League Volley (from Jeremy Brahm). … Here's the new logo for the 2020 Democratic National Convention Host Committee. … Here's the logo for the 2024 Paris Olympics (from Jeremy Brahm). … Interesting article about how climate change is affecting stadium planning, design, and construction (WaPo link). … New kimono-inspired livery for the Formula E team Nissan e.dams (from DarkAudit). … Under Armour founder Kevin Plank is stepping down as the company's CEO.