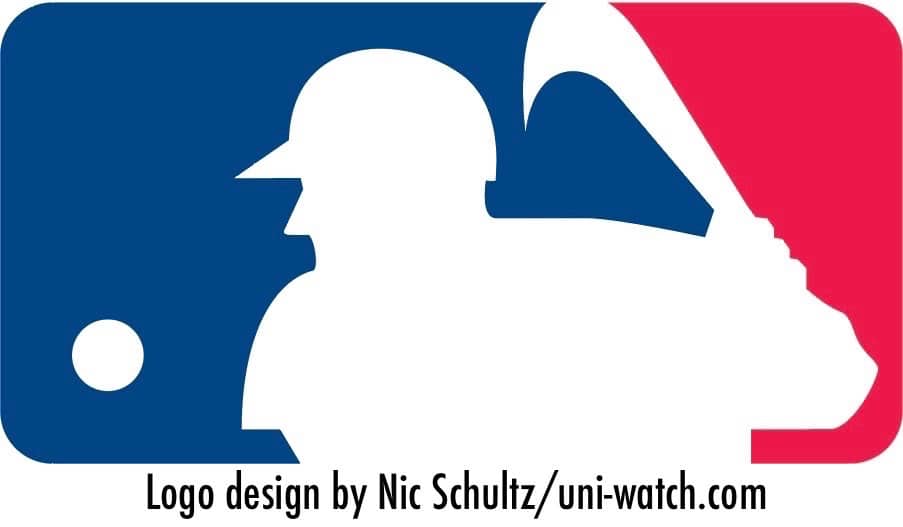 For months now people have been wondering what MLB jerseys will look like with the Nike maker's mark on the chest (instead of on the sleeve, where the Majestic logo has been positioned).
Some people have also been wondering if the Yankees would really wear the Nike logo or if they'd somehow escape that requirement, just as they've managed to avoid wearing the Majestic mark. I've been told all along that they would indeed wear the Nike mark, just as they've worn the New Era logo on their caps, but I know some of you out there have taken an "I'll believe it when I see it" stance on this.
Get ready to believe it.
A source who I trust has provided me with some photos from a catalog for Nike's 2020 retail line. They show what the Yankees' jerseys are slated to look like in 2020. Without further ado (click to enlarge):
I did plenty of due diligence on these, on various fronts. I'm satisfied that the images are legitimate.
This being the Yankees, of course there are no design changes. Still, there are some items worth noting. One at a time:
• First and foremost, there's the swoosh on the upper-right chest.
• I'm surprised that Nike is sticking with the mesh diaper panel on the shirttail, which Majestic introduced as part of its Flex Base system in 2016. Doesn't matter one way or the other on the field, because the players wear their jerseys tucked in, but I know some of you folks don't like that panel on your overpriced polyester shirts.
• The current Flex Base template for the other 29 teams also includes mesh side panels (which, I fully acknowledge, have not looked so bad on the field like I initially thought they would), but the Yankees haven't been using those — it's one of those things that they got a waiver on. So while the side panels aren't shown in these catalog images, it's not clear if that's a new MLB-wide thing or just an ongoing Yankees thing.
• The Yankees will apparently be sticking with raglan sleeves. (Technically speaking, the pinstripes should be running horizontally across the shoulder yoke, but I'm pretty sure this was just an artistic liberty that they took in the mock-up. The seams, which are clearly shown on both the front and the back, clearly indicate a raglan design.)
• It also appears that the Yanks will be maintaining their current format of evenly spaced buttons at home and pro button spacing on the road.
I think that's it. Did I miss anything?
One other item of note: Although I don't care about retail merch, I was intrigued by this page, which apparently shows a pair of Cooperstown Collection jerseys (click to enlarge):
It's hard to see, especially on the grey mock-up on the right, but both of those jerseys have a gold splotch or squiggle instead of the Nike logo. My source described it as, "just a bunch of crossing lines, sort like a signature." So maybe the player whose name is on the back (which is ridiculous on a Yanks jersey, of course) will also have his signature on the front.
(Update: Reader/commenter Peter Fischbach says the gold mark is actually this retro Nike mark, which has appeared on some shoeboxes.)
That's it for now. Obviously there are still lots of questions about what the fusion of MLB and Nike will look like. For example: Will the maker's mark on the pants migrate from the back pocket to the front thigh, as is the case with Nike's college baseball uniforms? (I'm assuming yes but hope I'm wrong.) Will Nike offer pullovers with faux-button plackets — again, a common thing in college ball — at least as an option for players? (I'm thinking yes, just based on the growing number of players who are currently having their jerseys custom-sewn shut.) Will terms like "Color Rush" and "Statement Edition" be finding their way to the baseball diamond? (I'm thinking probably not right away, but I bet by 2021 or '22.)
Those questions, and many more, will be answered eventually. For now, this is a taste of what's to come.
Finally, please join me in giving mega-thanks to Nic Schultz for the awesome Nike-fied MLB logo at the top of today's entry. I asked him to do a different MLB/Nike mash-up, but he took it upon himself to do the version with the swoosh standing in for the bat, and it's sooooo much better than my original concept. Thanks, Nic!
• • • • •
• • • • •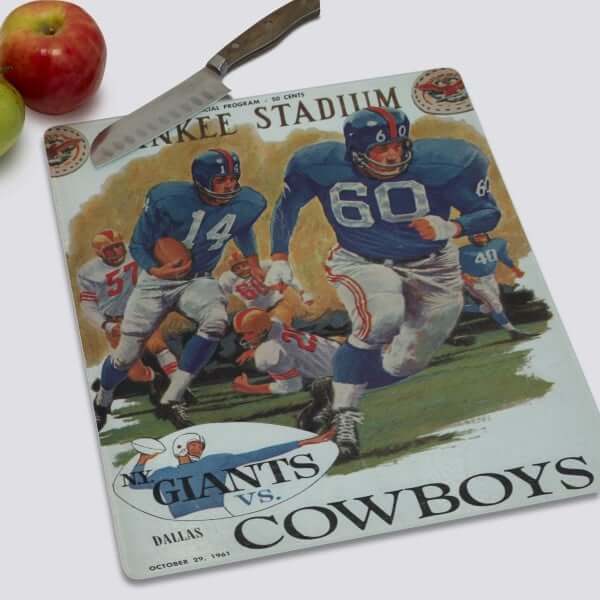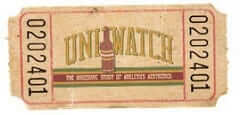 LAST CALL for the Vintage Brand raffle: In case you missed it earlier this week, our longtime advertiser Vintage Brand is running another raffle. The lucky winner will be able to choose any item from the Vintage Brand website (like the groovy Giants cutting board shown above).
To enter, send an email to the raffle address by this Thursday, June 6, 7pm Eastern. One entry per person. I'll announce the winner on Friday.
In addition, Vintage Brand is currently running a site-wide 20% sale. No need to enter any discount code — when you get to the checkout page, you'll automatically get 20% off. Not bad!
• • • • •
• • • • •
Click to enlarge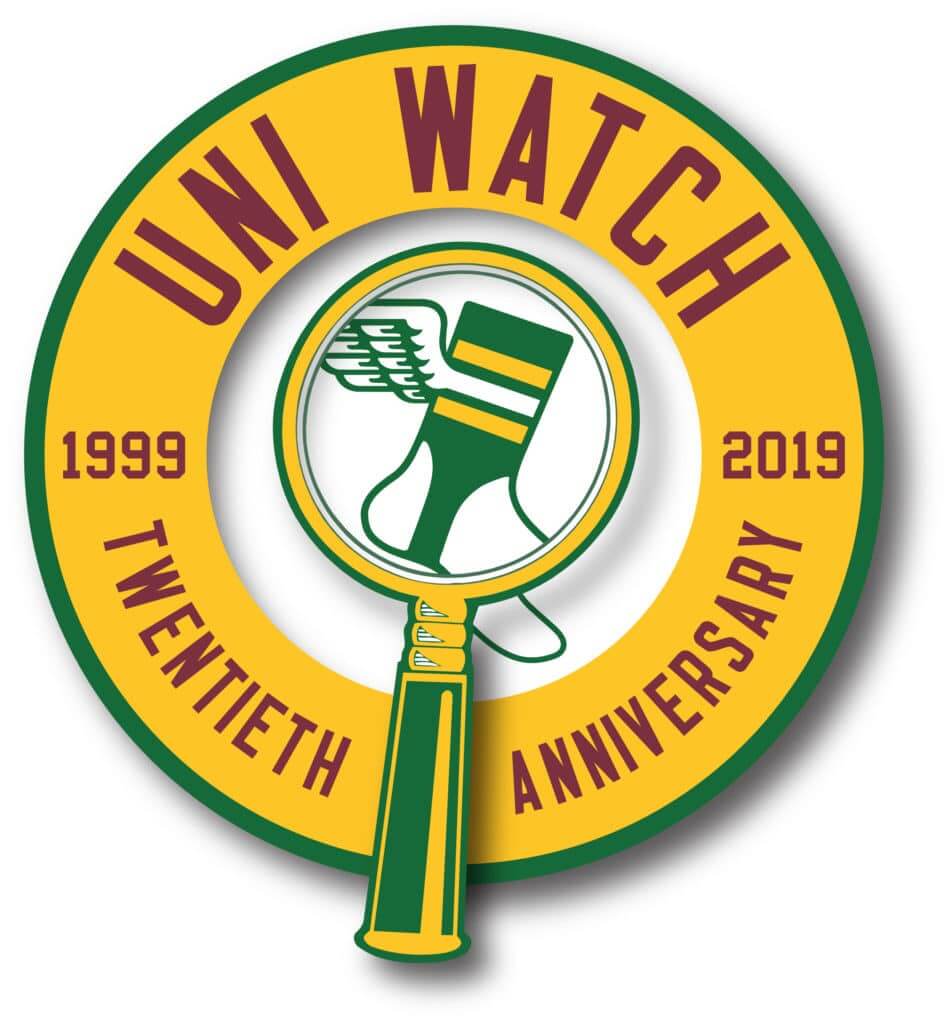 ITEM! Big uni-versary news: What you see above is a map, prepared by Uni Watch satellite party coordinator JohnMark Fisher, showing all of the late-June uni-versary parties that have been planned so far. I think we can legitimately say that Uni Watch parties will be taking place around the world, as we have gatherings planned for the northern, southern, eastern, and western hemispheres — not bad! I'm particularly pleased to see that there will be a shindig in New Zealand, a wonderful country that I'm proud to have visited twice (so far).
You can see the full map here, and the spreadsheet of various parties is here. Remember, if you want to organize or attend a gathering in your city, contact party coordinator JohnMark Fisher.
Meanwhile, I hope by now most of you are aware of our awesome "Turn Ahead the Clock Shirt," which celebrates the dual 20th anniversaries of Uni Watch and MLB's infamous 1999 TATC program. You can order it here.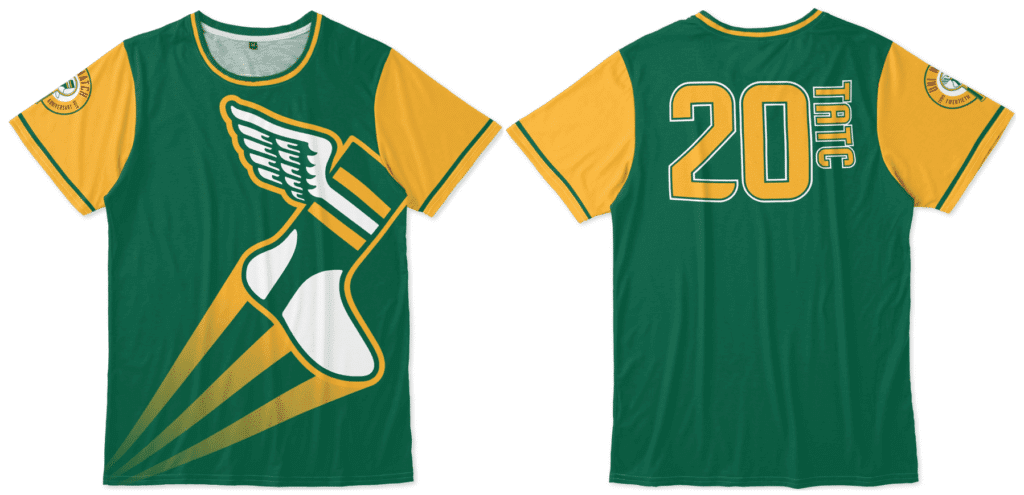 We have other anniversary items — and, of course, non-anniversary items — in the Uni Watch Teespring shop. My thanks, as always, for considering our products.
And while we're at it, don't forget that 'tis the season for our stars and stripes shirt and our Canada Day shirt. Thanks.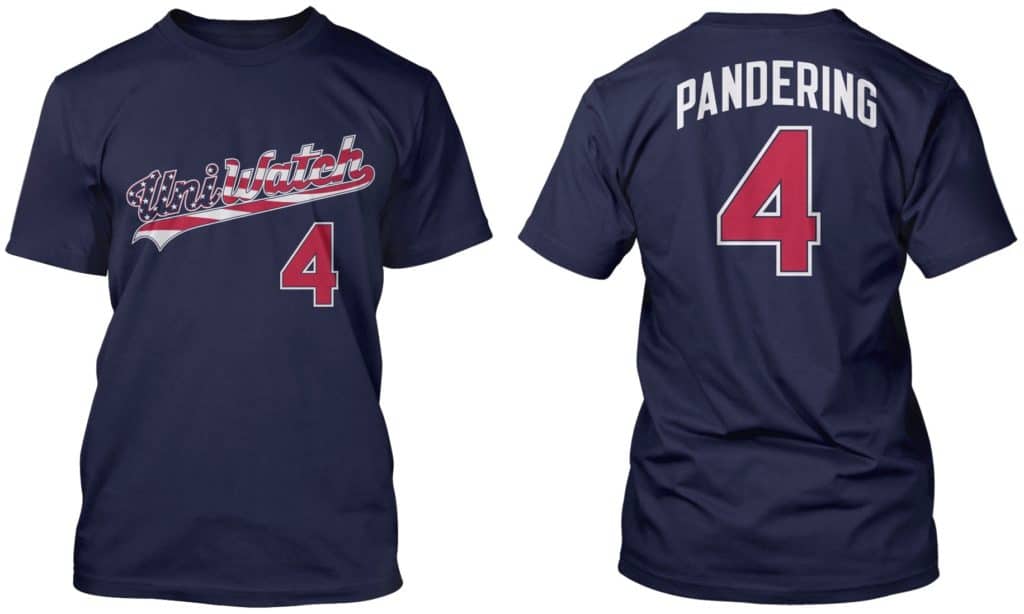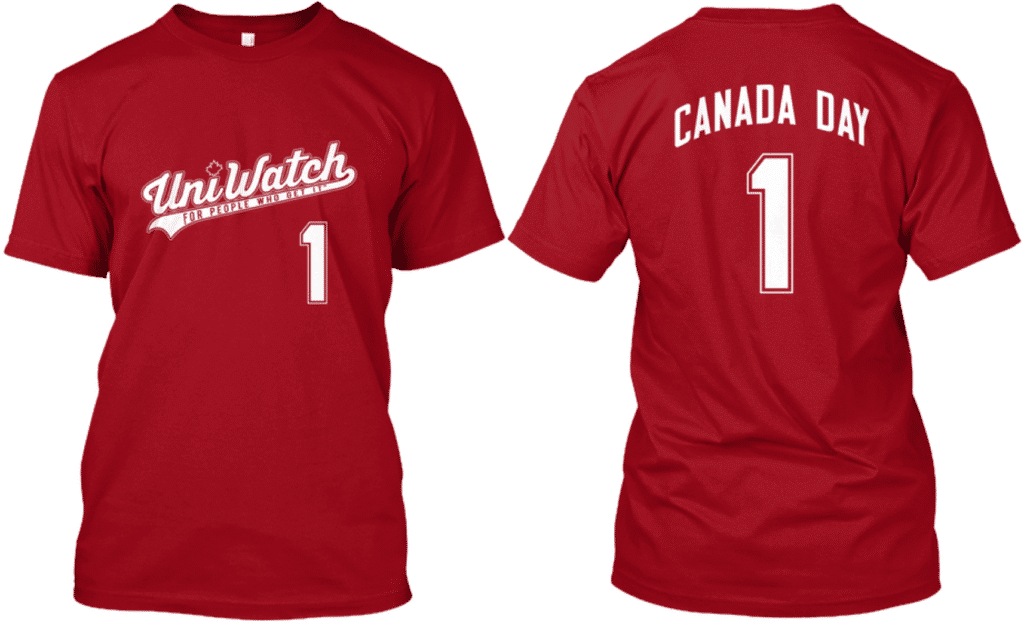 • • • • •
• • • • •
Membership update: The Sacramento Kings' split black/purple uniform with checkerboard trim is arguably the worst uni ever worn by a Big Four team (I realize there are other strong contenders, but this one is at least in the conversation) — which of course means it makes for an awesome membership card. That's what Jason Sarmiento wanted for his card, and it turned out great!
Jason's card is one of several that have been added to the membership card gallery. We've now finished almost all of the Purple Amnesty Day orders (just one more to go, which will be part of the next batch) and can thankfully now turn our attention to non-purple orders!
Ordering a membership card is a good way to support Uni Watch (which, quite frankly, could use your support these days). And remember, a Uni Watch membership card entitles you to a 15% discount on any of the merchandise in our Teespring shop and our Naming Wrongs shop. (If you're an existing member and would like to have the discount code, email me.) As always, you can sign up for your own custom-designed card here, you can see all the cards we've designed so far here, and you can see how we produce the cards here.
• • • • •
• • • • •
The Ticker
By Paul

Baseball News: Here's an old photo of the Giants' latest first-round draft pick — OF Hunter Bishop — wearing a Giants uni as a very young child. … Pirates broadcaster Steve Blass criticized Braves OF Ronald Acuña for wearing jewelry "and stuff" (from @bryant_rf). … Pretty cool new White Sox-themed cap for the Birmingham Barons. … Tyler Maun notes that the Single-A West Virginia Power are still wearing a Pirates-themed sleeve patch — note the bandana and eye patch — even though the team changed affiliations this year from the Pirates to the Mariners.

NFL News: Pats QB Tom Brady is once again wearing a Speed-Flex helmet. He experimented with that model for part of last season before going back to his old helmet. The old one is now banned for 2019, so he'll need a new lid this year (from Dakota Chandler). … Check out this spectacular late-'60s AFL promotional piece that Bill Hetrick has. "It's a Dodge advertising brochure/insert," he explains. "Forget the magazine it was in, but bought it and had full piece taken apart and spray-mounted. You see the first two pages occasionally, but the full insert is more rare." … An SI writer thinks NFL teams should stop retiring numbers. … Following up on an item from earlier this week, here are some idiot New York Mets fans trashing Tom Brady jerseys with beans (because Boston, get it?) as a way of "protesting" Brady's attempt to trademark the heretofore Seaver-associated term "Tom Terrific." As a Mets fan, I find this beyond embarrassing. … There's a new line of NFL training camp caps (from Brian Kerhin). … Washington DB Josh Norman and Real Madrid soccer player Alvaro Arbeloa swapped jerseys the other day.

College and High School Football News: Here's a poll that asked college football fans to rank ACC logos (from @VictoryCB). … Back in 1995, players who participated in the Sugar Bowl received a — wait for it — commemorative jockstrap (blame Jordan Daniels). … New helmet for Lipscomb Academy (from Phil McDaniel).

NBA News: Good article on how the Mavs ended up with their current look (paywalled) (from Scott Hennigan). … An upcoming sports biz conference has totally ripped off the 2000 NBA All-Star logo.

College Hoops News: The men's three-point line is being moved back to match the distance used in international play. For teams whose men's and women's teams share the same arena, this means the court will have two different three-point lines (from James Gilbert). … Also from James: NCAA rule change Nos. 3, 4, and 6 on this list indicate that there will be new guidelines this season for arched NOBs and tights, plus refs will now have raglan-sleeved jerseys.

Soccer News: New shirt advertiser for Dulwich Hamlet (from Ed Zelaski). … New centennial uniform for Poland (from Ed Zelaski). … New shirt and 80th-anniversary patch for Rio Ave. … New uniforms for Paderborn (from Josh Hinton). … Cross-listed from the NFL section: Washington football player Josh Norman and Real Madrid's Alvaro Arbeloa swapped jerseys the other day. … The Columbus Crew have what might be history's worst souvenir cup (from John Flory). … You can see the Women's World Cup teams broken down by uni manufacturer here. … Speaking of the WWC, Thom Gibbs has ranked all the kits. … This is pretty good: a U21 team roster listing presented as a South Park-style video (from Greg Franklin). … Fun fact: Liverpool are the first Champions League winners in 14 years not to be outfitted by Nike or Adidas (from @Matooooe).

Grab Bag: New alternate jerseys apparently in the works for the Overwatch League, which is an e-sports league. … Bit of a controversy in Mexico City over a plan for gender-neutral school uniforms. … Golf news: Here's a piece on the "hidden meanings" in the U.S. Open logo. … Boeing is "donating" $10 million to help maintain a Virginia park, which in turn is being renamed for Boeing. Of course, if they're getting a giant advertisement out of it, it's not actually a donation (from @stevis23). … Looks like pro golfer Tiger Woods may have been using an Ohio State head cover. … An Oakland man wearing a police-style uniform was arrested for impersonating an officer. … Handmaid's Tale-themed attire is being described as "the viral protest uniform" of the year. … New logo for the Firefox web browser. … Good essay on the endless militarization of sports.