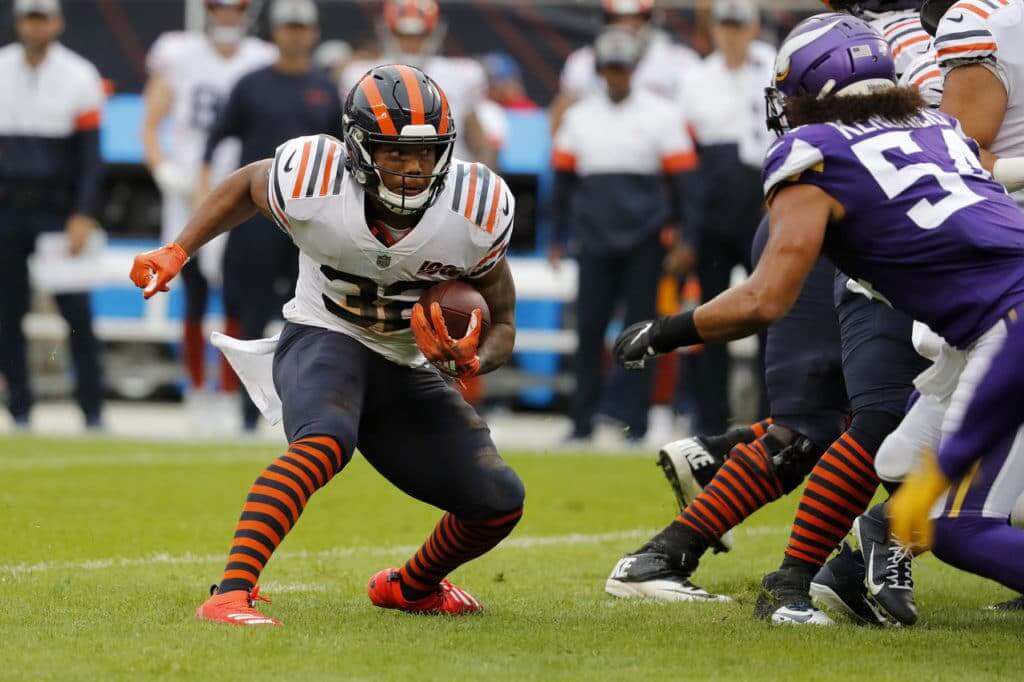 Click to enlarge
Good morning! The Bears wore their much-discussed 1936 throwbacks yesterday. Since they were wearing white at home, the Vikings wore purple — the first time they've ever done so at Soldier Field. Lots of additional photos here, here, and here.
In case you missed it last week, the Bears released a remarkable video statement about this uniform's history as part of the NFL's 12-year segregated era, and I wrote an SI article about what that might mean for throwbacks going forward.
In that same game, there appeared to be an extra pylon near the back of one of the end zones:
In other news from around the league yesterday:
• The Bears weren't the only team to wear throwbacks. The Lions wore theirs:
• Still more retro action in Atlanta, where the Falcons wore their black throwbacks: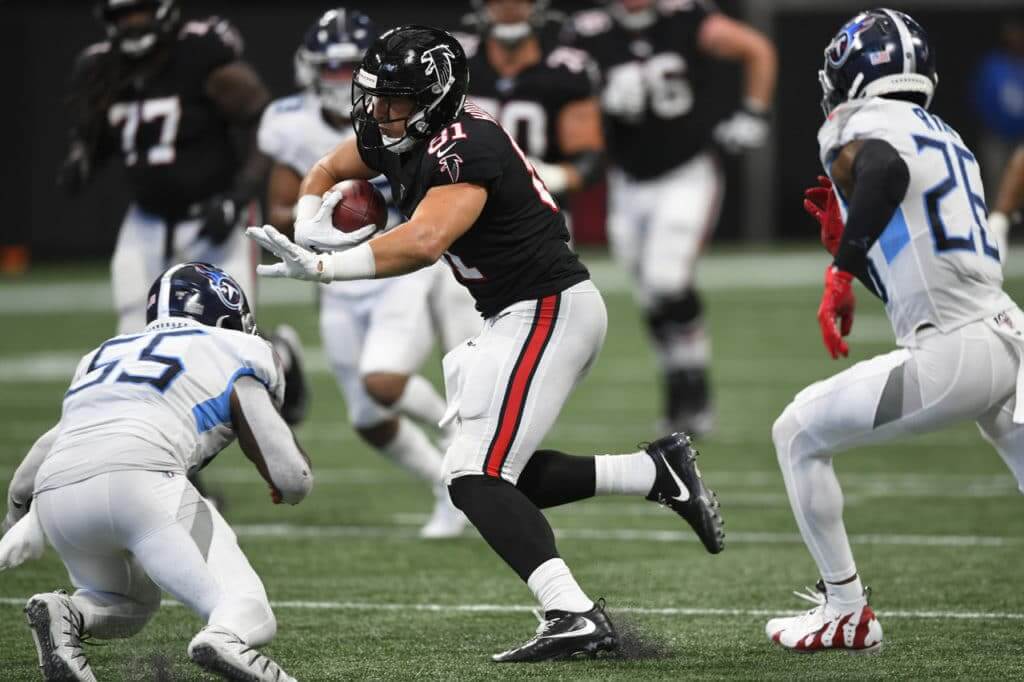 • For the second straight week, the Saints wore their white Color Rash uniforms — this time at home: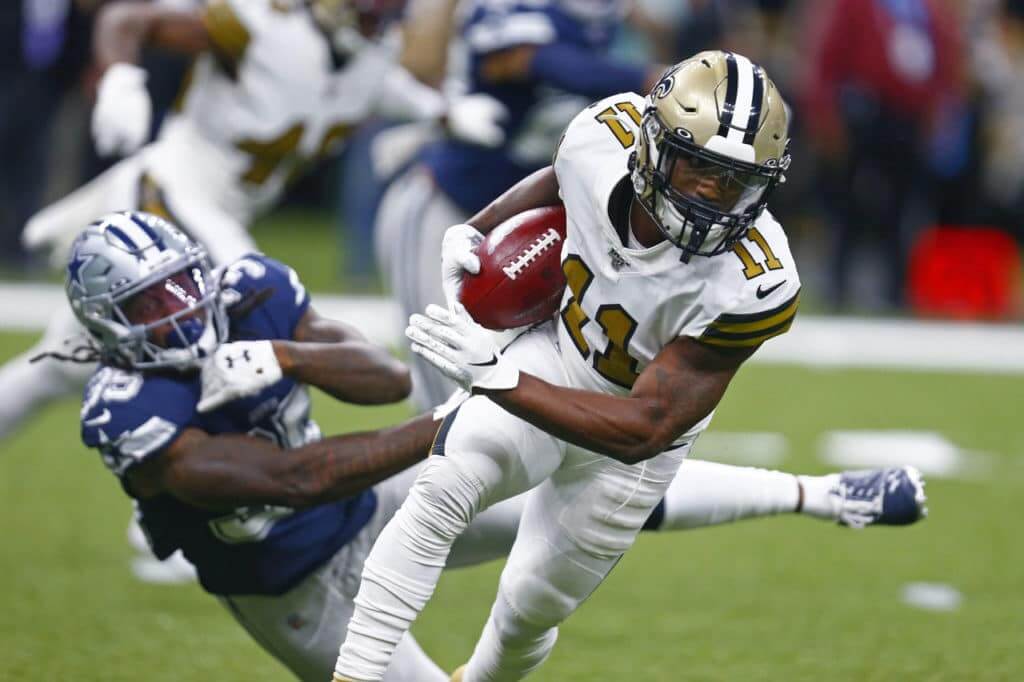 • The Seahawks wore their grey alternates. After eight years of this, it still looks like dirty laundry to me: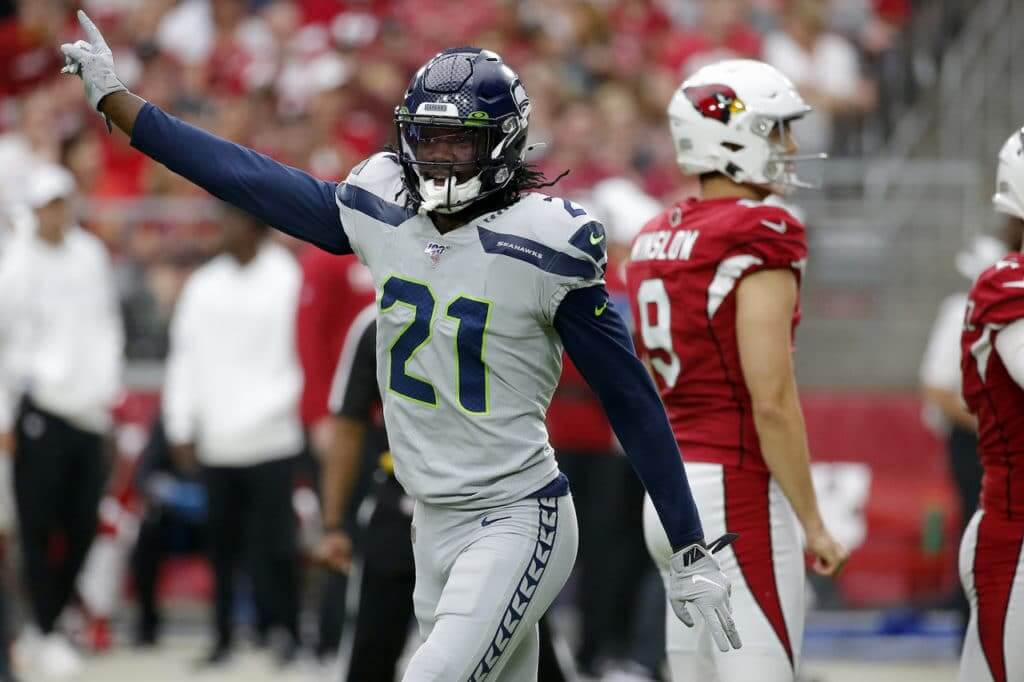 • The Ravens went mono-purple: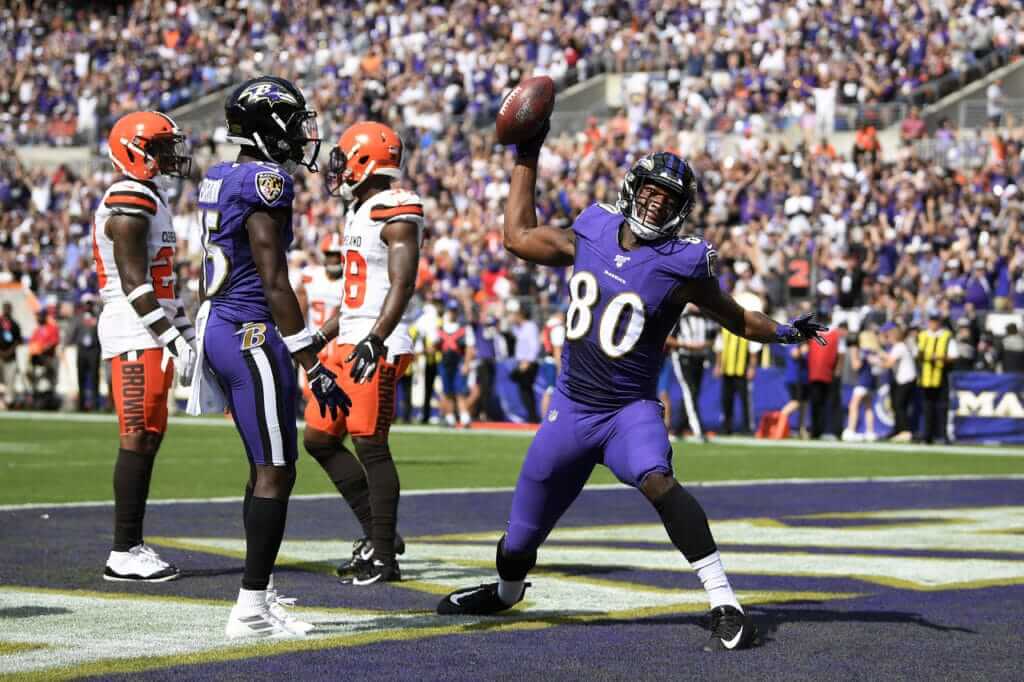 • After wearing white for the first three games of the season, the Chargers finally broke out the powder blues: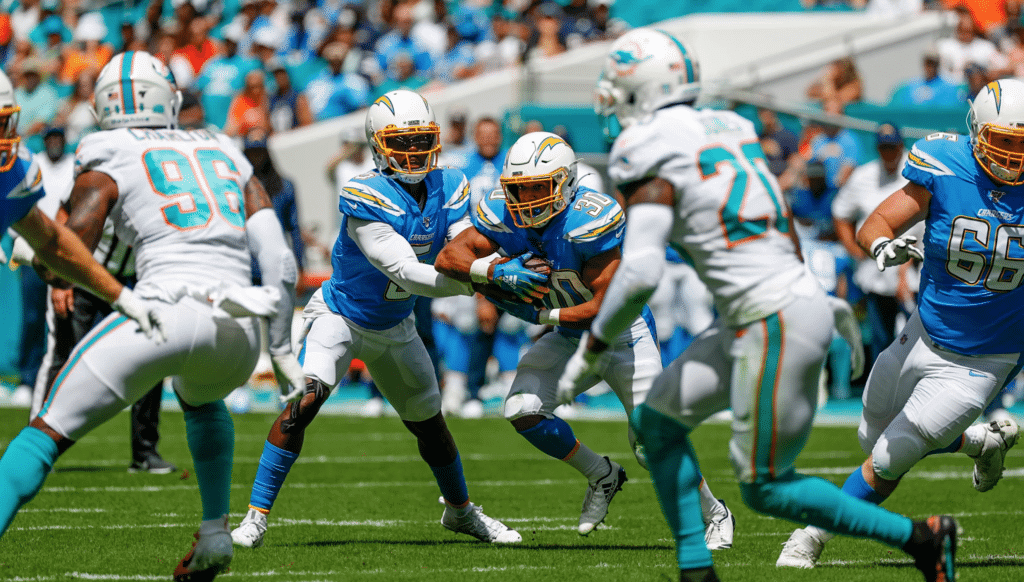 • The saga of Patriots quarterback Tom Brady's jersey collars continues. For the first three games of the season, all of which found the Pats wearing blue jerseys, Brady wore an outdated tailoring template but still had the NFL 100 logo on his collar. For yesterday's game against the Bills — New England's first game this season wearing white jerseys — Brady had the updated template but did not have the NFL 100 logo, which really makes no sense (click to enlarge):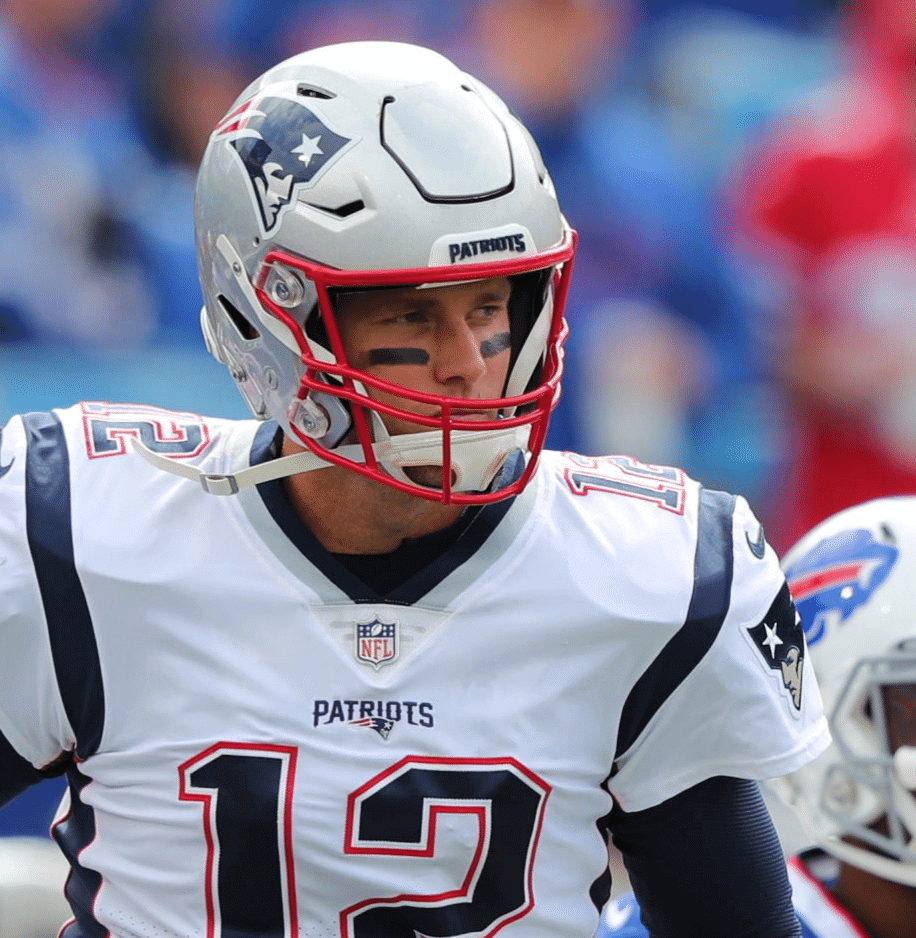 • Broncos quarterback Joe Flacco's NFL 100 collar patch was also AWOL yesterday: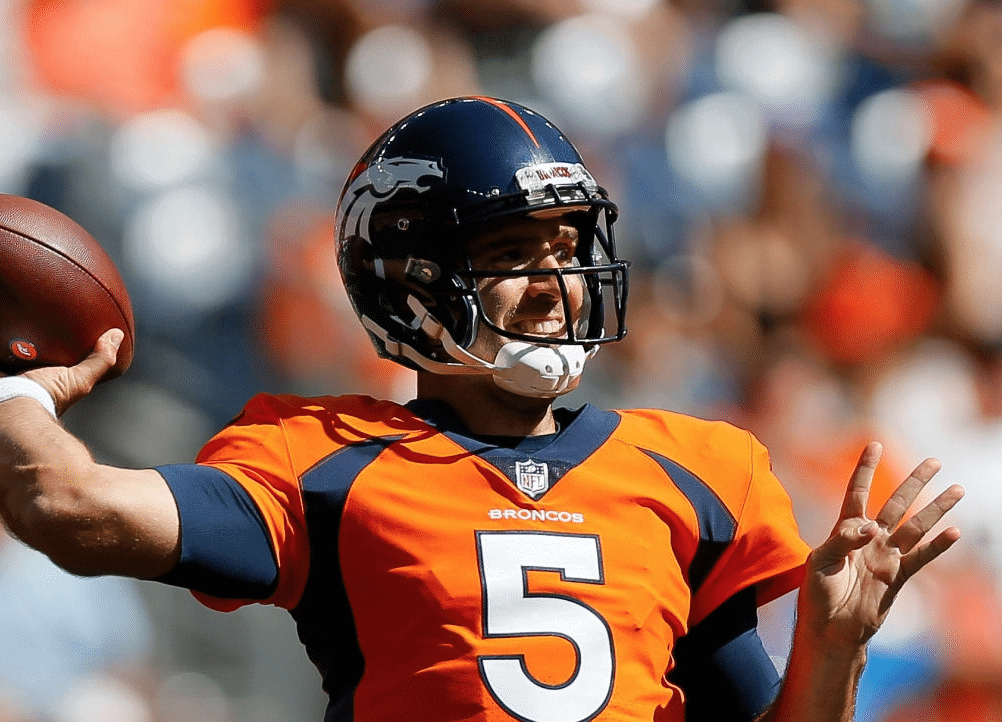 • The Chargers' trainer's box has a helmet logo that still shows the team's now-outdated blue facemask:
@UniWatch the trainer's box for the Chargers has the old face mask on it pic.twitter.com/tw0W1St3Ve

— Drew Winthrop (@drew42w) September 29, 2019
• Ravens running back Mark Ingram II suffered some sort of jersey mishap that required a sideline repair with needle and thread: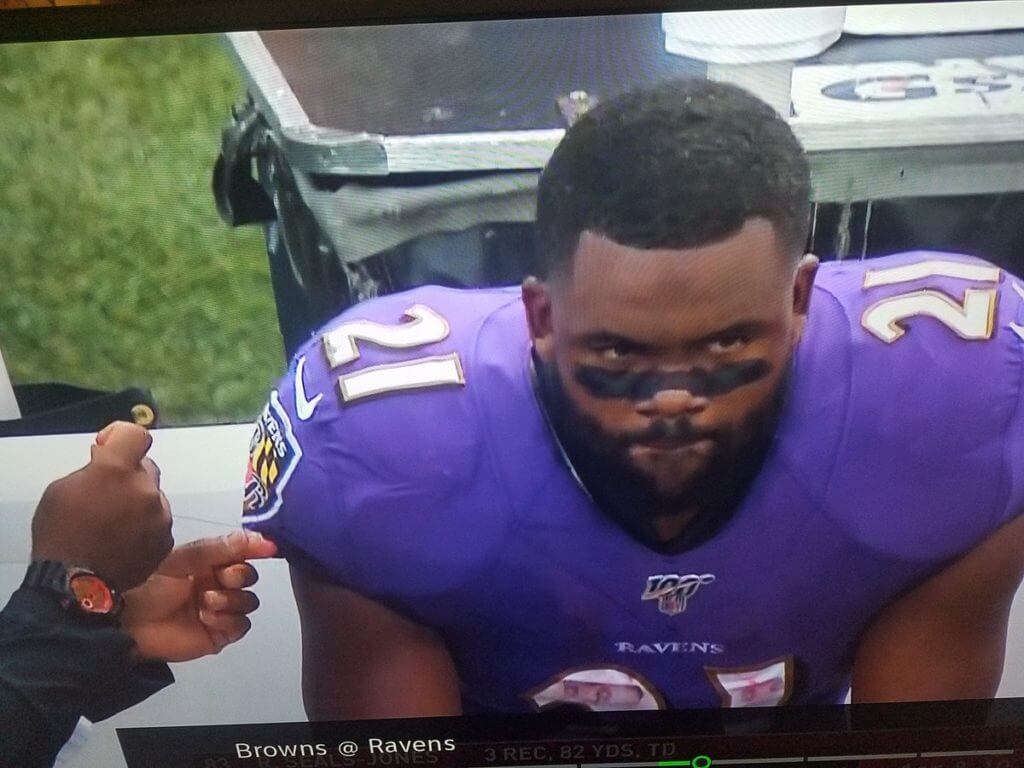 • Giants kicker Aldrick Rosas wore his chinstrap in a particularly odd manner:
@Giants kicker Aldrick Rosas wore his chinstrap like a mouth guard today in #WASvsNYG WHILE he was kicking. Pic is from immediately before and after a FG he kicked right before halftime and wasn't adjusted during the play. @UniWatch @PhilHecken @HelmetStalker @ban1helmetnfl pic.twitter.com/1lOs8t0WVj

— What the Helmets?! (@WTHelmets) September 30, 2019
• Here's a weird one: Chiefs wide receivers Sammy Watkins and Demarcus Robinson were both missing their Lamar Hunt/AFL jersey patches: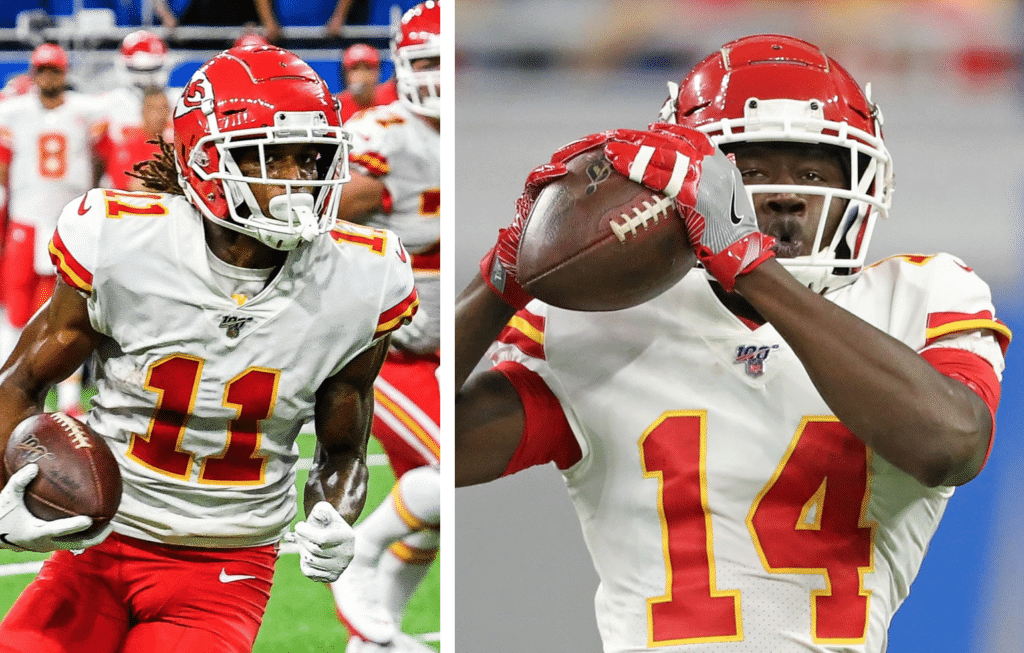 • Speaking of Chiefs wideouts, Tyreek Hill was inactive for the game but watched from the sidelines while wearing a very nifty personalized polo shirt:
• It's been evident for a while that Saints running back Alvin Kamara wears a necklace on the field with some sort of pendant. It now turns out that the pendant is "QC," which stands for Quality Control, the record label co-founded by his uncle:
In that photo, you can also see a little divot in the nose bumper where a decal would normally go. The Saints are one of only three teams that leave the bumper blank (the other two are KC and Washington). I didn't realize that some helmet models have this recessed area for the decal, instead of just a flat surface.
• Four teams wore white at home: the aforementioned Bears and Saints, plus the Rams and Dolphins.
———
In addition, you can see my picks for the best- and worst-looking games of the week over at SI.
(My thanks to all contributors, including Matt DeMazza, Chris Dunn, Jakob Fox, Zachary LoeslScott McKechnie, Gershon Rabinowitz, and @ajenkinsCLE.)
• • • • •
• • • • •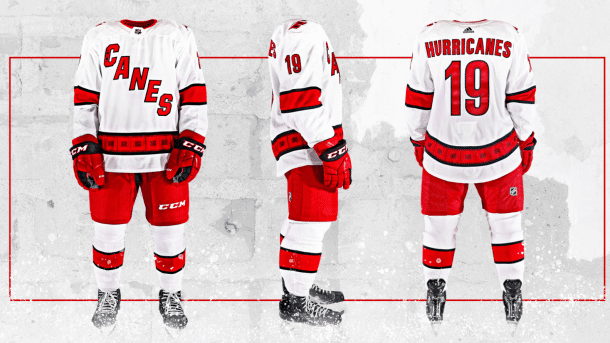 Almost time to drop the puck: Don't look now, but the NHL regular season begins on Wednesday night, which means it's time for the annual Uni Watch NHL Season Preview, featuring all of the new uniforms, logos, center ice designs, and related news for 2019-20 (including the Hurricanes' new road uni, shown above).
The preview is now available over at SI. Enjoy.
• • • • •
• • • • •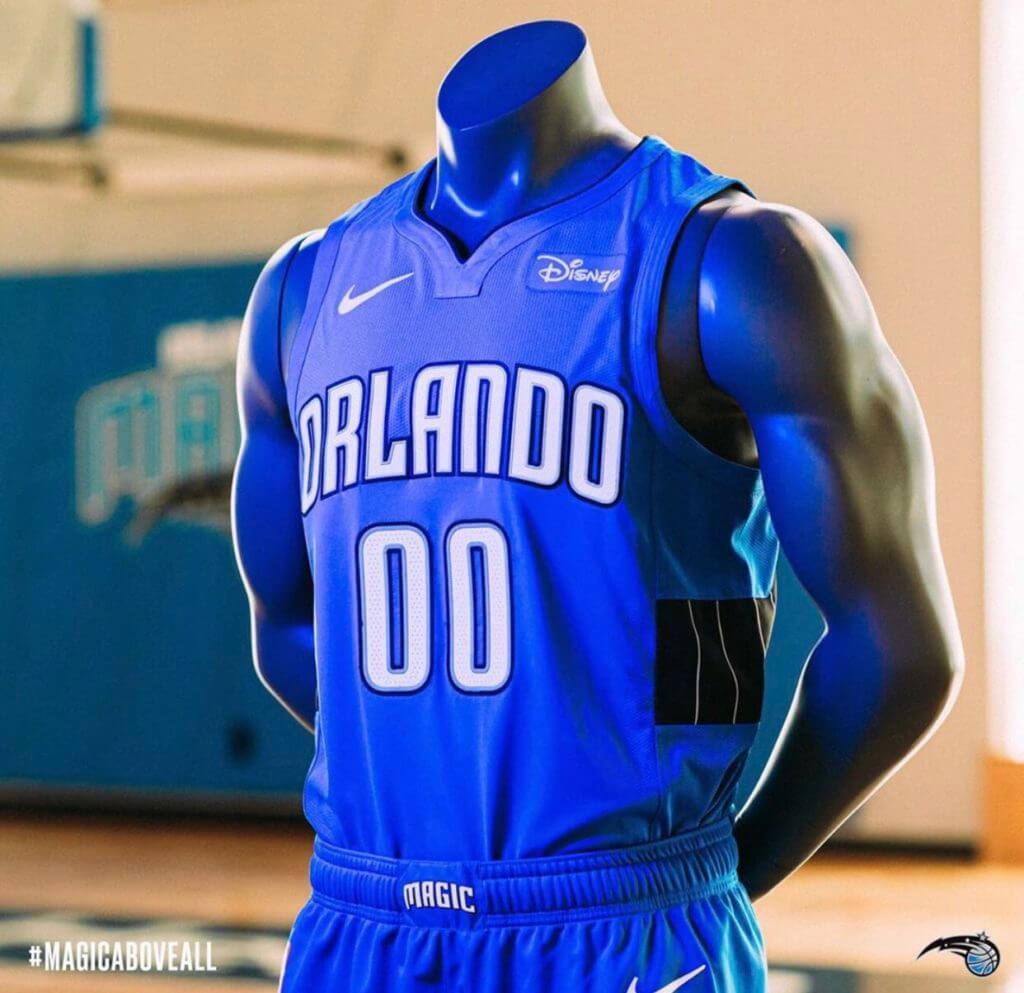 Click to enlarge
Meanwhile, over on the hardcourt…: Just as I was getting ready to publish today's post, the Magic unveiled their new Statement uniform on their Instagram page.
Here are some additional photos: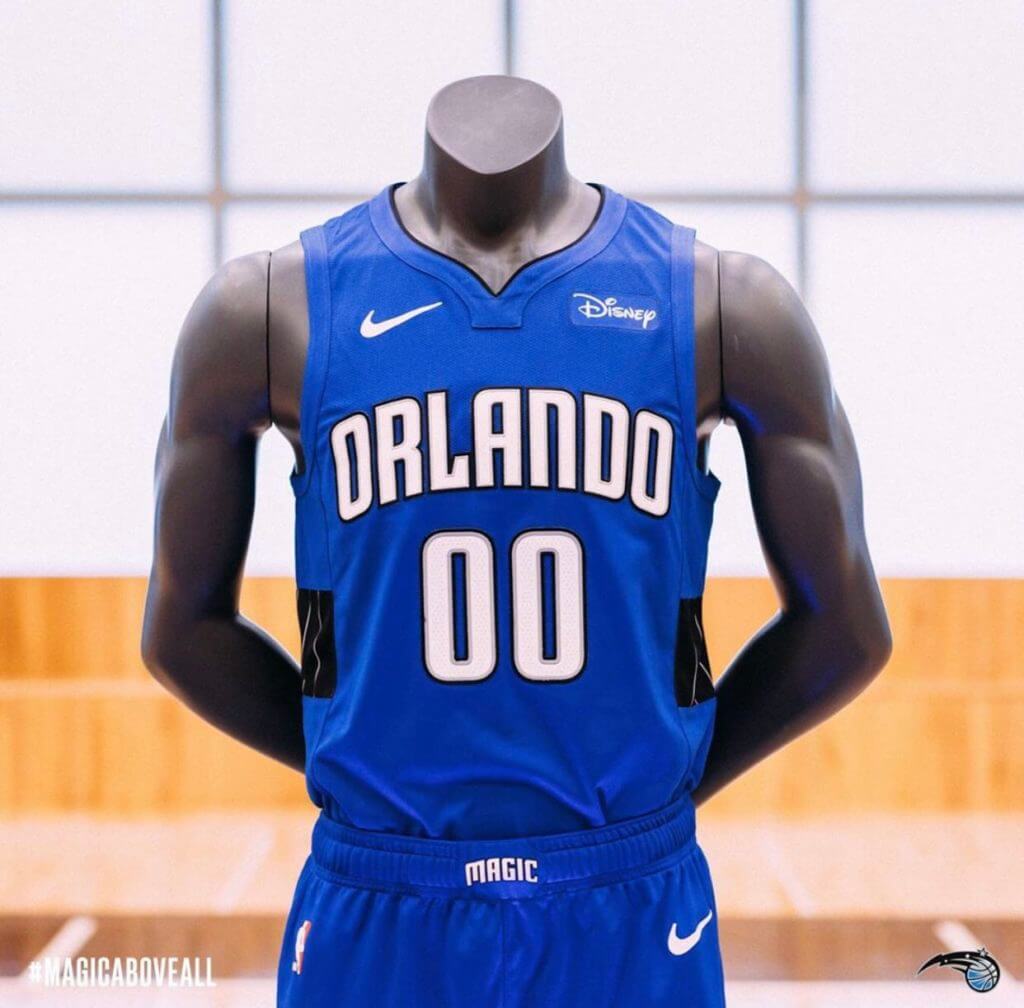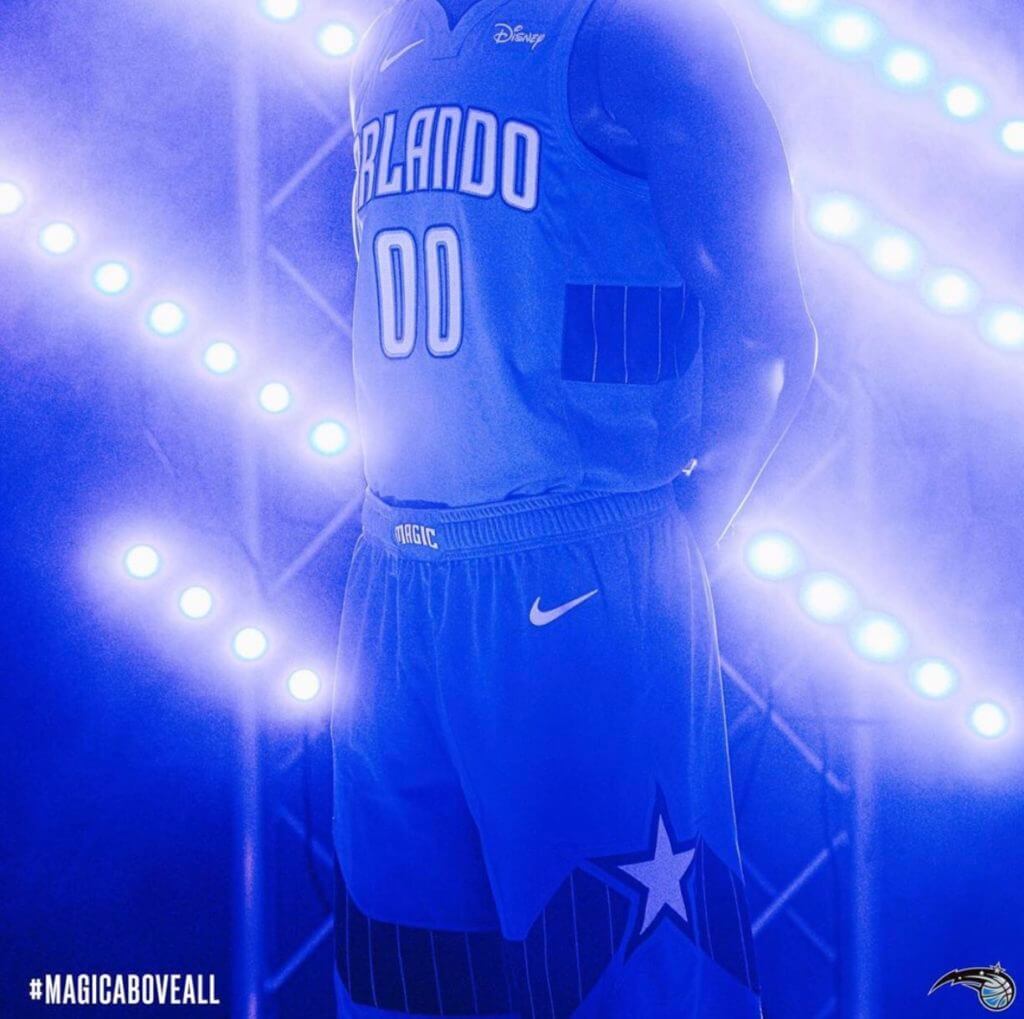 I confess that I have no idea what the recurring plank/boardwalk/Jenga motif is supposed to signify, but I'm sure someone out there can tell us, yes?
• • • • •
• • • • •
Click to enlarge
ITEM! Rare Uni Watch staff meeting: Who was that sitting alongside me yesterday on the front porch of Uni Watch HQ? None other than longtime Uni Watch team member Alex Hider, who compiles the Tickers that run on Tuesdays, plus the occasional lede, and his fiancé, Libby. They were in town for a New York weekend and stopped by yesterday for brunch.
I made a batch of apple-walnut waffles. And since Alex and Libby are from Cincinnati, we decided to dish up some of our homemade goetta, Cincy's signature breakfast sausage. I was both proud and nervous about serving it to a pair of native Cincinnatians, and I was relieved when they said it measured up (although I think maybe they were just being nice). Anyway, it was a swell time — come back again soon, guys!
• • • • •
• • • • •
Click to enlarge
And speaking of Uni Watch staffers: People are starting to receive their Uni Watch cycling jerseys, including own own Jamie Rathjen, shown above, who compiles the Tickers that run on Mondays (including today!). Looking sharp, Jamie!
It's been fun to see what people used for the numbers and NOBs. Here's reader Bryant Johnston, followed by the rear view of his jersey:
Here's Joel Dunn's jersey:
Robert Caplette went the more traditional route, opting to use his surname:
Not sure what Eli Selzer has on the back of his jersey, but he definitely wins the "looks most like a pro cyclist" award:
And so on. Because each jersey is customized, we can only produce them in batches, not as a stock item. If you missed out but would like us to make this item available again, let me know. If there's enough demand, we'll open up another two-week ordering window. Thanks.
• • • • •
• • • • •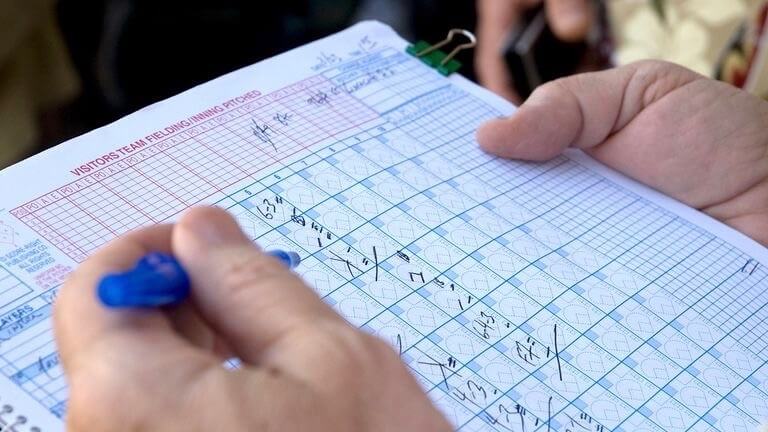 Official scorer update: Last Thursday's post about MLB official scorers continues to generate a surprising amount of response and reaction, including this one from reader Ryan Atkinson:
A former sportswriter colleague of mine was covering Game Seven of the 2014 World Series here in Kansas City.

As I'm sure most people remember, that was the series where Madison Bumgarner was unstoppable, willing the Giants to the title. He came into the seventh game in the fifth inning, with the Giants clinging to a 3-2 lead, and proceeded to allow just two hits and strike out four over the next five innings.

The official scorer that night decided that MadBum's performance was epic enough (pitching five innings after having already won two games in the series) that he deserved the win instead of Jeremy Affeldt, who was the pitcher of record when the Giants took the lead in the fourth. [According to MLB rules, that decision is within the scorer's discretion. — PL]

He made the ruling and the official box scores were distributed to members of the press. Madison Bumgarner would join the exclusive list of pitchers to win three games in a single World Series.

Until … they decided to reverse the decision and award the win to Affeldt, while Bumgarner got the save. Royals employees went around the press box, attempting to scoop up all of the now-incorrect box scores, but my friend slid his under his notebook and still has it today.
• • • • •
• • • • •
Click to enlarge
Sign find: I was walking along East 14th Street in Manhattan a few nights ago when I noticed the remains of a gorgeous old sign. Here's a closer look:
The telltale holes in the letters indicate that the sign used to feature neon tubing. Must have been a beauty back in the day. I'm guessing it dates back at least to the 1960s, maybe earlier, and I'm certain I've never seen it before, which means it's been out of use at least since 1987, which is the year I moved to town.
When I got home, I did a bit of research and found that the storefront had been occupied by a New Age bookshop that moved to another space in March. When the bookshop's awning was removed, it exposed an old sign for a computer repair shop that had occupied that storefront from 1996 to 2013 (it's not clear what was in the the storefront prior to that). Then, at some point, the computer repair sign was removed as well, exposing the ice cream shop sign.
Looks like a new business will soon be moving in (the brown paper in the windows means a new buildout is in process), so I'm hoping the old sign is just covered up again — not discarded or destroyed.
If this all sounds familiar, it's similar to the story of Nathan's Food-o-Rama, which I wrote about last winter.
• • • • •
• • • • •
Important product question: By now I figure you're all aware of the Uni Watch enamel pin — by far the most popular non-T-shirt product we've ever had, with over 200 sold so far.
I've been thinking of doing winged stirrup cufflinks for the holidays, but I'm conflicted about one aspect of the design. Should both cufflinks "face right," like the enamel pins, or should they be symmetrical, with one cufflink facing right and the other one facing left?
Truth is, I don't like the logo as much when it faces left. But I did create left-facing versions for the mini-helmet and the gumball helmets, so there's some precedent.
What do you folks think? If you don't think you'd be interested in purchasing cufflinks to begin with, please ignore this question. But if you think you would be interested, please tell me:
[totalpoll id="116424″]
Thanks!
Meanwhile, I have a new pin to tell you about, which I think you'll really like. Details coming soon.
• • • • •
• • • • •
The Ticker
By Jamie Rathjen

Baseball News: The Padres Uni Tracker's breakdown of the team's performance by uniform is complete for this season. … Playoff teams will apparently wear a postseason patch in addition to the MLB 150 patch (from Jason Sellers). … The Giants held a ceremony for retiring manager Bruce Bochy, with former players wearing home jerseys with NOBs and a Bochy sleeve patch. Unfortunately, former P Ryan Vogelsong's NOB was misspelled (from Brinke and Ryan Maquiñana).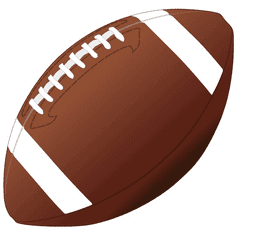 Football News: A McDonald's commercial that aired during NFL games yesterday features an unmistakable burgundy Washington jersey along with the expected bunch of generic ones (from Mike Wissman). … Mutiple readers told us that Florida revealed 1960s-era throwbacks — which don't represent one particular year — to be worn next week against Auburn. Helmet expert Blaise D'Sylva tells us that the helmet is technically new. … The school of the day from Blaise's helmet collections is Penn State. … Wade Heidt says that the CFL's BC Lions wore orange socks for the first time this season this weekend. … You can see Canadian college uni tracking from Wade in yesterday's comments, also including Burnaby, B.C.'s Simon Fraser University, who play American football in Division II.

Hockey News: Golden Knights owner Bill Foley said in a podcast that the team's third uniforms won't be ready for the start of the season, but he hopes they'll still be ready for this season (from Thomas Roddy). … During the Golden Knights' preseason game against the Sharks, referee Gord Dwyer was wearing what I guess was the arena's backup referee jersey, but his No. 19 was applied with tape (from Paul Fisher). … The Predators revealed their shoulder patch for the Winter Classic (from @SillyGibby). … The Blackhawks played a preseason game against German team Eisbären Berlin and both teams wore white in warmups, because Berlin uses white warm-up jerseys regardless of the color they're actually wearing in the game. Once the game start, it was the Blackhawks in white vs. Berlin in blue, plus a lot of ads (from @NotHotTakes). … Wade Heidt has some sock updates for the WHL's Victoria Royals and Prince Albert Raiders. … The AHL's Syracuse Crunch apparently have a new jersey advertiser (from Shane Bua).

Basketball News: You can get the latest updates on NBA uni numbers on Etienne Catalan's Twitter feed. … Etienne also tells us that the Hornets are releasing a new version of one of their alternates this morning.

Soccer News: New kit for Egyptian team Al-Ahly (from Ed Żelaski). … German team 1. FC Köln wore several rainbow accents yesterday as part of a "campaign for diversity and equality." … French team Lyon's game on Saturday kicked off at 1:30 pm local time — most Ligue 1 games are played on Saturday nights — to accomodate Chinese viewers, which is a growing practice in several countries. The fans responded with a "Free Tibet" tifo in protest. … A game in Wales's Cymru Premier between Cardiff Metropolitan University and Cefn Druids was postponed because of a kit clash: Cefn brought their red second kit, which was determined to clash with Cardiff Met's maroon. … Here's a Twitter thread of outfield players stepping in as emergency goalies, which involves the lucky volunteer wearing the goalie's shirt over, or instead of, their own.

Grab Bag: Reader Mike Engle sent us pictures of American University field hockey captain Jette Dieckmann wearing the captain's armband around the sock. That's the practice for all teams that wear sleeveless shirts in the sport, which at higher levels is most women's teams and a few men's teams. As Mike points out, to the uninitiated it can look like one player has extra sock stripes. I've also seen Iowa, but nobody else, designate more than one captain, ostensibly to account for substitutions. … An example of the sleeve/non-sleeved dichotomy in field hockey can be seen in the kits for Hockey One, a new Australian league featuring men's and women's versions of the same teams: when the kits were initially released in April, the men shown had sleeves and the women didn't, but now that the league actually started this weekend, all appear to have sleeves. … Reader Hunter Hook spotted a knockoff of Ohio State's previous logo at a sneaker convention in D.C. … The latest variation on the Trump campaign's iconic MAGA baseball cap is a "Make America Greta Again" hat — a clever anagram that refers to climate activist Greta Thunberg, although most people probably wouldn't pick up on the slight spelling change. … The men's road race at the world road cycling championships in Harrogate, England, featured gloriously atrocious conditions: lots of rain, wind, cold, and some heavy jackets and even towels for the riders. NBC's commentators pointed out that the riders were difficult to distinguish, as many wore black jackets instead of their team colors. … Here's an interview with the rugby superfan who's been having his body painted with the jerseys of all 20 Rugby World Cup teams (from Jeremy Brahm). … Fox Business Network will be unveiling a new logo and design today.
• • • • •
Happy Rosh Hashanah to all who are observing. — Paul