By Phil Hecken, with the SMUW Crew
Follow @PhilHecken

I'm gonna be honest, folks — I didn't watch a lot of football yesterday — this was due in part to my closing down the summer place and the start of the fall curling season. One game I did watch, however, was the UW/NU game. That's the University of Wisconsin vs. Northwestern University. I had planned to write about this one regardless, so watching it was just a bonus.
Now first off — the uniforms worn yesterday by Wisconsin and Northwestern weren't throwbacks. Not that they were being passed off that way anyway, although some folks did think they were. Even venerable outlets like Sports Illustrated called the unis "throwbacks." That aside, if you were to read either article, you'd note that the uniforms were widely trashed by observers and fans of both schools.
Both schools are outfitted by Under Armour and these were supposed to evoke a throwback feel or some such nonsense. But they were fauxbacks. Sure, both teams wore helmets with "UW" or "NU", and their jerseys were likewise adorned with initials. And yes, UA outfitted UW with tan pants, to further the "throwback" vibe, I guess.
But you know what? I didn't hate them. In fact, despite the inanity of the uniforms, I kinda liked them. There wasn't really any point to wearing them, other than giving both teams another alternate, but as far as how they looked on the field? It was a nice looking matchup. Yeah, the "NU" and "UW" thing was kinda stupid, but you can say that about a lot of uniforms being worn today. The contrast was good, the white/red/tan vs. purple/white/purple looked pretty good, and overall, I wasn't nearly as upset as a lot of folks. So is that damning with faint praise? Sure, but if I were doing the 5 & 1, I might even consider this on the good side of the ledger. Would I have preferred both squads in their regular duds? Sure, but I can't hate on this one-off. Just don't get any ideas, Under Armour.
OK. With that off my chest, I now turn the rest of this post over to Terry and the rest of the SMUW Crew. So without further ado, here's TJ with your…
• • •
Sunday Morning Uni Watch
By Terry Duroncelet, Jr.
Outside of Ü vs NÜ, not much happened on the gridiron uni-wise, but regardless, here's what I gathered:
From Thursday:
• Memphis went with a different treatment for their front tiger stripe, and the only thing that comes to mind is someone must've poured a mixture of liquefied coconut (coconut in general is disgusting and the root of all evil) and a five-day collection of sweat and bodily debris from someone who hasn't showered in five days in Memphis's morning bowl of cereal, because the decal swap gives them the appearance of a furrowed brow. Maybe that's what they were going for. Also, I can't remember if I noted Navy as one of the no-150-patch teams this season (they could be wearing a decal, like USC). I probably did, but here it is again, just in case.
From Friday:
• Duke: "WE… are the Duke Blue Devils!!!" … also Duke: "But let's only wear blue helmets because Friday Night Lights, AMIRITE???"
From Saturday:
• Probably too soon to call, but it looks like the Texas outline decals that Rice debuted last week are here to stay. At least, for a few more games.
• Some of us know how specific UTEP's shade of orange is, but I didn't realize just how specific it was until I saw these photos from their game against Southern Miss.
• I was surprised at how much I liked the gold facemasks on Georgia Tech (also note that last little bit of Russell love in Yellow Jackets DB Tre Swilling's shoulder pads). After letting the Week 1 dust settle, I can concur that the gold facemasks don't look nearly as good on UCLA as they do on GT. I honestly don't know if I prefer these over the navy facemasks or vice-versa, but at the very-least, gold is a really good alternate choice for them.
• Since I can no longer stress how rad Pitt's uniforms are (since they've made the switch full-time), I'll instead stress how rad Ole Miss's blue helmets are. They add that perfect accent to an otherwise decent-looking –but sort of lacking in color variation– matchup.
• Throwbacks for Texas Tech.
• A color none more-appropriate for Florida.
• It was a hot one (looks-wise) in Ann Arbor on Saturday.
• UCF wore a myriad of S&S decals, including helmet stripes recognizing the five branches of the U.S. Armed Forces (first photo cred to Adam Giardino).
• Speaking of decals, Charlotte won all of the brownie points with this look (I say, as I'm literally eating a brownie as I type this).
• Yosef returns! (additional photo here) Also in that second photo: Coastal Carolina (which I frustratingly keep misspelling as "Costal") wore a white helmet for the first time in program history, since the school launched football back in 2003.
• You ever have one of those days where your jersey number is just like "…nah"? (h/t @KyleYourFriend)
• Now I generally hate monochrome when paired with a mismatched helmet. That being said: Syracuse? They didn't look all that disgusting on Saturday (oh god, what's happening to me?).
• Every time I look at Vanderbilt, I can't help but to think that every photo of them is only partially colorized.
• Contrast Matters: Simple, but Effective Edition.
• Kentucky's chrome helmets are the equipment equivalent of a dead bird in a paper bag that's clearly marked with "Dead Bird Inside, DO NOT OPEN". As such, it's a sight that no one wants to see. At least South Carolina looked good.
And with that, September's games are in the books! Next month, well… you already know. The good thing is that all of next month, beginning next week: WE GET SPOOPY (context). Don't forget to hit up Blaise D'Sylva for all of your helmet needs, and I'll see you next week!
• • •
Thanks, TJ! OK, onto the rest of the SMUW fixings…
Memal's 5 & 1
Following in the footsteps of the original "5 & 1," Jim Vilk, Catherine Ryan after him, and finally Joe Ringham, for 2019 we have a new "5 & 1" (five good looking and one stinker) uni-vs-uni matchups — Michael "Memal" Malinowski. Like Joe, Catherine & Jim, Memal will pick HIS 5 best looking/1 awful matchup, and occasionally have some honorable mentions (both good and bad). You may agree and you may disagree — these are, after all, just opinions and everyone has one. Feel free to let him know what you think in the comments section.
Here's Memal
• • •
It was a tough week, but there were a few stand out uni-matchups that I enjoyed discovering as I browsed the wide world of college football this weekend. Some great looking intre-conference matchups made this list giving us a hint of greater match ups to come.
++++++++++++++++++
5. Indiana @ Michigan State

I'm a big fan of when teams keep their looks close to their standard looks and the Spartan's white/green/white against the Hoosier's crimson/white/white was a simple, hard fought Big Ten looking matchup, the kind college football is made of. I enjoyed watching it!
++++++++++++++++++
4. Texas A&M vs. Arkansas

Once again, another matchup between two teams wearing their standard looks. As big as a fan of contrast as I am, sometimes two teams with colors that aren't far apart play each other and it's a great game to watch such as this was!
++++++++++++++++++
3. USC @ Washington

But a game with contrast is sweet! Sure, the great difference was the purple and red and shades of gold, but this big early seasons PAC 12 contest was exciting and looked fantastic!
++++++++++++++++++
2. Holy Cross @ Syracuse

I grew up watching Donovan McNabb play for Syracuse, and seeing the Orange Men's football look closer to those uniforms hit a chord with me that feels familiar and right. This takes a high spot because of that and because I enjoyed the simple look of Holy Cross's uniforms and their interlocking "HC" logo.
++++++++++++++++++
1. NC State @ Florida State

For the top spot, I'm going back to another matchup without a lot of contrast, two teams with a lot of red faced off in Tallahassee in a big, early ACC clash and it looked fantastic. NC State looked great in red/white/red with the wolf in the sailor cap logo against the Seminole's traditional gold/garnet/gold uniform.
++++++++++++++++++
And because someone has to the be the sacrificial lamb…
&1 Penn State @ Maryland

Who is Maryland? They want to be Oregon, but the closest they come is changing their look way too often. Penn State's away jerseys aren't anything to write home about, but this makes the bottom of the list because Maryland's look just made me shake my head so violently.
++++++++++++++++++
• • •
Thanks Memal! You can follow Memal on the Twitter and let him know what you think of his choices or make a 5 & 1 suggestion of your own!
NCAA Uni Tracking
Uni Watch will again track the uniform combinations worn by the "Power 5" conferences. All of the 2018 trackers are back!
We've got Rex Henry (tracking the ACC), Dennis Bolt (tracking the PAC-12), Kyle Acker (tracking the Big XII), and Ethan Dimitroff (tracking the B1G AND the SEC). Rex, Dennis, and Kyle and are all returning from 2015, and Ethan is back after joining the NCAA Uni Tracking a couple seasons ago. Ethan continues his dual role of tracking both the B1G and the SEC.
Here are the Uni Trackers for the Power 5 Conferences:
+ + + + + + + + + +
Rex is up first today (ACC):
• • •
ACC

More Here.
Follow Rex on Twitter here.
And (new for 2019!) — check out Rex' Weekly Update.
• • •
And now, here's Dennis with the PAC-12:
PAC-12

More here.
Follow Dennis on Twitter here.
• • •
And here is Ethan, with the SEC:
SEC

And be sure to check out Ethan's WVU Mountaineer Tracker.
Follow Ethan on Twitter here.
• • •
And here is Kyle with the Big XII:
Big XII

Follow Kyle on Twitter here.
• • •
And here's Ethan with the B1G:
B1G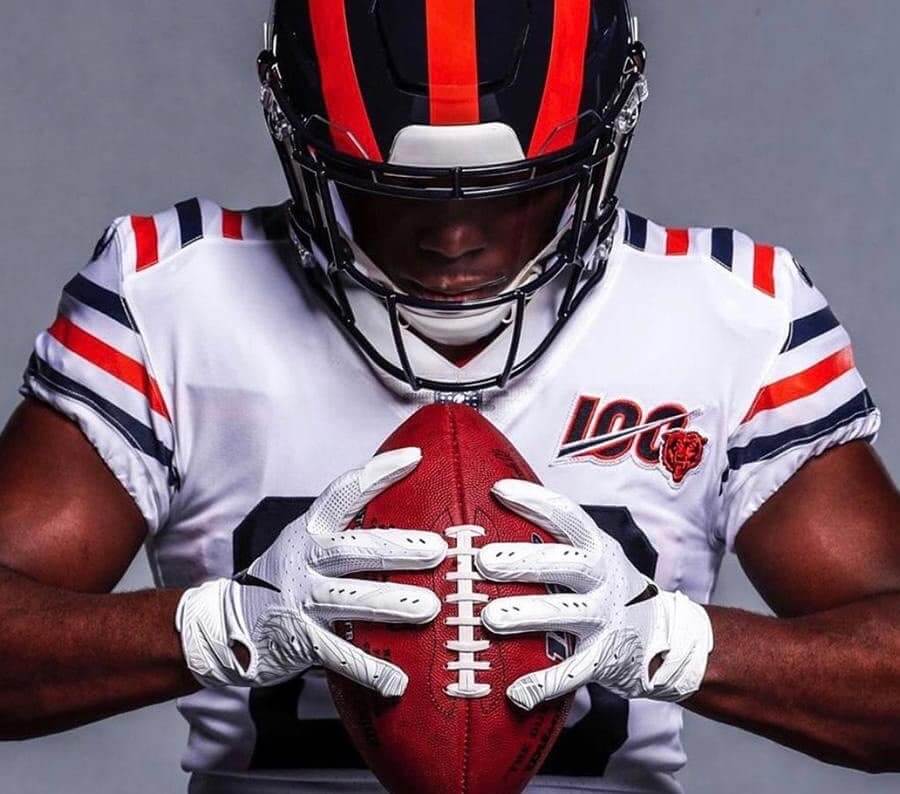 And now a few words from Paul: Hi there. In case you missed it on Friday, I have a new SI piece about the remarkable video statement that the Bears released regarding their 1936 throwbacks, and how it could usher in a new phase of social awareness regarding throwback uniforms. You can check it out here.
Meanwhile:
• Patch reminder: You can now get a Uni Watch 20th-anniversary patch for only $3.99 — or you can get one for free if you order a Uni Watch membership card or a Uni Watch gumball helmet.
• Speaking of which: I have a very limited supply of the gumball helmets. They're available here. (If you are somehow unaware of these items, here's how they came to be.)
• Meanwhile, don't forget our mini-helmets (which can be autographed by Phil and/or myself) and all our other fine products, sales of which help support the site.
Thanks for listening. Handing the baton back to Phil now.
Uni Watch News Ticker
By Phil

Baseball News: As the Astros prepare for another post-season, Ignacio Salazar thinks this is a pretty cool jersey transition for Justin Verlander as he joins the 3,000 strike out club. … We can never have too many photos of Reggie Jackson looking great in an A's uni, can we? (from Old Time Hardball). … Check out these "Thank You Boch" caps in the SF Giants team store (I wonder if they're all size 8​1⁄8). From Sons of Johnny Lemaster.

NFL News: With the Atlanta Falcons set to wear their throw faux back uniforms this weekend against the Tennessee Titans, this article takes a look at the history of the Falcons uniforms through the years. … Russ thinks this is the worst Texans logo you'll ever see. … With da Bears set to wear their 1936 throwbacks, today will also mark the first time ever the Vikings will wear purple in Chicago (from Brinke).

College/High School Football News: "The Uniontown (OH) Lake High School Blue Streaks (yes, blue) went BFBS (Friday) night against Massillon Jackson," writes Tom Pachuta. "Here's also a picture of their normal uniforms." … "How about Garth Brooks playing football in high school?" asks Max Weintraub. They used this picture of Garth Brooks in episode 8 of Ken Burns's Country Music documentary. … Y'all know the history and deal behind Ohio State's pot leaf Buckeye leaf pride stickers, right? Here's a pretty good little summary. … Continuing his awesome CFB helmet history, Blaise D'Sylva (completely uncoincidentally with the article immediately preceding this) presents THE Ohio State University.

Hockey News: The following items all come from Wade Heidt. 1) "We had seen the new dark jerseys for the Rockets during the CHL-wide unveil of the new CCM Quicklite jerseys. The new white uniforms for the Kelowna Rockets debuted on the road in Kamloops on Friday night. Upgrade from the old ones. More black trim in these jerseys compared to the old white jerseys."; 2) The Rimouski Oceanic put Sidney Crosby's number in the rafters on Friday night. It was also announced that the QMJHL is retiring his #87 leaguewide starting in 2020-21. During warmups, the Oceanic players all wore the team jersey design from the days when Crosby played for the team. All the jerseys had #87 and Crosby on the back. Quick trivia question: Why does Sidney Crosby wear "87"? — PH; 3) Looks like Henrik Lundqvist has a new mask; and 4) Another new NHL goalie mask. This one for Nashville Preds' Pekka Rinne. Thanks Wade!


NBA/College/High School Hoops News: Whoa. Check out the uniforms of the 1962-63 Boone Valley HS (IA) girls basketball team. From Brad Eenhuis. Not only are the diamond shapes of the jerseys pretty cool, but I love the tiled stripes on the warmups! … As was mentioned in yesterday's ticker, the Suns unveiled a very orange alternate, so Conrad Burry immediately attempted to improve upon that. … Check out the wall in the back, the Cavs incorporated the floor used from 2014-2016 including the Championship season, into a display with the Larry O'Brien Trophy as part of the renovations at RocketMortgage Fieldhouse. Formerly Quicken Loans/Gund Arena (from @Believeland1995). … The University of Hawai'i has a new court design for "The Stan" (from Charles George).

Soccer News: From Josh Hinton, Arsenal 2020 Prematch shirt has leaked, and also, West Ham Women released a breast cancer awareness shirt, to be worn in October. For all your soccer needs, be sure to check Josh's twitter account.

Grab Bag: The following might only be of interest to Brinke and me, but how much do tennis ball(persons) get paid? is a pretty interesting read. … Michael Alper writes, "Interesting to see a @Nike (Jack Sock) athlete note he's wearing Adidas gear (albeit football, not tennis)."