Paul here, taking a rare August turn in the lede spot, because my debut column on the Sports Illustrated website is being published today. I wrote several freelance pieces for them earlier this year, but this is my first piece as a newly minted SI staff writer, so I wanted to introduce myself to my new audience, explain a few things, provide some context, and so on. You can check it out here. (If you somehow missed the news that I've joined SI, look here.)
I've mentioned this before, but it bears repeating: It's a genuine thrill to write for SI. I couldn't afford a subscription when I was a little kid, so I'd read it at our local library. Considering Uni Watch's rather humble beginnings, it's pretty amazing that I've gotten to write for the two major sports media enterprises of my lifetime — ESPN and SI.
While we're at it:
1. Combo deal reminder: In case you missed it yesterday, I'm offering a discounted-price combo deal on the Uni Watch Lapel Pin and the Uni Watch 20th-Anniversary Patch. Full details here.
2. Raffle reminder: As I mentioned yesterday, the folks at our longtime advertiser Vintage Brand are generously running another raffle. The lucky winner will get to choose any product from the VB website.
To enter this raffle, send an email to the raffle address by 7pm Eastern this Thursday, Aug. 15. One entry per person. Phil will announce the winner on Friday.
Also: Vintage Brand is currently giving away a $100 gift card every day to a random person on their mailing list. To sign up for their list and be eligible for this daily giveaway, look here.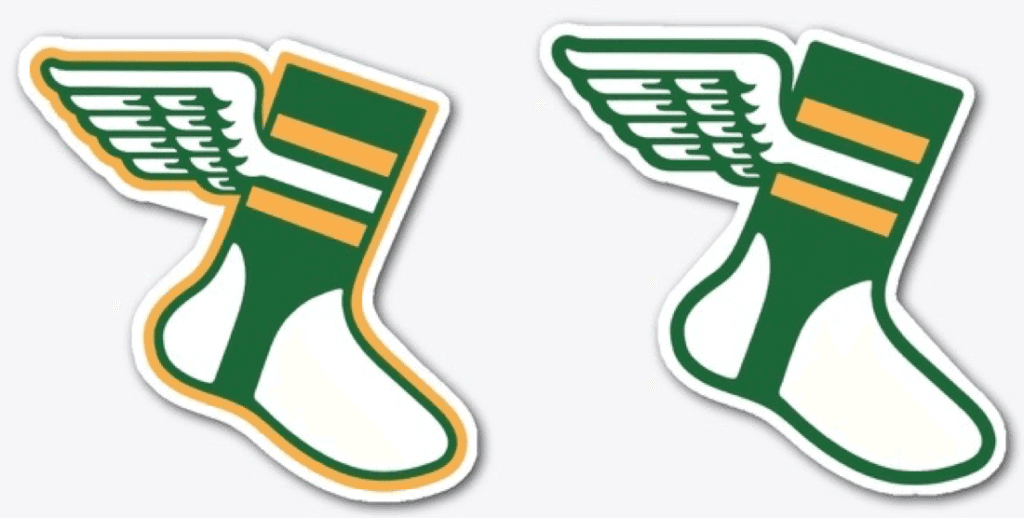 3. NEW stickers available: I don't know why I didn't do this sooner, but you can now get our winged stirrup logo as a high-quality die-cut vinyl sticker. Two versions of the design are available — one with a gold outline and one without the outline. Both are fully suitable for plastering on your laptop, your car window, your cat, or wherever. Enjoy!
4. Should we do a new mini-helmet? Yesterday I mentioned how the folks at Riddell had showcased their new 3D-printed interior padding by making me a new Uni Watch football helmet. Some folks have asked if I'll be making that design available as a mini-helmet, like we did two years ago with the previous helmet that Riddell made for me. I'm willing to do another mini if there's enough interest, but the two helmet designs are fairly similar (at least to the extent that they both have a white shell and a green facemask), so I'm wondering if people would really interested in another mini. If you think you'd order one, please let me know, so I can gauge how much interest there is. Thanks!
Okay, that's it for today. I'm not reading the comments this month, so if you have any questions about any of this, don't bother posting it as a comment — I won't see it. Instead, feel free to email me. Thanks!
Now here's Phil with the rest of today's content.
Collector's Corner
By Brinke Guthrie
Follow @brinkeguthrie
As you might know, I live in the SF Bay Area. In the East Bay where my wife and I live, we don't get much in the way of fog. But in The City (where I work), we get quite a bit of it. Did you know that the San Francisco fog has a name? It does; the fog's name is Karl. (Here's how Karl got his name.) Karl has his own Twitter account, too.) Anyway- Karl had his own Giants giveaway this past weekend; these Karl snow globes (or, "fog globes" if you prefer) were given out last Saturday. They include the Oracle Park scoreboard as well as the Golden Gate Bridge!
Now for the rest of the week:
——————–
• Remember that great Pittsburgh Pirates 1970s logo? (So much better than the one they use now IMO.) Here he is on a Pirates beer stein with gold trim.If you score games when you visit your local ballpark, take one of these 1970s MLB pens or pencils with you. The Twins, Phils, Indians and White Sox among those included.
• Here's a classic looking 49ers coaches sweater from Cliff Engle.
• One more for the Niners- take this 1960-1970s foil picnic blanket to Candlestick Park. Whoops, they tore that down. I mean Levi's® Stadium.
• Nothing says 1970s "Sears NFL" quite like this zip up Baltimore Colts sweater offered in a "youth women" size.
• Staying with Sears, check out this "Electronic Touchdown" handheld NFL football game; certainly state-of-the-art at the time.
• Here's a box of 15 1970s NHL plastic practice pucks in the original box.
• Got some vintage Orange Crush action right here with this 1970s Lyle Alzado #77 Broncos jersey from Rawlings.
• We're about three weeks away from the start of the NFL season- this 1970s thermal cup is the perfect thing to keep your favorite game beverage cold.
• Here's a set of three 1970s glossy NFL team medallions. You get them for the Jets, Giants and Vikings, and the Vikes is a belt buckle.
Got an item to include on Collector's Corner? Send any submissions to uniwatchcollectorscorner@gmail.com!
Gene Sanny Strikes Again
Weekend readers especially know I will occasionally feature the art and artistry of reader Gene Sanny, and he's got an amazing couple today. Here's Gene. Dig:
With it being the 100 year anniversary this year, I thought I'd do a drawing of year one. Thanks to the Gridiron Uniform Database I was able to show something you don't usually get to see, all those original teams together in color. 2 of these teams are still with us today: Racine (Arizona Cardinals) and Decatur (Chicago Bears).
I attached the final standings too if you're interested.
And just for good measure, one more:
Here's another… I find it fun to make kinda whacky proportions, and then try to color it like it's real. On this one It was cool watching the helmet go from a flat pencil drawing to looking like it had a real round quality.
Gene Sanny
Thanks, Gene — incredible as always!
Guess The Game…
from the scoreboard
The game has returned! At least for a trial basis, but I got a lot of positive response to its return, so we'll see how long we keep this one going.
Today's scoreboard comes from reader "ojai67".
The premise of the game (GTGFTS) is simple: I'll post a scoreboard and you guys simply identify the game depicted. In the past, I don't know if I've ever completely stumped you (some are easier than others).
Even though this one's got a small watermark (and the photo is from the great Hy Peskin!), it shouldn't pose any difficulties in solving it. Looks like the last out of the 9th has just been recorded.
Here's the Scoreboard. In the comments below, try to identify the game (date & location, as well as final score). If anything noteworthy occurred during the game, please add that in (and if you were AT the game, well bonus points for you!):
If you guys like this, please continue sending these in! You're welcome to send me any scoreboard photos (with answers please), and I'll keep running them.
The Ticker
By Anthony Emerson

Baseball News: The Lehigh Valley IronPigs, Triple-A affiliates of the Phillies, are having a promotional night as the "IronPugs," inspired by a typo. I and U are next to each other on a QWERTY keyboard (from Nicklaus Wallmeyer). … The Elizabethton Twins, rookie-league affiliates of the — you guessed it — Twins, wore snow white jerseys with pinstriped cream pants for last night's game. Nicholas Badders writes "They don't have white pants. I'm told it was starting pitcher Andriu Marin's choice to wear the white jerseys."

NFL News: Pats QB Tom Brady "doesn't love" the fact he has to wear a new helmet this year rather than his trademark Riddell VSR-4 (from Mike Chamernik). … In related news, Raiders wideout Antonio Brown's grievance to wear his Schutt AiR Advantage was denied. Unsurprisingly, he's not retiring, as he threatened (from @Zanerzas). … The Chiefs lawyers might want to give the guy who owns Chief Logistics a call (from Emilio Vialpondo). … The Rams have released their uni schedule (thanks, Phil).

College/High School Football News: Virginia has players choose their uniform numbers in groups, with the order in which they do so determined by team captains. Here's the first group of 36 players (thanks, Jamie). … Tennessee State has switched from Adidas to Nike (from Chad Fields). … Arkansas State is also switching to Nike, from Russell Athletic (from Brock Brames). … White replica jerseys with green numbers are on sale for Oregon (from @a_dub503). … Notre Dame will be introducing something new today (as will a bunch of UA schools, a little birdie tells me, including SCar — PH).

Hockey News: The Panthers will retire G Roberto Luongo's no. 1 on March 7, 2020 (from multiple readers). … The Oilers' new third sweater has leaked (from Nicklaus Wallmeyer). … A few days old, but Islanders G Robin Lehner won the Masterton Trophy last season. He received it the other day, inscribed with "Robin Lehner, New York Rangers" (from Mike Chamernik). … The OHL's London Knights have gotten themselves a new logo (from Jason Greenberg and Wade Heidt).

NBA News: The Sixers have changed their shorts logo from the roundel to just the "76ers" mark — an improvement, in my opinion (from Josh Bradford). … The Blazers' "throwback" court includes the modern Rose Garden* logo. For shame, Portland (from @ManzellBeezy).

Soccer News: The Premier League kicked off last Friday and Arsenal have already played their first match, but the Gunners still only released their third kit yesterday (from Josh Hinton). … Also from Josh: Napoli have been forced to change their kit numbers and NOBs from a kind of grey to white because the grey blended with the sky blue kits too much. You can catch the rest of Josh's contribution on his Twitter page. … Gorgeous new third kit for Genoa (from Ed Żelaski). … A player on Portuguese team Moreirense needed three people to help him get into his jersey in the dugout (from @mikeDfromCT). … Many coaches in soccer have initials printed on their gear, but Aston Villa assistant manager Richard O'Kelly has "RO'K" as his initials on his gear. First time I've ever seen that particular initialization. I did a brief Google Image search of famous manager Martin O'Neill to see if he ever got that treatment, and couldn't find any evidence that he did. Anyone know if soccer coaches with an "O'Whatever" surname get this initialization on their gear? (from Alex Rawden). … New kits for UCLA women, including a centennial patch on the back, which is odd (from Chris Cruz).

Grab Bag: Nike is offering a sneaker subscription service for kids (thanks, Alex). … A subway station undergoing a rebuild in Washington, D.C., is having new identifying pylons replaced because the contractors mixed up which version of Helvetica was used by the WMATA (from @OlegKvasha). … You ever wonder why recreational vehicle designs are filled with swirls and swooshes? Here's your answer (from James Gilbert). … Northern Kentucky is printing ID cards for incoming students with the old athletic logo (from Chad Hensley). … Payson (AZ) High has changed its logo after a request by UT. The logo was just a purple version of the Longhorns' logo (from Alex Manners).