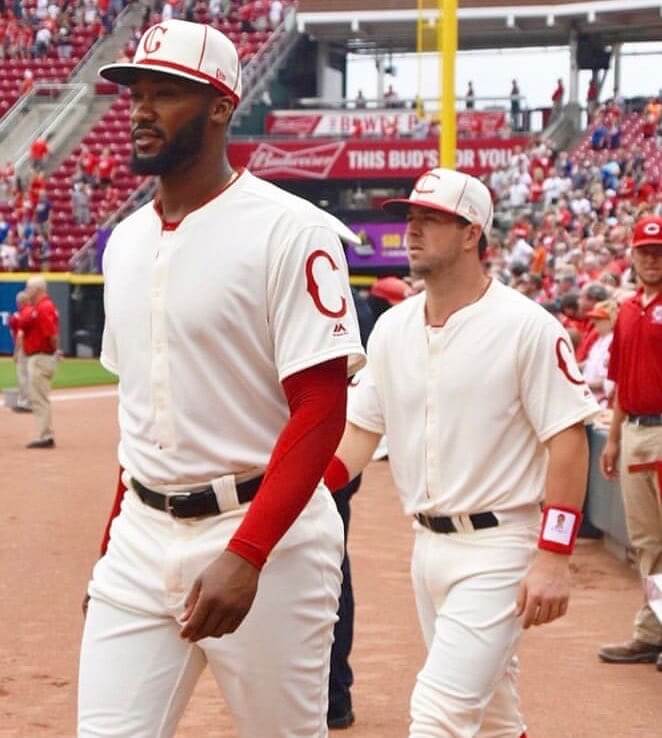 The Reds played the third of their 15 throwback games yesterday, turning back the clock to 1912. As you can see above, this uniform had a minimalist design, with nothing on the front of the jersey (although the cadet collar, which I really like, adds a bit of visual interest). The original 1912 version was even more minimalist, because uniform numbers hadn't yet been invented, so the jerseys were blank on both the front and back. But that wasn't the case yesterday, as the Reds used an old-timey number font: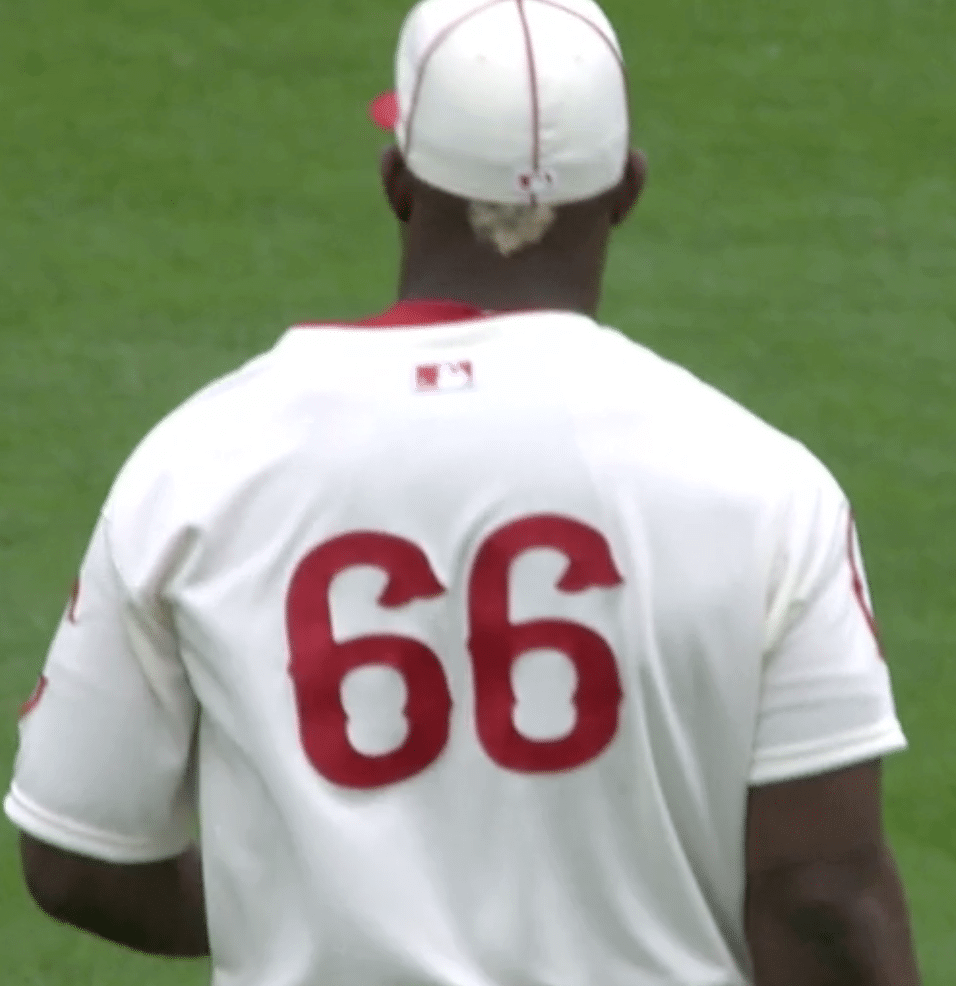 I really liked this one — no-frills, sure, but handsome.
A few other notes from yesterday's game:
• If you look again at the header photo, you can see that the two caps don't match. That's because pitcher Amir Garrett, on the left, mistakenly wore the cap from the 1902 throwbacks, which the Reds wore on May 4. Garrett didn't appear in yesterday's game, so it didn't really matter.
This jersey, like the Reds' two previous throwbacks, was a henley pullover, not a full button-front:
• Another weird thing about this jersey is that it had matching left and right sleeve emblems: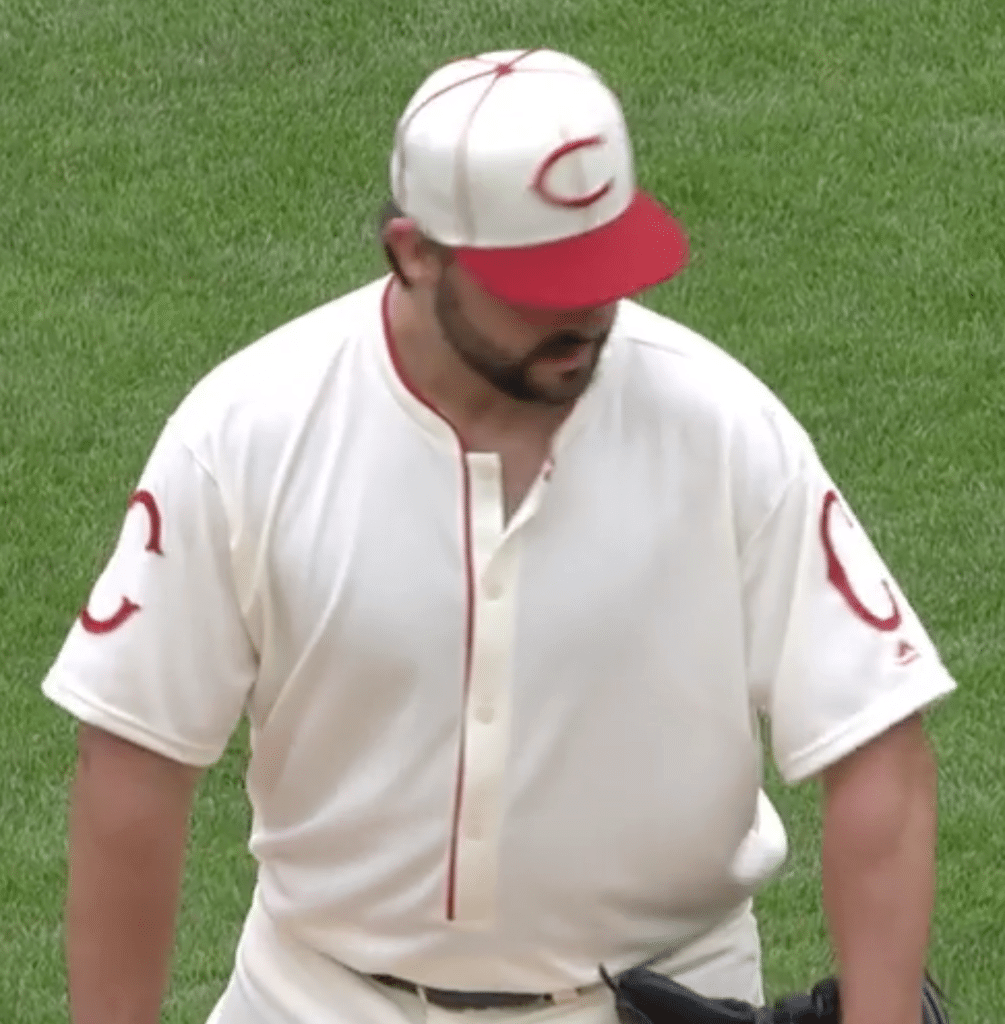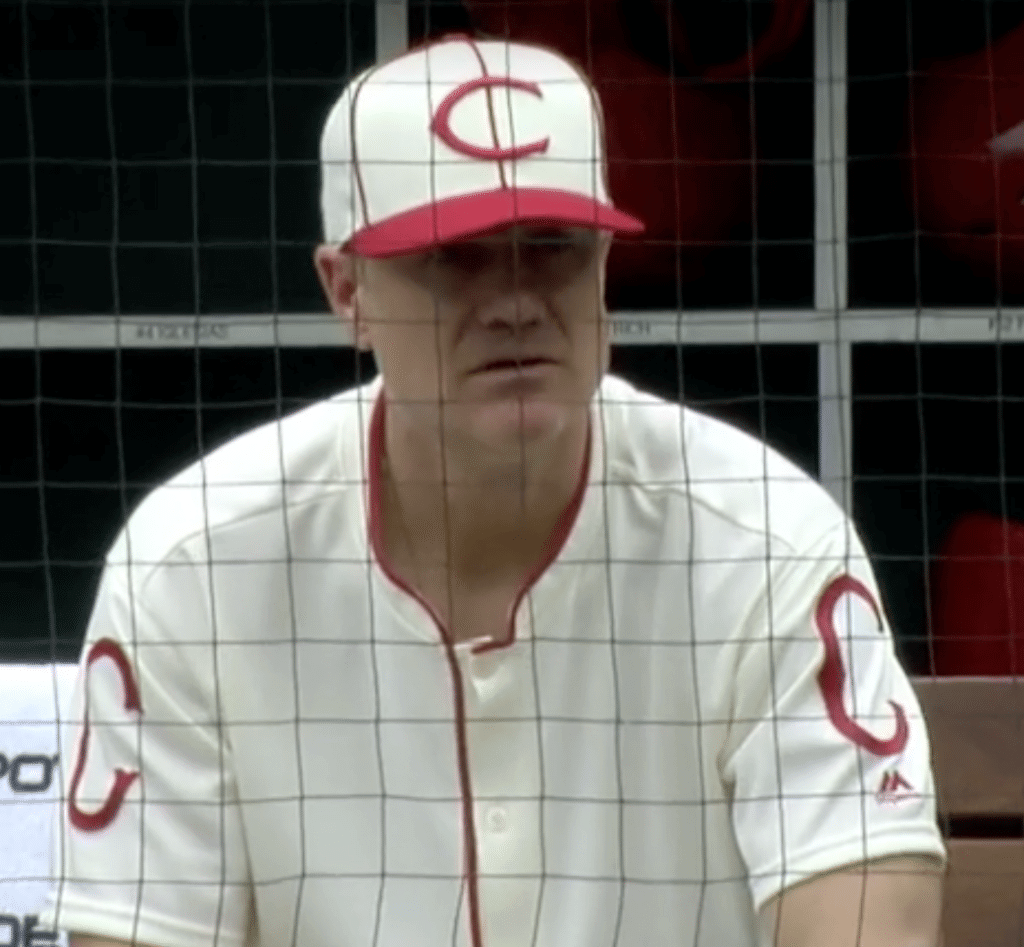 That's pretty rare. I know there have been a few other examples, but I couldn't think of any off the top of my head, and it's not an easy thing to research on Dressed to the Nines because the mock-up template doesn't show the right sleeve, so I asked uni designer/historian Todd Radom, who said, "That was a Washington Senators hallmark for many years, long after anyone else still did it. Dodgers and Pirates did this too, I believe." Sure enough, here are some Sens examples from the 1920s and '30s. I haven't had time to look for the Dodgers and Pirates examples that Todd was referring to. Anyone..? (Update: Todd just sent me examples of the early-1930s Dodgers and the late-1920s Pirates.)
• The good news is that most players wore stirrups; the bad news is that the stirrups' foot openings were much too large, resulting in an era-inappropriate amount of white showing through (click to enlarge):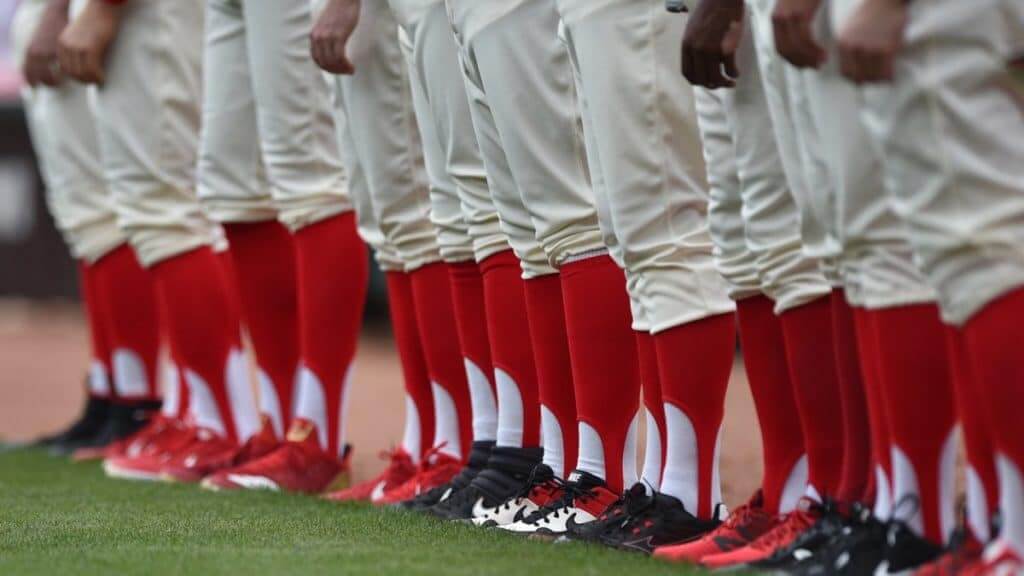 • The worst news is that shortstop Jose Iglesias wore some absolutely brutal two-in-ones that should never have been allowed on the field for a throwback game (or, really, for any game, but especially yesterday; click to enlarge):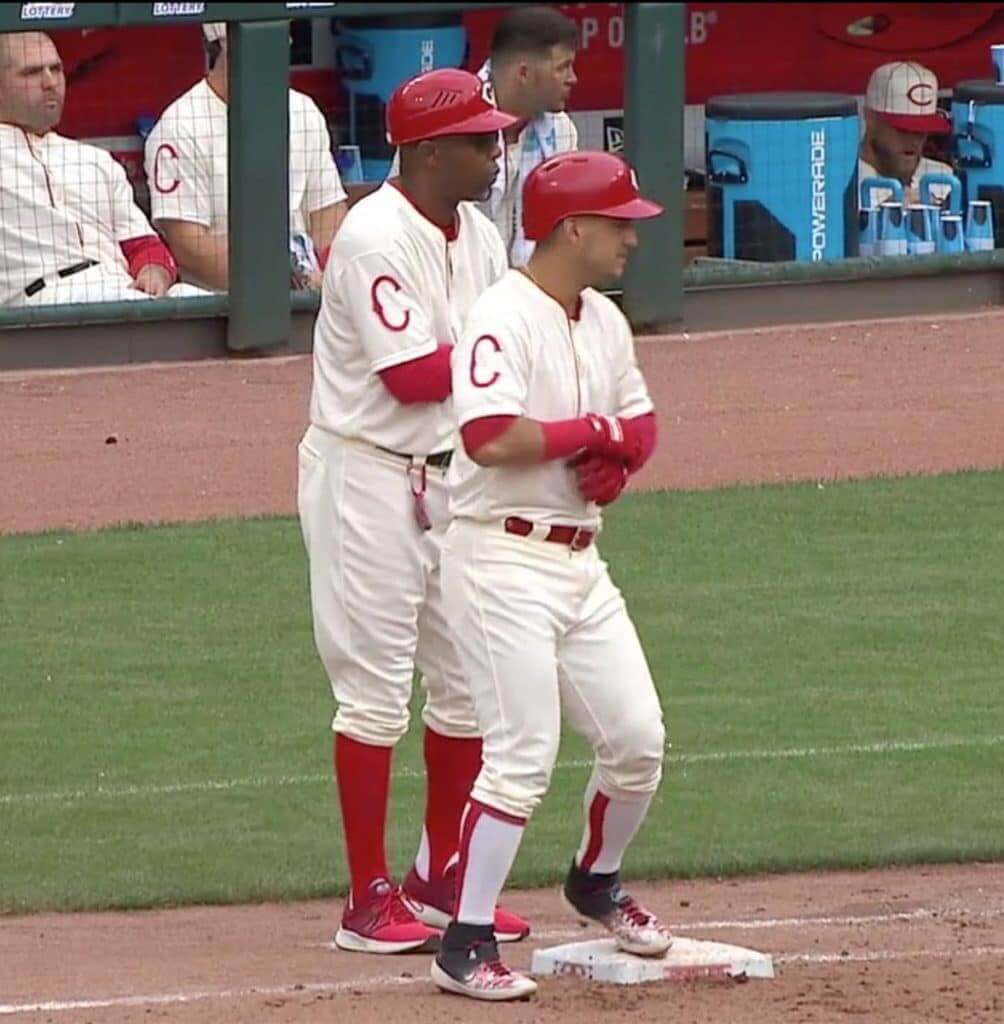 • While everyone else wore the godawful G.I. Joke caps yesterday, the Reds avoided that nonsense by wearing their throwbacks — brilliant! Looking ahead, they'll catch a similar break on July 6, when they'll be wearing their 1939 throwbacks while everyone else will be stuck wearing the flag-desecration caps for Independence Day Independence Four-Day Festival. So the Reds have shown how to game MLB's holiday-creep merch-dump system: Just schedule a throwback game — problem solved!
Next up: The Reds will wear 1919 World Series throwbacks — including pinstriped caps, complete with pinstriped brims — on Sunday, June 2.
(My thanks to Hunter Childress, Jakob Fox, Steve Polce, and our own Alex Hider for their contributions to this section.)
• • • • •
• • • • •
Click to enlarge
Entertainingly confusing situation in the making: Interesting development yesterday in Detroit, where the A's/Tigers game was suspended due to rain after seven innings. It was later announced that the game will be resumed on Sept. 6 — but in Oakland, where the two teams already have a game scheduled for that date. They'll finish the suspended game first, and then play the regular game. So for the resumption of the suspended game, the Tigers will be the "home" team (i.e., batting last) and the A's will be the "road" team, even though the remainder of the game will be taking place in Oakland.
Now, it's possible that the Tigers will pack their home unis for that September road trip, and that they'll suit up in their home unis for the resumption of the suspended game and then switch to their road unis for the regularly scheduled game. But I think it's much more likely that they'll just wear their road unis for both games (especially since there are only two innings to go in the suspended game), which means the Tigers will be wearing their road design as the home team, with the A's doing the opposite. Crazy! I've asked both teams for clarification and will report back if I get more info from them.
Whichever uniforms the teams wear, I'm assuming they won't wear the G.I. Joke caps for the resumption of the suspended game. So there you go, another way to avoid the holiday nonsense: Get rained out, problem solved!
• • • • •
• • • • •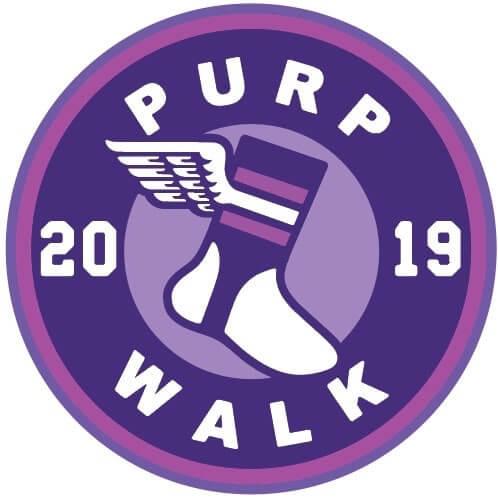 ITEM! Purp Walk recap: Purple Amnesty Day, which took place on Friday, was a hoot. We got 45 membership orders (an all-time record) and sold nearly 100 of the spectacularly hideous purple sunrise shirts. Fun!
But the most interesting thing was the way people started posting their favorite purple uniforms over on Twitter. This seemed to happen pretty organically, without any help from me, and it was really fun to see. For next year's Purp Walk post, I'll post a ranking of my own favorite purple uniforms (yes, I do have some!), instead of just trotting out my boilerplate explanation for why I dislike purple.
The funniest moment of the day came when the Evansville athletics department, whose teams are called the Purple Aces, posted this: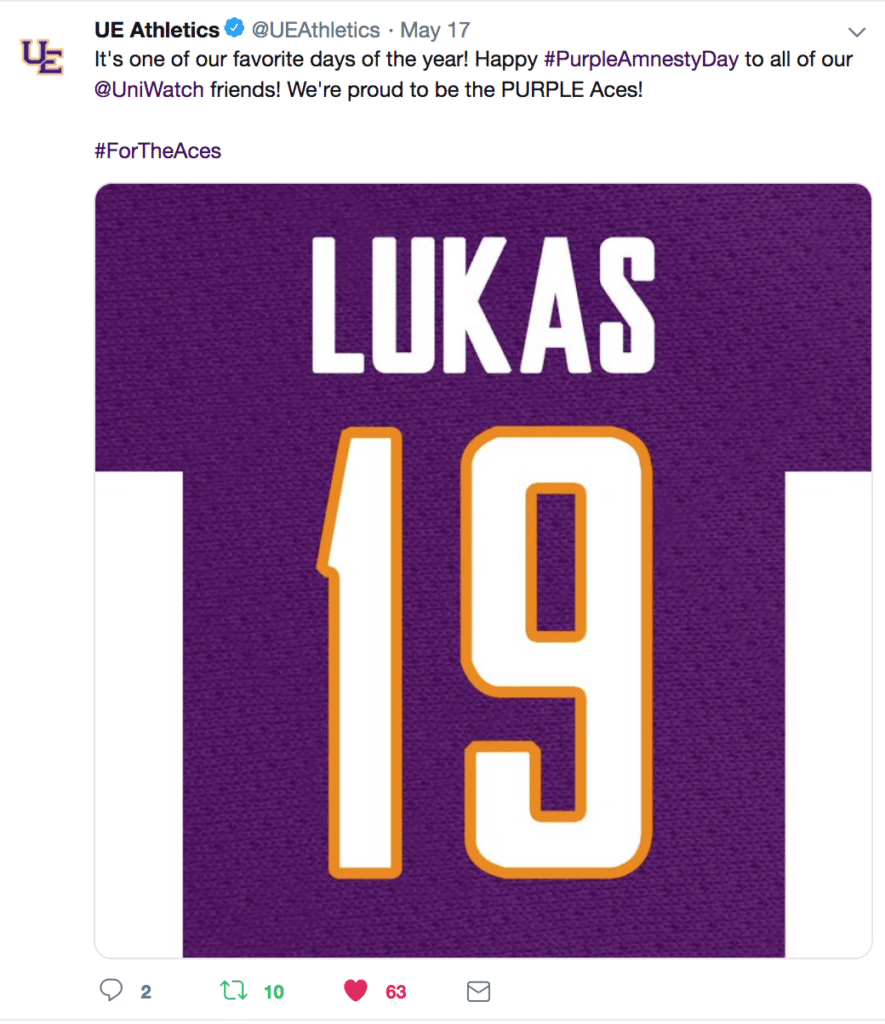 So cool. Thanks, guys, and thanks to everyone else for a very enjoyable 2019 Purp Walk!
• • • • •
• • • • •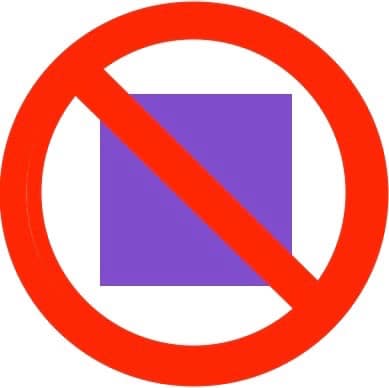 And speaking of purple…: I'm not the only one who's professionally opposed to the world's most accursed color. I got a note over the weekend from reader John Harvatine, who runs an animation shop in Los Angeles, as follows:
I'm lucky enough to direct the stop-motion Goldfish commercials for a wonderful client who's so much fun to work with. My job on those spots is to make these already good-looking crackers look even better, which I achieve through story, design, and color. All the colors of the rainbow help paint the picture in these spots — except purple. Purple has no place for the hero of the story, and only works, sparingly, for bad guys or things you shouldn't trust. So the subtle Easter egg in these spots is purple, or the lack thereof.

Thanks again for promoting purple on only one day of the year, and honestly even that seems a bit much.
Ha! To see what John means regarding his Goldfish work, here's a spot where three of the Goldfish are wearing colored winter hats — green, pink, and blue, but no purple:
You can see more of John's Goldfish commercials here.
• • • • •
• • • • •
Click to enlarge
Membership update: It's always fun to meet Uni Watch readers "in the wild," and even more fun when they're card-carrying members. That's what happened on Saturday afternoon, when I was out at an event in Queens (more on that at the end of today's post) and a guy approached me and asked, "Are you Paul Lukas?" It was reader Garrett Kramer, who promptly reached into his wallet and produced his card (based on the Nets' black uniform) to prove that he Gets It™.
If you want to be like Garrett, ordering a membership card is a good way to support Uni Watch (which, quite frankly, could use your support these days). And remember, a Uni Watch membership card entitles you to a 15% discount on any of the merchandise in our Teespring shop and our Naming Wrongs shop. (If you're an existing member and would like to have the discount code, email me.) As always, you can sign up for your own custom-designed card here, you can see all the cards we've designed so far here, and you can see how we produce the cards here.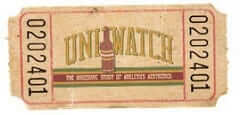 And speaking of memberships, today I'm raffling off two complimentary membership cards that were purchased and donated by longtime reader Jay Palmer. Thanks, Jay!
I'll pick two separate winners for this one. To enter, send an email to the raffle address by 8pm Eastern tonight. I'll announce the winners tomorrow.
I have several more reader-sponsored raffles in the pipeline, along with a reader-sponsored auction. I very much appreciate all the generous people who've chosen to support Uni Watch in this way (thank you!), but for now let's please hold off on more of these until I can work my way through the raffle backlog, okay? I'll let you know when I'm ready for more raffle donations. Thanks!
• • • • •
• • • • •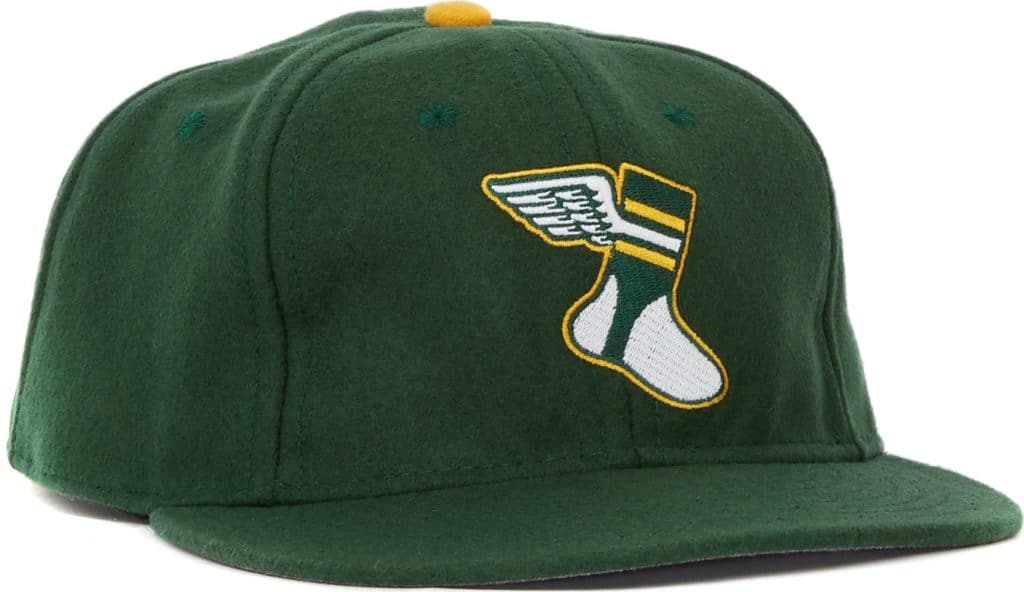 ITEM! Cap update: After a brief period when we were sold out of two sizes, I'm happy to report that all fitted sizes of the Uni Watch Classic Cap are once again back in stock and available for ordering.
We also have adjustable caps with a handsome leather strap and burnished metal buckle, but we only have one of those available at the moment. So if you want an adjustable, grab it fast! (We should have new inventory on the adjustables by mid-June.)
(My continued thanks to reader Mark LaFountain for serving as Uni Watch's cap fulfillment manager, an arrangement that's worked out ridiculously well.)
• • • • •
• • • • •
Click to enlarge
ITEM! Collection Agency update: What you see above is a very small portion of a collection of baseball-themed postage stamps from around the world. That collection is one of many, many collections (most of them not sports-themed) owned by an extremely interesting guy named Mitch Blank, who lives in Manhattan. He's one of the world's foremost collectors of Bob Dylan memorabilia, but that's actually the least interesting thing about his collecting habits. I've written a profile of him and his collections for Gothamist. I really, really enjoyed getting to know Mitch and writing about him, and I'm very happy with how this piece turned out, so I hope you'll check it out.
As you may recall, earlier this spring I wrote for Gothamist about a guy who collects vintage police mug shots, so this new piece is the next article in that series (which I'm continuing to call "Collection Agency," even though Gothamist hasn't yet adopted that rubric). I'll be doing more of these, so if you live in the NYC area and have an interesting collection, or if you know of such a person, Collection Agency would like to hear from you. Thanks.
• • • • •
• • • • •
The Ticker
By Jamie Rathjen

Baseball News: The White Sox wore their 1983 throwbacks this weekend, but still wore their Armed Forces Day Weekend caps. The difference between their situation and the Reds' appears to be that the Reds' throwbacks were a one-off, while the Sox's throwbacks are their usual Sunday home uni (from Matt Linder). … Both starting pitchers in yesterday's Nationals/Cubs game, Jeremy Hellickson and Kyle Hendricks, had belt problems (from Mike Davidson). … The Nats' racing presidents were replaced with members of the ESPN broadcast crew (from William F. Yurasko). … Dodgers OF Joc Pederson was wearing two pairs of sunglasses on Saturday (from Max Wagner). … The next two are from Mike Chamernik: Braves players created an impromptu shrine to OF Ronald Acuña Jr.'s broken bat. … Dodgers 3B Justin Turner ran into a baserunner and had his glove fall off while he was trying to make a catch. … Paul Friedmann happened upon a vintage 1880s-style base ball game in his neighborhood in Boston. … Alabama softball players apparently wear the SEC graduate patch over the number on the back — a very odd placement (from Griffin Smith). … Two Single-A teams, the Bowling Green (Ky.) Hot Rods and the Lake County (Ohio) Captains, both emerged wearing blue yesterday, so Bowling Green changed to orange (from Joe Brand). … Another Single-A team, the Clinton (Iowa) LumberKings, wore local fire department-themed jerseys with the NOB of a firefighter who was killed while responding to a fire in January (from @istudytrees). .. The Orix Buffaloes wore 1990s throwbacks over the weekend.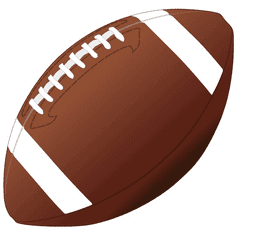 Football News: Eagles DE Chris Long announced his retirement this weekend. Sam McKinley points out that Long won the Walter Payton Man of the Year award last season but will never wear the patch unless he unretires. … In yesterday's Ticker we had a sighting of a Chargers basketball jersey with RB Melvin Gordon's name/old No. 28 on it. Here's Gordon himself wearing it, although he wears No. 25 now and it's unclear when that picture is from (from Matt Shevin). … The Calgary Stampeders received their 2018 Grey Cup rings (from Wade Heidt). … Brazilian soccer club Atlético Mineiro (see below) has its own football team, who revealed uniforms for this season along with the soccer team.

Hockey News: The OHL's Erie Otters have new logos and uniforms (from Wade Heidt). … The QMJHL's Halifax Mooseheads are wearing the Memorial Cup patch below and to the side of the crest because they have a maker's mark and the QMJHL 50th-anniversary patch on the chest and a team 25th-anniversary patch on the shoulders (from Stephen Badger). … The photo of Bruins D Bobby Orr's flight through the air as he scored the Stanley Cup-winning goal in 1970 is legendary, but here's a picture of Orr afterwards wearing what Mike Malcinof says must be one of the first championship shirts.

Basketball News: Here are some Virginia uniform concepts, including orange alternates, which are now only worn by the women's team, but the men last wore something similar to the one shown in about 2011. Yes please to that and the throwback and hard pass on the BFBS (from my brother Nate Rathjen). … Reader Christopher Jones sent us some more college concepts that he made when he was a kid, and it appears he is raising a uni-watcher as well. … Great story: It took a Knicks fan 47 years to get all the members of the 1969-70 championship team to autograph a Knicks placemat that he got from IHOP as a kid. … Cross-listed from the football section: In yesterday's Ticker we had a sighting of a Chargers basketball jersey with RB Melvin Gordon's name/old No. 28 on it. Here's Gordon himself wearing it, although he wears No. 25 now and it's unclear when that picture is from (from Matt Shevin). … The WNBA's Dallas Wings have two players with hyphenated McNOBs, one that's double-decker and one that isn't (from @TheSkyShowCHI). … The Brunson League, a Baltimore summer pro-am league, has new uniforms for this season.

Soccer News: New kits for Italian team AC Milan (first), German 2. Bundesliga teams Dynamo Dresden (first) and Greuther Fürth (first) Austrian team Sturm Graz (first, second, third, and GK), and Brazilian team Atlético Mineiro (first, second, and third). … In Scotland, Hibernian midfielder Marvin Bartley entered yesterday's game without a front-of-shirt ad, but changed to a corrected shirt after about 15 minutes. … The NWSL's Washington Spirit have let me down by introducing an ad five games into the season. … A graphic designer in Brechin, Scotland, is attempting to illustrate every club stadium in the world. Some of his work is already used by several leagues in the country, including the top two women's tiers. … The Polish soccer season wrapped up yesterday. This graphic shows the shirts for all the title-winning sides in the 21st century (from Ed Zelaski).

Grab Bag: Officials in Major League Rugby, the North American rugby union competition, wear ads on their backs (from @bryanwdc). … For this year's 100th anniversary of the Tour de France's yellow jersey, there is to be a different version of the jersey for each stage (except the first) showing famous people or places from the Tour's history. … Let no surface go without a maker's mark: Players on Great Britain's field hockey teams now have team-specific mouthguards with a manufacturer's logo smack in the middle.
• • • • •
• • • • •
Click to enlarge

What Paul did last night on Saturday: St. Michael's Cemetery in Queens is the final resting place for a bunch of notable people (including Baseball Hall of Famer Cool Papa Bell's daughter), and arguably the most notable one of all is the great ragtime composer Scott Joplin, whose gravestone is shown above. The area near his grave is marked by a large maple leaf, because Joplin wrote "The Maple Leaf Rag." Every year the cemetery honors him by holding a free ragtime concert, which I've sometimes attended. This year's edition was on Saturday, which was also the nicest day of the year so far, so a bunch of friends and I decided to make a picnic out of it.
It was a great time, in part because of this elderly couple that was dancing through many of the numbers (the guy also had a cigar at one point, but someone made him put it out):
The concert lasted about two hours. When it was over, the band walked down from the bandstand and down a hill to Joplin's grave site, where they played an unamplified version of "Maple Leaf Rag." It was pretty perfect (click photo to enlarge):
Incidentally, this event is where card-carrying Uni Watch member Garrett Kramer approached me, as referenced earlier in today's entry, which just made the proceedings even nicer.