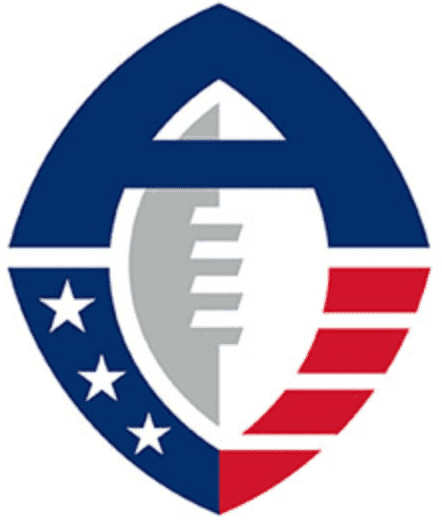 The Alliance of American Football, which is slated to begin play this February — and which is also slated, I'm fairly certain, to soon become the latest defunct league left in the NFL's wake — released its inaugural uniforms yesterday. We probably won't get to see these for very long, so let's take a good look while we can.
Before getting into the team-by-team breakdown, here are some general observations:
• The uniforms were designed by Starter, whose maker's mark appears on the jersey sleeves, not on the chest — NFL-style, not college-style.
• There are no advertising patches.
• Each of the eight teams released just one uniform design yesterday. Seven of those feature colored jerseys, while the other has a white jersey. It's not yet clear, at least to me, when — or if — additional uniforms will be revealed. (Update: I've now been told that the teams will only have one uniform apiece, so most games will be color vs. color.)
• Seven of the eight jerseys feature contrasting sleeves or yokes. Lots of contrasting collars, too. In short: The AAF is not big on solid-colored jerseys.
• Only one monochromatic uniform was released yesterday. The other seven feature contrasting jerseys and pants.
• The jerseys are completely devoid of chest wordmarks. No team logo patches, either — just numbers. For me, this is the single biggest surprise about these uniforms.
• While we're at it: No inaugural-season patches. (Update: The retail jerseys have a league-wide inaugural-season patch, so I guess they'll all wear that. Odd that they didn't include them in the unveiling images.)
• Four of the eight helmet designs feature TV numbers on one side, plus another has the uni number on the back.
• Aside from the one mono design, all of the uniforms feature contrasting socks (or leggings, or whatever).
Okay, enough preliminaries — let's have a look (for all images, you can click to enlarge):
Arizona Hotshots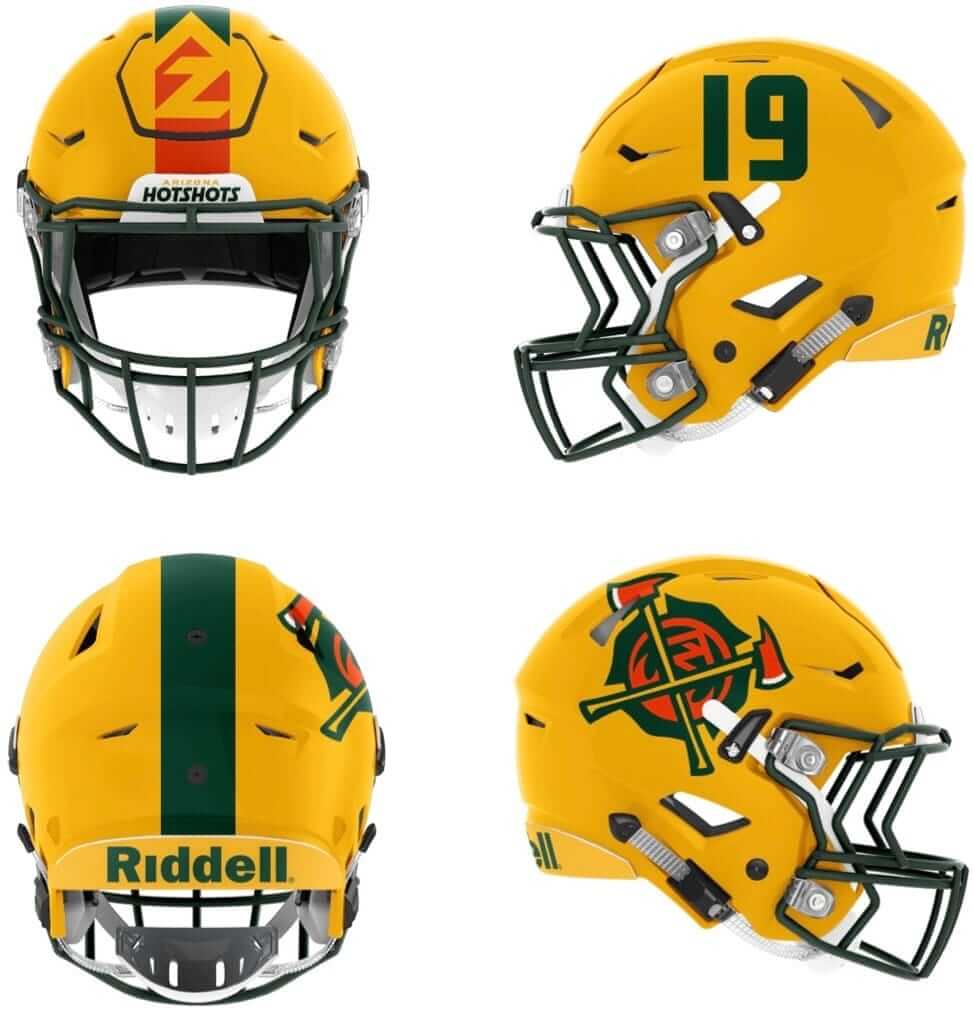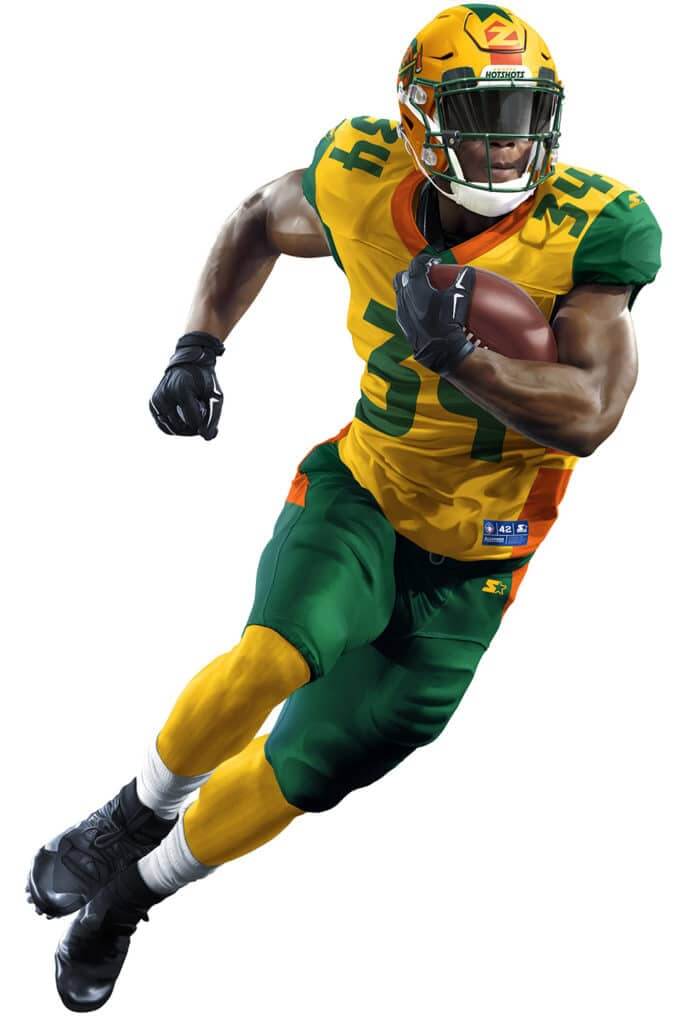 Quick thoughts: Love the color scheme, obviously. … Don't love how the colors are deployed, though. The bright yellow jersey feels a bit garish, no? … TV numbers seem crowded. … Interesting to see the full team name, including the geographic locator, on the nose bumper — does any other pro or college team do that? … As with all of these uniforms, one photo doesn't provide enough data to allow for a full assessment.
---
Atlanta Legends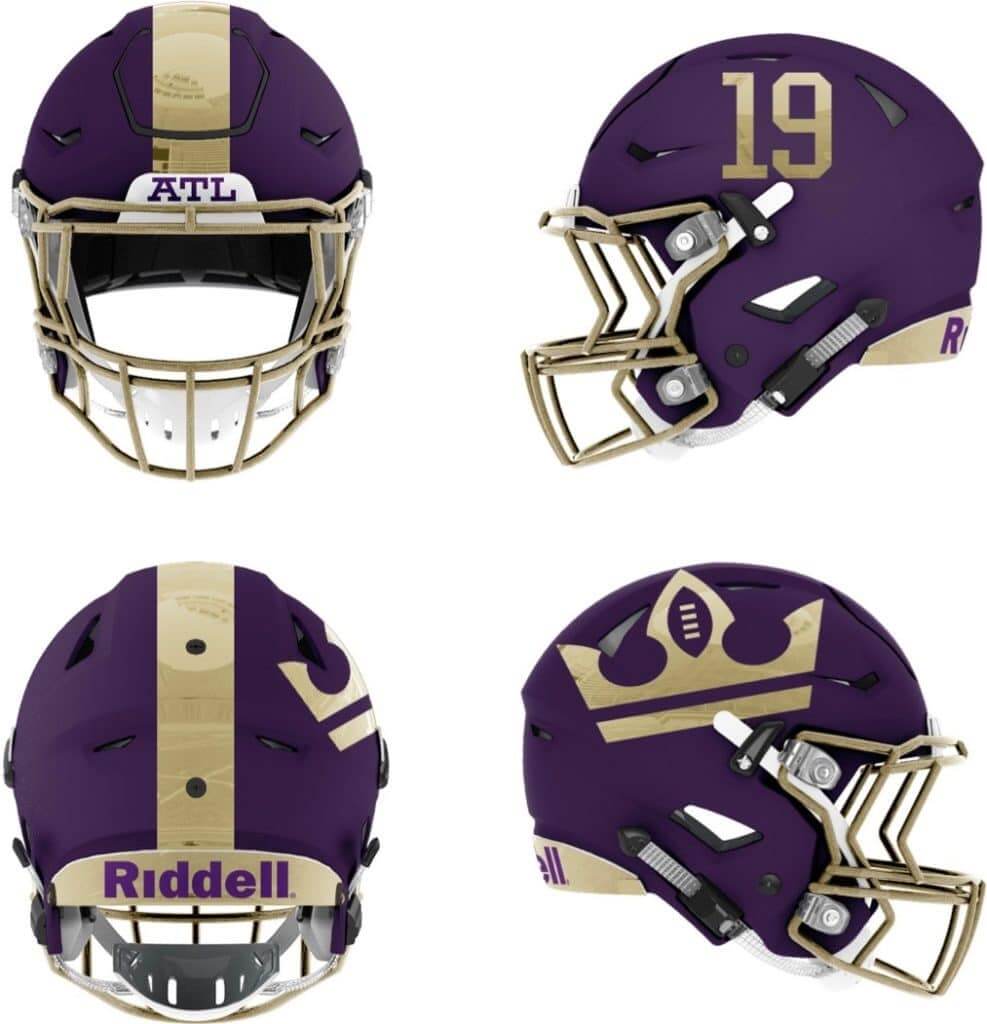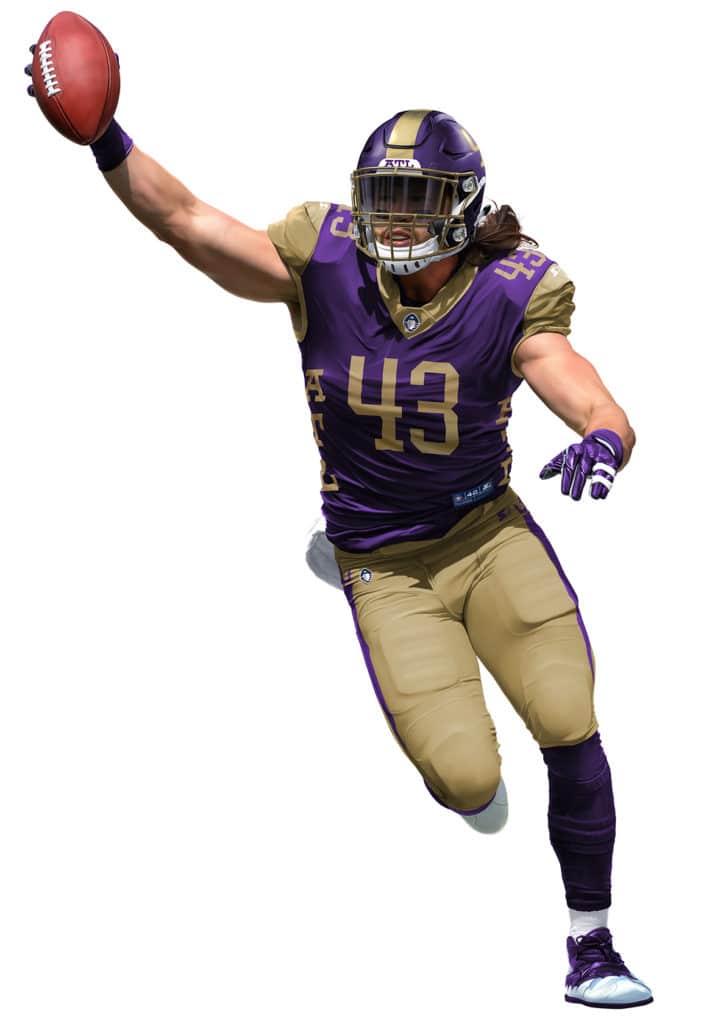 Quick thoughts: Ewwwww, those colors (but you knew I was gonna say that). … Crown logo almost looks like it was designed to fit around the SpeedFlex helmet's vents. … Again with the cramped TV numbers. … The "ATL" lettering up the sides of the jersey is a bad joke.
---
Birmingham Iron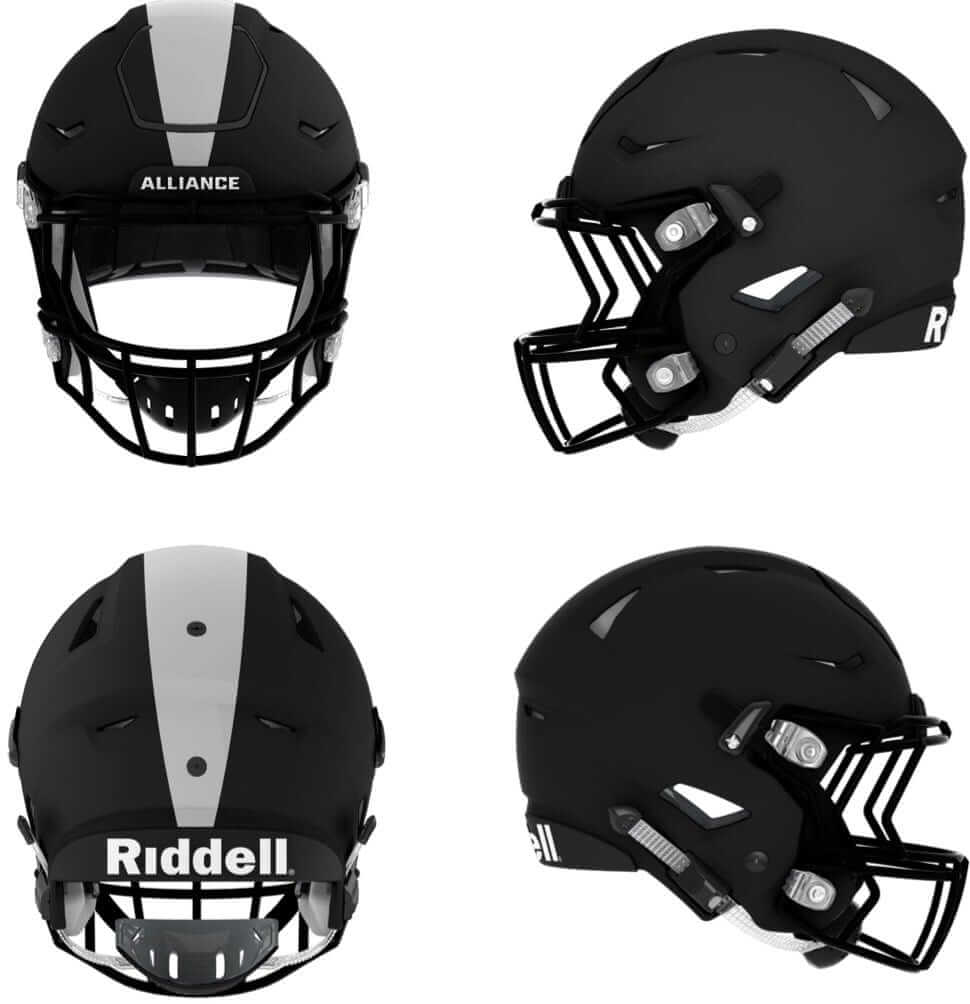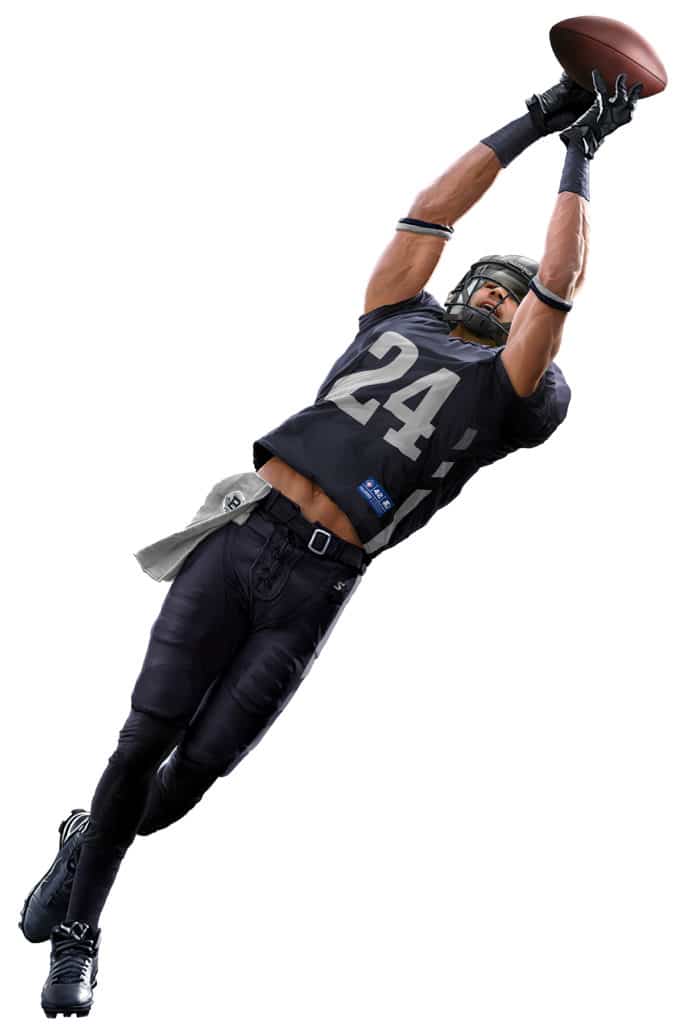 Quick thoughts: No helmet logo. I guess that makes them the Browns of the AAF. … If you have to go mono, I kinda prefer black to any other color. … Hmmm, speaking of mono-black: How hot does it get in Alabama in February and March? … Interesting that they put "Alliance" — a reference to the league — on the nose bumper. Maybe that's just a placeholder until they come up with a team-oriented graphic to put there.
---
Memphis Express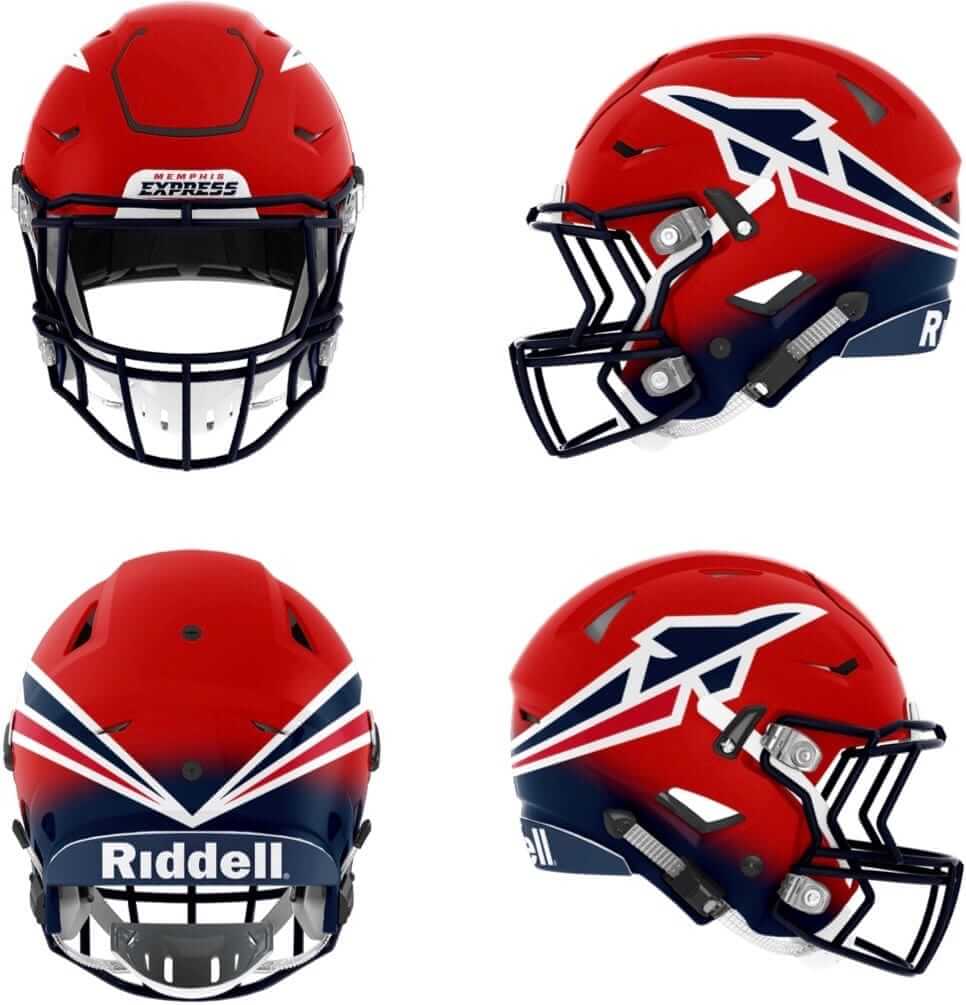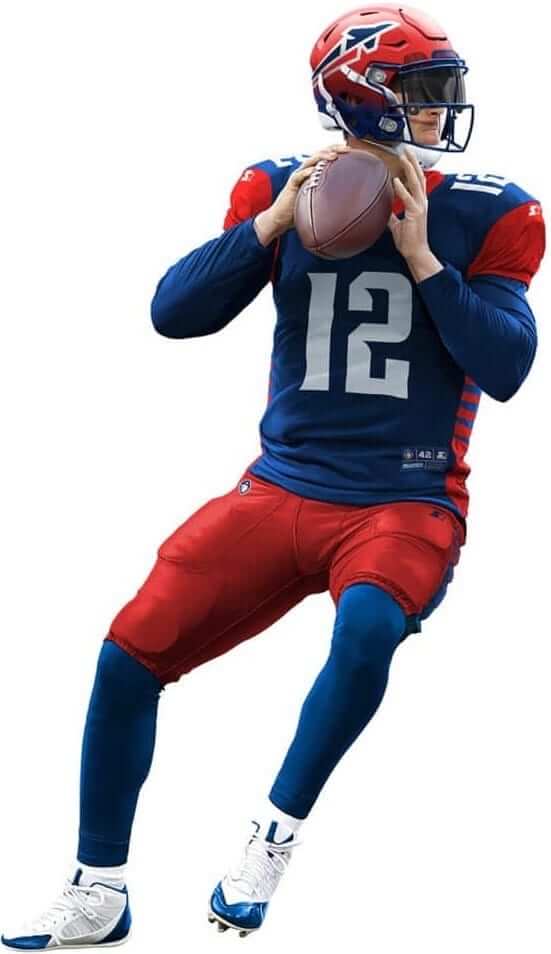 Quick thoughts: Team name seems like an obvious nod to FedEx, which is headquartered in Memphis. … I'm generally a big fan of barber pole striping, but those side panels are gonna look ridiculous. … Colors seem like they might vibrate. … Hate the custom font with the gratuitous little notches.
---
Orlando Apollos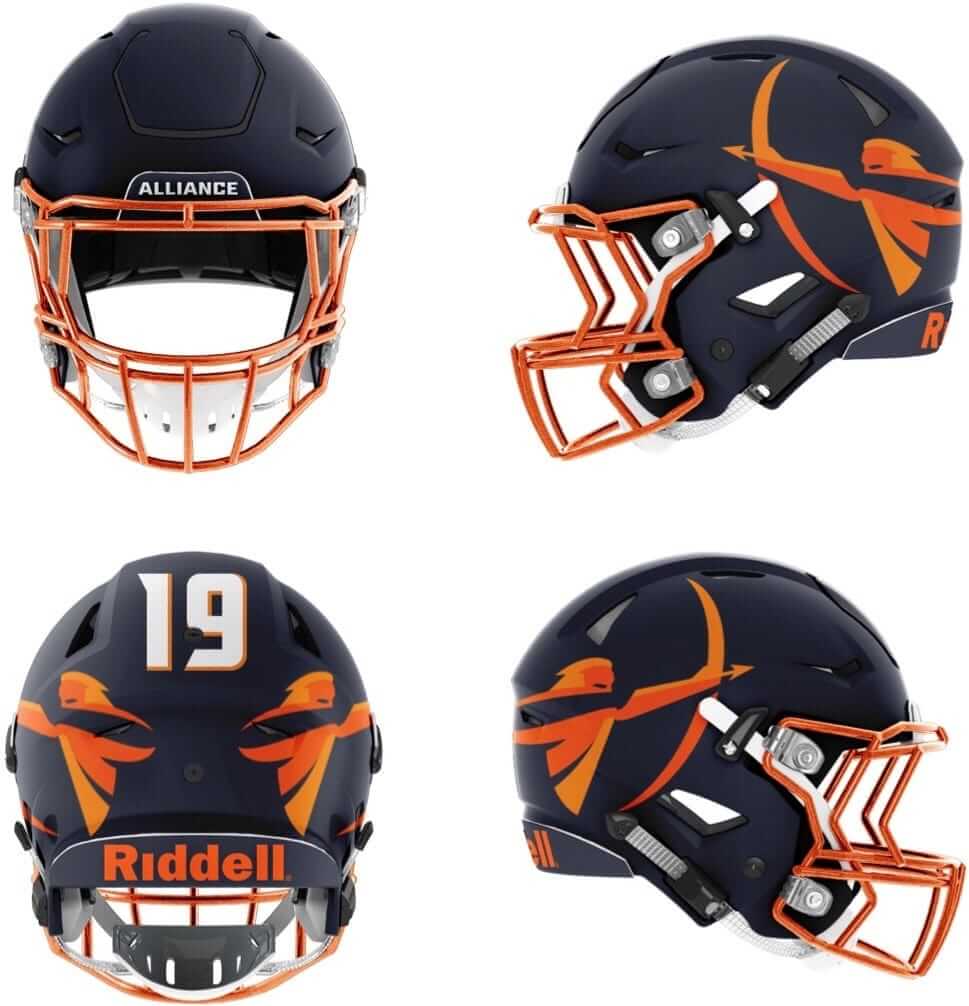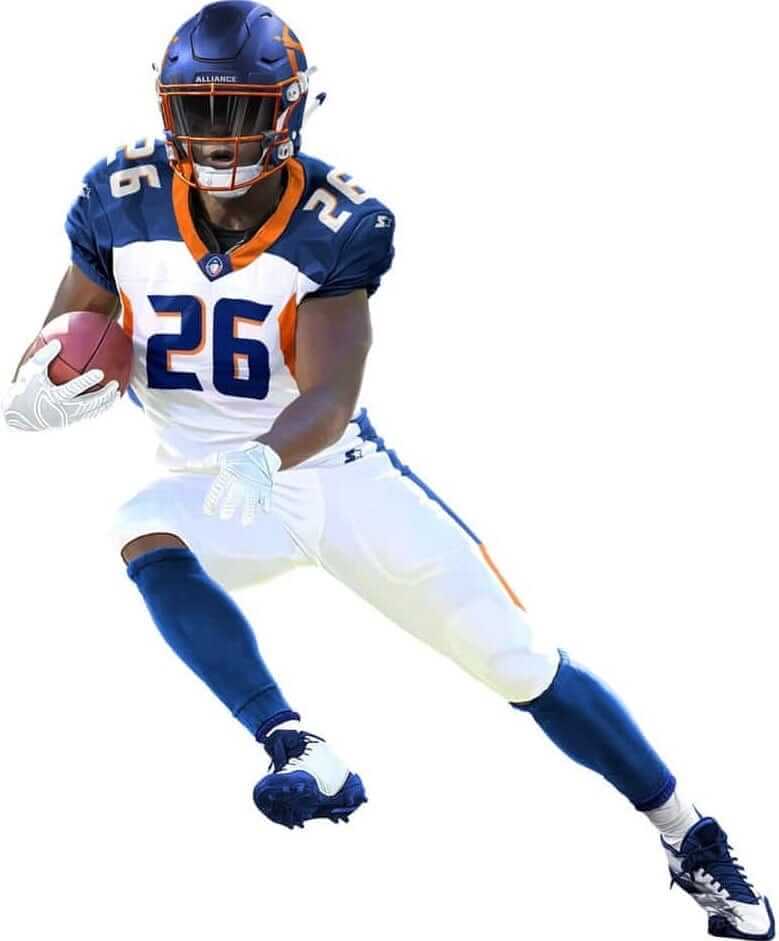 Quick thoughts: Okay, something doesn't add up here, because the helmet images appear to be navy/charcoal, while the uniform image shows more of a royal helmet. The team's website shows lots of navy, so does that mean the helmet won't match the rest of the uni elements, or that the royal uni elements will actually be navy? … Such an odd team name — is there any other team with a plural deity's name? The Thors? The Herculeses? The Zeuses? The Jesuses? … Based on the one image, this is easily the best-looking uniform of the bunch — but not if they change all the royal elements to navy. … The number on the back of the helmet seems like a bit much. … Again with "Alliance" on the nose bumper. … The drop shadow on the jersey numbers doesn't seem right — it appears on some parts of the numerals but not on others.
---
Salt Lake Stallions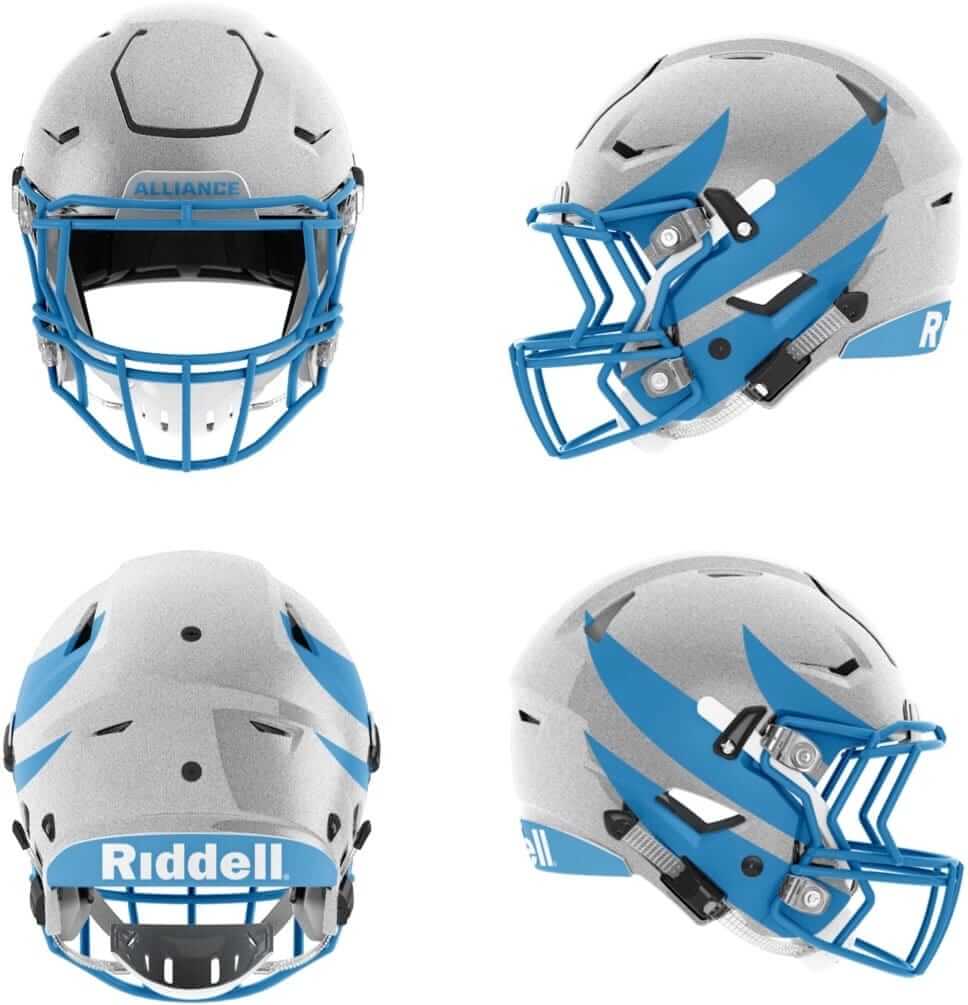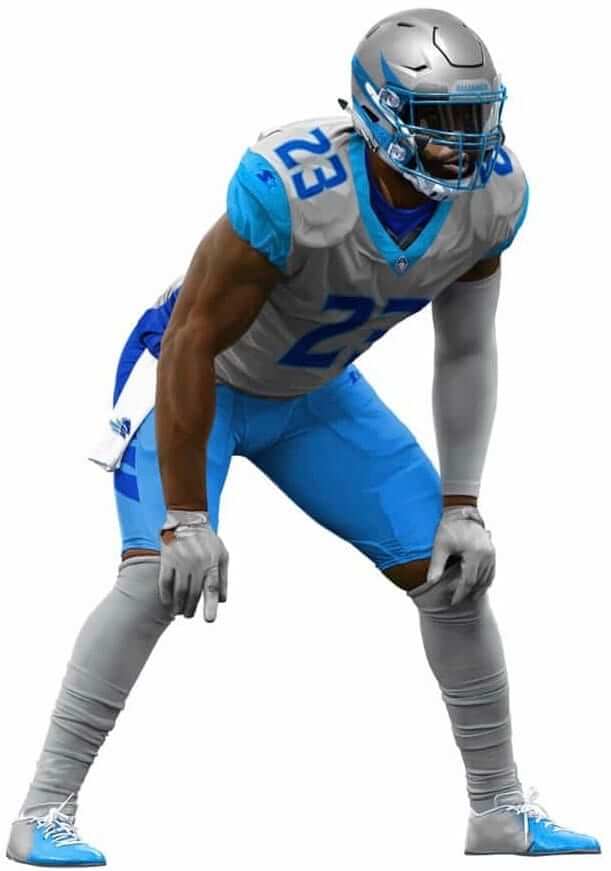 Quick thoughts: Not sure which I dislike more — all that grey, or the two shades of blue. … Helmet seems kinda understated. Like, is it supposed to be a mane, or what? … There's something really disappointing about knee-high grey socks.
---
San Antonio Commanders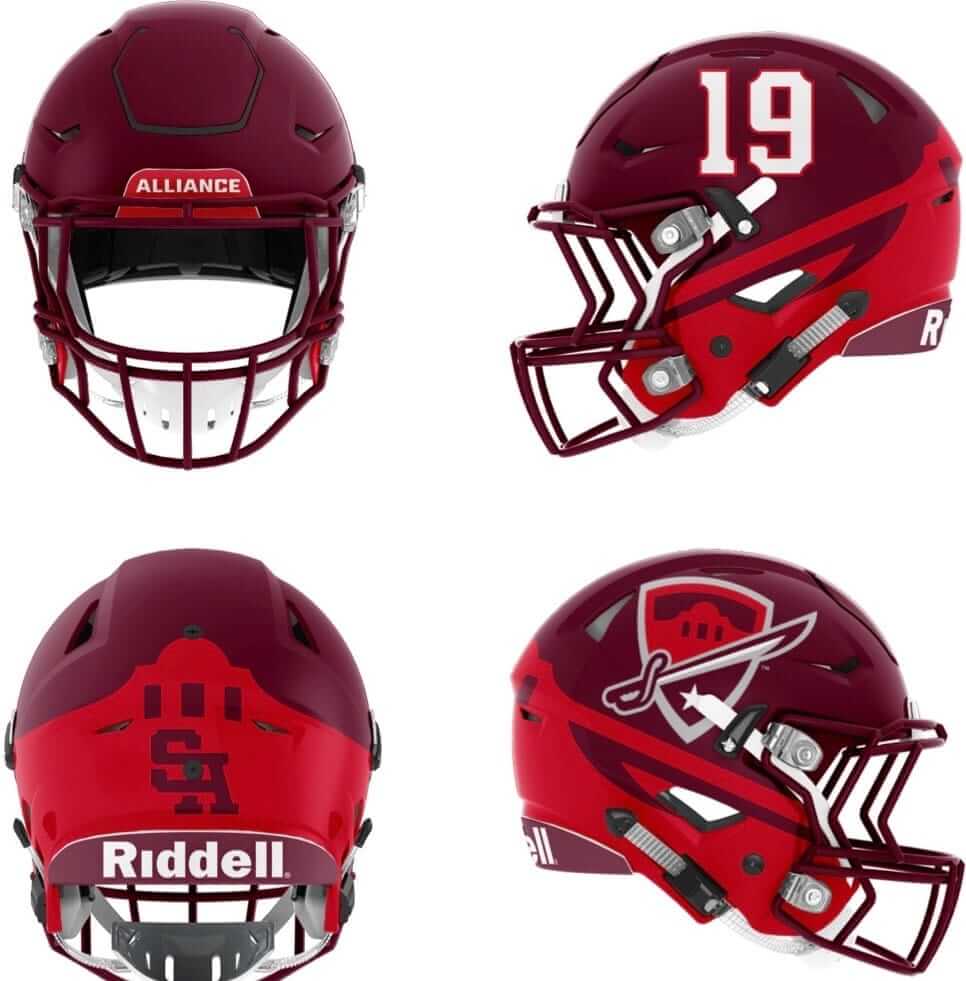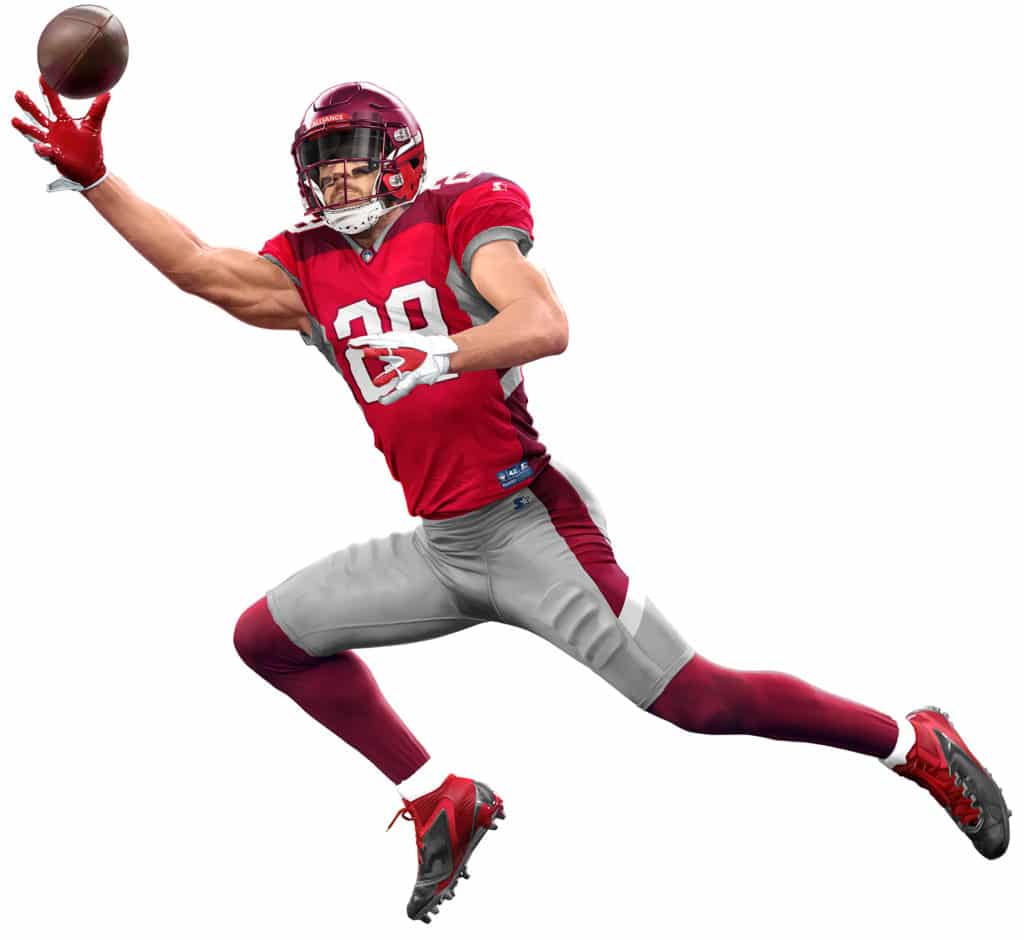 Quick thoughts: Surprised by how much I like the two shades of red, and the grey works really well here. … Helmet logo seems like a bit of a dud. The wraparound Alamo graphic isn't bad, though. … Couldn't they have positioned the interlocking "SA" on the back of the helmet so that the air nozzle fit right into the center of the "A"?
---
San Diego Fleet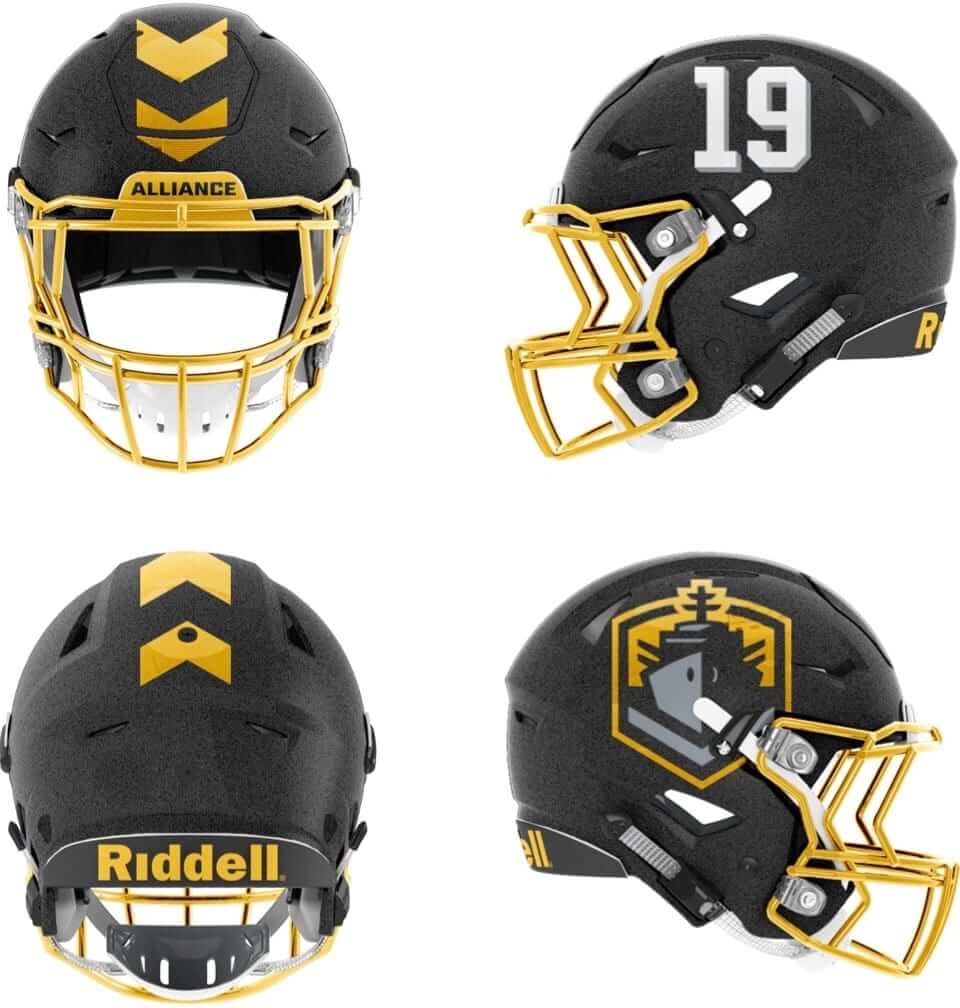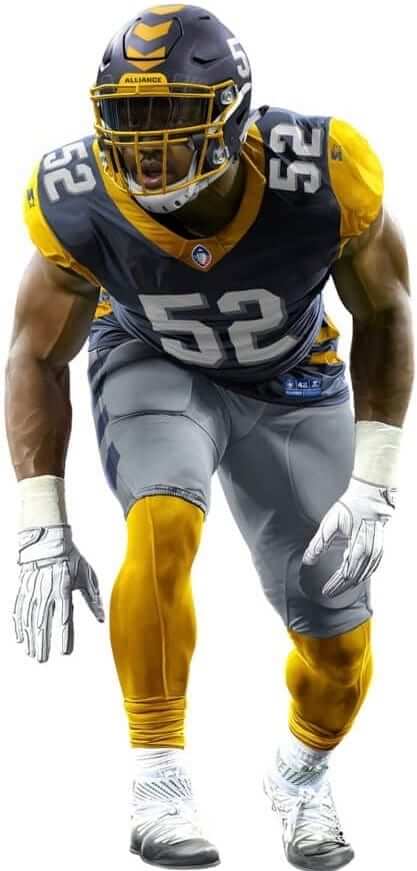 Quick thoughts: Surprised by how much I like this color combo, which works quite nicely. … Hmmm, is that barber pole striping on the side panels? … While the battleship helmet logo seems kinda boilerplate, I suppose we should be happy to see a military-based team that doesn't use camouflage on its uniforms.
---
Overall: A mixed bag, but certainly not as clownish or gimmicky as some other upstart leagues, and most of these are better than what the Cardinals and Falcons have been wearing for years.
One final thought: Why do all the player shots show the jerseys with the jock tag exposed? Longtime readers may recall that this was actually a thing for the Eagles in 2006, when we dubbed it "Philly tag." Hmmmmm.
The first and quite possibly last AAF season begins on Feb. 9, just six short days after the Super Bowl, wheee! Meanwhile, since you can never have enough quixotic leagues, the new version of the XFL just announced its first team location (spoiler alert: rhymes with "St. Louis"). That league is set to debut in early 2020, right around the time the second AAF season will be starting. Oops, I forgot, there probably won't be a second AAF season! Well, maybe the AAF and XFL can merge or something. I hear that worked for two other football leagues way back when.
• • • • •
• • • • •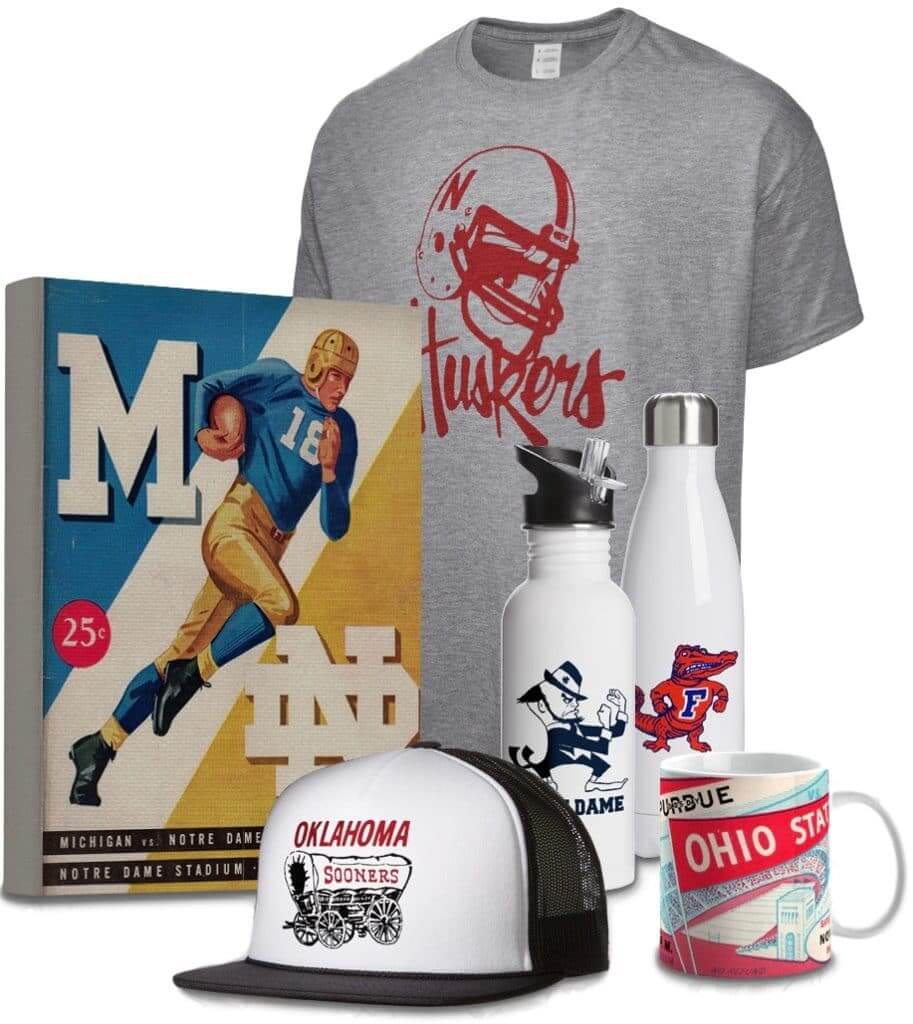 Raffle reminder: In case you missed it earlier this week, we're doing another raffle with the folks from Vintage Brand, who specialize in retro-styled sports stuff (like the items shown at right; click to enlarge). The winner will get to choose anything from the Vintage Brand site.
To enter the raffle, send an email to the raffle address by tomorrow, Nov. 29, 7pm Eastern. One entry per person. I'll announce the winner on Friday.
In addition, Vintage Brand is offering a site-wide 30%-off sale. The discount will automatically be applied to your order at checkout — not bad!
• • • • •
• • • • •
One last plug for the Gift Guide: In case you missed it on Monday, my annual Uni Watch Holiday Gift Guide, featuring tons to fun uni-related gift ideas (including these oversized caps for your pooch, shown above), is now available. Check it out here.
• • • • •
• • • • •
Less, but better: A new documentary about the awesome German industrial designer Dieter Rams, called Rams, is opening today in NYC. Even if you've never heard of Rams, you've almost certainly seen some of his products (he was the design director for Braun for many years) and you've definitely seen products that reflect his influence (Apple's entire approach to design is basically a Rams tribute — or, if you prefer, a Rams rip-off).
Rams's mantra, which is apparently repeated several times in the movie, is "Less, but better." The uni-verse could learn a bit from that, eh?
You can see reviews of the movie here (NYT link) and here. It opens today at the Metrograph, and I plan to see it sometime in the next week.
• • • • •
• • • • •
The Ticker
By Lloyd Alaban

Baseball News: 3B Josh Donaldson signed with the Braves on Monday. To celebrate, he posted a picture of his new home jersey on Twitter (from Tim Dunn). … Stephen Krupin spotted a guy on the streets of Banff, Alberta, wearing a sweatshirt with a skateboard company logo featuring the Nationals' script W. … If you're old enough, you probably remember this photo of legendary Red Sox LF Ted Williams, and its various uses throughout the years. Turns out George Woodruff, a Boston-area photographer, originally snapped the original picture (from @BeautyOfAGame and @nyyankeesfanforever). … Ignacio Salazar found this pair of tequila sunrise Astros shorts that comes inside a matching container. … Double-A Yankees affiliate Trenton Thunder will revive their pork roll identity for 10 games this upcoming season (from John Cerone).

NFL/CFL News: The NFL is launching its annual My Cause, My Cleats campaign this week, where players raise money and awareness for causes they have personally chosen. You can see lots of the custom-painted cleats by following the hashtag #MyCauseMyCleats on Twitter. … In these community event photos, the Ravens' mascot, Poe, is wearing the team's Color Rash jersey, while the players are going NNOB (from Marcus Hall). … Eagles WR Alshon Jeffery is wearing a sweet-looking Eagles bicycle helmet in this video (from Sam McKinley). … In a crass move, Washington owner Dan Snyder is selling a Sean Taylor doll (from our own Alex Hider). … Players from the Calgary Stampeders of the CFL wore cowboy hats at their Grey Cup championship parade. Fittingly, Calgary is nicknamed Cow Town (from Wade Heidt). … Here's what happens to the losing team's championship merch at the CFL's Grey Cup (from @gilmore03). … The New York Times ranked the 15 best touchdown celebrations so far this season.

College/High School Football News: Cal will wear a helmet decal honoring the victims of the Northern California wildfires for Saturday's Big Game against Stanford (from @thechrondawg). … Here's a behind-the-scenes look at Florida's equipment managing team (from our own Phil Hecken). … Also from Phil: Notre Dame could be the first school in the CFP to not wear Nike and primarily wear blue. … Here's a look at every uniform Kentucky has worn this season, along with a poll to vote for your favorite (from Josh Hinton). … Virginia Tech is using a graphic showing players in non-matching jersey templates (from College Sport Design). … Here are some of the helmets for the teams set to compete in Colorado's 5A and 4A high school football state championships (from Rob Montoya).

Hockey News: The following three items are from our own Phil Hecken: Some tradition-rich NHL teams are eschewing the captain's "C" on their sweaters. … The San Antonio Rampage of the American Hockey League will have Ugly Sweater Night on Dec. 14. … The Fort Wayne Komets of the ECHL will wear these Star Wars-themed uniforms on Dec. 8.

Pro Basketball News: Here's a behind-the-scenes look with Jazz equipment manager Adam Klauke (from multiple readers). … The Harlem Globetrotters have revealed their first new uniforms in over 20 years. … The Bucks' team store is selling a retro-styled Christmas T-shirt featuring the team's original mascot character (from Johnny Oeleven).

College Hoops News: Penn State men's wore their black and pink alternates last night against Virginia Tech. Black and pink are the school's original colors (from Blake Fox). … Look like Nevada men's is doing some uni-tracking of their own in their media game notes (from Scott Held). … San Diego State wore their turquoise N7 uniforms last night (from @tommycubillas).

Soccer News: New kit for the Orlando Pirates from South Africa (from Ed Zelaski). … Also from Ed: New shirts for Piacenza Calcio 1919, a club in Italy's Serie C.

Grab Bag: Here's a weird situation: The apparel company Rowing Blazers — which, as you'd expect, makes rowing blazers — has now signed on to make team blazers for the USA Rugby. The blazers carry the Rowing Blazers logo, which happens to be a wordmark, so the net result is a bunch of rugby players wearing blazers that say, "Rowing Blazers." … Austin Gillis stumbled upon this concept for Oglethorpe University athletics. … The Toray Arrows, a Japanese professional volleyball team, will wear blue for their Saturday match and yellow for their Sunday match (from Jeremy Brahm). … Here's an article about the various military camouflage patterns used by different countries (from Anthony Nuccio).