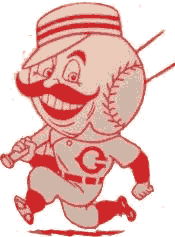 As you know, they Reds are celebrating their sesquicentennial with 15 throwbacks this season. But longtime reader/contributor Bruce "BSmile" Menard has come up with an old Reds uni that wasn't on anyone's radar, and it appears to be a major historical find.
The source material is a video clip that was shot at the Reds' spring training camp on March 5, 1956, it's been up on YouTube for more than two years, but apparently nobody else noticed what Bruce noticed. Take a look, and pay attention to the second guy from the left, No. 27 (the key sequence flies by in just a few seconds, so you may want to pause it, replay it, etc):
That player appears to be wearing a mono-red vest uniform with white graphics and a white belt! I'd never seen that before, so I ran it by uni designer/historian Todd Radom and Hall of Fame curator Tom Sheiber, who said they'd never seen it either.
Although there's no audio, the YouTube page includes a transcript of the original voiceover. The relevant passage reads, "The Redlegs are sure to have a new look. Here are their new uniforms, being modeled by Smoky Burgess, Gus Bell, Wally Post, and Ted Kluzewnki [sic]." So the mono-red design was apparently a new alternate uniform that was planned for 1956 but never made it onto the field (at least not in the regular season).
It's odd that the transcript only lists four names when there are actually five players modeling the uniforms. Did they leave out the guy wearing the mono-red design? It's hard to tell, because the uniform numbers that some of the players are wearing don't actually match up with some of the names mentioned in the voiceover transcript. I'm pretty sure the guy wearing the mono-red uniform is actually Al Silvera.
Another question: Why did they have three separate players modeling the home whites?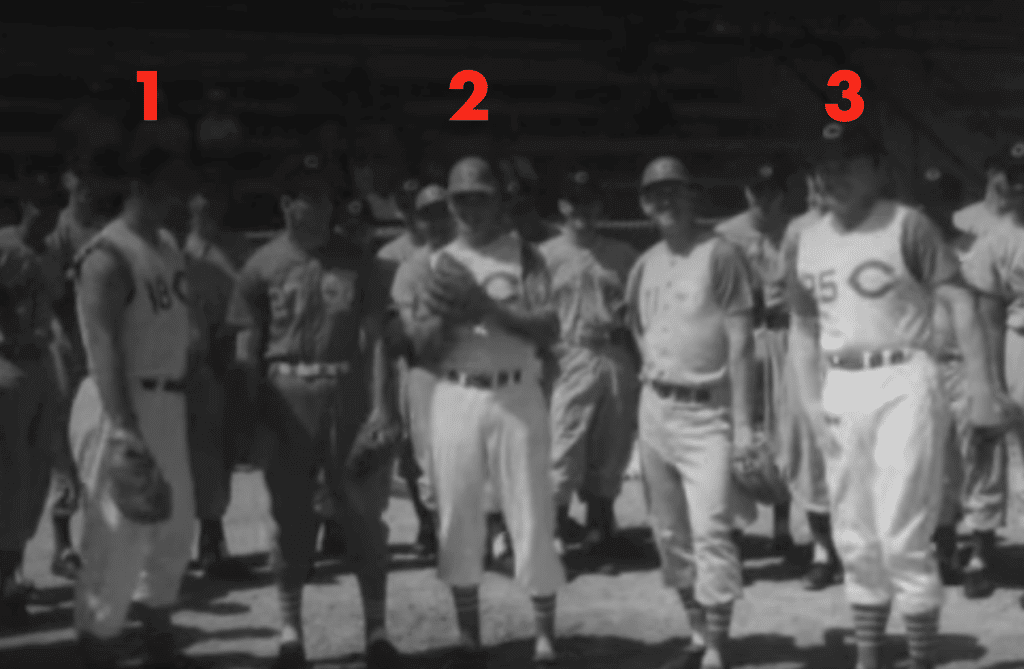 I think I can answer that one. The guy at far-right, No. 25, is wearing the standard home uni. Big Klu, at far-left, is showing how he planned to remove his undershirt sleeves. (1956 was the Reds' first season wearing vests, so this photo shoot may actually have been Klu's first time going fully bare-armed!) And as for the guy in the center, take another look at what he does when the camera pans toward him:
See how he drops his head and shows the top of his batting helmet? And see how his helmet had lots of little holes? That's because the Reds were experimenting with added holes in their batting helmets for greater ventilation (click to enlarge):
So each of the five players was there to show a particular aspect of that year's uniform program. But team management apparently decided not to go ahead with the mono-red design.
Big, big kudos to Bruce "BSmile" Menard for discovering this, and even bigger thanks to him for sharing it with me and allowing me to share it with the uni-verse.
• • • • •
• • • • •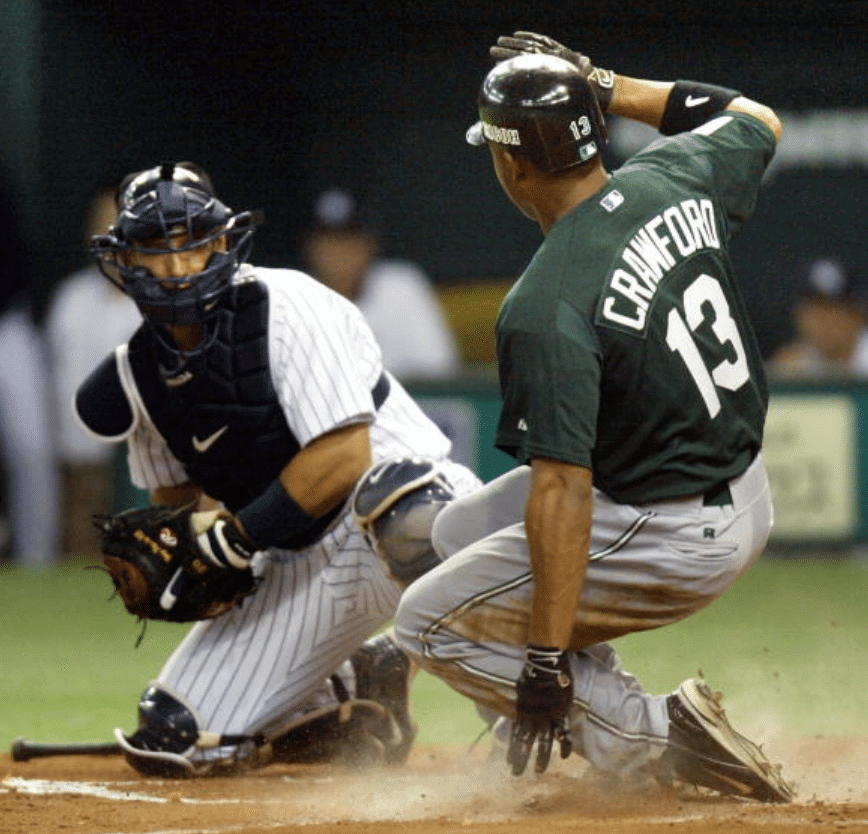 The latest reason to hate the Yankees: The photo shown above is from one of the two season-opening games that the Yankees and Devil Rays played in Tokyo in 2004. The Devil Rays were the designated home team for both of those games, but as you can see above, the Yankees nonetheless wore their home uniforms (and yes, the jerseys and batting helmets had advertisements, but that's another story for another day). At the time, the explanation was that Japanese fans wanted to see native hero Hideki Matsui in the famous Yankees pinstripes, but everyone knew it was really about promoting the Yankees and screwing the lowly Devil Rays.
Fifteen seasons later, the Yankees and Red Sox will be playing in London this June. Those are both Red Sox home games — but once again, the Yankees will wear their home uniforms. The Yanks don't have any UK-born players that I'm aware of, so this time it's clearly just a branding thing to showcase MLB's most famous uniform for an overseas audience.
Hey, don't you think it's a drag that the fans in Minnesota, Baltimore, Anaheim, Seattle, and so on have to look at those drab "New York" road greys instead of the iconic pinstripes when the Yankees come to town? Let's just have the Yanks wear their home uniform for all 162 games. They've earned it, after all.
(My thanks to reader/commenter Ian Isanberg for bringing this one to my attention.)
• • • • •
• • • • •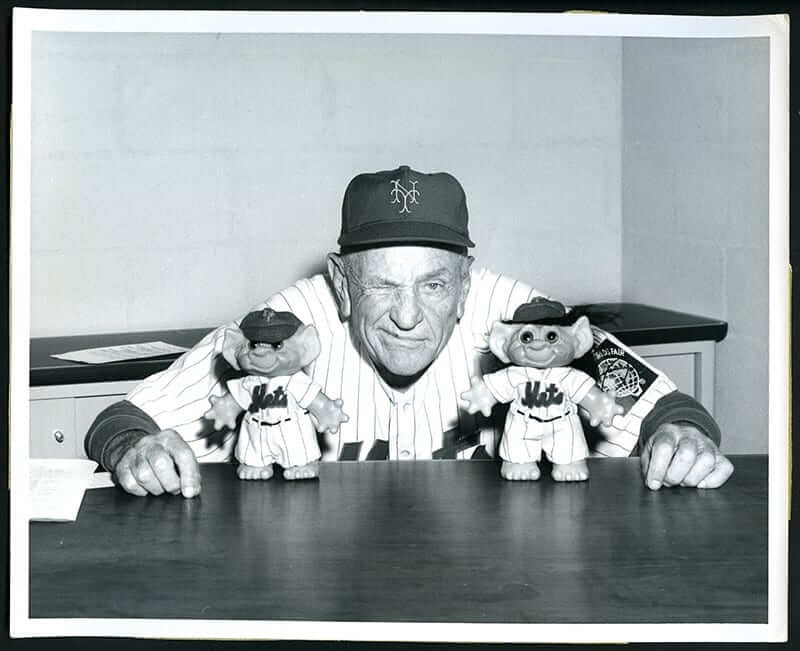 Click to enlarge
Trolling the Old Perfesser: Check out this spectacular 1964 photo of Mets skipper Casey Stengel flanked by a pair of Mets troll dolls! I'm reasonably familiar with Mets memorabilia and have never seen those before.
Reader Brian Nelson, who sent this photo my way, notes that the pinstriping on the trolls' uniforms is not to scale. "Probably made from the same fabric as Stengel's jersey." Could be! Great, great find.
• • • • •
• • • • •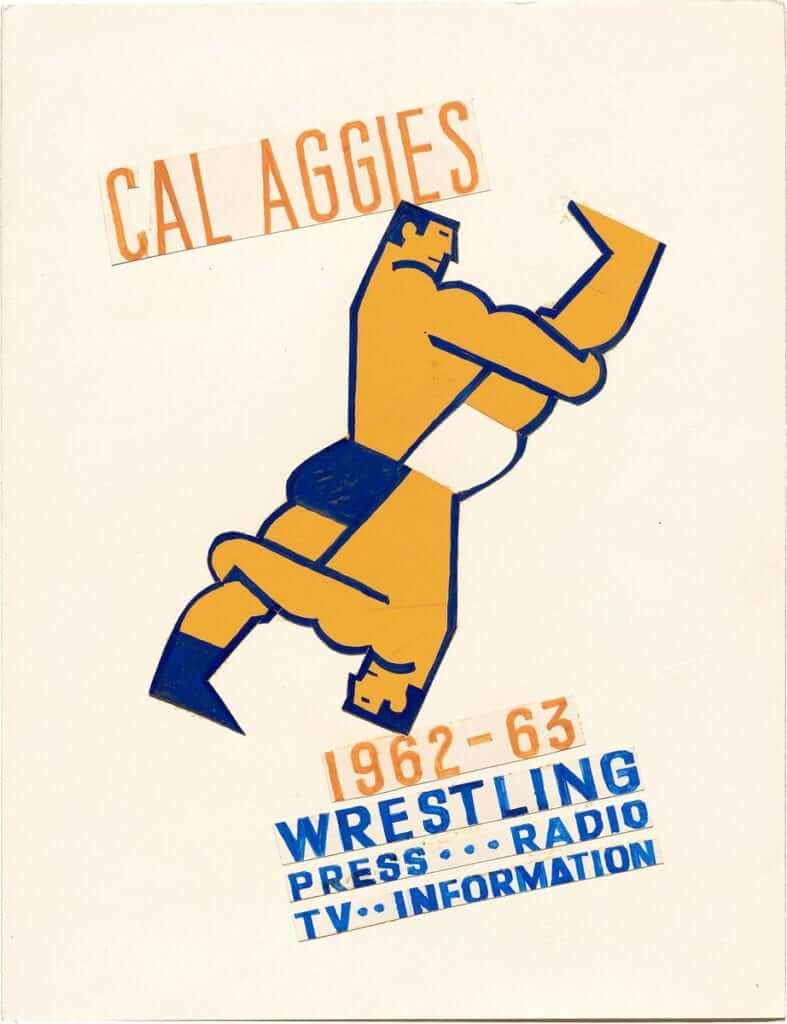 Click to enlarge
Too good for the Ticker: We all know that Wrigley's Gum art director Otis Shephard did tons of great program cover designs for the Cubs. But he also did this cover design for what appears to have been a 1962-63 UC Davis wrestling media guide. Love the yin/yang wrestlers (although the upside-down guy should have white shoes, no?).
As you can see, this was the original artwork, not a printed cover. The Twitter-er who brought it to my attention, @footballfuntime, found it in this incredible-looking design archive. Definitely worth exploring.
• • • • •
• • • • •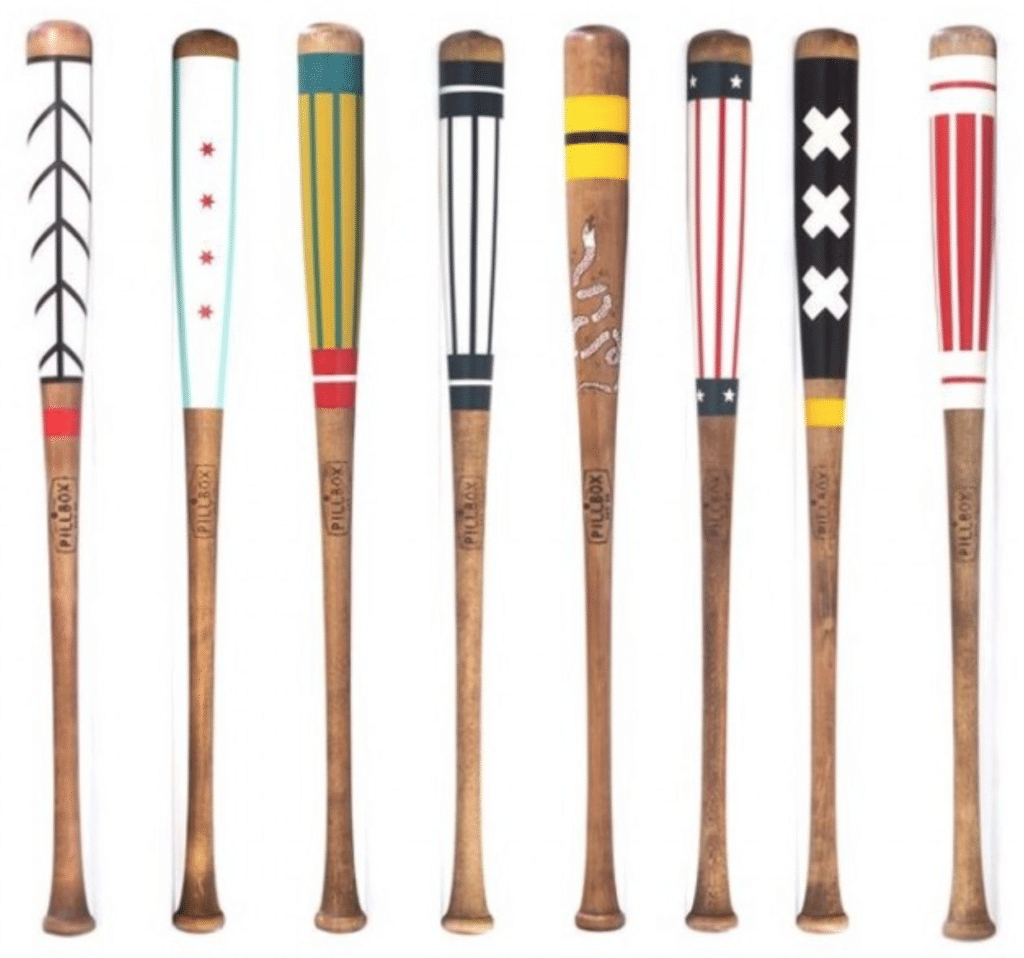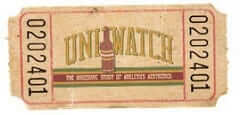 Raffle reminder: In case you missed it earlier this week, the Pillbox Bat Co., which has been advertising with us for quite a while now, is now offering a free item from their website for a lucky Uni Watch reader. In addition to beautifully painted bats like the ones shown above, they also have a variety of pennants, apparel, leather goods, and more, so the winner will have a lot of options to choose from.
To enter, send an email to the raffle address by this Thursday, Feb. 14, 7pm Eastern. One entry per person. I'll announce the winner on Friday. Good luck!
• • • • •
• • • • •
Click to enlarge
It's the little things: I'm a longtime subscriber to The New Yorker. For years their address labels (above left) have been small, rectangular, and, for lack of a better word, very official-looking.
But a few issues ago, the labels changed. The new labels (above right) are larger, have rounded corners, and have lots of white space, all of which gives them a goofy, sort of unprofessional look, like someone just ran over to Staples and got some Avery labels. It's what I'd expect if I were subscribing to a low-circulation niche publication like Condiments Quarterly, not The New Yorker. (To my knowledge, there's no such magazine as Condiments Quarterly, but there surely should be.)
I know, I know — all that really matters is that the labels should be easy to peel off (which both of them are). But I'm talking strictly about the aesthetics. The new label bugs me. Grrrrrrr.
(And yeah, I know, I know — "What's a magazine?" Yes, you're hilarious.)
• • • • •
• • • • •
The Ticker
By Paul

'Skins Watch: Here's an excellent article and radio report on the fight to get McGill University in Canada to stop calling its teams the Redmen. Really strong reporting — recommended (big thanks to @RamoneCat).

Baseball News: Here's another look at the MLB 150 patch on various teams' jerseys. … Here's a slideshow of all 15 throwbacks that the Reds will be wearing this season. … Kentucky is celebrating its new ballpark with an inaugural-season sleeve patch on its BP jerseys. … The Peoria Chiefs will once again do a game as the Peoria Distillers this season. … The NHL's Minnesota Wild wore Joe Mauer tribute jerseys for last night's pregame skate (from Jack Wade). … Buried within this article is the news that the Inland Empire 66ers will become the California Burritos on May 25 (from Chris Cruz). … A rare one-game MiLB makeover that isn't food-based: The Bowling Green Hot Rods will become the Bowling Green Sinkholes. … The new Mexican national team jersey has a sublimated Aztec calendar pattern (from @bryant_rf). … Free agent SS Manny Machado has picked a bunch of black-and-white gloves for this season, fueling rumors that he might be heading to the White Sox. … We have a new addition to the ranks of single-digitized pitches, as Mariners starter Marco Gonzalez has changed his uni number from 32 to 7. He previously wore that number as a Cardinals prospect and in college (from Tim Dunn). … An early-'90s flashback scene in last night's episode of This Is Us featured a Pirates cap with era-inappropriate logo creep. … The Brewers have set up a locker with a No. 10 jersey for a Milwaukee police officer who was recently killed in the line of duty (from @mikeobs).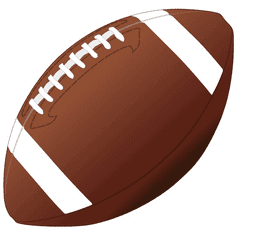 Pro Football News: Neglected to mention until now that two AAF teams — the Orlando Apollos and Arizona Hotshots — quietly added ad patches to their jerseys prior to their first games (from Bill Schaefer). … Love this old Saints popcorn holder/megaphone. … Speaking of the Saints: Membership card designer Scott M.X. Turner, who lives in New Orleans, tells me that a local ministry has been leaving these Sir Saint-themed koozies for free around town. "There are far worse logos to poach," says Scott. "All of them, in fact." … We've seen this before, but it's worth re-watching this 1981 local news report on the Bengals' then-new uniforms. The reporter's evident disgust over the whole assignment is pretty hilarious (from Brad Eenhuis). … With the annual Westminster Kennel Club event taking place here in NYC, Alan Kreit came across a magazine intended for the dog breeders and found a photo of a champion Akita's handler wearing a Broncos jersey under his suit. Looks like a football jersey on his assistant, too.

College Football News: Reader Clint Richardson is doing a decade-by-decade look at Auburn's uniforms on his blog. This week's topic: the 1950s.

Hockey News: Kennebunk High School went G.I. Joke two nights ago (from Heath Carignan). … Here's a message board thread about dressed skates. "That's when players have to dress up their preferred skates (usually one brand) to look like the skates they're signed to endorse (a different brand)," explains Jaymes Progar. "Apparently this is done with sticks as well." I don't think we've covered this much, if at all, in hockey. Those in the know, feel free to educate us in today's comments. … Cross-listed from the baseball section: The Wild wore tribute jerseys for Minnesota Twins star Joe Mauer for last night's pregame skate (from Jack Wade). … Pink in the Rink uniforms this Saturday for the Tulsa Oilers. … Penguins Gs Matt Murray and Casey DeSmith have new Stadium Series masks (from Wade Heidt). … There's a big exhibit of hockey sweaters at the Stewart Hall Cultural Centre in Pointe-Claire, Quebec (thanks, Phil). … The Senators wore white at home last night (from Owen Shields). … Mismatched number fonts for the Canadian women's team (from @The_Road_Guy).

NBA News: In yesterday's lede, which was about Cathedral High School's uniforms, which are very plain on the front and have an unusual FNOB format on the back, I said I'd never see that type of FNOB before, with the first name above the number and the surname below. But Alex Steinke points out that the entire concept appears to have been cribbed from the 2015 NBA All-Star uniforms. Totally forgot about that one! Good call, Alex. … The NBA 2K League — that's an eSports league, which is something I don't pretend to understand — will now be outfitted by Champion (thanks, Phil). … Between the court design and the uniforms, last night's Lakers/Hawks game in Atlanta was a bit of a mess, color-wise (from @Haylow). … Jeremy Lin will wear No. 17 with the Raptors.

College Hoops News: Kentucky coach John Calipari, who goes to Dunkin' Donuts for breakfast every morning, received custom Dunkin' Donuts sneakers for his 60th birthday (from Josh Hinton). … Breast cancer-awareness jerseys tomorrow night for Texas A&M's women's team.

Soccer News: Here's a really good Twitter thread from a kit designer, explaining the practical factors that go into kit design. Recommended (from @holycalamity). … New jersey sponsor advertiser for the USL League One team Lansing Ignite (from Ed Zelaski). … Here's a story on the making of FC Cincinnati's new jersey. … New kit for FC Dallas. Additional info here. … This 1960 footage, Oldham have a white block behind their numbers, while the Crystal Palace numbers are placed above the twin hoops on the shirt (from Graham Clayton).

Grab Bag: A drug bust in Calgary turned up, among other things, a bunch of Canadian military and postal uniforms. … The Vatican has combined Christian and Islamic symbols in one logo. … Australians are livid because a government regulatory body spent $100K on a new logo that's barely discernible from the old one.