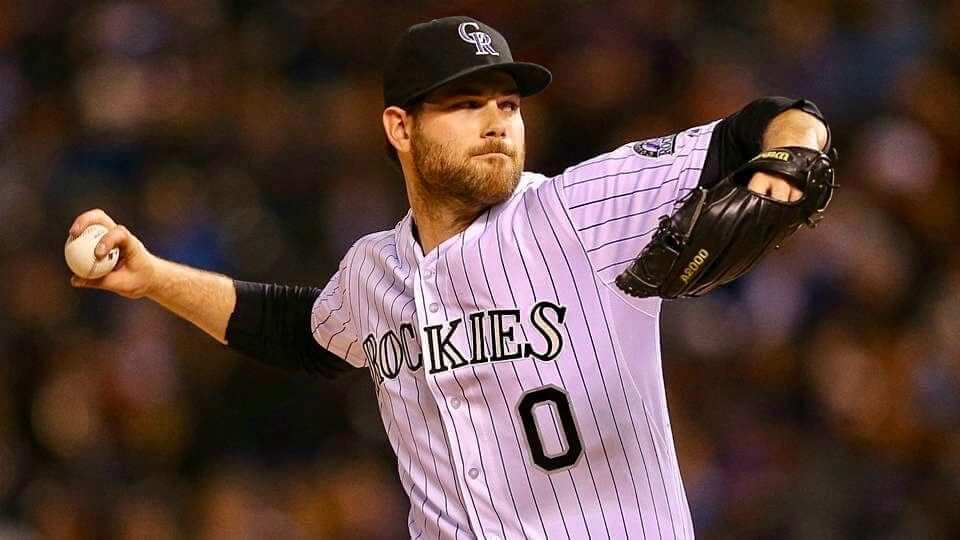 The Yankees have never had a player wear zero or double-zero. But that might be changing, as reports indicate that they've signed free agent reliever Adam Ottavino, who's been wearing No. 0 for the Rockies since 2013.
Ottavino, like several other zero-clad players over the years, likes No. 0 because his name starts with "O" (others who fit that description include Rey Ordoñez and Junior Ortiz), but it remains to be seen if that sentiment will sway the notoriously hidebound Yankees. The issue was discussed in this 2017 article. Here's the key passage:
Yankees GM Brian Cashman said he grew up watching Al Oliver, who wore zero, and would allow one of his players to wear it, too.

"I have no issue with No. 0," Cashman said. "To me, it is just a number."

Cashman is generally not involved in handing out numbers, as that falls to equipment man Rob Cucuzza. Cashman would chime in only if there is a free agent who requests a certain number, and he might start the conversation to see what the team can do.
So it sounds like there's some wiggle room there. Personally, I'm rooting for Ottavino to wear the zero, just because it would be so incongruous on so many levels.
And what if the Yankees say no? The last non-zero number Ottavino was issued was 37, which he wore for the Rockies in 2012, but he definitely can't wear that for the Yanks — it's retired for Casey Stengel.
Meanwhile, as you can see in the photo at the top of today's entry, Ottavino has sometimes sported a beard. The Yanks will definitely make him shave that off, whichever number he ends up wearing.
(My thanks to Robert Neely for bringing that 2017 article to my attention.)
• • • • •
• • • • •
Click to enlarge
ITEM! New ESPN column: When it comes to football helmet design, there's basically big-time college football and then there's everybody else. The big college programs have a rotating carousel of helmet designs — often three, four, or five per school — while smaller colleges and high schools don't have the financial resources for that kind of thing and NFL teams are hamstrung by the one-shell rule.
Now there's a new product that could change all of that. I've written about it in my latest ESPN piece, and I think you'll find it very interesting. Check it out here.
• • • • •
• • • • •
Michael Beasley attempts to check into thegame for the Lakers with the wrong shorts on 🤣 pic.twitter.com/zCiBBsprPj

— CJ Fogler (@cjzero) January 18, 2019
Instant classic: Lakers forward Michael Beasley, the man who once rubbed his teammate's knee because he mistakenly thought it was his own, had another classic moment during last night's game against the Thunder. As he prepared to check into the game, he ripped off his warmup pants and discovered that he was wearing his practice shorts instead of his game shorts.
Beasley headed straight to the locker room for a quick wardrobe change. No word on whether he rubbed his knee while he was there.
• • • • •
• • • • •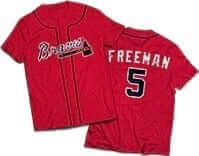 Braves update: We've known all week now that the Braves will be unveiling "refreshed" uniforms, whatever that means, at a promotional event tomorrow. Yesterday we got some hints regarding what that might entail.
The team's promotional schedule indicates that there will be a red-jersey giveaway on April 7. The jersey shown in the promo photo is different than the star-spangled, tomahawk-free version that the Braves have been wearing in recent years. It appears to be the same red alternate they had from 2005 through 2013.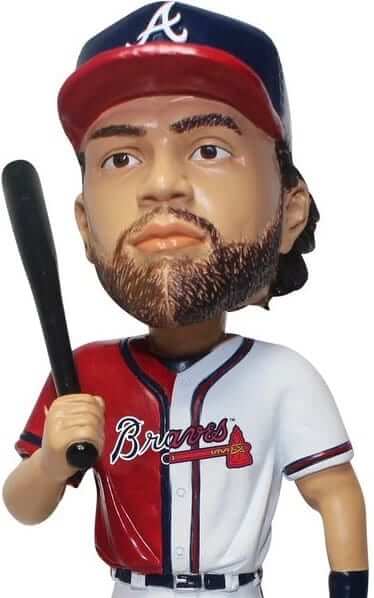 In addition, the Braves announced a series of bobblehead giveaways for 2019. One of the bobbles is a hybrid design featuring Dansby Swanson and Charlie Culberson (who are supposedly lookalikes — hence the hybrid design), with Swanson (I think) wearing the same red design from the April 7 jersey giveaway.
So I think it's a safe bet that the Braves will, at the very least, be unveiling a new (read: old) red jersey tomorrow. My understanding is that they have other things in the works as well, although I don't know what those things are.
In any case, we'll have coverage of the Braves' refreshments on Sunday.
• • • • •
• • • • •
The Ticker
By Yianni Varonis

Baseball News: The Cardinals' winter caravan logo has an apostrophe catastrophe (from David Truman). … Here's another example of a tequila sunrise-inspired design, this time on an IPA beer can featuring a generic ballplayer. Also, take note of the player's hops sleeve patch (from Douglas Brei).

NFL News: From Phil: This article documents the history of the Browns' helmets. … Also from Phil: This opinion piece bemoans that the Rams will wear their white jerseys in Sunday's NFC Championship Game instead of their royal blue throwbacks.

College and High School Football News: From Phil: If you ever wanted to know every uniform combination that Florida has worn this decade, now you can. … A Utah high school football coach has been suspended for the first two games of next season because his team wore white uniforms at home during this year's state championship game (from Paul Warne).

Hockey News: New Flyers G Mike McKenna recently received a mask featuring team mascot, Gritty, and revealed this tidbit: Through his career playing for 19 organizations, he hasn't always been allowed to keep his sweaters, though he always kept his masks (from @PhillyPartTwo). … Check out the tenths of a second shown on the two sides of the scoreboard in this shot from a USHL game — photographer Peter Wilt must have caught it at just the right moment (from Dan Pfeifer). … The Idaho Steelheads of the ECHL will be wearing unis supporting the Jayden Deluca Foundation this weekend. "First time I've ever seen the foundation logo completely replace the team logo on the front of a jersey," says Brett Thomas.

NBA News: Reader Etienne Catalan has several jersey number updates for recently acquired players: New Pistons G Isaiah Whitehead will wear No. 12, new Pistons G Kalin Lucas will wear No. 24, new Rockets F James Nunnally will wear No. 21, new Cavaliers F Deng Adel will wear No. 99 (the second player in team history to do so), and new Knicks G Kadeem Allen will wear No. 0.

College Hoops News: Michigan State has added a "Gus" memorial patch in memory of former coach George "Gus" Ganakas, who recently passed away. The patch made its debut at last night's game at Nebraska, and Nebraska's equipment manager, Pat Norris, got the patches added to the MSU jerseys (from @budcone7 and David Harns).

Soccer News: Italian club Roma's new retro-inspired shirt has leaked, and it's a good one (from @deadendnights). … A few items from reader Josh Hinton: Next season, Arsenal will apparently wear a modern rendition of the team's infamous "bruised banana" jerseys; in the EPL, Leicester City's Jamie Vardy spooked his teammates by wearing a Spider-Man costume during a training session; and the Seattle Sounders have a new jersey advertiser has been released … Speaking of which: The Sounders and Seattle Reign of the NWSL now share a new shirt advertiser (from Ed Zelaski). … Also from Ed: New shirt for Argentinian club San Lorenzo. … Forward Madison FC, a Wisconsin-based club of the United Soccer League, has invited fans to design the season ticket holder scarf for its inaugural season (from JohnMark Fisher).

Grab Bag: Curling's Continental Cup has begun, and with it brings new uniforms which this article describes as "loud," "colorful," and "patriotic" (from Wade Heidt). … The Ohio State University is hosting an on-campus exhibit on the relationship between sports and fashion (from Lain Landon). … In the Brooklyn neighborhood of Park Slope, where Paul lived until recently, mothers now have a new "uniform" (NYT link). … Donald Trump's fashion tip for slenderizing? Long ties (from Jason Hillyer). … United Airlines has new uniforms for frontline employees and there's a reason airlines are outfitting their employees in purple. Sorry, Paul! (From Phil and Edward Hahn.) … Speaking of airlines, here are the five design finalists for Chicago O'Hare's $8.5 billion expansion. … Seeing double: Nike has a new shoe that includes the company's logo inside of its own logo. … A North Dakota artist has become popular making throw pillows out of old college marching band uniforms. … A Russian company wants to put a bunch of satellites in low-Earth orbits so they can display advertisements (from Jeremy Reeder).