For all of today's photos, click to enlarge
We're going to go off-uni today, because I want to talk about a highlight of my recent trip to Las Vegas: a visit to the Neon Museum, which I'd been wanting to check out for years.
The museum's collection of old signs is spread out across an outdoor site (commonly known as the "boneyard"), which is only accessible via one-hour guided tours. Because of Vegas's summer heat, tours this time of year take place only during the morning and evening. Each option has its pros and cons: If you go during daylight, you get the best view of all the signs, most of which no longer light up. If you go at night, you can see the illumination of the handful of signs in the collection that have been restored and do light up, but you don't get as good a view of all the inoperable signs. (The ideal option, I've been told, is to get the best of both worlds by going at dusk.)
My evenings on this trip were already spoken for, so I booked myself on a tour at 9:20am, when the temperature was "only" about 95 º. (It would hit a Vegas-record 117 º later that day.) Our tour guide pretty much insisted that we all bring along a bottle of water, and the museum offered umbrellas to anyone who wanted some additional shade. I declined the umbrella and was fine, although a few people peeled off and retreated to the air-conditioned visitor's center about halfway through our tour.
The short version: The boneyard features scores of signs, almost all of them from Vegas, most of them rusting and fading in various states of disrepair. But there's a grandeur to most of them, despite (or sometimes accentuated by) their slow decay. Some of the signs are fully intact; others are just pieces — a stray letter here, a random design detail there. I found most of it completely compelling.
You can get a sense of the scale of the place in this shot of our tour guide surrounded by assorted signage:
I took a lot of photos, and I don't want to go overboard by saying, "I really liked this one. And this one. And this one…" So I'll try to stick to just a few highlights, beginning with this sign, which was my favorite (and is also, according to our tour guide, the oldest sign in the museum's collection, dating back to the mid-1930s) — what a beauty:
I really wish this sign, from a dry cleaner, had been operational, since it apparently showed a smiley-faced shirt moving its arms/sleeves up and down:
If you look in the background of that last shot, you can see a figure bending over. That's a guy who was shooting pool as part of a big sign display. No neon on this one, so I suppose you could say it doesn't really belong in the museum, but whatever — it's so cool:
I love this scepter (or is it a torch?) intersected by a giant arrow — that points toward nothing:
Amidst all the rusty, broken-down signs, a few displays still retained an air of Vegas glitz:
Because many of the signs were packed so close together, their various elements sometimes coalesced into interesting composite arrangments:
And here's a bonus: The museum's visitor's center was originally the lobby of the La Concha Motel, which was in a different part of Vegas and was relocated to the museum site in 2012. Here's how the La Concha looked in an old postcard:

And here's how it looks as the museum's visitor's center (photo by Jennifer Huber, not by me):
For those of you who remember my Candela Structures project from a few years back, it's amazing how much the La Concha looks like the Candelas, right? There's no connection, though. The La Concha is slightly older (it opened in 1961, while the Candelas were built for the 1964 World's Fair) and is made of concrete (while the Candelas are fiberglass). Different architects, too: Paul Williams for the La Concha and Peter Schladermundt for the Candelas.
Still, the stylistic similarities are pretty remarkable. The visitor's center even has a few photos of the La Concha being disassembled so it could be moved to the museum site, which are similar to the old photos of a Candela pavillion being disassembled so it could be moved upstate, where it became a family's summer cabin.
Anyway: The La Concha's original sign is part of the boneyard.
That seems like a good place to stop. If you want more, you can see all of the photos I took in this slideshow (or by clicking here):
All in all, a great time. Now I need to check out the American Sign Museum in Cincinnati.
Thanks for listening. We'll get back to more conventional Uni Watch content tomorrow.
•  •  •  •  •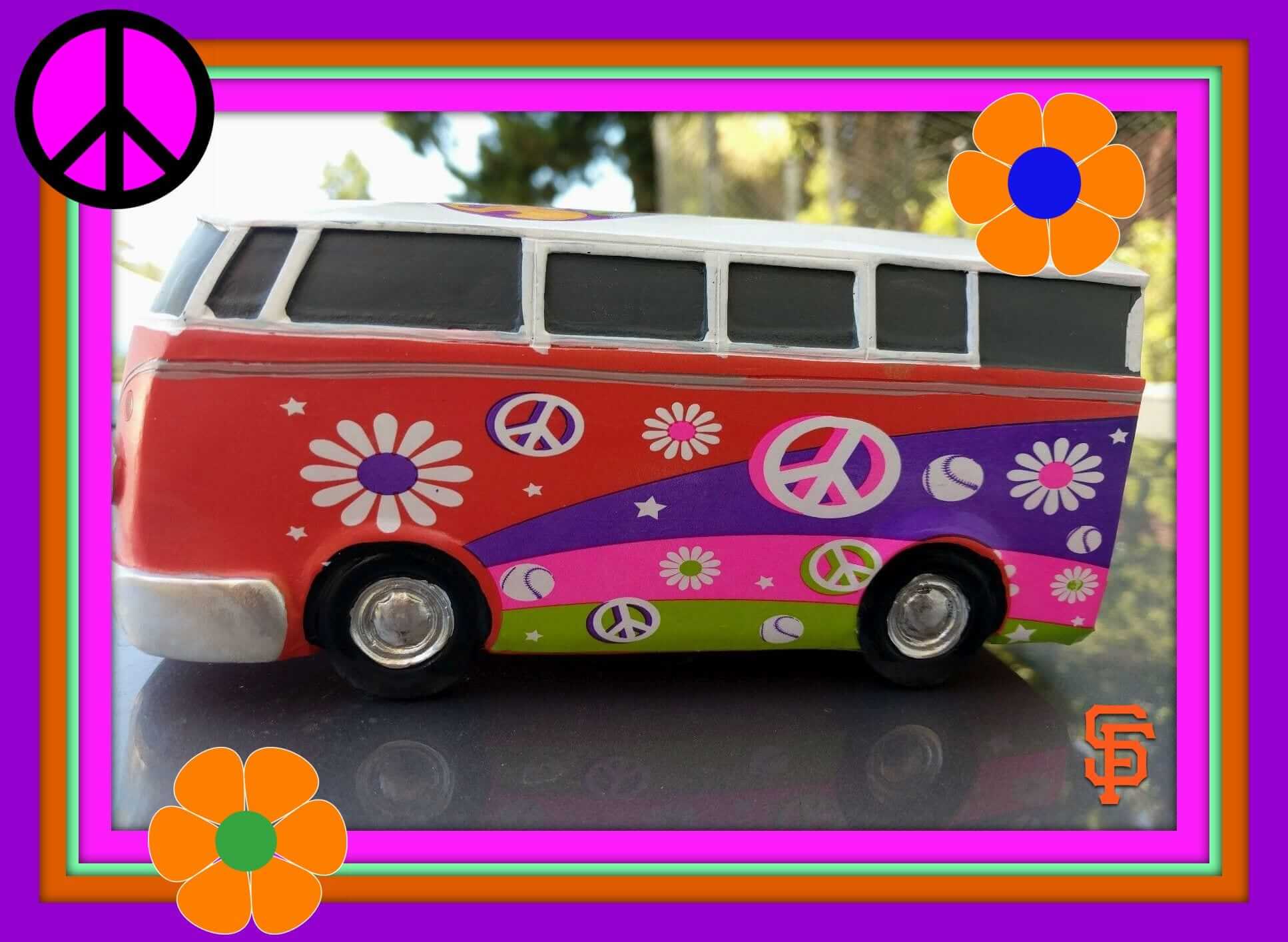 Collector's Corner"¨
By Brinke Guthrie
It's the Summer of Love's 50th Anniversary here in the Bay Area, so let's start off with this nifty SoL VW Bus that the Giants gave away just two days ago at AT&T Park. (I wasn't at the game, but I've already scarfed one on eBay.) The Giants have long had an association with the Bay Area's Grateful Dead, and this fits right in. In fact, they've got a Grateful Dead Dancing Bear bobblehead coming up on Aug. 2, and that's next on my hit list. Let's face it, the Giants' season has been, to phrase it in 1967 terms, a bad trip. So we gotta have freebies to keep our attention.
Now let's keep on truckin' — everything this week is from 1967!
•  It's the classic Miami Dolphins look on this 1967 Bob Griese jersey.
•  Johnny U. on the cover of the Baltimore Colts edition of the This is NFL Football booklet.
•  Penguins fans! Here's a 1967 seat from the Civic Arena in Pittsburgh.
•  Really nice-looking thermal mug for the 1967 World Series with the Red Sox and Cards.
•  How about a "Class of 67" NHL banner?
•  Here's a 1967 Amoco ad telling you how to win a 1968 Mustang by collecting NFL player stamps.
•  This is what you'd call groovy cover artwork on this 1967 pro basketball edition of Sports Illustrated featuring Walt Frazier and "the new Madison Square Garden." It was so groovy you could barely read it, but that hardly mattered, man.
•  Cool shot of The Danderoo on the cover of The Dallas Cowboys 1967 Outlook. Love the three striped sleeves. Now, of course, they barely even have sleeves.
•  This San Antonio Spurs pennant says "established 1967." And they were! (As the Dallas Chaparrals.)
•  Here we have a 1967 magazine with some stellar cover art, The Professionals Look at Pro Football. [This is an excellent booklet. I devoted an entire entry to it three months ago. "" PL]
•  Check out the cover art on this 1967 preseason game program for the Colts and Patriots.
•  Great googly-moogly, there's some terrific cover art here. The SF Giants visiting the Braves, no matter what the listing says.
•  Maple Leafs fans will love this Stanley Cup Champions mug set, from 1967, 1964, and 1963.
•  •  •  •  •
The Ticker
By Paul

Baseball News: When Stance took over as MLB's hosiery outfitter last year, they supplied socks but not stirrups, so players who wanted to wear stirrups wore non-Stance product. But as you can see in this shot of Cleveland SS Francisco Lindor, Stance is now making stirrups. Lindor, as usual, is wearing them over Trusox, which he uses as sanitaries. He also appears to be wearing a Stance sock as a repurposed compression sleeve on his arm (from Jason Whitt). … Here's a patch for Albert Pujols's 600th home run. … Bob Andrews recently scored a copy of a 1965 Astrodome media guide. Of particular interest is the page that shows fabric swatches from the various color-coded seating levels. Leaving aside how cool the color guide is, I'm astonished to learn that they were using fabric-covered seats! … Game 1 of the College World Series last night between Florida and LSU featured a blue-vs.-purple matchup. … Cubs C Willson Contreras, who's from Venezuela, wore a compression sleeve with a Venezuelan flag design last night. I'm told he's been wearing it for a while. … A new minor league team is coming to Fayetteville, N.C., and the search for the team's name is now down to five finalists, most of which seem very Brandiose-ready (from Matt McCormack). … Lids, perhaps unfamiliar with a certain chapter in American history, is selling a line of stars/stripes T-shirts under the name "Stars and Bars" (from an appalled Ed Casey). … Hall of Famer Craig Biggio wore No. 7 for most of his career — but not in his MLB debut, when he wore No. 4 (from Nick Lineback). … The Nationals will host the Mets at 11am on Independence Day. Looking back at old box scores, I see that they've been doing this for several years now. What's up with that? I thought the only morning game on the MLB schedule was the annual Patriots Day game in Boston and hadn't realized the Nats were doing something similar for Independence Day. Is there a specific holiday-based reason for the morning start time? (With thanks to Mets Police blogger Shannon Shark, who mentioned the unusual start time in his latest post.)

Pro Football News: Very odd size and placement for the Dolphins' logo on the midfield helmet design in a 1982 game. "A similar situation happened during the 1981 season for a Monday-night game against the Eagles, but that time it was on the left side of the 50-yard line," says Cris Routh. … The NFL Shop apparently thinks the 'Skins play in Washington State (from Tommy Turner, among others). … Broncos rookies have been wearing polo shirts with the team's old "D" logo. "First time I've seen it at an official team event," says Justin Pauls. … With Canada's sesquicentennial taking place on Canada Day this Saturday, the CFL is planning lots of celebratory details for its Week 2 schedule, highlighted by this amazing ref's jersey (from Wade Heidt).

College Football News: Reader Joe Bailey is in San Diego for a conference and took a tour of the USS Midway. "In one of the C/O's offices was a desk that was covered in glass," he says. "Underneath was a ticket stub for the 1941 Army/Navy game. I couldn't tell if it was reproduced or not. Kind of cool." Indeed.

Hockey News: Yesterday's Ticker had a blurry screen shot of an early Oakland Seals uni. Here's a clearer shot, which were originally used in the Seals' WHL days and were briefly repurposed during the 1967 preseason (from Kevin Vautour).

NBA News: For the second consecutive year, the NBA had a float in NYC's Gay Pride parade. It is the only major sports league to have entered a float.

Soccer News: Stuttgart has become the latest Bundesliga club to add a sleeve sponsor advertiser (from Ed Å»elaski"). … New away kit and new jersey advertiser for Crystal Palace. … Here's the MLS All-Star jersey. "They're a subtle throwback to the infamous 1994 World Cup 1994 'denim' tops," says Ivan Krstičević. … New jersey advertiser for Orange County Soccer Club (from Brian Henke).

Grab Bag: UFC combatant BJ Penn was wearing his trunks inside-out the other night. … Great story on the history of Confederate flag design. … This article about life on the lower rungs of the pro tennis circuit includes the following: "Before her first-round match in Charlottesville, [Aleksandra] Wozniak sat by the front desk of the club. She rummaged around and found a plastic stencil, placed it over the strings of her racket, then took a fat black marker and colored in the Yonex logo as she chatted amiably. 'You can't forget to do it or you could lose your sponsorship deal,' she said." … The Chicago-area grocery chain Jewel-Osco has a new cyclops-styled mascot (from Jordan Cutler).
•  •  •  •  •
Happy birthday to our own Mike Chamernik. Hope you get everything you wish for when you blow out the candles, buddy!