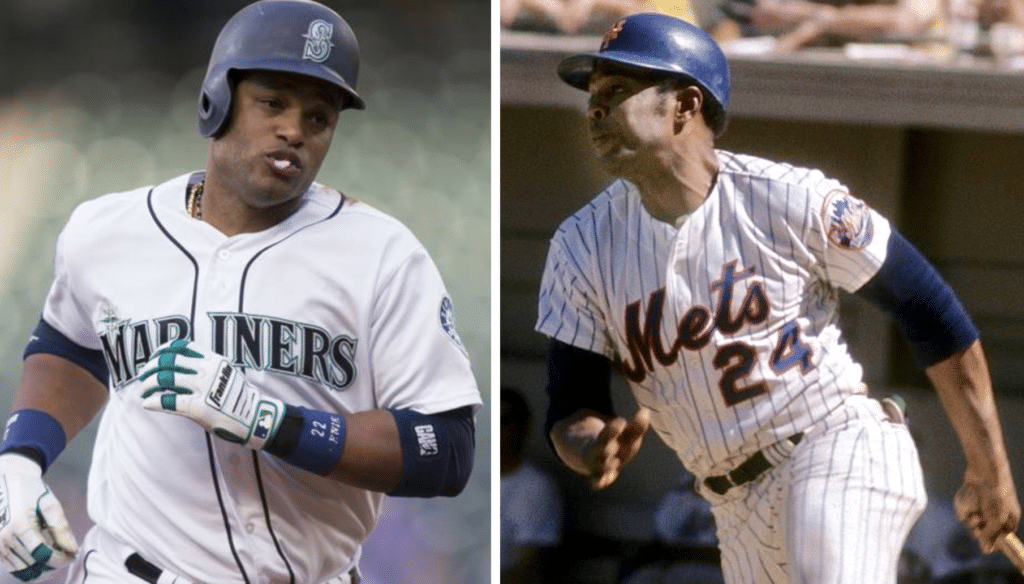 The Mets mortgaged their future for a 36-year-old PED user completed their trade for Robinson Canó yesterday. The ink on the contract was barely dry when it was announced that Canó will wear No. 24, which quickly led to a lot of discussion in the Twitter-verse. I'd like to address that here today.
As the more Mets-fluent among you probably know, 24 has become a loaded number in the team's history since Willie Mays wore it during his brief stint with the team in 1972 and '73 — the final two years of his career. The party line is that then-owner Joan Payson (who had been minority owner of the New York Giants when Mays played for them) promised Mays after he retired that no other Met would wear 24. Although the number was never officially retired, only two Mets have worn it since then: outfielder Kelvin Torve, who wore it for a couple of games in 1990 before the team took it back and had him wear No. 39 instead (additional info here and here), and outfielder Rickey Henderson, who wore it in 1999 and 2000 (which Mays wasn't happy about). So there was some grumbling yesterday about Canó getting to wear No. 24. Some folks said the Mets should go ahead and officially retire the number for Mays already. Others have been saying this, on and off, for many years.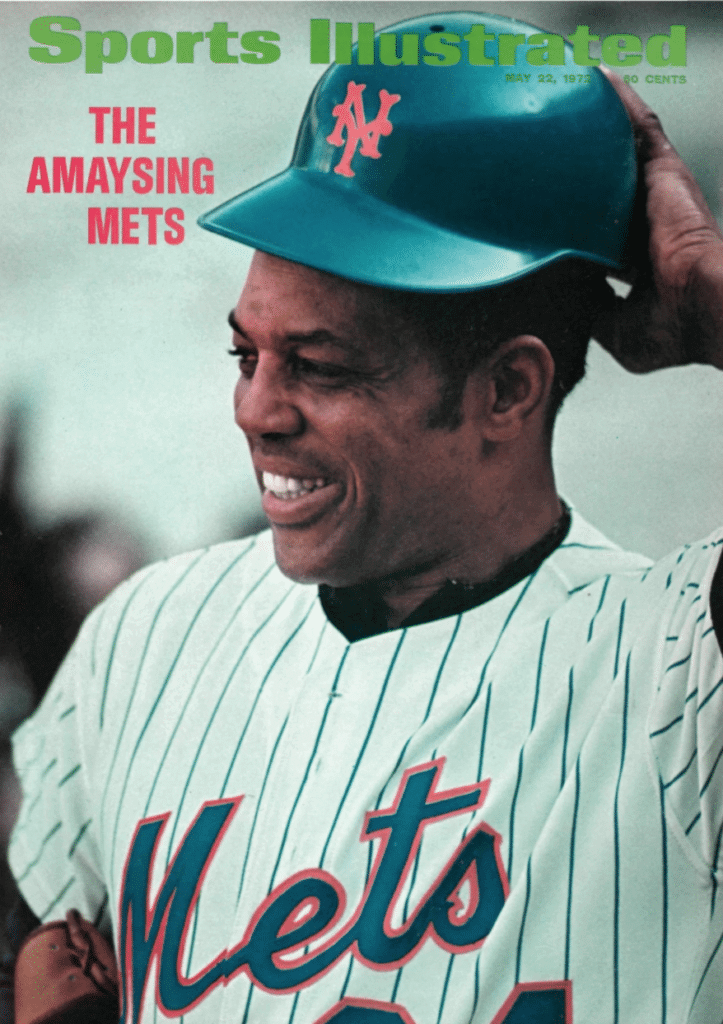 Now, I like Willie Mays. Who doesn't? Probably the greatest all-around player who ever lived. I was eight years old when he was traded to the Mets in 1972, and even at that age I knew enough to understand that it was exciting to have him on my team. I went to the library and pored over the new issue of Sports Illustrated that had him on the cover. In '73, I got to see him hit a home run in a game that I attended. The Mets and Mays went to the World Series that year. What's not to like?
However…
Willie Mays played only 135 games for the Mets over those two seasons. And most of them, frankly, were not good games. I'll spare you the litany of statistics, but you can see the numbers for yourself, and they're not pretty. By any reasonable measure, Mays was a marginal major leaguer at best in '73. The sad reality is that his most significant moment in a Mets uniform was probably when he lost a ball in the sun and fell down during a key moment of the '73 World Series. (I was watching in my grandmother's living room and can still remember how queasy I felt when that happened.)
But even if he'd played well for the Mets, we're still talking about only 135 games. Retiring 24 for Mays, whether officially or unofficially, is essentially a dishonest attempt to claim him as a significant component of Mets history. He's not. Suggesting otherwise doesn't honor him; it actually cheapens his legacy, and also cheapens the Mets, cheapens the number, and cheapens the concept of retired numbers. So I have no problem with Canó wearing No. 24. On the contrary, I welcome it, because maybe it'll finally put an end to this foolishness.
A few people on the other side of this debate pointed out the parallels between Mays and Hank Aaron. Aaron, like Mays, finished his career with two lackluster seasons in the city where his career began (Milwaukee in Aaron's case, New York in Mays's), and then the Brewers retired his No. 44. So why shouldn't the Mets do the same for Mays?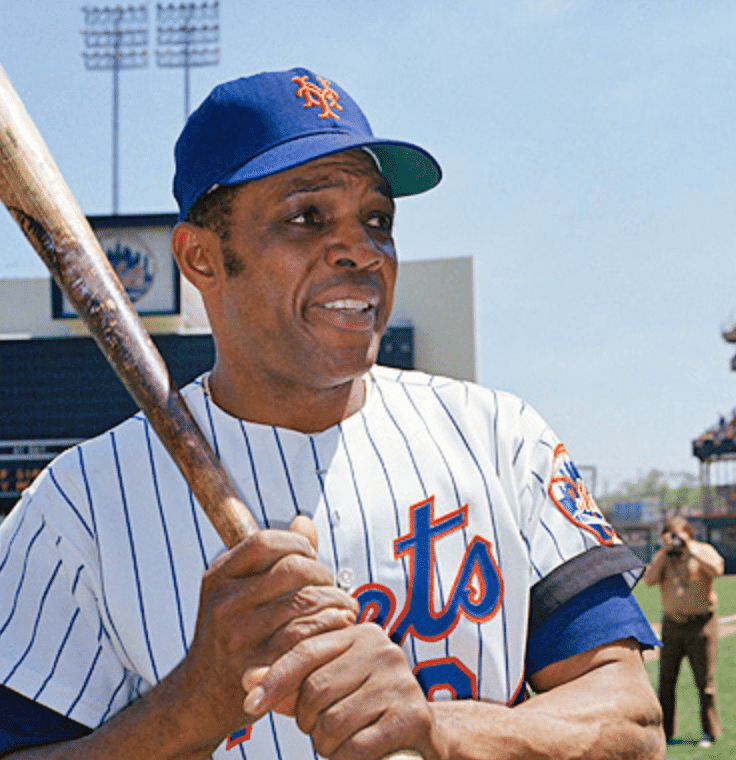 For one thing, the parallels aren't as close as they initially appear. When the Brewers retired Aaron's number at the end of the 1976 season, the team had only existed for seven years and had never had a winning season, so retiring the all-time home run king's number provided at least a scrap of gravitas for a franchise badly in need of it. It was a transparently rinky-dink move — a child's attempt to look like a grown-up. The Mets, by contrast, had already won a World Series and been to another by the time Mays retired, so they had no need to engage in those types of parlor games.
Also, Aaron's best years were in Milwaukee (before the Braves decamped for Atlanta), so a case could be made for Milwaukee honoring him. Mays, meanwhile, had his best years in San Francisco. So again, the parallels don't hold up under scrutiny.
Finally, amidst all of this chatter about Mays, here's something to consider: Robinson Canó was named after Jackie Robinson. That's why he likes to wear No. 24 — it's the inverse of Jackie's 42. He wore 22 in Seattle because 24 had been retired for Junior Griffey, but now he's reclaiming it, and his reason for doing so seems a lot more noble than keeping the number out of circulation for a player who's little more than a footnote in Mets history, even if a former owner made a promise to him that, let's face it, should never have been made.
• • • • •
• • • • •
Click to enlarge
NHL Seattle contest results: The results of my latest Uni Watch design challenge, to create an identity for the new NHL franchise in Seattle, will be posted on ESPN.com today (not yesterday, as I originally thought). We received a lot of really excellent entries for this one, including Michael Jarvie Jr.'s concept for the Seattle Greys, shown above.
Update: The ESPN piece is now up. Enjoy.
• • • • •
• • • • •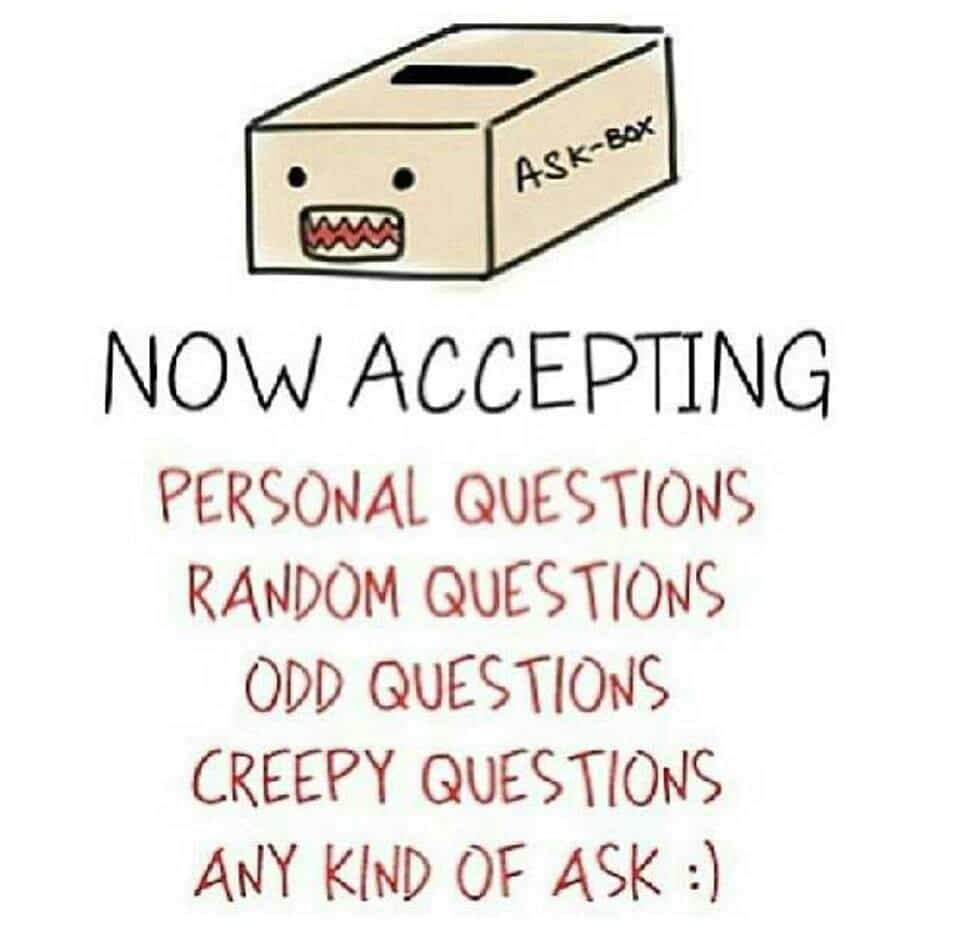 Question Time reminder: In case you missed it on Monday, I'm gearing up for a new round of Question Time, the AMA-style forum where you can submit questions about whatever you like and I'll do my best to answer them.
In case you've forgotten, here's how it works: Send one question to the Question Time address (please note that this is not the usual Uni Watch email address). Your question can be about uniforms, sports, or anything else, although I reserve the right not to answer questions that are too personal. One question per person — this rule will be strictly enforced! And if you want to see which questions I've already answered, you can see the previous eight installments of Question Time here.
I'll answer this latest round of questions either later this month or in early January. Thanks!
• • • • •
• • • • •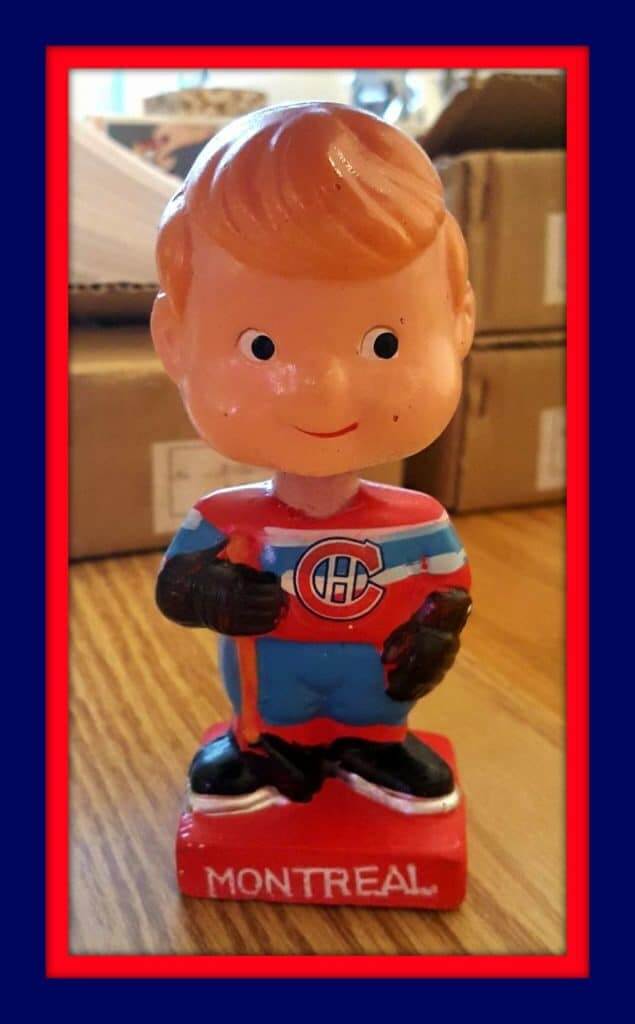 Collector's Corner
By Brinke Guthrie
Starting off, got a couple items here for the Montreal Canadiens. First, a 1960s bobblehead that is NIB (that's "new in box," kids) And we also have a No. 30 goalie equipment bag from the 1960s-1970s. Vive les Habitants!
Now for the rest of this week's picks:
• Here's a can of 1960s Rawlings Glovolium. They still make this product today, but the package isn't as nice. The seller says there's still an ounce or two inside, so you can use it to soften up your glove. [I used a can exactly like this one to break in my first glove in the early 1970s. — PL]
• You say you want a little late-1970s retro NFL helmet action? Step right this way: These are called Fasson Crack 'N Peel NFL helmet stickers. All 28 teams (at the time) are shown — NFC helmets pointing left, AFC pointing right. Each sticker is 4″ by 4.25″.
• Here's something I've never seen — something called a light-up car medallion. This one is for the Dodgers, and you apparently wired it up somehow and stuck it on your car grille.
• As far as retro baseball programs go, it doesn't get much better than this 1970 MLB All-Star Game program at the brand new Riverfront Stadium in Cincinnati. Riverfront opened on June 30, 1970, and the All-Star Game was just two weeks later! Now that is cutting it close. I'm sure all the bathrooms worked.
• Here's another 1970 game program, this time for the Buffalo Sabres.
• Chiefs fans, tag your bicycles with this 1970s Dixie NFL team bike tag.
• This classic-looking Oakland Raiders varsity jacket sure has a Sears NFL Shop vibe to it, but this one has no Sears branding. Instead, the label reads, "Sir Jac."
• This Packers zip-front sweater is from Sears, with the label reading "Put On Shop."
• Nice collection of 1970s NFL helmet medallions right here.
• This 1960s NHL glass has all the teams of the period on it.
Seen an item on eBay that would be good for Collector's Corner? Send any submissions here.
• • • • •
• • • • •
The Ticker
By Alex Hider

Baseball News:  The union representing the workers at New Era's factory in Derby, N.Y., says the company has not yet filed a required 60-day notice to close the plant and claims the business could remain viable if another company decides to manufacture there (from @PhillyPartTwo). … Thanks to a little uniform detective work, it's been determined that this photo is probably one of the few surviving from the first-ever game played at an incomplete stadium that would eventually become known as Washington's Griffith Park. Full details here (from @pchpaman and Jeff Ash).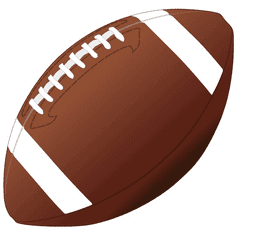 Football News:  Marty and McGee, an ESPN talk radio pair, have a new centerpiece for their set: A football helmet with the show's logo (from James Gilbert). … A shot from the Raymond James Stadium tunnel offered a good look at the Bucs' reflective numbers on Sunday. They're also hinting that they'll wear those same uniforms again on Sunday (from John Sabol). … Lots of people are noting that Notre Dame will become the first non-Nike team in the College Football Playoff. In addition, Oklahoma will wear the Jordan logo, although that's still a Nike sub-brand.

Hockey News: Predators G Pekka Rinne broke a skate blade after he hit it against the left post during last night's game against the Sabres, leading to a stoppage so the equipment staff could replace the blade (from @Version3_0_0). … The Seattle Times published a comprehensive history of pro hockey in Seattle on Sunday, including a graphic of team uniforms through the years (from John Kimmerlein). … The manufacturer's logo on Sabres D Zach Bogosian's helmet is pretty worn out (from Jonathan Hanna). … Both the Edmonton Oil Kings and the Vancouver Giants of the WHL will wear one-off uniforms for upcoming teddy bear toss games (from Wade Heidt and Art Mah). … Notre Dame teased their outdoor game uniforms on Twitter yesterday (from Robert Caplette). … Another Reddy Kilowatt sighting: These commemorative jerseys will honor the players from the 1945 Granite Falls High School (Minnesota) hockey team. More on that team here (from Alan D. Poff).

NBA News: Celtics G Terry Rozier is being sued for copyright infringement for selling Scary Terry merchandise with the famous Scream mask (from Mike Chamernik). … The Wisconsin Herd of the D League will wear camo uniforms on Dec. 7.

Soccer News: New third jerseys that feature a goat's head design for Chivas of Mexico's Liga MX (from Ed Zelaski). … Vélez Sarsfield of Argentina's Primera División has a new throwback jersey honoring the club's first title in 1968 (also from Ed Zelaski).

Grab Bag: George H.W. Bush was a self-proclaimed sock guy, and he'll wear a special pair honoring his service as a Navy pilot (WaPo link) to his final resting place (from Michael Rich). … Speaking of Bush, this specially painted locomotive will lead a funeral train that will carry his body from Houston to his final resting place in College Station, Texas, later this week (from Igancio Salazar). … The Buffalo Bandits of the National Lacrosse League are wearing retro jerseys full-time this season (from Dave Buchanan). … I highly recommend this entire five-part documentary about the history of MMA if you have the time, but this portion discusses the economic impact of the UFC's apparel deal with Reebok signed in 2015. … The Scottish Rite of Freemasons Northern Masonic Jurisdiction updated its brand logos and wordmarks back in August (from @TweetsTweeds).