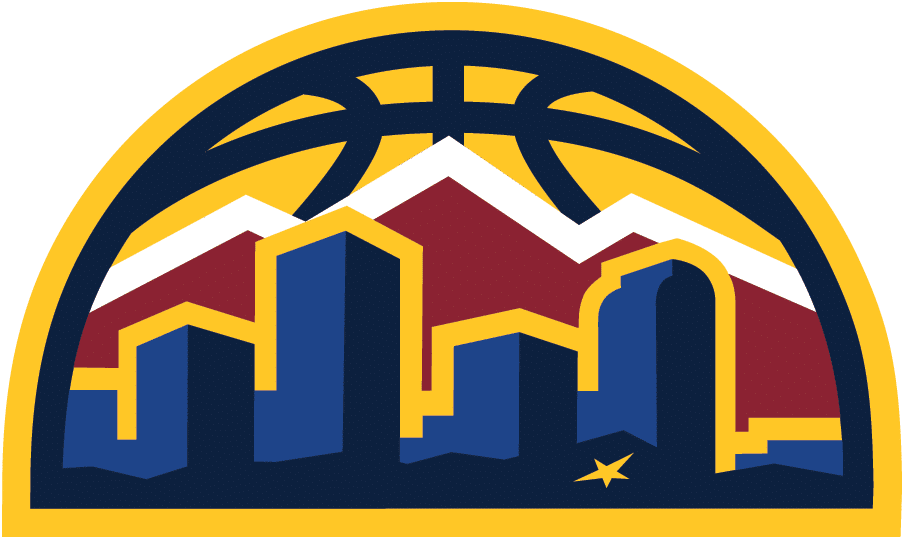 [Editor's Note: Today we have a guest entry from Ron Ruelle, who's done an admirably deep dive on one of the Denver Nuggets' alternate logos. Enjoy. — PL]
By Ron Ruelle
The recent redesign of the Denver Nuggets' uniforms has been bugging me for a while now, for two reasons. First, the old color combo of sky blue and yellow was gorgeous. And second, the skyline logo is all wrong.
Let me explain, beginning with a look at the Nuggets' old rainbow skyline logo. This logo was iconic, with generic Atari buildings in front of mountains. Maybe not beautiful, but it worked for years: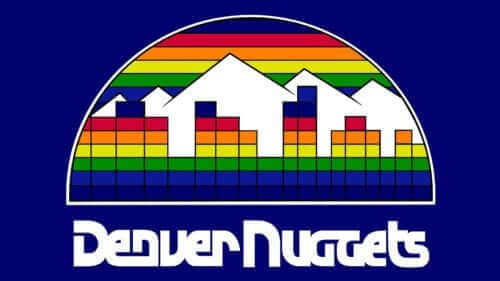 They updated the logo for their new set, with a more 3-D look to the buildings. The buildings themselves are the same generic boxes — except one building stands out, the one on the right with the rounded top and the star at its base: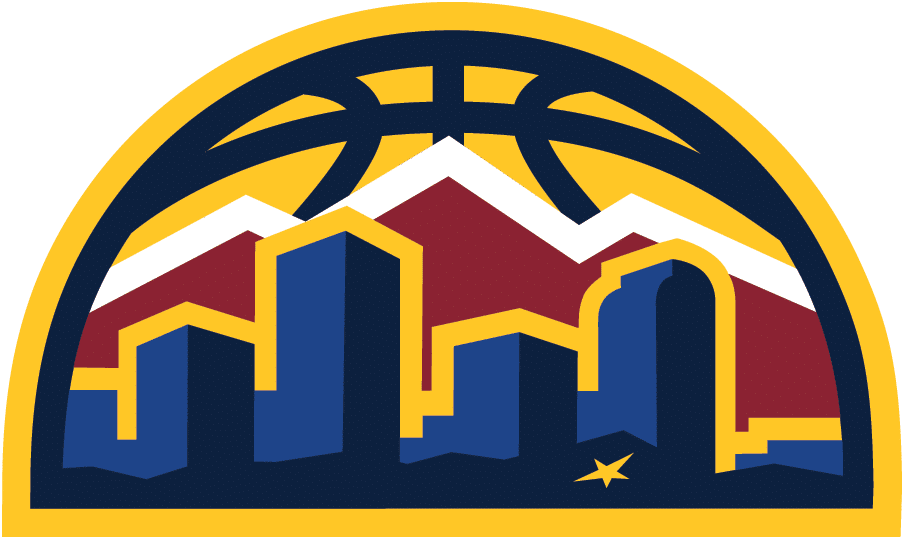 The rounded-top building is meant to represent the most (some would say only) recognizable building in Denver — the Wells Fargo Center, affectionately known around here as the Cash Register Building. Here's a photo to prove how much it stands out (click to enlarge):

The Pepsi Center, home of the Nuggets and Avalanche, would be in the foreground of this shot, just outside the right edge of the frame. Presumably, that's what the star in the logo represents. But as you can see, there's no sign of the mountains in this shot — even though the mountains are shown in the logo.
Now, when a cartoonist needs to draw Denver, a bunch of rectangles plus the Cash Register Building does the trick. And some mountains in the background — gotta have those. Here's an image from South Park, for example (it would work, even without the sign, right?):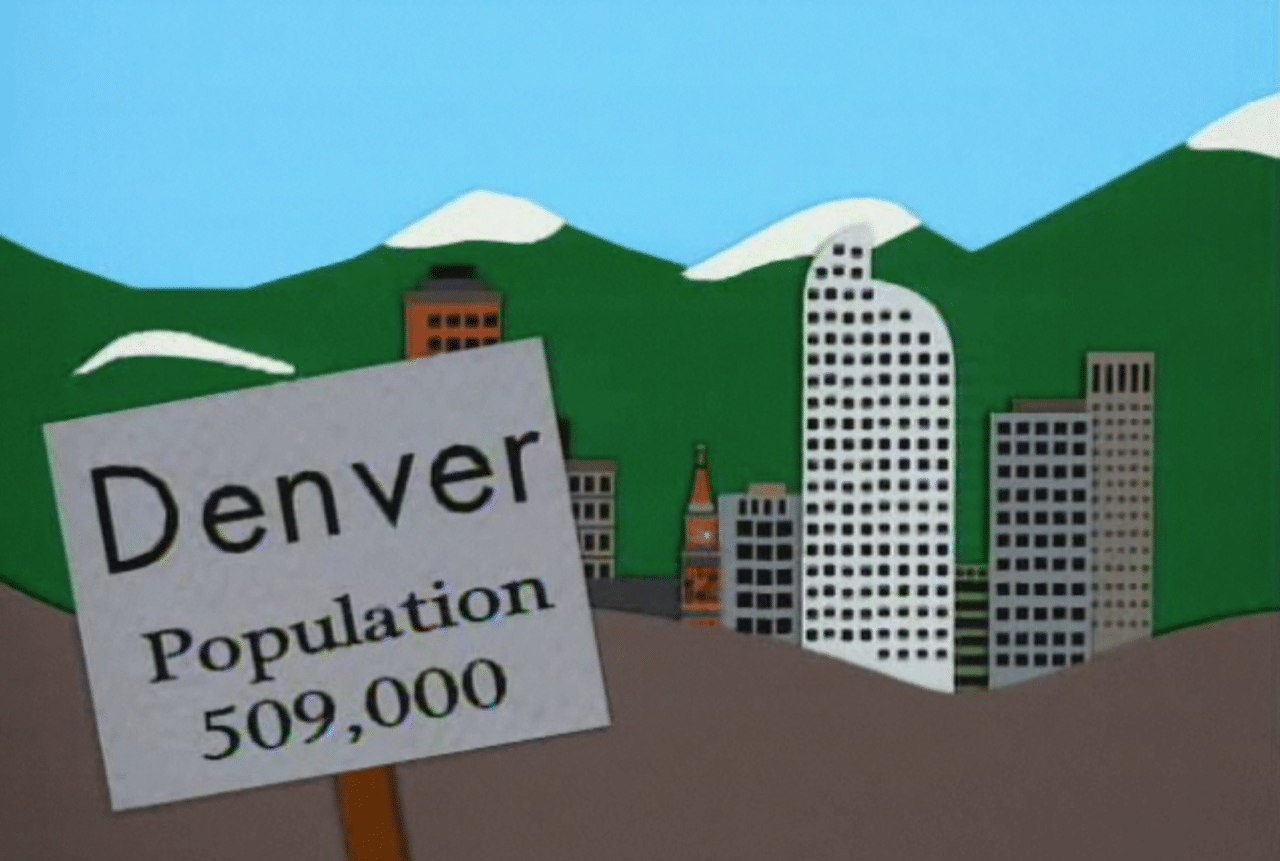 However, the Nuggets screwed it up. The new logo shows the buildings as viewed from the west, which would put the mountains behind the viewer. And yet, the mountains are shown in the logo. It doesn't add up.
Here's Denver from the east side. Big ol' mountains, and the Cash Register is on the left side of the frame now. The Pepsi Center is now hidden behind the towers (click to enlarge):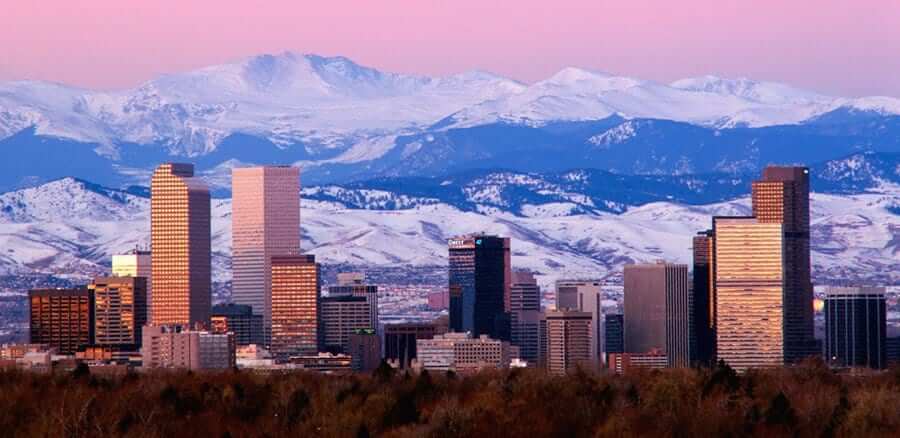 Here's my hunch: I bet the designer oriented the skyline correctly at first, but then team management had the idea of adding the star for the Pepsi Center, so they flipped it and called it a day, hoping no one would notice. All they have to do is flip it back, and get rid of the star, like this (click to enlarge):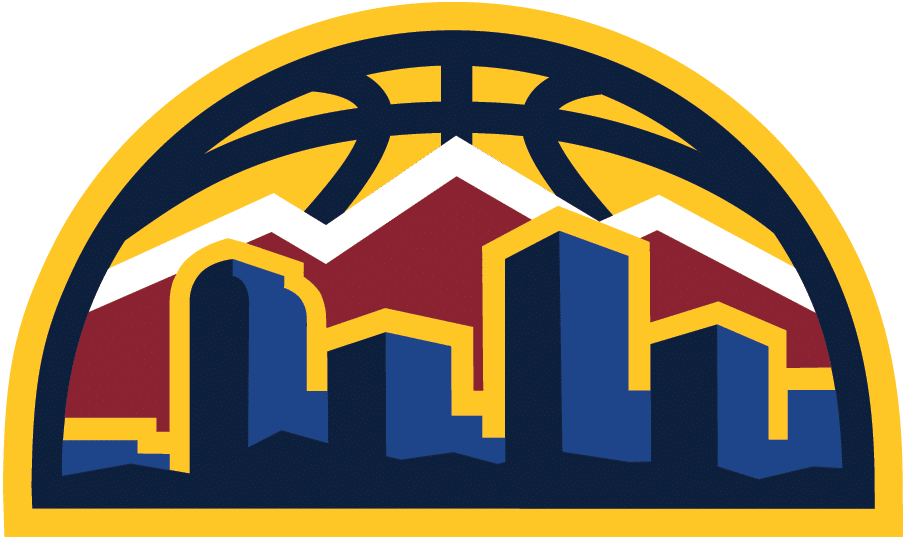 Or just go back to the rainbow design, which is still better.
———
Good stuff! I know we have several very serious Denver fans in the Uni Watch readership. Gregg, Tom — what do you guys think of Ron's analysis?
And in the bigger picture, what do we all think about a designer (or team executive, or whomever) taking this type of creative license? Does it matter that the logo isn't 100% geographically accurate, or is the logo more about conveying the idea of Denver rather than the specific reality of Denver? Before you answer, think about how you'd feel if the same sort of thing happened with a logo depicting your own town. It's an interesting question.
• • • • •
[adrotate group="2″]
• • • • •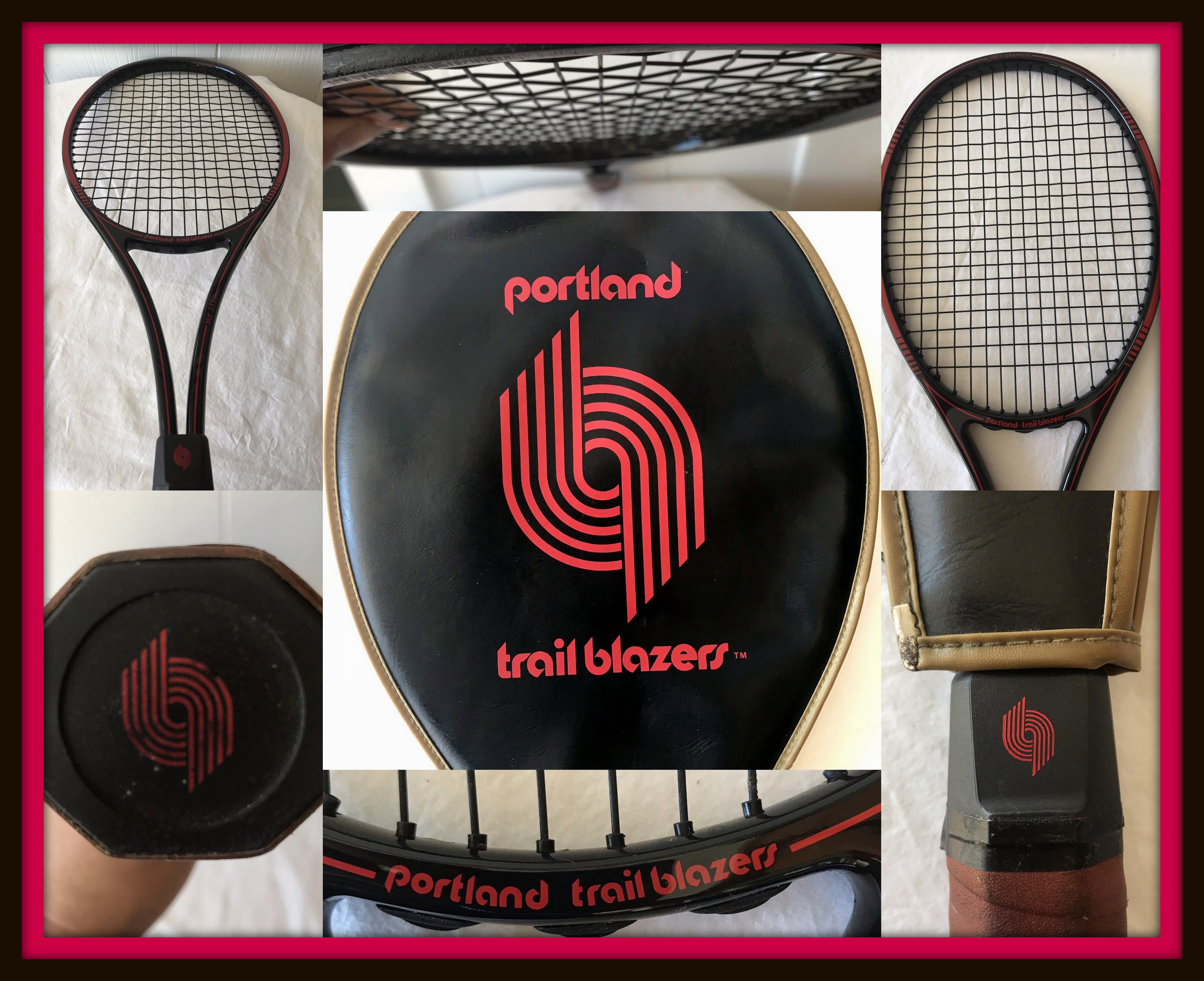 Click to enlarge
Collector's Corner
By Brinke Guthrie
There are some items I find on eBay that leave me scratching my head, and this is one of those. The above photo is of a Portland Trail Blazers tennis racket. Why were these made? I have no clue, and neither does the seller. Has anyone else ever seen one of these?
Now for the rest of this week's picks:
• Congratulations to the Boston Red Sox, winners of the 2018 World Series. Collector's Corner salutes the Sox with this 1970s handcrafted trivet, made in the USA!
• Check out this 1976 ticket for hockey's "Super Series '76" exhibition between the Chicago Blackhawks and the Soviet Wings. Looks like they just used the Bears' logo for the Russians, comrades.
• Ray-Duhz fans, since Halloween is tomorrow night, you won't be able to get this Raiders pumpkin-carving kit delivered in time. Maybe you can find one locally — no doubt they're available for all teams.
• Speaking of Halloween, they'll market anything these days. Exhibit A: this Baltimore Ravens Vampire Gnome, because why not.
• The Chiefs are doing well these season. Commemorate their success with this vintage 1970 poster. I had this one!
• ABA fans will appreciate the great graphics on this 1971-72 Floridians media guide. Cost: one dollar. I remember being so intrigued that their name had morphed to just "Floridians." My 10-year-old brain doubtlessly thought, "Where's the city name?"
• One more from Miami's old ABA team; a Floridians team jacket from Starter. Dig those groovy stripes, man.
• Patriots fans, pack up your tailgate stuff with this 1970s picnic helmet set.
• What goes around comes around: The Rams used the navy helmets with white horns in the 1970s, as shown on this vintage stein, and they're back to that look again. Well, most of it.
• Outstanding vintage graphics for sure: It was an all-star year back in 1972 for the Atlanta Braves, just like it says on their program cover.
Seen an item on eBay that would be good for Collector's Corner? Send any submissions here.
• • • • •
[adrotate group="2″]
• • • • •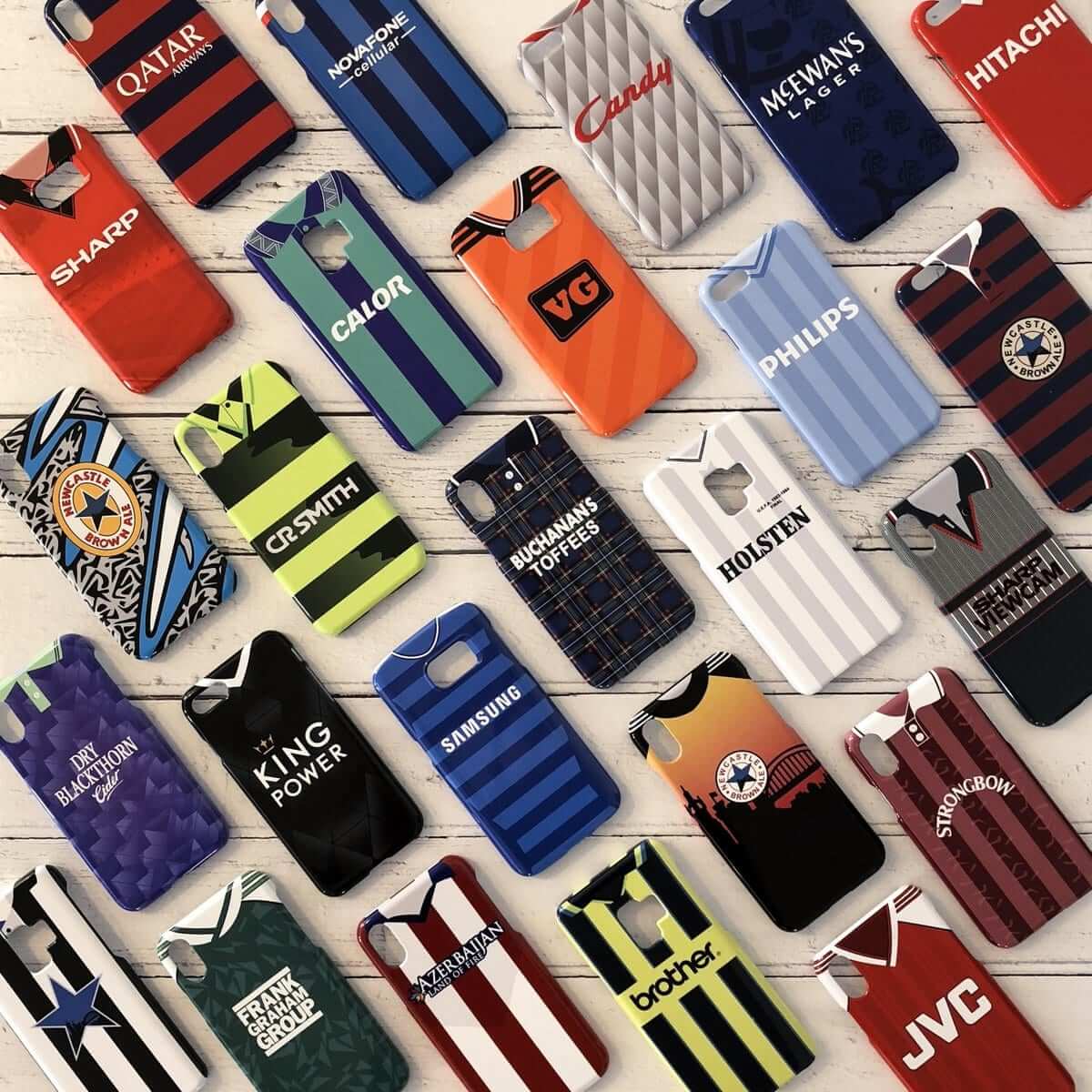 Click to enlarge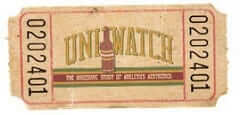 Raffle/discount reminder: In case you missed it on Monday, our friends at Nostalgia Cases are raffling off one of their soccer jersey-based smartphone cases. To enter, send an email to the raffle address by this Friday, Nov. 2, 7pm Eastern. One entry per person. I'll announce the winner next Monday.
In addition, if you don't want to wait and see how the raffle plays out, Nostalgia Cases has also extended its 10% discount offer by another week. To get the discount, just go to the Nostalgia Cases site and use the checkout code UNIWATCH.
• • • • •
[adrotate group="2″]
• • • • •
The Ticker
By Alex Hider

Baseball News: The Rocket City Trash Pandas — the new minor league team in Madison, Ala. — unveiled their new logos the other day, along with their new caps. "Rocket City" refers to northern Alabama's contribution to the space program, while a "Trash Panda" is a raccoon (from James G.). … The Sam Adams brewery is releasing a Red Sox beer in honor of the team's World Series championship (from Andrew Cosentino).

NFL News: Panthers coach Ron Rivera wore a T-shirt playing off his "Riverboat" nickname during a press conference yesterday. The shirts support a veteran's charity he and his wife started (from James Gilbert). … Bengals WR Tyler Boyd gave a game ball to a kid wearing a Buccaneers throwback jersey during Sunday's game in Cincinnati. Could he have mistaken the orange creamsicle jersey for a Bengals jersey? (From Brian Spiess.) … The Eagles and Jags left behind a mess at Wembley Stadium on Sunday, forcing Manchester City and Tottenham Hotspur to play a soccer match on a torn-up pitch yesterday (thanks to all who shared). … TV drama This Is Us takes place in Pittsburgh and includes some scenes at Steelers games. One of the characters wears a knockoff jersey throughout the series, and you can buy that knockoff jersey at the NBC store in New York because of course you can (from Alan Kreit). … Here are the uniforms for the volunteers at this season's Super Bowl in Atlanta (from Griffin Smith). … Bob Hansen spotted a car with a Broncos/Vikings mashup logo sticker. … Patriots OL Trent Brown had two sets of sock stripes last night.

College Football News: Those Jordan uniforms that Oregon was hyping? They just turned out to be your standard BFBS design. … Mississippi State will wear grey uniforms on Nov. 17, honoring a school grad who served in WWII (thanks to all who shared). … Southern Miss will wear military appreciation helmets on Saturday (from Brad Logan). … Speaking of military appreciation, Kansas unveiled more photos of the "Salute to Service" uniforms they'll wear on Nov. 3 (from Phil). … Georgia Tech will wear blue pants this Saturday against North Carolina (from ACC Tracker). … Seven schools outfitted by Under Armour — Auburn, Cincinnati, Hawaii, Maryland, Northwestern, South Carolina, and Utah — will wear camo accessories and sideline gear the next two weekends. … SMU has gone retro with its pregame graphics for this weekend's homecoming game (from Ignacio).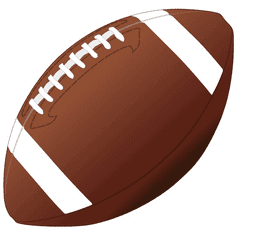 Other Football News: Wrestler Ric Flair will be at the BC/Hamilton CFL playoff game and will be wearing a personalized Tiger-Cats jersey (from Wade Heidt). … Three high schools in Wilkes-Barre, Pa., are combining into one school called Wilkes-Barre Area High School. The teams will be known as the Wolfpack, and the football team will wear these uniforms.

Hockey News: The Utica Comets of the AHL will wear Purple Heart jerseys on Nov. 9. They are one of seven pro sports teams — and the first hockey team — to be designated as a Purple Heart team (from Ben Birnell and Eric Kowiatek). … A couple of junior hockey teams wore pink this weekend for cancer awareness: The Moncton Wildcats of the QMJHL wore pink sweaters, and the Regina Pats of the WHL wore pink helmets, laces and shin tape (from Wade Heidt).

Basketball News: A blog is speculating that the Spurs could be bringing back the "Fiesta colors" (from Phil). … The men's and women's basketball teams at Grand Valley State — a D-II school in Michigan — are known as the Lakers. But on Feb. 23 the team will go by its old nickname, the Sawyers. No word in that story, but I would guess that we'll see throwback jerseys to go along with the name change (from Joe Hollomon).

Soccer News: Another MLS season is in the books, meaning Kyle Burkholder's tracker is complete. … Polish club Sandecja Nowy Sącz new badge has a (from Ed Zelaski). … Wembley Stadium hosted an NFL game between the Jaguars and Eagles on Sunday, and the pitch was pretty torn up for yesterday's Man City/Tottenham match (thanks to all who shared). … Rock Canyon High School (Colorado) is poaching Sporting Kansas City's badge (from Jordan Wiley).

Grab Bag: More trademarks are being filed than ever before for logos that include a skull (from James Gilbert). … We have another Reddy Kilowatt sighting, thanks to Wafflebored. What an awesome bowling shirt! Paul wrote more about the electric logo earlier this month.