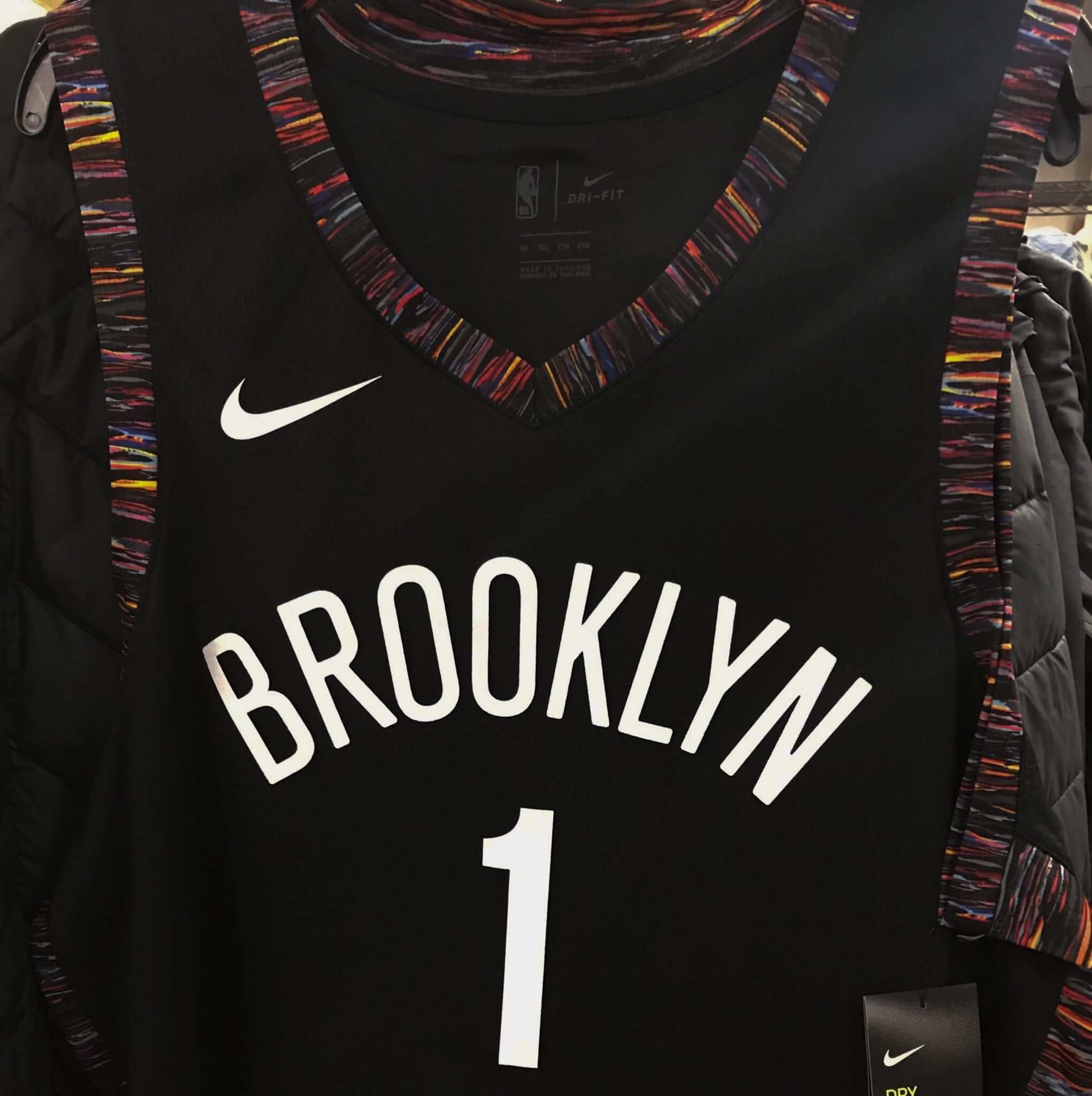 For all photos, click to enlarge
Yesterday was a(nother) banner day for NBA leaks, which I guess is what happens when Nike decides to give each team at least one new alternate every single year. Let's begin with this new Nets design (see above), which is apparently inspired by rapper Biggie Smalls's Coogie sweaters.
As far as I can tell, this one first appeared in this Reddit thread. Here's how it looks from the back: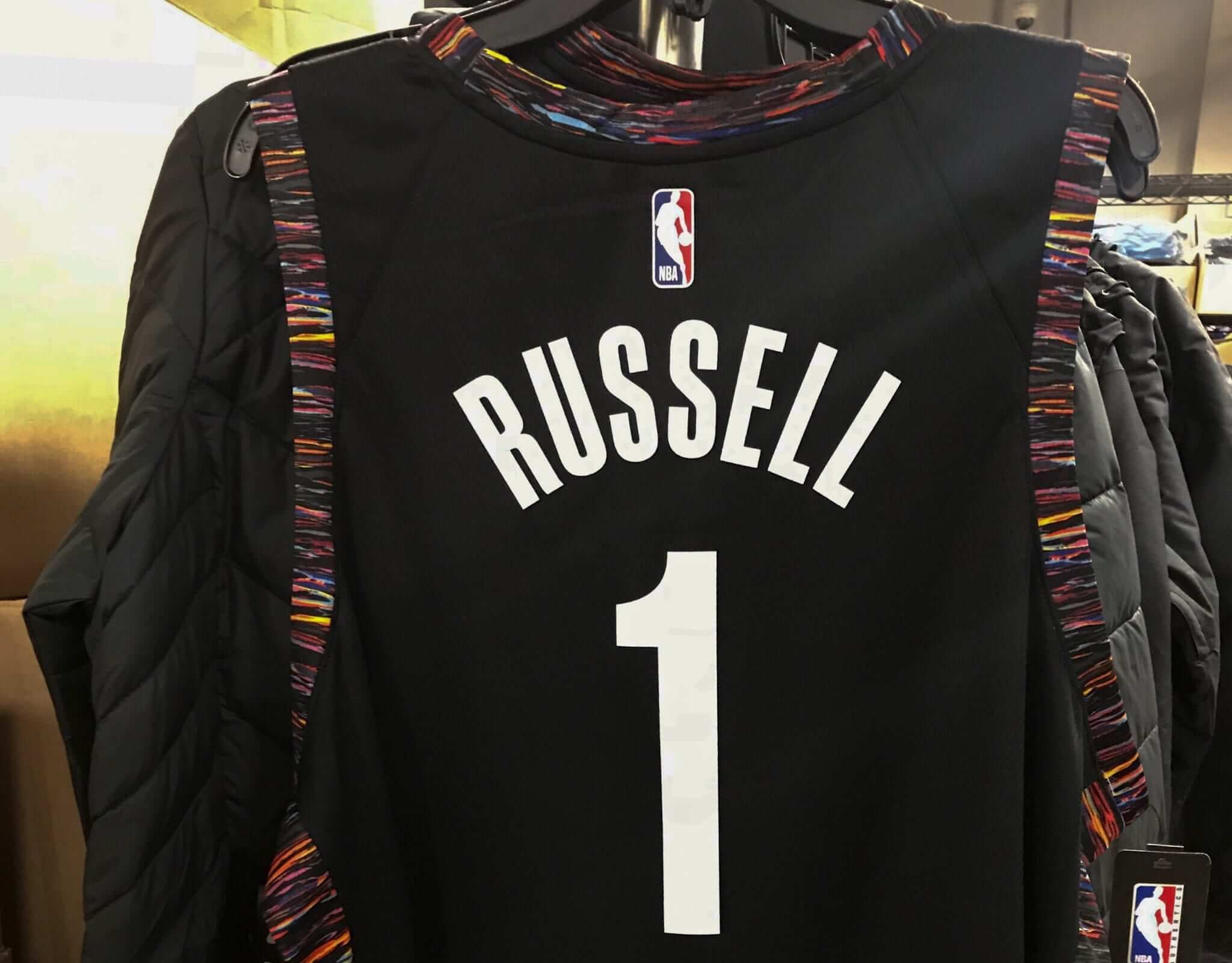 SB Nation's Nets blog claims to have a source who says that the leaked design is legit.
The same Reddit-er who posted those pics also posted a Knicks thread, which featured these photos of what is apparently a retro-flavored alternate: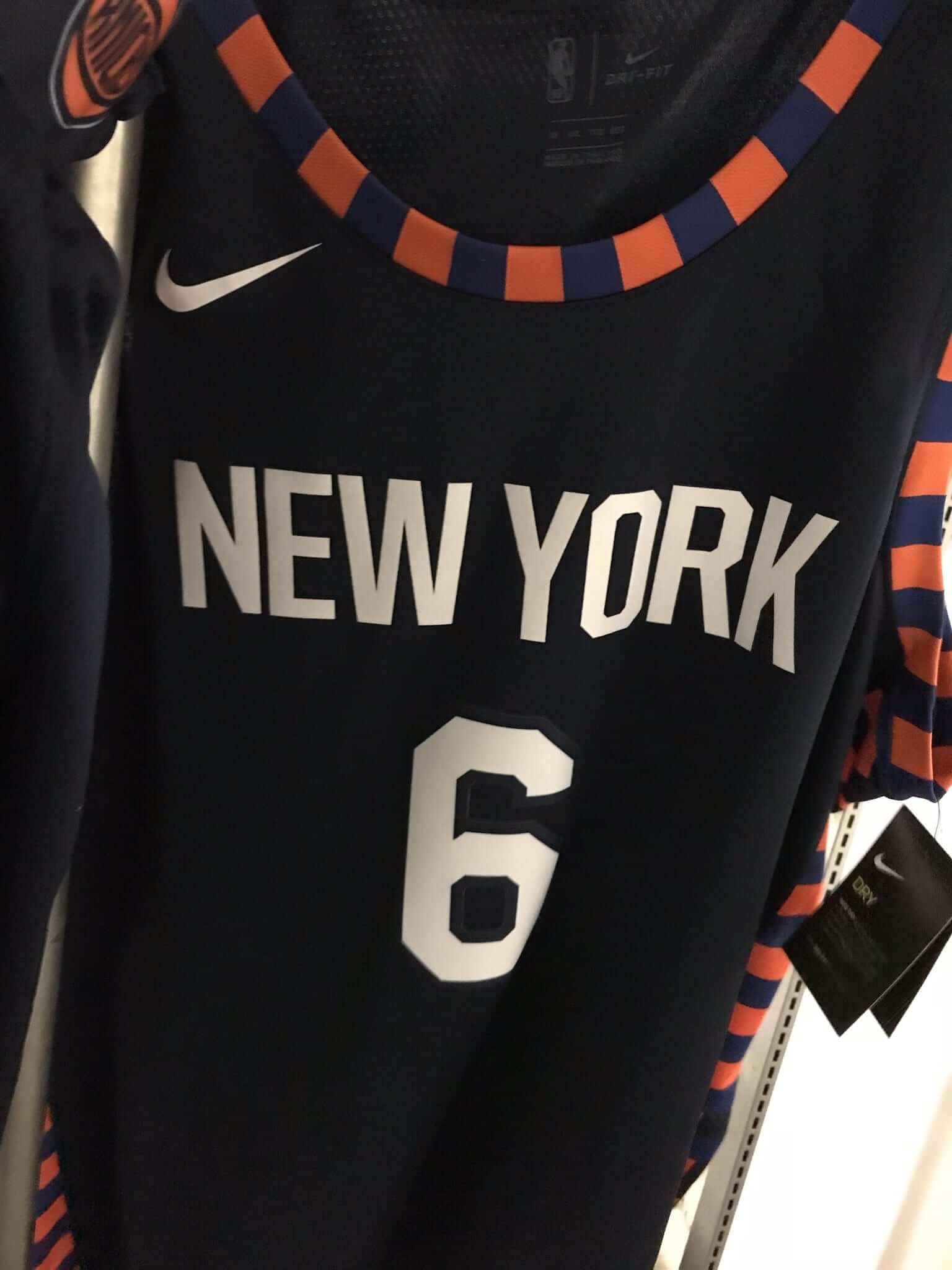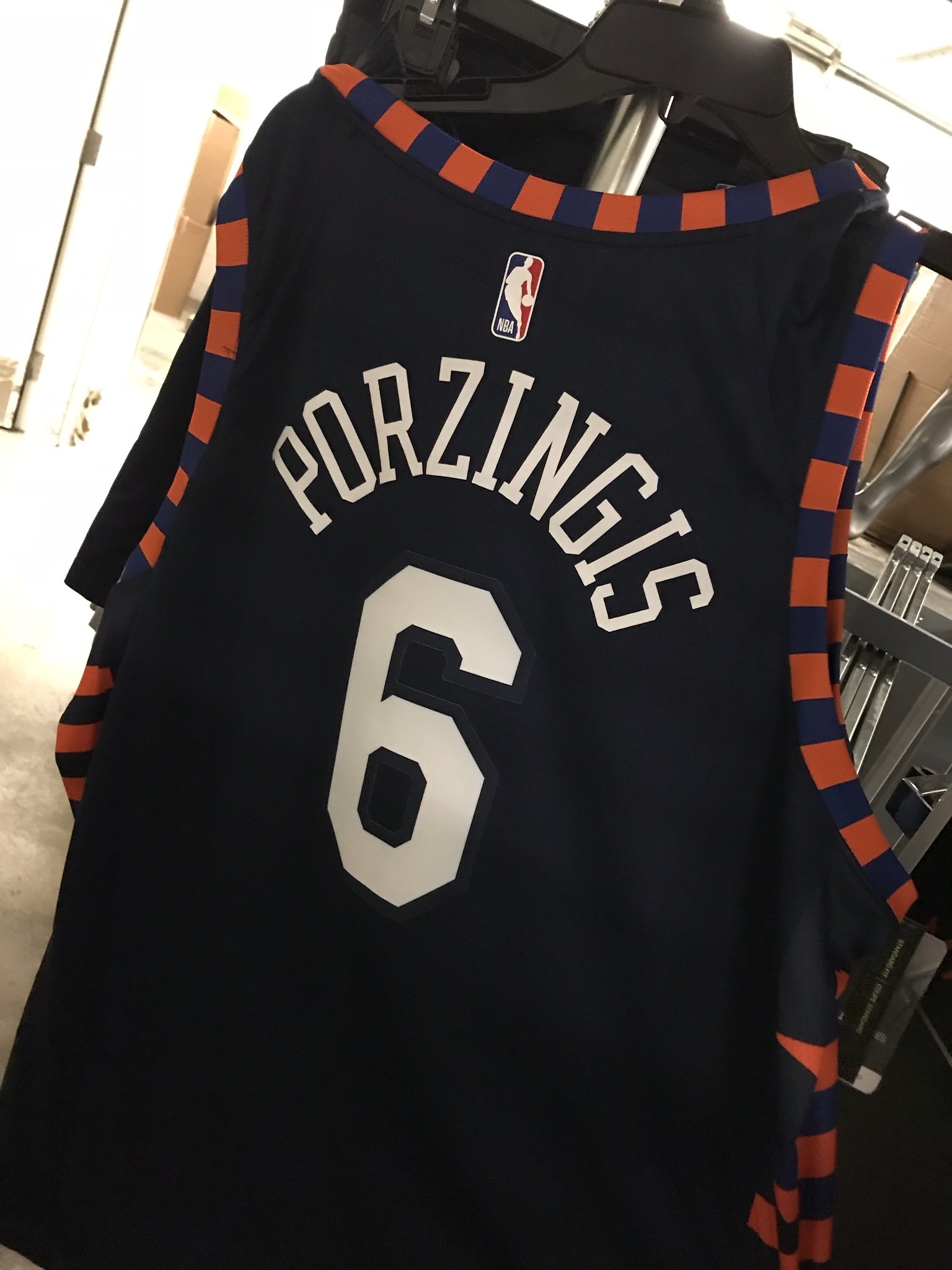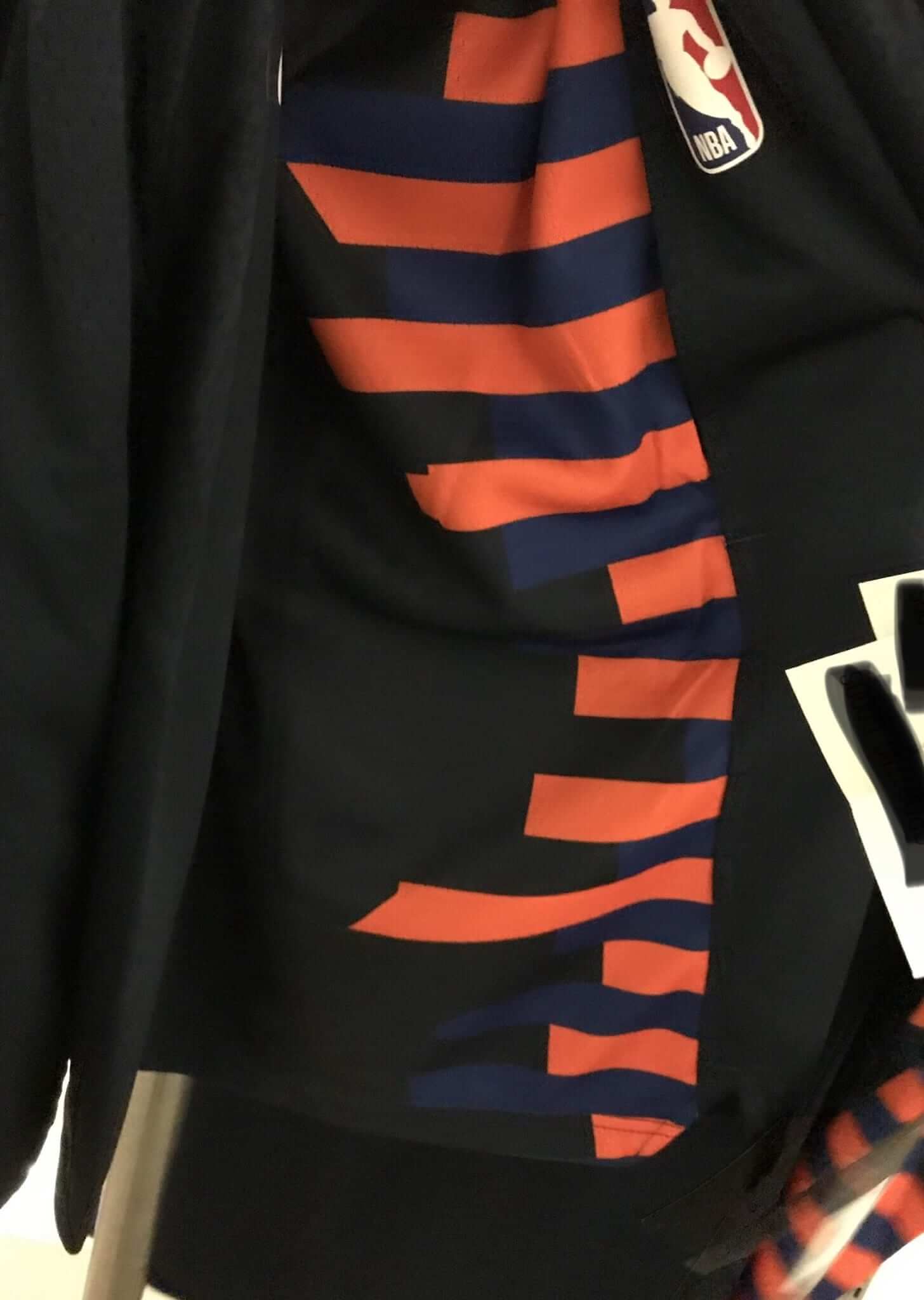 That design matches the one shown in an earlier Knicks leak.
And then there was yet another Reddit thread devoted to a new Pacers leak — clearly the weakest of the bunch: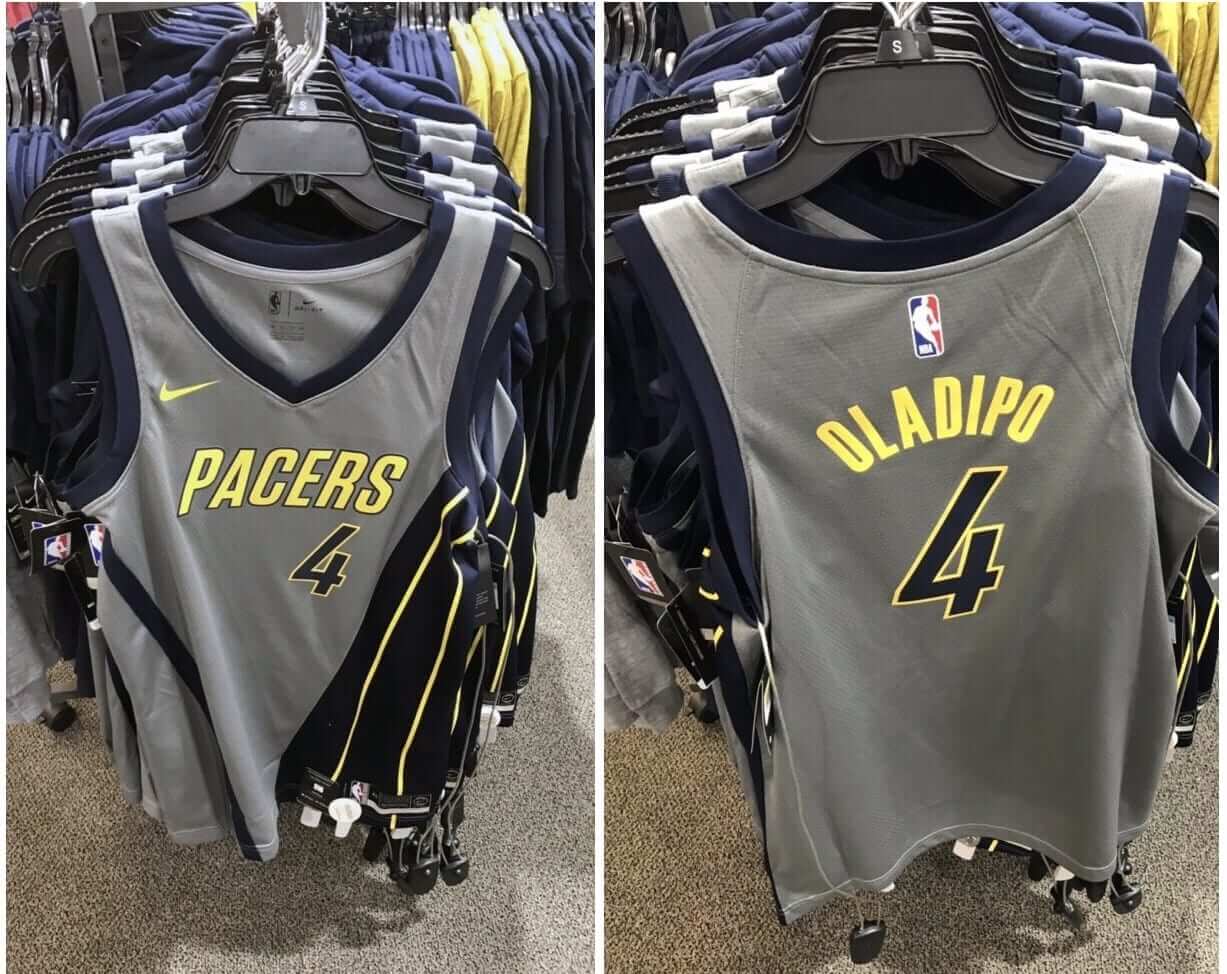 According to LockerVision, this round of alternates will start being used in games on Nov. 9, so the official unveilings — which will now be very anti-climactic — will presumably take place sometime between now and then.
(My thanks to Mike Chamernik for pointing me toward the Reddit threads, and to Sal Massa and Phil for their research assistance.)
• • • • •
[adrotate group="2″]
• • • • •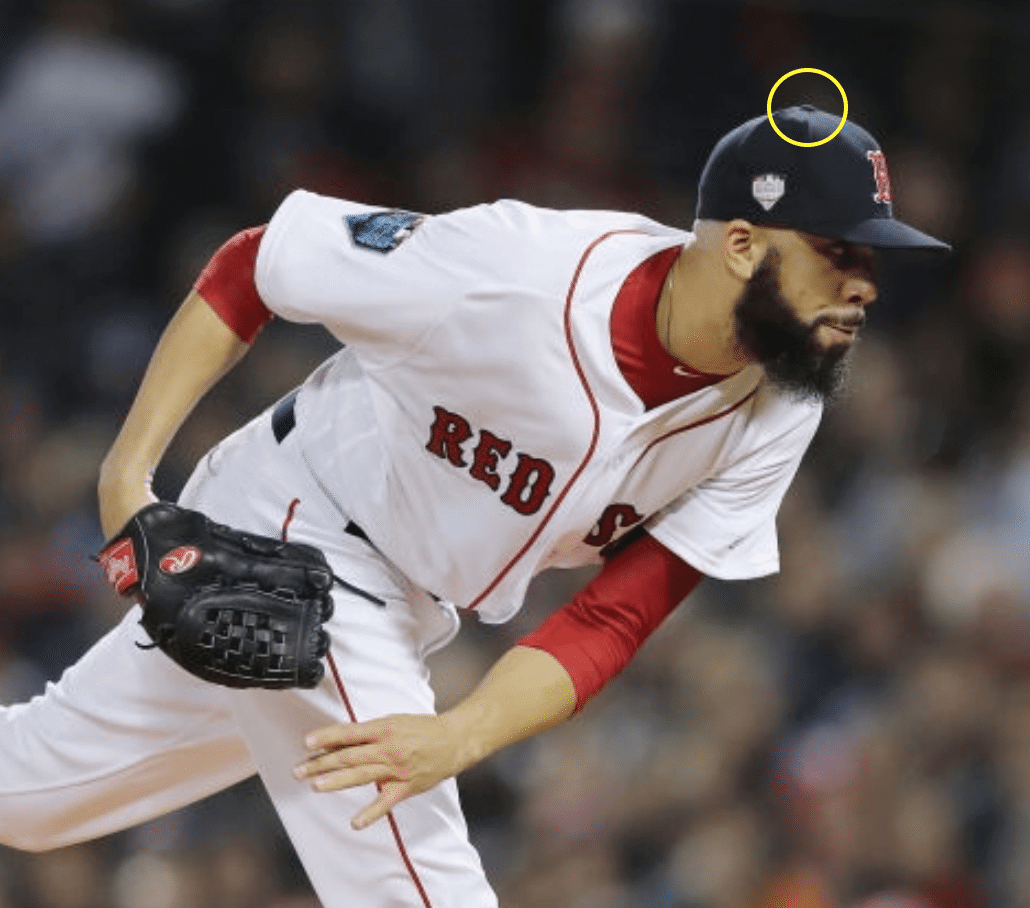 Squatch watch: Red Sox pitcher David Price appears to have overcome his longstanding antipathy for the "ouch button." Last night marked the third consecutive start in which his cap included a squatchee — this after many years of going squatchee-free.
Perhaps not coincidentally, last night was also Price's third consecutive effective start. If the Series goes long enough for him to get another start, I expect he'll once again go squatchee-clad, if only for superstitious reasons. And if that start goes well, he'll likely stay squatchee-clad next season. That would be a shame, because it would rob the uni-verse of one of its more interesting behavioral quirks. So I'm hoping Price gets rocked in his next outing — not because I have anything against him, but because I want him to go back to going squatchee-free.
Meanwhile: You may have noticed that Red Sox outfielder Mookie Betts wear a necklace with a little plastic bat and ball pendant (click to enlarge):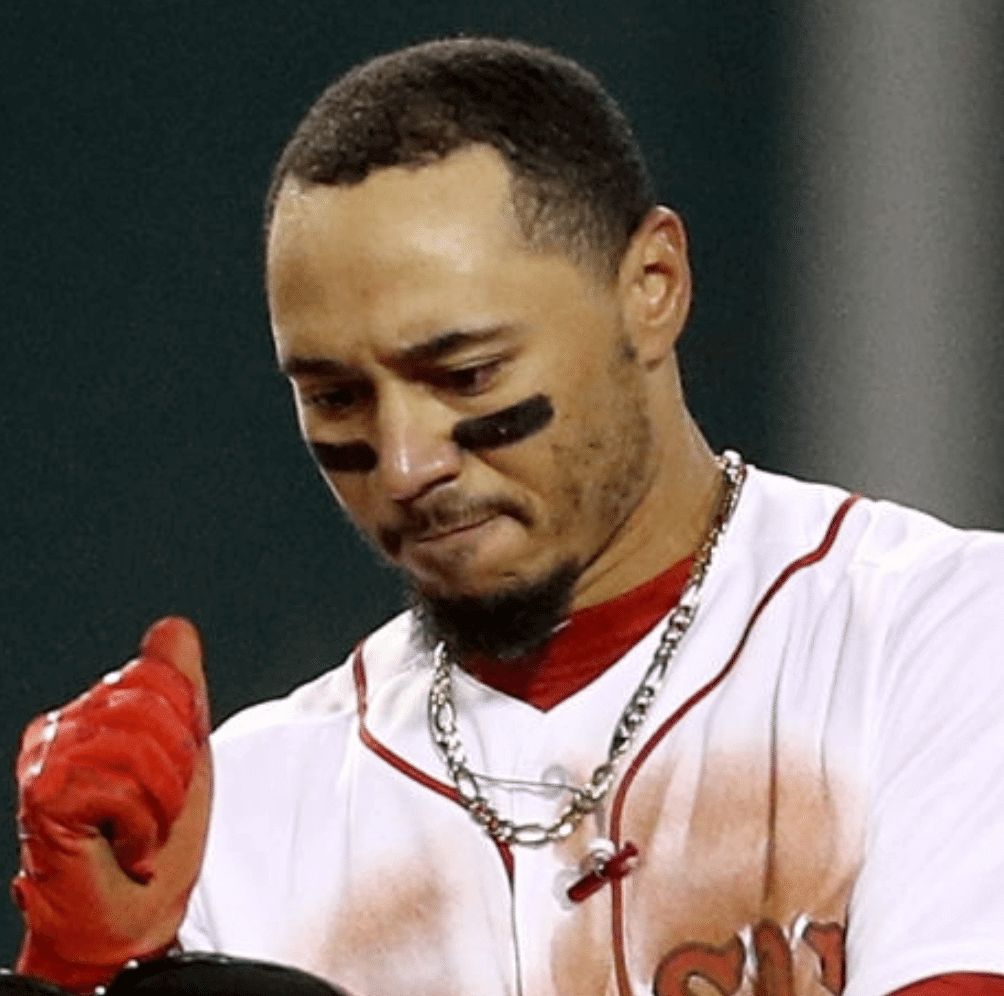 That necklace was given to him earlier this year by a 12-year-old fan. Here's an article about it from back in May, and here's a World Series follow-up.
• • • • •
[adrotate group="2″]
• • • • •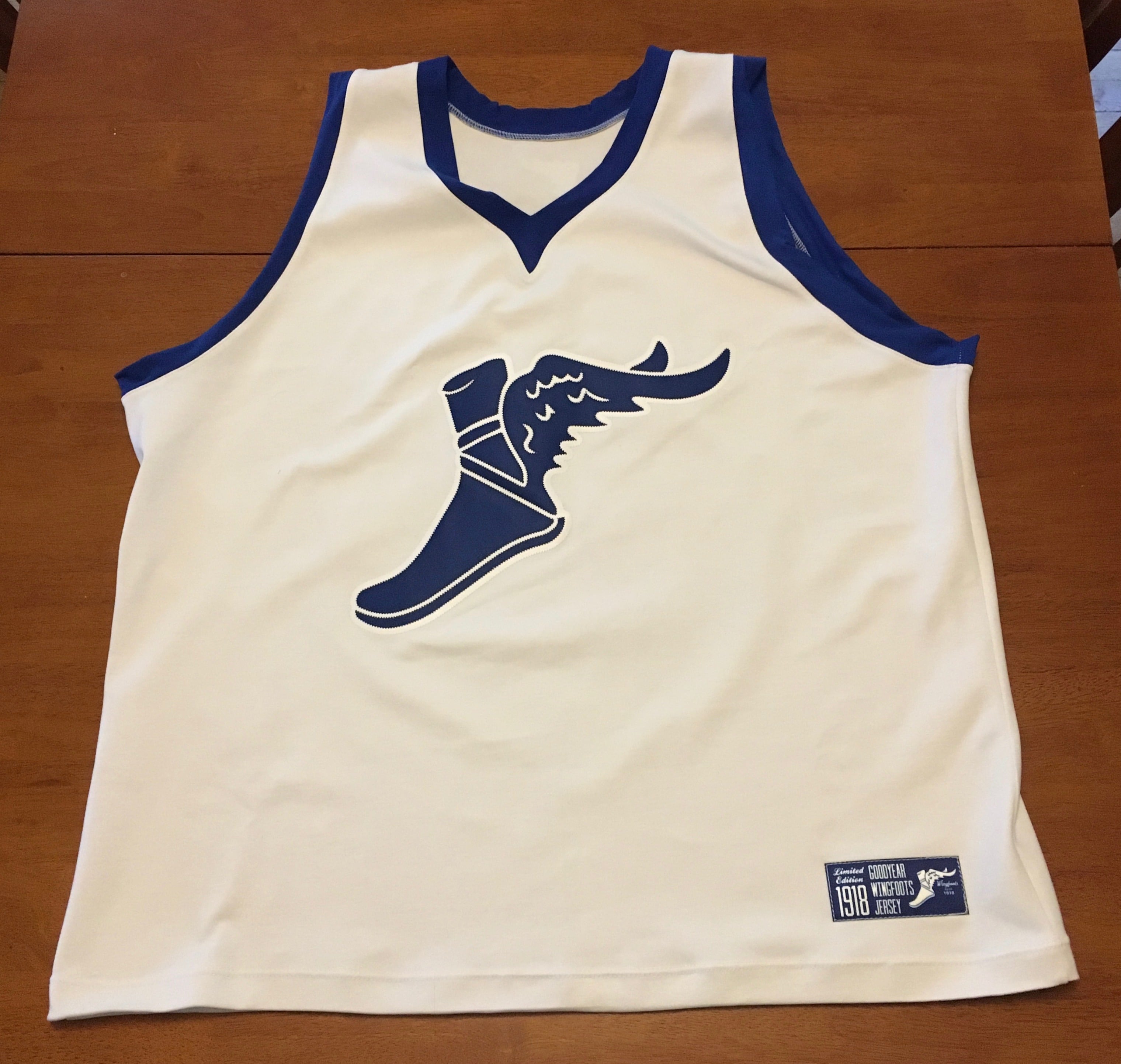 For all pics in this section, click to enlarge
Freebie: Hey look — a jersey with no maker's mark! Also no size label, no fiber content label, and no care label. It's a replica 1918 Akron Wingfoots jersey that the folks at Goodyear sent me. They're raffling off 100 of them and also recently gave them to Cavs players.
Some additional pics: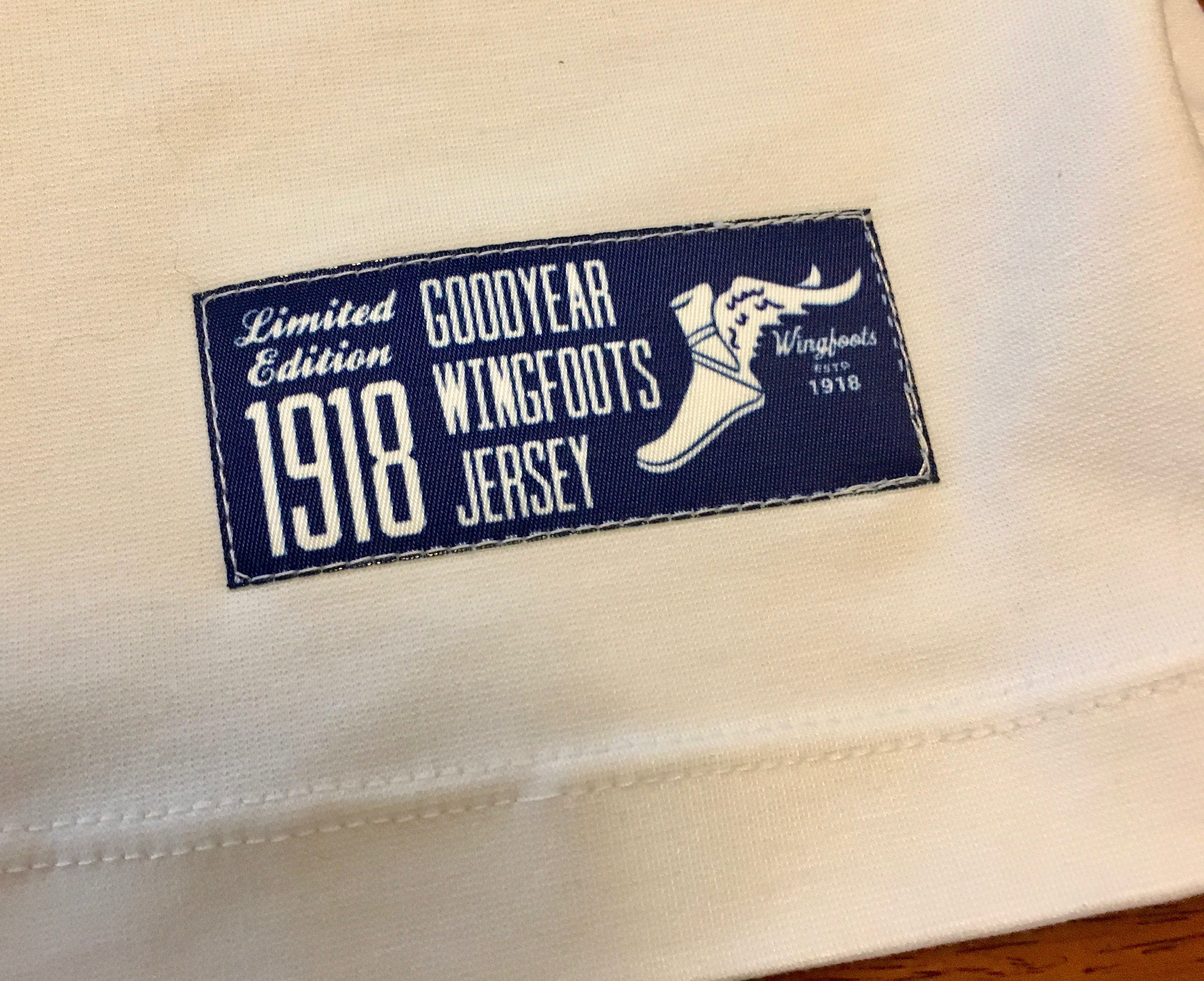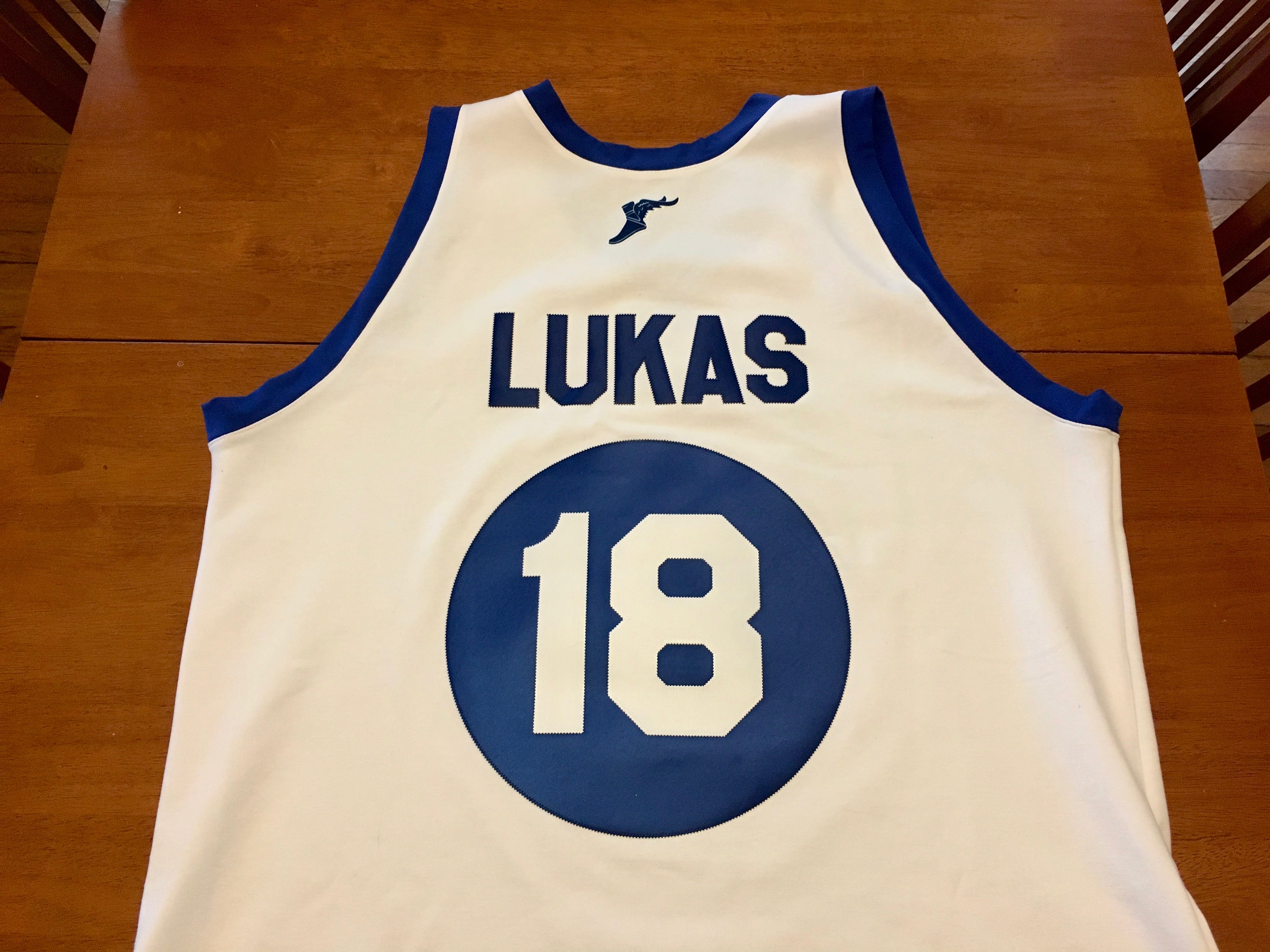 Update: A few wiseasses in the comments have been asking why I'm okay with a Wingfoots jersey when I'm opposed to uniform advertising. Apples and oranges, my friends: The 1918 Wingfoots were comprised of Goodyear factory workers. So the logo on this jersey wasn't a third-party ad — it was more like a company bowling team with the company name on the back of the shirts.
• • • • •
[adrotate group="2″]
• • • • •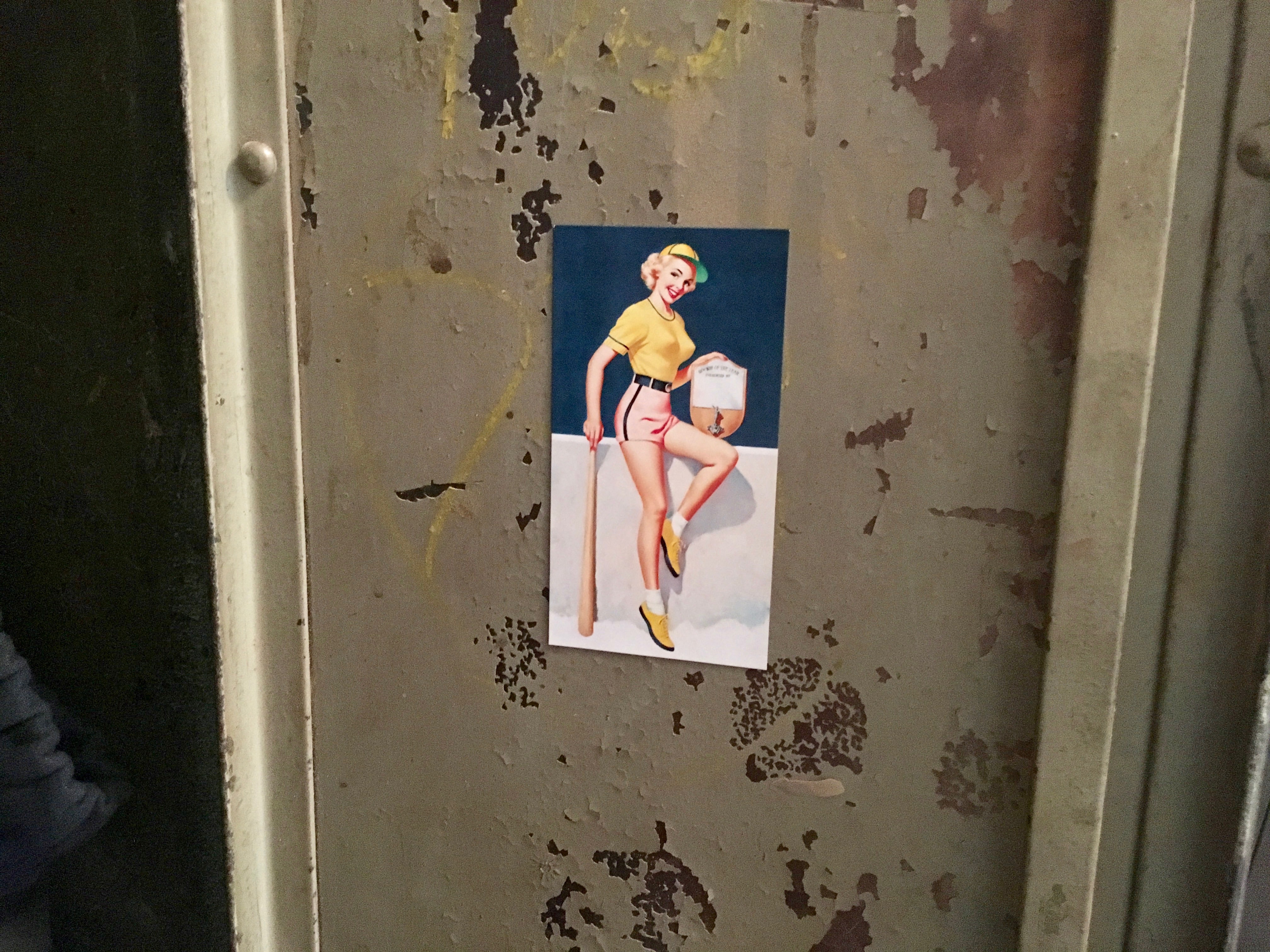 Click to enlarge
Locker update: When I recently wrote about my new in-home locker, I mentioned that I wanted to get a vintage pin-up image to put on the inner door. After poking around a bit on eBay, I found just the right thing: a magnet with a reproduction of a pin-up girl dressed in a cool uniform. Perfect! Looks great on the beat-up locker door, too.
Here's a closer look (click to enlarge):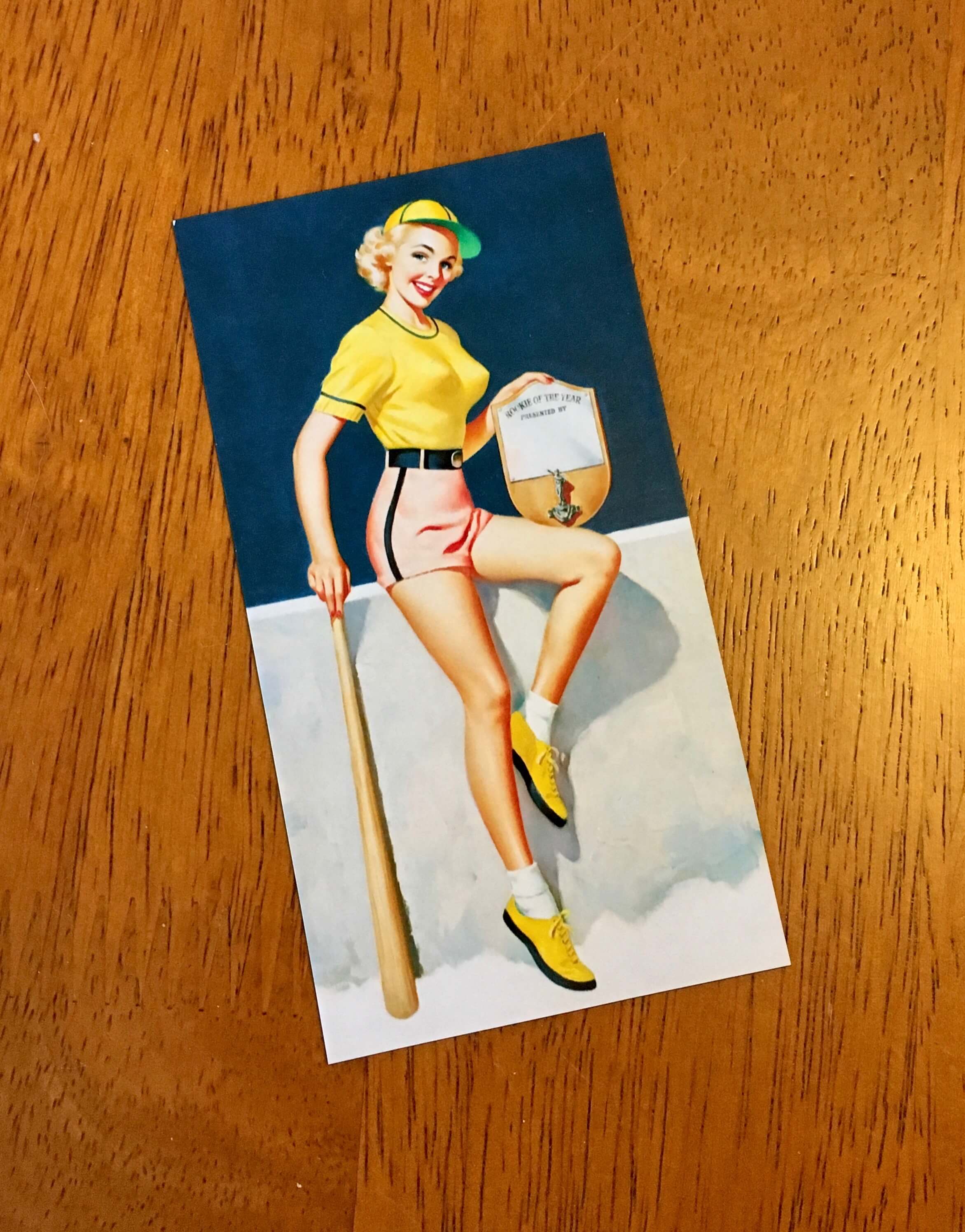 • • • • •
[adrotate group="2″]
• • • • •
Click to enlarge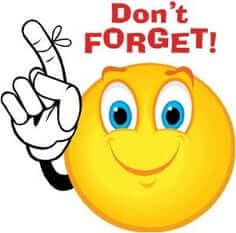 Assorted reminders: In case you've missed it over the past few days, here are some things to keep in mind:
• Our friends at Nostalgia Cases, a company that sells smartphone cases with designs based on old soccer jerseys (as shown above), are offering a 10% discount to Uni Watch readers this week. Full details here.
• I'm currently raffling off a free print from Art of Words artist Daniel Duffy. Full details here.
• We recently lowered the price of our flex-fit Uni Watch alternate cap from $29.99 to $24.99. Get yours here.
• • • • •
[adrotate group="2″]
• • • • •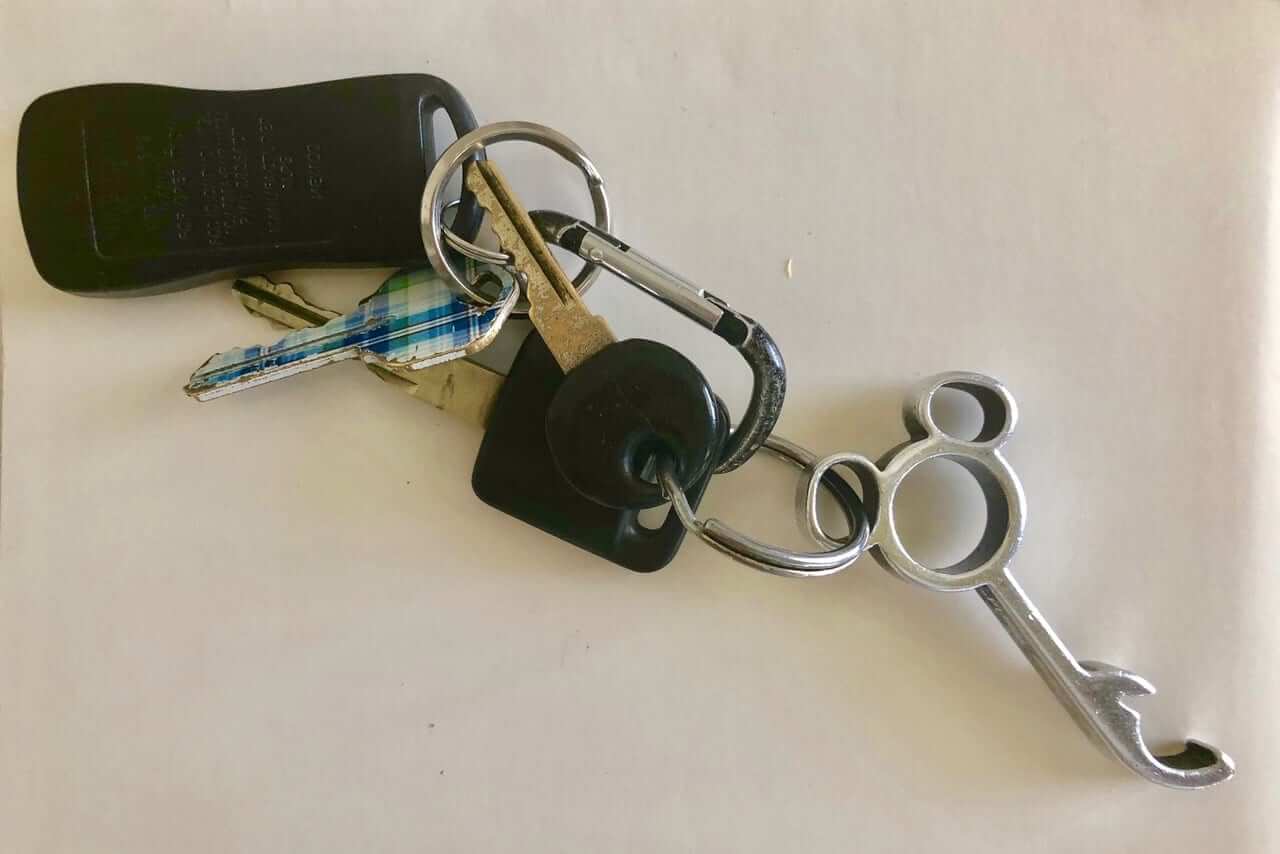 KRC update: The latest installment of Key Ring Chronicles is about a Mickey Mouse bottle opener. Check it out here.
• • • • •
[adrotate group="2″]
• • • • •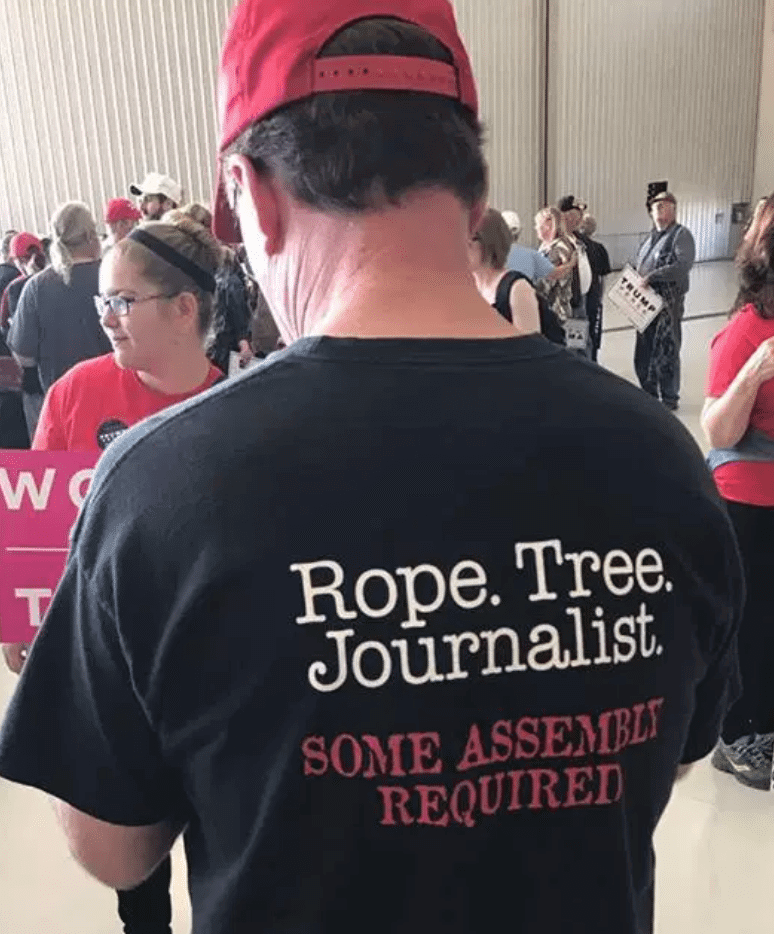 Journalism under siege, continued: My good friend Howard (that's him standing next to me a few nights ago and holding the can of Narragansett) works for CNN. When he arrived at work yesterday morning, the building was being evacuated. As you've probably heard by now, it was due to a bomb scare.
I've written several times this year about what a difficult and troubling time this is for those of us who work in journalism. From the economic challenges and the constant layoffs to the Capital Gazette newsroom massacre, the murder of journalist Jamal Khashoggi, and the president irresponsibly referring to the press as the "enemy of the people" and applauding physical assaults on journalists, it has been a brutal year for our industry (and for anyone who believes, as I do, that a free and vibrant press is essential for a functioning democracy). Yesterday's events just reinforced how dire the situation has become.
While a pipe bomb and a newsroom shooting may be extreme, they're hardly the only recent instances of anti-press intimidation. Just yesterday, shortly before I heard the news about the CNN bomb, I read about a TV news camerawoman who's leaving the business after 24 years, largely because of the increasing levels of harassment and abuse she's had to deal with while out in the field.
I'm lucky enough to be insulated from most of this, in part because of the beat I cover and in part because I work from home (although I'm told there was enhanced security at ESPN HQ in Connecticut yesterday). But I still feel a kinship with the besieged journalists — an attack on one of us is an attack on all of us. And an attack on the free press is also an attack on democracy, which should concern everyone.
As a journalist, and as an American, I find all of this alarming. It feels symptomatic of a society in decline, a culture mired in dysfunction, and an empire ready to collapse. Worst of all, I don't know what to do about it except to write thumb-sucker essays like this one and donate more money to the journalism organizations I value and respect. Tough times, tough times.
• • • • •
[adrotate group="2″]
• • • • •
The Ticker
By Paul

'Skins Watch: Although the University of North Dakota has dispensed with its old "Sioux" team name, the UND hockey team will wear 1959 throwbacks, complete with "Sioux" lettering on the chest, for an exhibition game in December (thanks, Phil). … Here's one writer's picks for the most controversial logos in Texas high school football, many of which are Native American-themed (from Kary Klismet).

Baseball News: Reprinted from yesterday's comments: Buried within this Q&A segment is the news about the status of Safeco Field's forthcoming new name (from Tim Dunn). … You know how the Prudential Building in Boston has had "Go Sox" spelled out in office lights? Here's a TV news report on how they do it.

NFL News: Steelers WR JuJu Smith-Schuster has a personal logo, which he wore on a shirt during a media session yesterday (from Jerry Wolper). … The Texans will go mono-navy tonight (from Ignacio Salazar).

College Football News: Judson university has announced plans to start up a new football program, and already has a helmet design (from Steve Johnston). … Virginia Tech's "orange effect" game is tonight, so the Hokies' field graphics have been painted orange for the occasion (from Andrew Cosentino). … UCF will wear space-themed uniforms, with lots of constellation graphics, on Nov. 1 (from Drake Wikstrom). … NC State will wear cringe-inducingly named "ice wolf" uniforms this weekend. … The Utah women's team is adding a memorial decal for Lauren McCluskey the Utah track runner who was murdered this week (from Scott Jesienouski). … Ohio will go mono-black tonight. … If you're a fan of Tulane's "angry wave" logo, here's a stencil you can use to create your own angry wave jack-o-lantern (from @jonesyouknow). … Akron pandering with flag-desecration logo and "heroes" silliness on this week's helmet (from Jim Vilk and Phil). … Here's the alternate jersey that Ohio State will wear against Nebraska on Nov. 3. Additional info here. … Absurd-looking Pinktober helmet striping this weekend for WMU. … Nevada will celebrate Nevada Day — a state holiday — with a new helmet design. … Here's this week's combo for North Texas (from Martin Dzurenko).

Hockey News: The Islanders have added a memorial patch for owner Charles Wang, who died on Sunday (from John Muir). … Maple Leafs G Garret Sparks's new mask memorializes three goalies who have passed away this past year (from Wade Heidt). … Rocker Alice Cooper is apparently a Blues fan (from Drew Porter). … The Golden Knights will celebrate Nevada Day — a state holiday — by wearing white at home tomorrow afternoon. … The U. of Iowa club team has an endearingly clunky jersey (although Al Gruwell doesn't find anything endaring about it). … When it comes to uniforms, Canisius basically thinks there's no such thing as bad publicity (from Craig Pritchard).

NBA News: Whoa, check out these amazing warm-ups that the Hawks wore in 1970-71 (from Brad Eenhuis). … New uniforms for Capital City Go-Go, the Wizards' D League affiliate (from Gary Bender). … The Lakers debuted their new purple uniforms, complete with brutal BFBS side panels, last night (from Matt Eichmann). … The Warriors debuted their 1970s throwbacks last night. Oddly, there were some serious inconsistencies in the NOBs.

College and High School Hoops News: New uniforms for Georgia State (from @BearlyDoug). … Purcell Marian High in Cincinnati is going with a Utah Jazz-inspired look this season (from our own Alex Hider). … Past and present Adidas employees have been found guilty in the pay-for-play scandal trial. Meanwhile, a top high school prospect will skip college and instead have a three-month $1 million "internship" with New Balance.

Soccer News: New fourth kit for Santos (from Josh Hinton). … Also from Josh: Here's a look back at Vissel Kobe midfielder Andrés Iniesta's footwear over the years. … One more from Josh: SL Benfica's online shop sells authentic Adidas merch and also "fake" replicas without the Adidas logos. … We've reported this before, but here's more info on MLS's decision to allow sponsorship advertising patches on jersey sleeves starting in 2020. … Buried within this story is the news that Utah's soccer team will memorialize murdered Ute track runner Lauren McCluskey by wearing wristbands with a heart logo that includes McCluskey's initials.

Grab Bag: Here's a look at the best Google Doodles over the past 20 years. … Macon, Ill., is the latest town to go with Pinktober sheriff's badges (from Kary Klismet). … Here's more about Animal Planet's new logo. … Auto-racing items from David Firestone: Matt DiBenedetto will race a Snoopy-as-the-Mummy-themed car this weekend for Halloween; Robert Hight suffered a broken collarbone and is using a special harness; and IndyCar has created a new tool for concussion diagnosis. … Is a corporate name change, like the one recently announced by Dunkin' Donuts, really worth it? Interesting article explores the costs and potential benefits.