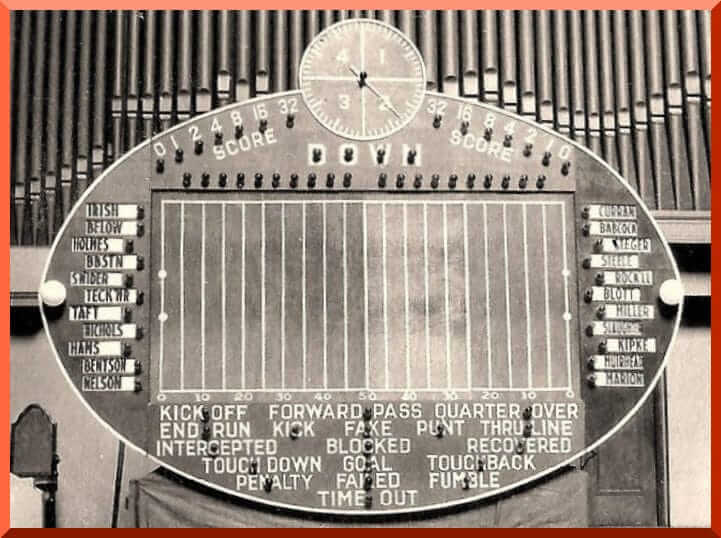 By Phil Hecken, with Ron Bolton
Follow @PhilHecken

Today we're going to revisit a topic that appeared on Uni Watch a number of years ago (I'm sure some of you remember it well, others may not have seen it at all): the Play-O-Graph, about which Paul wrote in 2009. I'm back with my buddy Ronnie Bolton today (give him a follow @OTBaseballPhoto for incredible images and writeups of many old time baseball photographs) who will give us a look at some of the more interesting Play-o-Graphs from the past.
Here's Ron:
———-
Photography of Playography, Volume II
By Ronnie Bolton
Think of it as an ESPN GameCast more than 100 years earlier. Before radio broadcasts of baseball games, this invention was really the only means for the general public to follow the play-by-play of a baseball game.
Here's how Paul described it back in his Uni Watch piece:
"The Playograph — produced and manufactured by the Playograph Company of Stamford, Connecticut — was basically a giant animatronic scoreboard, sort of like an analog version of ESPN's gamecast feature. In that photo I just linked to, there's a runner on first (denoted by the X), a runner has been put out at third (the O), and a fly ball has just been hit to right field. Each pitch of the game was depicted, with the ball starting on pitcher's mound, shooting toward the plate (supposedly with some curvature if the operator wanted to represent a curveball), and then moving toward the appropriate part of the field. It took a three-man Playograph crew to accomplish all of this: one to receive the play-by-play info over a telegraph wire, one to operate the little white ball, and one to control all of the other graphics."
Over the years there were many forms like the Poly-O-Graph until radio broadcast eventually made them obsolete. But nonetheless, they were a fascinating part of the game and a great example how the fans of today and yesterday were not much different in their dedication to following the game and teams they loved.
• • •
Lamanda Park, Pasadena, CA October 6, 1926
California rural folks watching an animatronic scoreboard updating Game Six of the 1926 World Series between the Cardinals and Yankees. This photo shows the game's popularity and growth had no boundaries.
• • •
Denver, CO, October 5, 1927
A large crowd of baseball enthusiasts gathers on Champa Street by the Denver Post headquarters to follow the first game of the 1927 World Series. The New York Yankees would beat the Pittsburgh Pirates by a 5-4 score.
• • •
Times Square, Manhattan, October 9, 1920
Baseball rooters mingle after watching the Cleveland Indians beat the Brooklyn Robins 5-1 in Game Four of the 1920 World Series. It was common for these animatronic scoreboards to be sponsored by local newspapers, like this one by the New York Times.
• • •
Indianapolis, IN, October 3, 1934
Baseball rooters gather at Monument Circle in downtown Indianapolis to watch the first game of 1934 World Series (Cardinals vs Tigers). You have to look real close to see this scoreboard.
Cardinals won 8-3 as the Tigers defense committed five errors.
• • •
National Theater, Washington, D.C, August 2, 1924
Perhaps the Granddaddy of all animatronic scoreboards, " The Coleman Lifelike Scoreboard". As you can see how complex it was and the manpower required to run it when most scoreboards only took two workers to operate one.
• • •
Madison, WI, November 17, 1923
Here is animatronic scoreboard that is for football games. It's keeping track of the Michigan-Wisconsin game won by the Wolverines 6-3 using the same concept as the ones built for baseball. This version is easily one of my favorites.
• • •
City County Building, Pittsburgh, October 3, 1919
This one is just simply a big black chalkboard that still got the job done tracking Game Three of the 1919 World Series. On the cheap too and when you see it's a recreation department (most likely with a low budget) running it, that's probably a good clue why.
• • •
Waterbury, Connecticut, October 5, 1926
A beautiful version of the Play-O-Graph surrounded by too many obnoxious ads to count. The game it tracked was from the 1926 World Series when the Cardinals shutout the Yankees 4-0 in Game Three.
———-
Thanks, Ron!
• • • • • • • • • •
[adrotate group="2″]
• • • • • • • • • •

Kreindler's Korner
I had the distinct pleasure of featuring the wonderful artwork of artist Graig Kriendler on two occasions over the summer and fall of 2017, and more recently, in August of 2018.
For those who don't wish to click the links, Graig paints baseball heroes (and regular guys) from the past, and is an immense talent.
Occasionally, I will be featuring his work on Uni Watch.
Here's today's offering (click to enlarge):
• • •
Title: "Ruth's 61st"
Subject: Babe Ruth, 1947
Medium: Oil on linen
Size: 44″ x 56″

'The only real game, I think in the world, baseball". These words echoed throughout the hallowed grounds of Yankee Stadium on a glorious Sunday afternoon, April 27, 1947. They came from the raspy voice of a once towering figure, who, for 15 years, was synonymous with the national pastime. Slowed by a diagnosis of throat cancer a year earlier, retired slugger Babe Ruth appeared at the Stadium to thank the people that had cheered him to the heights of the sport more than a decade ago.
He had been given the honor of having a day in his name by baseball commissioner Happy Chandler, as news of Ruth's ailment had circuited throughout the country and beyond. Released from the hospital in February after major surgery to remove the malignant tumor that had grown in his neck, hundreds of admirers came to greet the Babe as he was slowly led to his waiting car. Though donning his familiar camel coat and hat, it was obvious that with his dramatic weight loss and thinning gray hair, he was not long for this world.

Showing their appreciation for 'The Bambino' and everything he contributed to the game, both the Yankees and visiting Washington Senators were joined on the field by such notables as Francis Cardinal Spellman, Chandler, National League President Ford Frick, American League President William Harridge, and 13-year old Larry Cutler, representing the American Legion. After each guest spoke to honor the great man, it was then that broadcaster Mel Allen boisterously introduced the Babe to the multitude.

Standing on the field, Ruth walked to a group of microphones, including those for Mutual Broadcasting and WABD. He waited for the thunderous applause to subside. 'Thank you very much, ladies and gentlemen. You know how bad my voice sounds? Well, it feels just as bad' he said. Babe went on to speak about the youth – in whom the foundations of the national pastime were planted, in whom later blossomed into the men that were standing in uniform on that very day. 'There's been so many lovely things said about me, and I'm glad that I've had the opportunity to thank everybody. Thank you'.

The crowd of 58,339 at the stadium roared with a cacophony of applause, whistles, hoots and hollers. Babe's speech was piped into baseball parks across the United States.

It was a little over a year later that Babe made his final appearance at Yankee Stadium. In June of 1948, a celebration was held to honor the first 25 years of the house that he built with his prodigious home runs. Gathered for the event were the living members of the 1923 Yankees team. The Babe, being the most esteemed, had his old number '3' retired, the second man to receive such an honor.

On August 16, 1948 at 8:01 P.M., George Herman 'Babe' Ruth Jr. passed away in his sleep. He was only 53-years old.
• • •
Thanks, Graig! You can (and should!) follow Graig on Twitter.
• • • • • • • • • •
[adrotate group="2″]
• • • • • • • • • •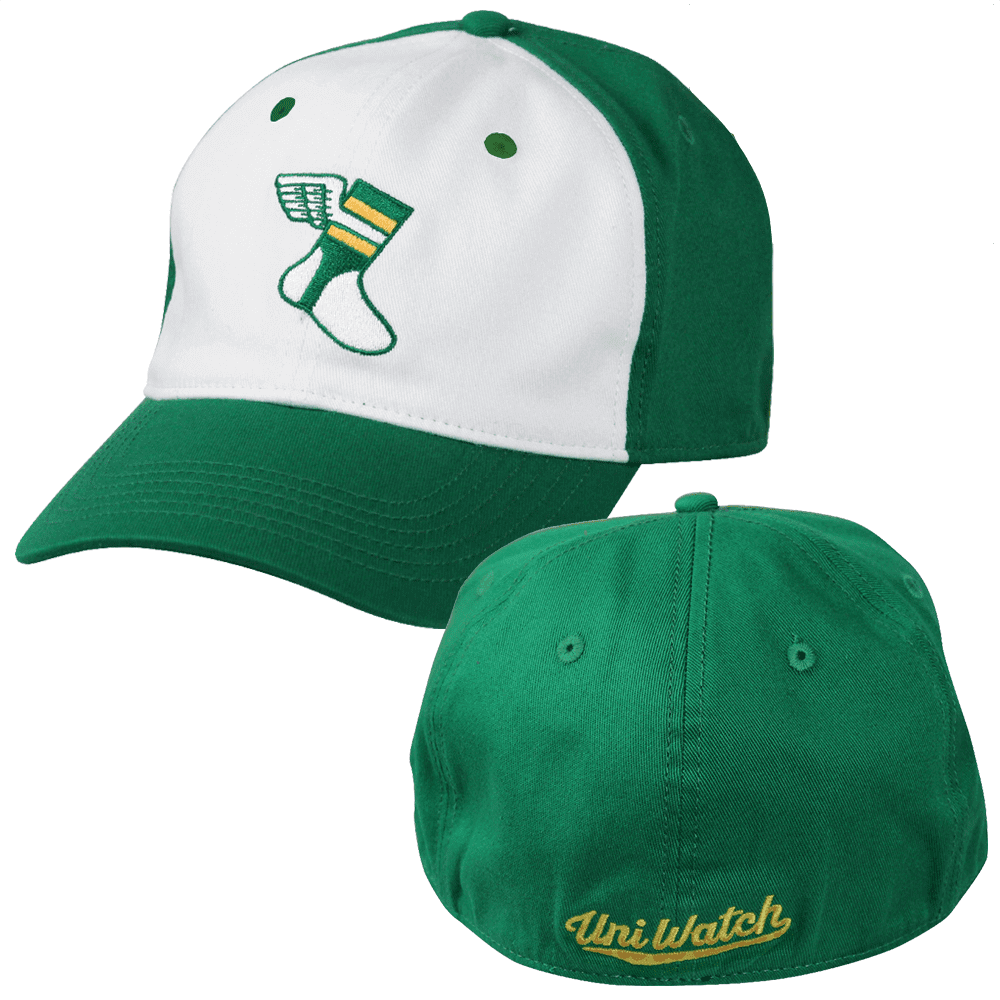 Price drop!: Paul here, with some news that could save you some bucks. We've decided to cut the price of the Uni Watch flex-fit alternate cap from $29.99 to $24.99. You can order yours here.
And while we're at it, all fitted sizes of the Uni Watch classic cap, available exclusively from Ebbets Field Flannels, are back in stock — and Ebbets is currently offering a site-wide 20% discount. Get yours here.
We now return you to your regularly scheduled PhilFest.
• • • • • • • • • •
[adrotate group="2″]
• • • • • • • • • •
The Ticker
By Anthony Emerson

Baseball News: Red Sox RF Mookie Betts wears two pairs of batting gloves when it's cold. According to ESPN Radio's Jon Sciambi, Betts is the only player in the league who does this (from Mark Coale). … Astros SS Alex Bregman wore an Albuquerque Dukes jersey during his postgame presser (from Ignacio Salazar and James Valdez). … I present to you, the greatest pretzel I've ever seen: a pretzel in the shape of the Brewers' ball-in-glove logo. Delicious (from @SoCalMindset). … Late Show with Stephen Colbert writer Kate Sidley wonders why the MLB has an official hair salon when their players are always wearing hats (from James Gilbert).

NFL News: The Eagles' website has done a "deep dive" into coach Doug Pederson's headgear (from Sam McKinley). … Also posted in the basketball section: Combining two of my favorite teams, Pats WR Julian Edelman wore a customized Celtics jersey during his press conference after Thursday's victory over the Colts (from @PeskysPole).

College/High School Football News: Mizzou revealed their new white helmets yesterday (from Blaise D'Sylva). … Also from Blaise: Boise State has a new facemask color on their blue helmets. … UCF is going with military appreciation helmets against SMU today (from John Bond). … James Madison is going all-grey today (from Matt Bristow). … UAB is going all-white today against Louisiana Tech (from Tyler Greer). … Akron is going with 1976 throwbacks today (from John Ferguson and Jim Vilk). … Ball State is going black-red-black today against Northern Illinois (from Kyle Martinek). … I've found it, the worst football jerseys ever (from Brett Myhres).

Hockey News: The Blues are wearing Heritage unis today (from Brendan Mongey). … @TheGoalNet45 writes in to tell us the Canes' G Curtis McIlhenny's new mask design is based off a stock template that will be released to the public shortly. … Blues G Chad Johnson's new pads form a Blues logo when together (from Brendan Mongey). … WGN added a "21" graphic to their score bug in honor of Stan Mikita (from Johnny Rockford). … The Edmonton Oil Kings of the WHL have added a new shoulder patch this season (from Wade Heidt). … Also from Wade Heidt: the Everett Silvertips of the WHL pink-ed the rink last night. … The ECHL's Cincinnati Cyclones have officially adopted last season's fauxbacks as their alternate sweater (from Bill Fenbers). … The Hamilton Steelhawks of Allan Cup Hockey — that's the highest level of organized senior hockey in Canada — have new jerseys.


NBA & College Hoops News: The Lakers "city series" shorts may have leaked (from @jnalva). … Cross-posted from the football section: Combining two of my favorite teams, Pats WR Julian Edelman wore a customized Celtics jersey during his press conference after Thursday's victory over the Colts (from @PeskysPole). … The Magic have added the Richard DeVos memorial logo to their court (from Mark V. Malazarte). … West Virginia appears to have adopted Nike's newest template (from Ethan Dimitroff).

Soccer News: The modern iteration of the San Diego Sockers, an arena soccer team, are releasing a 40th anniversary logo. … Cuban players at the CONCACAF Women's Championship had different number fonts. 14's number looks like it was cheaply printed right before the match (from @NelsonL08).

Grab Bag: Cuyahoga Community College, or Tri-C, is adopting a new, perfect mascot: the Triceratops. … The North Dakota State Government is giving itself a new logo (thanks, Jamie).
.
• • • • • • • • • •
[adrotate group="2″]
• • • • • • • • • •