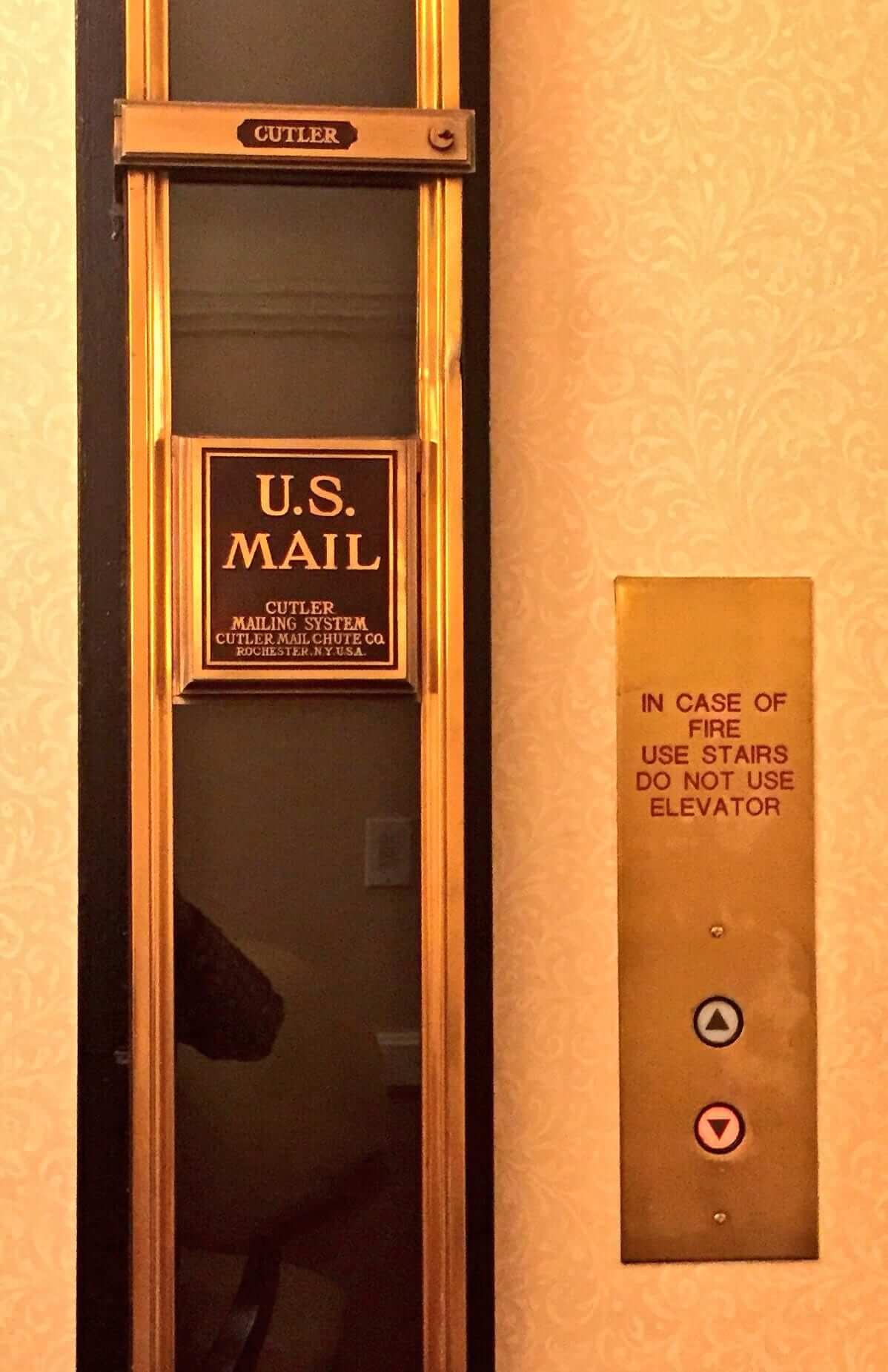 As most of you know, I sold off a ton of stuff when I moved last month. One thing I said at the time was, "A nice thing about getting rid of old stuff is that you're making room for new stuff." I've put that concept into action over the past few days, so I want to go off-uni today and talk about the latest addition to Uni Watch HQ.
So: A few nights ago the Tugboat Captain and I were at a furniture maker's studio to take a look at something he'd listed on Craigslist. He had all sorts of industrial junk strewn around his studio, a few pieces of which I immediately recognized: They were salvaged mail chutes — or as they're more formally known, the Cutler Mailing System, produced for many decades by the Cutler Mail Chute Co. of Rochester (named for its founder, one James Goold Cutler, who patented the chute concept in 1883).
I've always loved mail chutes. They seem simultaneously modern and retro, industrial and elegant. The key thing about them, of course, is that they're transparent, so you can see your envelope disappearing down the chute after you drop it, or see other envelopes flying by from higher floors. (As a kid, I used to stare at mail chutes for minutes at a time, hoping to see just that, until my father would say, "Okay, that's long enough, let's go.") Imagine if the chutes were opaque metal, like mailboxes — they'd have much less allure.
I love mail chutes so much that I even wrote about them in the first issue of my zine, Beer Frame: The Journal of Inconspicuous Consumption, which came out almost exactly 25 years ago. So when I saw the old chutes lying on the floor of the furniture maker's studio, I immediately said, "Whoa, you have Cutler mail chutes — that's so cool!"
The furniture guy, whose name is Joe, explained that the chutes were salvaged from a nearby demolition site. He had a lot of them, and he seemed to like how enthusiastic I was about them, so he encouraged us to take a few of them at no charge — an extremely generous gesture considering what vintage Cutlers go for on eBay.
So we bundled up a few chute sections plus a gorgeous brass panel taken from the front of the box that would have gone at the bottom of the chute in the building's lobby. It all made for an interesting ride home on the subway, where a few people were curious and, in one case, chatty about our cargo.
Here's what we had when we got home (for all of these photos, you can click to enlarge):
It's hard to tell from that photo, but all of the pieces were filthy. The next day I took everything out on the porch and cleaned it. The best part came when I was cleaning the compartment that holds the little U.S. Mail placard that appears on most mail chutes. The placard, which dated back to the early 1970s, was pretty faded — but then I opened the compartment and found a spare placard, pristine and unfaded, hiding behind the first one:
How cool is that? Buried treasure! As you can see, the placard features Mr. ZIP, the cartoon mailman character that was introduced in the 1960s to encourage people to use zip codes.
We have a one-floor apartment, so there's no way to install the chute to run through multiple floors (plus our landlords wouldn't be too happy about the structural modifications that would come with that). Instead, we just mounted one chute section on the wall. We chose a spot with a narrow stretch of wall that seemed right:
It's fun to put a letter in the slot, but it doesn't go anywhere except to the floor:
Hmmmm, might have to put a box of some sort down there. But first we'll need approval from our new postmaster:
We have another section of chute to play around with, but for now we have no plans to mount it (one is enough). A bigger question is what we should do with the brass plate, which is spectacularly beautiful:
The plate would have gone on the front of the box at the bottom of the chute in the building lobby. The problem is that we don't have the box itself, so the "belly" of the plate — the spot where the box would have been — is empty. We might have to get our own box (not a solid brass one, presumably) and rig something up, or my clever friend Beck suggests that the plate would make a great picture frame. For now, the "Letters" flap on the mail slot is easy to remove, so we're using it as a paperweight for our daily mail:
Such gorgeous typography! And to think we got all of this for free from Joe — what a score! (We also spent real money for something he made, but I'll tell you about that another time.)
Now I just need my own pneumatic tube system. But hey, one thing at a time.
• • • • •
[adrotate group="2″]
• • • • •
Mean Green(e) Scene: I assume most of you are familiar with the famous 1979 Coke commercial featuring Steelers defensive lineman Mean Joe Greene (embedded above). If not, take a minute to watch it before reading the rest of this section.
Greene's alma mater, North Texas, is unveiling a statue of him this Saturday, and the team will wear 1967 throwbacks for the occasion: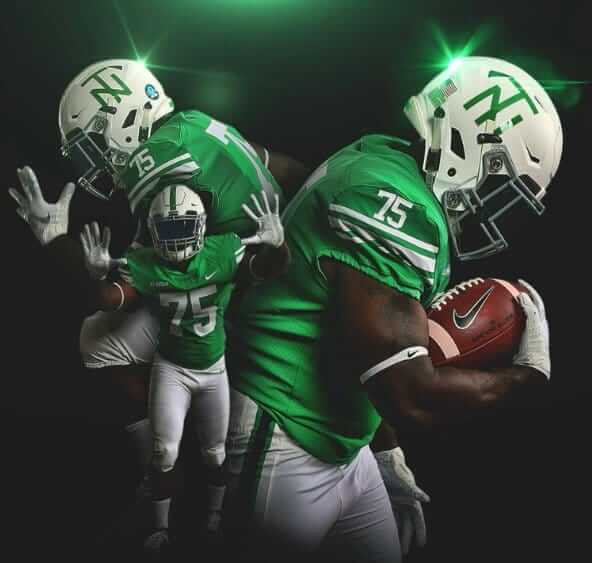 In addition, Greene's No. 75 will be unretired for the game and will be worn by defensive lineman LaDarius Hamilton. The school announced this via a clever video — check this out:
He's the 🐐 and the only Mean Green Football player to wear the No. 75 in the last 50 years. Until this week. For one day only, the iconic Joe Greene jersey is coming out of retirement. #GMG #UniSwag pic.twitter.com/jeaqesZ5n2

— Eagles (@MeanGreenFB) September 26, 2018
Not bad, right? Nicely done, North Texas.
• • • • •
[adrotate group="2″]
• • • • •
The Ticker
By Paul

Baseball News: Mets 3B David Wright, finally back on the active roster for the first time since 2016 (but not slated to get into a game until Saturday), wore a standard blue undershirt prior to Tuesday night's Mets/Braves game but changed to his signature orange base layer once the game started. … New uniforms for Marshall (from Brice Wallace). … Pete Clark notes that Orioles 3B Renato Núñez has two diacritical marks — an accent and a tilde — on his NOB. He had both marks when previously playing for the Rangers but only had the tilde — not the accent — when playing for the A's. … The Brewers' postseason caps and T-shirts feature the ball-in-glove logo — along with the obligatory embarrassing sloganeering (from John Okray). … I don't think I've ever seen a ball be this far foul and then turn fair before. Amazing! … A new baseball magazine will soon be debuting. Although it's not uni-centric per se, it will be called Road Grays (from Neil MacLeod).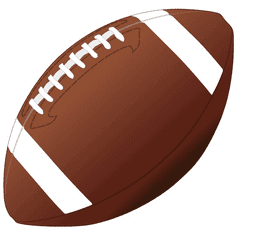 Pro Football News: The new AAF team in San Diego, which will be called the Fleet, will reportedly have Naval-inspired uniforms (thanks, Phil). … With the Rams slated to wear throwbacks tonight, there's a movement afoot to get defensive coordinator Wade Phillips to dress like his cowboy hat-wearing dad, Bum Phillips, for the occasion (from Jeff Ash). … The Titans will wear white over navy this Sunday (from Sam McKinley). … The Broncos will wear their mono-navy alts (thanks, Phil). … And while the Packers wear their throwbacks, the visiting Bills will wear white over blue (from @bonesj0nes). … According to this article (NYT link) about workplace abuses suffered by NFL cheerleaders, at least three teams — the Jets, the Saints, and Washington — have gone with more modest cheerleading uniforms that show less skin this season.

College Football News: Regarding yesterday's post about the red dot on BYU's helmets in a 1989 game: 1990 Heisman Trophy winner Ty Detmer, who played for BYU, has confirmed that the red dot was indeed a "Say no to drugs" symbol (thanks, Phil). … Here's a brief history — but without photos — of Oregon uniforms (thanks, Phil). … Here are this week's uni combos for Penn, Colorado, UNC, Oklahoma, Virginia Tech, and Arkansas (from Rose Culper, Andrew Cosentino, James Gilbert, and Phil). … Here's some video of Miami coach Mark Richt discussing the mono-black uniforms that the team will be wearing tonight (thanks, Phil).

Hockey News: An NHL team will be making a uni-related announcement this afternoon, and I can pretty well guarantee that it'll be a crowd-pleaser. Sorry, can't say more just yet, but stay tuned. … Here's an interview with the Stars fan who let Alexander Radulov wear his retail jersey during a recent preseason game. … As most of you know by now, the Red Wings routinely use straight block lettering for their NOBs during the preseason and then switch back to their standard vertically arched NOBs when the regular season starts. This usually results in a bunch of people emailing or tweeting at me during the preseason to say, "Hey, they changed their lettering this season," and then I have to explain that it's an annual preseason thing. This year, however, not a single person has mentioned the lettering, which I guess means either people have finally learned or they're simply not watching preseason hockey. … The great Frozen Faceoff site has provided a handy rundown of this season's NHL center ice and red line changes.

NBA News: New Era has just released a bunch of NBA caps. … The Wizards' practice jerseys now have ad patches (from Robert Anderson). … Lakers fans are upset about LeBron James's plan to wear sneakers with Cavs colors in this year's season opener.

College Hoops News: Here are Houston's first Jordan-branded uniforms (from Ignacio Salazar). … Here's a weird one: At the beginning of the 1996-97 season, Oklahoma State's home uniforms had "Cowboys" on the chest and had swashes, or "tails," extending from the "C" and the "s." But according to this 2/6/97 newspaper item, the swashes were removed from the chest insignia because they "were a violation of an NCAA rule. "No further explanation is given, and I can't imagine what rule could apply here. Anyone..? (From OSU alum Craig Ward.) … Ohio State has made lots of arena renovations. One of the photos in that piece shows an old Jerry Lucas jersey with a crotch extension, which is something more commonly found in old football jerseys (from Jason Hillyer). … Speaking of Ohio State, they have a new jersey template this season (@OSUBballinsider). … New practice gear for Providence (from Anthony Gonsalves). … New uniforms for Hawaii (from Aaron Wigg).

Soccer News: Here's a great graphic that originally ran in the Italian magazine Guerin Sportivo, showing the uniforms of all the NASL teams in 1981 (from Matt DeWeese).

Grab Bag: Here's the uniform scripting for the European Ryder Cup team (thanks, Phil). … New uniforms for the Japanese women's volleyball team Toyota Auto Body Queenseis (from Jeremy Brahm). … Dunkin' Donuts intentionally vague names. … In a related item, Weight Watchers is changing its name to WW. … ESPN has run a piece on the Jumpman logo and has also published a quiz on athletes' personal logos. … Pretty cool jersey design for the Netherlands' U20 women's ultimate team (rare non-rugby contribution from Eric Bangeman). … New uniforms in the works for British Airways.