For all of today's images, click to enlarge
The Tugboat Captain and I recently spent eight days on the road, from the Saturday before Thanksgiving through the Saturday after Thanksgiving. As I mentioned in yesterday's post, we traced an 1150-mile clockwise path through northern New Jersey, eastern Pennsylvania, and large swaths of western and upstate New York. The route shown in the map below is approximate (the most northerly stretches were right against the lakeshore, among other minor discrepancies) but it should give you a rough idea of the ground we covered: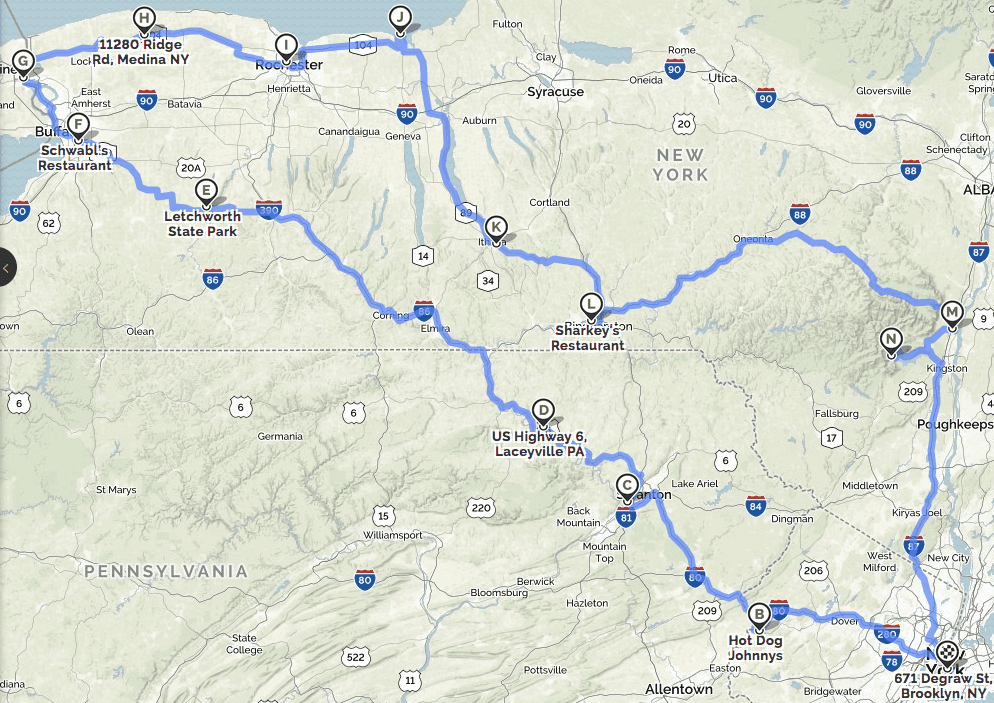 Here's how it went. Some of the photos that follow were taken by me and some by the Captain (you can usually assume that the better ones are hers), plus I grabbed a few from the internet because there were some things we neglected to document. The videos were all shot by me.
Saturday, Nov. 21: We left Brooklyn at about 11am and headed to one of my favorite roadside stops: Hot Dog Johnny's in Butzville, New Jersey (a town name that was a source of endless amusement for the Captain). I'd been here many times before, but this was the Captain's first visit, and she was intrigued by Johnny's two signature beverages — birch beer and buttermilk. We partook of the former and wondered how anyone managed to force down the latter:
After Johnny's we headed west toward Pennsylvania. We stopped at a really great biker bar near the NJ/Penn border, but I don't recall its name and didn't take any photos. Eventually we arrived in the Pennsylvania town of Old Forge, which we were very interested in seeing because it's the self-proclaimed Pizza Capital of the World — a particularly audacious claim for a burg with a population of only 8300:
Old Forge pizza has its own lingo. A pie is a referred to as a sheet, and a slice is a cut. By any name, the pizza looks a lot like Stouffer's French Bread Pizza, which is to say not very appetizing. Still, we were game. We sampled the wares at two places, beginning with Arcaro & Genell, an old-school Italian restaurant that I really liked. The pizza here wasn't bad — not "World Capital"-caliber, but plenty enjoyable: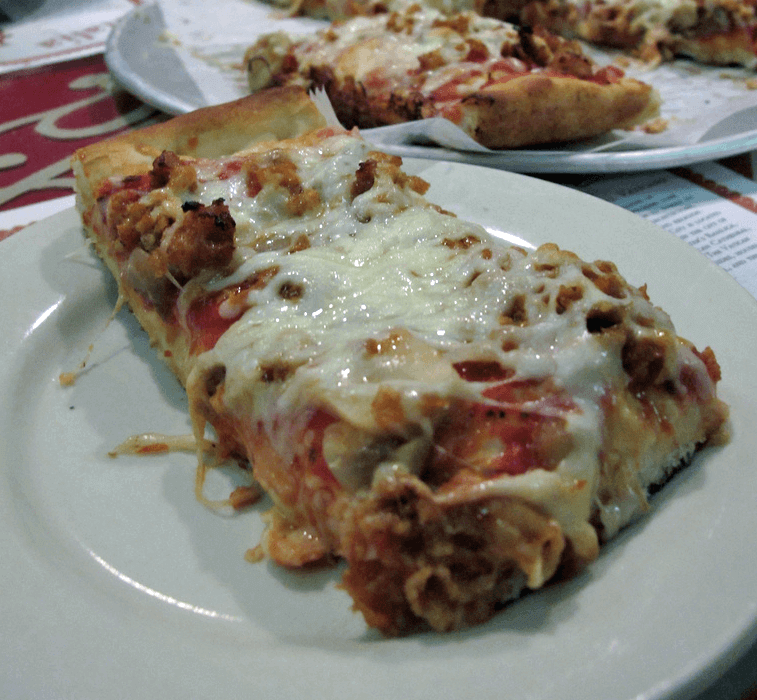 From there we went to Salerno's, a bar that serves pizza. Here we got more ambitious, ordering "red" slices (with tomato sauce) and "white" slices (no sauce, just cheese, with a top crust sort of like a calzone). This turned out to be a tragic misstep, as the both the red and white renditions were, frankly, awful:
Conclusions: (1) Old Forge pizza is more interesting than amazing. (2) If you have enough chutzpah to call yourself the world capital of whatever, people will be intrigued enough to check out your town, even if your claim is more than a tad inflated. P.T. Barnum would be proud.
Sunday, Nov. 22: Today we headed northwest and crossed back into New York, where we headed to Letchworth State Park, renowned as "the Grand Canyon of the East" and named one of the 10 best state parks in America by someone or other. Old Forge had made us wary of grandiose claims, but Letchworth lived up to its billing. It has three beautiful waterfalls, and we got to see them just as a light snow was falling — not heavy enough to stick or be annoying, but just enough to make everything look shimmery and magical. We started at the Lower Falls:
From there we checked out the Upper Falls, which looked all the more dramatic thanks to a freight train on the rail bridge overhead:
We also checked out the Middle Falls, but apparently neither of us got a photo of that. It was good!
Monday, Nov. 23: Letchworth was a warm-up for the real point of our trip — a visit to Niagara Falls.
But first there was eating to attend to. The Captain has the endearing habit of ordering pie at the end of her breakfast — sort of a breakfast dessert — and on this occasion she got a slice of very nice raspberry pie:
Our next stop was in the Buffalo suburb of West Seneca, home to the wonderful Schwabl's, which is western New York's (and hence the world's) best source for the local specialty known as beef on weck — a roast beef sandwich with horseradish, served on a kummelweck roll (essentially a Kaiser roll encrusted with coarse salt and caraway seeds). I've been to Schwabl's four or five times over the years, and it never disappoints: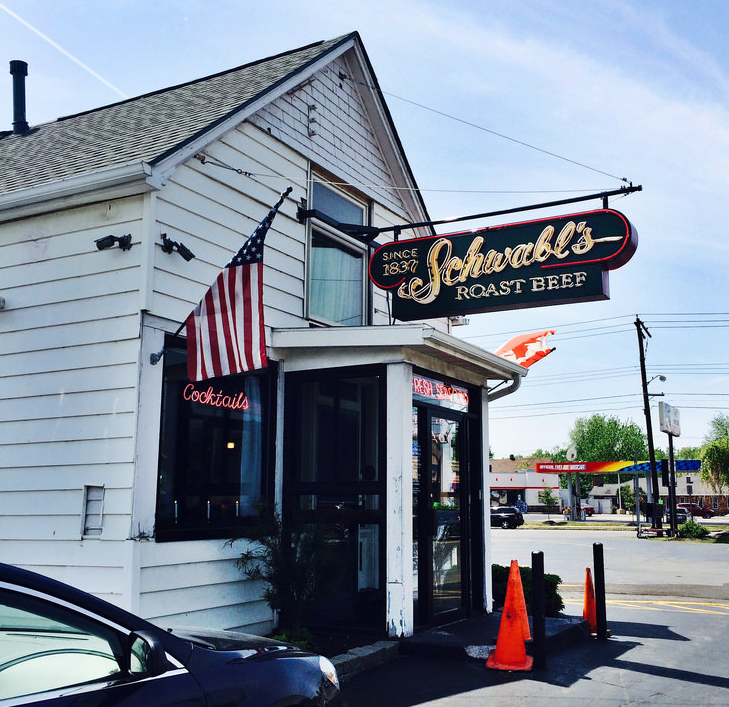 And then it was finally time for Niagara Falls — the Captain's first time there and my first time since I was nine years old. Everyone says it's better on the Canadian side, but we started on the American side, where we went down to the base of Wedding Veil Falls. It was pretty awesome, especially because it was cold enough for all the mist to freeze on the surrounding rocks:
We also checked out the top of the American falls. Once again, a sprinkle of snowflakes provided some added ambiance: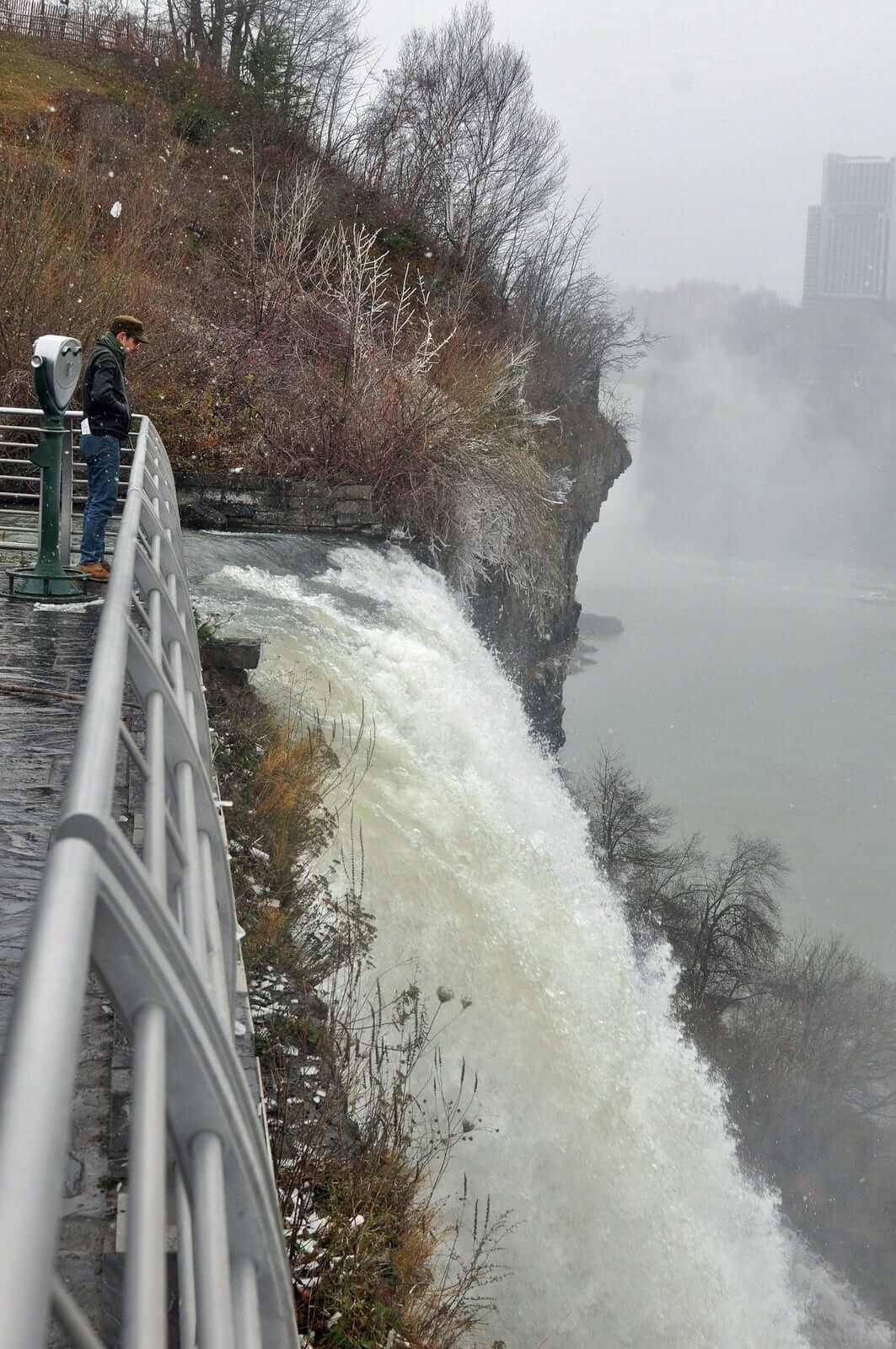 We imagined that the town of Niagara Falls would be a touristy nightmare (I envisioned an endless succession of fudge shops), but it turned out to be pretty rinky-dink and rather grim. Fortunately, we located a primo tavern — Dueger's Tenowon Grill (the middle word refers to the bar's address: 1001 Niagara St. — ten-oh-one), where the titular Mr. Dueger (didn't get his first name, alas) has been serving drinks since 1967. My kinda place:
After a few drinks at Dueger's, we crossed over to the Canadian side. Now that was a touristy nightmare — an endless run of casinos, chain eateries, kitschy retail joints blasting annoying music onto the street, and, yes, fudge shops. I can appreciate stuff like this in the right context — I dig Vegas, for example — but it seems really tacky when set against one of the Earth's great natural wonders. We actually spent so much time fruitlessly searching for a non-loathesome-looking place to eat that we waited too long and our main fallback option closed, leaving us to eat road-trip snacks in our hotel room. Not a good night.
Speaking of the hotel: We got an overpriced 19th-floor room (about $175 in American money, which was more than the internet had led us to expect) and tried to convince ourselves that the two free drinks at the hotel bar and the room's semi-decent view of the Falls were worth the expenditure. Deep down, we knew we'd been suckered. I went to bed wishing we'd stayed at Dueger's a bit longer.
Tuesday, Nov. 24: The hotel served the lamest, absolute worst breakfast buffet I've ever seen. Between this and the previous night's hassles, we were in a pretty grumpy mood.
But then — the Falls. They really are majestic, and the Canadian side really does provide an amazing view, where you can see both the American and Canadian cascades. We spent a nice morning gawking, oohing, ahhing, and, in my case, getting very close to a gull:
Our good mood restored, we crossed back into America and headed east along the Lake Ontario shoreline — a gorgeous drive. We stopped at Wilson-Tuscarora State Park so we could check the beach along the lake, which turned out to be full of stones that were Just Right for skipping. Before we left, the Captain — who'd never before been at the shore of a Great Lake — dipped her hands in the water of Lake Ontario (or, as we'd begun calling it, Lake Inferior, because it's the smallest of the Great Lakes):
Eventually we continued on to Rochester, where we had dinner at a pub and then checked out Don's Original, a roadside stand with the best slogan ever: "Where Quality Predominates." We'd been told by a friend that Don's has excellent frozen custard and onion rings — not the most natural pairing, but we couldn't resist. Both were quite good (that's chocolate-almond with hot butterscotch for me, and eggnog for the Captain):
While driving toward Don's, we had noticed a place with a neon bowling pin sign in the window, so we went back to check that out. It turned out to be the exceedingly wonderful Parkview Bowl, an old-school eight-lane beauty with 1960s Brunswick fixtures, above-ground ball returns, and manual scoring:
We spent a lot of time at the bar kibitzing with the owner, Kevin Martin — a real character whose family was big on the Olympic bobsledding scene several decades ago. He showed me a photo of his uncle's Olympic jacket from 1960, which he still has (but not at the lanes, unfortunately — I would've loved to see it). Didn't get a photo of Kevin, unfortunately, but the Captain did get a classic, pathos-laden shot of the Parkview's lonely-looking repair engineer, Jerry (another real character), nursing a beer at the bar, his cap worn almost impossibly far back on his head: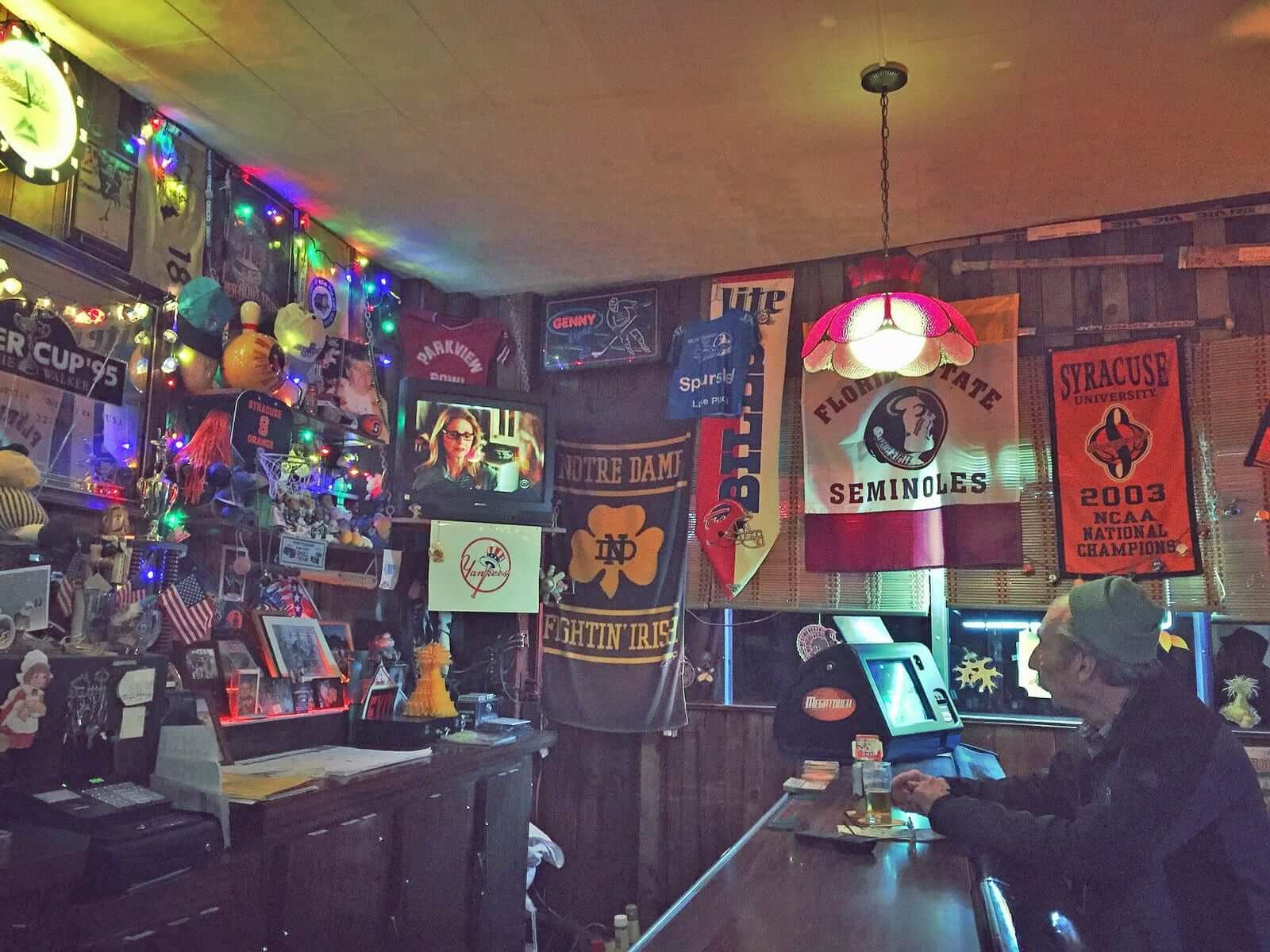 The good news was that I was in heaven. The bad news was that my broken left arm hadn't healed enough to let me bowl (I tried a few balls right-handed and was comically inept). But the Captain tossed a game:
Wednesday, Nov. 25: We woke up in Rochester and began the day at Mark's Texas Hots, a 24-hour joint that supposedly had good breakfasts. We ordered the usual — eggs for the Captain, pancakes for me. But since we were in a place with "Hots" in its name, we felt compelled to get a white hot (a pork hot dog) and a Texas hot (a beef hot dog). They arrived split down the middle, which allowed them to fit perfectly on their Portuguese-style buns — I really liked that. Both were excellent (good thing, too, because my pancakes were pretty bad):
After breakfast it was time to check out another waterfall — Rochester's High Falls, which was the basis for the city's early industrial development and is still used to generate hydroelectric power. It was a gorgeous day, and the falls were strikingly beautiful:
By coincidence, the High Falls are located right next to the Genessee brewery, so we stopped in for a tour and then sampled a flight of their specialty beers (including a salted caramel and chocolate stout that was so sweet, it was basically soda):
After the tour we once again drove east along the Lake Ontario Inferior shoreline. This was the best driving of the trip — great weather, great afternoon light, small towns, and lots of very picturesque apple orchards (New York is the No. 2 apple-producing state, after Washington). The trees were mostly picked bare, but a few still had a bit of fruit on them, so I pulled over and encouraged the Captain to jump out and grab us an apple. She came back with a Red Delicious — not one of our favorites, but it tasted better because it was stolen. Mmmm, burgled apple.
We stopped at a few taverns along the way and then headed south along the western shore of Cayuga Lake (one of the Finger Lakes). We actually passed another waterfall along the way — Taughannock Falls — but it was too dark for us to see anything. Too bad, because it's apparently a real beauty.
We eventually pulled into Ithaca, where the Captain's brother and sister-in-law live. This was the first time I'd met any of her family, and they were super-welcoming. Very nice cat, too. We went out to dinner and then the Captain spent the rest of the night baking two pumpkin pies and maybe some other stuff (it was all kind of a blur). As I went to bed, I thought, "That was a really good day." And it was.
Thursday, Nov. 26: I can't remember the last time I woke up somewhere other than Brooklyn on Thanksgiving morning, but it was a nice change of pace. We all spent the morning cooking (I was responsible for roasted vegetables, if you can believe that) and then went to a neighbor's house, where we were part of a 15-person Thanksgiving gathering. There was sooooo much food — an excellent smoked turkey (cooked on the host's Weber in the backyard), mashed potatoes, Brussels sprouts, my roasted veggies, stuffing, biscuits, two kinds of gravy, salad, cranberry sauce, apple and pumpkin pies, chocolate cake, and a whole lot more that I can't remember:
Great people, too. And croquet in the backyard! It was one of my best Thanksgivings ever, even though I ate about four times more than I should have.
Friday, Nov. 27: Thanksgiving leftovers for breakfast, of course. Then we checked out yet another waterfall — Fall Creek, which is just a few blocks from the Captain's brother's house. This might have been my favorite of the bunch, because it had so many ridges and ledges:
Then we said our good-byes and headed down to Binghamton, where I went to college. I wanted to stop at Sharkey's, home of Binghamton's (and hence the world's) greatest spiedies. I've probably spent more time at Sharkey's over the years than at any other non-Brooklyn eatery (plus my name is included in the fine print of a document on the wall, but that's a long story), and it was as wonderful as always:
From there we drove east to Saugerties, where my friend David had invited us to stay with him and his family at their weekend house. David lives just a mile or two from me in Brooklyn, but we hadn't seen each other since the summer, so it was great to catch up.
Saturday, Nov. 28: We woke up to a slow but steady rain, which was a problem, because the Captain wanted to show me Opus 40, a sculpture park created over the course of 37 years by one man, working in an abandoned slate quarry (additional details here). We decided it was worth the trip, rain or no rain, so off we went. And man, it was tremendous — totally worth it, even if we got a little soggy. Unfortunately, the rain limited our photography, so there's only one photo to show you (but you can see a lot more here):
We had just one more stop to make. Back in 1994, I was driving through the Catskills and came across an amazing roadhouse tavern called Snyder's. It looks more like the Bates Hotel than a bar, which of course is why I was attracted to it. I've been going back there periodically ever since, and it was only a short detour from Opus 40, so we spent a few hours there in the afternoon: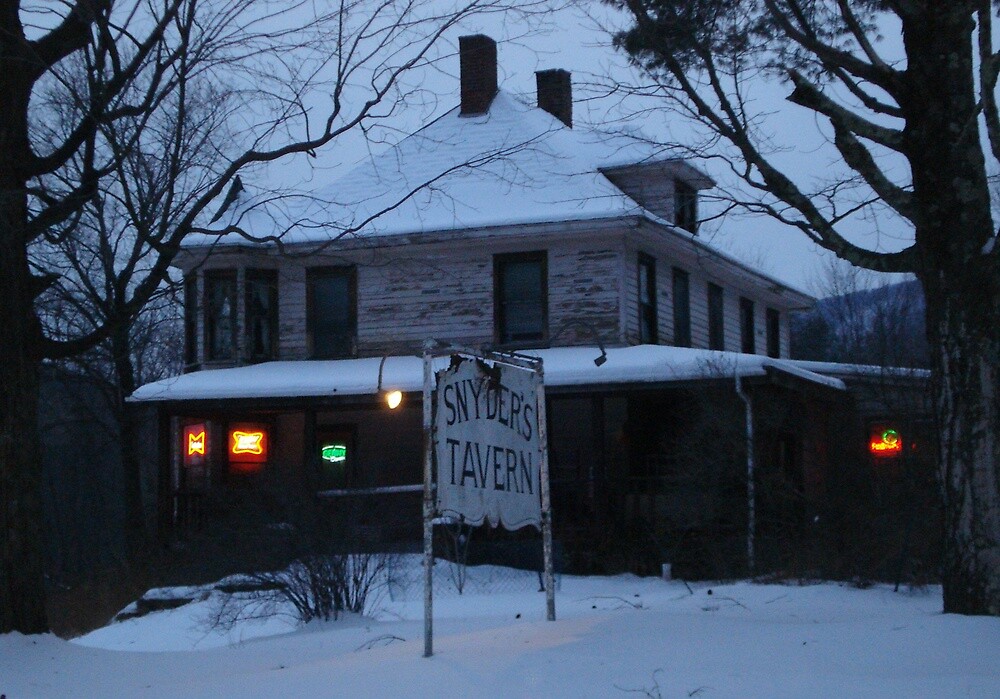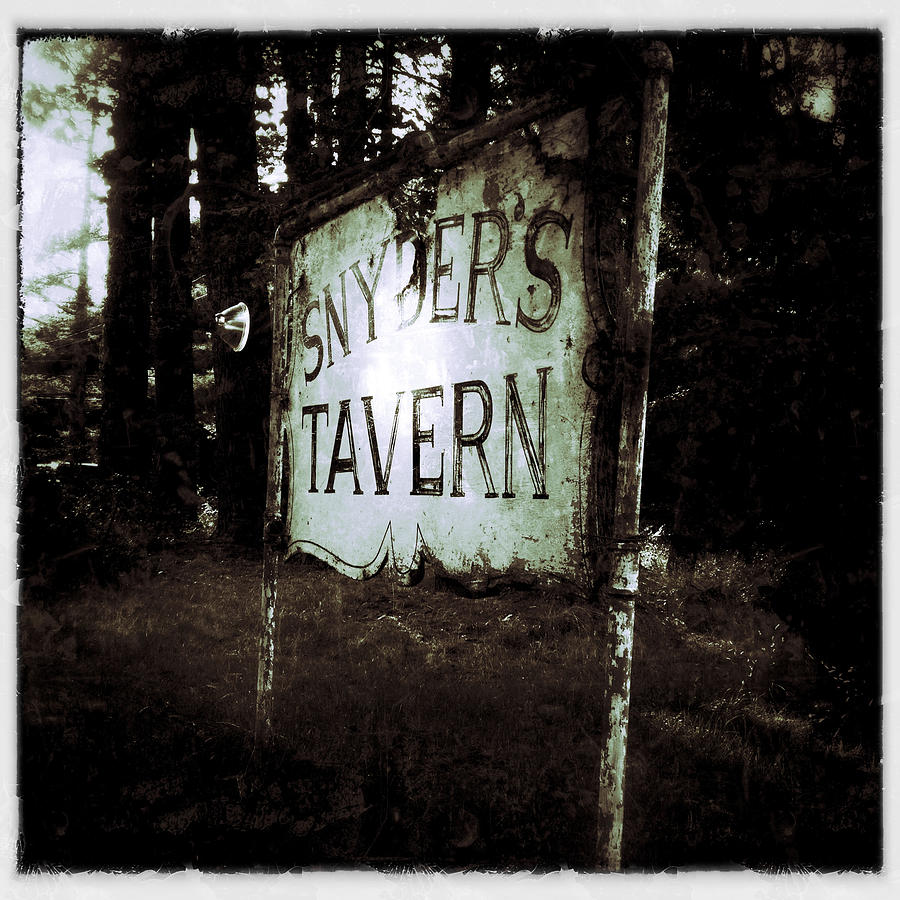 And from there we headed home, where I discovered that I'd gained a whopping 12 pounds in the course of our eight-day trip. I'm usually a welterweight, and I figured I'd come back as a junior-middleweight, but I blew through that and came home as a full-fledged middleweight. That's what a week of zero exercise, tons of food (much of it junk-y), and lots of beer will do to ya. Now that I'm home and riding my bike again, I've already dropped four of the pounds, so I'm back down to junior-middle, but there's still a lot of salad in my immediate future.
Finally, it's worth noting that there was a running subtext to our trip, as shown here:
That's it. Thanks for your indulgence. We'll return to more traditional content tomorrow.
• • • • •
Gift Guide reminder: In case you missed it yesterday, my annual Uni Watch Holiday Gift Guide is now available for your shopping pleasure. Enjoy.
• • • • •
How it feels to be a Browns fan #MNF pic.twitter.com/30hBugRYLZ

— Nick Sobevski (@Sobe_homie) December 1, 2015
Too good for the Ticker: If you watch to the very end of the 30-second video embedded above, you'll see a Browns fan who was so disgusted by last night's last-second loss to the Ravens that he literally tore the overpriced polyester shirt right off of his own back. Leaving aside the questions of whether this was an excellent commentary on overpriced polyester shirts in general and/or on the Browns' current uniform set in particular, is it really that easy to tear an NFL jersey to shreds? Perhaps this was actually a cheap Chinese knockoff, or at least one of the lower-priced (but still overpriced) replicas?
(My thanks to Blake Pass, who was the first of several readers to send me this video.)
• • • • •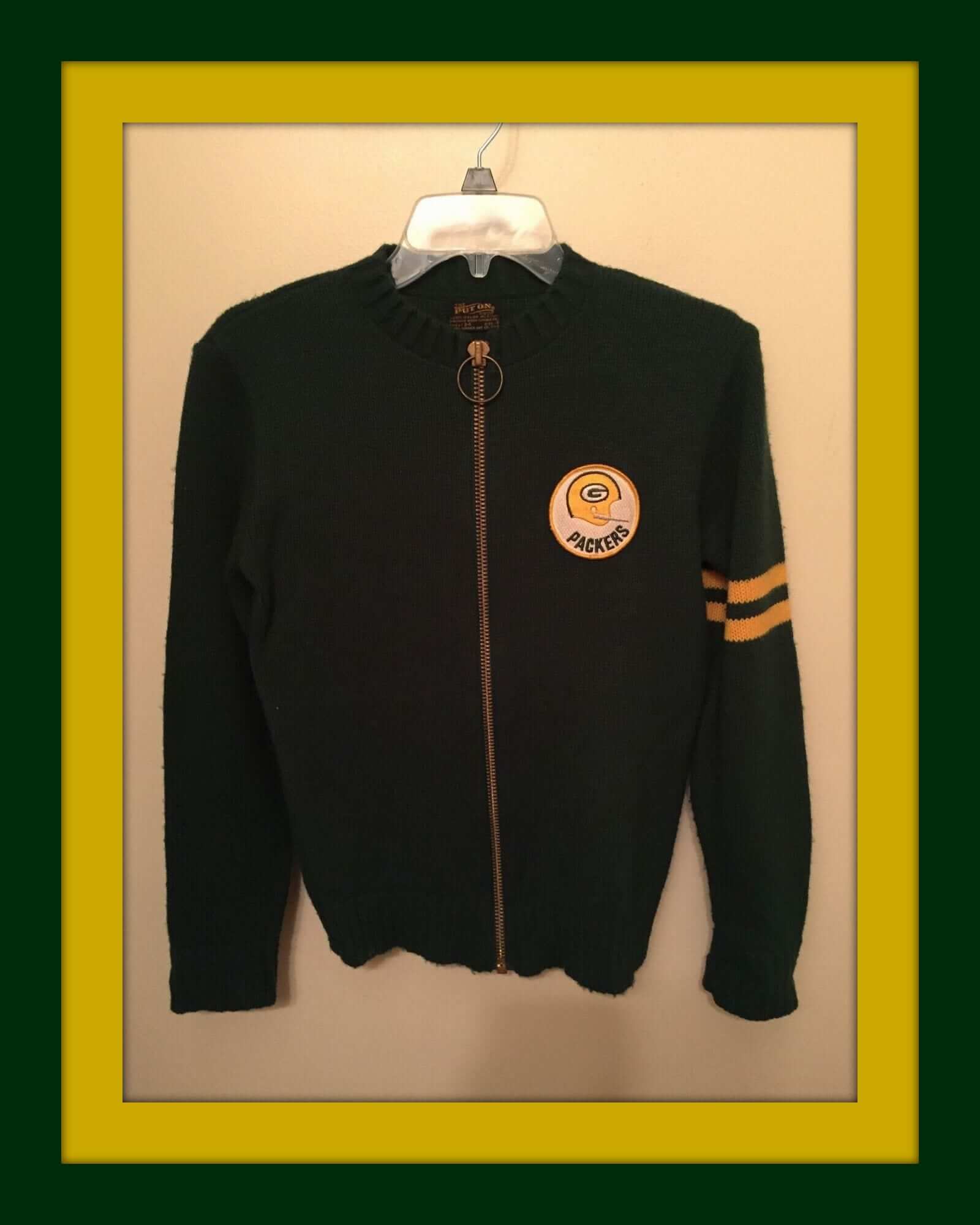 Click to enlarge
Collector's Corner
By Brinke Guthrie
Had one of these (Bengals version) zip-front sweaters with the big ring, and always wondered what "Put On Shop" meant. You put it on — I don't need a tag telling me that. That plus the Bengals one had white stripes on the sleeve and I always felt they should be orange. Of course, it's also called an "antique" in the eBay listing, so now I feel quite old. Here's the original Sears ad. Hurry, Pack fans, the auction ends early today.
Now for the rest of the week:
• Here's one instance where DeLong blew it. That's a nice try, but they missed on the font and layout for "Cincinnati" on this jacket. No sign of the Reds' "C" logo, so this may not have been licensed. Starter has it right.
• We've got vintage patches for the Minnesota North Stars, Buffalo Sabres and Vancouver Canucks — and they're still in the package!
• This 1960s-1970s "vintage vinyl NHL poster" has "all the expansion teams post 1967-68." I like those two hockey sticks running up the center of the design, too.
• Look at the artwork on this Willie McCovey baseball card. That "Super Powers" lettering just screams, "1970s."
• Nice artwork on this NHL Sabres "Puck Radio" box. (Radio not included!) Note the classic Peignot Mary Tyler Moore font top left.
• Here's a "New Old Stock" Bills T-shirt from the 1970s.
• Absolutely had this: A 1970s NFL ruler was an essential part of my middle and high school equipment.
• This always irritates me, people making their own stuff and passing it off as legit. This guy has the nerve to print up his own Steelers decals, and he can't even get the name spelled right. #Youhadonejob
• I'm not sure what a "NY Giants Action Drawing" is, but this poster promoted 'em, anyway.
• In Cleveland, you have to be TOUGH to wear this sweatshirt. Official logo, but no mention of the team name..?
• Looks like the Jets player is flying up, up, away, and out of Shea on this 1960s pennant.
• The auction for this late-1970s Bucco Bruce sweatshirt ends today, so hurry!
Follow Brinke on Twitter: @brinkeguthrie
•  •  •  •  •
New advertiser shout-out: Uniform designer/historian Todd Radom (that's him at right) has been a friend, ally, confidante, and a source of inspiration for over a decade now. Today, as you may have noticed in the right-hand sidebar, he's also a Uni Watch advertiser. Please check out his series of super-cool prints, and also keep our other advertisers in mind for your holiday shopping needs. Thanks.
• • • • •
The Ticker
By Mike Chamernik

Baseball News: Yesterday's Ticker mentioned that the Padres would be unveiling a new uniform set today, but Paul said he didn't know the time frame. We're now hearing that it will be at 8pm Eastern. (Also: Those mock-ups that have been circulating over the past few days are not correct.)

NFL News: Clevelanders using the Uber app got to see prospective cabs displayed in Browns helmet colors yesterday. … According to some fashion experts, there are stylish ways to wear NFL apparel (from Phil). … Yesterday we mentioned Darius Slay was upset that the Lions wouldn't wear Color Rash unis this year. He also had this to say: "Let's go all blue, with the white cleats. I'm going to have the blue-white socks on, I'm gonna kill it. Then, with the white sleeve on, the half-sleeve. With the white sleeve with the all-white cleats, oooh-weee. I'm gonna kill the game. They don't want to see me like that." He's probably right about that last bit (from Phil). … The 1966 film The Fortune Cookie has clips of Browns vs. Eagles and Browns vs. Vikings games. The Browns-Vikings game looks staged for the film (from Greg Mays). … Do any of you remember when the Seattle-based Jones Soda Co. came out with football-themed drinks before the 2007 season? Flavors included Dirt, Perspiration, Natural Field Turf, Sports Cream, and Sweet Victory. … ESPN ran a little-used Ottawa RedBlacks logo during MNF. Unclear if the mark is an official alternate or just one of the unused prototype logos from when the team was created in 2013 (from Marc Viquez).

College Football News: Navy will wear new uniforms and helmets with ship graphics on them for its game against Army on Dec. 12. Different positions will wear different ships on the helmets — a case of the uniforms being non-uniform.

Hockey News: The Maple Leafs called up goaltender Garret Sparks, who wears checkerboard-patterned pads. … The Rockford IceHogs wore Christmas sweater jerseys on Friday (from Phil). … A Scottish team wore some pretty creative kilt-themed uniforms (from Derek Palos). … The WHL's Swift Current Broncos have an anniversary sweater (from Patrick Thomas).

Soccer News: New away kits for Scotland (from @holycalamity). … Multiple MLS players typically have wet spots on the front of their shirts. Does anyone know why? Could it be something like Vicks VapoRub? (From Jim Collier).

Grab Bag: North Carolina's men's basketball team will wear these shoes tonight. … New logo for CBS Sports (from Conrad Burry). … UNLV's president says the school's Rebel mascot has nothing to do with the Confederacy and should be retained. … A lot of bad presidential campaign apparel is for sale (from David Firestone). … Chris Frank went over to his grandparents' house for Thanksgiving and found his grandpa's varsity track sweater. Very nice! I love how vibrant the burgundy color is even after 58 years. … Jared Pike is undertaking a really cool project. His website, 30 Year Sports, takes a weekly look back at what was happening in sports exactly 30 years ago. This includes Plays of the Week on YouTube, blogs posts that provide context and trivia, and a Twitter account that posts a new GIF every day. Jared wrote his first blog post yesterday.