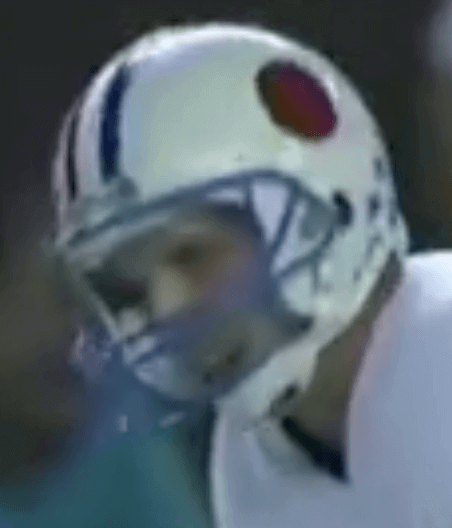 [Editor's Note: Today we have a guest entry from longtime reader and fellow journalist Cork Gaines, who found, and then solved, a good college football helmet mystery. — PL]
By Cork Gaines
While I was watching a recent BYU football game, a discussion came up about how the Cougars have mostly resisted the college football trend toward alternate uniforms and helmets. Outside of the occasional black or navy helmet, the BYU uniform has been mostly unchanged through the years.
I was curious if BYU helmet history included any wild designs that I might have missed, so I checked The Helmet Project, and something jumped out — the Cougars once wore a helmet with a large red dot.
According to the note on The Helmet Project, the dot replaced the standard decal on the left side of the helmet for one game on the road against Hawaii on Oct. 28, 1989. Sure enough, highlights from the game are available on YouTube:
Interestingly, nobody seemed to know the reason for the red dots with any certainty. According to The Helmet Project, visitors to the site proposed three explanations. All three seemed plausible, but also had problems:
1. One visitor claimed they got info directly from BYU that the red dot was "to support a Hurricane Food Drive." It's true that the game was played about a month after Hurricane Hugo caused extensive damage and killed 61 people on the east coast and in the Caribbean. But why the red dot, and why for one game on the road in Hawaii?
2. Another reader noted that there was an anti-drug campaign going on in Utah at the time, called "Red Ribbon Week." According to newspapers at the time, there was such a campaign and at least some BYU players were involved. But why would the team wear a red dot instead of a ribbon?
3. A third visitor, noting the Mormon church's ties to Hawaii and the South Pacific, suggested that the red dot was "a gesture of friendship towards the large Japanese immigrant population of Hawaii." In general, this seemed plausible. But to wear what was, in essence, the Japanese flag on the side of the helmet in Hawaii seemed like a bad idea.
Additional research confirmed that the red dot was indeed a one-game occurrence. BYU wore their standard helmets the week before, against UTEP, and the week after, against Oregon (both home games).
Attempts to gain information from current staff at local newspapers came up empty, and BYU did not immediately respond to a request for information.
The game was played at night in Hawaii, so it was not on the national radar at the time. Newspaper accounts leading up to the game and immediately after the game do not mention any changes to the uniforms. There is even a University of Hawaii radio broadcast of the game, but there is no mention of the helmets in the first 30 minutes.
A participant in a BYU message board thread claimed to have solved the mystery via a chance encounter with former grounds crew members. According to the thread, the red dots were a prank by Hawaii students and were supposed to simulate a sniper's laser. But even if that were true, why would BYU leave the red dots in place once they discovered them before the game?
Searches did turn up one interesting newspaper story published a month after the game that delved into the Church of Jesus Christ of Latter-day Saints' close bond to Hawaii and the Japanese. According to The Deseret News, there is a legend that a Japanese bomber who was part of the raid on Pearl Harbor tried to bomb a Mormon temple when his trigger failed:
According to the story, one of the Japanese pilots attempted to bomb the Mormons' Hawaiian Temple. But when he tried to release his bombs, they would not drop from their racks. However, when he flew on to his assigned military target, they fell without a hitch.

Supposedly, after the war the pilot learned what the building really was, and the apparent miracle so impressed him that he became a Mormon.
There is no mention of the BYU football game, but that story was published less than two months after the game — hmmm.
But that turned out to be a head fake. I finally struck gold in a Provo Daily Herald story that was published two days after the game. It included a random quote from BYU running back Matt Bellini on how poorly they played that day:
"We wore those red dots on our helmets that said 'Say No to drugs' but you wouldn't know it. The way we played, it was like we were on drugs."
And there it is. Interestingly, Bellini's quote suggests that the red dots may have included text. No words are apparent in any of the close-ups from the highlight footage, however, so he may have been speaking in general terms about what the red dots represented.
There are some additional lingering questions here. Was the anti-drug campaign the same as the Red Ribbon Week initiative, or was it something else? And why the use of a red dot? Why didn't Hawaii wear the dot? And so on.
Still, at least the most basic mystery — what was the red dot for? — has been solved, even though most of us weren't aware of it in the first place.
Epilogue: After this piece was written, but before it was published, BYU PR rep Duff Tittle responded to my inquiry. He said, "We've had this question asked before and haven't been able to find a detailed answer. What we've been able to learn is that the patch had to do with some sort of disaster relief effort at that time."
This seems to explain the Helmet Project reader who said a BYU staffer described the red dot as part of a hurricane relief effort. The reader sounded confident in the answer, but BYU probably spoke with less confidence.
Ironically, if BYU had responded right away to my inquiry, that probably would have been the end of my research and reporting, and we would have been left with an inaccurate story. But because they took a while to get back to me, that gave me time to find the Provo Daily Herald story with the real explanation.
• • • • •
[adrotate group="2″]
• • • • •
MH closing in on Uni Watch Lifetime Achievement Award: I've written many times over the years about longtime St. Louis-based Uni Watch reader and all-around swell guy Marty Hick — his notebooks filled with amazing uniform artwork, his jersey-themed birthday cakes, his penchant for painting NBA and ABA team logos onto thrift store artwork, his Christmas tree toppers, and of course his croquet league.
Marty's devotion to uniforms also extends to his job as a public school teacher, as evidenced by this note I received from him yesterday:


We're doing this new thing at our school called Crew Time. Students are able to sign up and participate in activities once a month with a teacher other than their own. We had to make Flipgrid vids for the students so they could choose which crew to be in. You'll dig my crew. Here's the vid:
I think it's safe to say that with Marty at the helm, our nation's young minds are in very good hands. Well done, sir (and say hi to Holly for me)!
• • • • •
[adrotate group="2″]
• • • • •
The Ticker
By Lloyd Alaban, making his Uni Watch debut

Baseball News: Braves 2B Ozzie Albies wore a red elbow guard in last night's Braves/Mets game because he wanted to match his best friend, OF Ronald Acuña Jr. (from Mike Chamernik). … Rays P Blake Snell is donating the jersey he wore for his 21st win — a Rays record — to the Hall of Fame. … Then-White Sox C Carlton Fisk had an unusual NOB during spring training in 1981 (from @MBDChicago). … Interesting ball-in-glove logo for the NYPD's rec league team. Look familiar?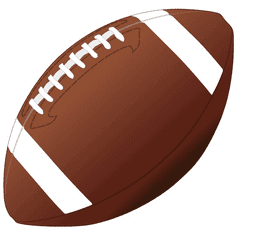 Pro Football News: The Packers will wear their 1930s-era throwbacks for Sunday's game against the Bills. … Not only did Jets C Jonotthan Harrison visit a local school wearing a NNOB jersey, it also had no maker's marks (from Steven Woj). … Here's an interesting piece about the Eagles' equipment manager (from Greg Shemitz). … An Atlanta apparel and merchandise agency will provide 10,000 Super Bowl LIII volunteers with uniforms. … The Chiefs have issued personalized thigh pads for each player, complete with number and team logo (from @powerandfinesse). … This writer thinks there's one flaw with the Rams' throwback uniforms — other than their not being worn full-time, of course (from Phil). … A fan envisioned concept branding for the Titans (from Robert Twomey). … Here's a good shot of the NFL East Pro Bowl team's unis as they faced the Rams in 1966 (from Pro Football Journal). … A great Goodwill find: Take a look at these retro NFL glasses! (From @treyj1234.) … A UW reader wants to know why cars used to be parked on the edges of NFL fields. Paul says he has no idea. Maybe the local dealership was running a halftime contest or something? Anyone know more? … The Calgary Stampeders of the CFL will debut a new jersey combo for Friday's game against the Argonauts.

College and High School Football News: On Monday, we noted that Virginia RB Jordan Ellis had an "X" on his nose bumper instead of the usual ACC wordmark. UW Reader Mark LaFountain notes that Ellis's nose bumper is actually a maker's mark for helmet manufacturer Xenith. … Iowa State will be wearing a green dot on its helmets for the rest of the season for ISU's Be Well ISU Student Wellness campaign (from Sean Jankowski). … Awesome superhero-themed gameday poster for John Carroll University. Proceeds from this $2 work of art go to the MaxCure Foundation to help fight childhood cancer (from @JCUFootball). … The Foster Farms Bowl is now the Redbox Bowl (from @NotHotTakes).

Hockey News: The Hurricanes and Predators went color vs. color in last night's preseason matchup. Some video highlights here. … Hockey goalies are often referred to as brick walls, and Bruins G Jaroslav Halak is using that metaphor for his new mask design (from Moe Khan). … A writer envisioned an alternate jersey for the Golden Knights (from Tim Dunn). … The University of Minnesota, Duluth women's hockey team will be wearing a camo jersey Saturday night (from @Biddco). … New jersey template for the Hershey Bears. … Singer Keith Urban wrapped up a tour of Canada by wearing a bunch of Canadian NHL teams' jerseys (from Noah Kastroll).

NBA News: Lakers forwards LeBron James and Lance Stephenson both wore No. 6 at practice this week (from @king_ryan_james). … Hornets exec Mike Cristaldi had the privilege of meeting the designer of the team's original uniforms (from @GameplanChicago).

College Hoops News: New uniforms for Florida men's basketball (from Hunter G.). … UNC's Dean Smith Center has new video boards (from James Gilbert). … New uniforms for Kansas.

Soccer News: There was a benefit match in Cork, Ireland, for Irish midfielder Liam Miller, who passed away from cancer earlier this year, between Manchester United and a combined Ireland/Celtic side. Ireland/Celtic wore Celtic's kit in the first half (at right) and Ireland's kit in the second half (at left) (from our own Jamie Rathjen).

Grab Bag: 2018 US Tennis Open winner Naomi Osaka's record-breaking endorsement with Adidas might not be a done deal yet (from Brinke). … New look for Japanese Women's volleyball team Denso Airybees (from Jeremy Brahm). … Also from Jeremy: 2018 FIVB Volleyball Women's World Championship Japan's National Team added a white jersey. … The European Ryder Cup team will wear yellow ribbons this week in memory of Spain's Celia Barquin Arozamena, the former Iowa State player who was killed last week on a golf course in Ames, Iowa (from Karey Klismet). … This bike helmet can fold down to the size of a water bottle. … New logo design for CNN Business. … The US Air Force will begin handing out its new Operational Camouflage Pattern combat uniform on Oct. 1.