The egg timer at the New Era offices — the one that rings every few weeks to remind them it's time to feed the retail beast by cranking out another line of "lifestyle" caps that nobody really needs — apparently went off recently, because yesterday they launched a new series of NFL team caps called "Elements."
The idea behind "Elements" is that each team's cap design is based on "the most identifiable element" of the team's logo. A few of the designs look pretty cool, others look ridiculous, at least one just uses the team's entire logo instead of just an "element" of it, and another doesn't even have anything to do with the team's logo.
In other words, your usual pointless retail slop. None of which would matter to us here at Uni Watch, except for the one thing: In a situation like this, what do they do with the Browns, whose logo is just their helmet? Here's the answer: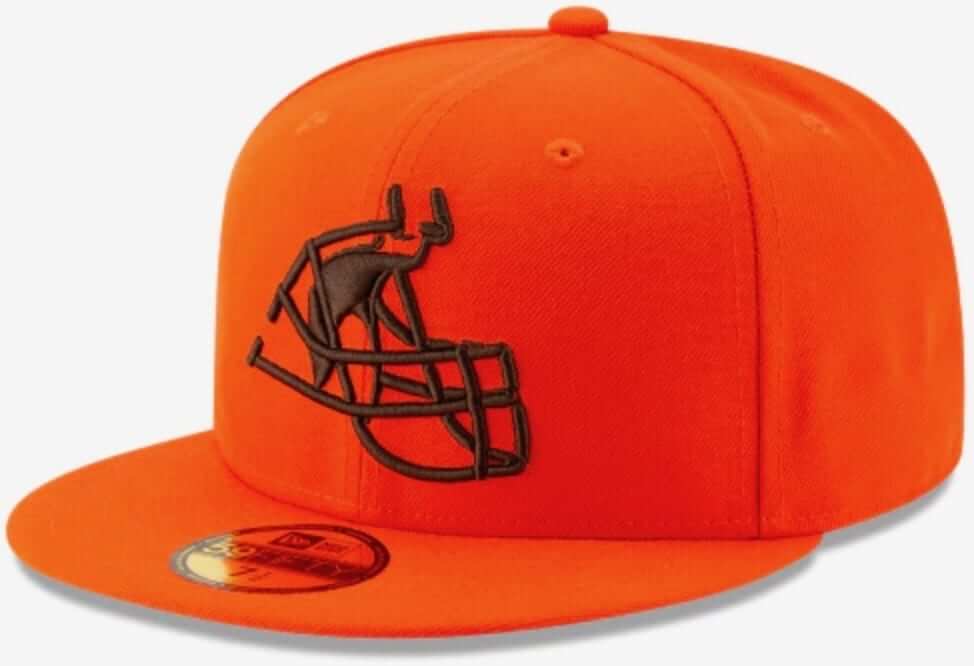 And there you have it. According to New Era (and, presumably, according to the Browns themselves, since teams have to approve these designs), the Browns' most prominent logo element is a facemask! Too funny. Is this the first time a facemask has ever been featured as the primary logo on a baseball cap? I'm guessing yes.
Perhaps a better question is whether this will be the last time a facemask will be featured on a cap. Once you open that door, there are plenty of possibilities. After all, lots of NFL players have had distinctive grills that became their visual signatures, plus you could have a whole line of designs just for Archie Manning (collect 'em all!). Do a limited-edition, premium-priced design featuring Y.A. Tittle's kithen sink rig and you'll be sitting on a pot of gold in no time flat. Hell, you could even include a few MLB players in the mix!
My usual position with any Browns-related merch is "Put Brownie the Elf on it!" But in this case, I'm glad they went with the facemask. Much more absurd and thought-provoking. Thanks, New Era!
(My thanks to Jim Tischler, who brought the Elements caps to my attention.)
• • • • •
[adrotate group="2″]
• • • • •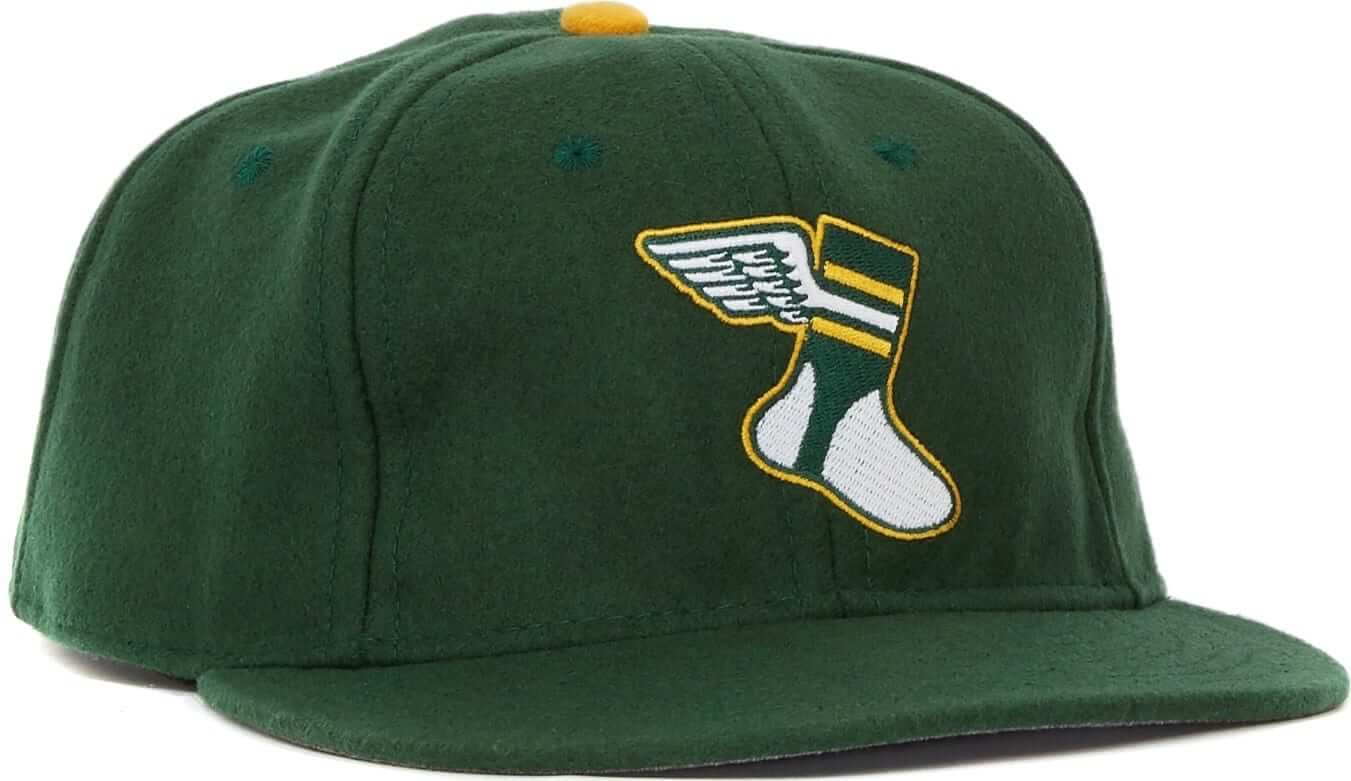 Speaking of caps: I'm happy to report that all fitted sizes of the Uni Watch classic cap, available exclusively from Ebbets Field Flannels, are now back in stock. Grab your preferred size before they sell out again!
Meanwhile, two weeks ago I asked for feedback on our flex-fit alternate cap, and a bunch of you said, "Actually, I've been meaning to buy that one, but I keep forgetting or putting it off." If that's you, go ahead and order one already.
Hey, wouldn't it be great if we did a Uni Watch "Elements" cap? It could feature just the wing. Or just the stirrup. Or just the undersock. Or just the stripes.
Or not.
• • • • •
[adrotate group="2″]
• • • • •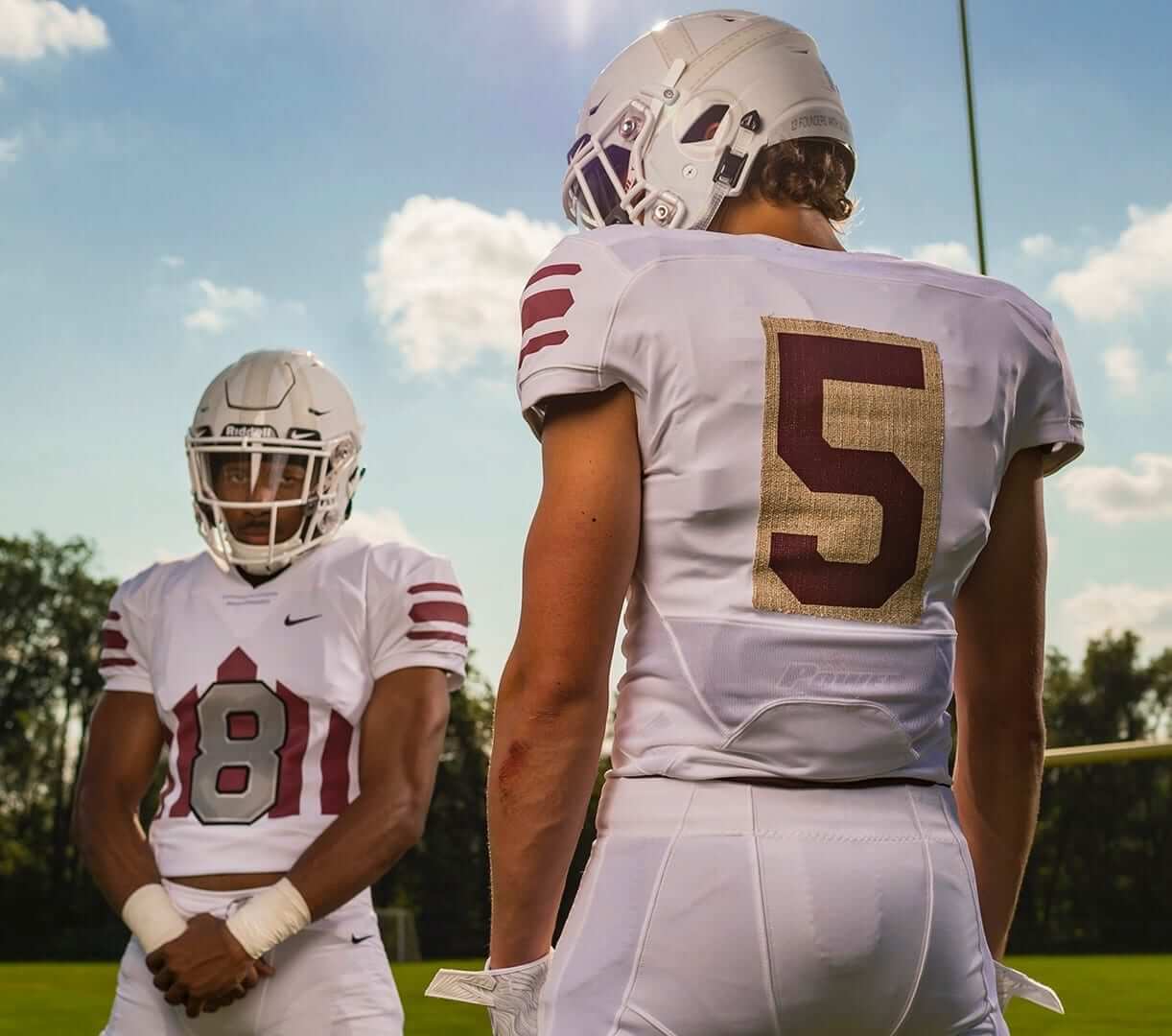 For all photos in this section, click to enlarge
Now that's a throwback: Colgate, an FCS school, has something special planned for this Saturday's game against Lafayette. The university is celebrating its bicentennial, and the football team is marking the occasion by wearing 1932 throwbacks. That was the season Colgate famously went, as the saying goes, "undefeated, untied, unscored upon, and uninvited" (to the Rose Bowl).
Here's a game shot of the original 1932 unis:
Obviously, they can't go without front uni numbers 2018, so they had to come up with a solution that looked old-school while still meeting NCAA requirements. I'd say they did a pretty good job of that: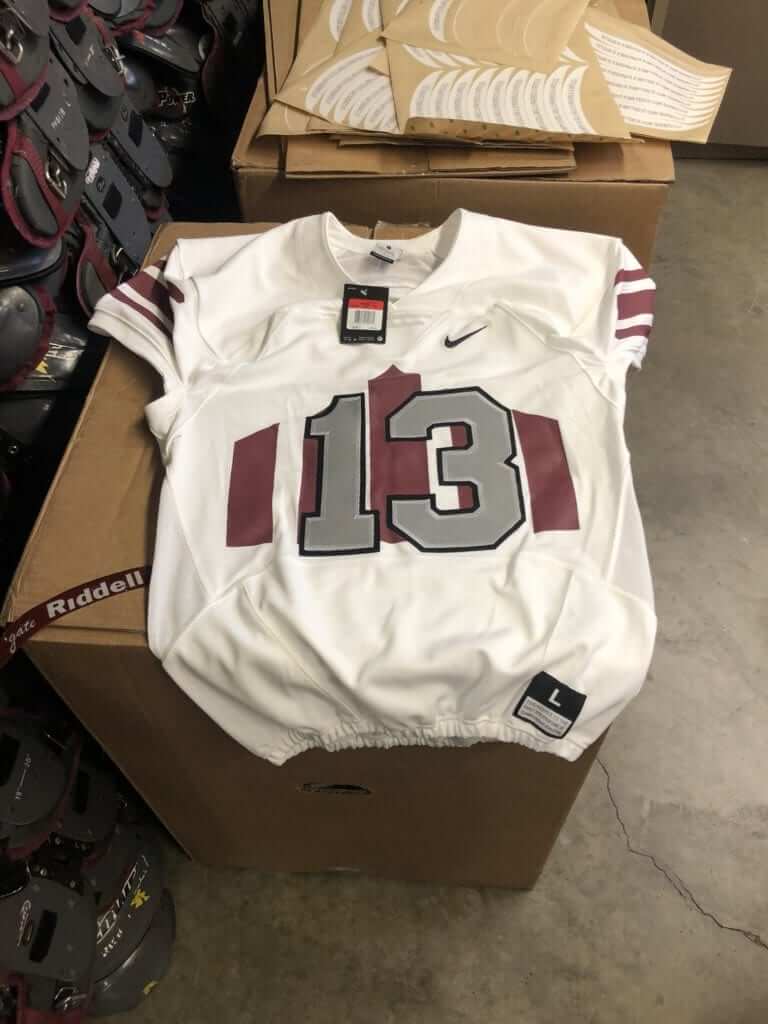 For the back numbers, they actually applied panels of a burlap-like material to the jersey and then applied the numbers to those panels:
For the helmet, they're going with a hydro-dipped faux-leather texture pattern, with decals to simulate the old leather stitching: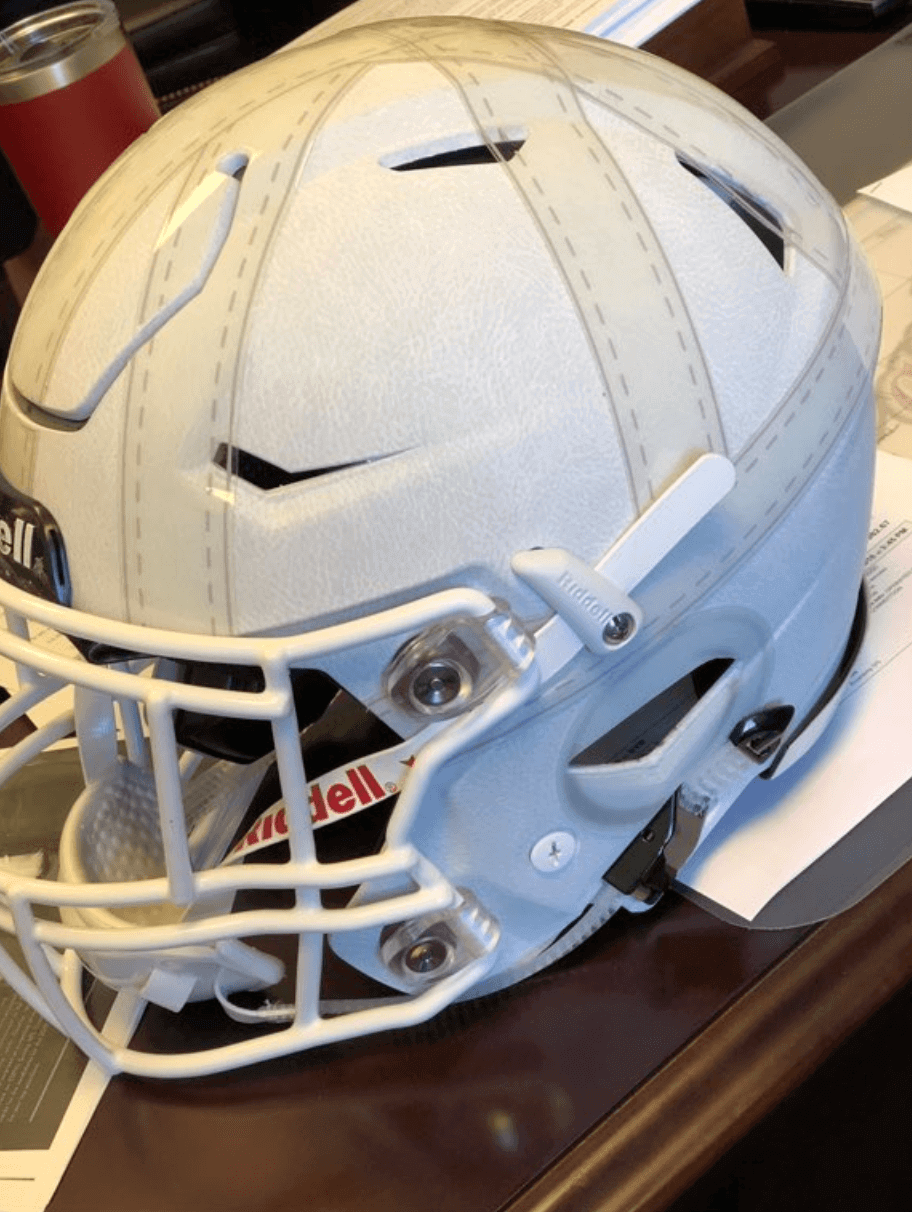 This was all the brainchild of Colgate assistant equipment director Broc Hazlet. You can read more about the design process in this excellent article from the Colgate website.
One other notable item here: Colgate will be wearing white at home for this game.
• • • • •
[adrotate group="2″]
• • • • •
Click to enlarge
Too good for the Ticker: There's sooooo much going on in this 1969 shot sent my way last night by longtime reader Marc Viquez. Dig:
• The Reds did not wear a patch for their 100th anniversary in '69 (although they did wear the MLB centennial patch). But it turns out that they had a logo for the team centennial, which they used for their on-deck circle.
• I'm pretty sure that's the earliest example I've ever seen of a logo or graphic being used for the on-deck circle. I think of that as a 1970s and '80s phenomenon. (Update: Longtime reader/contributor BSmile reports that the Yankees, of all teams, had a team-logo on-deck circle in the mid-1960s.)
• I'm old enough to remember when it was fairly common — or at least not uncommon — to see players kneeling or squatting on deck, as Pete Rose is doing in this photo. At some point, that fell out of vogue. When you think about it, it's pretty ridiculous. Why wouldn't you be standing as you get ready to hit? (Update: Note that Rose and the batboy both have little cushions — maybe colored bases? — to kneel on. Never seen that before! Big thanks to reader/commenter Mangler for pointing that out.)
• Never really noticed before that the late-'60s Reds had a Tigers-like profusion of belt loops on their pants.
• At first glance, it looks like the bat boy's pants have few belt loops than Rose. But upon closer inspection, it appears that he simply missed at least two of his loops.
• Batting gloves were fairly rare in 1969, but Rose is wearing at least one of them. Some very quick photo research indicates that he sometimes wore one in '69, but not always.
• Nowadays, bat boys are required to wear helmets. Back in the day, they wore caps. (And the "BB" jersey is very nice, of course.)
That's a lot of mileage from one photo, right? Big thanks to Marc for sending it my way.
• • • • •
[adrotate group="2″]
• • • • •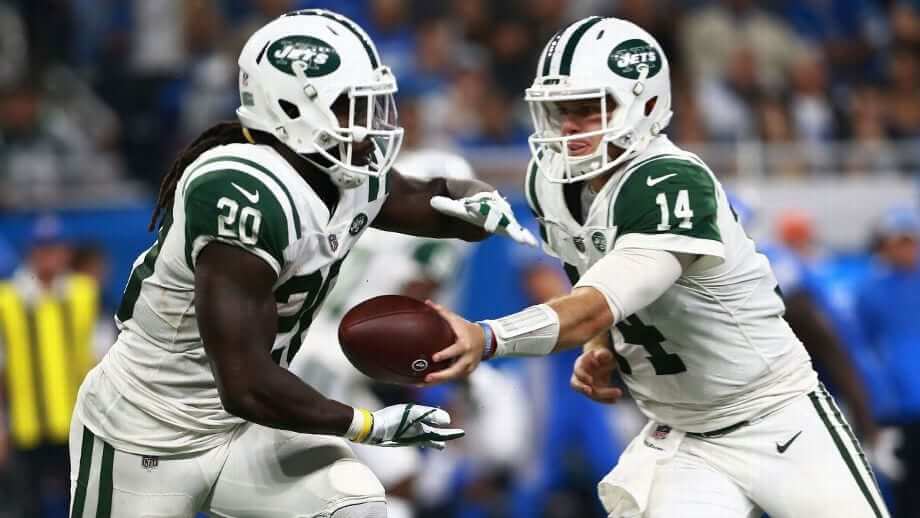 Contest reminder: Just a few days left to get your entries in for my Jets-redesign contest. As usual, the best entries will be featured in one of my upcoming ESPN columns. Full details here.
• • • • •
[adrotate group="2″]
• • • • •
Click to enlarge
Celebrity sighting: Who was that alongside me in Soho last night? None other than the pseudonymous DIY genius Wafflebored, who's in town to celebrate his birthday. The Tugboat Captain and I met up with him and his lovely partner, Carmen, and it was a genuine thrill to meet the man behind so many great jerseys. I've featured him many times here on the site, but do yourself a favor and follow his blog, which documents his many amazing jersey projects.
• • • • •
[adrotate group="2″]
• • • • •
New Uni Watch HQ pays porch dividends: Until now, I'd never lived anywhere that had a front porch. And I have to say, there's something really nice about sitting on said porch, safe and dry, while enjoying wifi and Diet Coke (not necessarily in that order) during a thunderstorm.
• • • • •
[adrotate group="2″]
• • • • •
The Ticker
By Alex Hider

Baseball News: The Orioles wore their braille-lettered uniforms last night against the Blue Jays. Paul first wrote about them earlier this month (thanks to all who shared). … Mets 3B Todd Frazier went high-cuffed last night, and his socks appeared to be a lighter shade of blue than the Mets' usual royal (from Justo Gutierrez). … Fashion designer Ralph Lauren is throwing out the first pitch on Thursday, but don't expect him to dress up. He says he isn't going to "worry" about what he wears (from Tom Turner). … This family borrowed the Seattle Mariners logo for its family reunion (from Michael Miller). … The Staten Island Yankees raised $8,000 on behalf of their GM, who is battling breast cancer, thanks in part to auctioning off their pink cancer awareness uniforms (from Phil). … The Phillie Phanatic wore green for Irish Heritage Night last night.

NFL News: Resurgent Bucs QB Ryan "Fitzmagic" Fitzpatrick is the talk of the league right now. But it's Dolphins DB Minkah Fitzpatrick who's filed a trademark for the "Fitzmagic" nickname. … Yahoo took some liberties with NFL helmets in this graphic (from Dylan Nowak and @RipVanWhiskey). … A restaurant in Wisconsin has a black, yellow and white mural on a wall, and the color scheme makes a Packers helmet look like a Grambling State helmet (from Christian M. Zummer). … David Whitley put together a Raiders concept uniform.

College/High School Football News: We missed this one, but Stanford and UC Davis went color-vs.-color on Saturday (from John Furstenthal). … Iowa State will wear a memorial decal Saturday to honor Celia Barquín Arozamena, the ISU golfer who was murdered on Monday (from @cylinen). … Matt Schudel was taking a look at Davidson's old yearbooks and noticed that the Wildcats wore plaid or checkered numbers on their white jerseys from about 1956-1962. … A Connecticut high school football website now has its own uniform column (from David Kranz). … Cross-listed from the NFL section: A restaurant in Wisconsin has a black, yellow, and white mural on a wall, and the color scheme makes a Green Bay Packers helmet look like a  Grambling State helmet (from Christian M. Zummer).

Hockey News: 'Canes RW Justin Williams was recently named team captain, and he's offering to cover the cost for fans who wants to add a "C" to their jersey (from Ted Arnold). … Speaking of Williams, his "C" will be on the right side of his jersey instead of the standard left, at least on the team's alternate jersey (from Keaton). … Staying with the 'Canes, they played a color-vs.-color game with the Lightning yesterday (from Bobby Fenton). … A Bruins blog speculates that the team will have a vintage third jersey this season (from Sara Schieve). … The Preds are painting team murals around Nashville, and they uploaded a time-lapse video of this mural of a front-facing sabertooth tiger. … The Atlanta Gladiators of the ECHL have new uniforms (from Phil). … Ohio University has new 1958-inspired green sweaters to go with the white jerseys they debuted last season (from Trevor Wilson Patton). … The Utah Grizzlies of the ECHL have their center ice logo ready to go (from Brian Prutch). … Jägermeister is now the "official shot" of the NHL, but hockey fans, that doesn't mean you need to drink it. And really, why would you ever want to?

Basketball News: Looks like the Trail Blazers are getting ready to reveal a new uniform. The announcement will apparently come later today (from Jarrod Campbell). … The refs probably had a tough time calling fouls on the Celina High School (Ohio) basketball team during the 1943-44 season. Check out that number selection! (From Kyle Shaner). Same goes for 1947 Arlington High School (Illinois) team (from Andy Garms). … New uniforms for North Carolina. Not sure if the color is actually lighter, or it's just the lighting in the photo. Here's another shot (from @heelsupdates and Jason Collins). … Nebraska unveiled new pinstriped home uniforms yesterday (from Shamus McKnight).

Soccer News: New Champions League kits for Napoli (from Josh Hinton). … Also from Josh: The South American uniform manufacturer Dana has copied a bunch of notable kit designs from other outfitters, including Nike's much-discussed 2018 World Cup kit for Nigeria.

Grab Bag: This what U.S. players will wear in the Ryder Cup next week (from Phil). … ColorWerx, the website that tracks the colors of pro and college sports teams, has changed its name and URL to TruColor.net.
• • • • •
G'mar Hatima Tova to all who are observing Yom Kippur today.