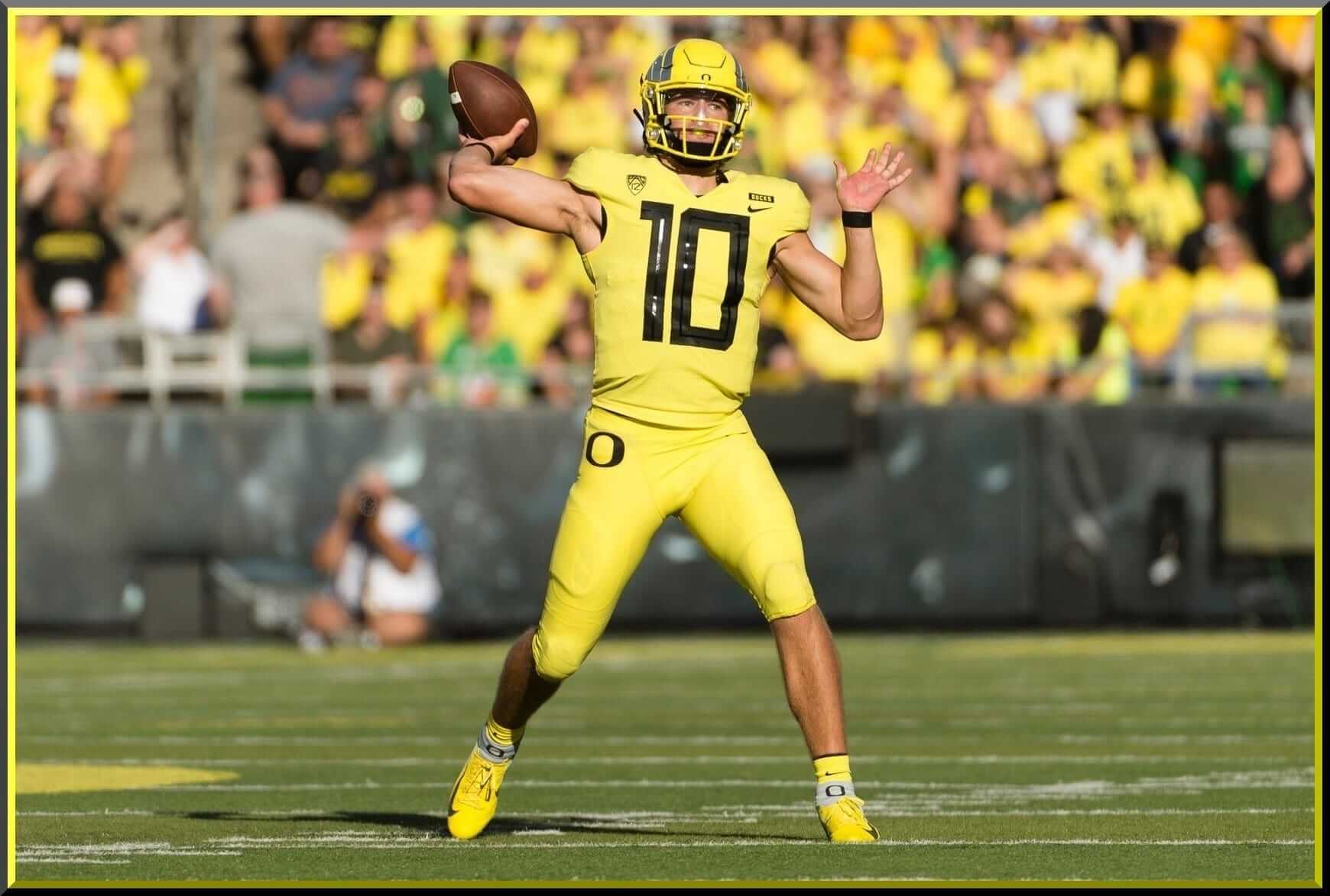 By Phil Hecken and the SMUW Crew
Follow @PhilHecken

Hey there Weekend Readers! Remember me?
It's with great pleasure that I announce the return of the full Sunday Morning Uni Watch (SMUW) crew for the 2018 College Football season: Terry Duroncelet, who gives us the weekly rundown of odd, interesting, new, torn, ripped, flag desecration, or just plain good (and bad) looking uniforms, Joe Ringham, who gives us the 5 & 1, and uni trackers for the Power Five: Rex Henry (ACC); Dennis Bolt (PAC-12 and Duck Tracker); Kyle Acker (Big XII) and Ethan Dimitroff (B1G & SEC). Since I traditionally have Labor Day weekend off (I need it after doing a month of weekday UW), we're set to once again begin SMUW on the second Saturday in September, with the regularly scheduled SMUW for week 2 and beyond appearing tomorrow and every Sunday until the season ends. Today, we'll have the Week One wrap to get you all caught up and pumped for today's games.
Terry will have more on this game below, but I always try to take one single game that's either notable or good looking (or bad looking) or just a big game, or a game where special unis are worn, and give it a short lede before turning it over to TJ. So, we kick off with the Oregon Ducks, who released a new set of uniforms less than a month ago.
As our splash photo shows, we go our first look at them on the field last weekend. They went mono-yellow at home against the Bowling Green Falcons who went brown/white/white — an unfortunate matchup from a color perspective. It also give us our first on-field looks a Oregon's GIGANTIC uni numbers which can no doubt be seen from space (even Jimmer Vilk has to agree these numbers are big enough to see from the press box). We also got to see the inverted color nameplates worn as NOB (and also that the material leaves not much to the imagination when players sweat). The wings on the helmet have returned, but otherwise the uniform is pleasantly devoid of any piping/striping/logos, save for the tiny "DUCKS" above the swoosh (also inverted like the NOB nameplates) and the big "O" on the right hip/waist. After years of being in a love/hate relationship with the Ducks, I think I'm in love again! Today the Ducks will go mono green against Portland State, so that will make two weeks in a row in school colors!
OK, enough from me, time for the SMUW crew to take it away. Here's Terry "TJ" Duroncelet, Jr., with your…
• • • • •
Sunday Saturday Morning Uni Watch
By Terry Duroncelet, Jr.
*cracks knuckles* With the long and sweaty Summer months… not quite gone yet, but getting close, and school back in session nationwide, it's time to prepare ourselves for yet another action-packed, drama-filled season of uniform storytelling– er, college football. Yeah, tha– that's totally what I meant to say.
Now as per usual, the season starts early for some schools, and because of the week-long layover, you'll see coverage of games from upwards of 2 weeks ago (Aug. 25th). And we shall redux for Week 2 tomorrow. With the usual housekeeping out of the way, shall we get started?
From Saturday, August 25th
• While looking up photos for the UMass/Duquesne matchup, I notice that the conference logo for the Dukes (Northeast Conference) almost looks like the Big East logo from afar.
• Rice's choice of font for the team name and numerals could not look more dated if it was slapped on the front of a graphics card box from the early to mid-early 2000s. It's a no from me, Owls. On the bright side (no pun intended), we were treated to a nice color-vs-color game, with Prairie View in purple (I think?)/yellow/purple.
• I quite enjoyed the rendition of the State of Hawai'i on the side of the Rainbow Warrior's helmets in their game against Colorado State.
• Wyoming jumping ship to Adidas was one of the last things that I predicted would happen in 2018… but then again, Aaron Spears did recently make the transition to Sonor drums, so anything's possible, I guess. That said, Wyoming doesn't look an absolute fright, although I don't know what they're trying to do with those sleeve stripes. This, maybe?
From Thursday, August 30th
• Be it up-close, or from afar, the new Minnesota road uniforms ("road" being the operative word here) are outstanding, but what's the deal with the captain's C? It honestly looks like something that Central Michigan would wear. Even the fonts are similar. This was also a thing last season. I felt like I mentioned this last year, so apologies if I sound like a broken record.
• Nothing like a friendly bout of football between the Wake Forest Demon Deacons, and the Tulane Light Blue Wave. Funny enough, I don't hate this look. And hey, at least it's a school color. Even the facemask was a delight. Weird placement for that captain's C, though. It also looks like it was cut out of the front cover of a magazine.
• Oklahoma State decided to twin with Tulane, apparently.
• Congratulations to UC Davis on their upset over San José State, but one thing that caught my eye when searching for photos were their 'CA' helmets (and nose bumpers if you zoom in on the photo). Here's a closer look. I can only assume it's either a throwback design, a reference to the shorthand for the State of California, or maybe the small 'A' stands for Aggies (their team name). I have no info whatsoever, so if anyone knows what the occasion was, please let me know in the comments.
From Friday, August 31st
• You know how the minute tweaks made to the Dolphins' 2018 uniforms had a big, positive impact? Like most things in life, it's a double-edged sword, and Stanford is an example of being on the other side of that blade. I'm lukewarm –at best– to the black outline on the numbers, and I do not like the white facemasks in the slightest… at least for the home uniform. Past games suggest that it will look alright when paired with the road unis, so I'm none too worried in that regard. But when it comes to home games, give me this any day of the week. Two small tweaks that have downgraded the Cardinal substantially in my eyes.
From Saturday, September 1st
• Now, I could lead into this with some snide remark on how Kansas lost to Nicholls State in their home opener, but we all know what I would be doing. I will say that this shot gives us a great look at the new Adidas template, and if I'm being honest: it doesn't look like Adidas's newest attempt at literally assimilating a student-athlete. I'm impressed.
• You can't tell in any of the photos online, but when I was watching Mizzou/UT Martin, it looked like the Tigers' jersey tops were slightly sun-bleached (in contrast with the helmets). The only example I could find is this screenshot, and even then, it's barely visible, less so than what I was seeing live. It was probably just the way the sun was hitting it.
• West Virginia moved to Nike's new template, and the big change to note is that those pit panels that looked like broken blades from past seasons are GONE! HUGE upgrade.
• …I guess you can say that Oregon's new digs are electrifying.
• The match between Illinois and Kent State was a pleasure to watch.
• As was Cal and UNC!
• And even UCLA vs Cincinnati!
• Sensational helmets worn by South Carolina against Coastal Carolina.
• Ole Miss in all-white? I can get used to this.
• Georgia Tech's first game wearing Adidas was… not hideous? WHAT IS GOING ON?!
• Air Force wasted literally no time in wearing their AC-130 uniforms against Stony Brook. Also, I know Senior DB Garrett Kauppila isn't T-posing, but I can never look at any variants of that pose the same way again (VOLUME WARNING). Also, for anyone wondering what T-posing is…
• I think Virginia's new uniforms are gonna fit right in around these parts.
From Sunday, September 2nd
• Looking at the numbers on the upcycled Miami uniforms (you can zoom in on this photo), they remind me of an RFID antitheft tag.
From Monday, September 3rd
• Florida State's end zones were excellent (details here). Too bad the BFBS togs proved to be the unsavory counter-element. Also, I'm probably in the minority, but I actually like Virginia Tech's new uniforms. I look at them as Nike's Fusion Dance result of the previous Hokies look, combined with the old Steelers Batman unis. A good modern look that I hope VT keeps for a good while.
And there you have it! Week 1 is in the books. I probably missed… 4 quillion things, but the new season growing pains should iron themselves out, and as such, note will be tightened up as we progress further into the season. In the meantime, I shall see you all tomorrow!
• • • • •
Great stuff, TJ! Welcome back — OK, now on to the rest of the SMUW Crew…
[adrotate group="2″]
Joe Ringham's 5 & 1
Following in the footsteps of the original "5 & 1," Jim Vilk, and Catherine Ryan after him, Joe Ringham returns for 2018 to make his "5 & 1" (five good looking and one stinker) uni-vs-uni matchups. Sometimes he'll have some "honorable mentions" and sometimes there will be more than one "bad" game. You may agree and you may disagree — these are, after all, just opinions and everyone has one. Feel free to let him know what you think in the comments section.
Here's Joe:
. . .
Well hey there, everybody! Welcome back to my little corner of the SMUW space. Now that we've got the greetings out of the way, on to the first list of the season.
5) Washington State at Wyoming — Really loved how the white/brown/gold home look of Wyoming paired up against the cherry/white/white of Wazzu. Almost like the cherry made the brown and gold pop a little more.
4) Kent State at Illinois – Something about a team wearing gold going up against a team wearing orange that makes everything stand out more. Absolutely loved the gold/white/gold of the aptly named Golden Flashes clashing against the orange/blue/orange of the Illini, even if Illinois looks just like a Syracuse clone now.
3) Villanova at Temple — The battle for Philadelphia was quite the looker. Really dug the Owls going white/cherry/white to open the season at home, and it matched up quite lovely against the navy/white/navy of 'Nova.
2) Louisville vs Alabama — I don't think you can ever go wrong with the simple, classic look of the Tide. Match it up against the chrome cardinal/white/cardinal of Louisville and you have one very sharp looking opener in Orlando.
1) Abilene Christian at Baylor — The best looking game of the week was one that I just found on a whim, but damn did it look good. The green/green/gold Baylor went with is one of their better looks. Paired up with ACU's purple/white/purple road set, and you have one beauty of an opener in Waco
And, finally…
+1) Bowling Green at Oregon — When you mix brown/white/white with mono-high vis yellow, you get one ugly looking game up in Eugene.
Alright, that will take care of Week 1. Let's do this again tomorrow.
• • •
Thanks Joe! You can follow Joe on the Twitter and let him know what you think of his choices or make a 5 & 1 suggestion of your own!
[adrotate group="2″]
NCAA Uni Tracking
Uni Watch will again track the uniform combinations worn by the "Power 5" conferences. All of the 2017 trackers are back!
We've got Rex Henry (tracking the ACC), Dennis Bolt (tracking the PAC-12), Kyle Acker (tracking the Big XII), and Ethan Dimitroff (tracking the B1G AND the SEC). Rex, Dennis, and Kyle and are all returning from 2015, and Ethan is back after joining the NCAA Uni Tracking a couple seasons ago. Ethan continues his dual role of tracking both the B1G and the SEC.
Here are the Uni Trackers for the Power 5 Conferences:
+ + + + + + + + + +
Rex is up first today (ACC):
• • •
ACC

More Here.
Follow Rex on Twitter here.
• • •
And now, here's Dennis with the PAC-12:
PAC-12

More here.
Follow Dennis on Twitter here.
• • •
And here is Ethan, with the SEC:
SEC

And be sure to check out Ethan's WVU Mountaineer Tracker.
Follow Ethan on Twitter here.
• • •
And here is Kyle with the Big XII:
Big XII

Follow Kyle on Twitter here.
• • •
And here's Ethan with the B1G:
B1G

[adrotate group="2″]
Welcome to the 2018 Oregon Ducks Uni Tracker. This little project was originally begun way back in 2008-09 by Michael Princip, who retired after several seasons, whereupon the project was continued by Tim E. O'Brien. He, too, retired from the tracking, but the project has been ably kept up by the man who also tracks the Pac12, Dennis Bolt.
Here's this week's Uniform Combo for the Ducks (you can click to enlarge):
You can read about this uniform, and MUCH MORE, by checking out the Duck Tracker here!
Thanks Dennis!
[adrotate group="2″]

And now a few words from Paul: Hi! In case you missed it during the past week, here's some stuff you should be aware of:
• Ticker intern Kris Gross will soon be leaving us, so I'm in the market for a new intern. The job involves being on Ticker duty on Thursdays, to create the Tickers that will appear on Fridays. Full details here.
• My latest team-redesign contest for ESPN is for the New York Jets. The official ESPN announcement won't run until Tuesday, but blog readers can get a head start now. Full details here.
• Membership sign-ups always slow down during my August break from the site (understandably). But now that I'm back, feel free to help support that site by signing up for your own custom-designed card. Or you can get yourself a flex-fit cap, a Naming Wrongs T-shirt, a Uni Watch shirt or mug, some StripeRite socks, or some Uni Watch stickers or magnets. My thanks for your support and consideration.
We now return you to your regularly scheduled weekend content.
[adrotate group="2″]
The Ticker
By Anthony Emerson

Baseball News: Bob Gassel found a great article about the 1970 Cubs/White Sox exhibition at Comiskey. Interestingly, the Cubs wore their home pinstripes — under the lights. Could this be the first time the Cubs' home pinstripes had been under the lights. Excellent find. … Tonight, for the first time ever, Tigers are wearing road unis at home as part of their '68 Weekend promotion, honoring the 1968 World Series (from Jeremy Troia). … Ever since the MLB started honoring the anniversary of 9/11 by placing US flag patches on caps for the 29 US-based franchises, its one Canadian franchise has always worn a Canadian flag on that day. That changes this year, as the Blue Jays' 9/11 caps depict crossed American and Canadian flags (from Steve Hesmath). … Also posted in the soccer section: Here's a weird one — fans aren't allowed fans to bring bike helmets into Yankee Stadium. Stupid. (Thanks, Phil).

NFL News: The new official pizza sponsor of the NFL is Pizza Hut, so Pizza Hut is putting NFL team logos all over its boxes. It appears teams are organized by division, but the Bills are with the other AFC North teams and the Bengals are with the AFC East (from @steve_the_jedi). For their entire history, the Carolina Panthers have not had their own logo at the 50 yard line of Bank of America Stadium, instead opting to paint the NFL shield. This year, the Panthers are replacing the NFL shield with their own logo to midfield (from Daniel Tarrant and David Lanning). … Speaking of midfield logos, the Browns are once again going without a logo on the 50 yard line (from Bobby Ullman). … The Ravens are wearing white on Sunday (from Adam Marcus). … Eagles RB Jay Ajayi changed his uni number from 36 to 26 (from Ike Tobias).

College Football News: FSU will add a Burt Reynolds helmet decal, and had pretty much the best idea for it (thanks, Alex). … Troy is going maroon-maroon-black, with helmets inspired by those worn by the 1968 NAIA National Champions (from Thomas J. Gleaton and Ben Whitehead). … Virginia Tech is going with white matte helmets today (from Andrew Cosentino). … Another VATech update from Andrew Cosentino: WR Eric Kumah is now wearing No. 25. … Uni Watch Houston correspondent Ignacio Salazar reports that UH is going full blood clot today against Arizona. … Kentucky is going all white today in Gainesville (from Josh Hinton). … All-blue for Utah State today against New Mexico State, who have finally received their white unis (Utah State info from @akaggie, NMState info from Chris Hassel). … Baylor is going all white against UTSA (from Ryan Parker). … Western Illinois is going all-white (from Brad Stahl). … Central Arkansas University has finally revealed their new white unis (from Blake Parker). … Wofford is going with black jerseys and gold pants for today's game. … The following are all from Phil: Clemson will go orange-white-white against TAMU. … Mississippi State is going all white against Kansas State. … FAU has added a "Winning in Paradise" logo to their field (from Jake Elman). … ASU's midfield logo has been repainted to match the helmet decal the Sun Devils are wearing this weekend (from Eric Lewitke and Cole Streeper).

Hockey News: As a Bruins fan, I've known about prospect Jakob Forsbacka Karlsson (double-barreled but non-hyphenated surname) for some time — he was a high draft pick and went to school at Boston University. But whenever I see his NOB, it still amazes me. During a cup-of-coffee with the Bs in 2017, the Bruins needed special small NOB lettering just to fit his entire name (from Brian Wulff).

College/High School Hoops News: Kentucky G Maci Morris revealed Kentucky women's new blue uni on Twitter (from @the_amish_robot). … Speaking of Kentucky, the men's team also seems to have dropped the checkerboard in this leak (from Josh Hinton). … Next year, high school balls have to match a specific set of Pantone colors (from Jason Collins).

Soccer News: Paywalled, but the Athletic has a great look at the design process behind Minnesota United's crest (from @Take_156). … Jamaica's new kit provider, Umbro, released their new kits and they're absolutely phenomenal (from Gabriel Hurl). … England forward Harry Kane, winner of the World Cup's Golden Boot award for most goals in the league, will wear actual golden (colored) boots for today's Nations League match against Spain (thanks, Jamie). … Also from Jamie: Ireland wore the heart-shaped Euro qualifiers patches during their Nations League match against Wales. … Cross-posted from the baseball section: Here's a weird one — fans aren't allowed fans to bring bike helmets into Yankee Stadium. Stupid. (Thanks, Phil).
[adrotate group="2″]