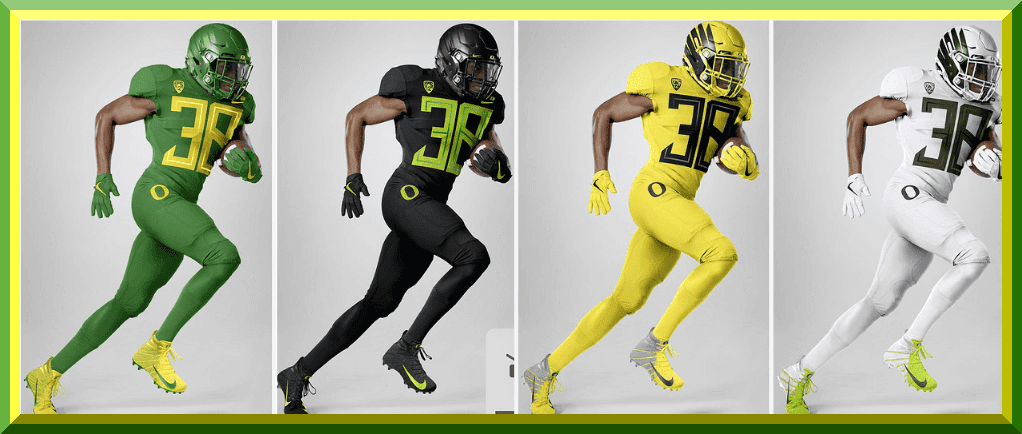 [Editor's Note: Paul is on his annual August break from site. Deputy editor Phil Hecken is in charge from now through the end of the month, although Paul is still on the clock over at ESPN and may be popping up here occasionally.]
By Phil Hecken
Follow @PhilHecken

I should have figured this was coming. In the afternoon yesterday, the Oregon Ducks released a teaser video for their new uniforms…
Oregon Football 2.0 is coming. #GoDucks pic.twitter.com/scOAhjMYqY

— GoDucks (@GoDucks) August 15, 2018
For about 7 hours after that, all was quiet on the Western Front.
Then, boom. The team released four new uniforms (green, white, bfbs and yellow). I'm pretty sure they don't use "thunder" and "lightning" to describe the green and yellow unis anymore. But boy do these uniforms (and of course, four matching helmets) look nice and bright, and they put the school who invented the whole genre of a different combo for every game back in that game.
Let's get a look at each of the unis (click to enlarge) and then some thoughts…
. . . . . . . . . .
Green
. . . . . . . . . .
Yellow
. . . . . . . . . .
White
. . . . . . . . . .
Black
. . . . . . . . . .
Phew. The helmets are not new, but the uniforms certainly are. They're extremely "plain" (especially for a Ducks uniform). The two most notable "features" are the lack of any wing or other pattern on the shoulders, something for which Oregon had been famous for a number of years (decades, even, it seems); also, the numbers are gigantic. The font is new, and, unsurprisingly, it has a unique name: "Mighty Oregon." No, seriously. That's what they're calling that font face.
The jersey is remarkably clean, featuring no stripes or piping at all, and only the Nike swoosh and PAC12 patch on the front (and a contrasting-color "DUCKS" nameplate above the swoosh). The pants are also completely stripe-free, having just the big "O" logo on the right front and the mark of the beast on the left. Socks are solid color. Only the shoes (coincidence?) it looks like will stand out.
It's only barely visible in one shot, but very clear in another, but it appears these uniforms will also feature contrasting color nameplates (similar to the look the Philadelphia Flyers have used at times (including currently) on their uniforms, but the Flyers contrast-color nameplate is slightly different in style. I'm not really a fan of this style, but I'll wait to see it on the field before rendering a final judgment. That same style is repeated on the "DUCKS" nameplate.
In my (almost 10 years!) writing for Uni Watch, I may have written more about the Oregon Ducks than any other team. I've had a love/hate relationship with their uniforms for years, and weekend readers know the team is (oftentimes) featured. I still have guys who operate the "Duck Tracker," which has kept track of Oregon's combos since 2009. I've covered their spring games and fall games, and rivalry games and bowl games, and they've had some great unis and some clunkers over the years. I've even written I thought the team had jumped the shark, uni-wise, a few years ago.
But I have to say — I really like this set. I'm assuming all the elements (helmet, jersey, pants, socks) will have interchange-ability with the other elements, yielding (*can't find calculator, makes rough estimate*) 10 billion different possible combinations. The team that went from more is more seems, at least from a bells/whistles standpoint, to a "less is more" mantra.
The new number font reminds me a bit of the original Toronto Blue Jays. It's not quite the same (as the Ducks' font appears to have a single thin line completely inside a fat full border), but similar.
The new uniforms with the gigantic yuge big numbers continues a trend with Nike, who have been putting very large numbers on the uniforms of many of its outfitted schools, but these may be the biggest yet.
I'll need to see them in action to give a final verdict, but right now I like them.
Your thoughts?
Also: Oregon was not the only school to reveal new unis yesterday. Scroll down in the ticker to see some offerings from UTEP and Grambling, plus new hats for Tulsa and some weird shit with VT.
[adrotate group="2″]

Griffins Design Contest
In case you missed it, I'm running the third annual "Grand Rapids Griffins Jersey Design Contest," in which readers are asked to submit jersey design concepts for a third (or alternate) jersey for the team.
Like past years, the team is asking for a jersey (only) design, but other than that, it's pretty wide open.
All of the details are here in this post, but the important big detail is the contest submission deadline, which is Tuesday, August 21st, 2018 (by 11:00 pm E.D.T.). Everything else you need to know is in that post.
OK? OK!
[adrotate group="2″]

Too Good…
for the Ticker
Got an e-mail from reader John Fitzgerald, who sent in a couple items with which you may be familiar but the backstories are still pretty cool. It's a bit too long, and too good for the ticker.
Here's John…
I was wondering if you ever wrote about Carl Yastrzemski's helmet or Bob Montgomery, former catcher of the Red Sox, who was the last person to bat without a helmet. Montgomery had a specially fitted hat that he wore at bat for protection. When he played his final game (September 9, 1979), he earned the distinction of being the last major leaguer to ever bat without a protective batting helmet on his head.

Best,

John Fitzgerald
Braintree MA

Yaz Batting helmet with larger ear hole.
Bob Montgomery

Inside View
Baseball Card
Great stuff, John. For those of you not aware, Montgomery's cap with protective liner is on display at the National Baseball Hall of Fame Museum in Cooperstown.
OK. Now, on to the ticker…
[adrotate group="2″]
The Ticker
By Anthony Emerson

Baseball News: The Eastern League has unveiled their new logo. Here's the old one for comparison. … Great find by @BSmile: NPB legend Sadaharu Oh was wearing a Yomiuri Giants helmet with an embroidered, 3D logo during a 1977 covershoot with Sports Illustrated. … In what was a laugher of a game at the time, the Mets tv broadcast of last evening's Mets/Orioles game showed a history of the Orioles cap logos (from Lauren Meyer). … Check out this tour of the Giants Clubhouse with Jeremy Affeldt (thanks, Brinke). … It looked like one of the Mets coaches was wearing the home softball jersey last evening (from Billy King). If that was the home jersey (as opposed to a pullover), it's yet ANOTHER reason for the stupidity of TWO same-color alternate jerseys. In the Mets case, they have this royal blue home and this royal blue road. This is what the Mets royal blue pullover looks like — so it's possible the coach could be wearing that.

NFL News: The Titans' QBs wore light blue non-contact jerseys during their joint practice with the red-clad Buccaneers (from Preston Penn). … Ads on down and distance graphics? I guess it was only a matter of time (blame goes to Brice Wallace).

College Football News: Virginia Tech's new unis will have some weird nonsense going on with the back shoulder yoke. Not a fan (from Andrew Cosentino). … New unis for UTEP, complete with dumb names (from Michael Briones) They've also subtly altered their shade of orange (from @rcb05). … Tulsa will have new helmets. A white version is also in the works (from Sam Laz). … … The Grambling Tigers showed off their new uniforms and it looks like they could wear a different combo every game (from HBCU Gameday).

Hockey News: B-E-A-utiful new sweaters for Northeastern, to go with their new logo set, which is linked in the Grab Bag section (from Mike Bodsky and Tom Leyden). … Steven Schapansky found some great footage of the Canucks wearing their road black socks at home agains the Bruins in 1978. … Army has new sweaters, and they kind of look like more badass versions of the Golden Knights' sweaters (from Trevor Wilson Patton). … Illinois unveiled their "heritage" sweaters last night.


NBA/College Hoops News: It appears the Cavs have made a slight alteration to their number font, making it bolder. … UNC has released their uni numbers for the 2018-19 season (from James Gilbert).
.

Soccer News: Miami's potential MLS team's owners have trademarked a whole bunch of logos (thanks to Alfie Ramirez, our own Alex Hider and everyone else who sent this in). … Parma's new kits are absolutely gorgeous, some of the best in the top leagues this year (from Ed Żelaski). … Footy Headlines has the leaks of Manchester City's third kit, Juventus' away kit and both of River Plate's kits. … A Newcastle United fan bought a DeAndre Yedlin jersey from Newcastle's official website, and this is the result. Yedlin himself is trying to help the guy out (from Moe Khan).

Grab Bag: Northeastern has a whole new set of gorgeous logos (from Michael Samaha). … Kenton City (Oh.) Schools have a new a logo set (from Alan Elwood). … South African rugby team Cheetahs has new kits (from Eric Bangerman). … How are the Beijing Olympic facilities looking now? About as good as you'd expect (from Kary Klismet). … Not uni related, but here's a great article on some of the Bicentennial signs still up in Philly (from @PhillyPartTwo).
[adrotate group="2″]