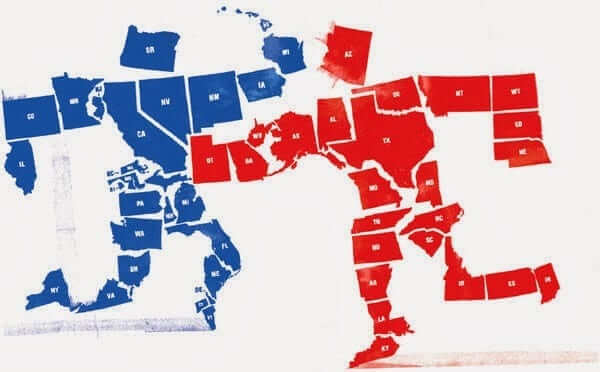 Each year on this date I try to find and present a photo or illustration that captures America in a nutshell (here are the ones from 2017, 2016, 2015, 2014, 2013, 2012, 2011, 2010, 2009, and 2008). This year's installment should be pretty self-explanatory. The red/blue state assignments don't all match up with the most recent national election, but the basic concept — a nation at war with itself, thanks to competing political factions — seems sadly accurate. Yes, that's a depressing thought, but it appears to be where we are at the present moment. Honestly, I spent more hours than I'd like to admit looking for something else — anything else — to use for today's image, but nothing else felt quite as appropriate.
All of that said, it's still Independence Day, whoo-hoo! Here's hoping yours is a good one. I'll be busy today, but the comments are open, so feel free to chat amongst yourselves (but let's please not have any red- or blue-state advocacy, thanks).
If you have a few minutes, I heartily recommend that you read the Declaration of Independence, whose ratification is what we're celebrating today. Here's a typeset version, in case you can't decipher the handwriting.
If you're traveling today, travel safe. If you're playing with pyrotechnics, don't pull a Jason Pierre-Paul. If you're working (as our own Alex Hider is, at his day job), thanks for keeping the world spinning while the rest of us get to enjoy a day off. And if you're spending the day in the company of a Britisher, kindly pass along my annual Independence Day rallying cry: In your face, Redcoats!