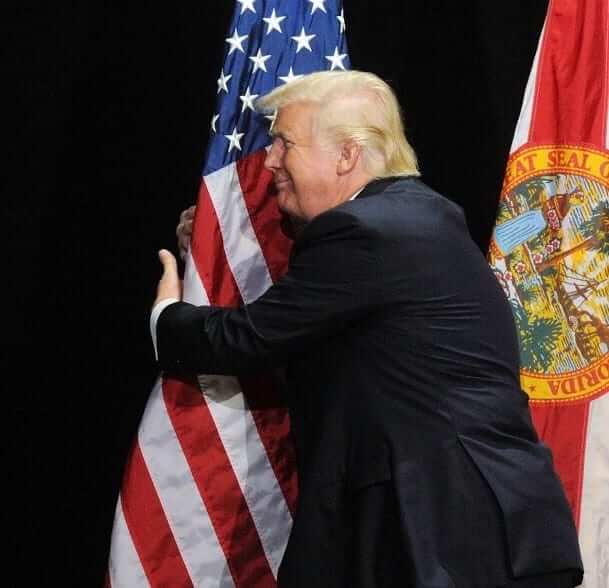 Each year on this date I try to find and present a photo or illustration that captures America in a nutshell (here are the ones from 2016, 2015, 2014, 2013, 2012, 2011, 2010, 2009, and 2008). What I like about this year's entry — a photo of Donald Trump hugging a flag at a campaign event in Tampa a little over a year ago — is its versatility. If you like Trump, the photo shows his admirable love of country; if you hate Trump, the photo shows his penchant for absurd behavior. Either way, the photo seems like an apt snapshot of America at this point in time, and the divergent reactions to it capture our unfortunate state of polarization.
Anyway: Everyone have a great holiday. I'll be busy today, but the comments are open, so feel free to chat amongst yourselves (but let's please not have any pro- or anti-Trump speechifying, thanks).
If you have a few minutes, I heartily recommend that you read the Declaration of Independence, whose ratification is what we're celebrating today. (Here's typeset version, in case you can't decipher Jefferson's handwriting.)
And if you're spending the day in the company of a Britisher, kindly pass along my annual Independence Day rallying cry: In your face, Redcoats!