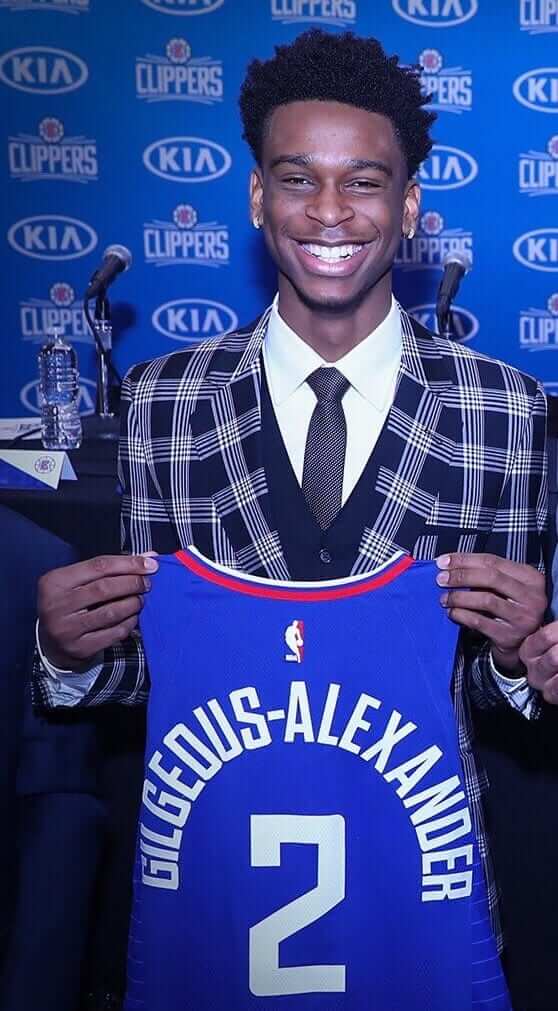 Last Thursday I wrote about some issues regarding hyphenated NOBs. Now we have NBA rookie Shai Gilgeous-Alexander, who was drafted last week by the Hornets and then immediately traded to the Clippers, who yesterday assigned him No. 2 and gave him his first jersey. His NOB — 17 letters plus the hyphen — is reportedly the longest in NBA history, eclipsing that of the previous record-holder, Michael Carter-Williams.
Long NOBs are trickier in basketball than in other sports, because tank top tailoring doesn't provide as much space to work with as a sleeved jersey, but it looks like the Clippers did a good job of lettering up Gilgeous-Alexander's name. Nicely done!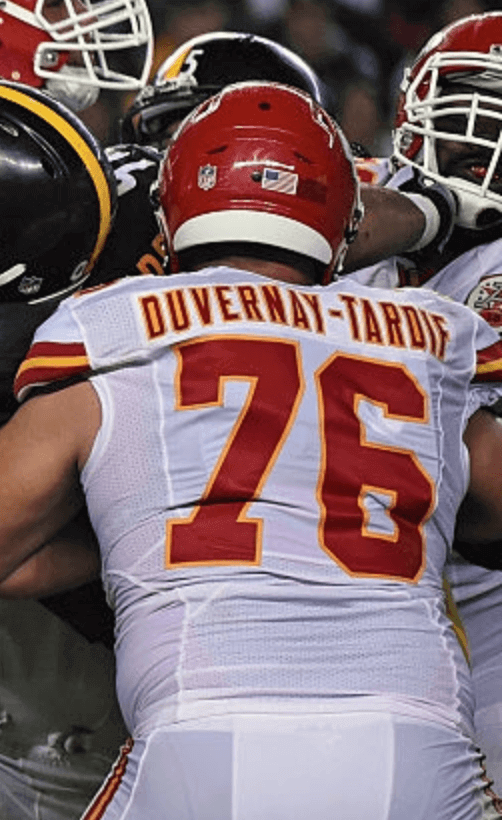 Gilgeous-Alexander's hyphenated NOB isn't the only one that's been in the news lately. As we reported in yesterday's Ticker, the NFL has decided not to allow Chiefs offensive lineman and recent medical school graduate Laurent Duvernay-Tardif to have "M.D." added to his NOB.
Duvernay-Tardif already has a 15-character NOB, including the hyphen. If the NFL had granted his request, that would have added two more letters, plus two periods, plus a space. (It might have been a bit more efficient to put "Dr." in front of his surname instead of "M.D." after it.)
Most of the chatter I've seen about the NFL and Duvernay-Tardif has been of the "No Fun League" variety, chastising the league for being so uptight. Personally, I'm of two minds about it. I think it would be fun to see "M.D." on a nameplate, just like it was fun to see Wahoo McDaniel's nickNOB, Elvin Hayes's assorted NOB oddities, and lots of other unusual NOBs over the years. On the other hand, in an era dominated by social media and "Look at me!"-ism, does anyone really believe Duvernay-Tardif would be a one-time exception? You know what would come next: "I'm the first person in my family to go to college, so I want 'B.A.' on my jersey" or "I just earned my master's in communication during the offseason, so I want 'M.A.' on my jersey." And so on, as everyone tries to burnish their "personal brand."

On the other-er hand, sometimes a move like this can work out. When Ichiro Suzuki began playing for the Mariners in 2001 and received permission from MLB to wear his first name on his jersey, as he'd done in Japan, I thought for sure that other players would follow. As it turned out, that didn't happen, and now Ichiro's NOB is one of the many things that have made his career such an interesting chapter in baseball history.
Could things have turned out similarly with Duvernay-Tardif and his physicianly suffix? For better or worse, we'll never know.
• • • • •
[adrotate group="2″]
• • • • •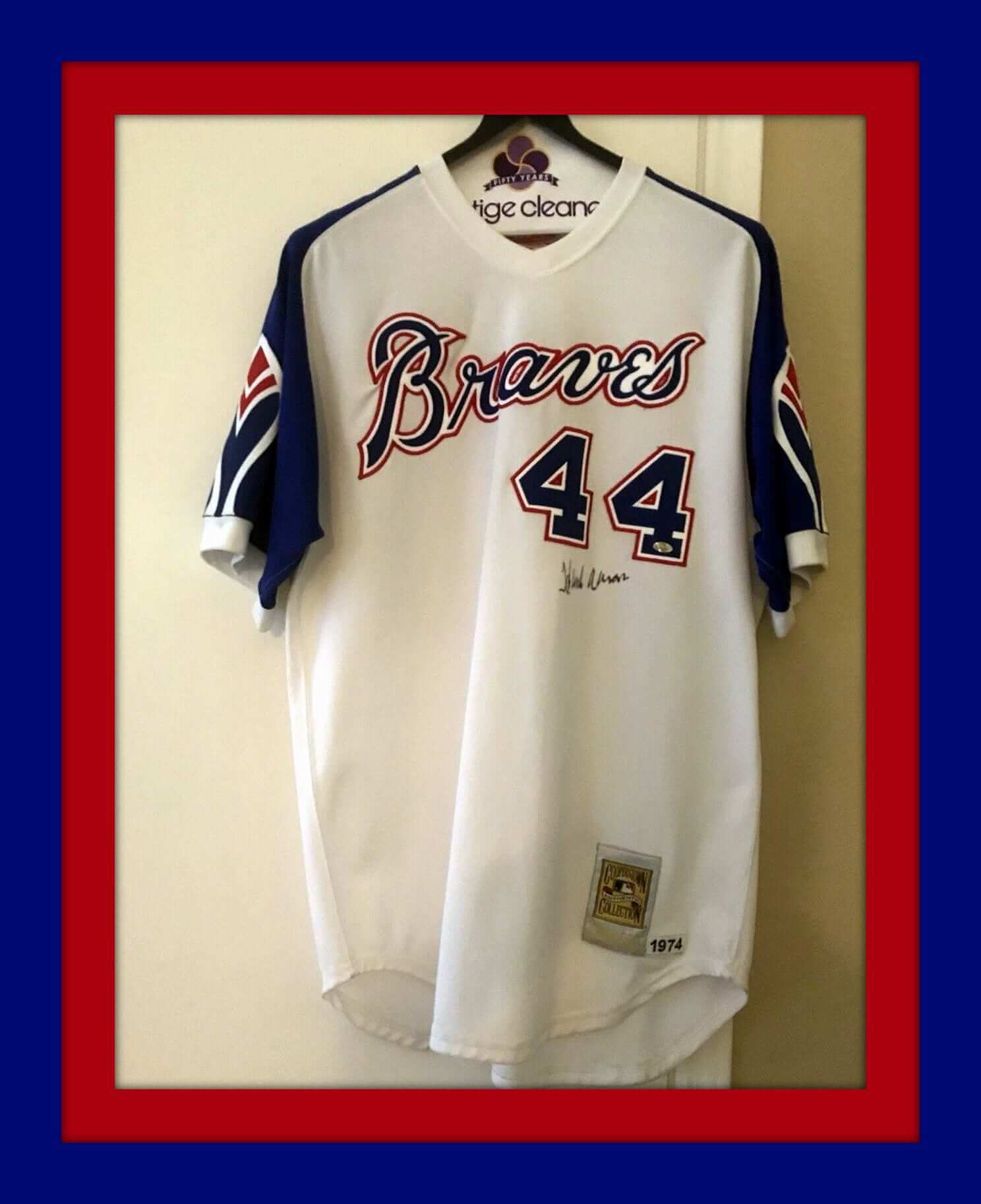 Collector's Corner
By Brinke Guthrie
The Atlanta Braves wore these beauties this past Friday in honor of Hammerin' Hank Aaron, and the Hammer himself signed this contemporary Mitchell & Ness reproduction. For my money, along with the Tequila Sunrise Astros, this was as good as design got back then! (Here's an interview with the guy who designed the jersey, in case you missed it in the Ticker over the weekend.)
Now for the rest of this week's picks:
• Here's an item from another Atlanta team: Check out this Atlanta Flames T-shirt.
• DeLong made this 1970s NFL Alumni corduroy jacket.
• Ladies and gentleman, may I present this 1970s Montreal Canadiens beach towel, featuring a hockey logo that's as timeless as the Yankees' interlocking NY.
• Reader Matthieu Sossoyan sent along this NHL All-Star Game prototype jersey that was never used.
• This 1950s St. Louis Cardinals baseball cap was brought to you by Red Man Tobacco.
• Another one for the Cards from the same era: Alvin Dark says "Spalding Sets the Pace in Baseball" on this vintage point-of-purchase display stand.
• They didn't get the look of the pirate quite right on this 1970s Pirates inflatable bat.
• This 1970s Bengals Riddell helmet plaque is in pretty good shape, I'd say.
• NFL thermal mugs are a mainstay here on Collector's Corner. How about an entire set from the 1970s-1980s?
• The Bengals, Saints, and Niners among the teams featured on this set of two 1970s NFL wood burning plaques.
Seen an item on eBay that would be good for Collector's Corner? Send any submissions here.
• • • • •
[adrotate group="2″]
• • • • •
XXL poll reminder: In case you missed it on Monday, I'm still looking to see how many people would be willing to prepay for an XXL version of our upcoming "alternate" cap. Fully details here, and you can vote below (please don't vote in this poll if you've already done so — thanks!).
[totalpoll id="97844″]
• • • • •
[adrotate group="2″]
• • • • •
The Ticker
By Alex Hider

Baseball News: The Angels and Royals played their Jackie Robinson make-up game yesterday, with all players wearing No. 42 (from Barry Katz). … We noted in one of last week's tickers that home plate at MLB Network's studio was backwards. It seems that someone took notice and fixed the error (from David Eng). … An Italian heritage group is canceling on the Staten Island Yankees over their Pizza Rats promotion (from Kary Klismet). … Speaking of the SI Yankees, one of their bat boys wore a road jersey at home on Sunday, and the team continues to use an inconsistent number font (from Eric Hoey). … The Catcher Was a Spy, a biopic about the incredible life of MLB catcher Moe Berg, was released last week. Our friends at Ebbets Field Flannels made the unis for the film, and this NYT piece about the movie offers some sneak peaks of their work (from Jerry Cohen). … Lots of Indians items available at this Ohio estate sale, including a copy of the infamous photo of Bert Blyleven mooning the rest of his team (from Don Leonard). … Reader Edwin Bonner is a Rangers fan and turned 34 yesterday, so he had himself a Nolan Ryan birthday cake. Happy birthday!

College Football News: New uniforms for Western Kentucky (from @TheMink9). … In 1969, 14 black players were dismissed from the Wyoming football team for staging a protest against racism in the Mormon church prior to a game against BYU. Later that year, the entire San Jose State team wore black or multi-colored armbands when they played Wyoming (from James Gilbert). … Hmmm, is this a new ECU jersey? (From ACC Tracker.)

Basketball News:  Uniform designs for all 72 teams in The Basketball Tournament have been released. My personal favorites: Bearcat Jam, Johnnies and Gael Nation. … Former Cav Kyrie Irving, who wore No. 2 when he played in Cleveland, has no problem with the Cavs' first-round pick, Collin Sexton, wearing that number. … The Jazz typically wore gold numbers with a white outline on their purple jerseys in the early '90s. However, for at least one preseason game against the Knicks in 1994, the Jazz wore white numbers with a gold outline. Anyone know why, or if the Jazz ever wore these again (from Kurt Adison). … A Milwaukee city employee painted Bucks-themed fire hydrants that will be installed near the team's new arena (from @mikeobs). … With James Harden having been named the NBA's MVP last night, a Houston-area Papa John's will sell Harden-themed pizzas (from Ignacio Salazar). … New court design for Rutgers (from Michael Romero). … Here's an old photo, probably from the 1960s or early '70s, showing Iowa and South Carolina going color vs. color. Belted shorts, too!

Soccer News: We have a New York Times editor to thank for getting accent marks added to the NOBs of Mexican players (NYT link). … This is a really satisfying look at all the World Cup jerseys (from @TezzaCFS). … A few notes from our own Jamie Rathjen: New second kits for the Scottish Premiership's St. Johnstone (also from Ryan), and new first kits for Dutch team Feyenoord first kits for Cardiff City of the Premier League (those last two also come courtesy of Josh Hinton). … New home kits for Italian club Inter Milan (also from Josh Hinton). … New home and away kits for Swansea City of the EFL Championship (from Hunter). … Here's World Cup teams reimagined as Formula 1 cars (from Chris Bisbee). … Four teams in J1, Japan's top soccer league, have unveiled BFBS jerseys (from Jeremy Brahm). … Here's why Ander Herrera of Manchester United goes FNOB.

Grab Bag: Over the weekend, the Philadelphia Flyers very quietly announced that they'll be wearing black alternate uniforms this upcoming season (from Phil). … This may have been ticked before, but for those who haven't seen it: A short film has been released about Milton Glaser and the history of the I <3 NY logo (from Max Weintraub). … Members of Okilly Dokilly, an Arizona-based metal band, all dress like Ned Flanders of The Simpsons when they perform (from @walbergLines).