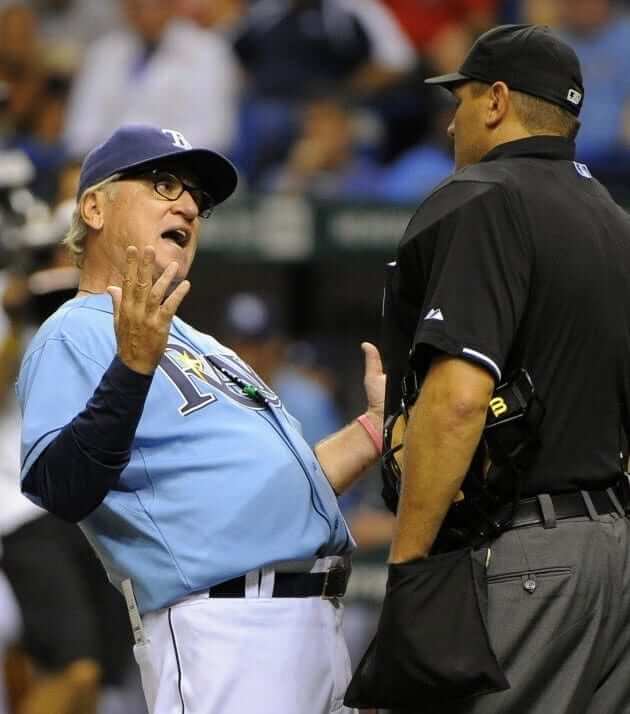 Remember how I've done a few ESPN pieces about the old 1960s files that once belonged to Denver Broncos GM Jim Burris and were later acquired by Uni Watch reader Tom Jacobsen? Those files yielded my story about the remarkable Buddy Young memo and the letters from Broncos fans requesting tickets to the first Super Bowl.
In the course of reporting those stories, I made contact with Jim Burris's son, Bob Burris, who's now in his 60s and lives in the Kansas City area. He told me that he had some additional files from his father's time in the sports world — including some very interesting paperwork that we're going to look at today.
Here's the deal: Although Jim Burris was briefly the Broncos' GM, he spent most of his career working in minor league baseball. In the early 1950s he was the vice president of the American Association, a Triple-A league that's no longer in existence. His duties included handing out fines and suspensions for players and managers who abused the umpires. And he decided on those disciplinary actions by reviewing reports that the umpires sent him whenever they ejected someone.
Jim Burris kept all that paperwork after he retired, and Bob Burris still has it today. Bob (who was forbidden by his father to look at the umps' reports when he was growing up, because of the profane language) was nice enough to share some of it with me, and we'll be looking at a few of the reports today.
All of the games in question are from 1952. Obviously, it would be more fun to have paperwork from a more recent year, and/or from the big leagues. Still, there are some names in here that you'll probably recognize, like Gene Mauch and Johnny Keane. In any case, the reports provide a fascinating window into the culture of abuse that's heaped onto baseball umpires. Funny stuff, too, because all the profanities are reported in this businesslike deadpan presentation. All in a day's work — literally.
Okay, enough preliminaries. Here are umps' reports from seven games. In each case, I'm presenting the front of the report, the back of the report (except for the last one, which didn't spill over to the back; all of the reports can be clicked to enlarge), followed by a transcription of the most pertinent text, so you don't have to fight your way through the umps' handwriting.
Indianapolis vs. Louisville, July 5, 1952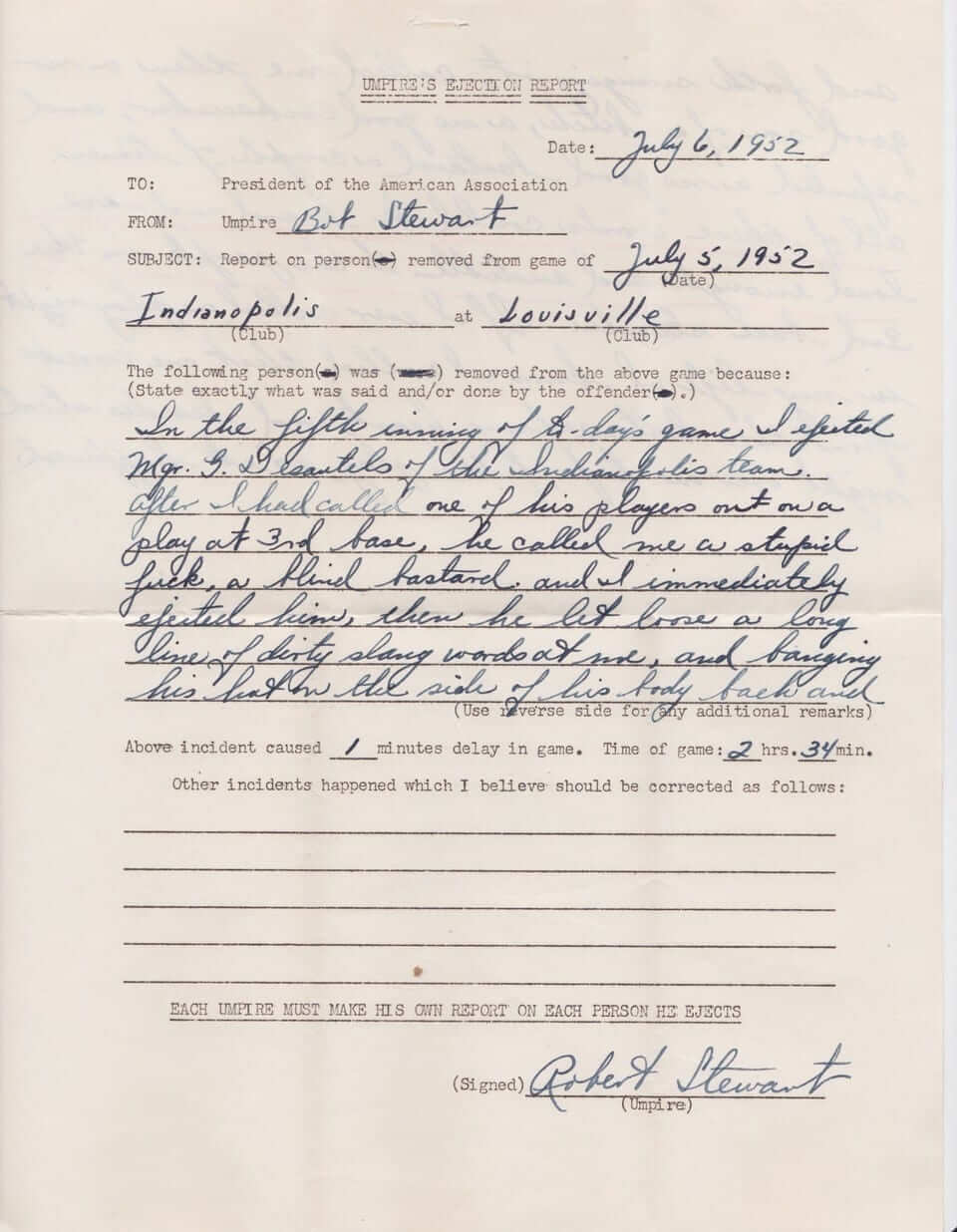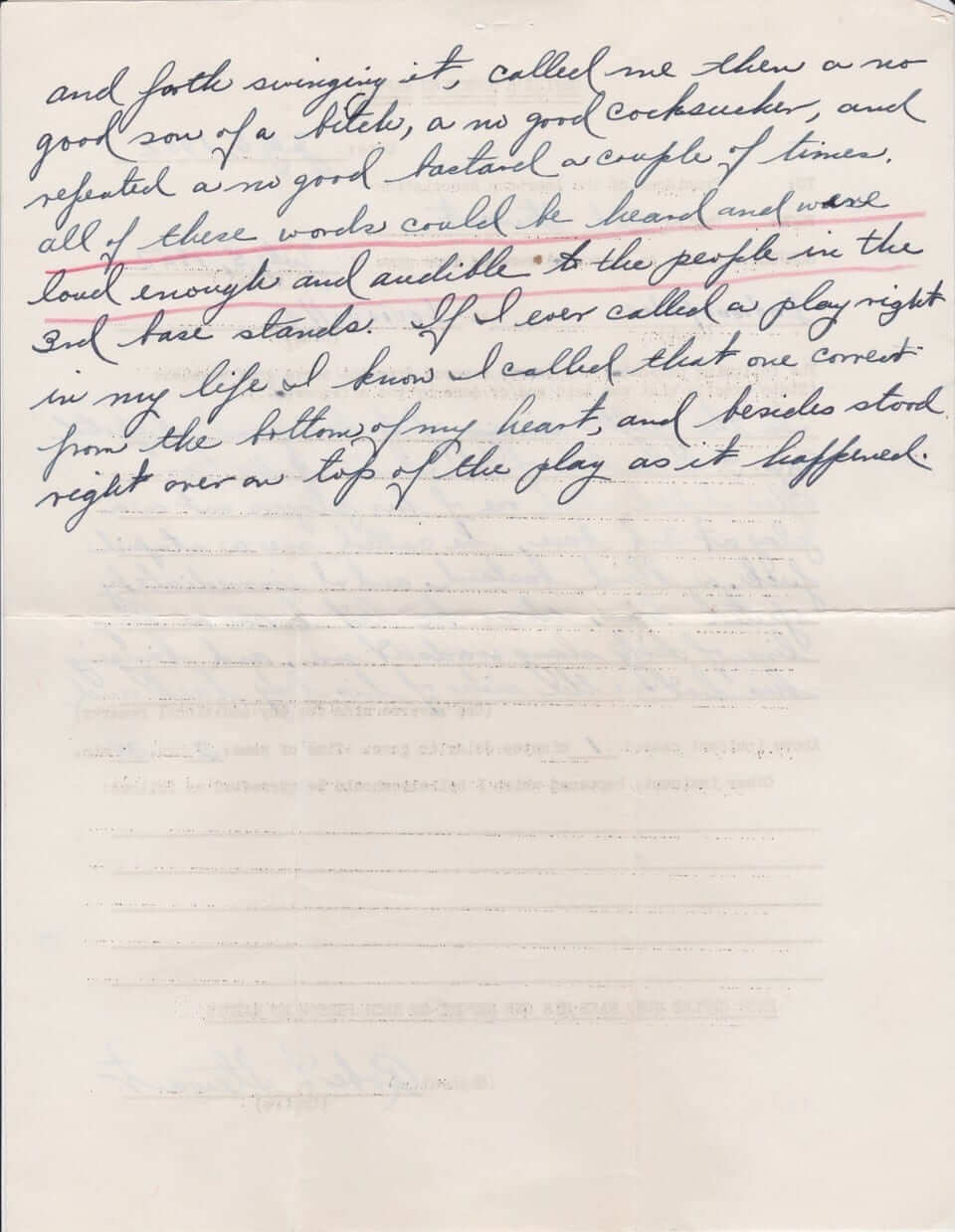 In the fifth inning of today's game, I ejected Manager G. Desantels of the Indianapolis team. After I had called one of his players out on a play at 3rd base, he called me a stupid fuck, a blind bastard, and I immediately ejected him. Then he let loose a long line of dirty slang words at me, and banging his hat on the side of his body back and forth swinging it, called me then a no good son of a bitch, a no good cocksucker, and repeated a no good bastard a couple of times.

All of these words could be heard and were loud enough and audible to the people in the 3rd base stands. If I ever called a play right in my life, I know I called that one correct, from the bottom of my heart. — Robert Stewart, umpire
Kansas City vs. Milwaukee, Aug. 15, 1952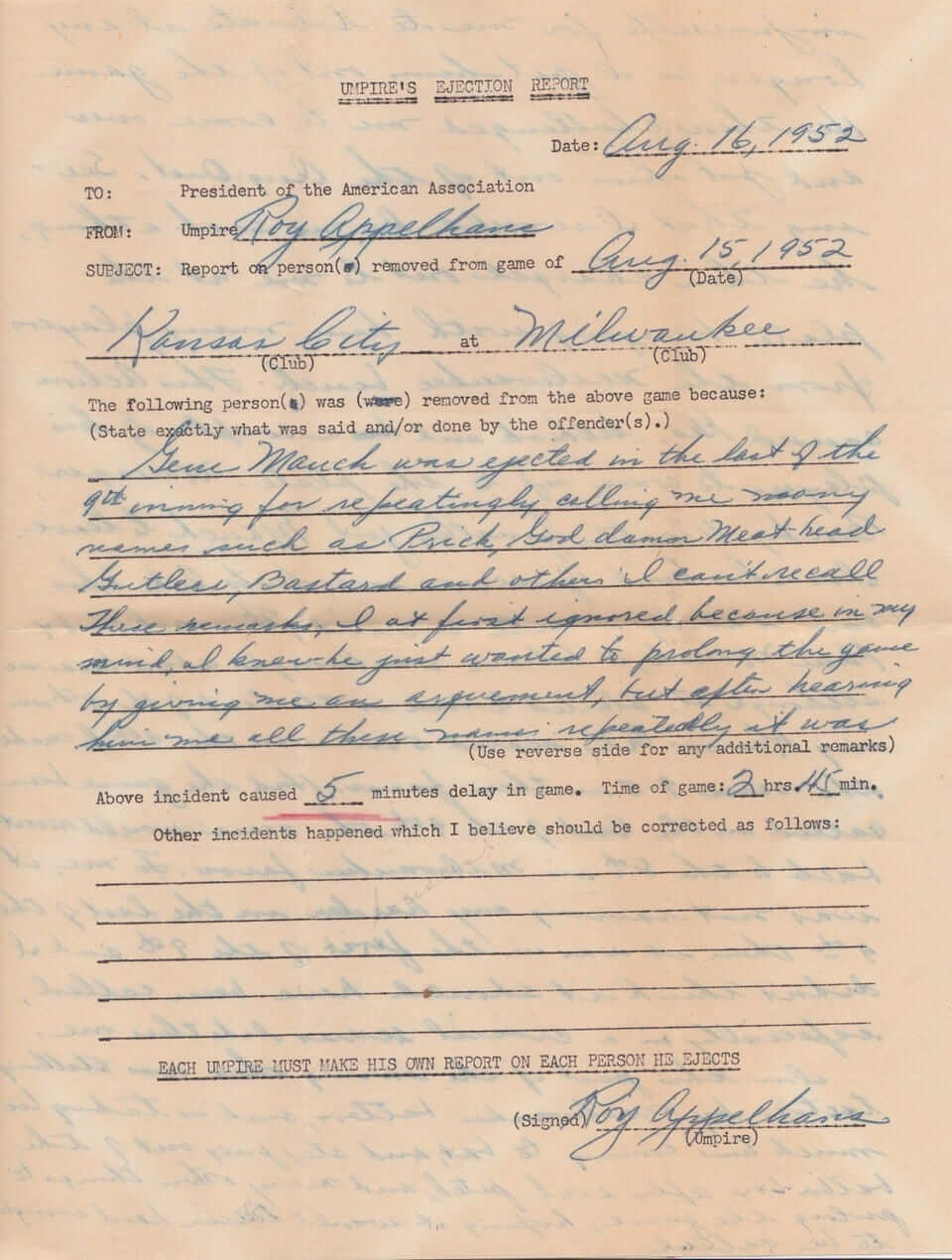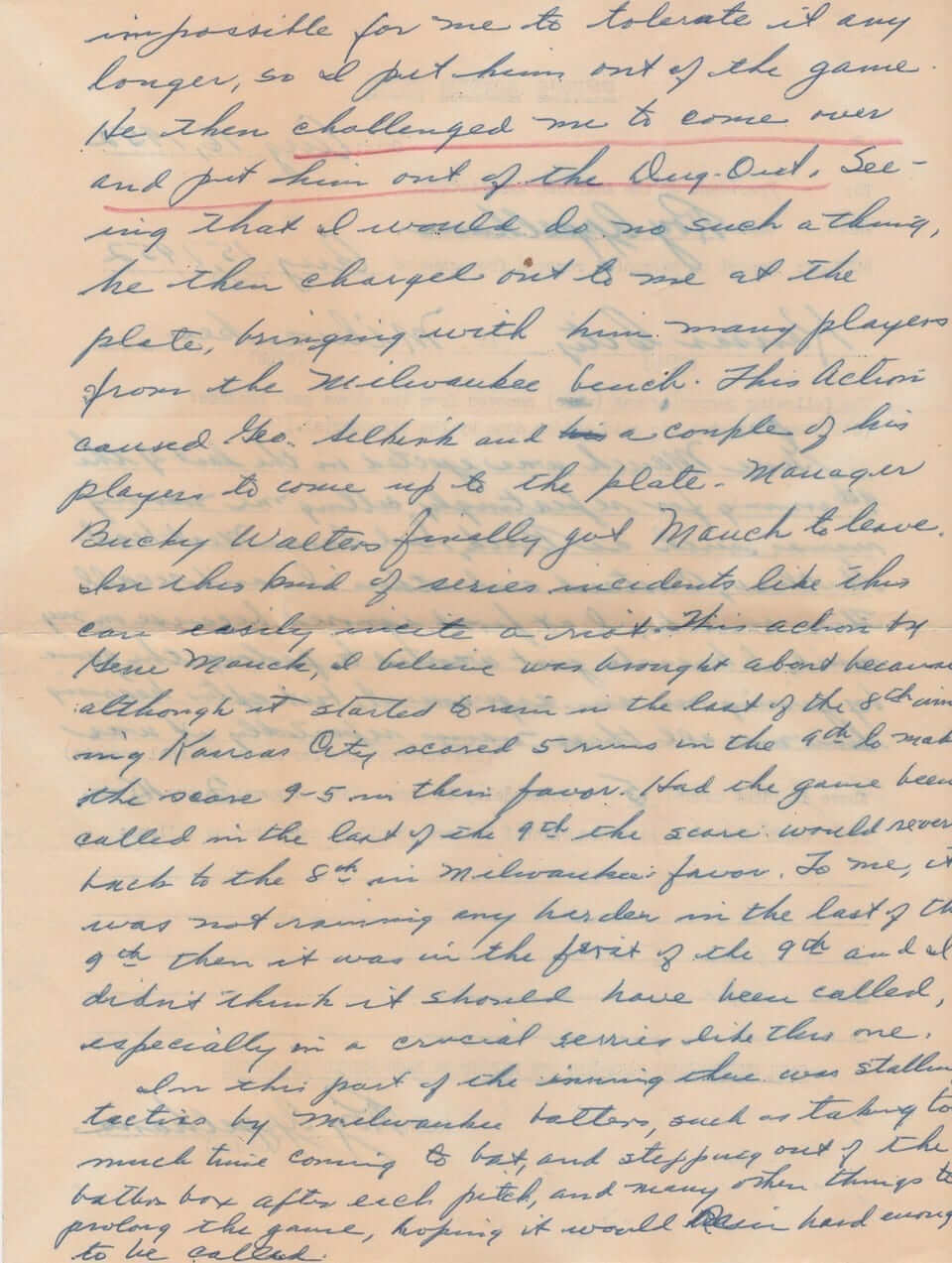 Gene Mauch was ejected in the last of the 9th inning for repeatedly calling me many names, such as Prick, Goddamn Meathead, Gutless, Bastard, and others I can't recall. These remarks I at first ignored because in my mind, I know he just wanted to prolong the game by giving me an argument, but after hearing him call me all these names repeatedly it was impossible for me to tolerate it any longer, so I put him out of the game. — Roy Appelhans, umpire
Minneapolis vs. Louisville, June 1, 1952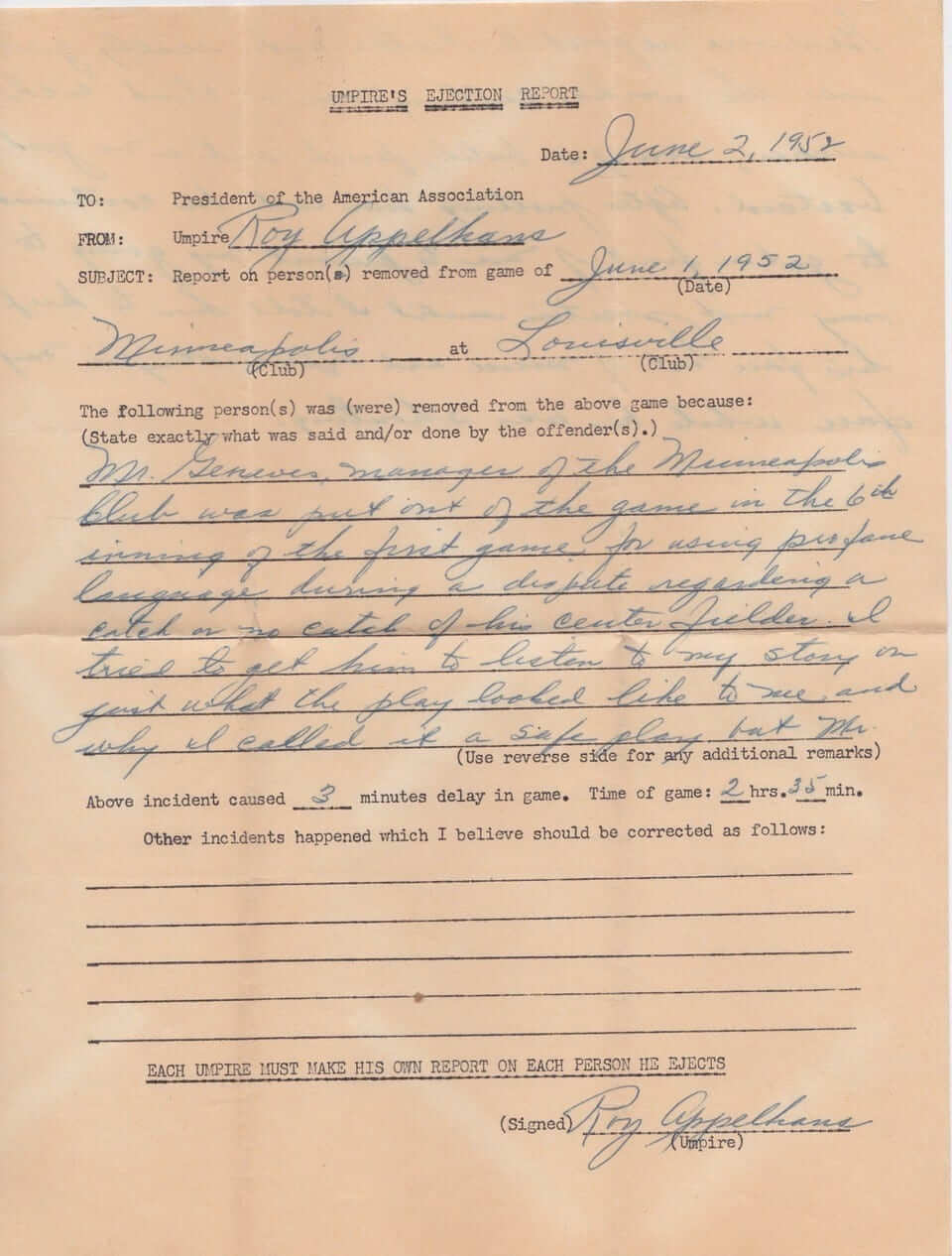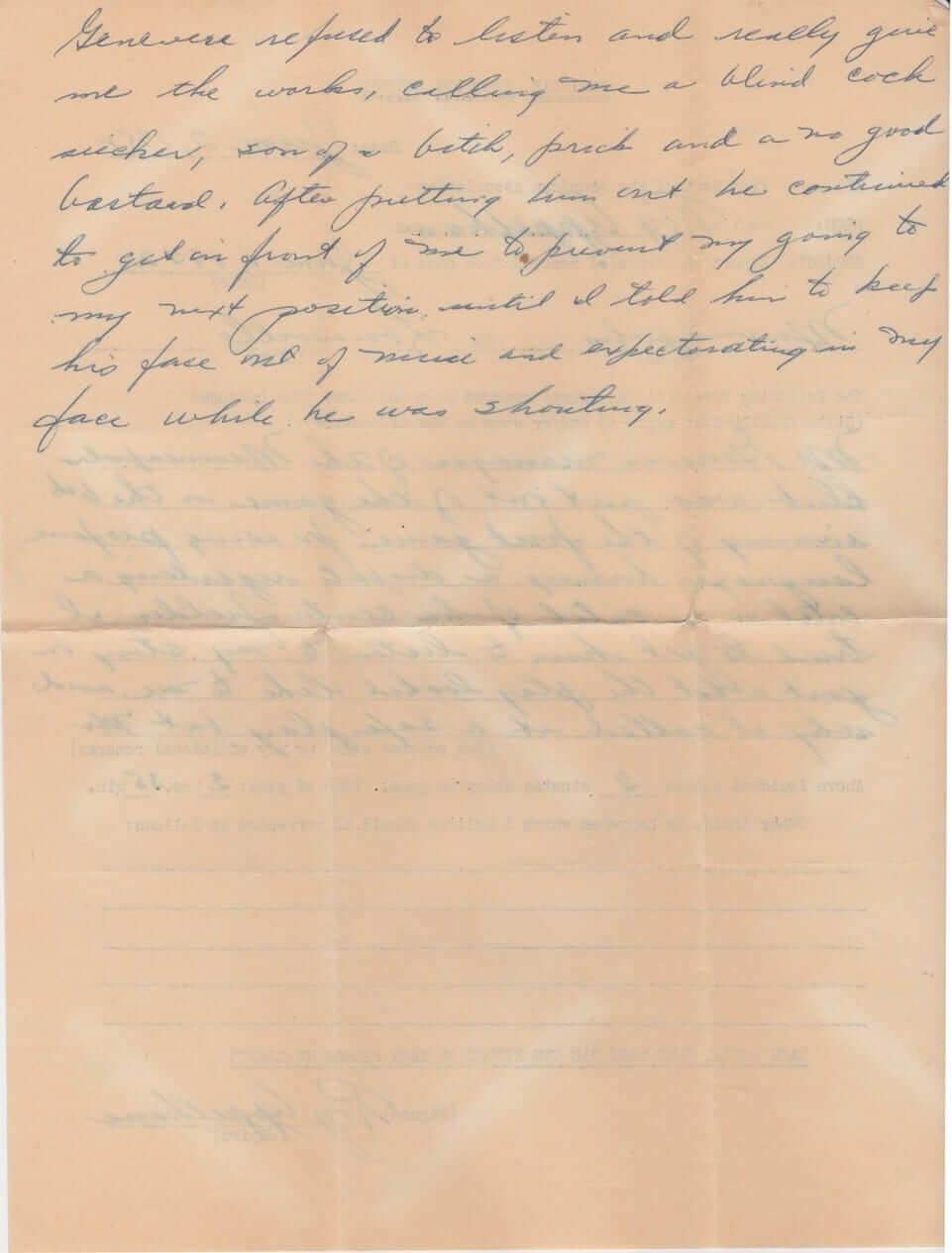 Mr. Genevese, manager of the Minneapolis club, was put out of the game for using profane language during a dispute regarding a catch or no catch by his center fielder. … Genevese refused to listen and really gave me the works, calling me a blind cocksucker, son of a bitch, prick, and a no good bastard. After putting him out, he continued to get in front of me to prevent my going to my next position until I told him to keep his face out of mine and expectorating in my face while he was shouting. — Roy Appelhans, umpire
Milwaukee vs. Columbus, Aug. 10, 1952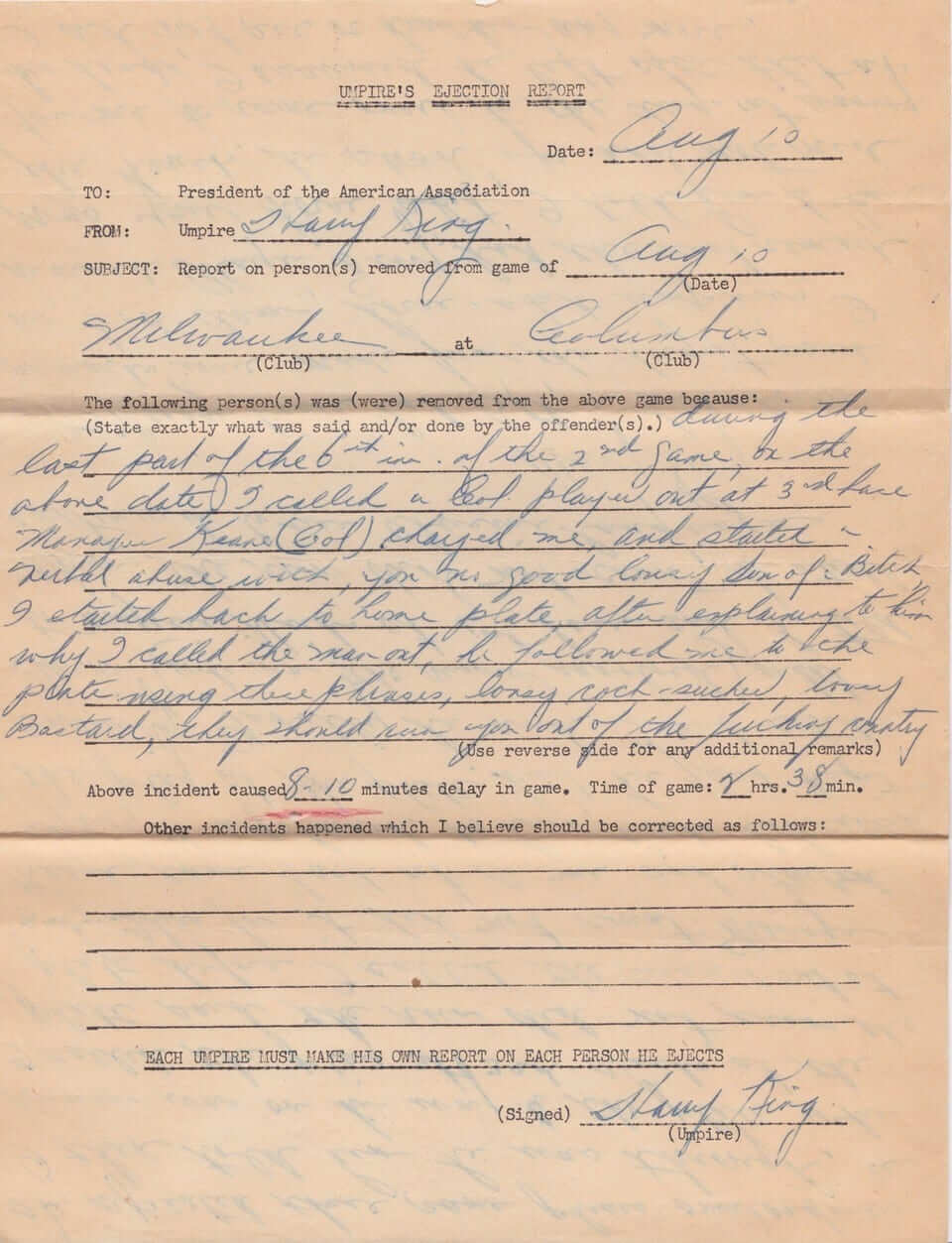 I called a Columbus player out at 3rd base. Manager Keane charged me and started verbal abuse with You no good lousy son of a bitch. I started back to home plate after explaining to him why I called the man out. He followed me to the plate, using these phrases: lousy cocksucker, lousy bastard, they should run you out of the fucking country. He repeated these phrases over and over. I then told him he was through. … After Manager Keane had left, a few choice remarks were made from the dugout such as goddamn horseshit umpires. — Harry King, umpire
St. Paul vs. Charleston, Aug. 2, 1952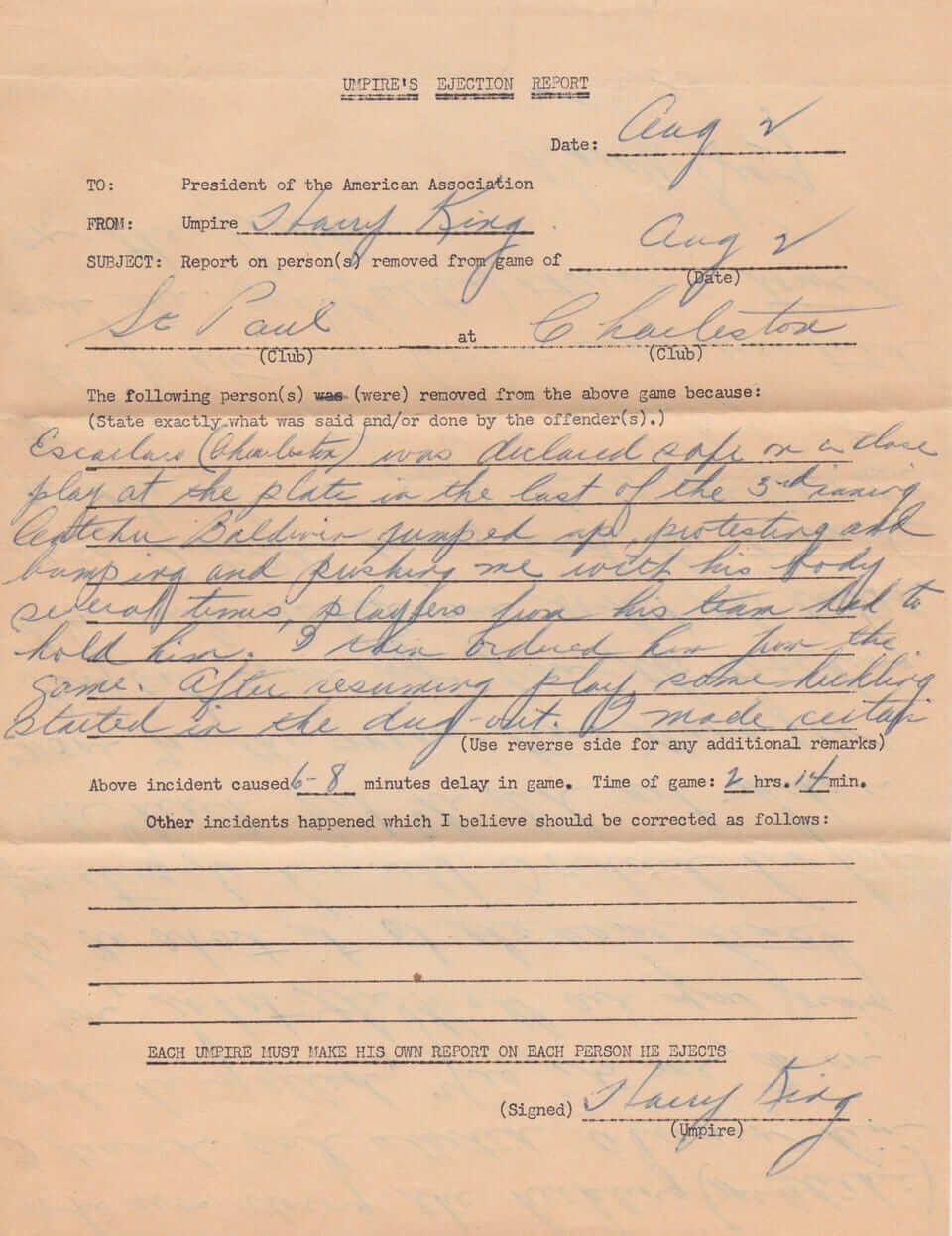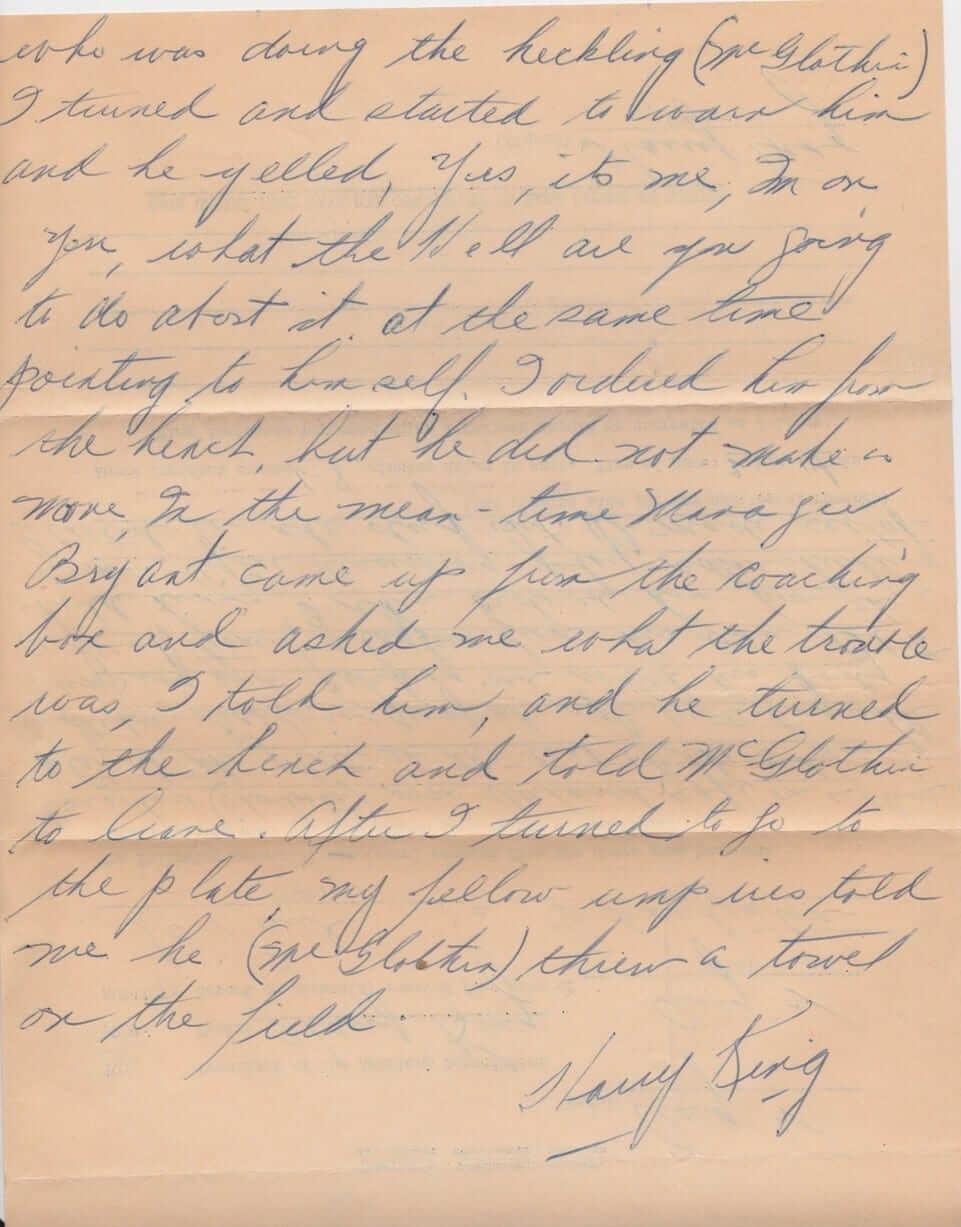 Escalaro (Charleston) was declared safe on a close play at the plate in the last of the 5th inning. Catcher Baldwin jumped up, protesting and bumping and pushing me with his body several times, players from his team had to hold him. I then ordered him from the game. After resuming play, some heckling started in the dugout. I made certain who was doing the heckling (McGlothin). I turned and started to warn him and he yelled, "Yes, it's me, I'm on you, what the hell are you going to do about it," at the same time pointing to himself. I ordered him from the bench, but he did not make a move. In the meantime, Manager Bryant came up from the coaching box and asked me what the trouble was. I told him, and he turned to the bench and told McGlothin to leave. After I turned to go to the plate, my fellow umpires told me he (McGlothin) threw a towel on the field. — Harry King, umpire
St. Paul vs. Louisville, Aug. 14, 1952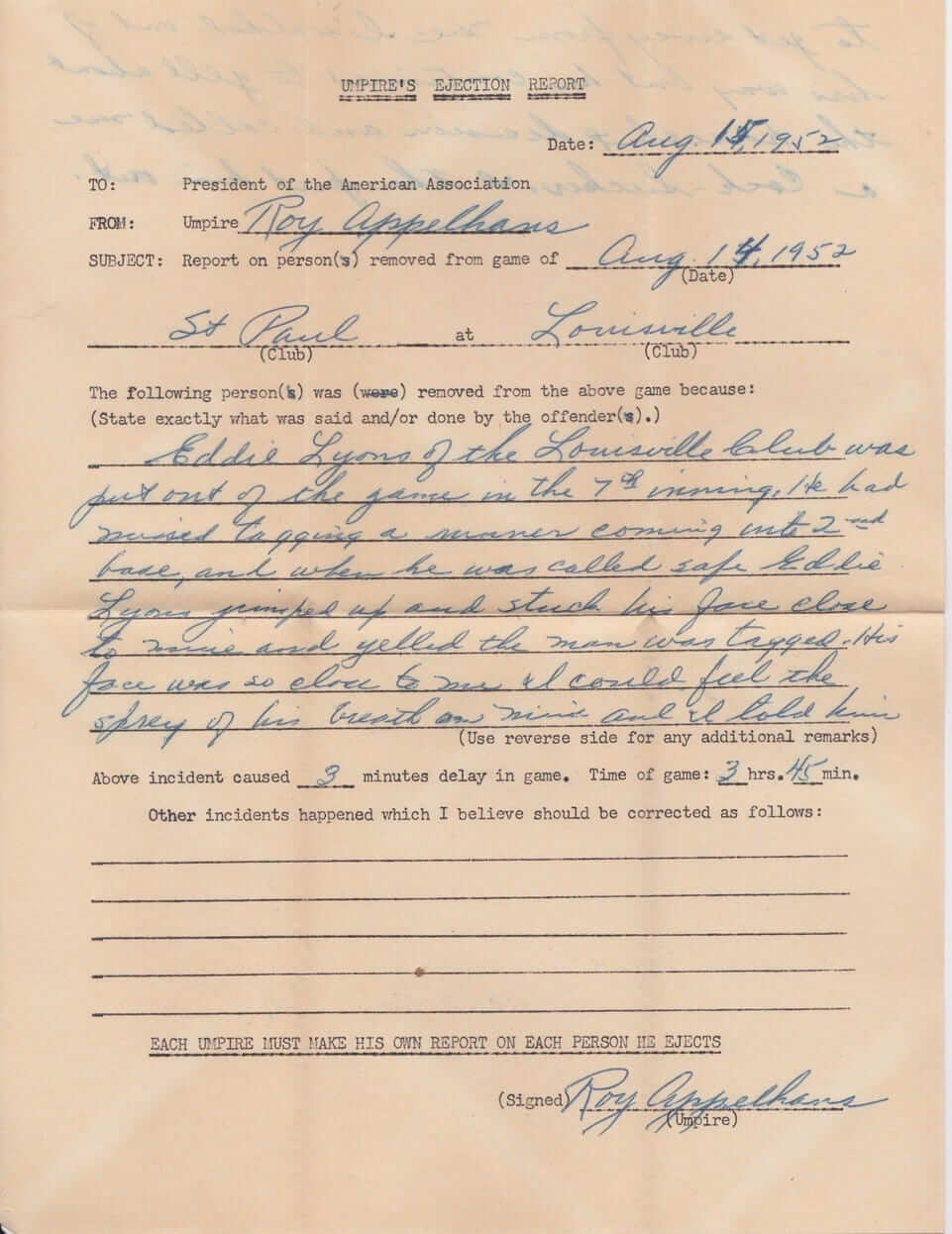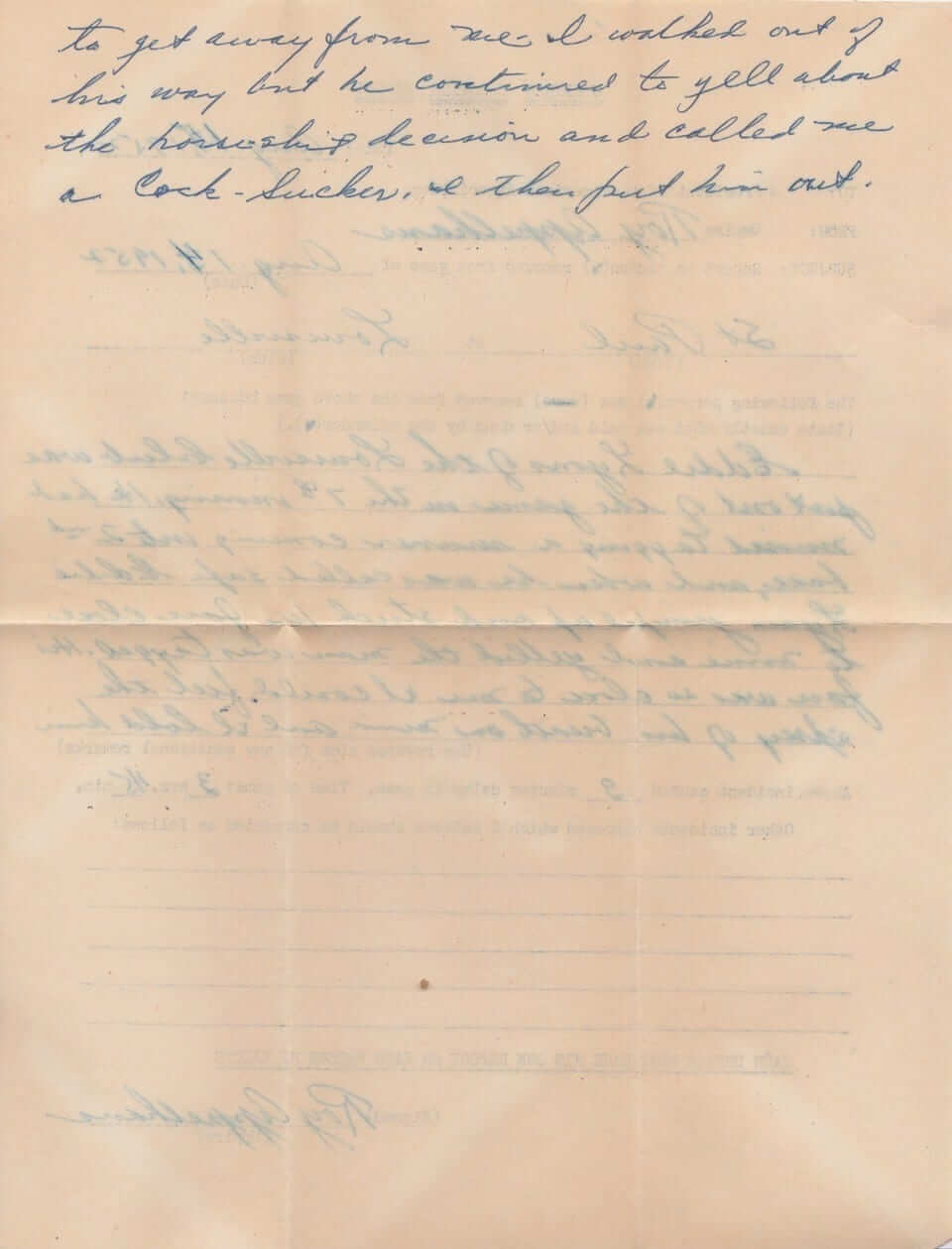 Eddie Lyons of the Louisville club was put out of the game in the 7th inning. He had missed tagging a runner coming into 2nd base, and when he was called safe, Eddie Lyons jumped up and stuck his face close to mine and yelled "The man was tagged." He face was so close to me, I could feel the spray of his breath on mine and I told him to get away from me. I walked out of his way but he continued to yell about the horseshit decision and called me a cocksucker. I then put him out. — Roy Appelhans, umpire
Milwaukee vs. St. Paul, Sept. 11, 1952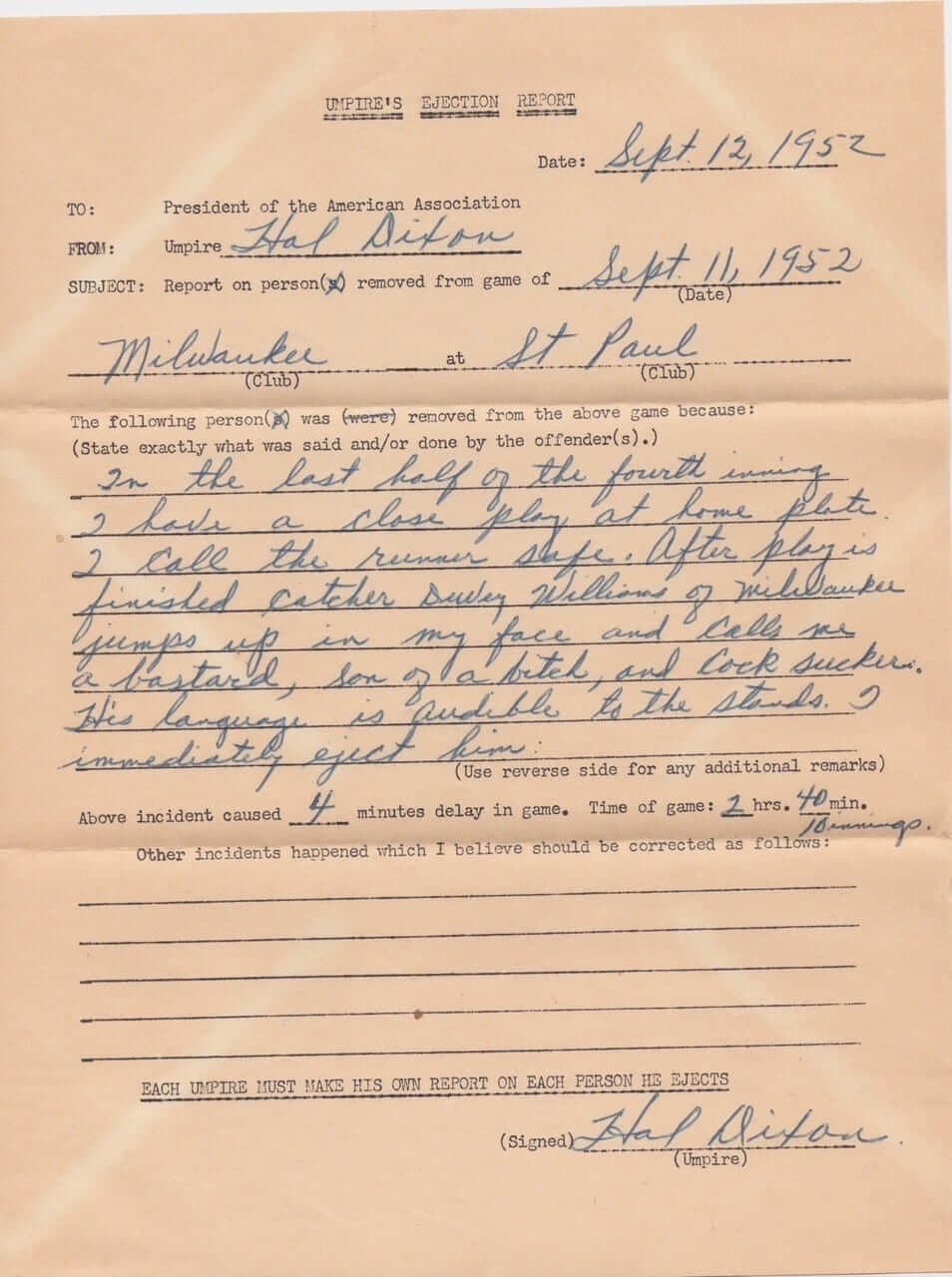 In the last half of the fourth inning, I have a close play at home plate. I call the runner safe. After play is finished, catcher Williams of Milwaukee jumps up in my face and calls me a bastard, son of a bitch, and cock sucker. His language is audible to the stands. I immediately eject him. — Hal Dixon, umpire
———
I have more of these, but that's enough for today. Fascinating stuff, right? Interesting to see that the most profane term hurled at the umps, in nearly all of the reports, was cocksucker. Seventeen years later, while writing about the 1969 season in his seminal book Ball Four, Jim Bouton wrote that the "magic word" guaranteed to get a player ejected was motherfucker, a term that doesn't appear in any of the 1952 reports. Maybe that word wasn't yet in wide circulation in 1952, or maybe it was used more in the majors than in the minors. (Fast-forwarding half a century to 2016, Mets manager Terry Collins used both terms in the instant-classic video that's recently been circulating.)
I know some of you currently officiate various sports at various levels. What sorts of abuse have you taken? Do these reports trigger any anxiety or resentment in you, or can you laugh them off?
• • • • •
[adrotate group="2″]
• • • • •
The Ticker
By Paul

'Skins Watch: A high school in Maine will continue to call its teams the Warriors but will drop its Native American imagery (from our own Anthony Emerson). … For some inexplicable reason, a kid in the crowd at yesterday's Poland/Senegal World Cup match, which took place in Moscow, was wearing a Native American headdress and redface. I suppose you could argue that the face painting matched the Polish flag, but that still doesn't explain the headdress (from Tyler Johnson). … Meanwhile, a fan at the Russia/Egypt match also had a Native headdress (from Tyler Johnson).

Baseball News: Negro League throwbacks upcoming for the Jacksonville Jumbo Shrimp. … Star Wars jerseys on June 29 for the Lakewood BlueClaws. … The Potomac Nationals re-created a famous scene from Bull Durham to mark the movie's 30th anniversary. … The Tulsa Drillers became Los Petroleros yesterday. … When the Mariners held their original TATC game in 1998, there was an inconsistency in their helmet numbering. … During last night's Mets/Rockies game, SNY roving reporter Steve Gelbs said Mets LF Dominic Smith was playing with a glove that isn't yet fully broken in. … Pirates reliever Steven Brault sang the national anthem prior to last night's game against the Brewers while in full uniform. … Austin Bibens-Dirkx is slated to pitch for the Rangers tonight, and the team also plans plans to have Isiah Kiner-Falefa behind the dish, creating a rare all-hyphenated-NOB battery (from Blake Parker and Evan Grant).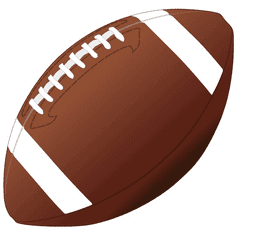 Football News: The Bears will wear their recently unveiled orange jerseys on Oct. 14 against the Dolphins and Nov. 18 against the Vikings (from Alex Mellon). … Here's a great shot of Patriots DL Bob Dee wearing a unique facemask rig — a single-bar plus a two-bar — in 1960 (from Bill Kellick). … The Regina Riot — that's a Canadian women's team — have had their jerseys returned after they were stolen earlier this month. … I've written before about how Packers QBs tend to wear two-point chinstraps. But that may be changing this season (from @continuoustx). … New logo for the U19 world championships.

Hockey News: Reprinted from yesterday's comments: Not sure who the L.A. Kings player is in this old photo, but check out the striping on his skates (from Jet). … Recent internet domain registrations suggest that the NHL could be expanding to Portland, Ore.

NBA News: The Hornets will mark their 30th anniversary with throwback uniforms and a throwback court, among other promotions. The designs will be unveiled later, although it's already an open secret that the uniforms will be a white version of the teal throwbacks they wore last season. … Top prospect Deandre Ayton signed a Suns jersey even though has even been drafted yet.

Soccer News: Monday's England/Tunisia World Cup match was invaded by tiny insects. … New kit for Derby County (from Ed Zelaski). … Also from Ed: Celtic's hew away shirt, which had previously leaked, has now been officially unveiled. … New kits for MK Dons, Pumas, and Swindon Town (all from Josh Hinton). … Also from Josh: People don't like Adidas's World Cup number font. … One more from Josh: Here are all of the new Premier League kits that have been released so far. … Airport officials in Madeira, Portugal, have finally replaced the much-maligned bust of Cristiano Ronaldo with a new version (from Kary Klismet).

Grab Bag: The media conglomerate formerly known as Tribune Publishing, which changed its name to Tronc in 2016 (and has been ridiculed for the move ever since), is going back to its old name. … Lots of golfers at the U.S. Open wore old-school rope caps.
• • • • •
[adrotate group="2″]
• • • • •

What Paul did last night: Thanks to everyone who offered support and kind thoughts, both in the comments and via email, regarding yesterday's installment of WPDLN. Last night was better, as I went to see the new documentary Won't You Be My Neighbor?, which is about Fred Rogers and his groundbreaking children's TV show. If you grew up watching that show (as I did), you should definitely see this movie.
Among the many things I learned in this movie is that Rogers was an ordained minister. Maybe that helps explain the state of grace he always seemed to maintain. Unfailingly kind, endlessly creative, and fiercely devoted to his vision of connecting with children, he appears to have had a transformative effect on a huge number of people. Given that the national discussion at the moment involves children being separated from their parents, the film had some extra resonance last night, but there's no bad time to see it. Bring some tissues — there are a few bits that are bound to make you a bit weepy.
• • • • •
I'm driving out to Long Island this morning to visit my mom, so I'll be off the grid for a little bit while I'm on the road. Play nice while I'm away, yes? Yes. Thanks.