You probably recognize at least two of the players in the photos shown at right (which you can click to enlarge). From top to bottom, they are former Packers quarterback Brett Favre, current Packers starting quarterback Aaron Rodgers, and current Packers backup quarterback Brett Hundley.
Notice anything odd that all three players share? Answer: They're all wearing two-point chinstraps. And not just any two-pointers, but the old-style straps with the flexible chin cup that's ridged on the outside and felt-lined on the inside. That design is such an old-school signifier that we even used it for the Uni Watch T-Shirt Club's recent football design.
Leaving aside kickers and punters (I haven't had time to check all of their chinstraps), nobody wears this kind of old-school strap anymore — except for Packers quarterbacks. Hmmmm.
It's one thing for Favre and Rodgers to wear the same strap, but Hundley really makes it a trend, right? I can't take credit for noticing that — it was pointed out to me by reader Stephen Scheffel, who's apparently something of a chinstrap-whisperer. He says the only other player he's seen wearing this kind of strap in recent years is Kyle Orton, who retired after the 2014 season.
Scheffel also notes that the Green Bay quarterbacking troika all wore different straps before joining the Packers. Let's look at them one at a time:
•  Favre usually wore a four-point strap while playing at Southern Miss and maintained that style while beginning his NFL career with the Falcons. He stuck with the four-point setup when he joined the Packers in 1992 but had switched to the old-school two-pointer by 1993. He stuck with the old-fashioned strap during his stints with the Jets and Vikings.
•  Rodgers's chinstrap trajectory has followed a similar arc as Favre's. He was a four-pointer in college at Cal and stuck with the four-point style during his 2005 Packers rookie season before switching to the old-school two-pointer in 2006. To my knowledge, he's stuck with that style throughout the past decade.
•  Hundley, like Favre and Rodgers, was a four-pointer in college. But he switched to the old-school two-point strap for his first Packers minicamp after being chosen in the 2015 NFL Draft, and has stuck with that style since then.
Interesting, right? Does Packers equipment manager Red Batty have a thing for this kind of strap? I've asked the Packers and am waiting to hear back — stay tuned.
Meanwhile, if you want your own old-school two-point chinstrap, they're available for $18 apiece from Gridiron Memories.
•  •  •  •  •
Gift Guide reminder: In case you missed it yesterday, my annual Uni Watch Holiday Gift Guide is now available for your shopping enjoyment.
• • • • •
T-Shirt Club Update: I'm happy to announce that the Uni Watch T-Shirt Club's final design of 2016 is now available for ordering. Many of you have been curious about what the design theme would be for this one — curling? rugby? cricket? — and I confess I'm a bit surprised that nobody came up with the right answer (click to enlarge):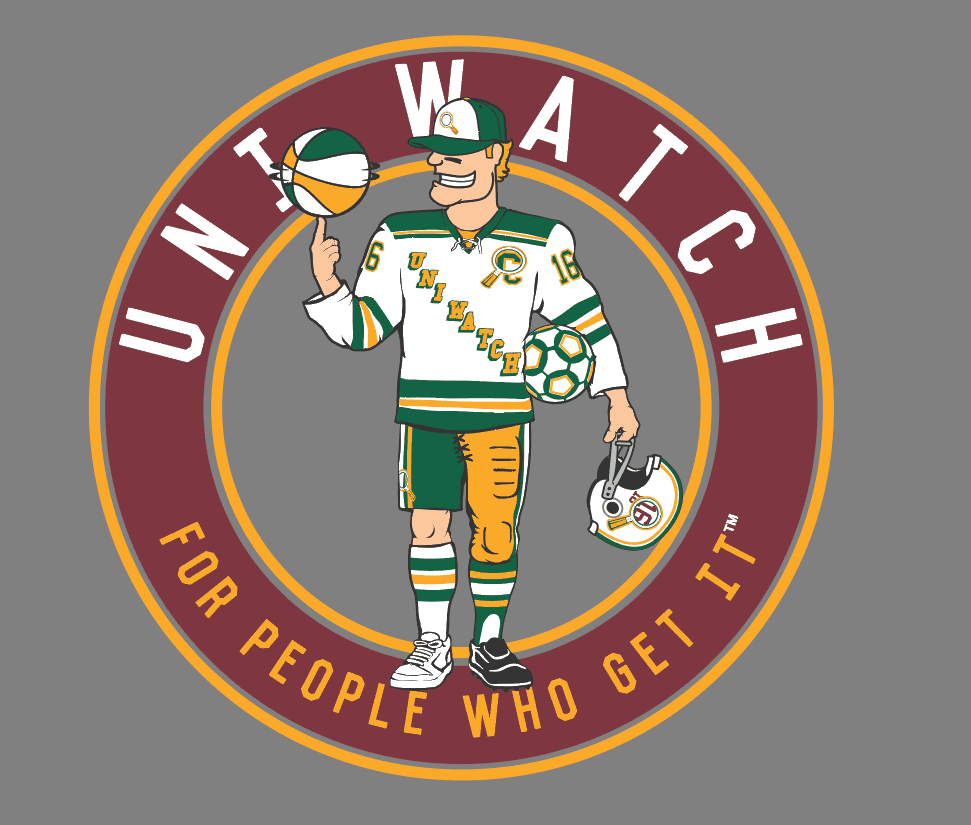 As you can see, it's a mash-up of elements from all of our previous 2016 jerseys. The only new element is the baseball cap (which didn't appear on our baseball-themed shirt because the player was wearing a batting helmet). It's comes in four color options — our usual grey, black, green, plus a new "military green" (that's what the manufacturer calls it, although I'd just call it light olive) — and is also available with either short or long sleeves.
The shirt will be available through next Friday, Dec. 9. The shirts are due to ship right after Christmas, so they should arrive in time for you to wear them on New Year's Eve. (I had hoped to have them delivered in time for Christmas, but it just wasn't possible to get things finalized in time for that. Sorry.)
If you've ordered all five of this year's previous shirts and also get this one, you'll be eligible for our year-end "Collect 'Em All" prize, which will be a patch based on the jock tag design used on this year's shirts. To qualify, please send me proof that you've bought all six shirts. The proof can either be (a) a photo showing all the shirts or (b) screen shots of the "Thank you for your order" emails you received from Teespring and Represent.
Big thanks, as always, to my creative partner, Bryan Molloy, who executed this design and then patiently endured my dozens of picky fine-tuning requests.
This is our final shirt of the year. Will we do the T-Shirt Club again next year? I'm not sure. I'd definitely like to do some more shirts, but maybe in a more random, less programmatic way. We'll see.
Once again, the new shirt can be ordered here.
• • • • •
The Ticker
By Paul

Baseball News: If you look at the "Score-Board" column on this 1941 newspaper page, you'll see commentary on the Pirates' uniforms in the first graf and info on the Cubs' unis in the last graf. Interesting that the writer at one point refers to the Cubs as the Bruins — bruins are bears, of course, but I'd never seen that shorthand used for the Cubbies (from Jerry Wolper). … An Illinois chef has celebrated the Cubs' title by making a 400-lb gingerbread replica of Wrigley Field (thanks, Mike). … No surprise here: Padres owner Peter Seidler says he doesn't care much about uniforms. … In a related item, the Hall of Fame has this 1985 Padres prototype cap in its archives. Paul Lee and Todd Radom both say it was meant to go with this prototype jersey, which I don't understand, because the jersey is trimmed in orange while the cap logo is yellow. "Things were not always so slavishly matched back then," says Todd. … A pop-up Dodgers museum will open at Dodger Stadium tomorrow (thanks, Mike). … At yesterday's press conference announcing that Yoenis Céspedes had re-signed with the Mets, GM Sandy Alderson presented Céspedes with a cap that was blissfully free of New Era logo creep. "Too bad he'll never wear that in-game anymore," says Niko G.

NFL News: Good news out of New Orleans, where the Saints announced that they'll be wearing throwbacks this Sunday. … The Vkings' Thursday-night jersey, which will be worn for tonight's game against the Cowboys, has "Skol Vikings" — the title of the team's official fight song — on the inner collar. Here's a comparison showing the regular jersey on the left, tonight's on the right (from Joshua Kramer). … Reader Elan Tavor raises an interesting question: With rumors flying about the NFL possibly abandoning its Thursday-night games after next season, what would that move mean — if it were to happen — for the Color Rash uniforms? Would they be scrapped? Used for Sunday- and or Monday-night games? Used as all-purpose alternates? Discuss. … Yesterday was the anniversary of the Jags being awarded the NFL's 30th franchise. Some good info and archival photos in this slideshow (from our own John Ekdahl). … Reprinted from yesterday's comments: The Titans and Browns have a bye this Sunday, so players from those teams who wish to participate in the "custom cleats for charitable causes" promotion will do so in Week 14. … This is interesting: Giants equipment director Joe Skiba has posted an Instagram photo of the retro-styled helmets he's preparing for the team's upcoming Thursday-night game, with white facemasks and the old "Giants" wordmark. The thing is, that game isn't until Dec. 22 — the Jints be wearing their regular helmets for several games before then. So if Skiba has already prepared a separate set of helmets for the Thursday game — and if those are really the helmets the team ends up wearing on Dec. 22, and not just something Skeebs set up for a photo-op — that would appear to violate the one-shell rule. Hmmmm (from Mark Gonillo).

College Football News: Colorado will be going mono-white for the Pac-12 championship game (from Greg Kissler). … Penn State has a new end zone design for the B1G championship game (from William Yurasko). … This will apparently be Navy's jersey for the Army/Navy game. "Looks like dress whites," says Jon Hanson. … Here's a short video clip of a Youngstown State equipment staffer prepping a helmet for Saturday's game against Jacksonville State (from Robert Hayes). … Yesterday's Ticker included an item about how Nebraska wore two different jersey designs in the 1980 Sun Bowl. Brett Baker tracked down a player from that game, Randy Huebert, and asked him about the mismatched jerseys. The gist appears to be that new jerseys were ordered for the game, but many of them didn't fit particularly well, so many players stuck with their old jerseys.

Hockey News: Yesterday's Ticker linked to a ranking of WHL jerseys. The same guy has also done a jersey ranking for the OHL. … The Bridgeport Sound Tigers will be wearing this Star Wars jersey on Saturday (from Barry Brite). … A KHL player took such a hard hit that his alternate captain's "A" patch went flying (from Aaron Scholder). … New alternate jersey for the Toledo Walleye.

Pro Basketball News: The Harlem Globetrotters unveiled a new logo yesterday. Here's a video clip showing the evolution of their logo over the years and a press release with additional info. … Bucks G Tony Snell had been wearing an upside-down "2" for about a month, but now it's been fixed. … Heat G Tyler Johnson will now wear a mouthguard on the court (thanks, Mike). … The Celtics are 7-1 this season when coach Brad Stevens wears a tie, and only 3-6 when he doesn't (Mike again).

College Hoops News: New court design for Louisiana-Lafayette (from @lblandry). … The SF Dons will wear throwbacks with "short shorts" on Dec. 6, although they're not really all that short. … Brutal color vs. color game last night in Ann Arbor, as Michigan and Virginia Tech went orange vs. maize (screen shot by Andrew Cosentino). … A better color/color game could be found in Oklahoma, where Okie State and Rogers State went red vs. turquoise (from Spencer Drury).

Soccer News: Small note within this story indicates that Glentoran and Detroit City will wear "commemorative jerseys" for a 2017 friendly. … After most of the most Chapecoense's team died in a plane crash, the team's badge is being added to several teams' jerseys as a memorial gesture. Participating teams St. Etienne and the Uruguayan club Nacional (from Cory Mizer). … The MLS ball design for 2017 features American and Canadian flag imagery. "Let's honor the flag by kicking it!" says Trevor Williams. … New uniform being teased by the Portland Timbers. Full reveal to follow in January (from Michael Orr).

Grab Bag: Faaaascinating look at alternate U.S. flag designs that were proposed after Alaska and Hawaii joined the union (big thanks to my pal/hero Jamie Jensen). … If you were thinking of getting me something for Christmas, you could do a lot worse than this reprint of the style guide for the 1976 American bicentennial logo, which looks absolutely tremendous (big thanks to Philip Bump). … Former Cuban leader Fidel Castro had repeatedly been photographed wearing an Adidas track jacket during the latter phases of his life, so many of the political cartoons about his death had an Adidas slant, as seen here, here, here, and here. … New logo for LD Products. … Monmouth University has inked a new deal with Under Armour (from Kenny Ocker). … "I just noticed that Donald Trump is using this logo for his presidential transition," says R. Scott Rogers. "I wondered whether this was an off-the-shelf design dusted off every four years, or if it was designed by or for the Trump campaign. So I did a little digging and found that then-President-Elect Obama used a different logo for his transition in 2008. The two logos are an interesting study in contrasting approaches to political and nationalist design. Both seem to be reaching for a sense of institutional solidity and classicalism, but in very different ways that are emblematic both of the men themselves and of their campaigns."