Click to enlarge
Last Friday's Ticker had an item about Puma moving to re-enter the American basketball market. There was more news about that yesterday, as Puma signed more NBA prospects to endorsement deals, announced a lifetime contract for former NBA great Walt "Clyde" Frazier, and hired Jay-Z as the brand's creative director.
Now there's still more evidence of Puma's resurgence, as a source has provided me with four of the jersey designs for this year's edition of The Basketball Tournament, the $2 million winner-take-all summer basketball event now entering its fifth season. In the past, TBT uniforms did not carry a maker's mark, but this year's jerseys, as you can see above, are Puma-branded. (It's worth remembering that Puma outfitted about one-third of the NFL in 1999 and 2000, but they've been largely absent from the American uni scene since then.)
Some quick notes about these four jerseys (clockwise from top left):
• Boeheim's Army is a Syracuse alumni team — hence the team name and the orange-driven color scheme.
• Team Challenge ALS is playing to raise awareness for ALS research on behalf of team GM and player Sean Marshall's college roommate, Pete Frates, the former Boston College baseball player who initiated the Ice Bucket Challenge. Last year, the entire team wore "Frates" NOBs. This year, each player is playing for a specific person suffering from ALS, and they will have that person's name on the back of their jersey.
• The Scarlet and Gray is an Ohio State alum squad, as you can tell from the team name and color scheme.
• Overseas Elite is the three-time defending TBT champion. Their jerseys look like leftovers from the Jacksonville Jaguars' recently discarded set.
The Basketball Tournament tips off on June 29.
• • • • •
[adrotate group="2″]
• • • • •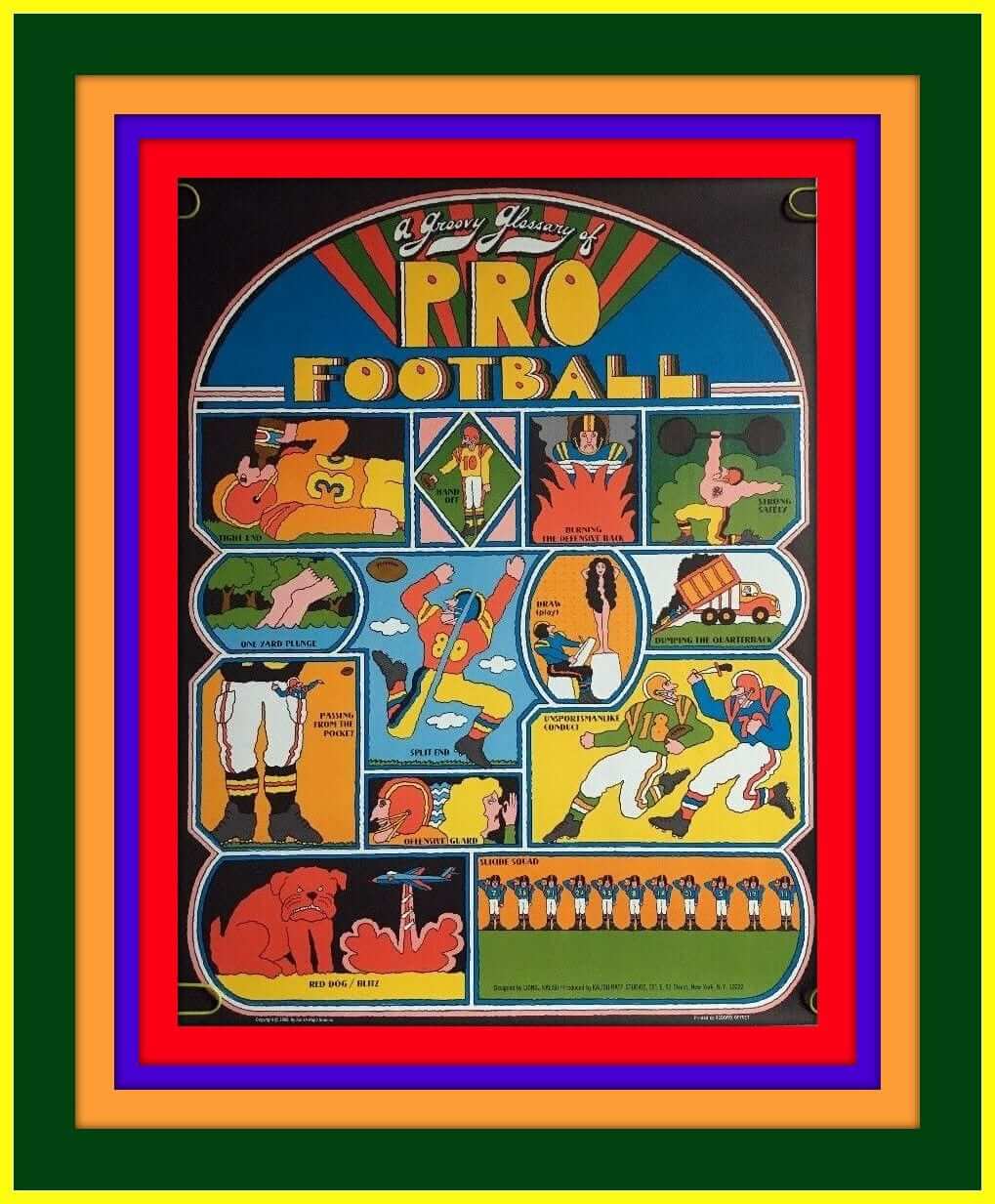 Click to enlarge
Collector's Corner
By Brinke Guthrie
Time for another edition of Collector's Corner, but first — an apology. Due to me messing up some Gmail filters, I was not seeing the Collector's Corner email submissions. I thought, "Gee, no one has any?" I just happened to come across some from last week (which are included in today's column), but goodness knows how many I missed. My apologies!
Okay, so starting off, we have this "Groovy Glossary of Pro Football" poster. The artist was Lionel Kalish Rapp Studios, and the seller calls it a "vintage headshop poster." (Kids, ask your parents.)
Now let's run down the rest of this week's picks:
• Speaking of groovy, this 1973 Detroit Tigers yearbook is fairly trippy, wouldn't you say?
• Will Scheibler sent along a nice-looking Winnipeg Blue Bombers hand-knit wool sweater and a vintage 1970s CFL thermal cup decorated with team logos.
• Bill Erdek sent in a CCM hockey jersey for Vincent Lecavalier, #44 of the L.A. Kings that just shows the NHL shield on the front.
• From Jon Solomonson, a 1993 N.Y. Jets "coat of arms" shield pin.
• Here's a 1960s Green Bay Packers seat cushion for you to use at the Frozen Tundra.
• This 1960s New York Giants Ballantine Beer light-up sign is in great condition.
• Frank Gifford offers his analysis on who's going to win it all on the gridiron with his 1968 NFL-AFL Football Guide.
• The Washington Capitals offered these "Stick It To 'Em" promo stickers back in the 1970s.
• This 1960s Red Sox vinyl lunchbox comes with a "wide mouth thermo bottle that keeps liquids or foods hot or cold."
• Here's a 1970s POP display (looks like the Steelers on there) full of L.A. Rams rings.
Seen an item on eBay that would be good for Collector's Corner? Send any submissions here.
• • • • •
[adrotate group="2″]
• • • • •
KRC update: The latest installment of Key Ring Chronicles is about a very personally significant pink and orange ribbon. Check it out here.
• • • • •
[adrotate group="2″]
• • • • •
The Ticker
By Alex Hider

Baseball News: Marlins 2018 draft pick Osiris Johnson was wearing an old cap with the larger, pre-2018 "M" logo at last night's game (from Travis). … The Schaumburg Boomers of the Frontier League will wear Ferris Bueller's Day Off jerseys on June 28 (from Steve Johnston). … The Potomac Nationals of the Carolina League will give away this bobblehead of Victor Robles on June 23. … The jersey Babe Ruth wore the day the Yankees retired his number is currently on display at the Baseball Hall of Fame (from Rich Mueller). … Here's another website that tracks the caps and jerseys worn by every MLB team (from @Greg1MB). … Albert, Florida's gator mascot, wore LeBron James's infamous suit with shorts look to the College World Series yesterday (from Jorge Cruz).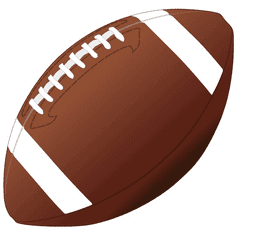 Football News: It appears Saints QB Drew Brees will wear a new helmet style this year. The Saints also used an old helmet design in the QB challenge logo (from Russell Goutierez). … Looks like we have 49ers head coach Kyle Shanahan to thank for the team's new throwback uniforms (from Brinke). … The Colts will wear white at home for their preseason opener in August (from Phil). … Now that's a jersey tear. That's former Rams RB Les Josephson, who had his jersey torn all the way off in a game in 1967 (from Bill Kellick). … Angelo Giaquinto was at the Pro Football Hall of Fame and noticed Matt Ryan's Super Bowl jersey was missing a sleeve logo. … Blake Fox spotted a boat named Philly Special that included a diagram of the play that resulted in Eagles QB Nick Foles catching a TD pass in this year's Super Bowl. … Pro Football Journal  spotted some number inconsistencies among Washington's jerseys back in the day. … The ACC Tracker has been updated to include the jerseys worn during 2018 spring games. … An Illinois high school will no longer use the Patriots' "Flying Elvis" logo. The school had run a big anti-plagiarism initiative, which led several students to point out that the school's logo was essentially plagiarized (from Scott Holland).

NBA News: The NBA is auctioning off the jersey Cavs G J.R. Smith wore when he committed his Game 1 blunder during The Finals this year. As of Monday evening, bidding was above $7,500 (from Mike Chamernik and Rich Mueller).

College Hoops News: IPFW is now simply known as Purdue Fort Wayne. As a result, their basketball team will now be referred to as the Purdue Fort Wayne Mastodons, and have a new court to go along with the change. They previously were just called the Fort Wayne Mastodons.

Soccer News: South Korea's coach had his players switch jerseys in a friendly against Sweden earlier this year in order to confuse the Swedes as they prepared for a World Cup matchup (from Mike Chamernik). … Ever wonder why referees check players' underwear before the start of a soccer match? It's simply to make sure the undershorts match the color of the shorts (from Kary Klismet and Brinke). … This video shows the evolution of World Cup uniforms (from Phil). … MLS officially unveiled the 2018 All-Star Game jerseys yesterday (from our own Jamie Rathjen). … New first and second kits for Scottish Championship team Partick Thistle (also from Jamie Rathjen). … New away kits for Aberdeen of the Scottish Premiership (also also from Jamie Rathjen). … New away kit for Brentford (from Adam Crocker).

Grab Bag: Auburn University teams wore a combined 46 uniforms across all sports during the 2017-18 athletic season. Clint Richardson has the recap over on Auburn Uniform Database. … The Vancouver Stealth of the National Lacrosse League have been sold to new owners, who will change the team's name and uniforms and move into a new arena (from Wade Heidt). … England's oldest branding is that of Lyle's Golden Syrup, whose logo contains a dead, rotting lion's carcass (from James Gilbert).
• • • • •
[adrotate group="2″]
• • • • •

What Paul did last night: I usually use this space to tell you about fun stuff that I've done, but last night was no fun. I went to a bar in the East Village to meet up with an old friend — someone I've known for more than 30 years. We hugged when we sat down and again when we parted a few hours later, but in between we talked about the distance that had grown between us and how one of us could no longer find it within himself to call the other one his friend. By the end of the night, we had said good-bye for the final time.
It doesn't matter which one of us was upset with the other, or why. What matters is that we had a shared past but could no longer find a shared language for the present, or for the future. There was a lot of respect running in both directions, and I believe we both truly listened to each other, but in the end it was clear that the gap between us had grown so wide as to be unbridgeable. That's not how either of us wanted it to be, but that's the reality of how it had become. It sucked.
As I walked back to the subway, I got caught in the rain. I didn't care. I came home, dried off, and watched the Mets win. I didn't care about that either.
Life is hard sometimes. I'm trying to learn from it.