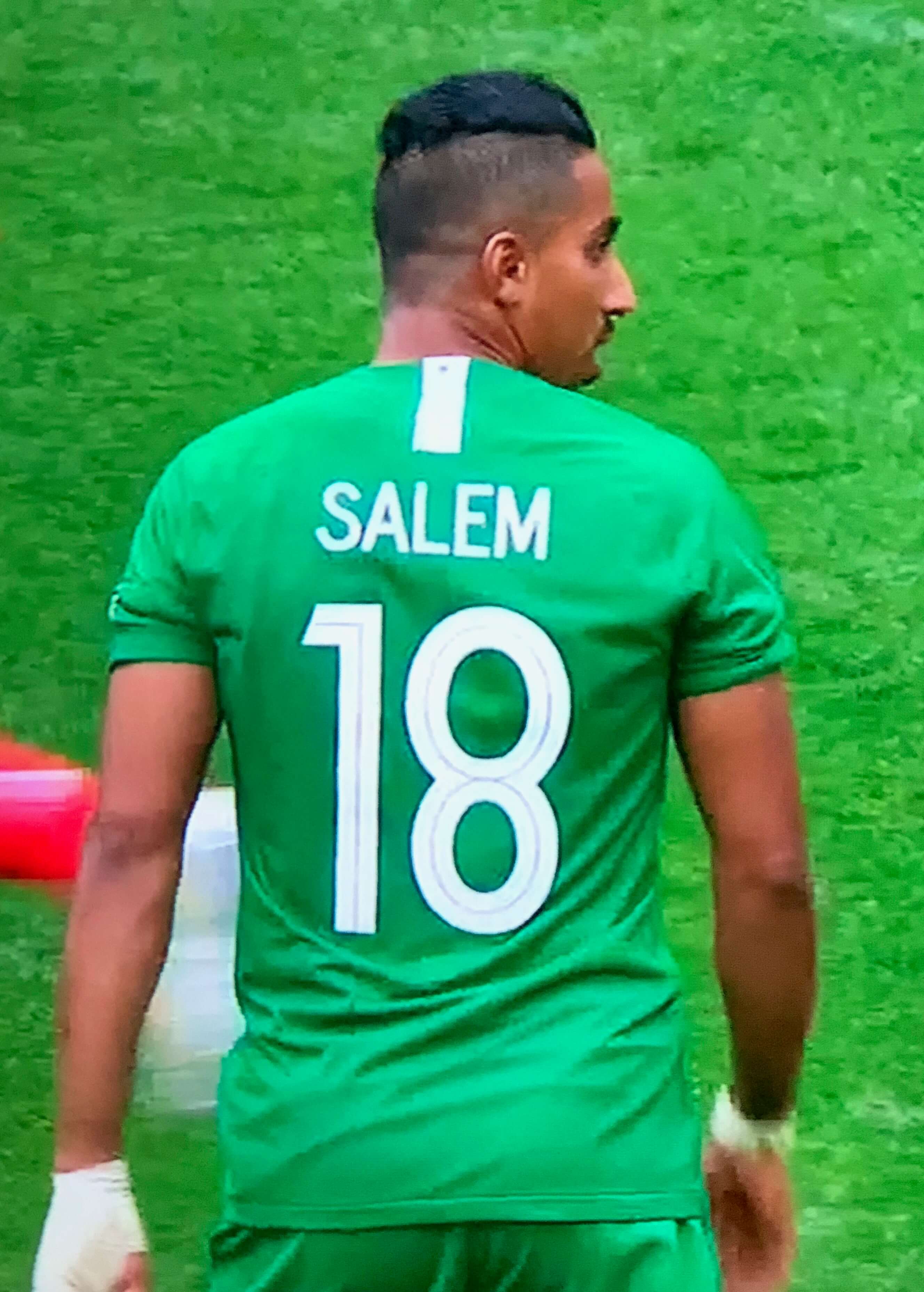 That sound you heard in the background yesterday was about half of the civilized world noticing that Saudi Arabia player Salem Al-Dawsari was playing with an upside-down "8" in Saudis' World Cup opening-round match against Russia. (Rumors that the first person to notice was Uni Watch reader Jason Hillyer's son, Jameson, who noticed the upside-down 8s on the seats at the Trop earlier this week, are almost completely untrue.)
Someone apparently got word to the Saudi team about the inverted digit, because Al-Dawsari had a properly oriented numeral in the second half.
Naturally, I'm too soccer-clueless to know if it's unusual for Al-Dawsari (or for any Saudi player) to be wearing FiNOB. Can someone enlighten us on that point?
A few other notes from that game:
• It looks like one of the Russian players didn't peel the protective backing off of his World Cup jersey patch.
• Here's a look at the footwear for every player in the game.
• The color matchup was red vs. green, which caused problems for people with red-green colorblindness (just like the first Color Rash game).
(My thanks to @trickettengland and Josh Hinton for their contributions to this section, along with the many, many people who noticed the upside-down 8.)
• • • • •
[adrotate group="2″]
• • • • •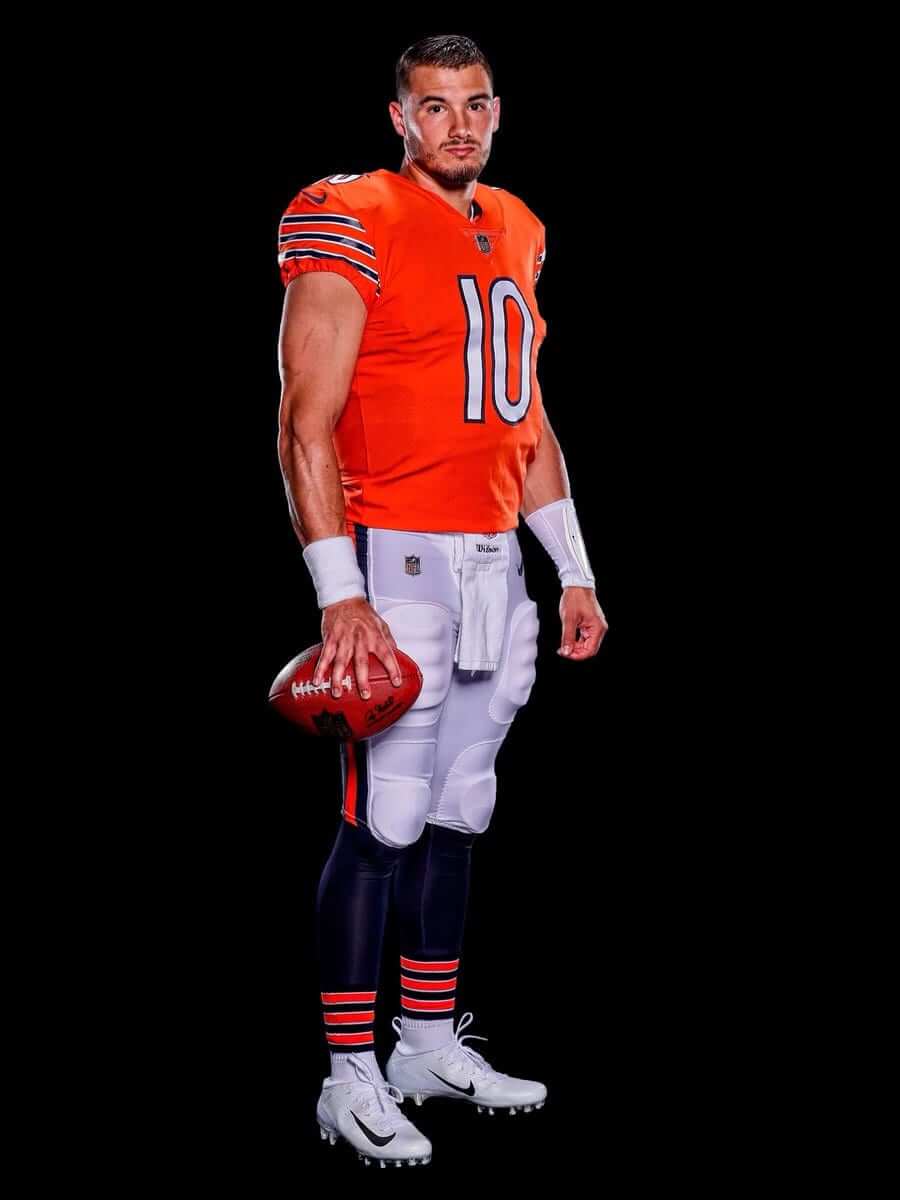 Click to enlarge
Bears soft-launch orange throwback jersey: The Bears were supposed to unveil their new orange throwbacks today, but they "leaked" the design yesterday by posting some photos on their official team app. Of course, it's not really a leak if it comes from the team — more like a soft launch.
Here's are some additional photos (click to enlarge):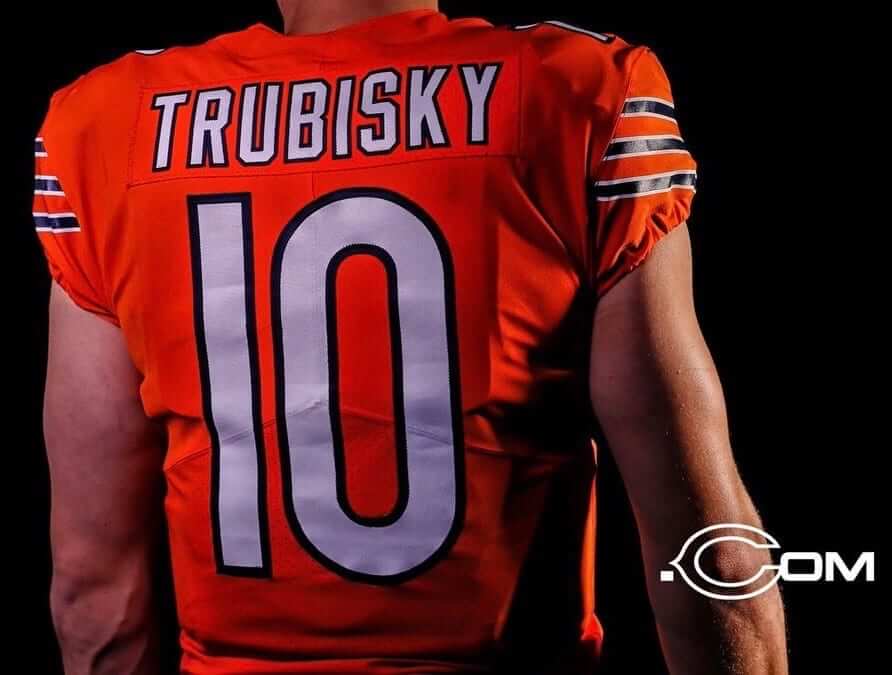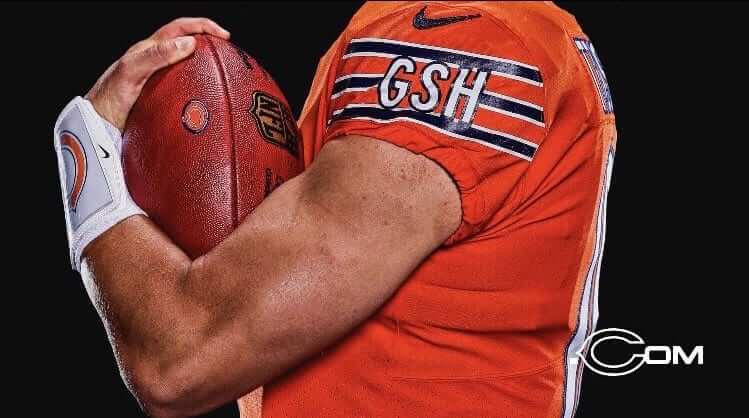 The Bears last wore orange jerseys in 2011. Is the newly revealed design the same as the one they wore seven years ago? Sure looks like it — here's a photo of the Reebok-era version (click to enlarge):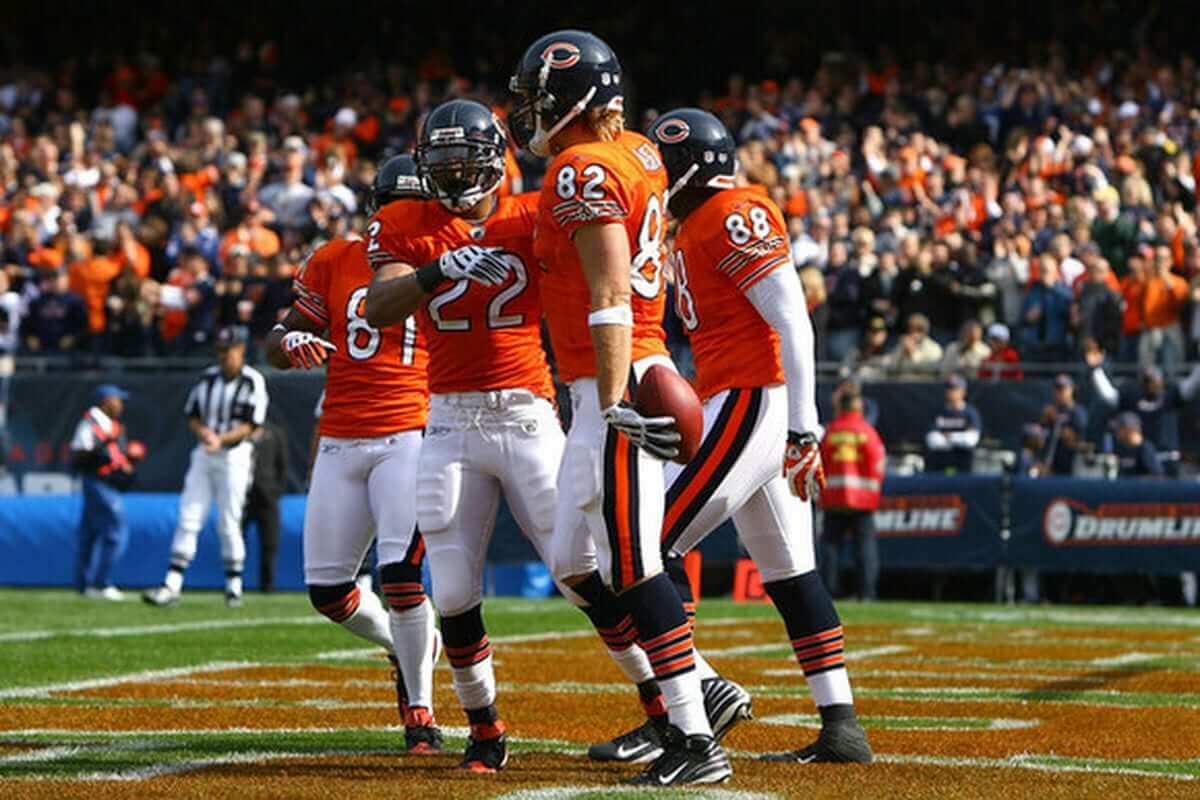 So it's basically the same thing we've seen before. Personally, I prefer the Monsters of the Midway throwbacks, but the orange design isn't bad.
Incidentally, look at the socks in that last photo, and then compare them to the socks worn by quarterback Mitchell Trubisky in the photo at the top of this section. I'm surprised they'd allow him to wear his stripes so improperly low in an official publicity photo. The stripes should be up around his calves.
• • • • •
[adrotate group="2″]
• • • • •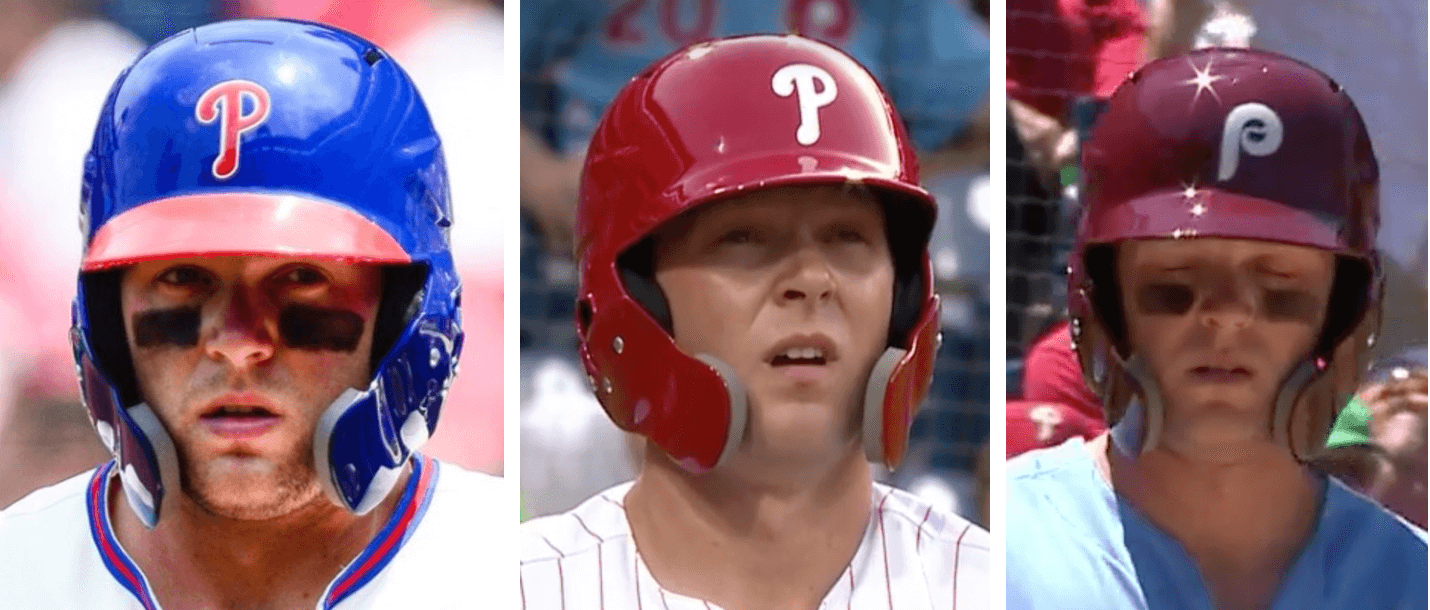 Click to enlarge
A triple-double, MLB-style: Remember how the Phillies had to wear their cream daytime uniforms for a night game because they didn't have a red double-C-flapped helmet for Rhys Hoskins? That problem has now been solved. Over the past three days, the Phillies have worn three different uniforms with three different headwear colors — and Hoskins has worn three different-colored double-C-flapped batting helmets. (He homered again yesterday, too.)
Meanwhile, a Rawlings exec tells me that their own proprietary helmet flap should be ready to launch in July. Will that put a crimp in the Year of the C-Flap? Stay tuned.
• • • • •
[adrotate group="2″]
• • • • •
Like father, like son: As you probably know, Ken Griffey Jr. and Sr. did not wear JrOB and SrOB when they played together on the Mariners in 1990. But here's something you might not know (and I didn't know about it either until reader Tim Dunn told me yesterday): The Griffeys joked about adding generational suffixes to their NOBs when the elder Griffey joined the M's. Check out the video above to see them openly speculating about it. Great stuff, and a nice item as we head toward the Father's Day weekend.
• • • • •
[adrotate group="2″]
• • • • •
The Ticker
By Kris Gross

Baseball News: Rays C Wilson Ramos wore Franklin batting gloves with the Nike logo last night (from Mart). … Now this is a great prank: Cardinals P Adam Wainwright had his NOB and No. 50 ironed onto Padres coach Skip Schumaker's polo. The two are former teammates and hung out when the Padres visited St. Louis (from Mike Chamernik). … FanJuicer polled 3,792 fans to rank team logos (from Ryan Bower). … The Tigers have adopted the "rally goose" after a goose invaded Comerica Park a couple weeks ago. You can now buy official rally goose gear from the Tigers. … Nationals P Sean Doolittle has ideas for a team bullpen cart (from Tom Turner). … Reprinted from yesterday's comments: Although Davey Johnson wore No. 5 during his time managing the Mets in the 1980s, he posed with a No. 31 jersey at his introductory press conference (from Mark in Shiga). … Here are all the new logos for when the Staten Island Yankees play as the Pizza Rats. … The Delmarva Shorebirds become the Scrapple on August 18 (from John Kimmerlein). … Florida's College World Series jerseys are ready to go (thanks María Canales). … Russell Athletic unveiled the 2018 Little League World Series jerseys yesterday. For the first time ever, each region will have their own unique jersey designs.

NFL News: The Eagles have revealed the design for their Super Bowl rings, which include a little underdog reference (from Mike Chamernik). … It's team tradition that Cowboys players have to earn the star on their helmets, but rookie Michael Gallup found a way around that rule (from @texasbacon). … Brian Erni spotted what appeared to be a new Jets logo, but it turns out it's a template for all teams (from Dan). … Not uni-related, but here's a really good piece about the 'Skins' bogus season ticket waiting list (from Jason Hillyer). … Good piece on how the '72 Broncos sewed hand-warmer pouches into their jerseys.

College Football News: Here's a look back at when Iowa State experimented adding navy blue to their color scheme (from Kary Klismet).

Basketball News: This trash company's logo looks a lot like the 2011 NBA All-Star Game logo (from Wren). … Former Blue Devil and current draft prospect Marvin Bagley III is expected to sign a massive shoe deal with Puma, the largest rookie deal since Kevin Durant's. The move is the opening salvo of what is expected to be Puma's aggressive re-entry into the NBA sneaker market (from James Gilbert). … Rider University has a new court design. This time lapse video of the new design being put down is well worth your time (from Greg Ott).

Soccer News: Each Nike national team kit in the World Cup is made with at least 12 recycled plastic bottles. … Here is Nottingham Forest's 2018-19 home kit (from Ed Żelaski). … Celtic FC's 2018-19 away kit has leaked (from Josh Hinton). … I still call it St. Andrews (from our own Jamie Rathjen).

Grab Bag: The Naval Academy has sent a cease and desist to Nike over their new logo (from Tony Ravenscroft). … The Kentucky Derby 145 logo was unveiled yesterday (from Michael Kinney). … The Supreme Court has struck down a Minnesota law that prohibited politically oriented clothing at polling places. … A Philly chiropractor uses the Liberty Bell's crack as a spine (from Chance).
• • • • •
[adrotate group="2″]
• • • • •

What Paul did last night two nights ago: Last year NYC introduced a new ferry service that runs from lower Manhattan to Rockaway. It was meant for commuters (Rockaway is a looong subway ride from Manhattan), but the reality is that it makes for a great hour-long pleasure ride. And since the city government is subsidizing the service to an absurd degree, the fare is only $2.75 — the same as a subway ride.
We had gorgeous almost-summer weather yesterday, so after work the Tugboat Captain and I grabbed some beers and snacks, hustled over to the ferry terminal, and enjoyed a carefree ride to Rockaway, where we briefly walked over to the beach before taking the last ferry back to Manhattan at sunset. Just a perfect, perfect evening.