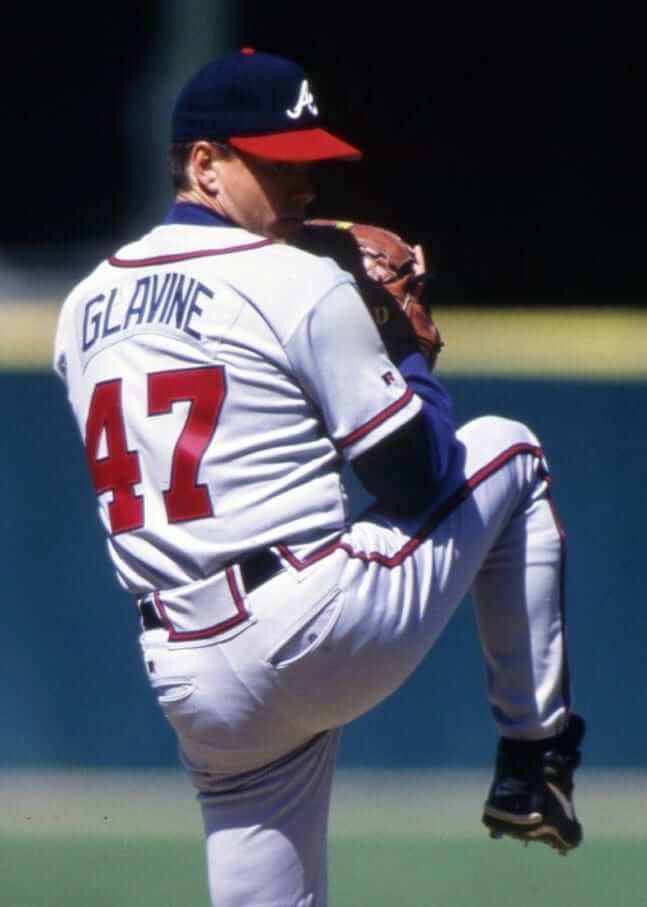 Back in January, I announced that Uni Watch was partnering with our longtime friends at Grey Flannel Auctions to offer free appraisal services — and, for those who were interested, auction consignments — for Uni Watch readers with interesting sports memorabilia.
Many of you took advantage of the appraisal service, and a few of you have taken the additional step of entrusting your valuable items with GFA for their latest catalog auction, which just got underway. So today's installment of "Auction Action" is a bit different than previous ones, because we're going to start by showcasing the items that came from Uni Watch readers.
Let's start with reader Gary Moore. He has three game-used MLB jerseys listed: a 1983 Rick Honeycutt Dodgers road jersey (not bad, although I'd be more interested in Honeycutt's game-used thumbtack), an early-1980s Jose Cruz Astros home jersey, and — here's the kicker — a 1987 Tom Glavine Braves road jersey. That's from Glavine's rookie year.
How did Gary end up with a Hall of Famer's rookie jersey? Here's his story:
I grew up a Braves fan. 1987 was the first year of the new jerseys (pretty much what they still wear) after the red/white/powder blue of the Dale Murphy era.

I went to a baseball card show in Chicago on Dec. 5, 1987. I had purchased some cards at a local auction and wanted to see if I could sell a few. After that was completed, I had a few hundred dollars and was walking the aisle of the show just to see what was on display. I eventually came across a dealer who had most of the Braves' jerseys from the just-completed season (it was common at the time for jerseys to be sold to dealers).

I was excited at the prospect of having a new Braves jersey. I saw the Gibson and Stargell jerseys first (they were coaches that season) and then some of the everyday players, which were way more than I could afford. I asked what he had on the cheap end, and was shown a bunch of rookie jerseys, guys who hadn't played much — my choice for $200.

I went through the jerseys and knew most of the names, but Glavine jumped out at me. He hadn't been in very many games but was someone who I had heard was promising. It was also a jersey I could wear, since Tom was about my size.

I bought the jersey, and have worn it a few times over the years, but mostly it has hung in the closet. After 30 years, I figured it was time someone else got to enjoy it. When you ran the promotion for Grey Flannel, I contacted them for more details.
Pretty good story. If you're interested in bidding on the Glavine jersey, you can do so here.
In addition, a reader named Brad, who'd prefer than his full name not be used, listed a game-used 2012 Aaron Rodgers Packers jersey, complete with the Hall of Fame 50th-anniversary patch.
A third reader also consigned a game-used jersey, but there's been a problem with that item, so bidding on it has been suspended for now. I'll let you know if that changes.
Okay, that covers the Uni Watch readership's participation. Here are my picks for some of the other more interesting items listed:
• This 1952 NBA All-Star jersey has a remarkably plain, minimalist design. Your first reaction might be, "They go for much flashier All-Star designs nowadays," but don't forget 2015!
• It's funny how certain fonts become associated with certain teams. I can't look at this 1970-71 Atlanta Hawks jersey, for example, without thinking of the Pittsburgh Pirates. (Does anyone know what that font is called?) While we're at it, look at the front of this late-'70s Golden State jersey — I've been admiring that uni design for many years but never noticed until now that it has a vertically compressed version of something very close to that same Pirates font!
• Speaking of typography, check out the interesting little notch in the lower-right area of the bowl in the "9" on this 1960-61 Philadelphia Warriors jersey. Not sure I've ever seen that rendering of the that numeral before.
• Of all the items in this catalog, the one I'd most like to own and wear (if it fit me) is this awesome 1960s Cincinnati Royals warm-up top. Sooooo up my alley!
• I confess that I have no memory of the Knicks wearing this blue-on-blue throwback design in 1996-97 (and have also been unable to find the original design on which it's based). When I first saw the item listed in the catalog, I initially thought it was from the 2012 "Big Color" Christmas fiasco, but no — they wore it in the Ewing era. Anyone know more..?
• Oh man, has it really been more than a decade since UCLA wore the gold "C" to mark the schools 100 national championships across all sports? Seems like yesterday. Okay, the day before yesterday.
• Love this 1970 NIT wristwatch.
• Speaking of jewelry, gotta like this 1914 World Series press pin. Gorgeous!
• Oh baby, it doesn't get much better than this earlier this week. Here's his lifetime MLB game pass. "In appreciation of long and meritorious service."
• The Reds pioneered MLB's ritual of wearing green on St. Paddy's Day. So what's even better than a Big Red Green Machine jersey from the 1970s? A jersey with green stirrups!
• Lots to like on this 1951 White Sox jacket, including the American League golden anniversary sleeve patch and the always-pleasing Butwin tag design.
Want to see more? You can browse through all of the auction listings here.
• • • • •
[adrotate group="2″]
• • • • •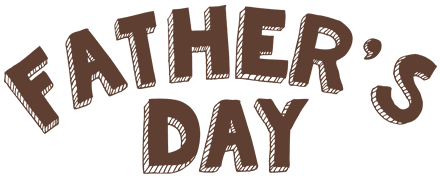 And now a few words from Phil: Sunday is Father's Day, and I'll be continuing my annual tradition of posting photos of "Dads in Uniform." It's something I began doing in 2013, and continued in 2014, 2015, 2016, and again last year, and I'm looking forward to keeping it going strong.
This year, based on a suggestion from reader Bill Hetrick, I've decided to add photos of equipment your father used and passed down to you. For more details on that, look here.
If you'd like to have a photo of your dad (or uncle or granddad!) featured this Sunday, or if you have a piece of equipment he passed down to you, please send me an email along with a photo (just one, please) and a short description (100 words or less) by this Thursday, June 14, midnight Eastern. I'll run all the submissions this Sunday. Thanks.
• • • • •
[adrotate group="2″]
• • • • •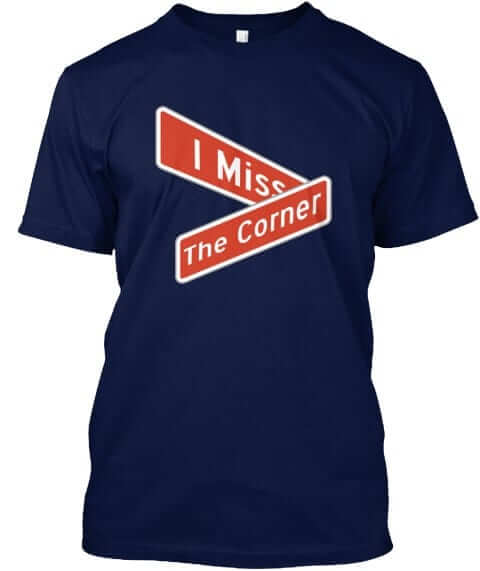 Naming Wrongs reminder: In case you missed it earlier this week, we have new Naming Wrongs designs for the Corner (shown at right) and for two CFL stadiums. Full details here. In addition, in case you missed it last week, we also have new designs for the Georgia Dome, the Omni, and McNichols Arena. You can get the scoop on those here.
This will likely be our last round of Naming Wrongs shirts for a while, in part because designer Scott M.X. Turner is busy getting ready to move across the country and in part because we've now crossed off every stadium and arena we had on our list. We may still do more designs if we get specific requests for them (or if some new corporate venue names are announced), but this should hold us for now. My thanks to everyone for their support and enthusiasm for this project.
• • • • •
[adrotate group="2″]
• • • • •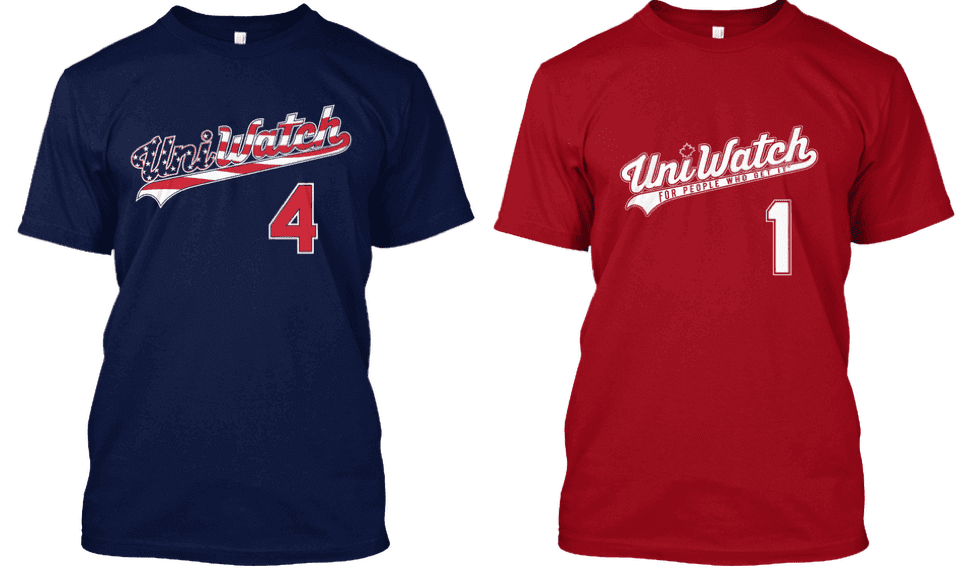 Holiday shirt reminder: Although our respective heads of state aren't exactly members of each other's fan clubs at the moment, the United States and Canada remain close allies with lots in common.
That includes the two major holidays that we celebrate in early July — Canada Day on July 1 and Independence Day on July 4. You can get Uni Watch shirts for either holiday (or both holidays!) by ordering now — the Independence Day shirt is here and the Canada Day shirt is here. Thanks.
• • • • •
[adrotate group="2″]
• • • • •
The Ticker
By Paul

'Skins Watch: With this year's U.S. Open golf tourney taking place at Shinnecock Hills on Long Islang, the USGA has reached an agreement (NYT link) with the Shinnecock Indian Nation regarding parking revenue. … It appears that a Cincinnati-area school will continue to use "Redskins" as its team name (from K.C. Kless, David Sonny, and our own Alex Hider).

Baseball News: For several years now, Giancarlo Stanton has been wearing a C-flap when facing right-handed pitchers and going flapless against southpaws. Now it turns out that Dodgers utility man Kiké Hernández is doing the same thing (from Stetson Pevear). … Also from Stetson: Dodgers switch-pitcher Pat Venditte has used at least three different glove colors this season. … Here are some thoughts on which jersey should be retired next by LSU baseball. … This article about the Phillies' social media department is a couple of weeks old, but it has an interesting uni-related passage about how the staff was scrambling to create an image of Jake Arrieta in a Phils uni to coincide with the team's acquisition of the star pitcher: "Somebody had to come up with a way to incorporate the Cy Young Award winner, decked out in his new red pinstripes, to really make the announcement sizzle. 'Here we have a marquee free agent, this is a 9-1-1 situation," [a staffer] says. 'And we didn't have [graphics] yet.' The hunt was on. Who, on such short notice, would be available to create and turn around a graphic featuring Arrieta in a uniform and colors he had not yet worn, one that would stand out and help broadcast the importance of this deal to the Internet?" (From Greg Franklin.) … Here's the story behind the Buffalo Bisons' Buffalo Wings design (from Jim Graham). … Nats P Ryan Madson prefers to wear a model of New Balance cleats that's now discontinued. So if you have any, he'll buy them from you (from David Goodfriend). … New logos for the Johnson City Cardinals (from Daniel Owens). … Here's how the College World Series patch looks on Arkansas's jerseys (from Jeff Boogaart). … Breast cancer awareness jerseys upcoming for the Lexington Legends (from Josh Hinton). … Good piece on how the C-flap is catching on around MLB (from Kary Klismet). … The Rangers are offering Dallas Stars-themed caps on June 25 (from Ignacio Salazar). … The Royals' scoreboard misspelled "Cincinnati" last night (from C. Trent Rosecrans and our own Alex Hider). … A wild pitch in last night's Nats/Yanks game got stuck in a small rectangular hole in the padding behind home plate (from Ryan Bower). … The Lakewood BlueClaws are a Phillies affiliate, so they wear the Phils' "P" logo as a sleeve patch — sometimes on the right sleeve and sometimes on the left (from Chuck, who didn't give his last name).

NFL News: The Bucs mistakenly told an Ohio high school player that they planned on meeting with him after his pro day workout. As part of their apology for the mix-up, they sent him an autographed Mike Evans jersey. … With the 2026 World Cup coming to the North America, members of the Chiefs posed with soccer scarves (from @ScottyBeats86). … Here's some rare footage of a 1976 Chargers/Cardinals preseason game played in Japan (from Bill Kellick). … If you're looking for WFL, USFL, XFL, or WLAF merch, this site has you covered (from Kyle Smith). … Another day, another indication that the NFL really needs to scrap its cheerleading program already. … Rare shot of Jerry Rice wearing No. 81 in the 1990 Pro Bowl because Rams WR Henry Ellard had seniority and got to wear No. 80. Nowadays, they allow multiple players to wear the same number in Pro Bowls (from Ian Tisdale). … Speaking of Pro Bowls, here's a shot of Eric Dickerson with his jersey collar modified to split the "O" in "National" — plus he's wearing No. 28 instead of his usual No. 29 (from Pro Football Journal).

College Football News: Brian Dawkins has added a Clemson helmet to his display at the Hall of Fame. … Did you know Michigan once used a football

Hockey News: The Hurricanes have begun teasing their third jersey, which will be unveiled at the draft on June 22 (from Mike Chamernik). … Cross-listed from the baseball section: MLB's Texas Rangers are offering Stars-themed caps on June 25 (from Ignacio Salazar).

NBA News: The first part of the latest installment of the great design podcast 99% Invisible is about how former NBA creative director Tom O'Grady remade the look of the league in the mid-1990s, plus there are a few quotes from me. If you stick around for the second part of the episode, there's a good segment about World Cup soccer ball design.

Soccer News: Cross-listed from the NFL section: With the 2026 World Cup coming to the North America, members of the Kansas City Chiefs posed with soccer scarves (from @ScottyBeats86). … Cross-listed from the NBA section: If you go to the 18:20 mark of the latest installment of the great design podcast 99% Invisible, you'll hear a good segment about soccer ball design. The first part of episode is about how former NBA creative director Tom O'Grady remade the look of the league in the mid-1990s, plus there are a few quotes from me. … New kits for Trabzonspor (from Josh Hinton). … Also from Josh: Benfica's new kit has leaked. …. Bill Radocy always makes a World Cup spreadsheet as a guide to all the lineups and stats of the teams involved, plus a TV schedule of the games. You can see this year's version here. … The uniforms in the World Cup's Group G ensure a lot of red-vs.-white matchups. … New kits for Middlesbrough (Josh Hinton again). … One more from Josh: Manchester United is about to announce its first sleeve sponsor advertiser. … Good breakdown of all 32 World Cup teams' home and away kits here.

Grab Bag: Here's a video on the history of Adidas's three stripes. … Kenya's sports ministry has launched an investigation into the national rugby team's omission of the official "Make It Kenya" logo on their jerseys at the Paris meeting last weekend. … Nike's new soccer apparel logo looks a lot like the Naval Academy seal (from Graham Scarbro). … The LA Valiant — that's an esports team — have a new jersey advertiser. … A high school principal has apologized for criticizing two recent graduates for wearing their Marine Corps uniforms, rather than caps and gowns, to graduation. … Formula 1 and 3M are butting heads over a new F1 logo that looks a lot like a 3M logo. … Jean Claude Van Damme's attorneys sent CraftHaus Brewery a cease-and-desist letter due to one of their beers being named "Jean Claude" (from Andrew Cosentino). … Here's an interesting defense of Domino's corporate-advertised pothole repairs (WaPo link) from a city manager in Delaware who took advantage of the program.