I'm happy to announce that we're going to be partnering with American Trench again for another round of StripeRite socks. Here are some details:
1. There will be three or possibly four designs in this set. All of them will be based on football stripe patterns.
2. The socks should be available in late July or early August.
3. The prices are not yet finalized but are likely to be something like $16.50 per pair, with discounts for three- or four-packs. (More on that in a second.) Yes, I know that's a lot for a pair of socks, but that's the reality when you're doing small production runs for made-in-USA product.
4. There will only be one production run for this batch — no re-stocks, no second runs. Once they're gone, they're gone.
5. The designs we can do are limited by the yarn colors we have access to. For example, the sock mill isn't currently offering green yarn, so that makes it impossible to do certain designs. Given the current color availability, we're considering these six potential designs (click to enlarge):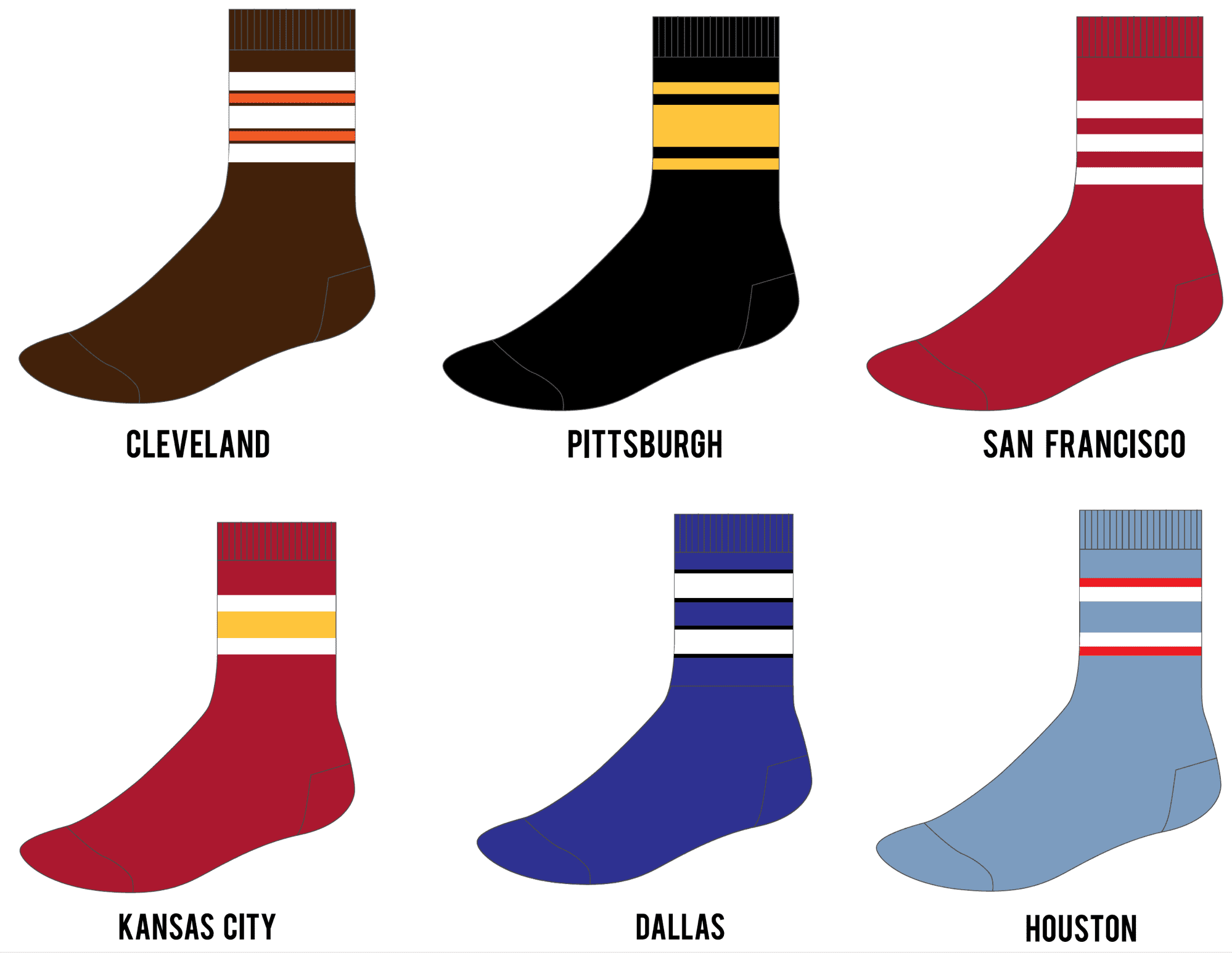 We'd like your help in narrowing these down to three or four designs. Please vote for any three of these, but please vote only if you think you might purchase them. If you don't plan to buy, please don't vote — thanks.
[totalpoll id="97750″]
In addition, we could use your help in deciding whether to offer three- or four-sock bundles. Again, please vote only if this is something you'd be interested in purchasing:
[totalpoll id="97753″]
Thanks so much for your help and feedback — greatly appreciated.
• • • • •
[adrotate group="2″]
• • • • •
Now that's a theme uniform: The Single-A Wisconsin Timber Rattlers became the Wisconsin Brats on Saturday night, complete with lederhosen-style uniforms. This is definitely one of the better-executed MiLB theme unis we've seen — check out the game highlights above to see them in action.
Speaking of MiLB theme concepts: In case you missed it on Friday, my latest ESPN piece uses the Syracuse Chiefs' recent Brannock Device promotion as a case study to examine how a MiLB team goes through one of these single-game rebrandings. It was a blast to report and write, and I think you'll really like it — check it out here.
• • • • •
[adrotate group="2″]
• • • • •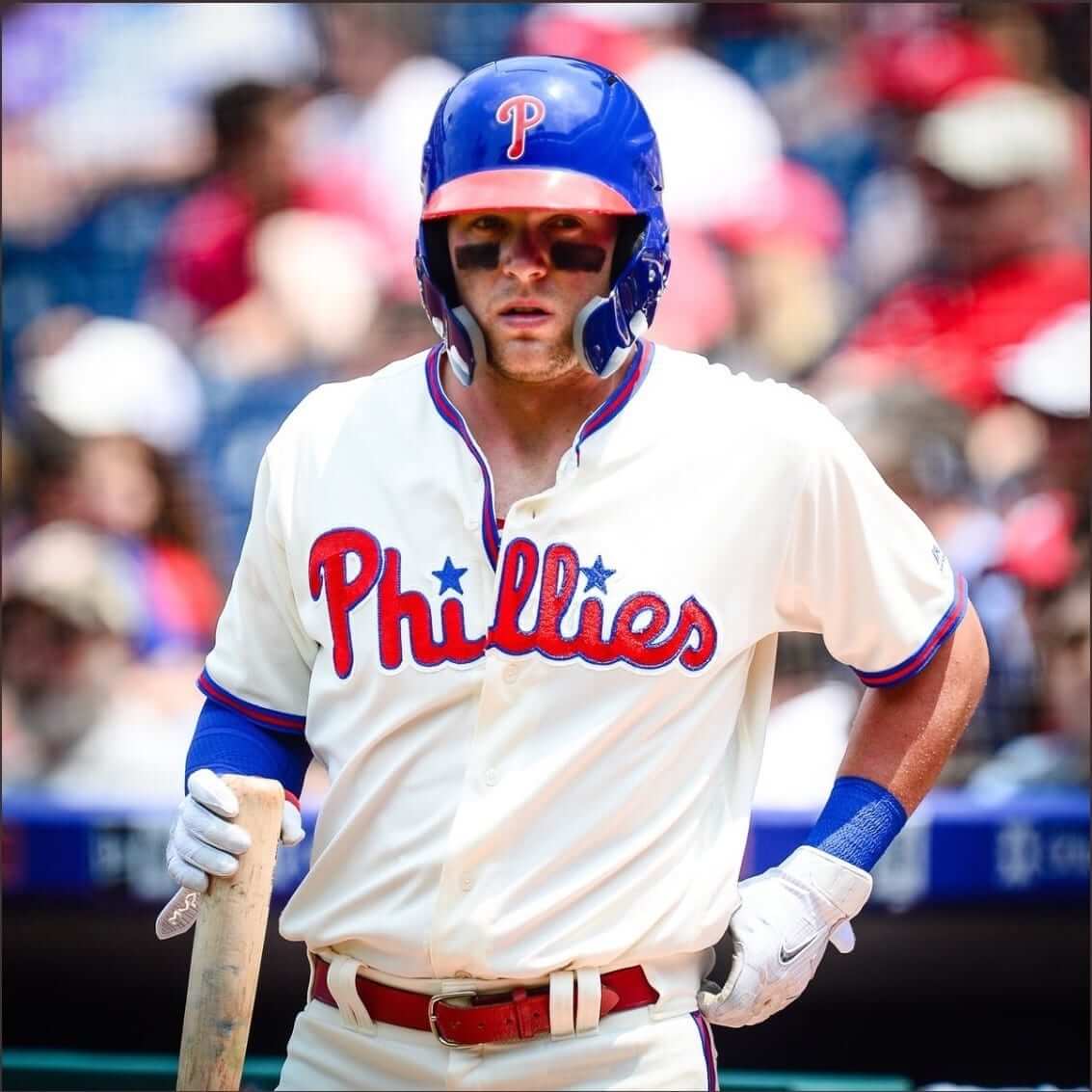 Click to enlarge
An MLB first: This was mentioned in Sunday's Ticker, but I know a lot of you don't follow the site on the weekend, so I'm going to repeat it here: Phillies outfielder Rhys Hoskins was activated from the DL on Saturday after suffering a fractured jaw a few weeks ago. The injury is still healing, so he's wearing something that's never appeared before on an MLB diamond: a double-earflapped helmet with C-Flaps attached to both sides.
As you may recall, back in April I wrote that the C-Flap was poised for a breakout season, and this is just the latest confirmation of that.
As for Hoskins, he homered in his second at-bat wearing the double-flap rig. As he rounded the bases and approached home, he touched the two flaps, as if to say, "Yup, it's working!":
First ever double C-flap homer gets a double C-flap celebration, too pic.twitter.com/C2jfvVlho0

— Ben Harris (@byBenHarris) June 9, 2018
(My thanks to Todd Savage and John McMunn for their contributions to this section.)
• • • • •
[adrotate group="2″]
• • • • •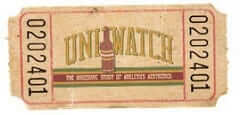 Raffle results: The winners of the "Gridiron Mishmash" posters are Nick Werner and Shawn Dobbins, and the winners of the Vintage Brand canvas prints are Wolfie Browender and Marc Rivlin. Congrats to them, and thanks to all who entered.
More raffles coming soon, and I'll also be publishing a the transcript of an interview I recently did with "Gridiron Mishmash" illustrator Alex Bennett, so stay tuned for that.
• • • • •
[adrotate group="2″]
• • • • •
Naming Wrongs update: We have three new Naming Wrongs designs to share with you today. This will be our last round of product for a while (in part because designer Scott Turner is busy moving across the country, and in part because we've now dealt with pretty much every stadium and arena we had on our list). One at a time:
The Corner: Lots of people were asking for a Tiger Stadium shirt, but we're not doing anything that includes a team name, so we did "The Corner" instead. There are two styles — one involving street signs (available in navy and orange) and one with a more conventional type treatment (in navy, orange, and grey):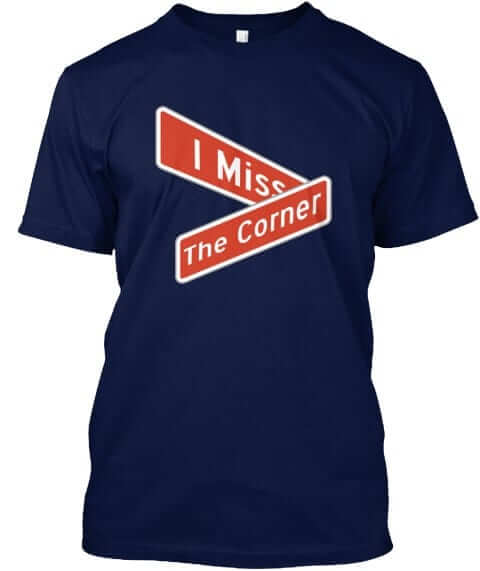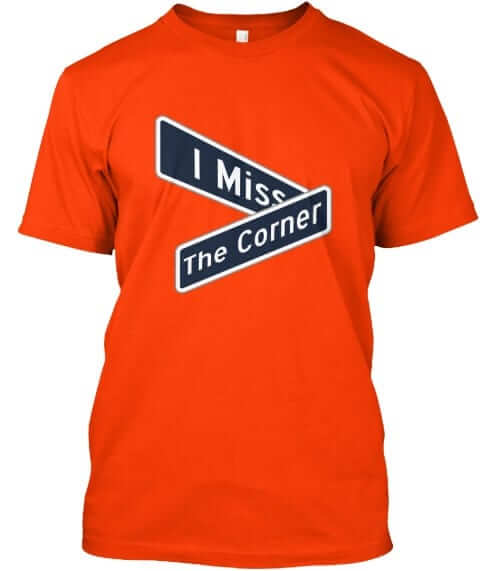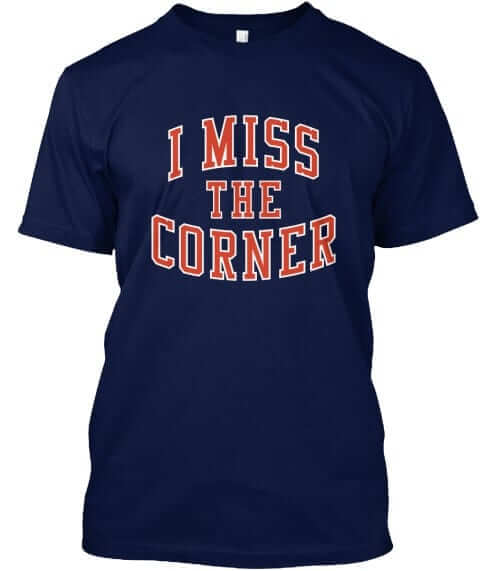 Taylor Field: This one's for CFL fans. I've been told it is likely to be one of our biggest sellers. Available in green and grey: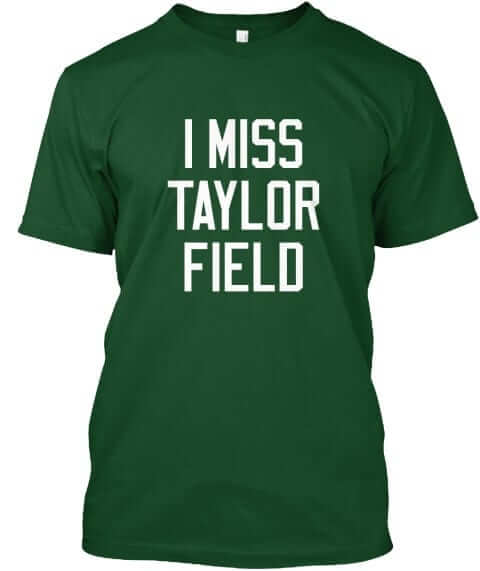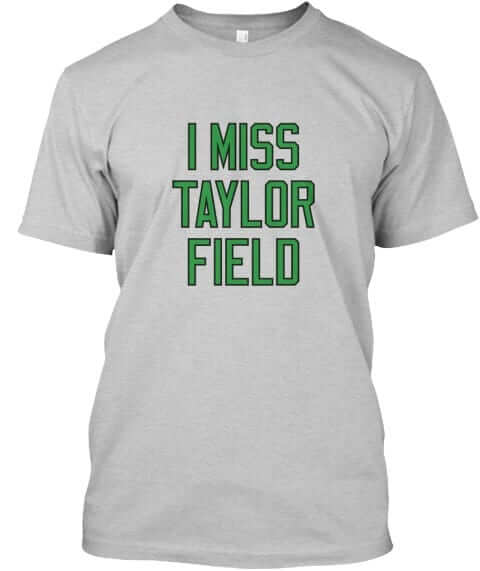 Frank Clair: Another CFL design. Available in black, red, and grey: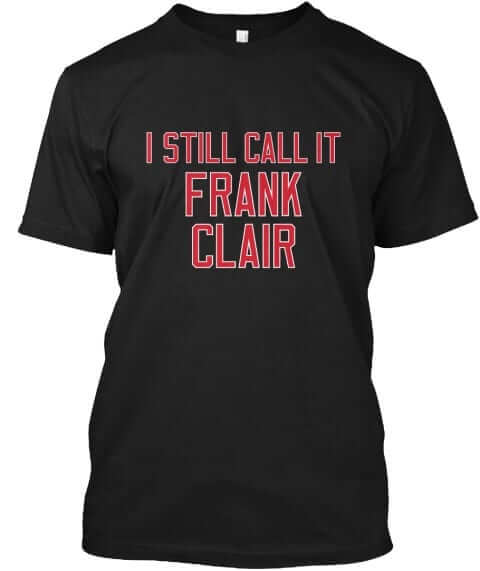 In addition, in case you missed it last week, we also have new designs for the Georgia Dome, the Omni, and McNichols Arena. Full details here.
These designs are now available in the Naming Wrongs shop. They're also cross-listed in the Uni Watch shop, where card-carrying members can get 15% off. (If you're a member and need the discount code, send me a note and I'll hook you up.) My thanks, as always, for your consideration.
• • • • •
[adrotate group="2″]
• • • • •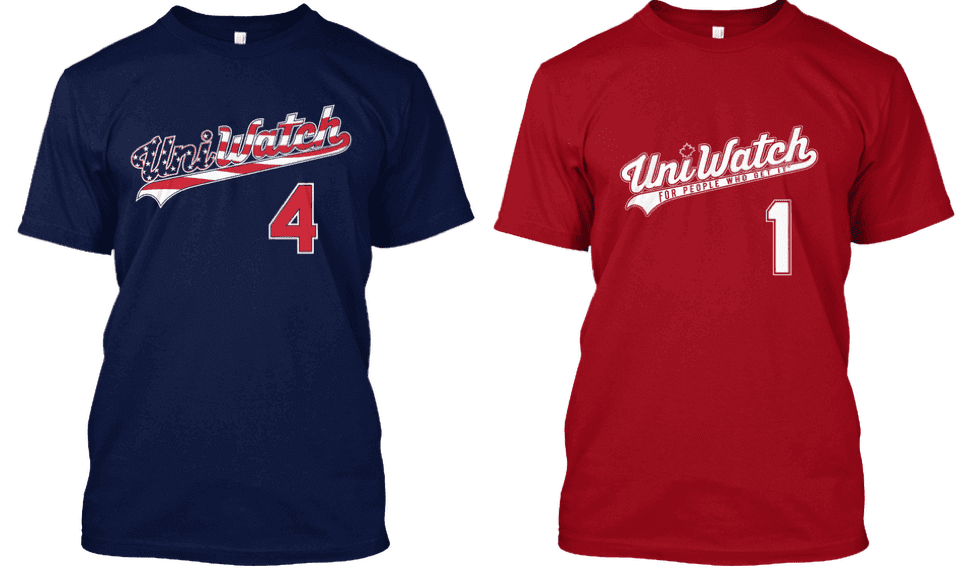 Holiday shirt reminder: Although our respective heads of state aren't exactly presidents of each other's fan clubs at the moment, the United States and Canada remain close allies with lots in common.
That includes the two major holidays that we celebrate in early July — Canada Day on July 1 and Independence Day on July 4. You can get Uni Watch shirts for either holiday (or both holidays!) by ordering now — the Independence Day shirt is here and the Canada Day shirt is here. Thanks.
• • • • •
[adrotate group="2″]
• • • • •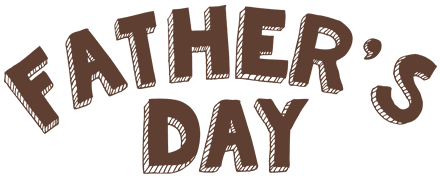 And now a few words from Phil: Sunday is Father's Day, and I'll be continuing my annual tradition of posting photos of "Dads in Uniform." It's something I began doing in 2013, and continued in 2014, 2015, 2016, and again last year, and I'm looking forward to keeping it going strong.
This year, based on a suggestion from reader Bill Hetrick, I've decided to add photos of equipment your father used and passed down to you. For more details on that, look here.
If you'd like to have a photo of your dad (or uncle or granddad!) featured this Sunday, or if you have a piece of equipment he passed down to you, please send me an email along with a photo (just one, please) and a short description (100 words or less) by this Thursday, June 14, midnight Eastern. I'll run all the submissions this Sunday. Thanks.
• • • • •
[adrotate group="2″]
• • • • •
The Ticker
By Paul, pinch-hitting for Jamie

Baseball News: Cleveland OF Melky Cabrera's batting helmet decal was coming loose yesterday (from Ed Hahn). … Prior to yesterday's A's game, there was a very nice tribute to equipment manager Steve Vucinich, to mark his 50 years (!) with the team. Additional info here and here (big thanks to Terry Mark). … Reds P Austin Brice is another player who wears a uni-numbered belt, although one of the numerals is usually covered by his belt loops (from Joanna Zwiep). … Yankees OF Aaron Hicks hit a ball that went through an open bullpen door at Citi Field two nights ago (from Mike Chamernik). … For reasons that aren't clear, at least to me, Mississippi State RF Elijah MacNamee ran from the outfield to the bench in order to get a new cap last night. Maybe the first one didn't fit properly.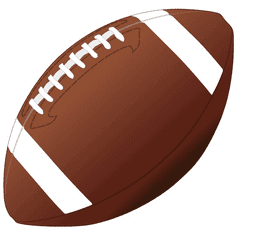 Football News: Good shot of two Houston Oilers wearing two different number fonts. … Several Bengals players are wearing new helmet models during OTAs. That article also includes this: "Others have noticed that the black striping painted on the new helmets during the spring sessions is slightly different from player to player, and that is due to a manufacturer error. When the players reconvene for training camp at the end of July, the striping will be once again be uniform across the locker room" (from David Sonny and Patrick O'Neill). … A series of NFL team tumblers lists the city name and team name for each club, except for the Raiders tumber, which doesn't mention the city. … Here's another article on the impending demolition of the Akron Rubber Bowl (from @OlegKvasha).

NBA News: Here are some unused logo concepts that didn't make the cut for the Nuggets' recent redesign. … Oh baby, check out this awesome St. Louis Hawks mini-van (from Erik Spoonmore). … Brian Sanford has compiled a good site devoted to this past season's NBA uniform matchups.

Soccer News: New crest for Edinburgh City (from our own Jamie Rathjen). … Here's a pretty cool video showing Japanese Daruma dolls being painted in World Cup design patterns (from Jeremy Brahm). … Chelsea has a new sleeve advertiser (from Ted Kerwin).

Grab Bag: Kenya Sevens, the country's national rugby union team, has stoked controversy by covering up their jersey ad as a way of protesting the fact that the players hadn't been paid. … A NJ dry cleaner uses its hangers to promote their affiliation with various NJ pro teams (from @KlimmyOnSporps). … "The National Lacrosse League's new championship trophy was presented to the Saskatchewan Rush in the deciding game on Saturday night in Saskatoon," says Wade Heidt. "The Rush elected to wear their alternate uniforms at home during the championship series, creating an interesting color-vs.-color matchup, with Saskatchewan wearing their lime green alternates while the Rochester Knighthawks wore their usual road purple." … Tennis pro Roger Federer is reportedly leaving Nike and signing on with Uniqlo (from Blake Fox).
• • • • •
[adrotate group="2″]
• • • • •

What Paul did last night two nights ago: Last month I wrote about Brooklyn artist Mac Premo and his Rube Goldberg-like double play machine. While reporting that story, I kinda hit it off with Mac and his wife, Adrianna, so on Saturday they invited us to their place for their third annual Maryland crab fest, which was a hoot. Lots of people, lots of beer, and lots and lots of crabs. We hope to return the favor by having them over for a crawfish boil sometime soon!