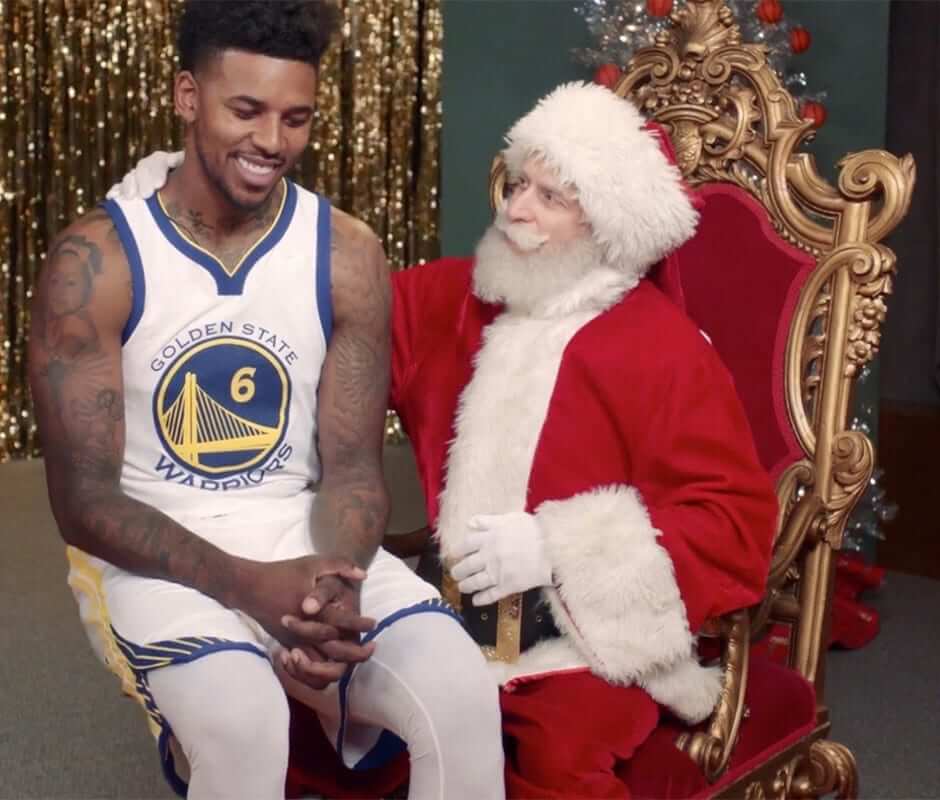 Last month I reported that the NBA Christmas uniform program, which was suspended in 2017, would be returning in 2018. The same source who told me about that says that the NBA and Nike have made some changes on the fly.
Here's what I originally reported:
As usual, there will be five Christmas Day games. All 10 teams will have new uniforms for the occasion. The home teams will only wear the Christmas uniform on Dec. 25; the five road teams will have an additional opportunity to wear their Christmas uni for one home game at a later date.
And here's the updated info from my source:
Instead of the 10 teams who play on Christmas Day, it will now be the [previous season's] 16 playoff teams that get the additional uniforms. They'll debut, I believe, if the team plays on Dec. 25, but they will also be able to wear them whenever they want after that. I've seen 14 of the 16 jerseys — all except the Pacers and Jazz. Those two teams won't be available at retail till February '19 however.
I said to my source, "So it sounds like these will be more like additional alternate uniforms, not really Christmas uniforms," and he said, "Correct."
Man, never a dull moment in the NBA uni-verse, eh?
• • • • •
[adrotate group="2″]
• • • • •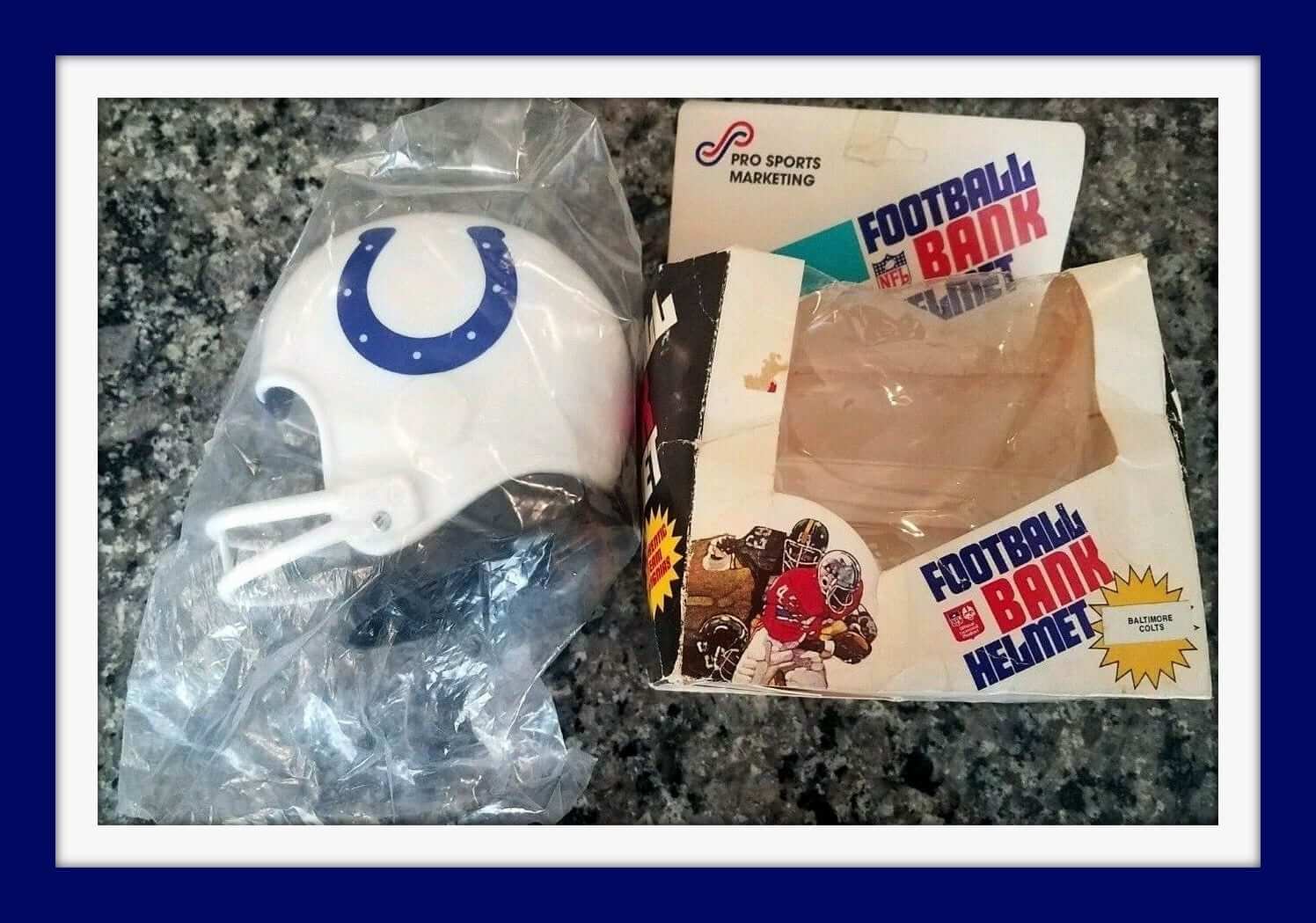 Collector's Corner
By Brinke Guthrie
While we've seen many bank-sponsored ceramic NFL helmets, they have always had that same look with the metal facemask. This model for the Baltimore Colts is made of plastic and is and from a different maker. (A Broncos model in this same style is here.)
The back of the box has an illustration showing a kid putting his hard-earned allowance into the bank. He hasn't yet learned that at that age, anything with an NFL logo usually compelled you to part with your money (at least in my case).
Now for the rest of this week's picks:
• Eagles fans, show your Super Bowl-winning spirit on your bike with one of these vintage NFL Team Bike Tags. This is for a set of three (in case you have three bikes!).
• This 1960s L.A. Lakers bobblehead is in absolutely perfect shape.
• This set of 1970s MLB mini-pennants is still in the package!
• This American League Caps N Bats kit is in perfect condition! The seller also has the National League, as well as a pair of NFL goalpost kits.
• This late-1970s/early-1980s Milwaukee Brewers glass with the great "ball in glove" logo was sponsored by WTMJ Channel 4.
• One more for the Brew Crew: this 1970s Barrel Man watch.
• Had one of these! "Today's 1971 Cincinnati Reds" contained a team stamp set and fun facts about the team. I used to take the stamps and line them up on the table in their on-field positions. Notice that the one for the Reds had a different cover than the one for the Tigers. Separate artwork for the AL or NL.
• A couple of different 1970s light switch cover designs here, for the Houston Astros and the Chicago Cubs.
• This 1970s decanter of shaving lotion will have you smelling like, well, a Chicago Bear. The seller has several other teams to pick from. Does shaving lotion stay in good condition after all these years?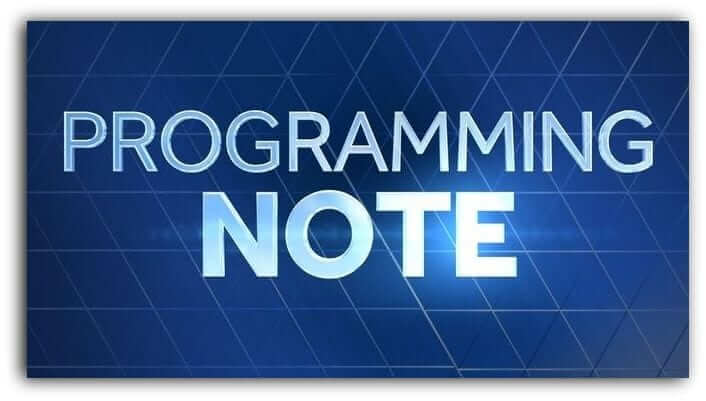 • Staying with Da Bears, here's a 1988 poster of several Monsters of the Midway saying hello to a Minnesota Vikings quarterback.
​

And now a friendly programming note: For the next two Tuesdays — May 22 and May 29 — Collector's Corner will appear on the Uni Watch Facebook page, instead of here on the blog. It will return to its usual spot on three weeks from today, June 5.
Seen an item on eBay that would be good for Collector's Corner? Send any submissions here.
• • • • •
[adrotate group="2″]
• • • • •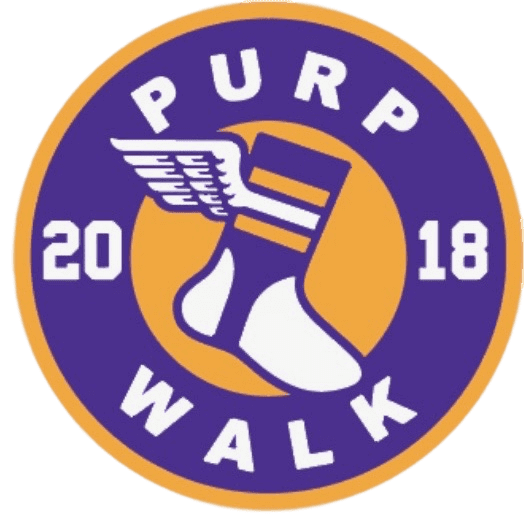 Purp Walk update: This Thursday, May 17, is this website's 12th birthday. That means it will also be time for our annual Purple Amnesty Day celebration, when I grudgingly salute the world's most accursed color.
As I mentioned yesterday, we're going to be selling a purple cap this year. Designer Bryan Molloy and I were trying to decide whether we should include a sticker and/or a custom hang tag as part of the package. Then Bryan came up with a really good idea of doing a vinyl sticker that doubles as a hang tag. Dig (for all of these photos, you can click to enlarge):
It's hard to see there, but the purple part is the tag, and the white outline of the script is where you can peel the sticker.
Pretty cool, right? The cap will be $26.99, and we're also offering the sticker by itself for $3.99 (just in case anyone wants to get in on the Purp Walk fun but isn't into caps).
A few notes about the cap:
1. The cap is an unstructured purple snapback with white mesh, featuring the 2018 Purp Walk logo on the front. It's made by Richardson. Here it is from a variety of angles: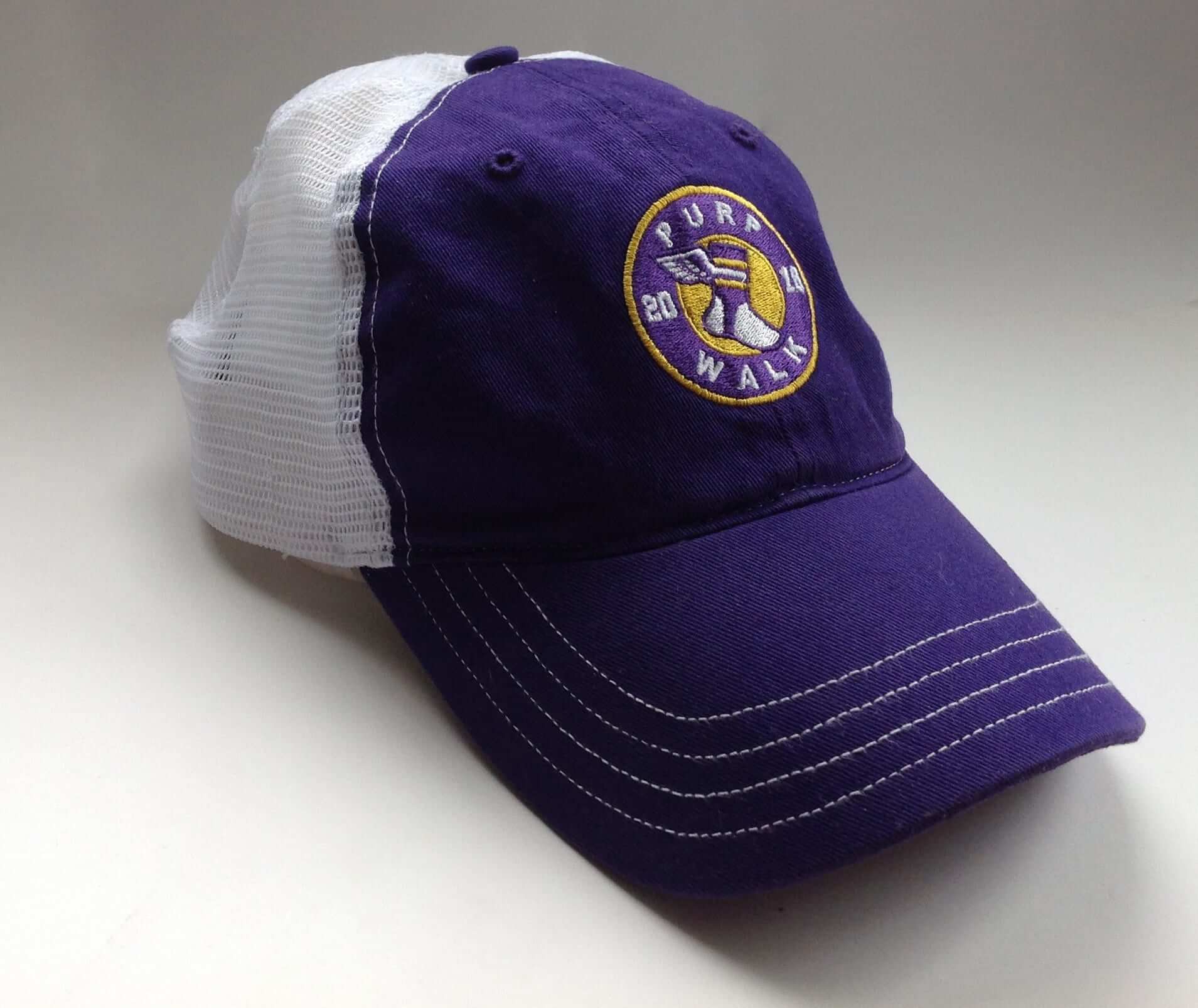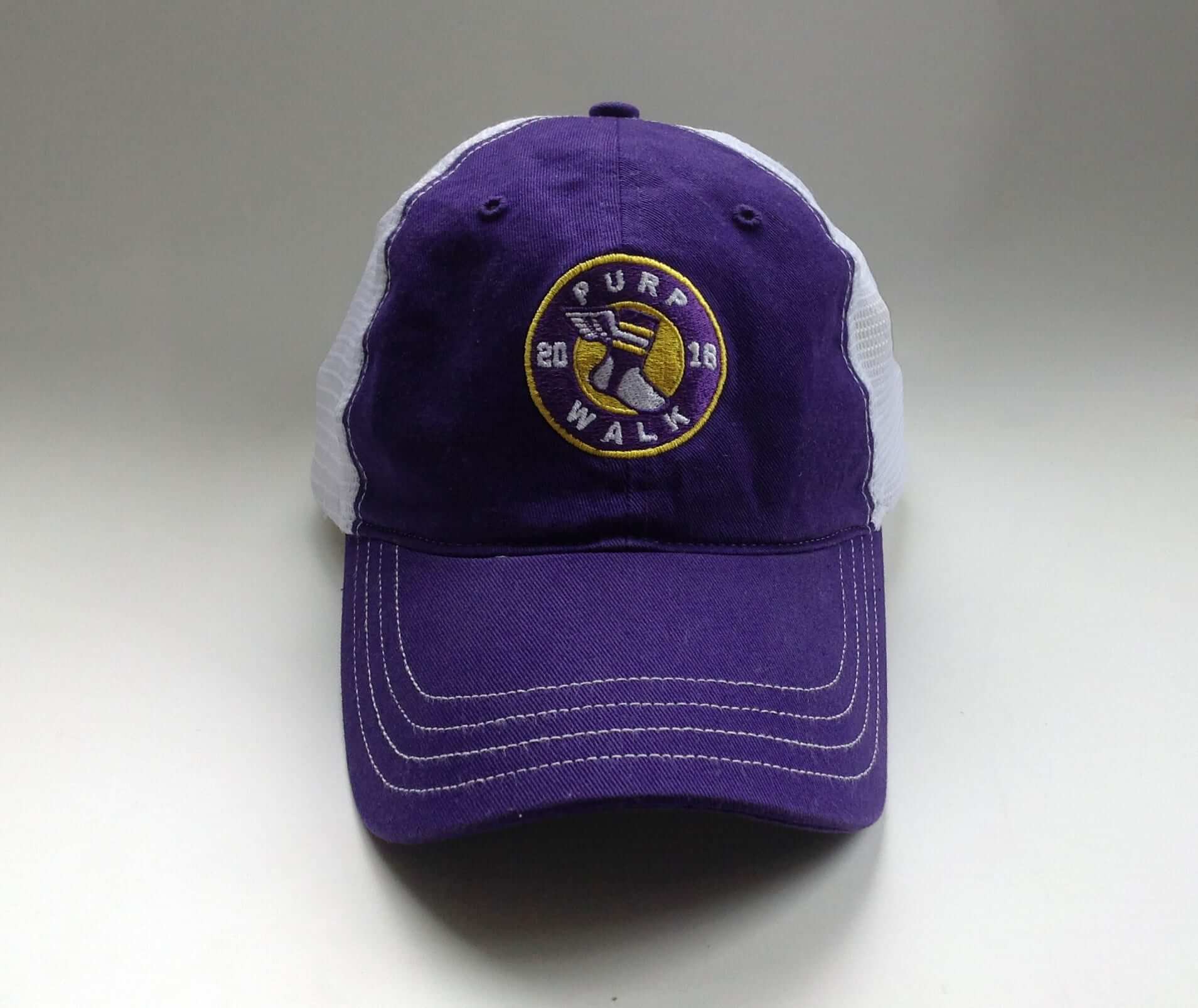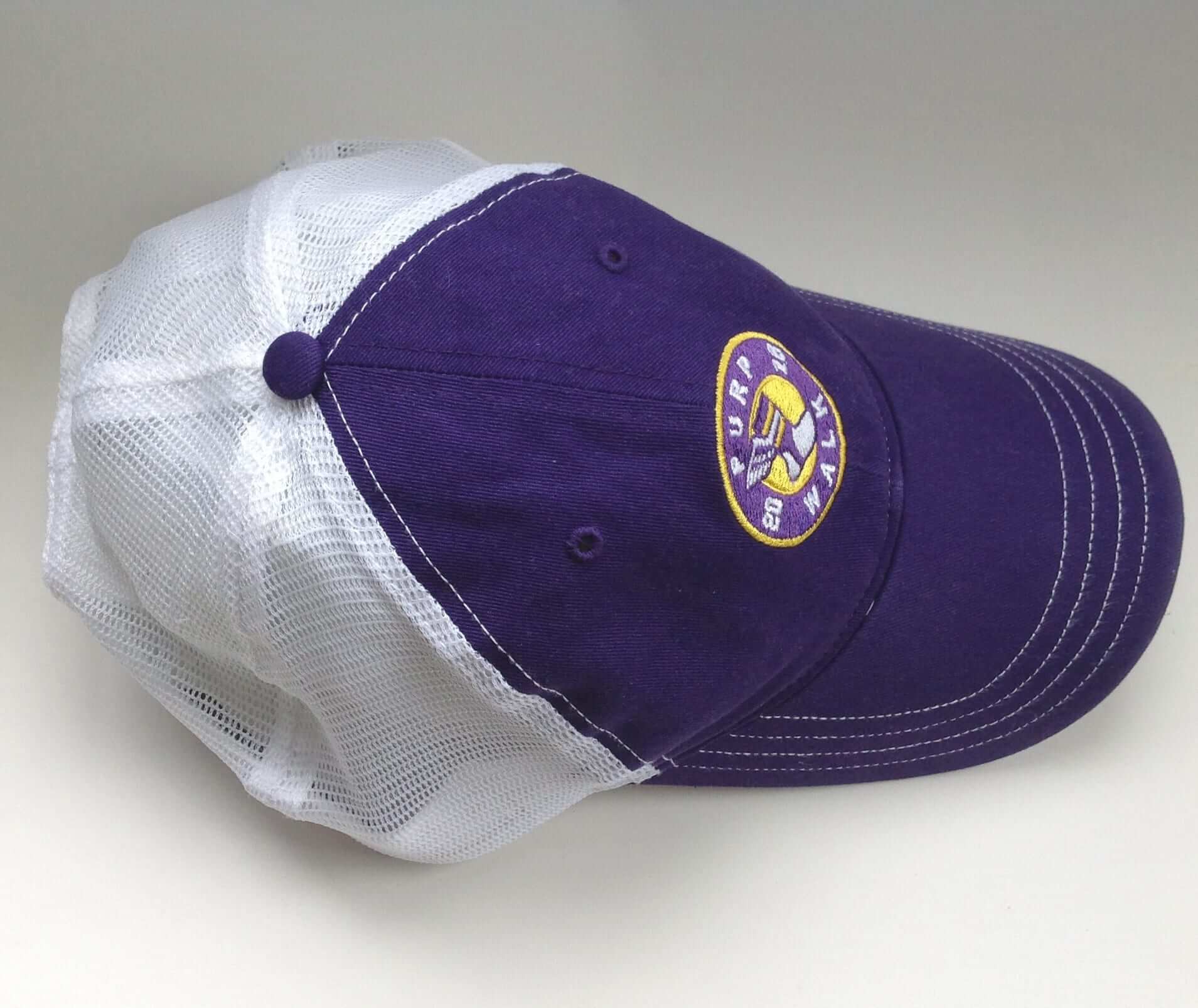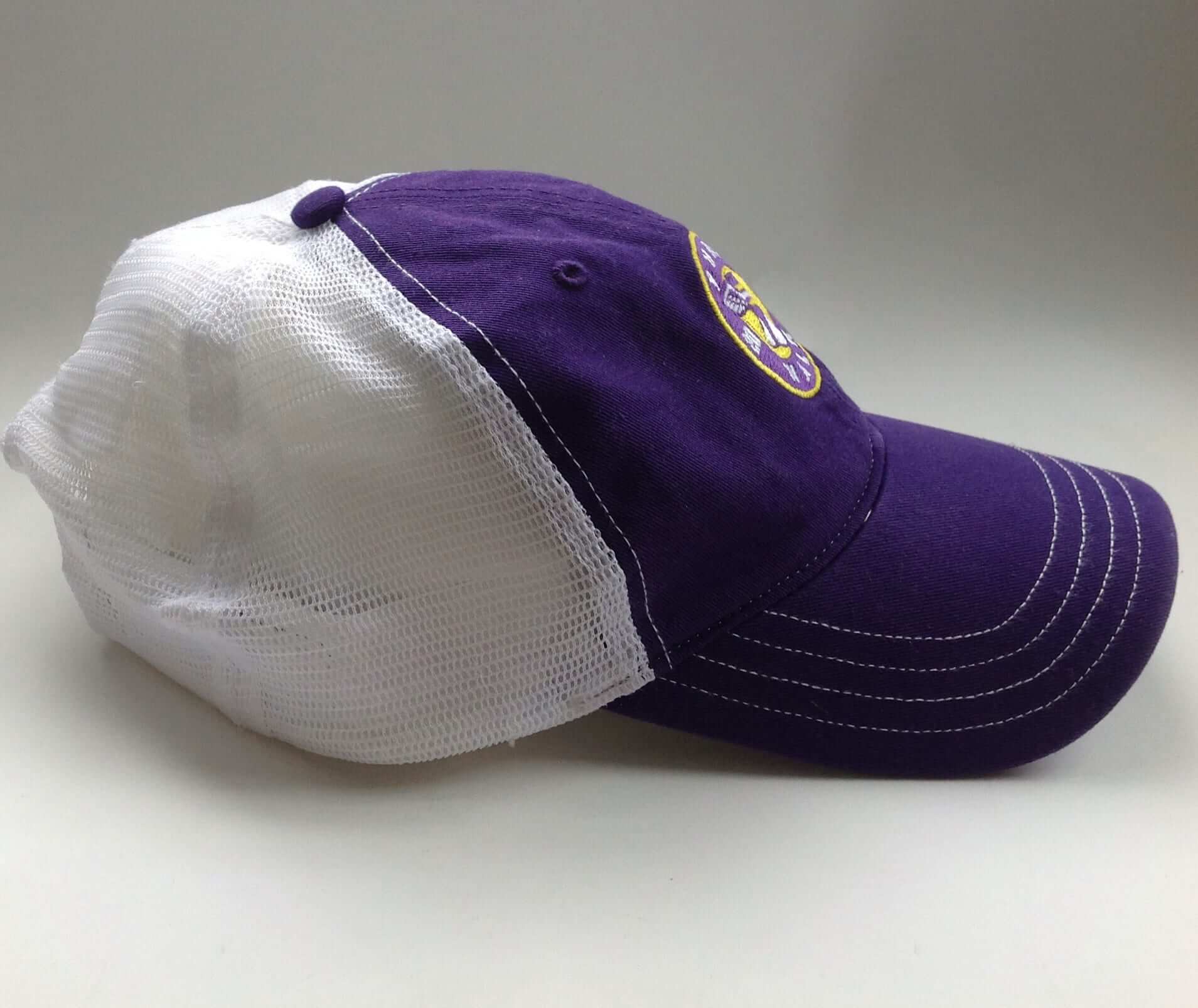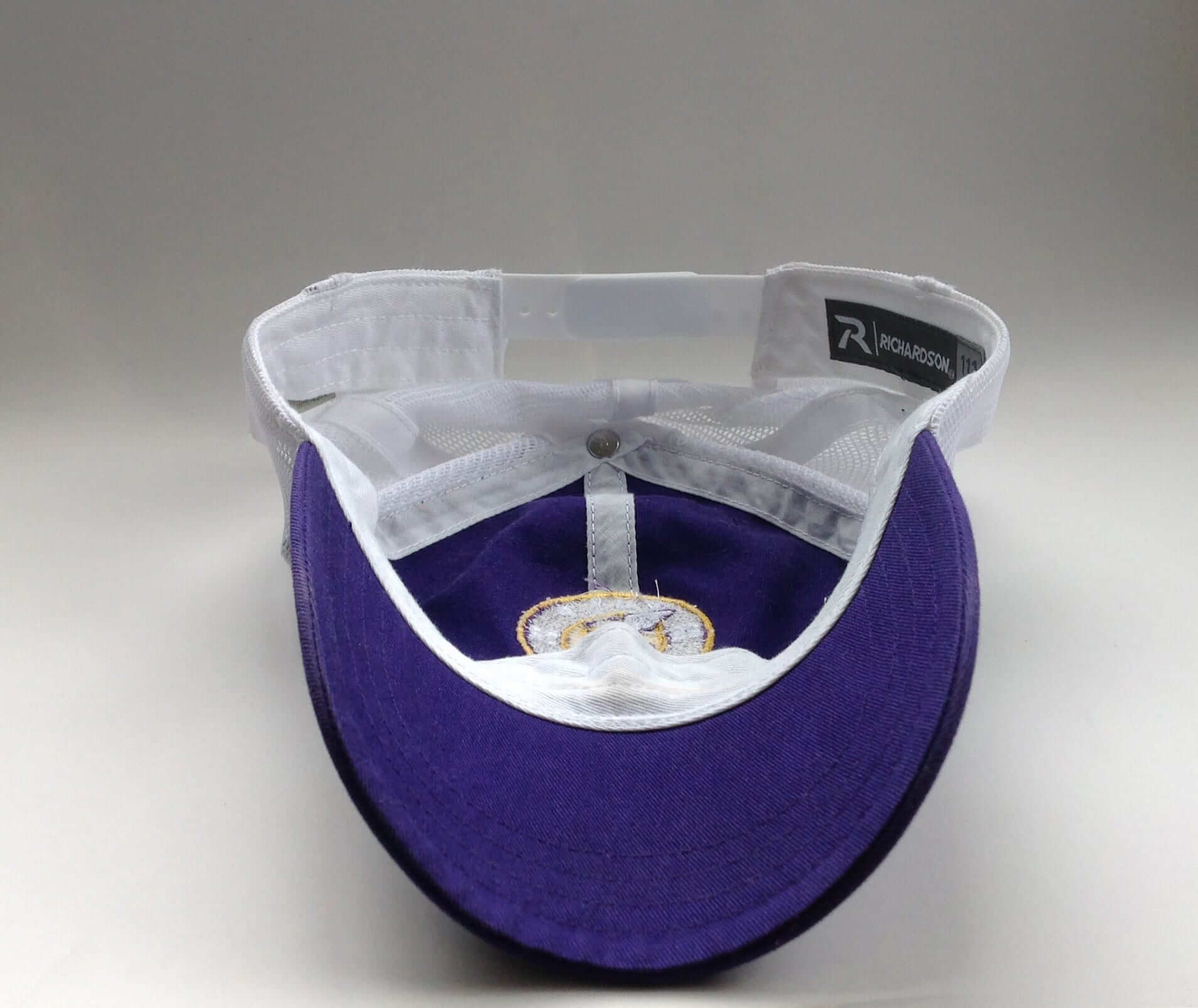 2. When I say it's unstructured, I mean it's really unstructured — it's very smushable, and it conforms pretty closely to the wearer's head (in this case, Bryan's):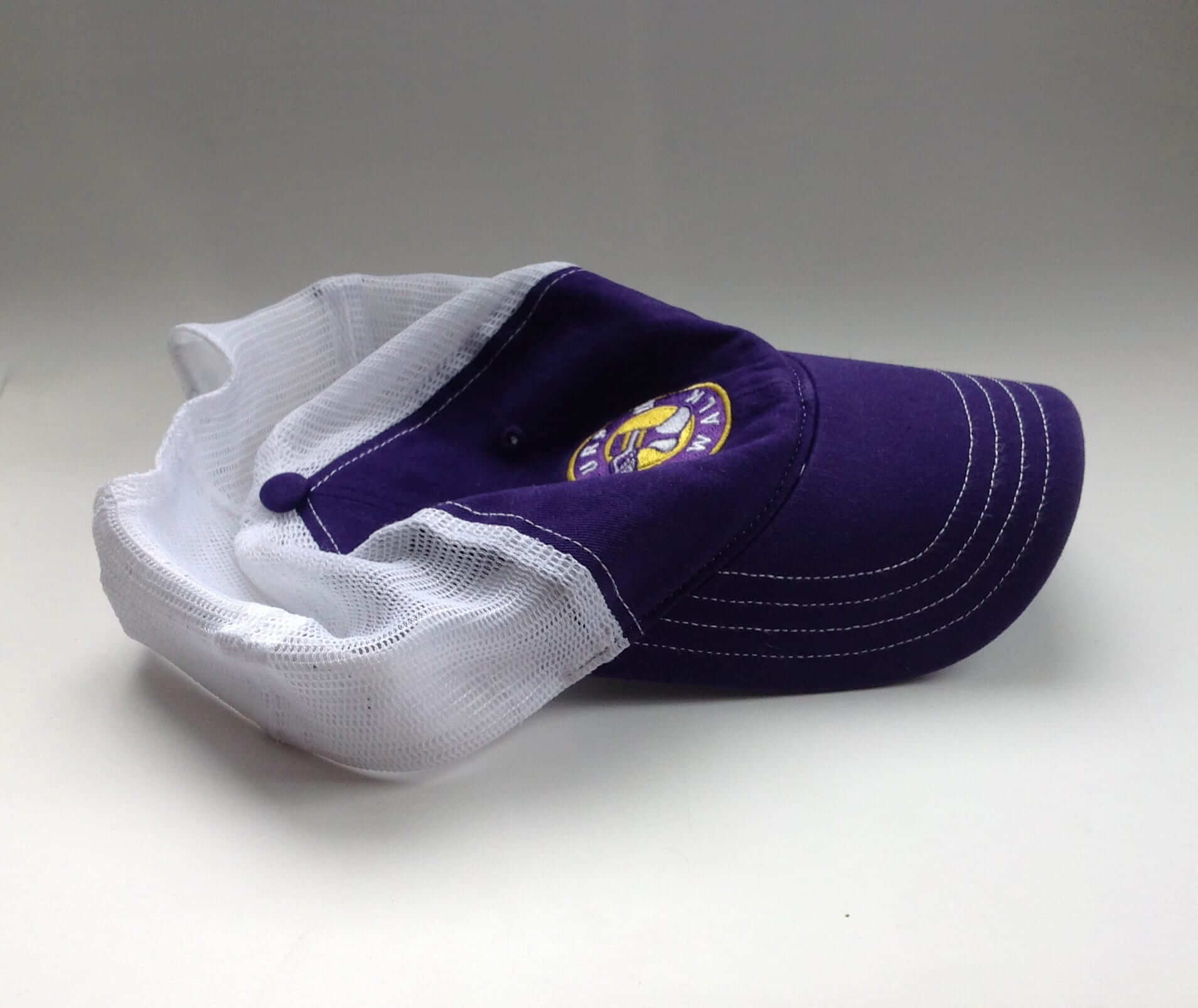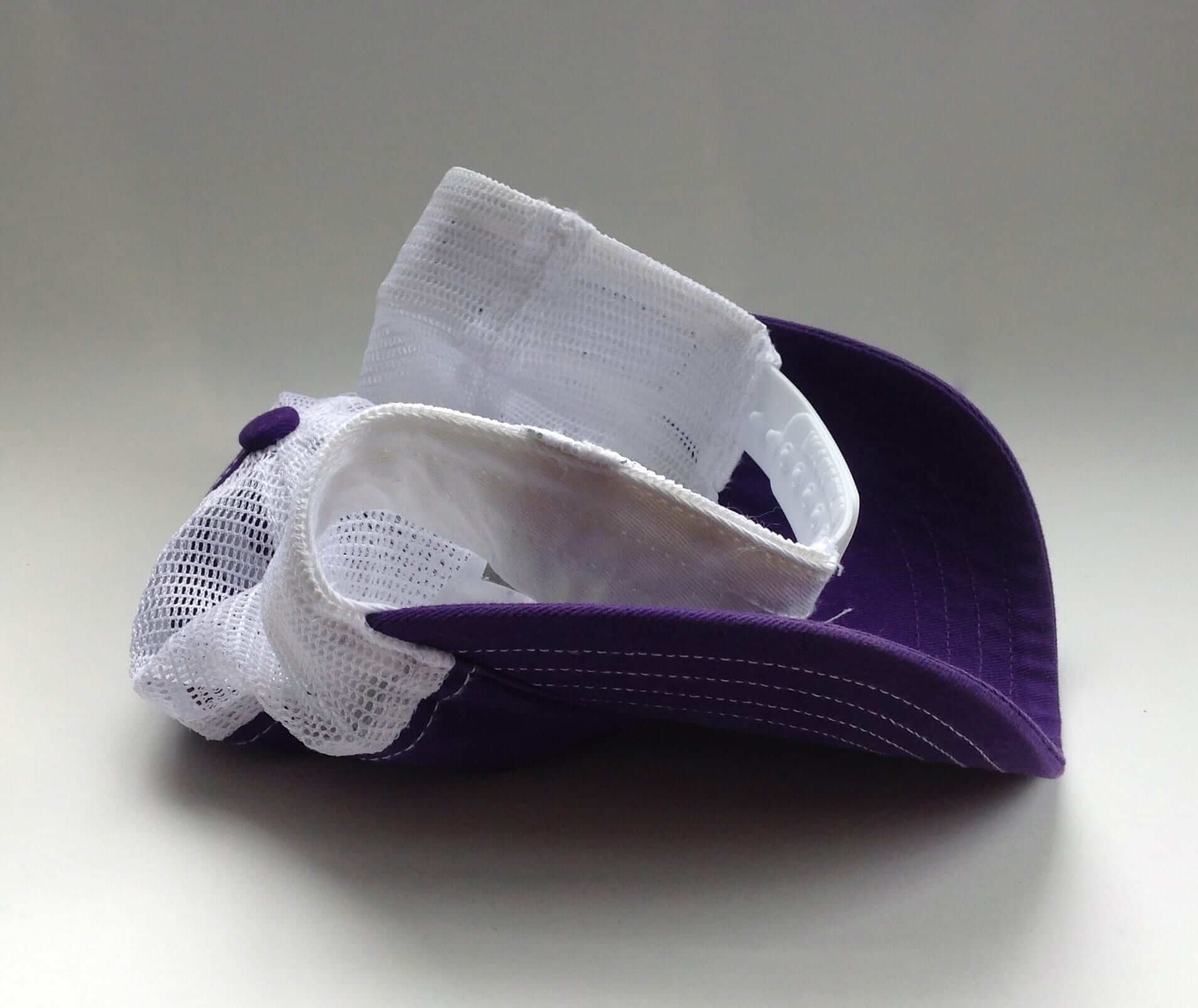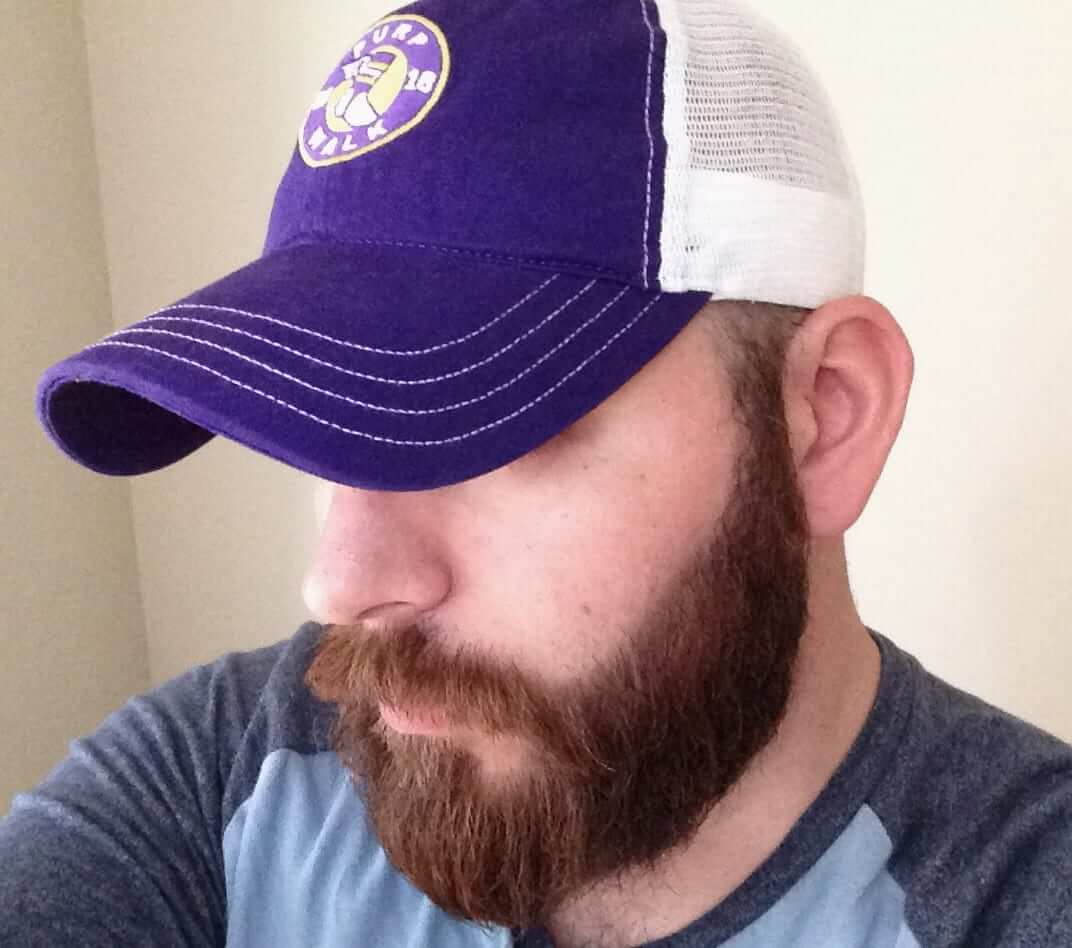 3. Due to a miscommunication, the cap has a maker's mark, which of course bugs me no end. The good news is that it's on the snapback panel, not on the fabric of the cap itself, and it's white-on-white, so it's pretty easy to overlook.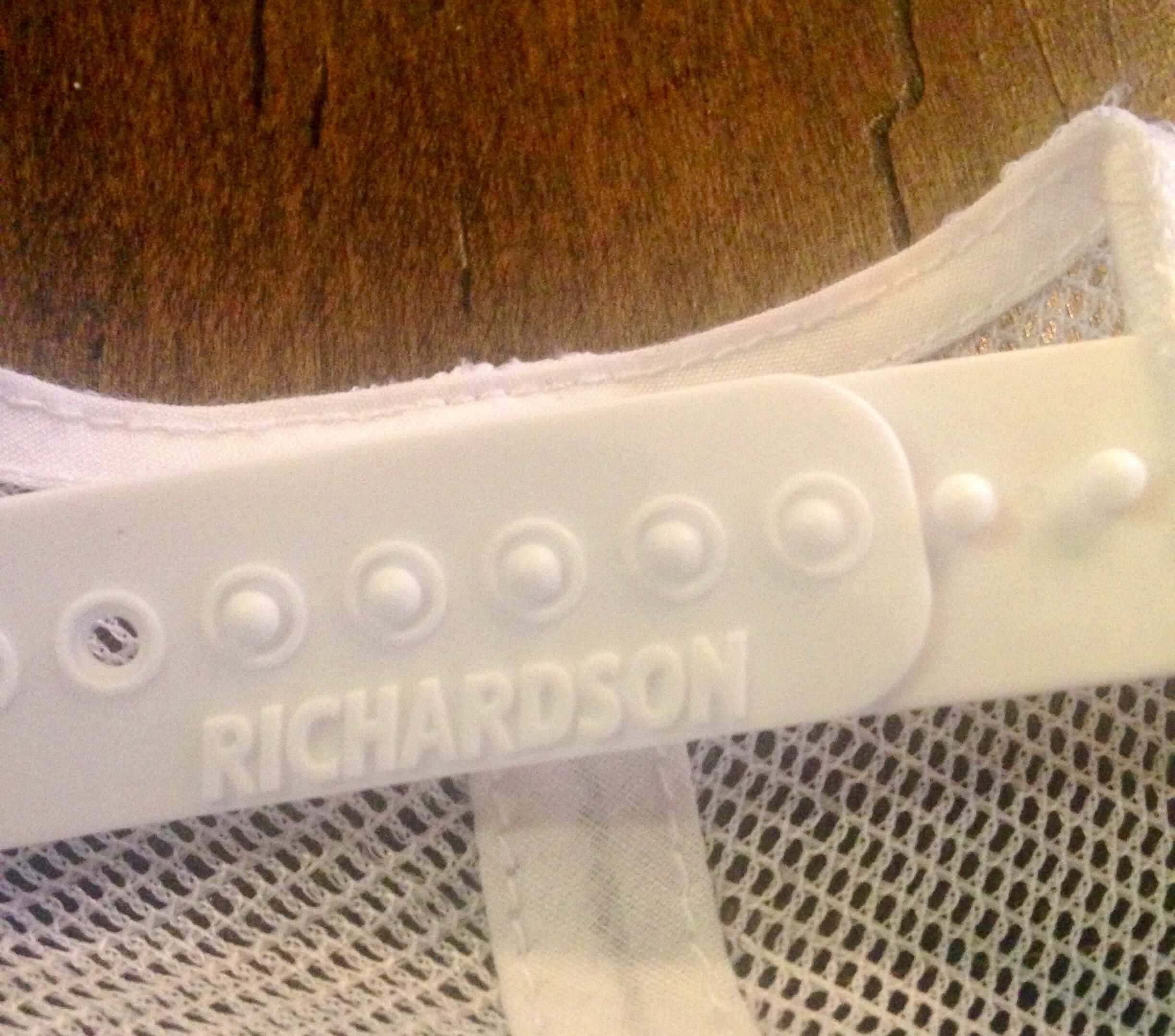 That's about it. The cap and sticker will go on sale tomorrow night at midnight Eastern (I'll tweet the web listing link at that time, and will also post it here on the blog) and will be available for 24 hours — no more, no less.
Doubleplusthanks to Bryan for collaborating on another great project. Looking forward to this year's Purp Walk!
• • • • •
[adrotate group="2″]
• • • • •
Cap update: Readers are already receiving their Uni Watch caps from Ebbets Field Flannels (I still don't have mine yet!), and they look great. Check it out:
@UniWatch @EbbetsVintage Mail day!!! pic.twitter.com/K1g7FGgpxa

— Chris McCabe (@PhilsFan629) May 14, 2018
Beautiful new @UniWatch cap from @EbbetsVintage arrived just now. Crown seems a tad taller than WWII-era EFF caps but not as structured as their 1970s models. pic.twitter.com/vMkvrsZlgX

— Scott Rogers (@rscottrogers) May 14, 2018
.@UniWatch Very nice cap from @EbbetsVintage. Came nicely wrapped in the box. Also like the attached ballpark ticket tag. pic.twitter.com/4ur3OVyDaP

— Thomas Tell (@ThomasTell) May 14, 2018
A little spring overhaul of the collection. @UniWatch @EbbetsVintage pic.twitter.com/9W61XCYeNO

— Jordan Mayblum (@JMayblumJGPR) May 15, 2018
That last shot is of longtime reader John Kimmerlein, who snagged one of the last fitted caps before we sold out of all the fitted sizes. We still have several dozen of the adjustable caps, which have a very nice brown leather strap on the back. You can order yours here, and we'll have the fitted sizes back in stock by the end of June.
• • • • •
[adrotate group="2″]
• • • • •
Membership update: I've always said that the worst jersey designs make the best membership cards. Case in point: William Beebe's new card (shown at right), which is based on the Tampa Bay Lightning's late-1990s storm-themed jersey.
Remember, a Uni Watch membership card entitles you to a 15% discount on any of the merchandise in our Teespring shop. (If you're an existing member and would like to have the discount code, email me.) As always, you can sign up for your own custom-designed card here, you can see all the cards we've designed so far here, and you can see how we produce the cards here.
• • • • •
[adrotate group="2″]
• • • • •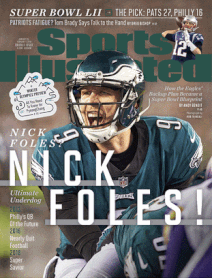 Magazine reminder: In case you missed it yesterday, we've partnered with Blue Dolphin Magazines to offer the lowest available prices for a few dozen magazine titles, many of them sports-related.
Uni Watch will get a small commission for anything you subscribe to, so this is a nice way for you to save some money while also helping out Uni Watch (and supporting print journalism while you're at it).
If there's a magazine you're interested in that isn't shown on the ordering page, feel free to give me a shout and I'll try to get it added.
My thanks, as always, for your consideration.
• • • • •
[adrotate group="2″]
• • • • •
The Ticker
By Alex Hider

Baseball News: Though the Phillies have abandoned 3D helmet logos on their red helmets, a few players still have raised logos on their blue helmets — but not everyone. … The Cubs and Braves played a Jackie Robinson Day makeup game yesterday, meaning all uniformed personnel wore No. 42. In addition, Will Lawson points out that this is the first time Braves starter Julio Teheran has worn grey in 2018 (from Brian Murphy and Jason Revzan). … Speaking of the Cubs, P Steve Cishek is the latest player to wear PF Flyer cleats on the field. He joins teammate Ben Zobrist, Reds 3B Alex Blandino and others in wearing the cleats (from Tyler and @IV159QZ). … Good catch by SD Hat Guy, who noticed that the "S" on the Padres' throwback batting helmets completely overlaps the "D." The letters should be interlocking. … The Double-A Portland Sea Dogs wore pink-sleeved faux vests on Sunday for Mother's Day (from our own Anthony Emerson). … There will be a ton of creative promotional nights in minor league baseball this weekend. This blog previews 10 of them (from  Phil). … Players for the Woodberry Forest School in Virginia wear white striped stirrups over white sanis during home games (from Chris Holmes). 

NFL News: The Eli Manning memorabilia fraud trial, which also involved Giants equipment director Joe Skiba, has been settled. … We've all seen the iconic 1961 Life photo featuring all 14 starting QBs tossing a pigskin. Here's a quick story about how it all came together (from Gregory A. Shemitz). … Good video explaining why former Steeler DL L.C. Greenwood began wearing his signature yellow cleats (from @TomlinReactions). … More on those Greenwood cleats: "They were technically a violation, and there was a fine every week," says Jerry Wolper. "The Steelers were willing to pay the fines." … Speaking of footwear, Complex put together a comprehensive list of all the cleats worn by Super Bowl MVPs from @GameplanChicago). … Not only does this photo feature former Dolphins QB Bob Griese wearing his thick-rimmed glasses, but check out his patchy helmet striping! Looks like they ran out of striping decals and had to piece something together with scraps (from Ed). … Jay Pritchard received this free calendar from his local DAV chapter which contains a very Cowboys-esque star. … Apparently, a recent visitor to a bathroom at the San Francisco Airport is not a fan of the Packers (from Matthew Wolfram).

College Football News: Per Guy Haberman, Ryan Leaf used to wear an ABC College Football hat on the sidelines when his Washington State Cougars would play games on ABC. … North Texas will be playing on a new carpet next year with a new design (from ColorWerx).

Hockey News: A women's rec league player recently breastfed her baby in the locker room between periods of a game while still in uniform below the waist. She shared the photo in the hopes of destigmatizing breastfeeding (from John Hamilton).

NBA News: Rockets G Gerald Green showed up to last night's playoff game wearing a Houston Dynamo soccer jersey (from Ignacio Salazar). … An artist gave the Raptors' old logo a redesign to make it more scientifically accurate. … If you have $400 laying around, you can now buy classic NBA jerseys without team names, nunbers or NOBs (from Will Ricks). … This is more than a week old, but Angel McCoughtry of the WNBA's Atlanta Dream appeared in a photo shoot with the logos on her sneakers covered up.

College Hoops News: This Kentucky blog ranked the 10 best Wildcat uniforms in program history (from Phil). … Speaking of Kentucky, it looks like the thin shoulder straps on the Wildcats jersey forced the graphics team to get creative when photoshopping a new recruit in a Kentucky jersey (from Michael Kinney).

Soccer News: Atlético Madrid's 2018-19 home kit has leaked (from Josh Hinton). … An Arsenal fan showed up at a recent game with a No. 22 jersey with a "Merci Arséne" NOB. The jersey honors coach Arséne Wenger, who is set to retire after this season after 22 seasons (from Ramblin Culper). … Bugeaters FC of the UPSL tweeted some behind-the-scenes photos of how their new uniforms were made (from Douglas). … Roy of the Rovers is a British comic strip about a soccer star who plays for a team called the Melchester Rovers. Yesterday, the illustrators tweeted that the team's badge will be getting a makeover (from Alex Evans). … Cross-listed from the NBA section: Houston Rockets G Gerald Green showed up to last night's playoff game wearing a Houston Dynamo jersey (from Ignacio).

Grab Bag: The Air Force is adopting a single combat uniform, which will use a camouflage pattern already used by the Army (from Phil). … Staying in the military, the Navy is updating its service dress white uniforms (from Chris Bisbee). … The New York Times recently published an in-depth piece about high-end sneaker shops (from Tom Turner). … Also from the Times, this column explores how the post-9/11 embrace of military symbolism, including jet flyovers and camouflage uniforms, has fueled political divisiveness in sports (from Ted Arnold). … Today in weird nicknames: Clayton Valley Charter High School (California) are known as the Eagles, but are sometimes referred to as the "Ugly Eagles" (from @pwillia). … The Toronto Tomahawks, who played in the National Lacrosse League in for a single season in 1974, had some pretty wild uniforms (from Will Scheibler). … Google Photos will soon be offering a colorization tool.