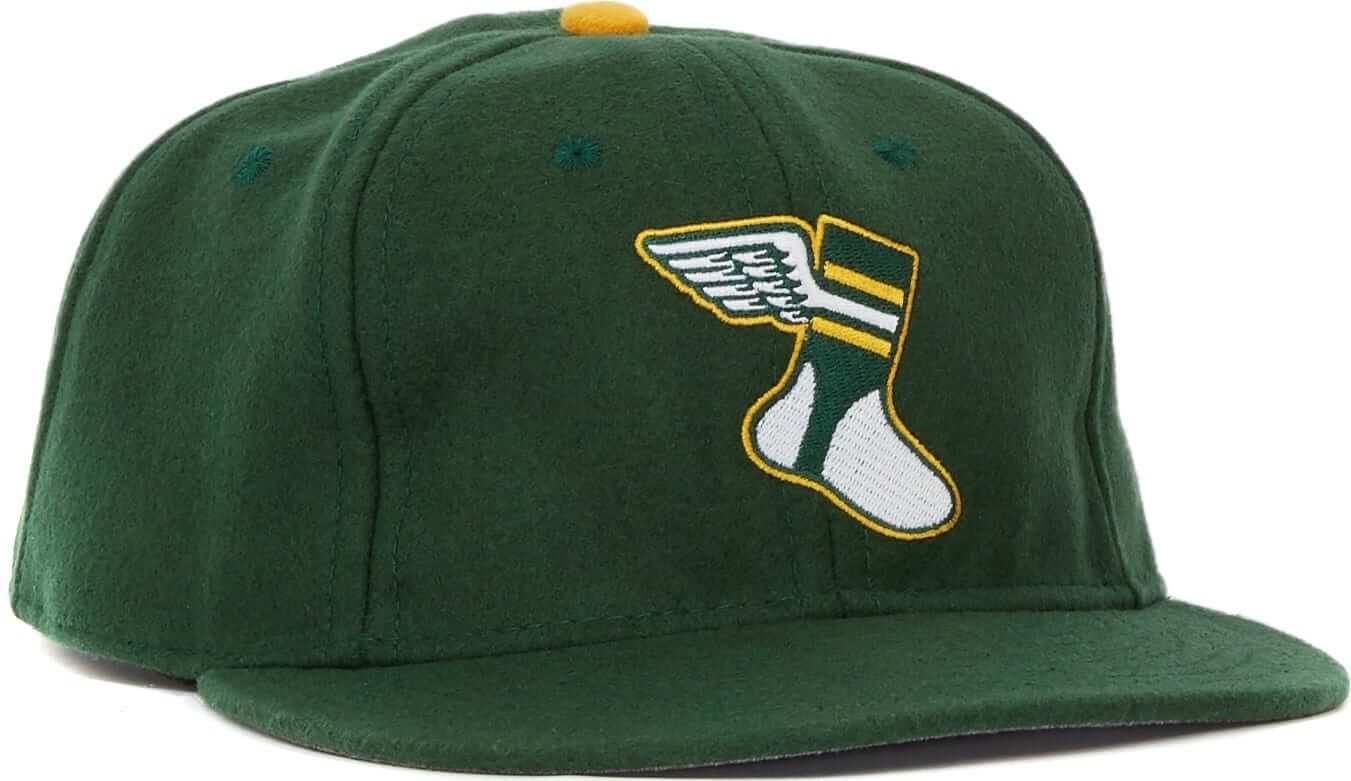 I'm happy to announce that the first Uni Watch cap is now available from Ebbets Field Flannels, and I'm really happy with the way it turned out. It comes in fitted sizes and is also available with a leather strap, and I'm proud to say that it's made in the USA. You can click on the photo shown at right to get a better look at the embroidery.
Here's how it looks on the inside, along with a rear view of the leather strap (click to enlarge):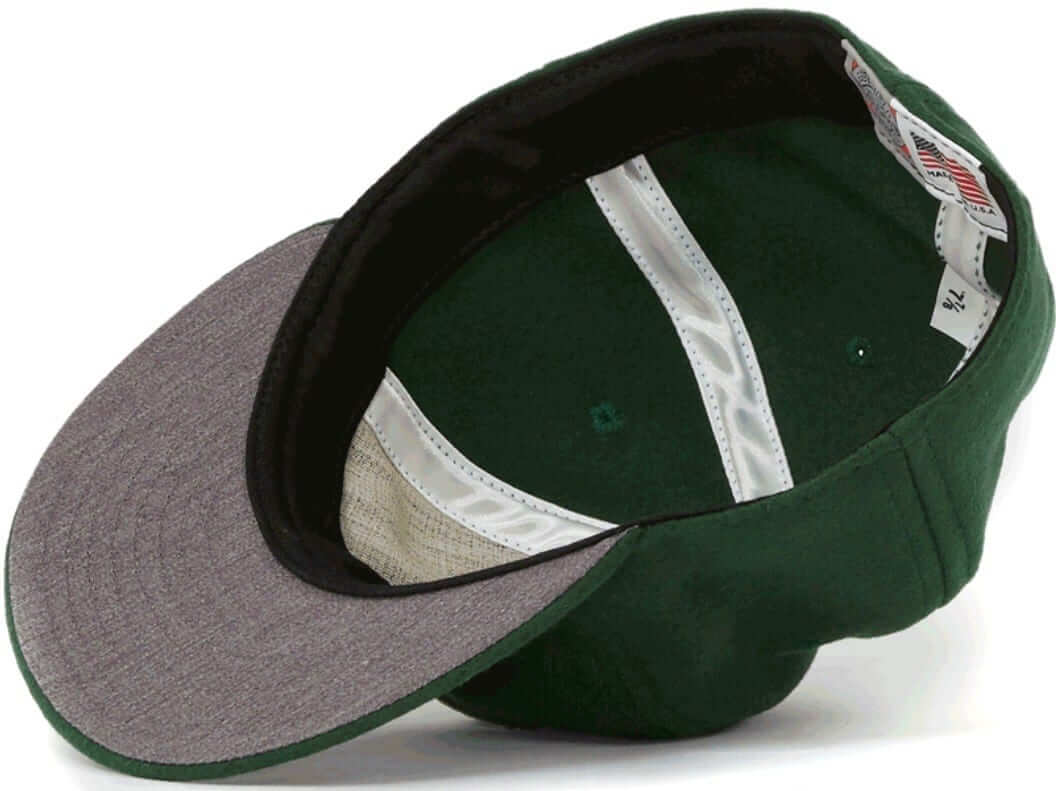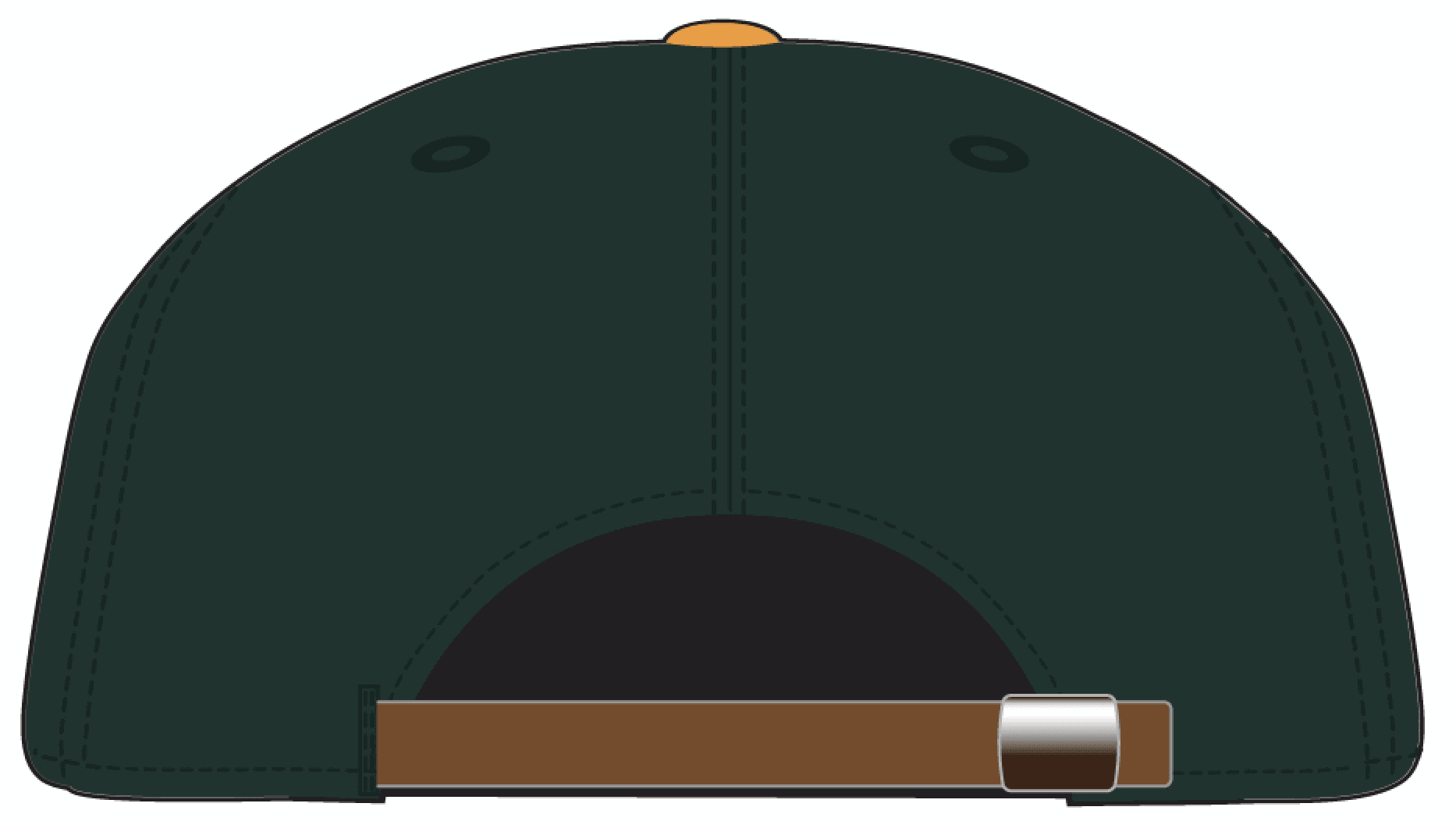 I want to thank the people at Ebbets Field Flannels for being so great to work with, and I also want to thank Bryan Molloy for coming up with the winged stirrup design, which looks great on a cap and will have a more prominent role on the website in the months to come.
Again, the cap is available here. We'll have a purple cap available next Thursday for this year's Purp Walk, and the "alternate" cap with the white front panel and the script on the back should be ready in late June-ish.
• • • • •
[adrotate group="2″]
• • • • •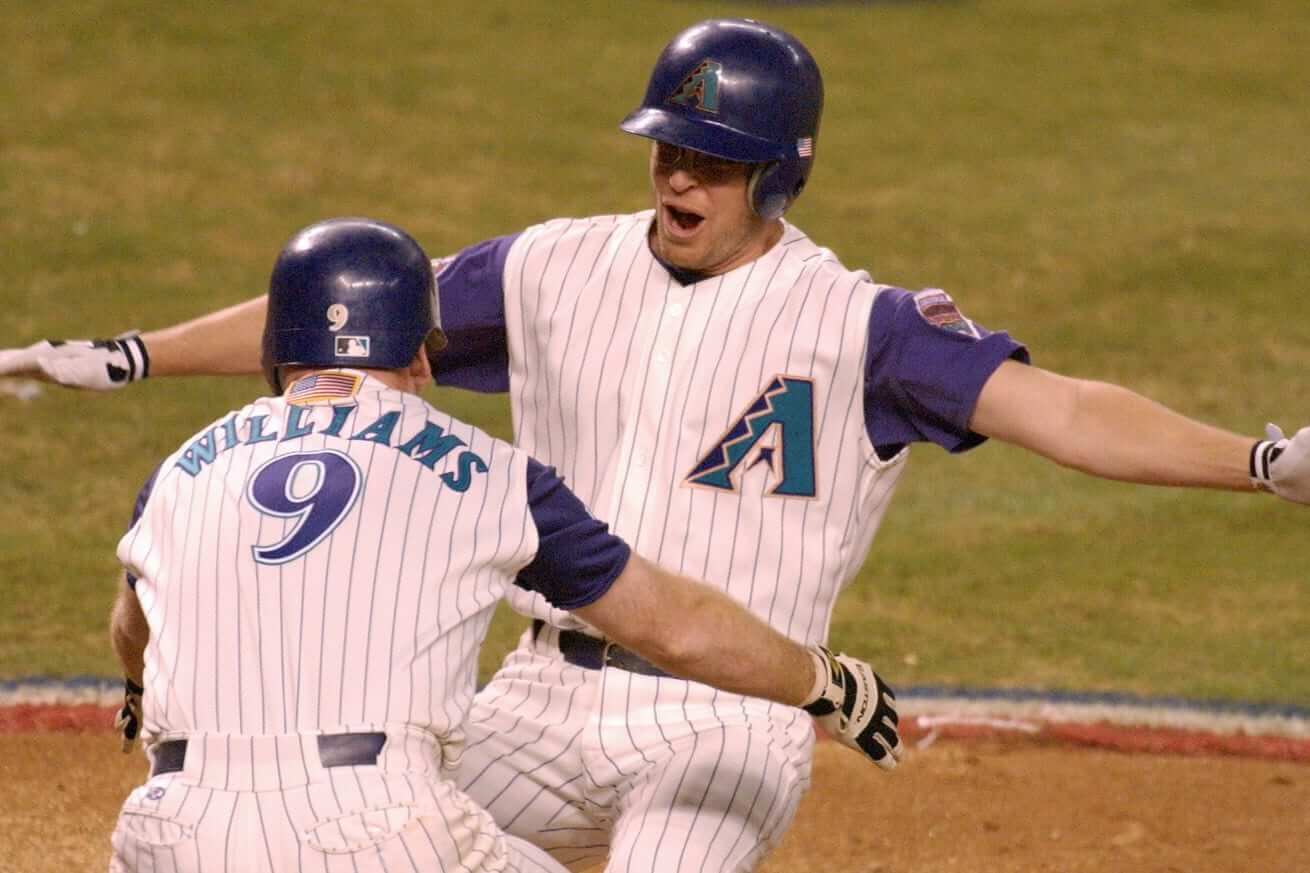 Friday Flashback: With the Diamondbacks wearing a series of throwbacks lately (they wore another one last night), I've written a Friday Flashback piece for ESPN about their original purple and teal set — which, you might be surprised to hear, I've come to like quite a bit. Check it out here.
• • • • •
[adrotate group="2″]
• • • • •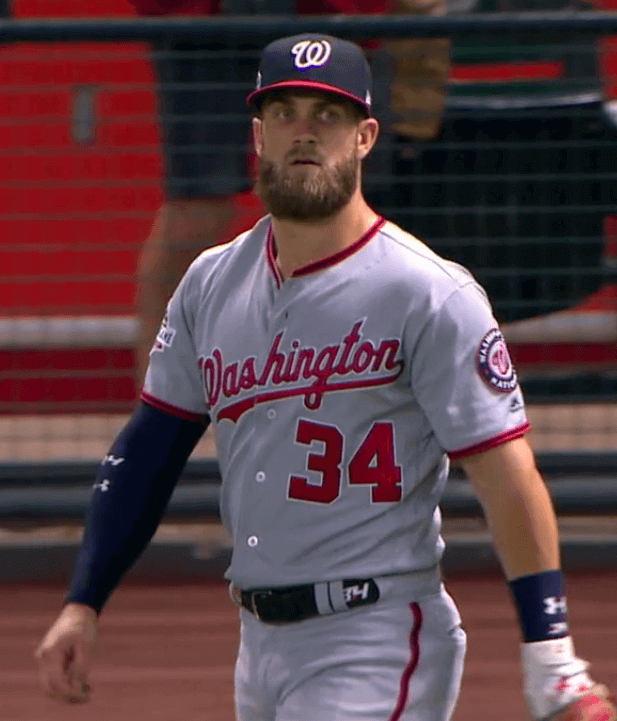 Belt watch, continued: I've written a few times now about MLB players wearing uni-numbered belts this season, and earlier this week I wrote about Matt Harvey's personal logo. Those two trends converged last night on Nationals outfielder Bryce Harper's belt, which carried his personal "BH/34" logo.
(My thanks to reader Evan Tvedt for spotting this one.)
• • • • •
[adrotate group="2″]
• • • • •
Membership update: Several new designs have been added to the membership card gallery (including Rachel Van Gessel's card, shown at right, which is based on the 2000 Purdue basketball team). I have one more slot open in the current batch, which means the next person to sign up will get his or her card very quickly.
Remember, a Uni Watch membership card entitles you to a 15% discount on any of the merchandise in our Teespring shop. (If you're an existing member and would like to have the discount code, email me.) As always, you can sign up for your own custom-designed card here, you can see all the cards we've designed so far here, and you can see how we produce the cards here.
Also: Remember that next Thursday, May 17, is Purple Amnesty Day — the only day of the year when I'll accept orders for purple-inclusive cards. All you Vikings, Northwestern, and Rockies fans, get ready!
• • • • •
[adrotate group="2″]
• • • • •
The Ticker
By Kris Gross

Baseball News: The Phillies have the National League logo in their on deck circle. … Speaking of the the Phillies, they wore their powder blue throwbacks yesterday, and PA announcer Dan Baker joined in on the throwback fun (from Blake Fox). … The Cardinals bought bulletproof cups after Yadier Molina's groin injury (from Brinke). … Yankees pitcher CC Sabathia seems to be perilously close to violating the team's beard ban (from Asher Hoffman). … Yankees slugger Aaron Judge will wear custom pink cleats on Mother's Day (from Pablo Murphy). … The Chattanooga Lookouts will celebrate Star Wars Night tomorrow with Stormtrooper jerseys (from Mike Covington). … The Lakewood BlueClaws will wear jerseys with pictures of fans' dogs for Bark in the Park tomorrow (from Minor League Promos). … We've got another orange vs. yellow matchup for you, this one between Sam Houston and SLU softball (from Chris Mycoskie). … White jerseys with difficult-to-read white outlined numbers for both Houston and UCF (from Jeff Sharon). … Check out this gorgeous 1983 Florida yearbook (from Eric Esteban). … Nats OF Andrew Stevenson's helmet logo appeared to be stretched out last night. … Speaking of the Nats, reliever Sean Doolittle last night became the second player to use the D-backs' helmet cart (from David Raglin).

NFL News: Cowboys rookies have to earn their helmet star. … @TomlinReactions with a cool find: Pittsburgh Pirates football jackets. "I think the video is from 1938, before the Rooneys changed the name to Steelers," he says. … This is what happens you have to make a NOB into a FIOB after the fact (from Pro Football Journal). … Here are the uni numbers for Broncos rookies (from Clint Dickinson).

College Football News: Arizona State head coach Herm Edwards thinks Sparky, not the pitchfork, should be the team's new primary logo (from Jason Hillyer). … Georgia Tech is getting rid of their "honeycomb" helmets (from Richard Musterer). … K-State has new turf (from Tyler Dreiling). … @pinkhippos10 spotted this awesome Penn helmet cart.

Hockey News: Here's a look back at Blues jerseys through the years. … Elton John has often worn baseball gear onstage, but here's a shot of him wearing a 1974 Team Canada hockey jersey (thanks Paul).

Basketball News: Skechers is suing Adidas for what basically boils down to secretly paying high school and college players (thanks Paul). … Skylar Diggins-Smith of the WNBA's Dallas Wings has a double-decker hyphenated NOB (from @TheSkyShowCHI).

Soccer News: Charlton Athletic midfielder Jake Forster-Caskey can only fit the first initial of his hyphenated last name (from Liam Hanley). … Real Madrid's 2018-19 home kits have leaked (from Josh Hinton). … Here is a look at all the confirmed and leaked Premier League kits (thanks Phil). … New home kit for Chelsea (from Ed Zelaski).

Grab Bag: It's time for the Indigenous round of the National Rugby League in Australia, where all teams have jerseys designed by indigenous artists (from @TheBigJamesG).