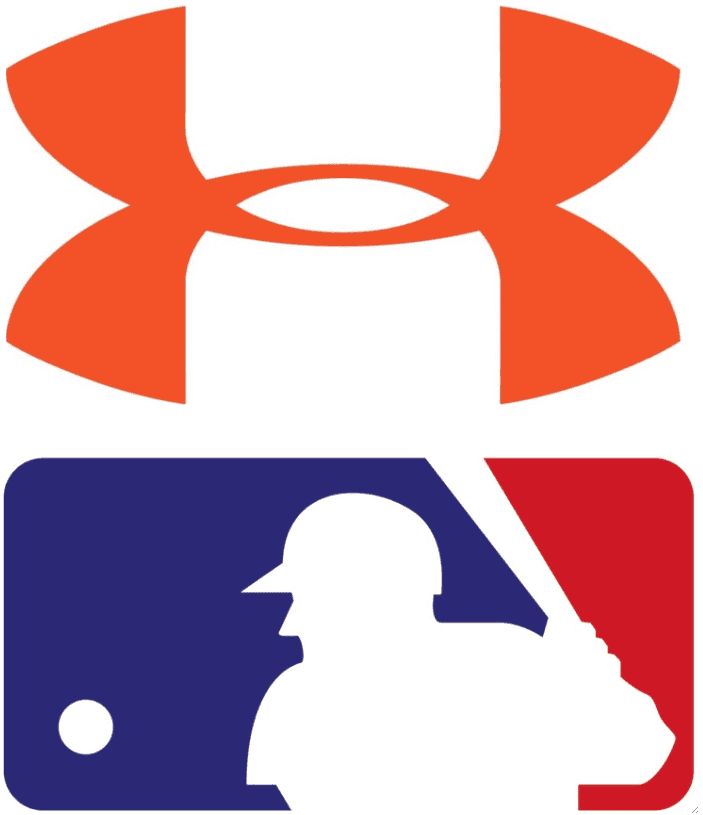 News broke yesterday that MLB's outfitting deal with Under Armour, which was originally announced to be going into effect in 2020 and was then moved up to 2019, is being pushed back to 2020 again. MLB teams will continue to wear Majestic jerseys and pants next season.
I was first tipped off about this last week, but it took me a few days to confirm it.
A few additional thoughts:
• For those of us who were dreading the sight of the UA logo on MLB jersey chests (unlike the Majestic logo, which is only on sleeves), this is good news. A year ago, when the transition date was moved up from 2020 to 2019, I wrote, "Man, it's like hearing your life expectancy was just reduced by one year." So, by the same token, this latest news is like hearing that you've been given an extra year to live, because it means the maker's mark will remain on the sleeve.
• Here's an additional tidbit that came up in my reporting: Although this wasn't announced anywhere (at least not that I saw), when the UA transition date was moved up to 2019 last year, that was only for the jerseys and pants — not for the base-layer shirts. The plan was to have UA jerseys/pants next season while retaining the Nike undershirts, and then have the undershirts transition to UA in 2020. Now that the UA transition has been pushed back, all of those elements will transition together in 2020.
• I'm sure you all know this already, but just in case: Caps were never part of the UA deal. They'll continue to be made by New Era.
• • • • •
[adrotate group="2″]
• • • • •
NFL helmet update: Last year Vicis (whose CEO I interviewed a few months ago) had the top-performing helmet in the NFL's annual helmet performance testing. This year it's more of the same: Vicis has the top two performing helmets in the latest round of testing, the results of which were released yesterday. Here are this year's rankings (click to enlarge):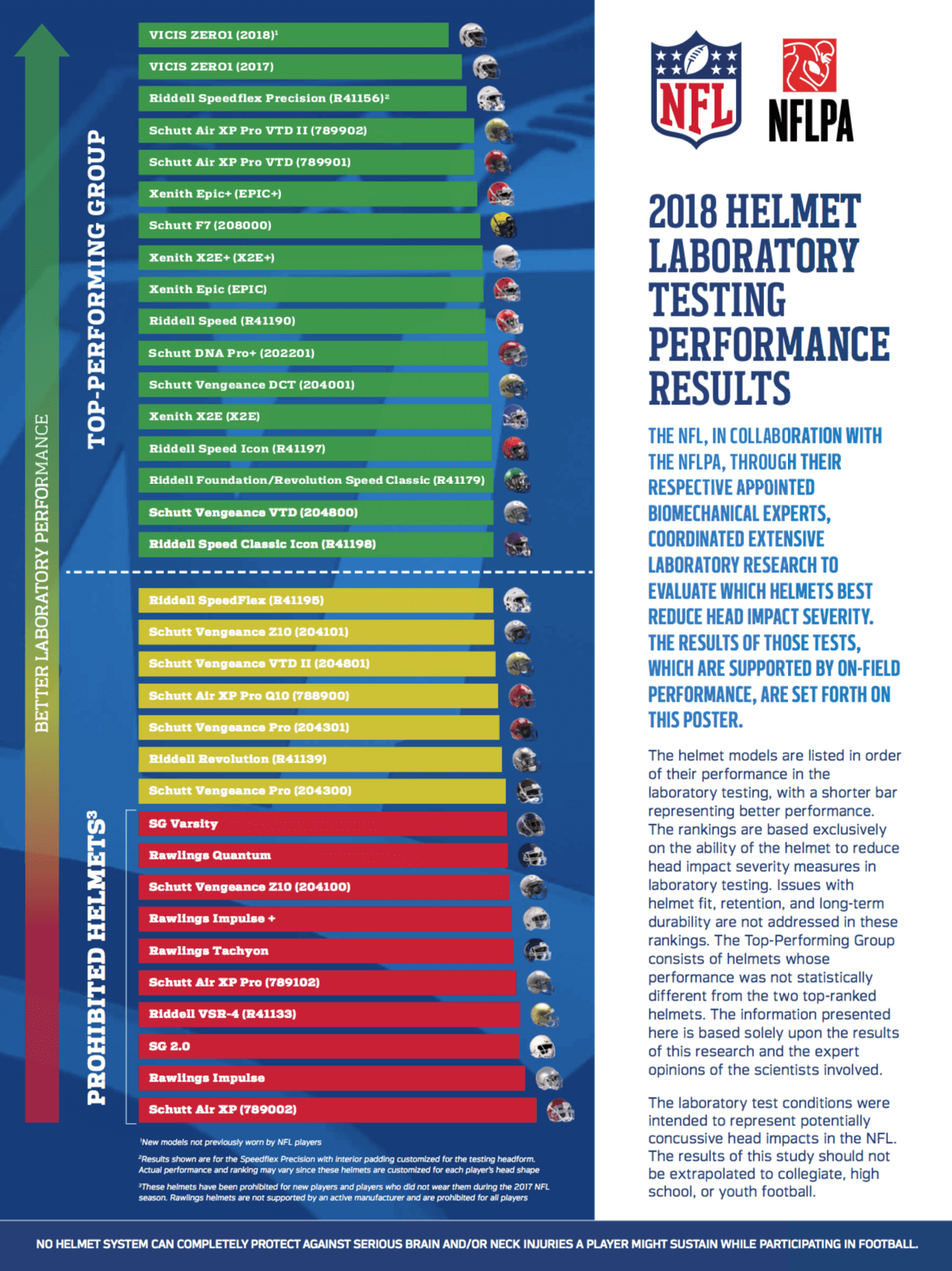 But this year the NFL did more than just rank all the helmets. They also listed 10 helmet models as "prohibited." Six of those 10 (including four from Rawlings, which no longer makes helmets) are banned immediately; the others can be worn in 2018 only by players who wore them in 2017. Sports Illustrated's Jenny Vrentas says this could affect up to 200 players (including Tom Brady).
I'm sure some of you are wondering whether this could have any effect on the one-shell rule. And the answer is: I don't know. Any change to the one-shell rule (and/or other NFL uniform rules) would have to be addressed at next month's owners' meetings.
As for other helmets I've written about: The Riddell Speedflex Precision-Fit ranked third, behind the two Vicis models. And the Schutt F7, which was designed in part by longtime Uni Watch reader/contributor Michael Princip, ranked seventh.
• • • • •
[adrotate group="2″]
• • • • •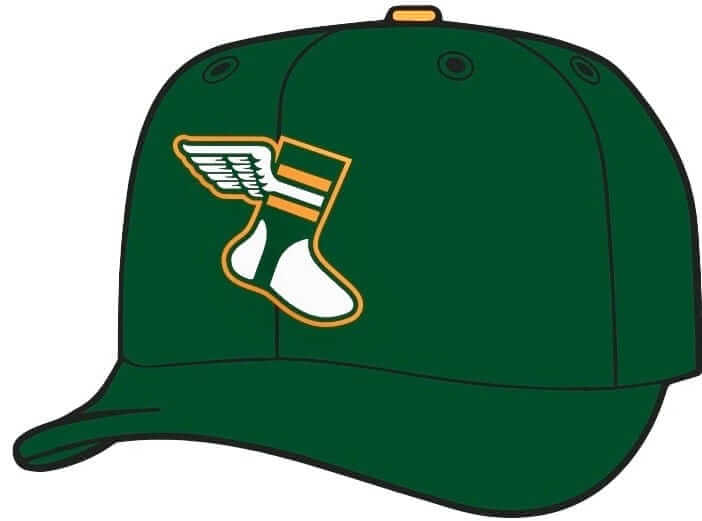 ITEM! Cap update: Some of you have been asking about the Uni Watch cap. Here's the latest on that:
1. We're going to have a "classic cap" that will look like the one shown at right (which you can click to enlarge) — green crown, green bill, yellow squatchee, embroidered logo with a gold outline. It will have a grey undervisor and will not have anything on the back.
2. The cap is being made by Ebbets Field Flannels and will be sold on their site. Like all of their caps, it will be lightweight wool and made in the U.S.A. It will be available in numbered fitted sizes and as a strapback. Like all Ebbets caps, it will sell for $49 (which includes shipping). Yes, I know that's a lot.
3. The cap should be available in early May.
4. In addition, we're going to have an "alternate cap," which will look like this: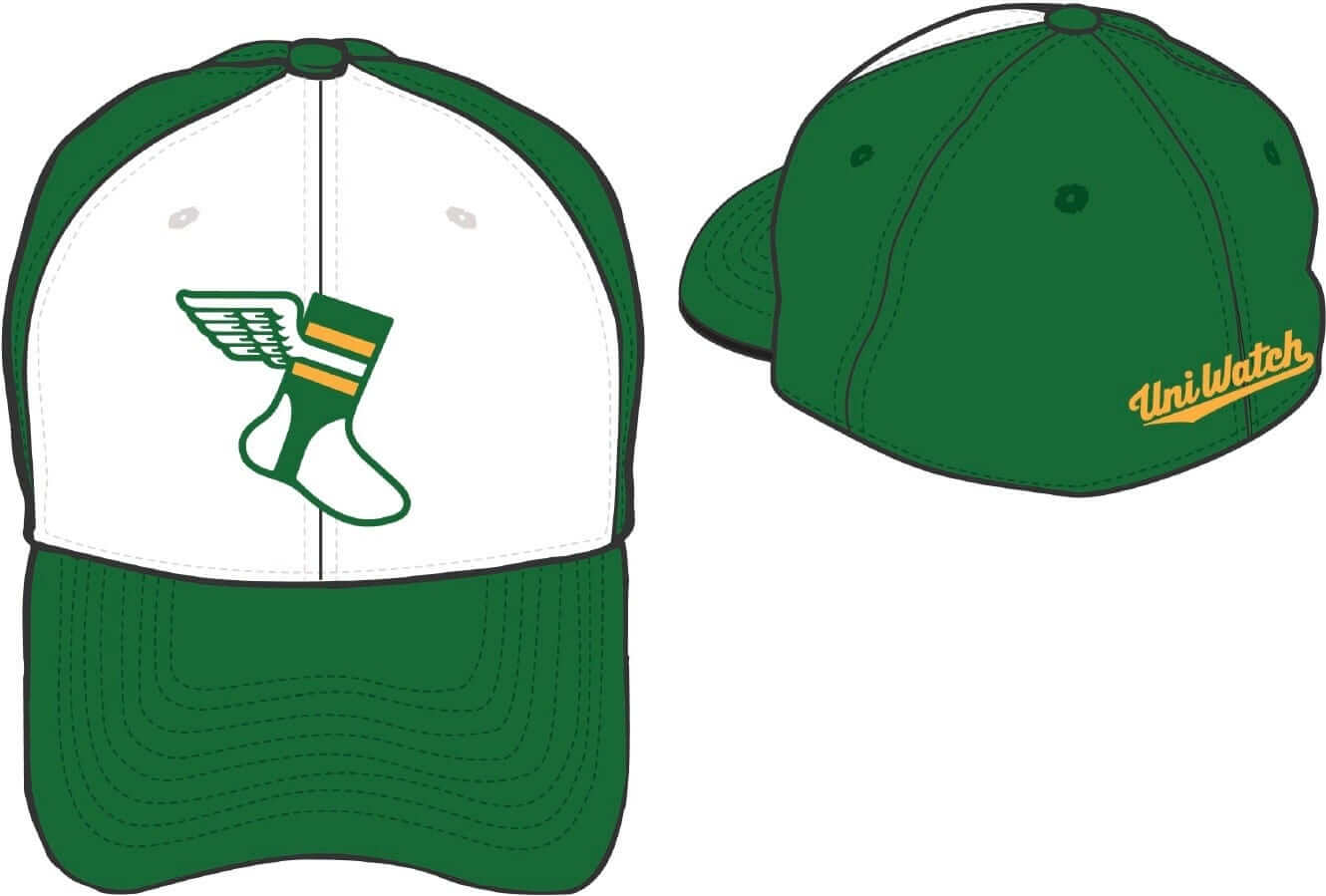 As you can see, this one has the Uni Watch script on the back (don't worry, it won't be running "downhill" like it appears in the mock-up). It will also have custom Uni Watch seam taping on the inside and, maybe, a custom Uni Watch label. My plan is to offer it as a cotton flex-fit cap with a lower price point — probably in the $29ish range. It will be available a bit later, likely in late June.
I realize it's impossible to please everyone, but my goal here is to please as many of you as possible by offering two different designs, in two different materials and fitting formats, at two different price points. I know some of you will still be unhappy, because you want the classic design as a flex-fit, or the alternate design in wool, or whatever. But this is the best I can do, at least for now.
It would be helpful to have a sense of how many of you might want to buy the alternate cap. Please make your voice heard below:
[totalpoll id="96083″]
5. In addition, we expect to have yet another cap for Purple Amnesty Day (which is exactly one month away!). We're still working on the details on that one, but it will likely be a snapback. Like all Purp Walk merchandise, it will be available for only 24 hours.
Thanks for listening, and for your feedback.
• • • • •
[adrotate group="2″]
• • • • •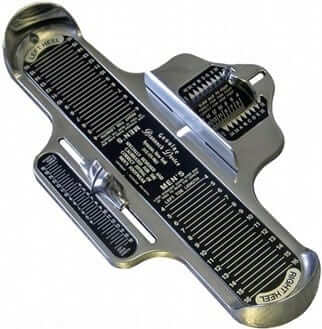 ITEM! Brannock update: It's official — I'll be throwing out the first pitch at the Syracuse Chiefs' Brannock Device Night on May 31. I'm very excited about it.
The team has generously offered to provide a terrace area or even a suite for friends and readers who'd like to gather during the game. We're trying to get a, uh, ballpark idea of how many people will be on hand (the expected head count will affect which kind of space they give us), so if you you'd like to gather with other uniform and/or Brannock obsessives, please check the "Interested" or "Attending" options on this Facebook event page. (If you're not a Facebook user, send a note to this email address that I've created for the occasion.)
Some of you have asked what Brannock Device Night will entail. Unfortunately, I'm not at liberty to discuss any of that, but the team will be making an announcement in early May. The one thing I can assure you is that they will not be giving out free Brannock Devices (unfortunately), but it should still be a really fun night.
• • • • •
[adrotate group="2″]
• • • • •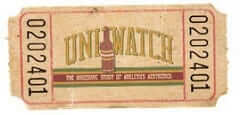 ITEM! New raffle: Our friends at Ebbets Field Flannels are providing one of their very handsome New York Knights T-shirts for a lucky Uni Watch reader. To enter, send an email to the raffle address by 7pm Eastern this Friday, April 20. I'll announce the winner next Monday.
Also, if you scroll down to the bottom of any Ebbets web page (including that one with the Knights shirt), there's a link where you can get on their email list. Feel free to sign up if you like.
• • • • •
[adrotate group="2″]
• • • • •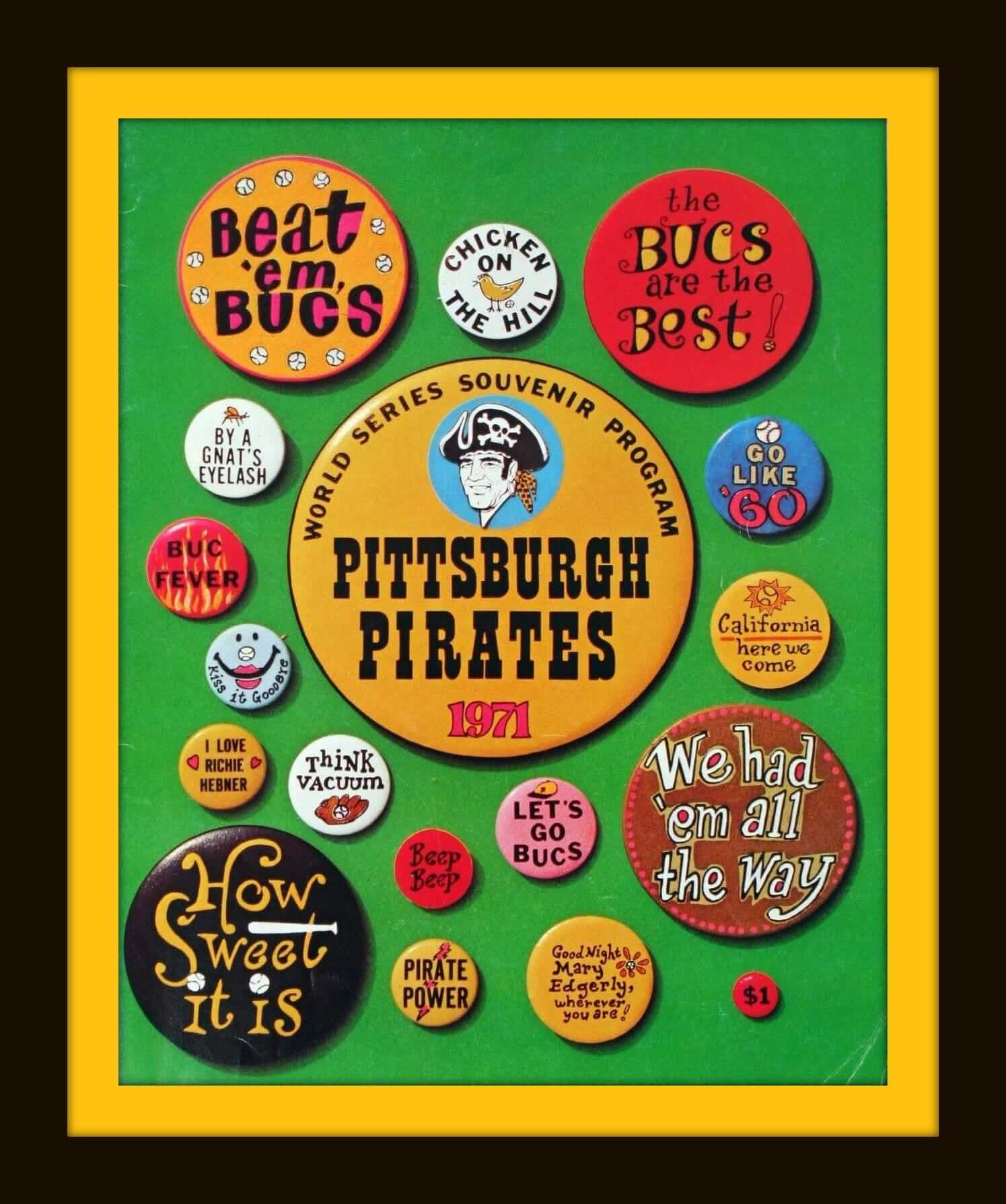 Collector's Corner
By Brinke Guthrie
You have to appreciate the retro-ness of this one. The Pirates played (and defeated) the defending World Series champion Orioles in the 1971 Fall Classic, and this was the cover of the Pirates program. It consisted of a collage of team buttons, with sayings like "I Love Richie Hebner" and "Beat 'Em, Bucs." There's also "California Here We Come" (maybe they expected the A's rather than the O's) and "Goodnight, Mary Edgerly, Wherever You Are." (Most of the phrases, including that last one, were sayings of their radio announcer Bob Prince.)
Now for the rest of this week's picks:
• There are several artists who I like to search for on eBay — guys who created what I consider to be the standard for pro sports artwork.  Let's run down a few of them, shall we? Stancraft issued an NFL poster line in 1972, and this artwork for the Kansas City Chiefs was created by one of the masters, George Bartell. The Chiefs' look has changed very little through the years — once you get a great look, you stay with it. 
• Here's another great piece of work from Bartell: Maybe that's John Brodie and Gene Washington on this 1970s 49ers poster.
• We can't have any type of discussion about NFL posters without mentioning the one and only Dave Boss. Here's his St. Louis (football) Cardinals painting, framed and ready to hang on your wall. 
• Brilliant 1971 artwork from another one of the masters, Nicholas Volpe. This set of four thermal cups features members of the Indiana Pacers, and they were sold at Marathon gas stations. (I still have my Louie Dampier Kentucky Colonels cup!)
• Volpe did some fine work on this 1971 portrait of hockey legend Gordie Howe of the Red Wings.  (Volpe did more than sports, incidentally. Audrey Hepburn, anyone?)
• Bucco Bruce never looked better than on this 1979 Bucs poster by Chuck Ren.
• This is called an "NFL Space Sports blanket" from 1969, featuring the old Eagles logo. If I'm not mistaken, it's labeled "Space" due to the newfangled reflective aluminum material. (I had something similar, and I referenced this three and a half years ago in a November 2014 Collector's Corner.)
• We've got a large set of 1960s NFL bobbles here. Buy 'em now for 2K — whew!
• This Cubs/Pirates game program goes back to August of 1937. And don't forget to drink your Duquesne Pilsener.
• This NFL gear bag was made for Super Bowl 50 in Santa Clara, and was sponsored by Hugo Boss, the "official fragrance" of the league.
• Look at this mid- to late-1970s NFL football lamp! This was made by Orange Products, who did the goalpost kits. I have seen this before, and never knew it was a lamp — I thought it was a bank!
• Here are a couple of New York Jets items: This Jets helmet hubcap would look good on your bike, and this early 1970s paperweight is just right for your desk. (I still have two of these, for the Bengals and Cowboys.)
Do you have an item to include on Collector's Corner? Send any submissions to uniwatchcollectorscorner@gmail.com.
• • • • •
[adrotate group="2″]
• • • • •
The Ticker
By Alex Hider

Baseball News: No photos yet, but the Orioles will wear green-accented jerseys and caps in honor of Earth Day on April 22 (from Andrew Cosentino and Phil). … The Cubs and Braves, who were rained out Sunday, will celebrate a belated Jackie Robinson Day when they make the game up on May 14 (from Christopher Pisciotti). … ESPN played along for Jackie Day by adding a 42 to its news ticker during Sunday Night Baseball (from Brice Wallace). … The avatars for the Blue Jays' official Twitter account and the team's PR department use different shades of blue (from John Gworek). … What is this, 1997? Chuck O'Rian found a Brewers cap on sale at a Dick's store that included an AL logo. … Shorts-clad White Sox and beer. Doesn't get any better than that (from Phillip Tutor). … Couple of notes from a B1G matchup between Maryland/Michigan: The Michigan catcher borrowed the famous "wing" pattern from the football team for his mask, and Maryland has some tiny barber striping on their pants (from Fred Kreiger). … Not uni-related, but this piece on MLB.TV's blackout rules is interesting (from webmaster John Ekdahl). … Food-related baseball note: Chapulines, or toasted grasshoppers, became a sensation last season at Safeco Field in Seattle. Now ESPN has published a piece about the people in Oaxaca, Mexico, who harvest the bugs and have been eating the dish for centuries (from Kary Klismet). … The Toledo Blade ran an online baseball uniform quiz yesterday. I expect perfect marks from all y'all (from Mark Kunz).

NFL News: If this teaser helmet is any indication, the Jags will be wearing solid black helmets this season. We'll find out for sure at Thursday's unveiling event, which is scheduled to begin at 11am Eastern, with the unveiling itself taking place closer to noon. … We have our first look at the Eagles' first-ever Super Bowl banner (from Blake Fox). … Adidas says they will sign Colin Kaepernick to an endorsement contract if an NFL team picks him up. Or they could just, you know, sign him now. … New number assignments for the Lions (from Jerry Nitzh). … In a 1976 game against the Falcons, Bears great Walter Payton lost both of his wishbone-C helmet decals (rom Scott Mason). … In the movie Concussion, a wall of helmets inside NFL HQ includes modern Bills, Falcons and 49ers helmets even though the film is set in 2002 (from  @florian_mcgill).

College Football News: The chart at the bottom of this photo, tweeted by Temple coach Geoff Collins, seems to indicate the Owls will be going GFGS this year (from Tommy Mancuso III). … Matt Sampson was re-watching the 1997 Ohio State/Michigan game and noticed that Charles Woodson's NOB and number are misaligned on his jersey.

Hockey News: Bruins RW David Pastrnak has been wearing yellow-palmed gloves lately. The rest of the team typically wears white-palmed gloves (from Michael Engle). … Caps RW T.J. Oshie has had a bit of tailoring done to the collars on all of his jerseys this year (from Moe Khan). … Also from Moe: For last night's Ducks/Sharks playoff game, the Sharks gave away "Duckhunt" rally towels that showed a shark stalking some ducks.

Basketball News: Celtics G Terry Rozier claims to have stolen all of injured teammate Kyrie Irving's shoes (from Mike Chamernik). … Hall of Famer and former Sixer Hal Greer died Saturday at the age of 81. The Sixers will honor him with a No. 15 memorial patch for the rest of the playoffs (also from Mike Chamernik). … Ray Hund sent along a photo of Elgin Baylor's 1961 Fleer basketball card, which includes the mysterious giraffe logo the Lakers used when they first arrived in LA. … This piece offers a good look at the evolution of WNBA uniforms through the years (from Phil and Kevin Brown). … San Diego State will wear Jordan brand uniforms next season (from Chris Fairchild). … A Philly TV station mistakenly used the New England Patriots' logo instead of the Sixers' logo during a broadcast.

Soccer News: On Sunday, two soccer clubs based in Buenos Aires, Argentina, wore jerseys honoring two early-1900s Jewish athletic clubs that were shuttered by the Nazis in honor of Holocaust Remembrance Day (from Jerusalem Stone). … Tormenta FC, a USL Division III team based in Statesboro, Georgia, have unveiled their kit advertiser (from Josh Hinton).

Grab Bag: American lightweight boxer Rod Salka wore trunks with a border wall theme and the words "America 1st" while facing Mexican fighter Francisco Vargas last Thursday (from Ron Ruelle). …  English rugby union club Saracens uses a large NOB font. That means their star, Richard Wigglesworth, can't fit his full name on his jersey. The club has taken to shortening his NOB to Wigg'worth (from Tim Dunn). … Reader Baylor Watts designed the uniforms for his college ultimate Frisbee team at the University of North Florida, and even included vertically-arched NOBs!