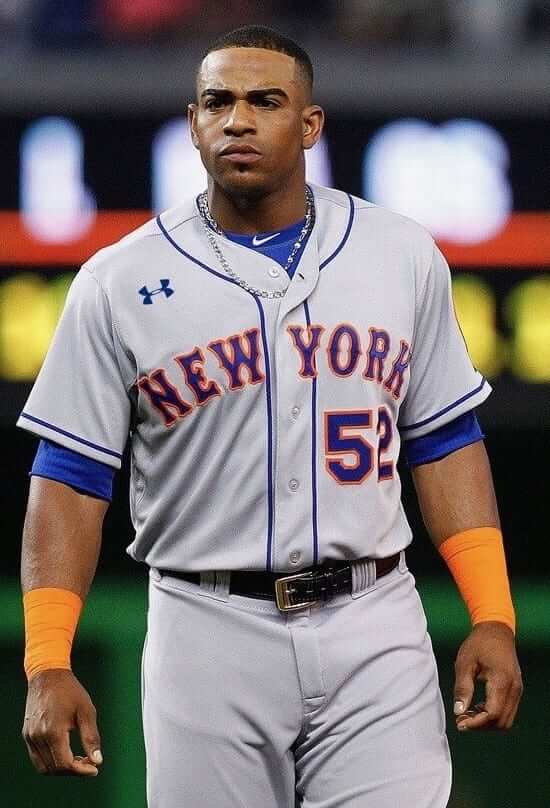 When the word came down last December that Under Armour would be taking over from Majestic as MLB's uniform outfitter in 2020, my ESPN colleague Darren Rovell's coverage of the situation included a small detail that many people, myself included, overlooked: "The deal is scheduled to begin in 2020 and run for 10 years, but sources say it could start before that should Majestic decide to bow out early."
Fast forward to last month: Fanatics bought Majestic's parent company, including the Pennsylvania factory where Majestic makes MLB uniforms. That led one of my sources to suggest, citing the line in the Rovell story, that the schedule for the Under Armour changeover might be accelerated.
And sure enough, that's what's happening. Here's the story, as reported yesterday by the AP:
Baseball Commissioner Rob Manfred said Thursday that fan merchandise from Under Armour will be available next year and that Under Armour will be used for dugout clothing during the 2018 postseason. The full switch to Under Armour for on-field apparel will take place for the 2019 season.
So the Under Armour logo will begin appearing on jersey chests (not sleeves) in 2019 — a full season earlier than had been expected. Man, it's like hearing your life expectancy was just reduced by one year.
If you choose to believe that Manfred is also champing at the bit to add uniform advertising, this new development also has implications on that front. Back in February, Manfred said he couldn't even think about uniform ads until MLB got used to having the maker's mark on the chest. Well, they're going to get used to it one year earlier than we thought, so the timetable for considering uni ads will presumably be moved up as well. (To be clear, I'm not saying, nor do I believe, that MLB uni ads are a done deal. But whatever internal process MLB has for evaluating the situation is now on a faster track .)
In short: Enjoy this season and next season, because things are going to get seriously ugly after that.
(My thanks to Phil for bringing this news to my attention just as it was breaking yesterday.)
•  •  •  •  •
The Ticker
By Paul

Baseball News: New bat knob decals for A's 1B Yonder Alonso. … Here's an illustrated timeline of Mets home uniforms (thanks, Phil). … The Corvalis Knights — that's a collegiate wood bat summer team — have new uniforms with the team logo on the upper thigh (from Ben Eshleman). … Cubs 2B Ben Zobrist wore stirrups yesterday. … Just what the world's been waiting for: stars and stripes umpires. … Pirates first base coach Joey Cora forgot his helmet last night, so pitcher Ivan Nova taped the helmet to Cora's head (thanks, Phil). … The A's wore San Jose Sharks-themed BP jerseys yesterday. Here's a closer look. … Angels OF Cameron Maybin has been hiking up his pants to Hunter Pence-like heights (from Gary Skraba). … Unusual to see that the Yanks' road BP jersey uses the helmet version of the "NY" logo, rather than the jersey version (from Steve Dodell). … A's OF Rajai Davis went with white sanitaries, rather than the usual gold, last night (from @UnkieNoah).

Pro Football News: With news emerging yesterday that the opening of the Rams' new stadium will be delayed by one year, my ESPN colleague Alden Gonzalez is reporting that the team's new uniforms will likewise be pushed back to 2020. Or, then again, maybe not. … Meanwhile, the L.A. Coliseum, where the Rams will now be playing for an additional year, is getting a new corporate name. Gross. … Here's a great shot of Raiders RB Marv Hubbard wearing the padded helmet style usually associated with the Chiefs' Willie Lanier (from Miles Filbert). … After I posted that Hubbard photo on Twitter, Kevin Gallagher responded, "Several Raiders offensive linemen of that era wore the padded crown, including Gene Upshaw and Boomer Brown. I hadn't known that! … Back in 2011 I did an article on the history of the Pats' ill-fated "Proto-Elvis" logo. Now Andrew Mason has found a glimpse of Proto-Elvis shown in the end zone during a game! Never seen evidence of that before. Maybe that was the game when they had the halftime vote on whether to replace Pat Patriot with Proto-Elvis..? … A new professional seven-on-seven flag football league is set to debut in 2018 with an interesting innovation: " The league's flags, which are patent pending, are attached via magnets instead of the typical Velcro. When a flag is detached, a sensor detects it and an official will be able to see the exact point on the field [where] the flag came off, thus ceding the guesswork to science."

Hockey News: Longtime reader Richard Craig recently received an email from the Sharks, which invited him to participate in a poll regarding the team's third jersey. You can see the email and click through the poll questions here.

NBA News: Earlier this week I wondered if the Cavs might wear this Akron Goodyear Wingfoots uniform as a throwback next season. As it happens, LeBron James showed up at practice yesterday wearing that very jersey design. Not sure what the little logo on the chest was (it appears to include "USA"; on the back it had Kyrie Irving's number and NOB, along with the Goodyear logo. … SportsCenter put together a series of graphics yesterday about the players named to this year's All-NBA teams. Interestingly, they chose to show most of the players in alternate uniforms (from Ryan McRyanson). … Golden State has some uneven NOB/number spacing. … The floor at a bar in Syracuse is the original hardcourt used by the old Syracuse Nationals, who are known today as the Philadelphia 76ers (from Bryan Prouse).

Soccer News: New kit for FC Bayern. … New sleeve advertiser for FC Schalke 04 (from Anthony Nuccio). … The Scottish club Hearts has inked a new deal with Umbro (from Ed Å»elaski"). … Borussia Monchengladbach has semi-jokingly accused Borussia Dortmund of stealing their kit idea (from Josh Hinton). … Incredible Hulk-themed kit for Atletico Astorga FC (from The Book Room). … New jersey for Dynamo Dresden (from Ed Å»elaski"). … Also from Ed: The new Pumas kit has leaked. The design is based on UNAM's American football team.

Grab Bag: A Nike-financed track and field program has raised serious questions about doping. It's amazing how Nike manages to involve itself in so many unsavory enterprises, even ones that have nothing to do with uniforms. … Fashion designer Naoki Takizawa has been creating really nice uniforms for the staffs of various companies and institutions (from Greg Franklin). … Here's a story about Nevada's "Battle Born" uniforms across several different sports (thanks, Phil). … New Dallas-themed golf shoes for Jordan Spieth (from Tony Andela). … Here's a chart that shows every color of cardigan that Mr. Rogers wore from 1979 to 2001 (from John Muir). … Here's a look at the liveries for the Indy 500 (from Tim Dunn).