[Editor's Note: Today we have a guest entry from Tom Speed, who made some great uni-related observations during a recent visit to the Pro Football Hall of Fame. He emailed his entry to me as a PDF, with all the photos already laid out, so I'm simply going to run it as he presented it. You can click on each "page" to enlarge. "" PL]
By Tom Speed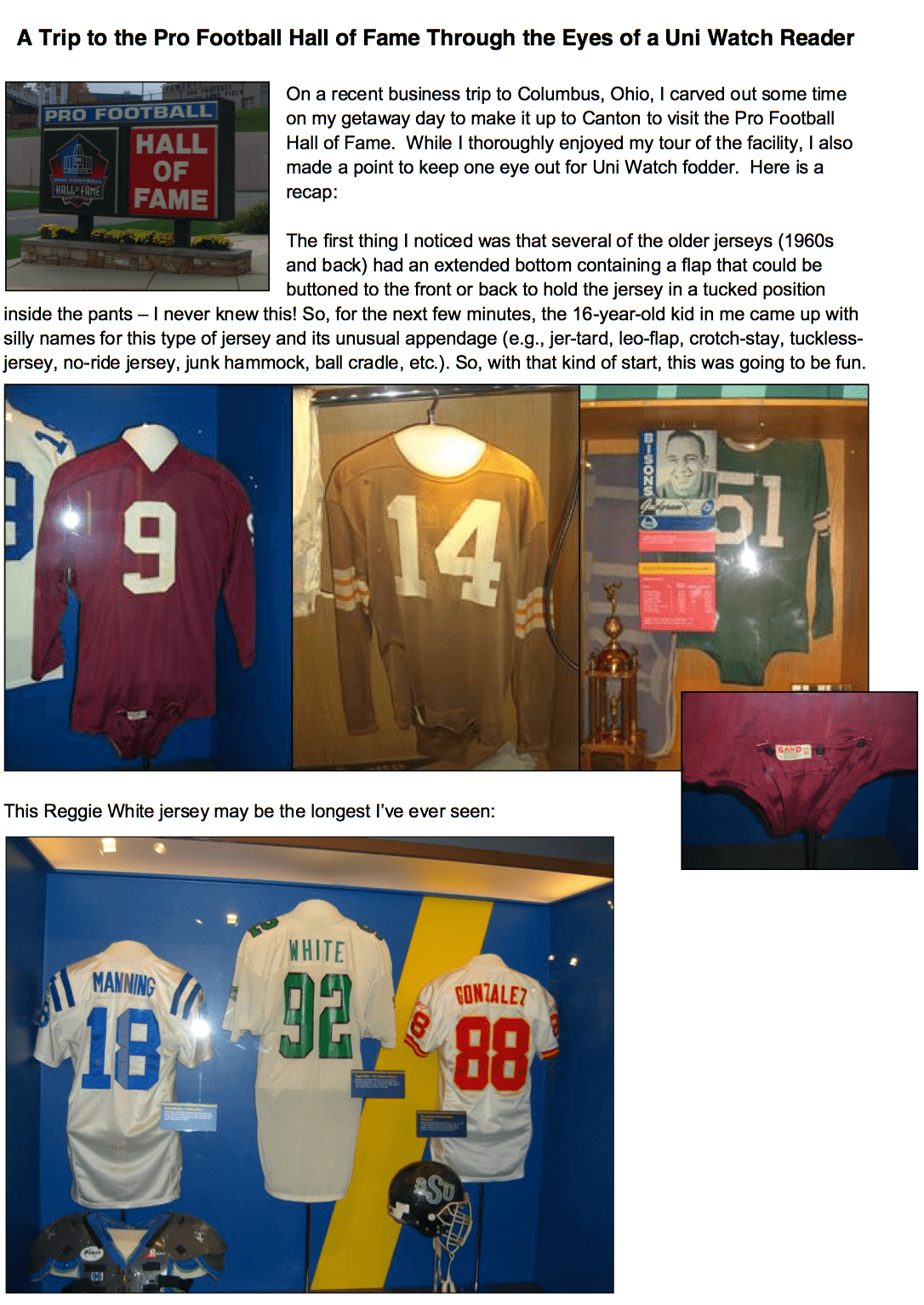 ———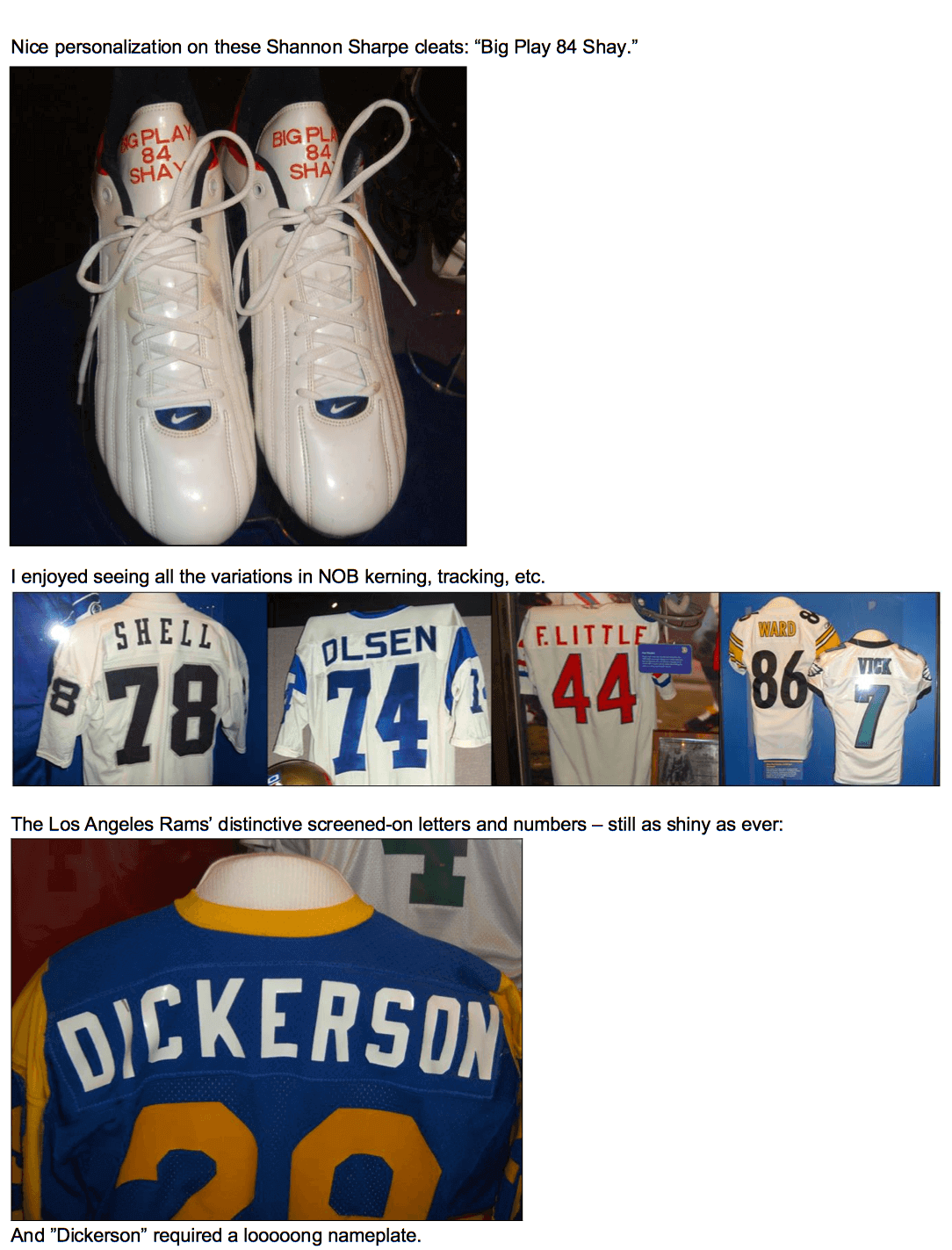 ———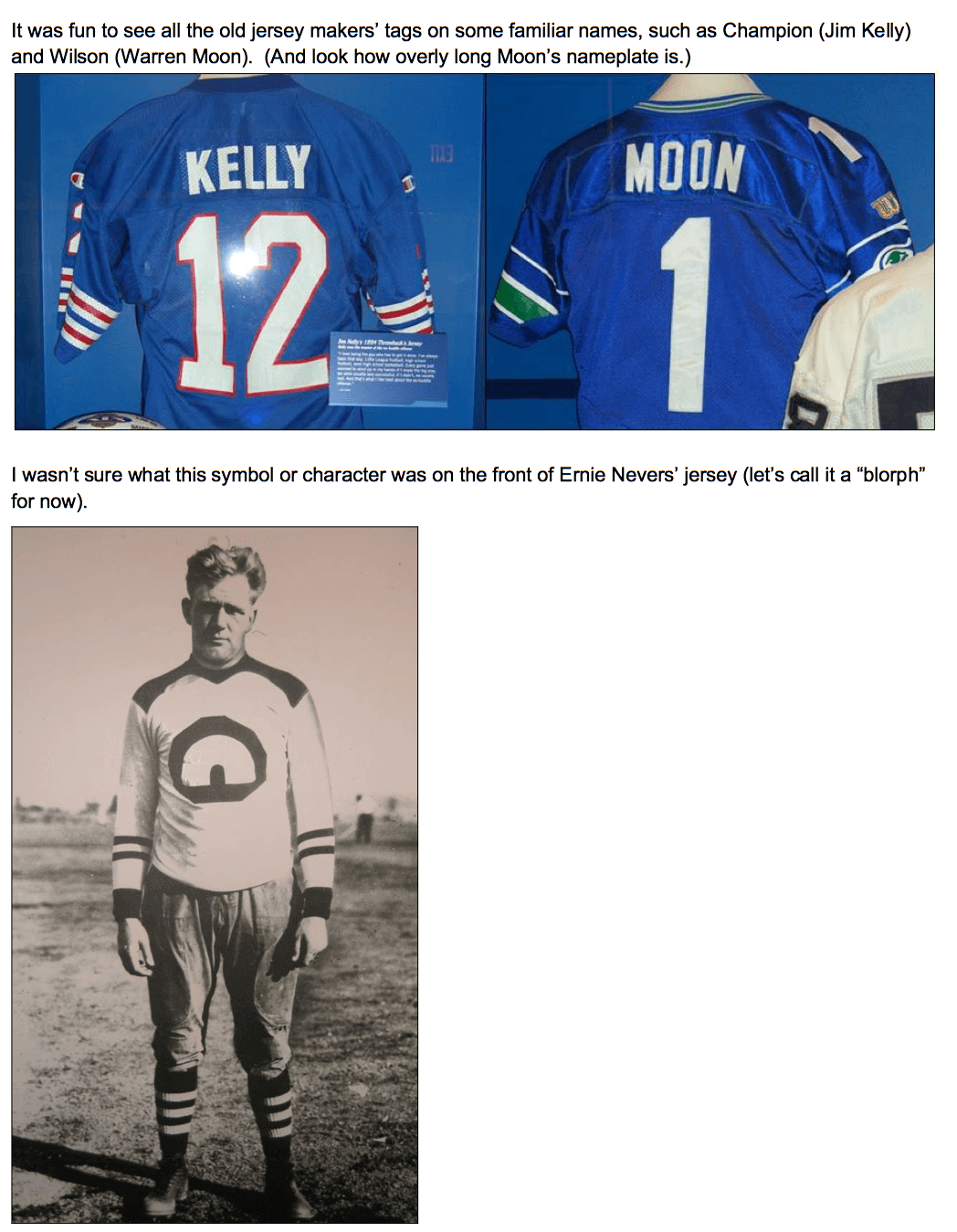 ———
———
———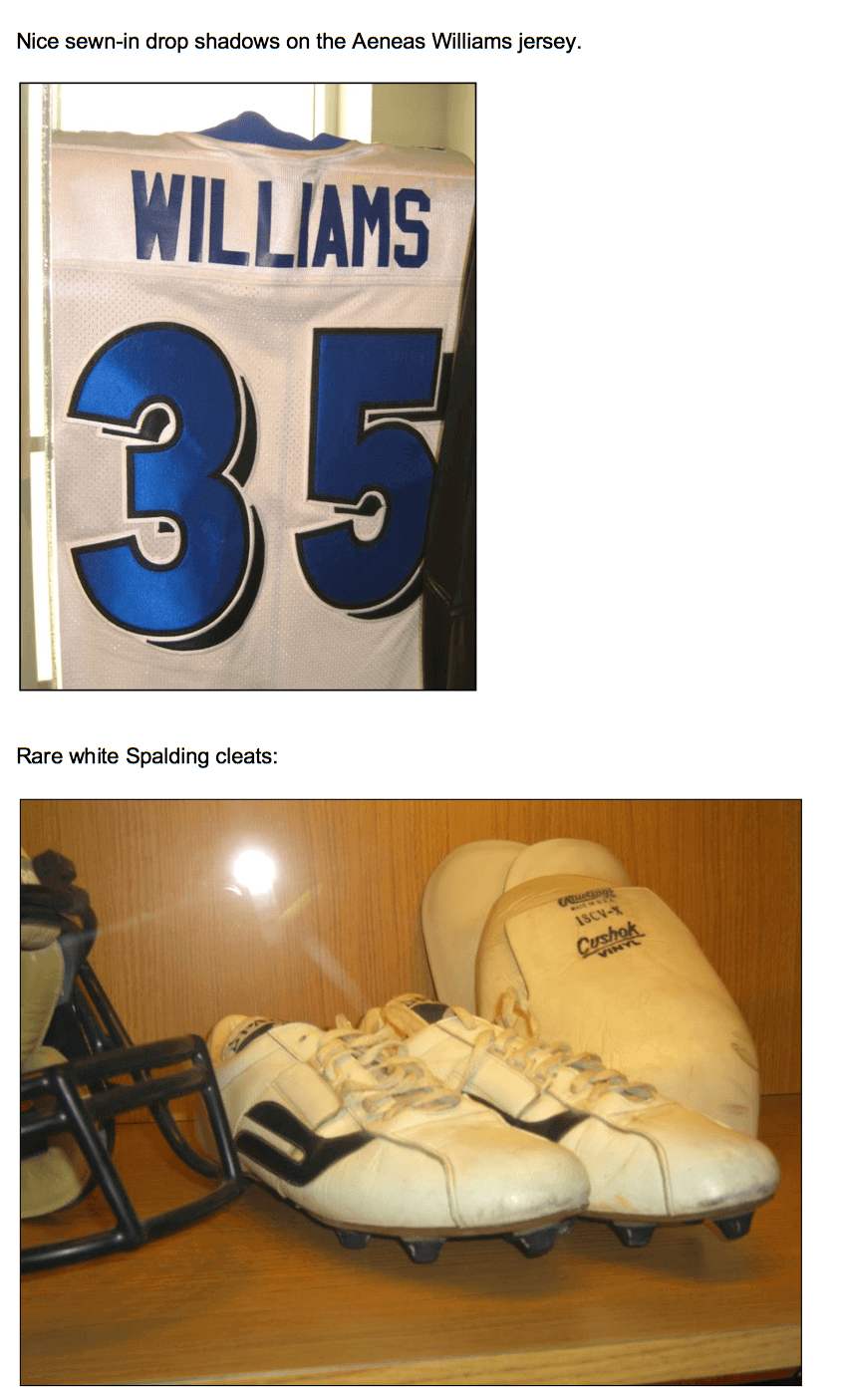 ———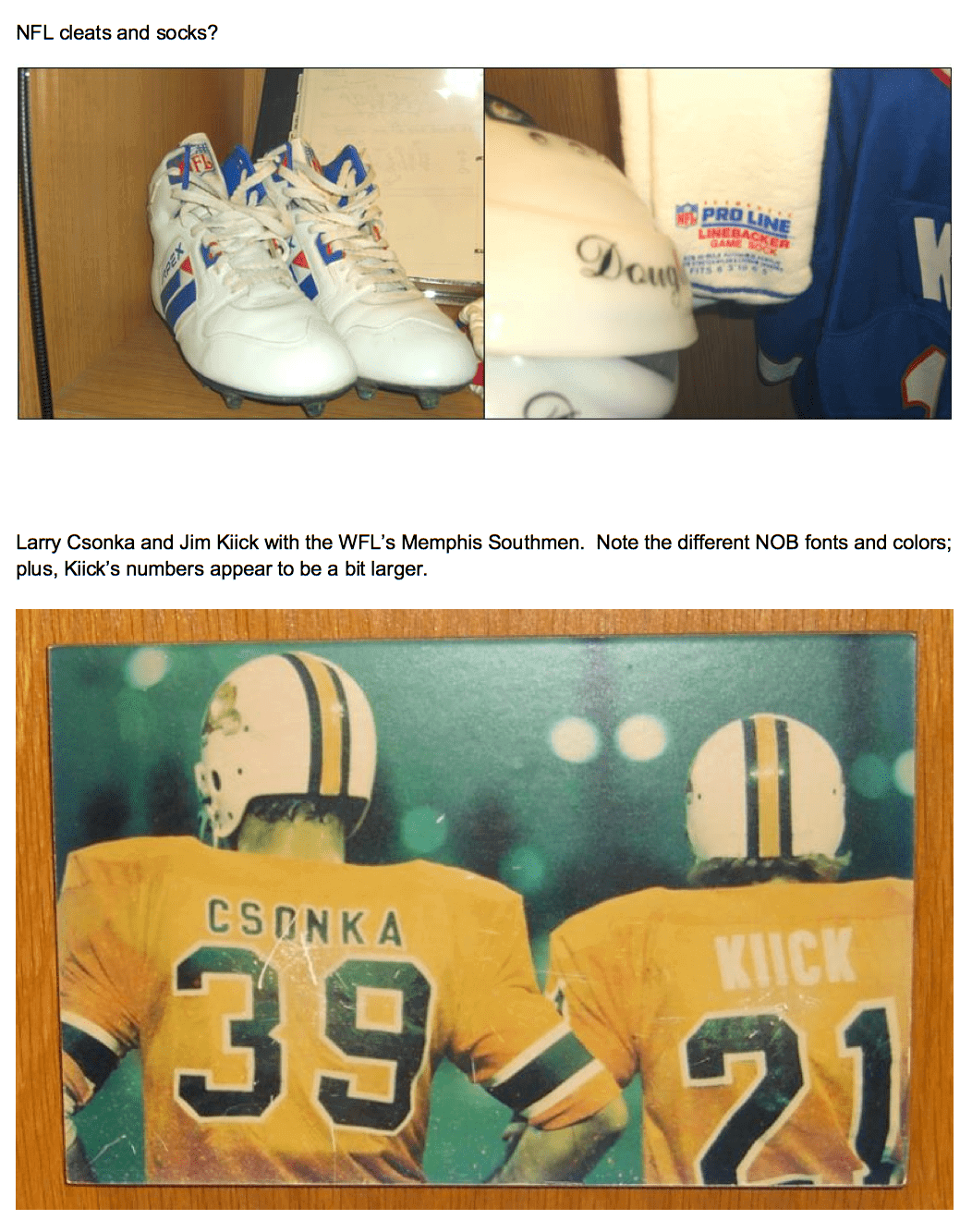 ———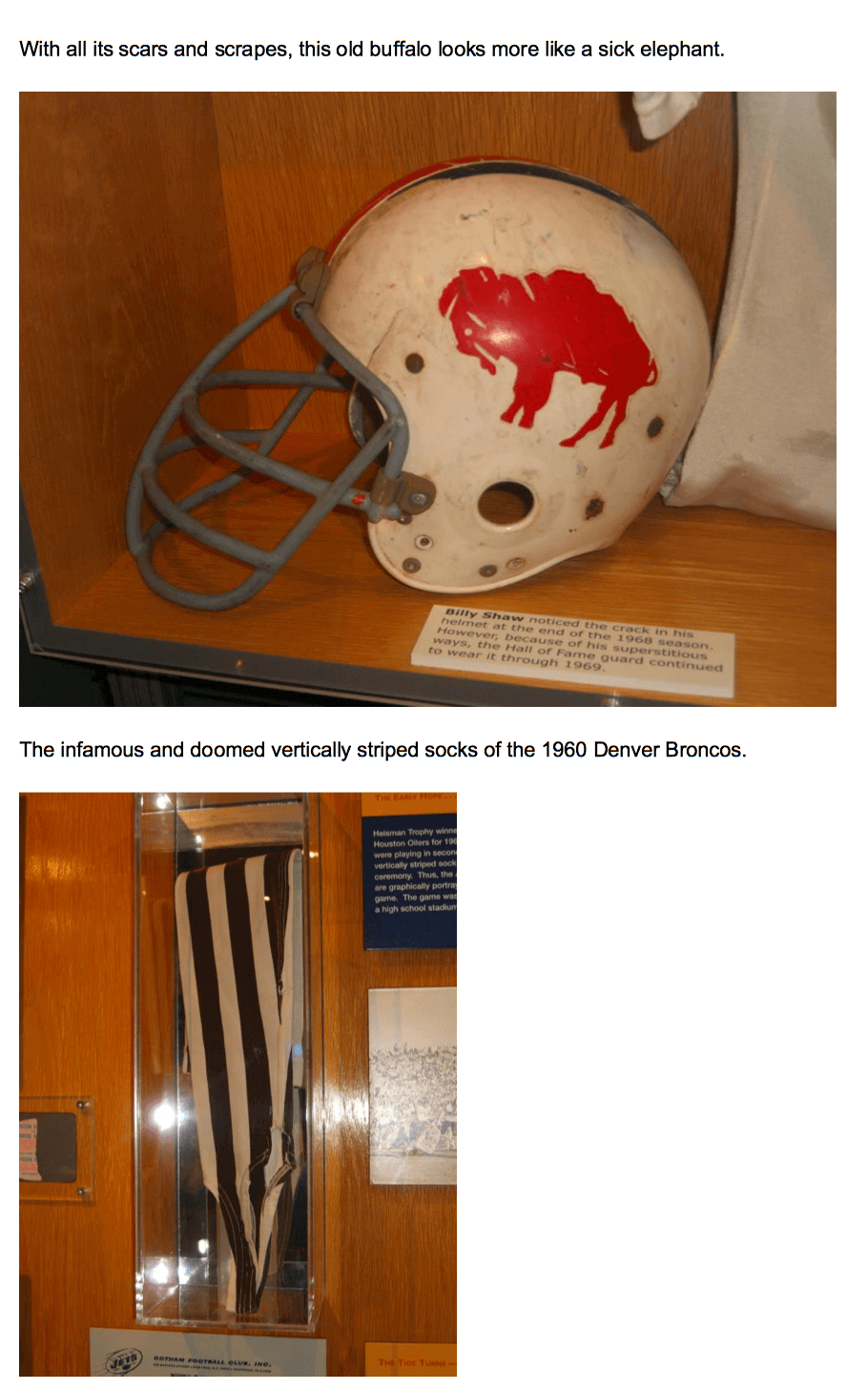 ———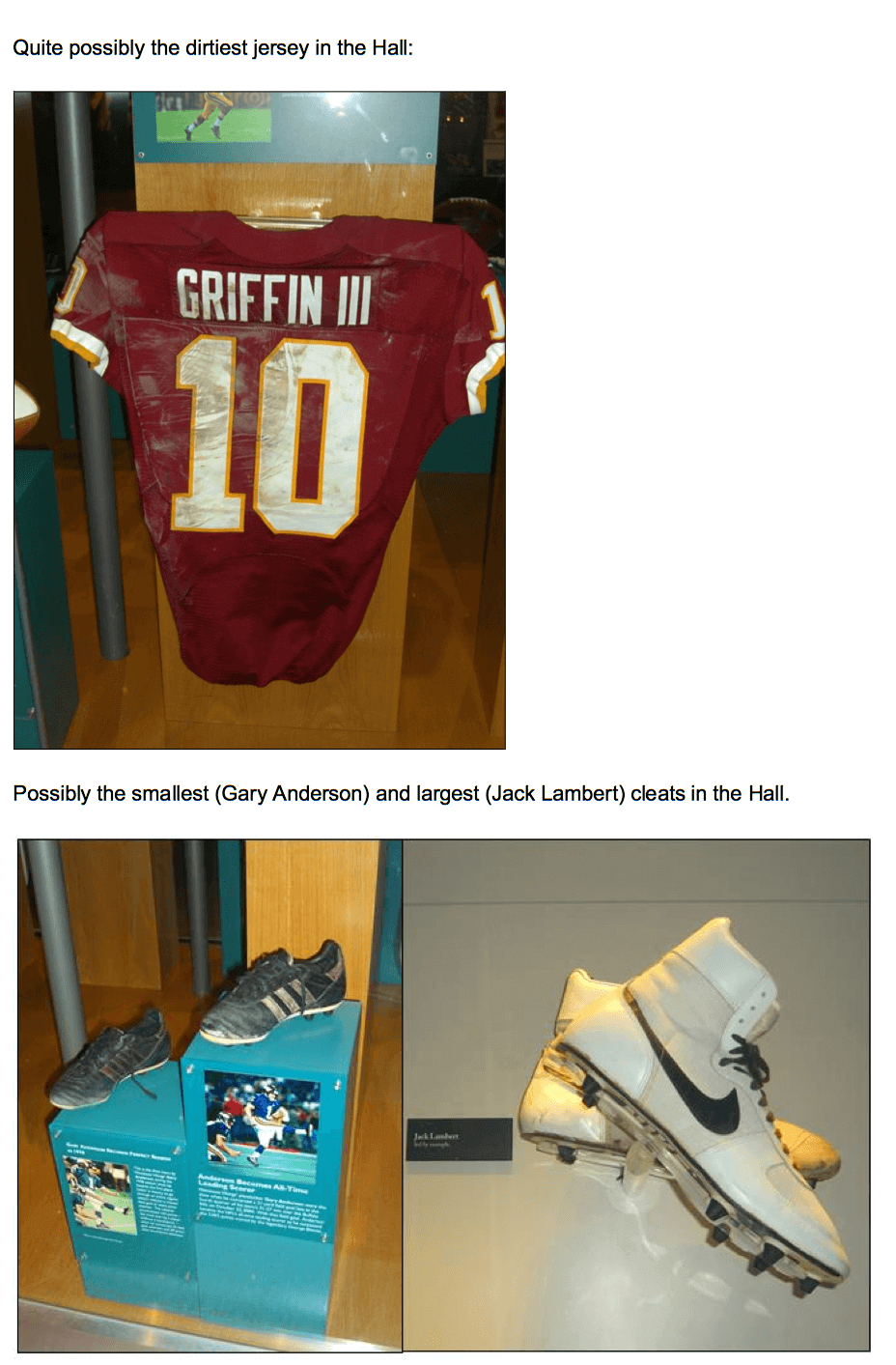 ———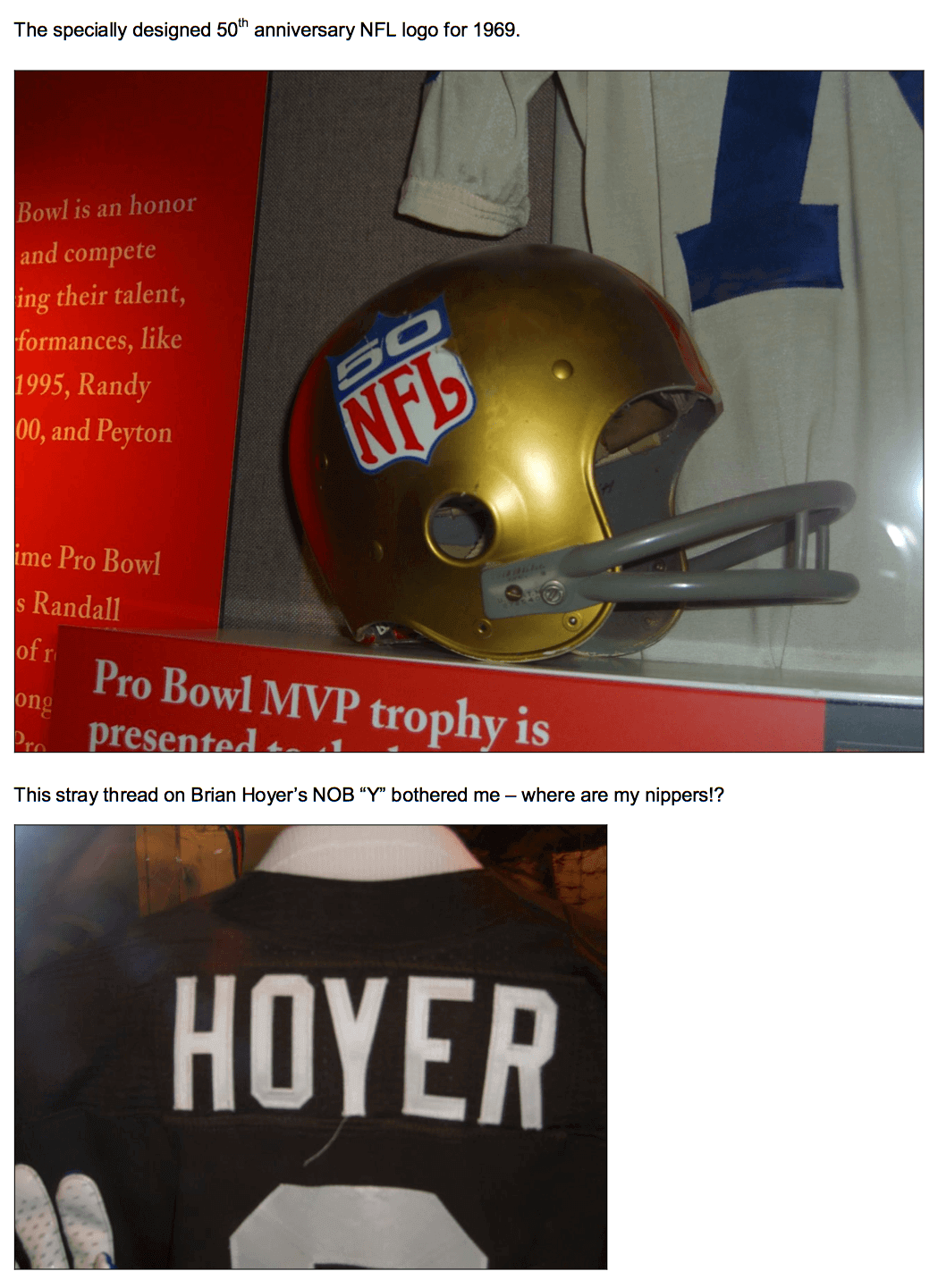 ———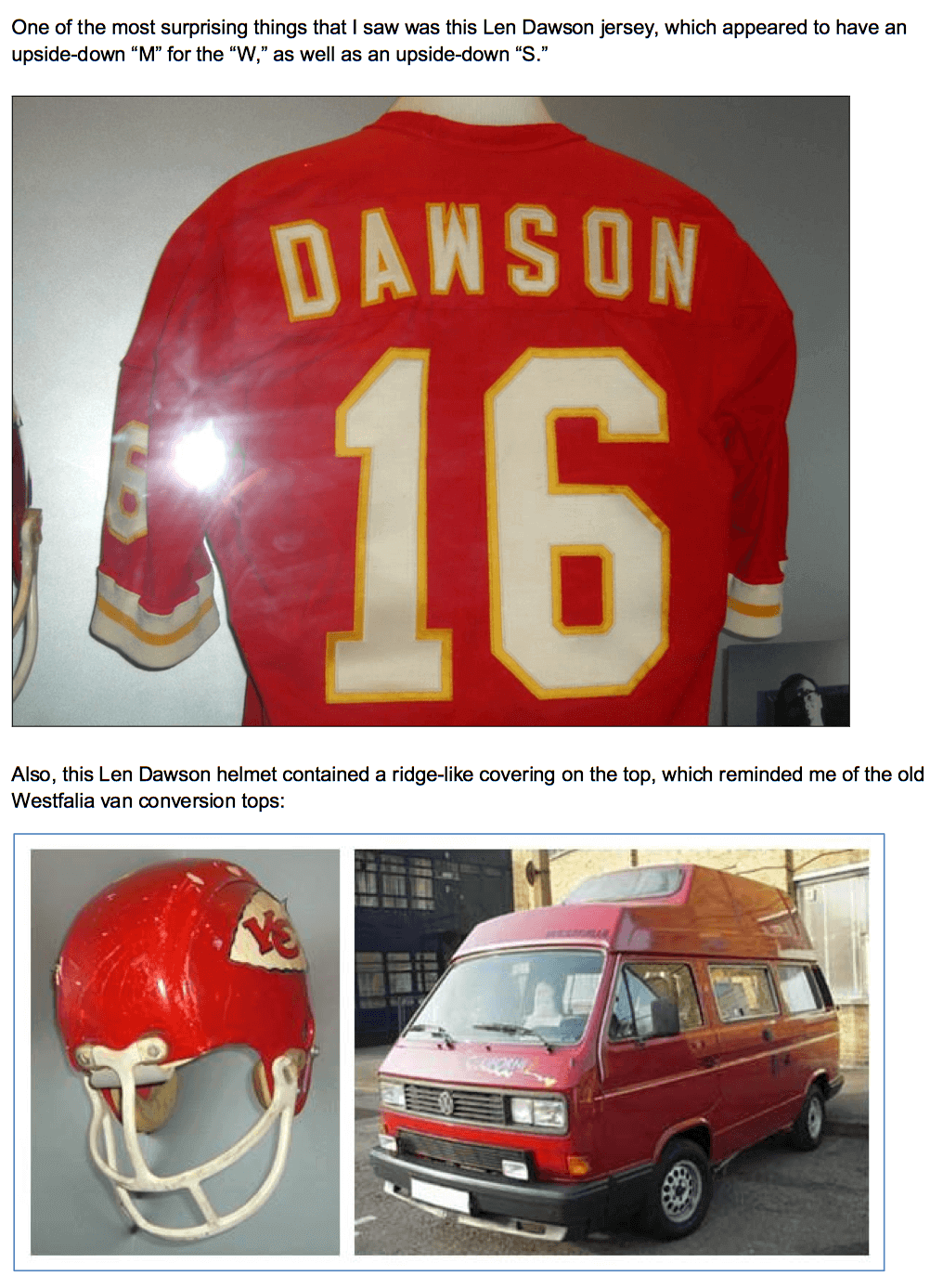 ———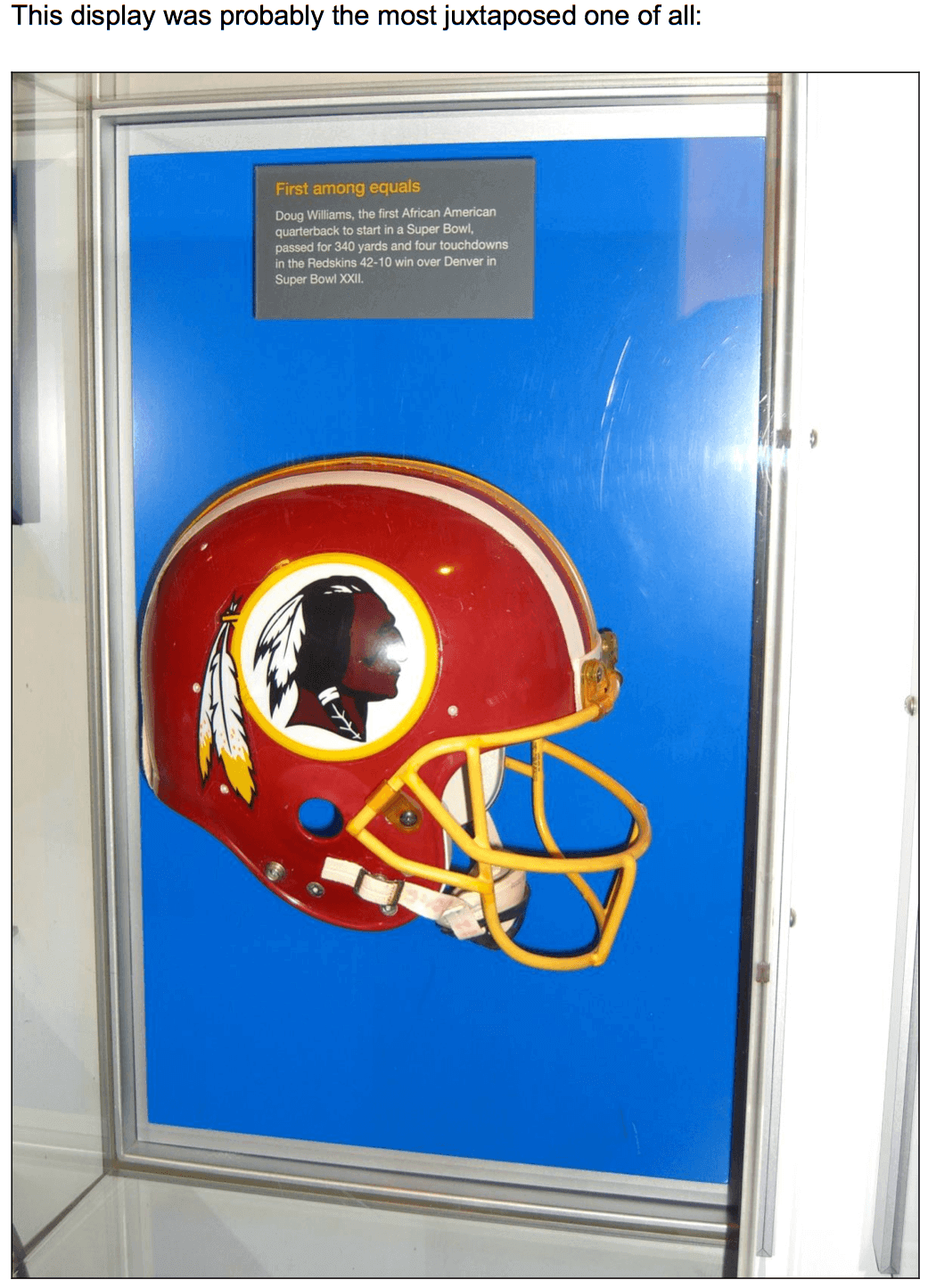 ———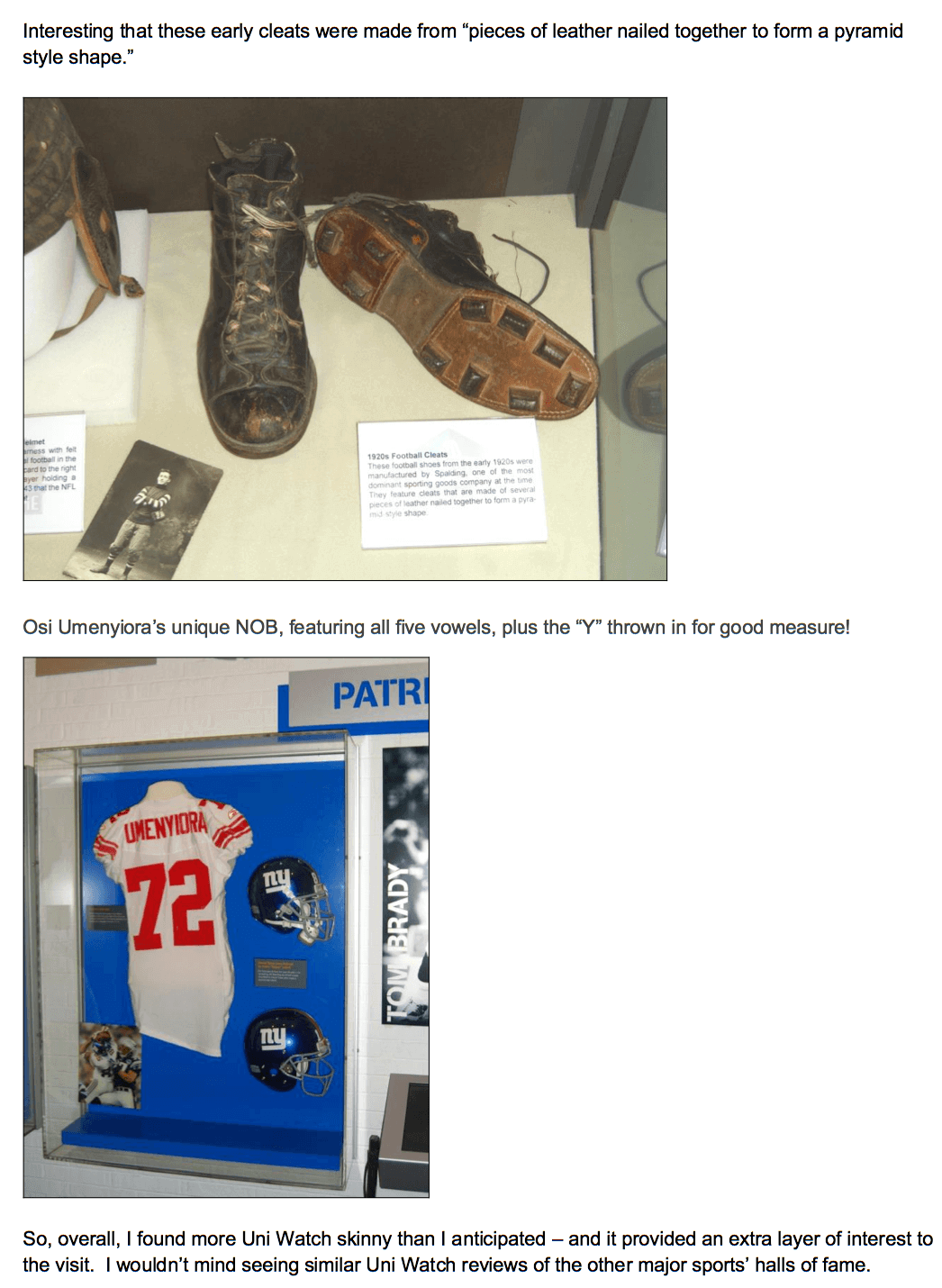 ———
Paul here. Big thanks to Tom for his keen eye, and for formatting everything in way that made things very easy me.
•  •  •  •  •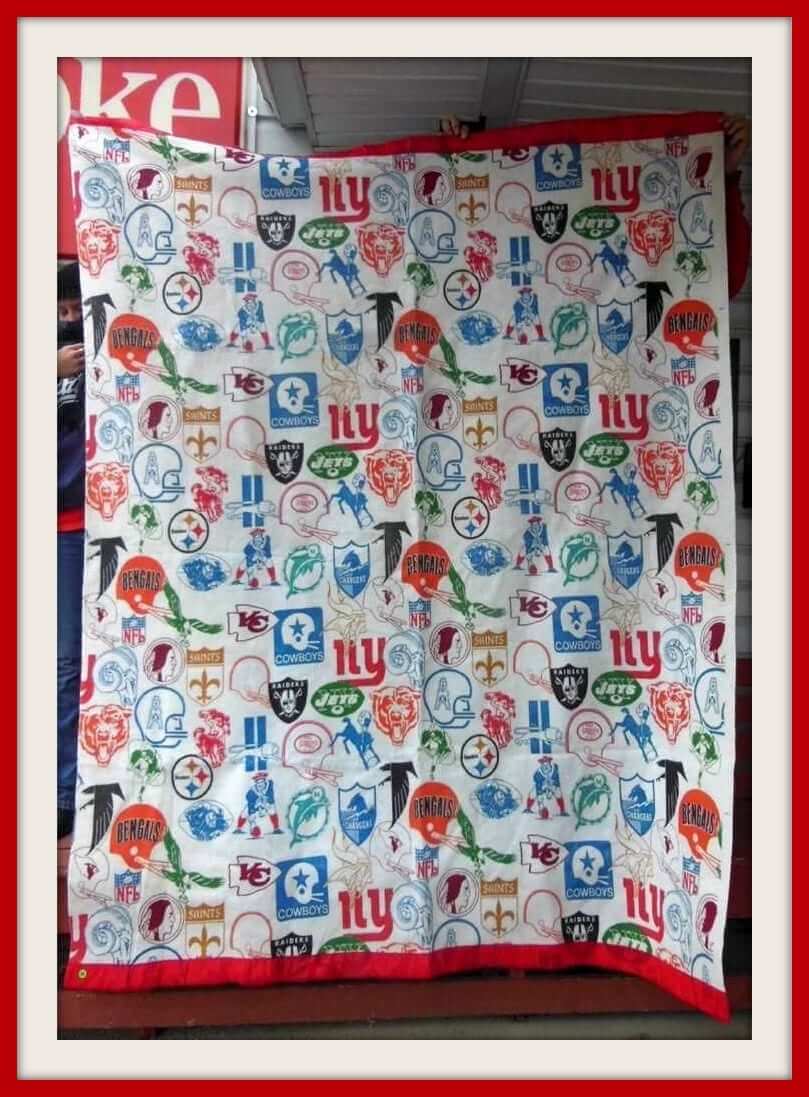 Click to enlarge
Collector's Corner
By Brinke Guthrie
This 1960s NFL bedspread from JC Penny is very similar to a cool item I once had. It was a lightweight NFL hooded rain poncho with reflective aluminum on the inside to keep you warm, and it had these exact logos on it. Sure wish I could see one of those again — this is probably as close as I get.
Here are the rest of this week's picks:
• From reader Jeff Flynn, a rather curious-looking 1960s WABC-NY Jets bottle opener that looks like an old helmet bank.
This 1960s NHL Pee-Wee Hockey game looks to be in pretty decent shape, with all Canadiens and Maple Leafs figures included.
• I love the bicentennial look to this 1976 Yankees media guide.
• Baseball toy figures from the 1960s! They cost exactly 15 cents back in the day, still marked with their original price.
• We've seen this All-Pro Helmet Kit before — you get 16 helmets, but the box alone is worth it.
• Pay one price, get two 1970s pro league stickers — NFL and MLB — from Gatorade.
• Here's a nice 1970s San Francisco 49ers single-bar helmet plaque.
• The news that Adidas is now back in the NFL as an official shoe/glove sponsor reminded me that arch-rival Puma also held an NFL license. I think they got in via an existing Logo Athletic license or something — remember how they just covered up the Logo Athletic mark with the Puma logo? All of which is a roundabout way of bringing up this very nice Cleveland Browns varsity jacket, made by Puma.
•Any Raiders fans left out there? If so, you might want this 1970s vintage poster, featuring a quarterback who's wearing No. 12 but who definitely isn't Kenny Stabler.
• And we wrap up this week with a 1960s New York Giants charm bracelet from Coca Cola.
• • • • •
FAST Corp. reminder: In case you missed it yesterday, I recently paid a visit to FAST Corp. (the acronym is short of "Fiberglass Animals, Shapes, and Trademarks"), the company that makes giant fiberglass cows, ice cream cones, ears of corn, Bob's Big Boy statues, and so on. My article about that visit is up now on the design website re:Form, and I don't mind saying I think it turned out pretty well. Check it out here.
PermaRec update: A girl whose student record described her as "insolent," "impudent," and "a ringleader" is the subject of the latest entry on Permanent Record.
• • • • •
Uni Watch News Ticker
By Garrett McGrath

NFL News: Titan Quentin Groves raised his jersey after a sack during last night's game against the Steelers, exposing his love for his hometown of Greenville, Mississippi (from Phil). … Another Titan, Jurrell Casey, was exposing his piggy bank slot on the game's final play (screen shot by Joseph Gerard). "¦ Meanwhile, Le'Veon Bell of the Steelers suffered a torn jersey (screen shot by Matt Barnett). "¦ A Washington Football Team fan set fire to his team merchandise after latest loss (from Tommy Turner). … "Marques Colston of the Saints has been wearing Nike Tiempo soccer cleats," says Wesley Eustis. … "My boss brought in his Cleveland Browns toaster – it is suppose to say Browns on the bagel afterwards," says Jason Johnson.

College and High School Football News: On Thursday Duke will be wearing all black against UNC. … Eastern Washington will be wearing all white on Friday. They want fans to give this white uni its own name, and Phil had a good suggestion. … FSU will be wearing their "unconquered" uniform this weekend. … The Times-Picayune has another installment of its best helmet in Louisiana poll, this one for "pro-style" helmet designs. It features two Rams knockoffs (from Joel Manuel). "¦ Did you know Toledo is known as the "Glass City"? You will after seeing Toledo's new uniforms for tomorrow's game against Bowling Green.

NBA News: If the Bucks get a new arena, it might look like this. "I don't know why the windows and 'natural light' are such a big thing when 95 percent of Bucks home games will be at night," says Mike Chamernik.

Soccer News: From yesterday's ticker: Mike Aronson noticed that MLS had dropped the American/Canadian flags from the designs. "The league has decided to place the league logo on both sleeves of the jersey like all the other major professional soccer leagues," says Justin Garton. … To celebrate their 101st anniversary this past weekend, Colombian side Independiente Medellin unfurled a giant banner at the Estadio Atanasio Girardot (from Yusuke Toyoda). … Newcastle will not advertise their payday loan sponsor, Wonga, on children's replica jerseys starting in 2016 (from Yusuke Toyoda). … This is pretty good: home and away kits for each state and Washington, D.C. (thanks, Phil).

Grab Bag: Adding magnets to football helmets could reduce the risk of concussions, new research suggests (from Drew Mastin). … Nutrition bar maker Clif Bar has dropped its sponsorship of a number of "extreme" athletes due to concerns over what it views as unreasonably dangerous pursuits (from Patrick O'Neill). … An TV news anchorman from Australia has worn the same suit on TV for almost a year (thanks, Paul). "¦ The dismantling of Candlestick Park in San Francisco has begun (thanks, Brinke). "¦ "Aussie Rules football club Melbourne Demons released their 2015 alternate jumpers, including a new white clash and special red away guernsey, both featuring the club monogram," reports Leo Strawn Jr. … Students at BYU want the school to lift its longstanding ban on beards.