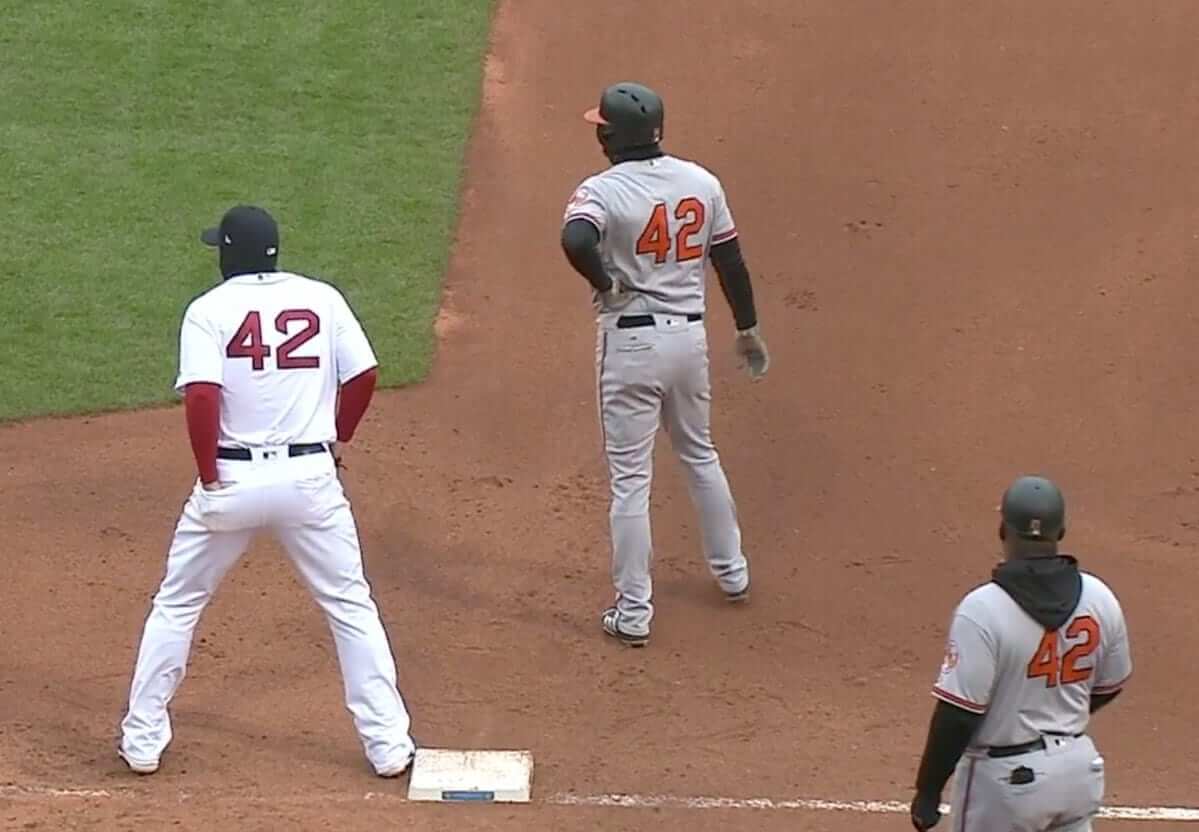 Yesterday was Jackie Day. As usual, all MLB uniformed personnel wore No. 42. I know some of you don't like that, but I love it. Just for one day, everything looks like we're in an alternate reality. Sure, the broadcasters hate it, but for me that's part of the fun. I enjoy the weirdness of it (as well as the underlying message, of course).
Some notes:
• The big difference this year is that, for the first time, a Jackie Day patch was added to all caps and jerseys: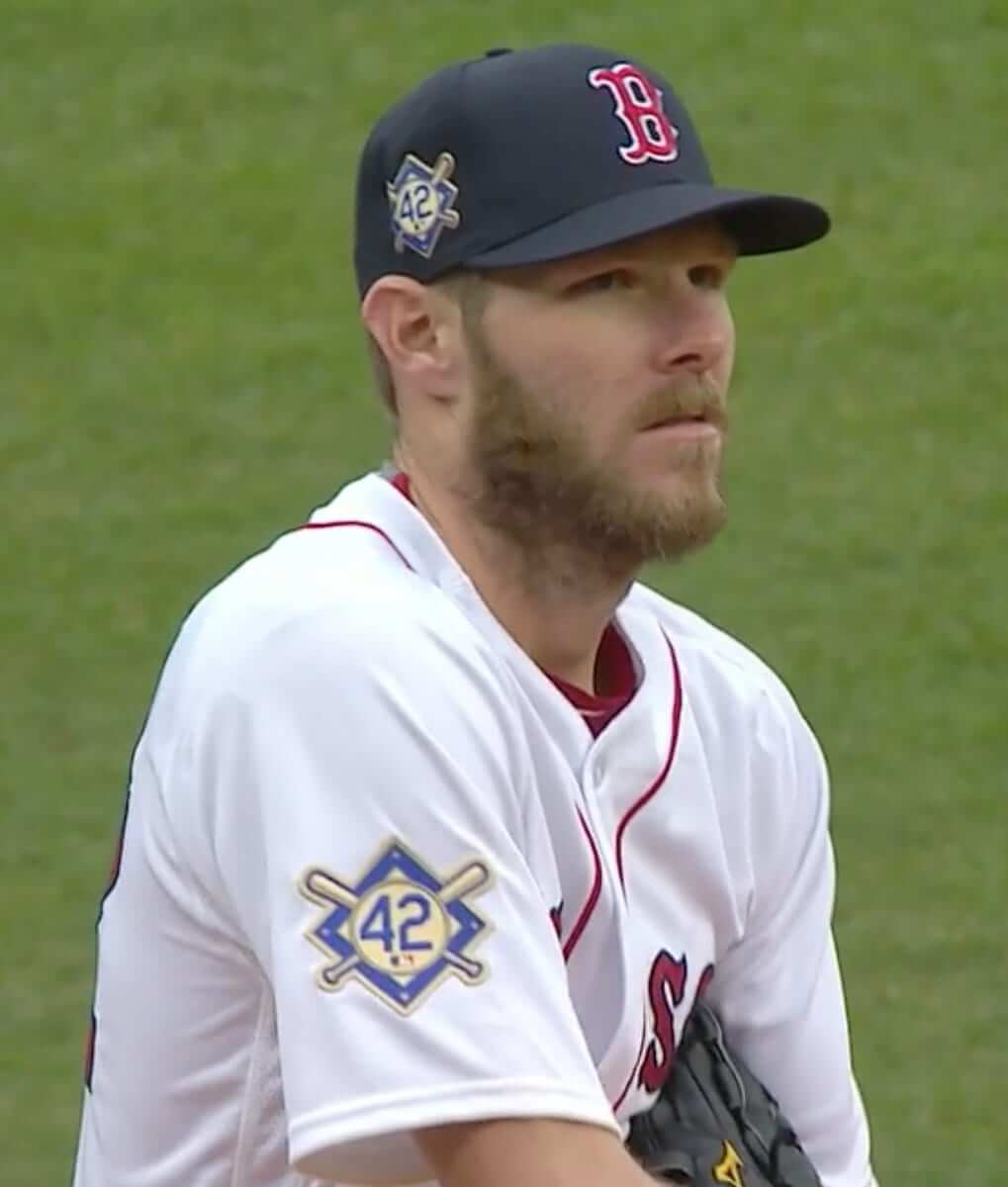 • Most teams with right-sleeve patches simply removed those patches and replaced them with the Jackie Day patch. But the Mets opted to keep their Rusty Staub memorial patch, which they moved upward to make room for the Jackie Day patch. It looked a bit awkward, like the Staub patch was added as an afterthought. If the plan all along had been to include both patches, the spacing would likely have been different: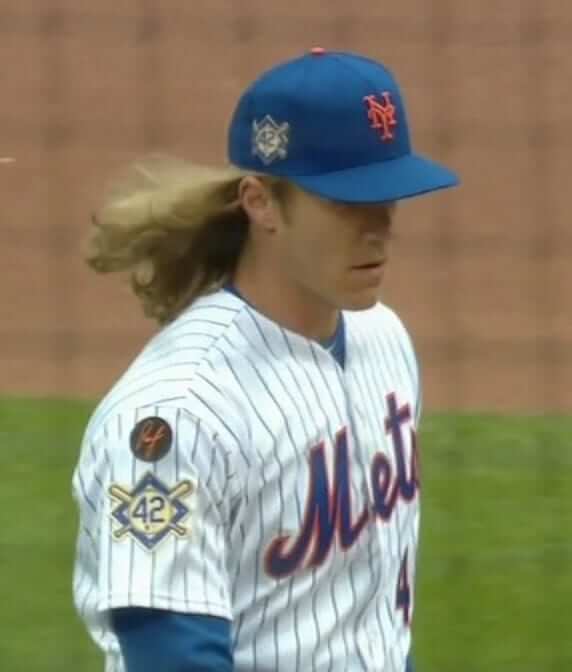 • As usual, the Phillies' uniforms were the most fun, because they're the only team that wears TV numbers: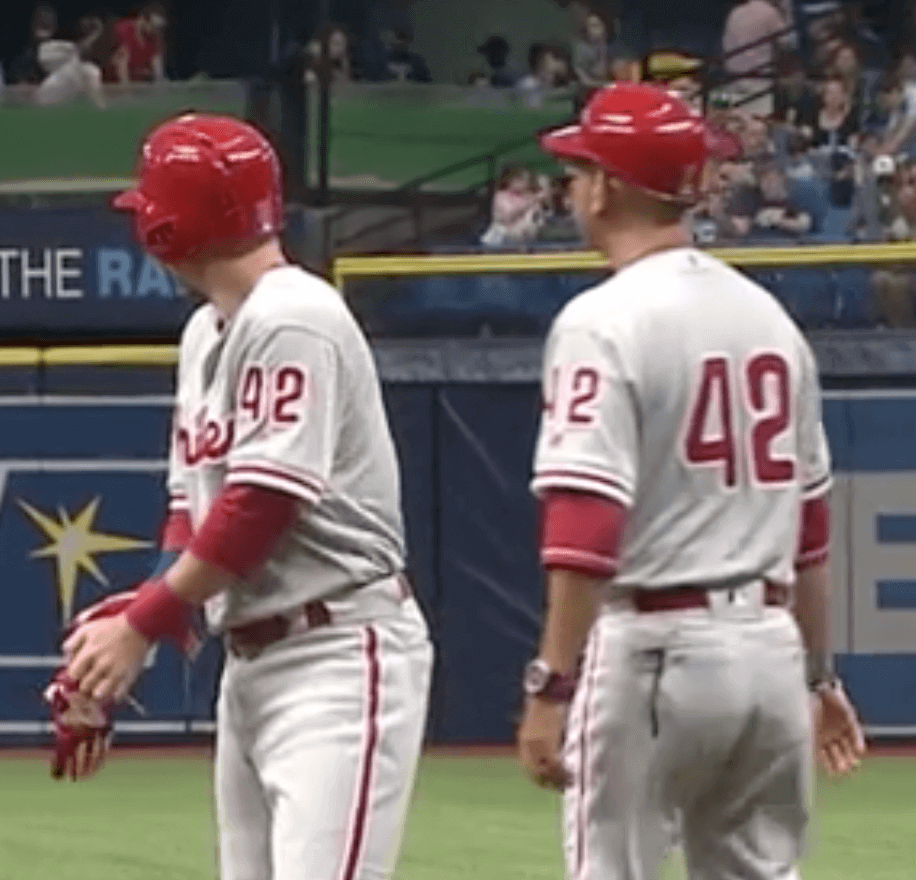 • Several players wore "42" eye-black stickers, including Brewers second baseman Jonathan Villar, Diamondbacks left fielder Davird Peralta, Dodgers right fielder Yasiel Puig, and Marlins left fielder Cameron Maybin: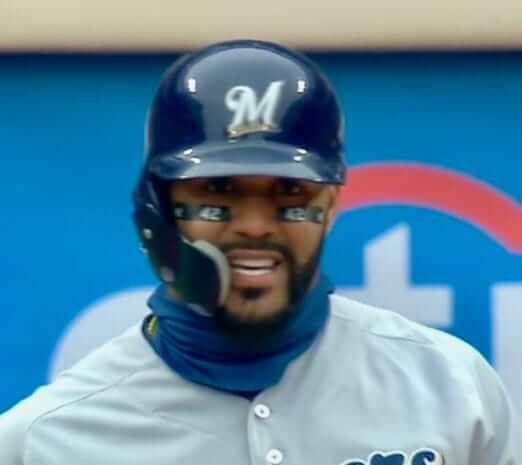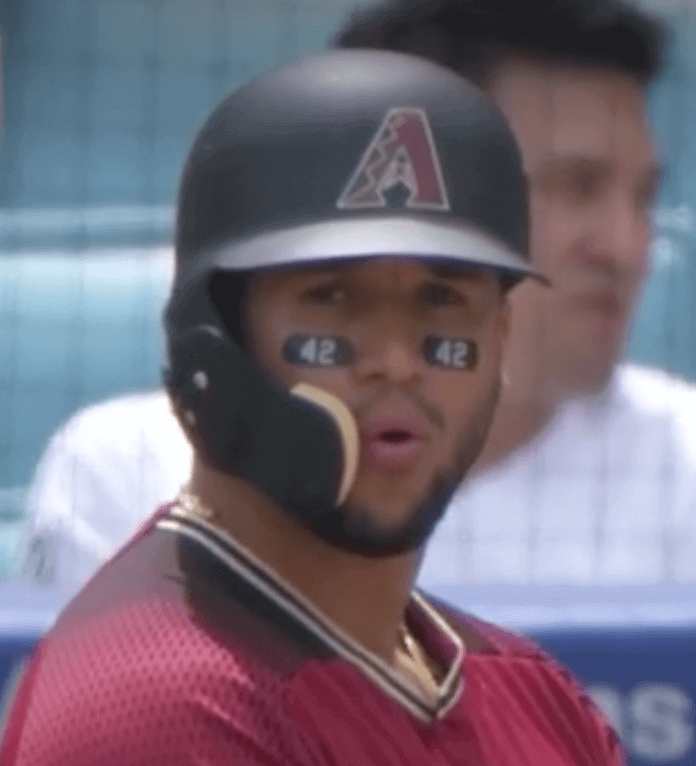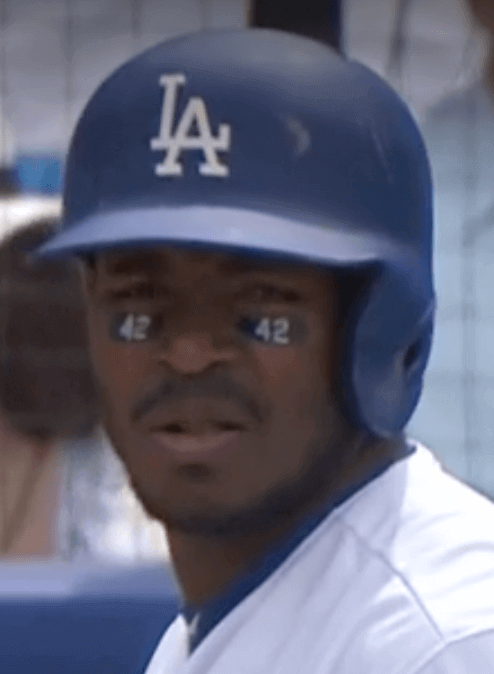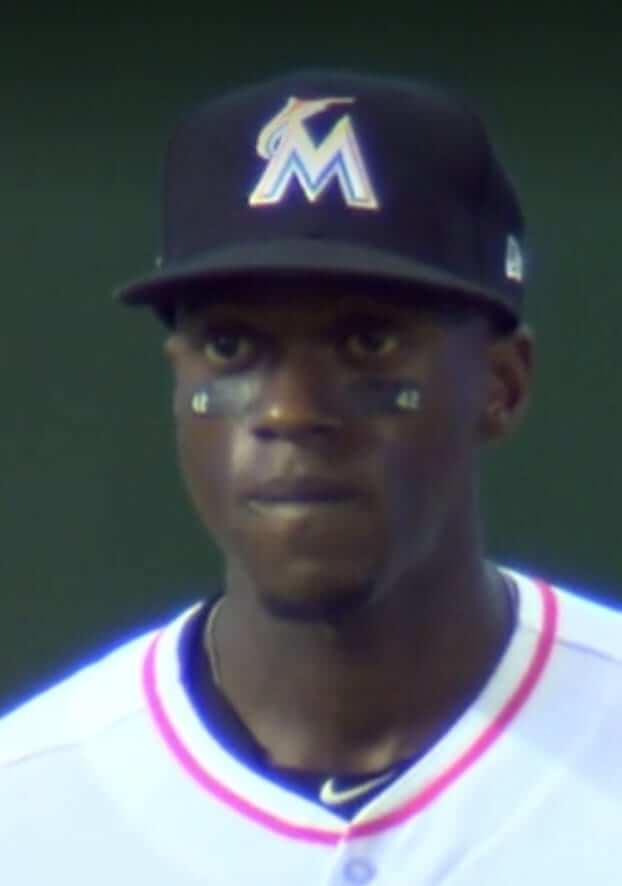 • Almost all of yesterday's games were white vs. grey. The only teams that deviated from that protocol were the Diamondbacks and Padres: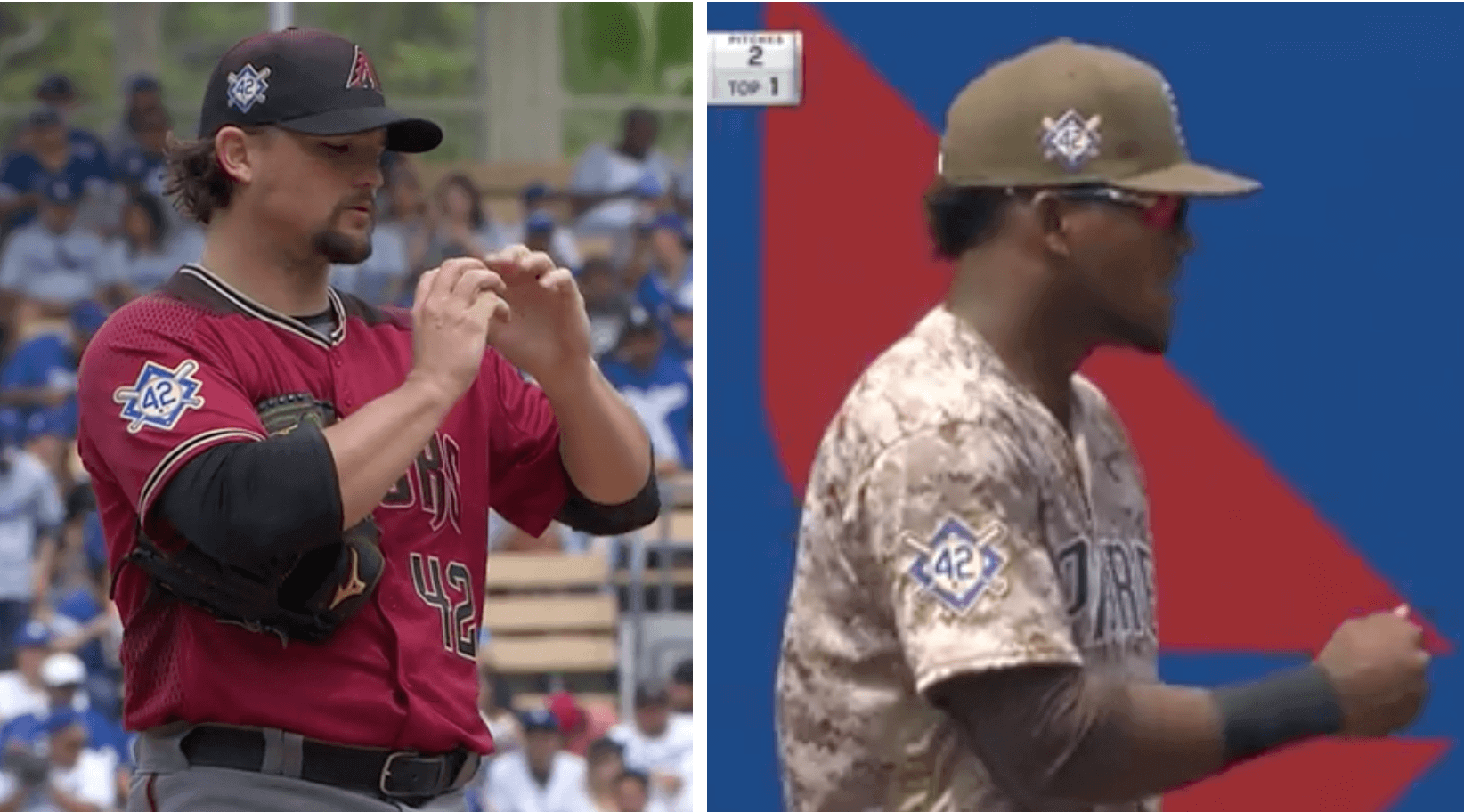 • The umpires wore No. 42 as well: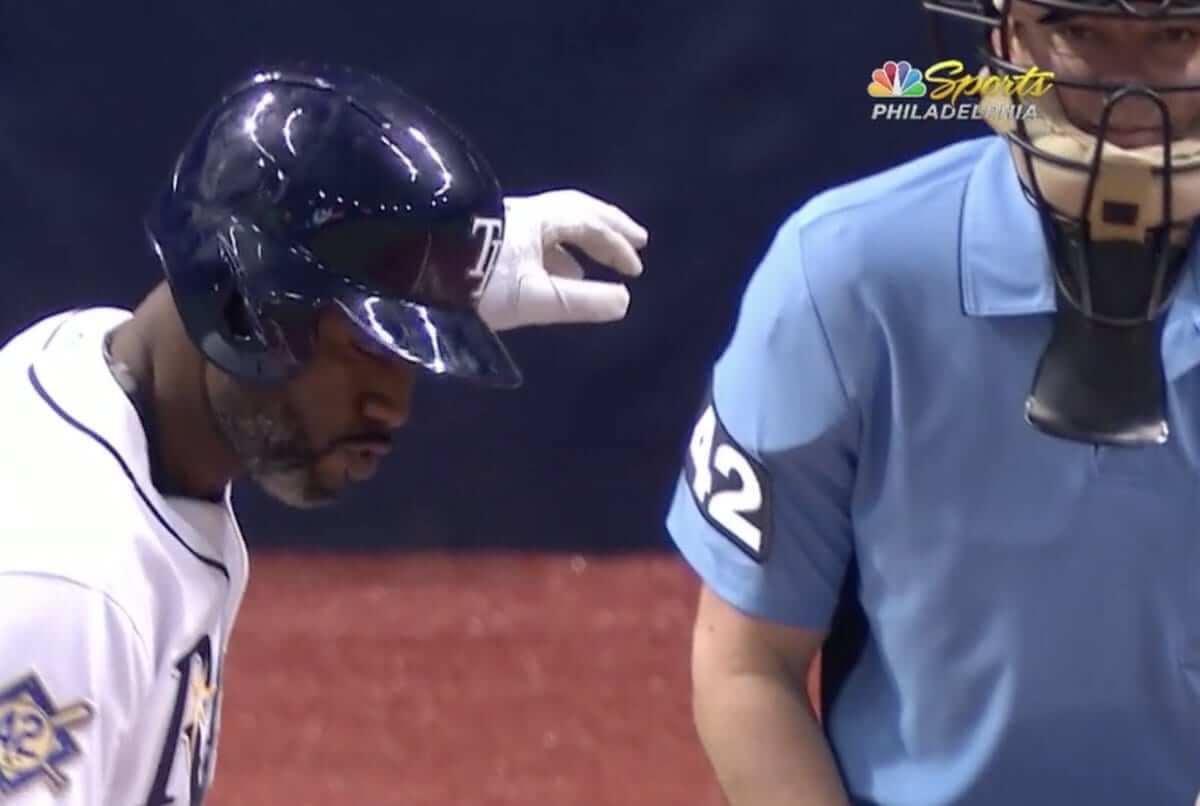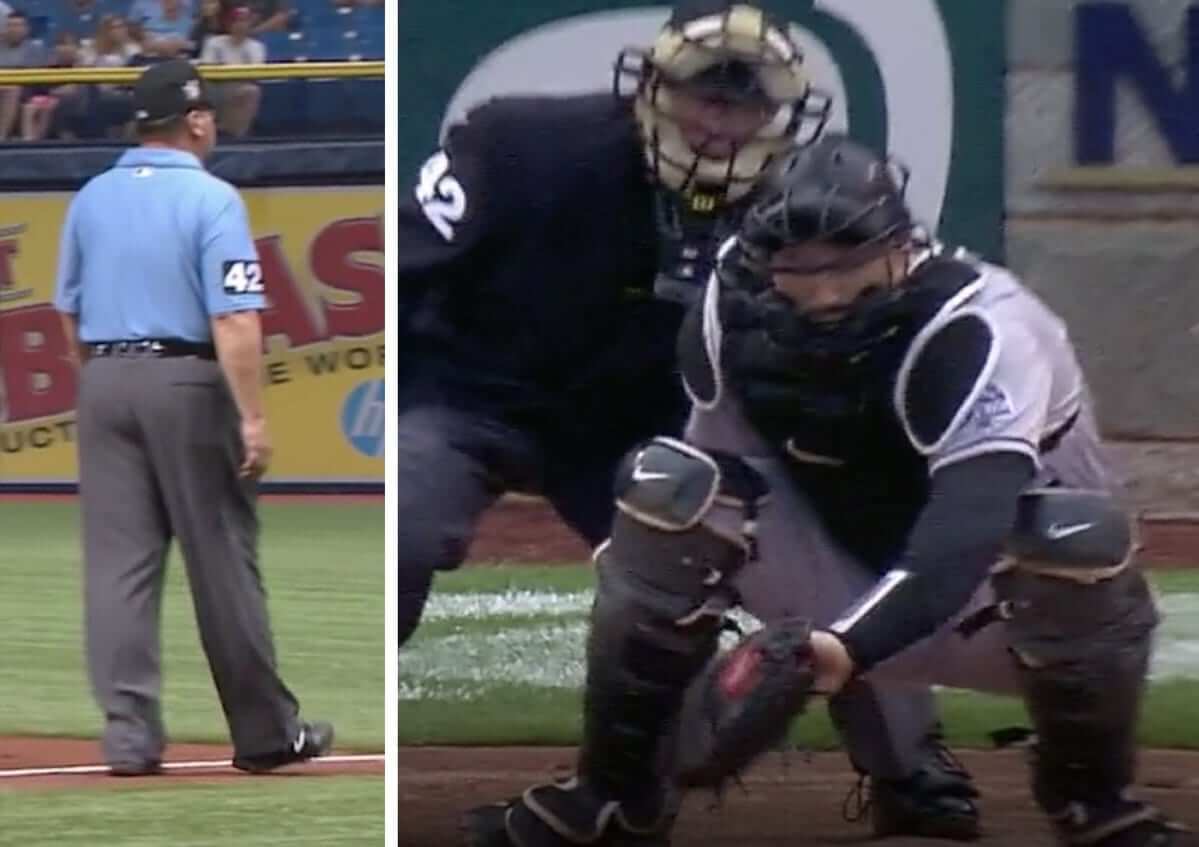 • The Rays added a 42 to the back of the mound, which seems like a bit much: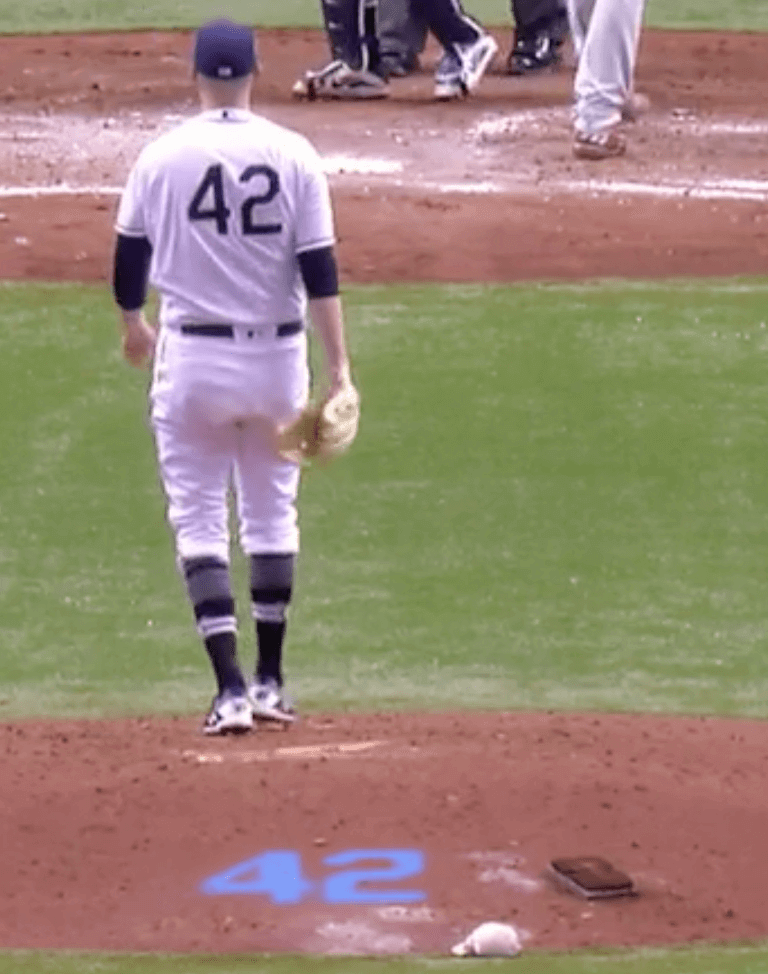 • The Dodgers went further, putting a 42 on the mound and another one at the back of the infield: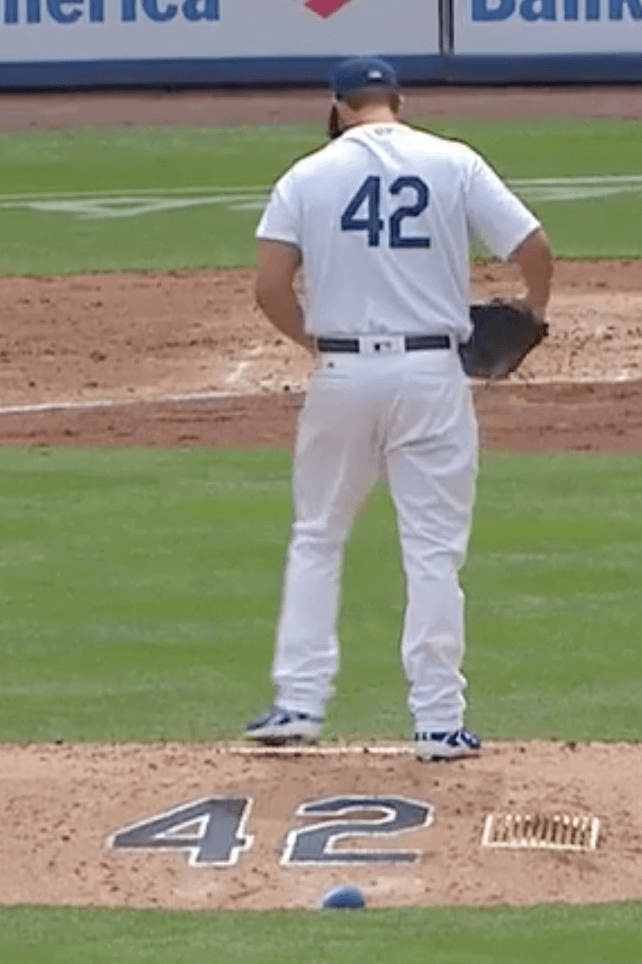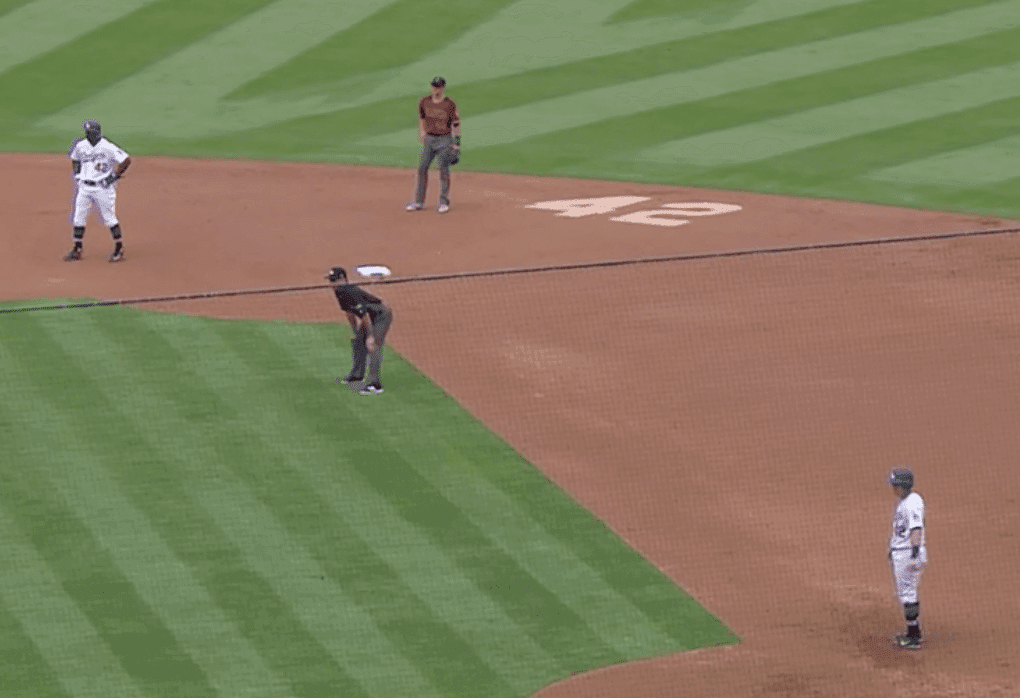 • Jackie Day extended beyond MLB, as minor league teams also wore No. 42. An exception was the Daytona Tortugas, who play in Jackie Robinson Stadium — so named because Daytona Beach was the first Florida city to allow Robinson to play during the 1946 spring training. Robinson was with the Montreal Royals at the time, and he wore No. 9 for them, so yesterday the Tortugas all wore No. 9:
Happy #JackieRobinsonDay. Today we celebrate Jackie breaking the color barrier hare in Daytona Beach, 72 years prior while wearing the number 9. Actual footage to be shown of Jackie's hit on City Island in 1946. Tortugas to be only team in @MiLB to all wear the number 9. #Jackie9 pic.twitter.com/KDFmC3CUKA

— Daytona Tortugas (@daytonatortugas) April 15, 2018
• At the college level, UCLA — Robinson's alma mater — wore No. 42 caps, and Utah wore cap patches:
A closer look at the 4️⃣2️⃣ hats the Bruins are wearing in honor of #JackieRobinsonDay #Jackie42 pic.twitter.com/iwCGXKELki

— UCLA Baseball (@UCLABaseball) April 15, 2018
• Players also wore No. 42 at the high school level:
"One day we will all wear 42" @rtxbaseball honors the late late Jackie Ronbinson for giving all players the opportunity to play this great game. Thank you Mr. Robinson for showing the world this game is not about the color of your skin. #42 #JackieRobinsonDay @MLB @kid_cutting pic.twitter.com/9OXBN0A8Ej

— RHS Baseball (@rtxbaseball) April 14, 2018
Big Red Baseball beats Woodward 9-6 at the @redshsshowcase game at the @Reds Urban Youth Academy!
Today – we all wear #42!!! #42 #JackieRobinsonDay pic.twitter.com/GqH3Nv8swV

— Hughes Big Red (@BIGREDATHLETICS) April 14, 2018
• The phenomenon has even spread to youth league baseball:
Today's DH has been rained out.

Luckily we saw the upcoming weather and celebrated #42 on Friday. #JackieRobinsonDay pic.twitter.com/9L5SU3udsj

— HYBO 13u Blue (@HYBO13uBlue) April 15, 2018
9U #LoudounAces Blue, honoring #JackieRobinson tomorrow on #JackieRobinsonDay #42 @MLBNetwork #PlayBall pic.twitter.com/sjBjYL8EoX

— Caldwell Clarke (@FFCaldwell) April 14, 2018
• Speaking of youth leagues, I heard from reader Andre Torres, who told me about how his local youth baseball organization handled the occasion:
The Training Legends youth baseball organization in Cartersville, Ga., came up with the idea a year ago to have a Jackie Robinson-themed event for our teams. We thought it would be nice to honor his legacy in a manner similar to what goes on in MLB every year. With support from sponsors, we were able to put over 1,000 players in No. 42 jerseys for games on Saturday, April 14. We used different color shirts in order to tell the teams apart, which made for a very colorful day. The response from parents and players was great! Everyone was happy with the day, and of course the kids love any chance to dress like their big league heroes.
• Meanwhile, off the field, the MLB online shop was briefly selling Chief Wahoo caps with the Jackie Day logo, until some genius figured that maybe that wasn't such a great idea. Cleveland's game was rained out yesterday (one of several weather-related postponements), so it's not clear whether the team planned to wear the Wahoo cap on the field. They did wear Wahoo caps for last year's Jackie Day (and for many previous years), but the cap didn't have the Jackie Day logo then.
(My thanks to Shannon Shark, @The_Maddin, and @DisMagicBands for their contributions.)
• • • • •
[adrotate group="2″]
• • • • •
The hits just keep on coming: Last Friday I ran a little item about a Delaware radio station whose employees had a basketball team — with completely awesome uniforms — back in 1973. Now reader Rufo Donato, who provided that photo, has sent along a shot of how the team looked in 1972: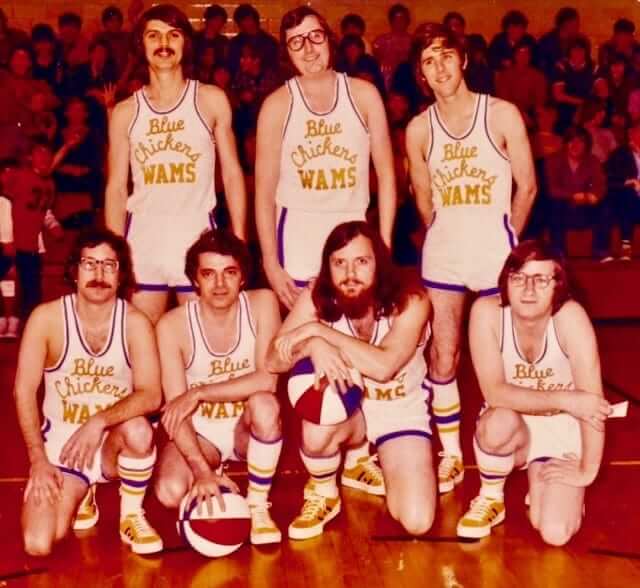 So much to like there! The guy who looks like a House of David refugee is a particularly nice tough, right? I really need to get my hands on one of those jerseys, stat.
As a bonus, here's a shot of the station's Corvair: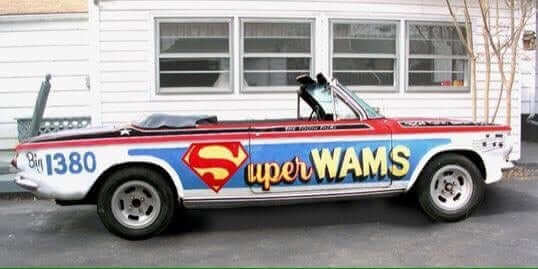 • • • • •
[adrotate group="2″]
• • • • •
Click to enlarge
Best care label ever: We had really nice weather on Saturday, so I had a few people over in my backyard. Made some lamb chops and some St. Louis-style pork steaks (aka sliced pork shoulder; eat your heart out, Marty Hick!). But my favorite part of the day came when I was admiring my friend Matt's jacket and noticed the care label on the inner placket.
"Lend us your ear" — with a little ear illustration! Is that great or what? Every care label should be like this.
• • • • •
Signal flare: If anyone out there works fairly high up in sports jersey retailing (buyer, store owner/manager, etc.), I'd like to speak with you. Confidentiality assured. Thanks.
• • • • •
[adrotate group="2″]
• • • • •
The Ticker
By Jamie Rathjen

Baseball News: NC State wore pinstriped 1968 throwbacks Saturday. However, the originals appear to have had white hats, rather than red. … Georgia Tech and Pitt played a blue-vs.-blue game (from Brandon Boehman). … Phillies CF Odúbel Herrera was missing his 3-D helmet logo yesterday (from multiple readers). … Reds bat boys have been wearing logoless helmets all season so far (thanks, Alex). … Orioles balaclavas, which several players were wearing for yesterday's game in Boston, have the team's logo (from Andrew Cosentino). … Artist Joe Petruccio, who Paul has interviewed before, drew an MLB logo featuring Mr. Met (from Gordon Blau). … "Was visiting Charlotte's Mint Museum of Art with my mother today and came across this really nice (and huge) painting, entitled Phillip The Fair by Kehinde Wiley," says Dan Tarrant. … Some of the Reds' Big Red Machine-era players once posed with a literal big red machine: a tractor (from Ray Hund). … Also from Ray: Brewers players being introduced at the team's first Opening Day in Milwaukee in 1970. … Also-also from Ray: Pirates outfielder/1B Willie Stargell was known for warming up with a sledgehammer while waiting on deck. … New uniforms for the Japanese national softball team (from Jeremy Brahm).

NFL News: Back in the 1984 season, the Rams wore a "42" memorial decal for defensive back Kirk Collins, who had died of cancer earlier that year. … Speaking of the Rams, here's a great shot of equipment manager Todd Hewitt drawing the Adidas stripes on Eric Dickerson's non-Adidas shoes. … For some reason a Buffalo sports shop created a graphic showing former Bills RB Fred Jackson against a Yankee Stadium backdrop (from @TheBillKenney).

Hockey News: In last night's Blue Jackets/Capitals playoff game, backup official Garrett Rank had to enter the game when linesman Steve Barton was injured. Rank is normally a referee, but he couldn't wear his usual ref's jersey while subbing as a linesman, so he wore an old CCM linesman's jersey instead of a current Adidas model (from Charles Pannunzio). … Humboldt Broncos update from Wade Heidt: the Saskatchewan Junior Hockey League resumed its playoffs Saturday with the Broncos' opponents, the Nipawin Hawks, advancing to the league final. For Game 1, the Hawks and the Estevan Bruins both wore ribbon patches, and the Hawks wore green helmets instead of black. Also, no photo, but SJHL officials wear NOBs instead of numbers, and all the officials wore "Broncos" NOBs. … Will Scheibler sent us some pictures of Loyola Marymount University's hockey team, which operated in the 1930s and early 1940s (the first NCAA national championship was in 1948), as well as this poster of cartoon-ized NHL mascots.

Basketball News: The Knicks held training camp outdoors in Ellenville, N.Y., before the inaugural 1946-47 season of the BAA, one of the NBA's predecessors. Here's a closer look (from Ray Hund). … The NSWL's Seattle Reign's current Twitter avatar may look familiar to SuperSonics fans. … It's a little hard to see, but the Coachella set by the Portland-based band Portugal. The Man included a bunch of backing vocalists wearing Trail Blazers jerseys (from Charles Garnsey). … San Diego State, a Nike-outfitted school, will wear the Jordan logo beginning this fall (from oh_swick). … Rockets G Gerald Green showed up at the arena last night wearing a Yao Ming throwback jersey.

Soccer News: This article highlights picturesque USL stadiums (from Josh Hinton). … The Scottish Cup semi-final participants got sleeve patches this weekend. … The latest MLS team to change at home were the New York Red Bulls. In fact, the Red Bulls haven't worn their would-be first-choice kit at home yet this season, something Sporting KC did yesterday for the first time. … We don't get to see players' shinguards ever, basically, but here's a rare glimpse of some D.C. United players' elaborate custom ones. … Cross-listed from the basketball section: The NWSL's Seattle Reign have been getting creative with logo concepts. Their current Twitter avatar may look familiar to SuperSonics fans. They also came up with another concept based on the 1974-83 NASL incarnation of the Seattle Sounders.

Grab Bag: This article from The Atlantic article argues that the development of women's cycling pants parallels and symbolizes improved gender equality (from Jason Hillyer). … The U.S. women's field hockey team played a four-game series against Chile in Lancaster, Pa. this week in which all the games looked identical, as both teams wear red and dark blue. Each team wore red twice and blue twice.