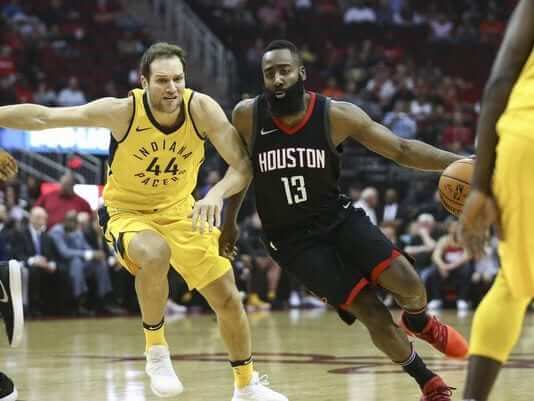 The NBA playoffs begin tomorrow. It will mark the first time that the league's postseason has featured uniform advertising, at least for some of the teams. That raises an intriguing question: What are the chances of an ad-free pairing in the FInals?
First, let's crunch a few numbers:
• Twenty-one NBA teams currently wear ad patches. Of those 21, 10 of them (48%) made it to the playoffs.
• Nine NBA teams are currently ad-free. Of those nine, six of them (67%) made the playoffs. So the ad-free teams outperformed the ad-clad teams.
• Looked at another way, 70% of NBA teams are ad-clad, but only 63% of playoff teams are ad-clad. Again, ad-free teams outperformed ad-clad teams.
• Of the eight first-round playoff series, two of them feature two ad-clad teams facing off against each other, and the other six feature an ad-clad team vs. an ad-free team.
So what are the chances of an ad-free matchup in the NBA Finals? Things look very promising in the Western Conference, where three of the top four seeds — Houston, Portland, and Oklahoma City — are ad-free. That includes the Rockets, who had by far the best record in the league and have a strong chance of making it to the Finals. Their biggest obstacle will likely be the ad-clad Warriors.
The situation is more problematic in the East, where the top four teams are all ad-clad. The best ad-free team in this conference is fifth-seeded Indiana, which looks like a long shot to make it to the Finals.
But hey, if we end up with an ad-clad team and an ad-free team tipping off in the Finals, at least that should make it very easy to decide who to root for.
• • • • •
[adrotate group="2″]
• • • • •
Not my type: Yesterday the White Sox released some more photos of the 1968 throwback uni they'll be wearing for next Tuesday's game against the A's. At first I was happy to see that they were including the Illinois sesquicentennial sleeve patch — one of my favorite patches from that era. But when I took a closer look, something about it looked off. The font for the typography was Copperplate Gothic — is that really what the original patch used?
Nope. Take a look — original patch on the left, next week's throwback patch on the right (click to enlarge):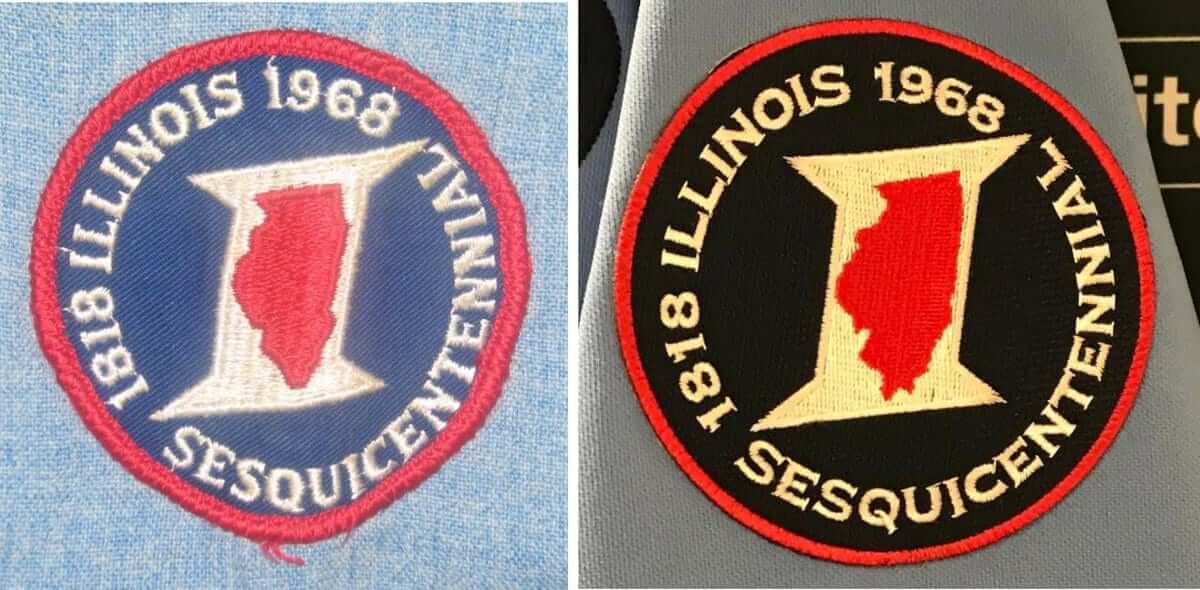 There are other subtle changes to the patch design, but the typography is what gets me. They had to make a very conscious choice to change the font. You might be thinking that most people will never notice, and you're right. But I'm thinking that it can't be that hard to do use the proper font, and I'm even righter.
Incidentally, this year is Illinois's bicentennial, but no patch. Too bad — I like these civic-minded patches that transcend the world of baseball.
• • • • •
[adrotate group="2″]
• • • • •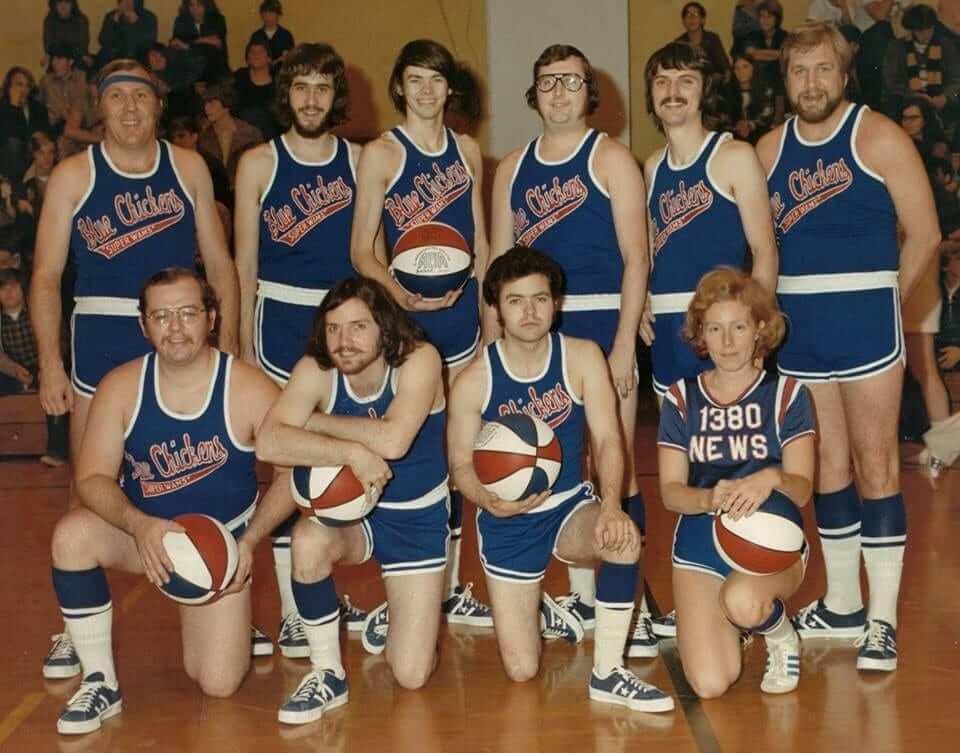 Click to enlarge
I will now start searching eBay for these: Reader Rufo Donato sent in this 1973 shot of a Delaware radio station's basketball team. So much uni goodness going on here! For example:
• The team name — "Blue Chickens," a riff on the U. of Delaware's Blue Hens — is rendered in a very nice script (with "Super WAMS" — the station's call letters — in the tail).
• You have to look closely to see this, but they're wearing Northwestern-striped stirrups with crew socks over them.
• I love that they used an ABA ball to match their color scheme, instead of an orange NBA ball.
• Matching blue suede sneakers! Well, except for the woman, but her whole outfit is different.
The photo is from 45 years ago. Did any of these uniforms survive? I definitely want one!
• • • • •
[adrotate group="2″]
• • • • •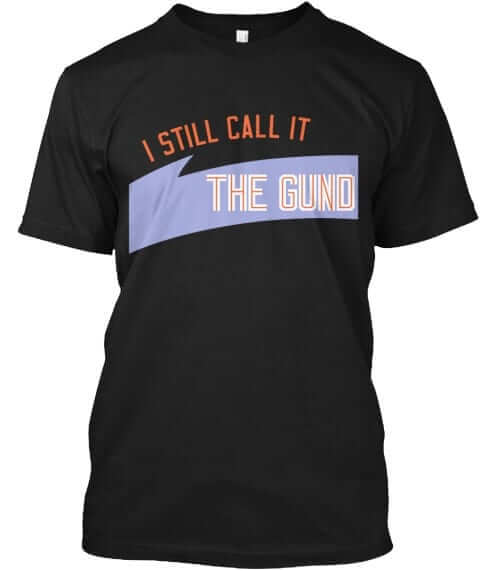 Naming Wrongs reminder: In case you missed it yesterday, we have a bunch of new Naming Wrongs designs that are now available for your consideration (including the Gund design shown at right, which you can click to enlarge). Check them out here.
And while we're at it, don't forget that our Cinco de Mayo shirt, featuring the Uni Watch script in Spanish, is also available. You'll need to order this one fairly soon in order to get it in time for the holiday (which is also Kentucky Derby Day this year). It's available here.
If you don't want to buy a shirt, that's fine. But Uni Watch could use your support, so it would be great if you'd please consider buying a membership card, or a limited-edition print. You could even make a donation — full details here. Thanks for listening.
• • • • •
[adrotate group="2″]
• • • • •
The Ticker
By Kris Gross

Baseball News: Fewer fans attended the Marlins game than their Double-A team's game on Wednesday night (from Josh Hinton). … Here's a ticket to the first game at Candlestick Park (from BSmile). … It was FGCU night for the Fort Myers Miracle last night (from Nick Lykens). … The Richmond Flying Squirrels, Double-A affiliate of the Giants, unveil seven themed uniforms for this season. … The Memphis Redbirds, Triple-A affiliate of the Cardinals, will play as the Memphis Chicks on throwback nights (from Todd Sparks and Scott Petrowski). … Ever experienced a cancellation due to fog? Ray Hund passed along this photo of a 1957 game between the Dodgers and Cubs that was called because of fog. … This a great photo of the 1902 San Diego State baseball team (from Brady Phelps). … As Michael Kinney points out, it looks like Arkansas uses an upside down 2 as a 5 on their outfield wall. … Here's a story on the Toledo Mud Hens' new raised helmet logos (from Tom Konecny). … Gorgeous new throwbacks — but with disappointing faux stirrups — for Kentucky (from Josh Hinton). … Looks like Giants OF Gregor Blanco was wearing a sock on his arm last night (from Alex Moggridge). … Giants P Will Smith had a rehab appearance with the San Jose Giants last night. The minor league team has white jerseys but Smith wore his cream-colored MLB pants, creating a weird mismatch (from Tim Louie). … For the second consecutive day, an MLB pitcher — in this case, Kyle Hendricks of the Cubs — wore a cap without the New Era logo creep.

Football News: Here's a great video of NFL players suffering torn jerseys (from Mike Chamernik). … This Virginia Tech uniform builder lets you build your Hokies uni from the different options throughout the years. There are 2,114,100 combos! (from Andrew Cosentino). … "Brian Urlacher and Ryne Sandberg endorse a hair restoration company," says Mike Chamernik. "We see ads for it here in Chicago all the time. In this commercial, Sandberg seems to be wearing a generic red-and-blue No. 23 jersey, but Urlacher is wearing a doctored Bears jersey, with maker's marks and team logos covered and the colors altered."

Hockey News: Jersey Day for the Humboldt Broncos has spread across the world (from Brinke Guthrie). … Speaking of, the Predators wore Humboldt Broncos helmet stickers last night (from @RussellRiesJr). … The Capitals created a Humboldt mask that will be donated to the Broncos (thanks Jamie). … Check out these sweet 1930s Maple Leaf jackets (from Ray Hund).

Basketball News: If you hate jersey advertising, you are going to hate the WNBA's new uniforms, which were unveiled yesterday. … Sticking with the WNBA, new partial and alternate logos for the Minnesota Lynx (from Quentin Owens). … Joey Robertson was poking around some of the NBA team websites and came across incorrect photos in the stats section. On the Thunder's website, for example, a Reggie Evans stat is accompanied by a picture of Reggie Jackson. And over to the Hornets' site, a picture of Glen Rice Jr. sits where his dad should be. … G-League President Malcom Turner (shockingly) likes the name G-League (from Brandon). … Whoops: A Wisconsin player announcement has their new recruit wearing two different numbers (from Garrett). … The Jazz and Lakers played a color-vs.-color game in Utah — purple vs. green — way back in 1982. "The game was played on St. Patrick's Day," says Kristopher Kolob. "I've read about it happening, but this is the first visual evidence I've seen. The Jazz did this again in 1986 against the Pistons as well."

Soccer News: Try not to barf looking at this PSG pre-match kit (from Big Daddy J). … New home kit for Ottawa Fury FC of the USL (from Ed Żelaski). … Costa Rica released their World Cup home kit, and the away kit leaked (from Josh Hinton). … The writer Jay Mansfield has been chronicling the kit evolution of Scottish club Rangers from 1987. Here's the latest installment (from Denis Hurley). .. New training jerseys for Louisville City FC (from Josh Hinton).

Grab Bag: Here's a breakdown of Washington's deal with Adidas (from Kenny Ocker). … Mississippi State students broke into an Alabama athletic facility and stole memorabilia (from Josh Hinton). … How "Dilly Dilly" is taking over sports. … DJ Kennington will pay tribute to the Humboldt Broncos at this weekend's NASCAR Cup Series (from Mike Chamernik).