Click to enlarge
Phil had a one-sentence item in yesterday's Ticker that I want to expand upon today, namely the news that Providence coach Ed Cooley split his pants during Saturday night's Big East championship game against Villanova and had to use a Gatorade towel as a makeshift fig leaf. Naturally, the game went into overtime, extending his predicament.
After the game, which Providence lost, Cooley wore sweatpants for the postgame press conference, where he was asked about his torn pants and gave a quote for the ages: "When I sat down I felt the great breeze in the crack."
Torn jerseys are fairly common, but torn pants are a bit more unusual. Over on Twitter, I asked people if they could think of other instances of coaches, players, or officials who dealt with torn pants, plus I came up with a few of my own. Here's what we came up with:
• In 2015, Bayern Munich manager Pep Guardiola split his trousers during a Champions League game against Porto (click to enlarge):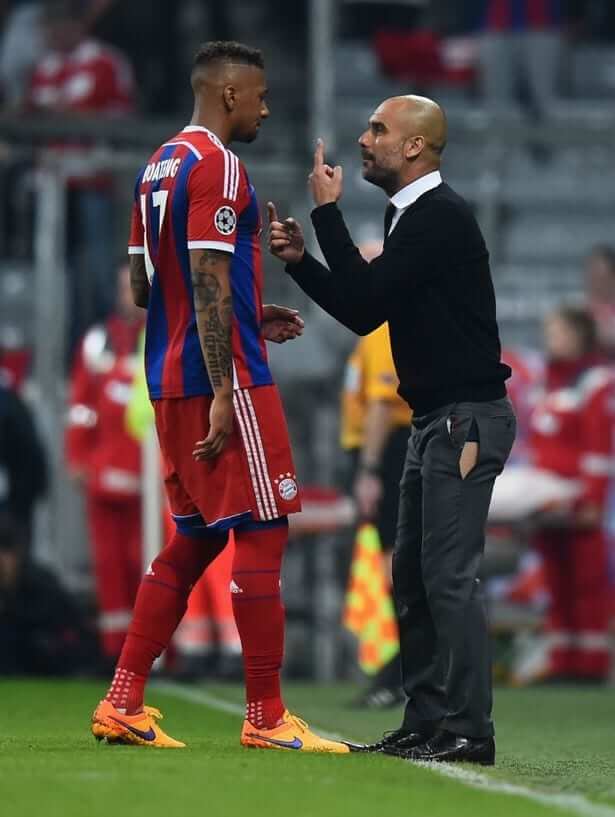 • Heavyweight boxer Riddick Bowe split his trunks but kept on fighting, even with his left buttock exposed, during a 1992 bout against Pierre Coetzer. Here's some good footage of that:
• Giants running back Ahmad Bradshaw tore his pants during a 2010 game against the Bears, so equipment director Joe Skiba used a hole punch and some string to sew up the gash: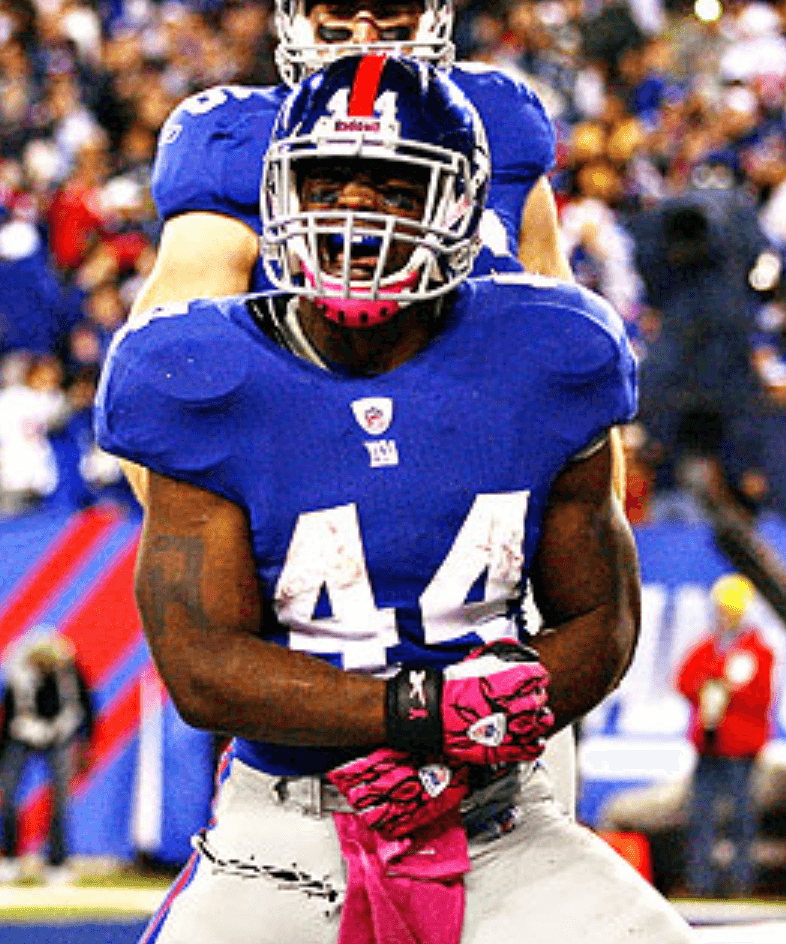 Obviously, that isn't really an example of "splitting" one's pants, but it still seemed relevant.
• American swimmer Ricky Berens split his suit up the back just before diving into the pool during the 2009 world championships in Rome (further info here):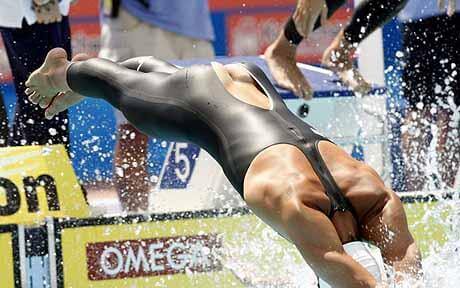 • British bobsledder Gillian Cooke split her suit while preparing for a run in the 2010 World Championships in Switzerland (additional info here and here):
• There's no photo, but this article tells the story of Bears running back Walter Payton splitting his pants during a 1979 Thanksgiving Day game against the Lions. Key passage:
"He always wore the same pair of pants, and they kept getting thinner and thinner," said Bears equipment manager Gary Haeger. "We kept asking him if he wanted a new pair, and he'd say no. Finally, in that Thanksgiving game, his pants split during a play. They had to send a ballboy out there with a towel so he could wrap himself up and come to the sideline."
• There are numerous published references to Knicks coach Pat Riley tearing his pants during a 1993 brawl between the Knicks and Suns, although I couldn't find any photos.
• Back in the late 1990s, I attended a Mets game at Shea Stadium during which home plate ump Bruce Froemming split his pants. For the rest of the game, he stopped bending over to brush off home plate and instead just kicked it clean with his feet (prompting someone in the crowd who sounded very much like me to yell, "Bend over and do it right, Froemming, you fat fuck!"). Later in the game — I swear I'm not making this up — he had a member of the grounds crew put some baseline chalk on the plate so it would appear more white without him having to clean it off.
• Dan Feeney, the boys' basketball coach at Chaminade High School on Long Island, sent me this photo of himself with a tear in his pants during a game last year: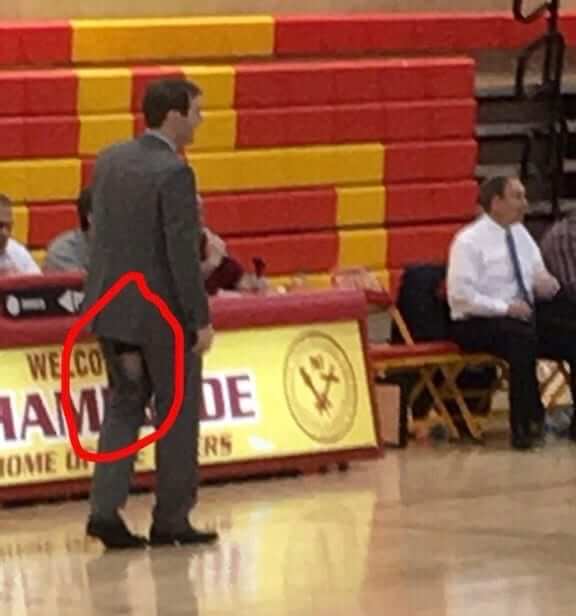 • And then there were these additional notes:
I did this exact same thing at a bowling tournament and wore a towel to cover my arse!

— John Enriquez (@WalkingE) March 11, 2018
It happens, at UPS I split a pair a couple times a year. That's what happens when you have to wear "dress pants" to a physical job.

— Gunnar Johnson (@Twinsboy_34) March 11, 2018
I once split my pants when I got in the car to go to a job interview. Too late to change. Went to the interview. Kept interviewer in front of me whole time. Casually walked with portfolio covering my ass. Got the job.

— Frank McGuigan (@FrankMcGuigan) March 11, 2018
As for Providence, it's too bad the Friars lost. If they had won, Cooley would surely have been encouraged to keep wearing the torn pants and the towel for good luck, which would have been hilarious. Instead, this will just go down as a fun footnote in Big East history.
(My thanks to Donald Eng, Robert Southon, @SOskland, @vossbrink for their contributions to this section.)
• • • • •
[adrotate group="2″]
• • • • •
NBA Uni Tracking
By Collin Wright
Games with the home team wearing a colored uniform and the road team wearing white were the most frequent type of matchup this past week — the fourth time this season that that's happened. Here's our updated chart: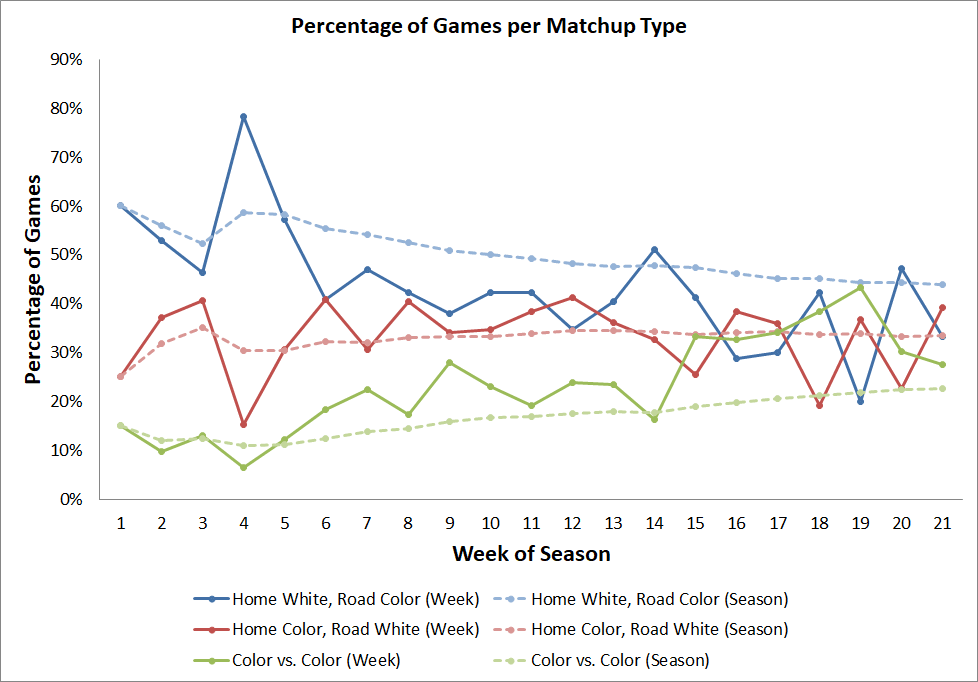 Some other observations from the past week:
• The Thunder wore white leggings with their lighter blue uniforms for the first time all season. They had used the full unitard look with that uniform the first 27 times they wore it.
• The Hornets wore white socks with their throwback design for the first time. They had worn teal socks the first four times they wore the throwback uni.
• Also from the Hornets, Jeremy Lamb wore a white leg sleeve in that same game. This is mostly notable because his sleeve actually matched his teammates. Throughout the season he has worn a black sleeve even when the rest of the team wore a different color. I'm not sure why he's been allowed to do so unless it's covering a knee brace.
• The Mavericks won for the first time while wearing black, which means the Grizzlies are now owners of the worst-performing uniform in the league. They're 0-11 while wearing light blue.
• The Hawks now have the longest streak without wearing a white uniform. They've worn a colored set in their past 20 games.
• • • • •
If you can't be an athlete, be an athletics aesthetics supporter: Last Friday's entry about how I won't be imposing a paywall on the site after all prompted a huge outpouring of love and support from you folks. Seriously, I was blown away by all the kind and thoughtful emails I received (including some from people who've butted heads with me in the past on various issues). It really reinforced how we've all built something very special here over the past dozen years. Thank you!
Here are some new developments on the "Please help support Uni Watch" front:
1. As I mentioned on Friday, although the site will remain freely available to everyone, later this spring we will set up some sort of system — probably via Patreon, but maybe through some other platform — that allows for voluntary donations to the site, with different levels of support unlocking different benefits. That might look something like this (I stress that none of this is final and that I'm just thinking out loud here):
Level One ($20): An ad-free site experience for one year, a 15% discount in the Uni Watch Teespring shop, and maybe a no-frills Uni Watch membership card (not laminated, blank on the back, and with your name on the front written in by hand, not printed).

Level Two ($50): All of the benefits listed above, plus access to a new message board section of the site. Also, you know how we sometimes do Question Time entries, where you folks can ask me anything? Supporters at this level will be able to submit one question per week to me, with the answers going out to supporters in a weekly-ish Question Time newsletter.

Level Three ($100): All the benefits listed above, plus either a T-shirt or mug of your choice from the Uni Watch online shop or your choice of three uniform style guides from my digital style guide library. (I may be adding some old NHL style guides to this library shortly.)

Level Four ($250): All the benefits listed above, plus you get to have a 30-minute phone call or Skype session with me, during which we can talk about uniforms, sports, or whatever else you'd like.

Level Five ($500): All the benefits listed above, plus Scott M.X. Turner will design a custom logo for your fantasy team, your rec league, your civic organization, or just for you. (Non-commercial use only, and we reserve the right to decline to design logos for objectionable groups.)

Level Six ($1,000): All the benefits listed above, plus I'll devote a Uni Watch entry to you and your jersey collection, or cap collection, or cat, or whatever, celebrating you as a "Uni Watch SuperStar Supporter."

Level Seven ($2,000): All the benefits listed above, plus I will fly to your town (or to the nearest place with an airport) and host a Uni Watch party at the local venue of your choosing. Lower 48 states only (although I'd consider other locations for a higher donation). If you live within a 100-mile radius of New York City, I will take you and a guest out to dinner either before or after the party, my treat (since I'll be able to drive and won't have to spring for airfare).

Level Eight ($5,000): All the benefits listed above, plus I will wear purple clothing for a day and document the experience (assuming I don't expire from abject horror).
Again, none of this is finalized yet — it's all very much a work in progress. But this should give you a general sense of how I'm thinking about it.
2. Last year we had a guest entry from Jeff Callahan, who had designed and made his own tabletop baseball game. He got in touch after Friday's entry and offered to make a new custom-designed game that could then be auctioned off to help support the site — an incredibly generous gesture. So that's something to look forward to down the line. Meanwhile, if anyone else has any special product, service, or skill that they'd like to auction off for the site's benefit, feel free to be in touch.
3. I heard from a number of people who are excited about the Patreon development but said that they don't want to wait and don't want anything in return — they just want to donate. While I'm certainly not looking for free handouts, I won't turn them down either. If you'd like to donate, there are several ways you can do that:
• The best ways to send cash are via Venmo or Zelle, because they don't impose any fees. (If you're not familiar with Zelle, ask your bank — most banks now offer it.) For both of these, use plukas64@gmail.com as the payee.
• You can also use Square Cash, although they skim a bit off the top. Again, use plukas64@gmail.com as the payee.
• You can also donate via your Amazon account. I've set up two payment buttons — one for $10 and one for $25. Here's the $10 button:
And here's the $25 button:
If you want to donate a different amount via Amazon (no amount is too large or too small), let me know and I'll make the proper arrangements.
• If you don't like electronic payments, you can send checks (payable to Paul Lukas, not to Uni Watch) or well-concealed cash to Paul Lukas, 671 DeGraw St., Brooklyn, NY 11217.
• Unfortunately, I can't accept PayPal (a long, extremely frustrating story). But if you live overseas and PayPal is the only feasible option for you, get in touch and I'll explain how we can devise a workaround.
4. Finally, please consider ordering a custom-designed membership card, or buying a T-shirt or mug — the site could use your support. Thanks.
• • • • •
Red sauce and red silks: A gaggle of friends and I went out to a highly touted Italian restaurant in Queens on Saturday. The place is located near Aqueduct racetrack, so the decor leans heavily toward jockeys' silks, many of which are mounted on the walls. I took a bunch of photos (if you can't see the slideshow below, click here):
• • • • •
Click to enlarge
A great mascot waiting to happen: The Tugboat Captain saw this book that someone left out on the curb and thought (correctly!) that I'd like the cheery little anthropomorphized light bulb character who's shown on the cover. He's so busy and helpful! A team could do a lot worse than to have him as their mascot, no?
The book is from 1952. Unfortunately, there's no credit to the illustrator/designer. Even worse, the light bulb character doesn't appear in the book's interior — only on the cover. Still, a really fun little guy.
• • • • •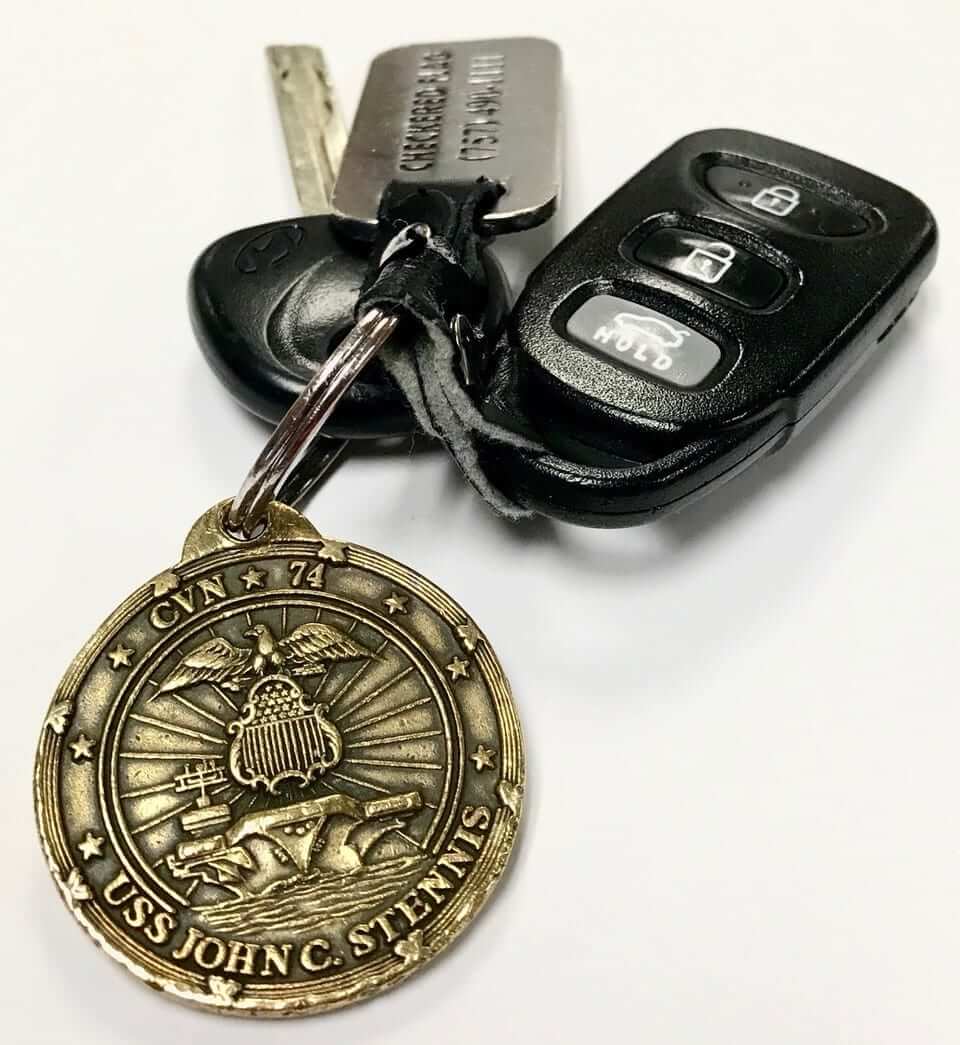 Click to enlarge
KRC update: The latest installment of Key Ring Chronicles is about a beautiful plankowner medallion. Don't know what a plankowner medallion is? Get the full story here.
• • • • •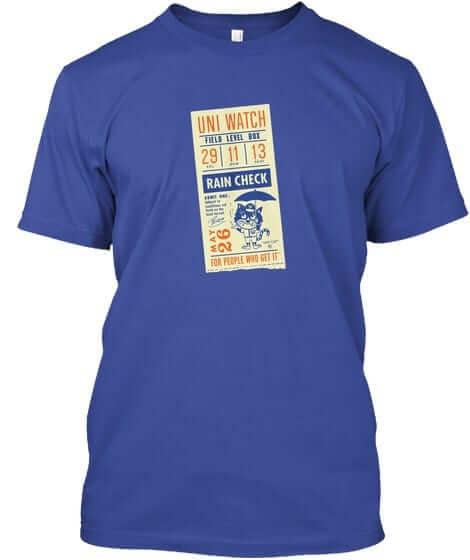 T-shirt reminder: Just a few days left to get our latest limited-edition Uni Watch T-shirt, designed by the great Todd Radom. It comes in a wide range of colors (including deep royal, as shown at right; click to enlarge) and is available from now through this Thursday, March 15. You can order it here. If you want a color or style that isn't shown, get in touch and I can take care of you. My thanks, as always, for your consideration.
• • • • •
The Ticker
By Jamie Rathjen

Baseball News: Indiana has a new scoreboard and, it would seem, new mono-red uniforms (from Marco Viquez). … New white uniform for Western Illinois (from Tyler Crum). … Alternate uniforms for Wayne State (from Cameron Weidenthaler). … The Red Sox have been wearing shirts in support of pitcher Craig Kimbrel's daughter, who is in the hospital (from Ilana Hardesty). … The 1879 Washington team in the minor league 1879-80 incarnation of the National Association had more than half its players wearing a backwards "N" on their jerseys in their team photo (from Craig Brown).

Hockey News: The ice crew at the Big Ten men's tournament have their own conference-themed No. 10 jerseys, at least in Columbus (from Tyler Johnson). Each round of the tournament is now hosted by the higher seed instead of at a neutral site. … Among the teams wearing St. Patrick's Day jerseys next week are the WHL's Spokane Chiefs (from Larry Brunt). … The Penguins wore St. Patrick's warm-ups last night, because they'll be on the road next week (from Jerry Wolper). … The ECHL has a "fantasy team" idea where the winner of a fan vote between three players on each team wears a special jersey, which is then auctioned off. Here it is modeled by South Carolina Stingrays center Kelly Zajac (from @low843).

Basketball News: Reader Lincoln Arneal asks a simple but intriguing question: If NBA players have team-colored tights and team-colored compression sleeves, why do the base-layer T-shirts that many players wear only seem to come in black or white? … New Mexico State C Zach Lofton had a small tear in his jersey on Saturday (from Jeremy Baker). … New Bucks G Brandon Jennings will wear No. 11, because the No. 3 he wore in his first spell with the team is currently occupied (from Mike Chamernik). … Also from Mike: The Lakers had a jersey giveaway last night. … Here's a breakdown of who made the uniforms for the teams in the NCAA tourney (from Peter Romano).

Soccer News: In Italy, there were a number of tributes as Fiorentina played its first game since center-back and captain Davide Astori passed away last week (from Bryan Justman). … New first-choice kit for the NWSL's Utah Royals. Uni Watch bylaws require me to state that it's yellow, not gold. … Staying in the NWSL, at Saturday's Washington Spirit/UNC preseason game, the Carolina goalie initially emerged wearing all red, the same as the Spirit, but switched to green before the game started. … Scottish Premiership team St. Johnstone's two current kits are blue/white and white/blue when four of the league's 11 other teams also wear blue, which has resulted in the Saints wearing a slightly updated version of last season's yellow second kit more often than this season's white effort, including twice this week. There was a blue-on-blue matchup between two of the other blue-clad teams, Kilmarnock and Ross County, as well as Leicester City and West Bromwich Albion in England.

Grab Bag: The logo of the Gotham City Police in the Batman TV show looks suspiciously like the Packers' logo (from Alan Kreit). … The Stoneman Douglas High School boys' lacrosse team wore helmets with the names and photos of the shooting victims on Friday, which was their first game since the massacre (from Aaron Hill). … An Australian Football League item from @TheBigJamesG: Carlton have a new grey clash (i.e., third choice) guernsey. The kit has some dark panels on the back of the shorts, which may be for players to wipe their hands.